Photo Credit: Tom Weschler
(Note: Tom Weschler's music photography archive has been inducted into the Rock and Roll Hall of Fame.)
The title of this story is the name of a tune by Pharoah Sanders. A tune I must hear from time to time so I can get back to the same great feeling I felt when I first heard it.
I have worked as a professional photographer since 1964, taking photos of entertainers, bands, and singers. Though many were Rock and Roll groups, I worked with Jazz, Blues, R&B groups, and pop singers as well. This story is about my wonderful times with some of the creative jazz and blues artists.
I sometimes think that the photographs I took were to be for our children to look upon with wonder, thinking what a life I had and what a way to live it. All the live music, the parties and travel put into 8x10s, fit into a corral of view that was once something real and now an image of the past. That past teaming with life, music and light ready for an encore. Well, a photographer I am, that's what I do — and the photographs weren't just for the kids.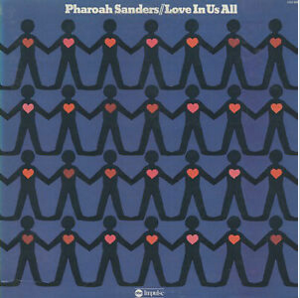 I grew up listening to Jazz and Blues in my home in the 1950s. My parents loved to play records by Red Nichols, Bennie Goodman, Count Basie, Louis Armstrong and Bix Beiderbecke, among others. These great players started to have an effect on me much later in my life like in the 1960s when I heard the 'licks' Eric Clapton and BB King were playing, they sounded very similar to Louis and Bix!
My siblings Edward and Marge, both older than me by 10 years, played records by Jimmy Reed, Howlin' Wolf, Muddy Watters, John Lee Hooker, and other Blues artists. All of this music had a positive effect on me, of that I am certain.
My musical life began in these years before Rock & Roll. When I first heard R&B music on the radio I was just a child and once asked my sister to walk me up to the local record store so I could buy 'Gee' by The Crows. Heard that one, had to have it– and I still love "that girl"!
Throughout the years I have attended live shows, photographed them, and appreciated music for what it is: a magical influence on life.
These entertainers are so fun to meet up with and photograph. From lounge singers to concert hall and theater venues, from arena performers to cafe guitar players, the music we call Jazz has a reputation of bringing you into it with melody, harmony, the beat, and a way of making the listener feel soooo cool.
Now listening to 'Encuentros' by Gato Barbieri, as I continue this note on Jazz, next in my ear … anything by McCoy Tyner. It's so fun to pull out and listen to my old favorites. Next on my writing and listening agenda is Lucerne #5 by Chick Corea. The tune is so mellow and sweet. To me this music is as good as it gets! A blast from the past hits the turntable next, a group many may not know about: Soft Machine … geez it seems like I've got a radio show going here!
Music is the muse and the muse is beautiful.
Freda Payne, R&B, jazz singer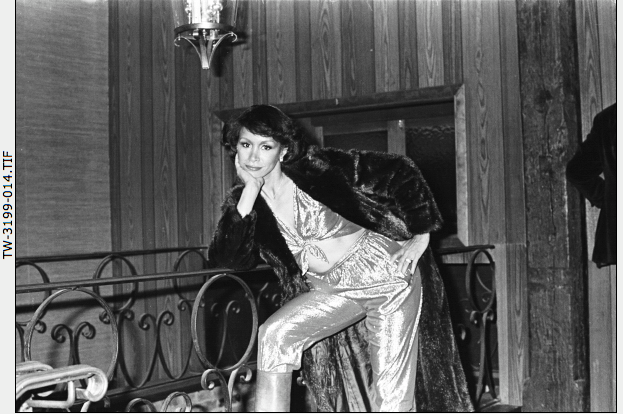 Photo Credit: Tom Weschler
In the fall of 1977 I received a call from Vivian Fant, the Capitol Records R&B promotion rep. She wanted me to photograph the Capitol recording artist Freda Payne with her in and around Detroit while Freda was entertaining at DB's Lounge in the Hyatt Hotel Dearborn.
It was always fun going around town with Vivian. This time we had another new Capitol rep. with us, Denise Moncel, a friend of mine.
I met Vivian and Denise at the Capitol office in Madison Heights. From there we took a limo to pick Freda Payne up at the Hyatt. Then on to WJR and WJZZ in Detroit for on the air interviews with Freda. After lunch we were off to WGPR back in Detroit where we met up with Marvelous Marv and The Electrifying Mojo, both well know DJs there.
Freda was a fabulous singer with several hit records and her live show is wonderful, not just because she is beautiful but because the combination of beauty and talent abound in her show.
Later that night we all met at DBs to watch Freda's performance. Afterward we attended a party for Freda where most of Detroit's radio and record biz people were in attendance.
This promotional party was a fun affair. I got to take some photos of Freda with the infamous Electrifying Mojo and have a beer with Gene Elsey, talk to and get some new information on the biggest R&B station in Detroit from The Big Soul Rocker Claude Young. He told me that WJLB was about to go to FM. That was a bold move for a radio station that had been on the AM dial for a long time, Claude said it was going to take some time but they would do it when they moved to Farmington Hills from Detroit. It is amazing how much one can learn from fraternizing with music biz people.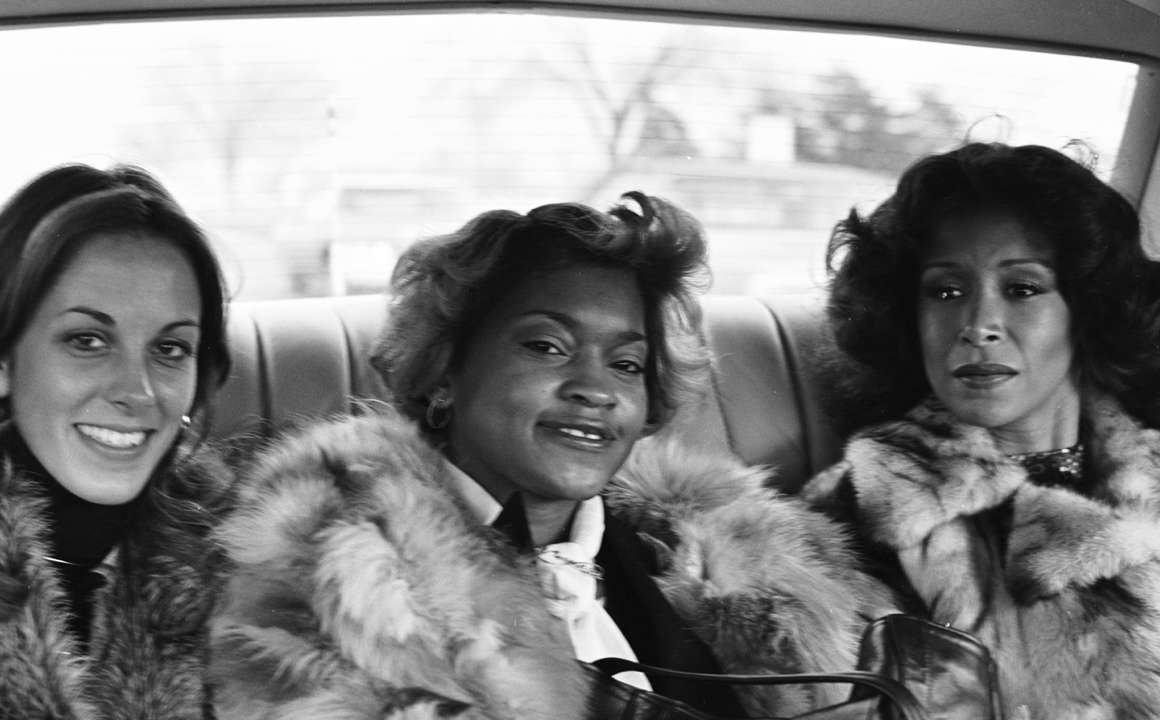 Photo Credit: Tom Weschler
It's All Right With Me performed by Freda Payne
Chico Hamilton, jazz drummer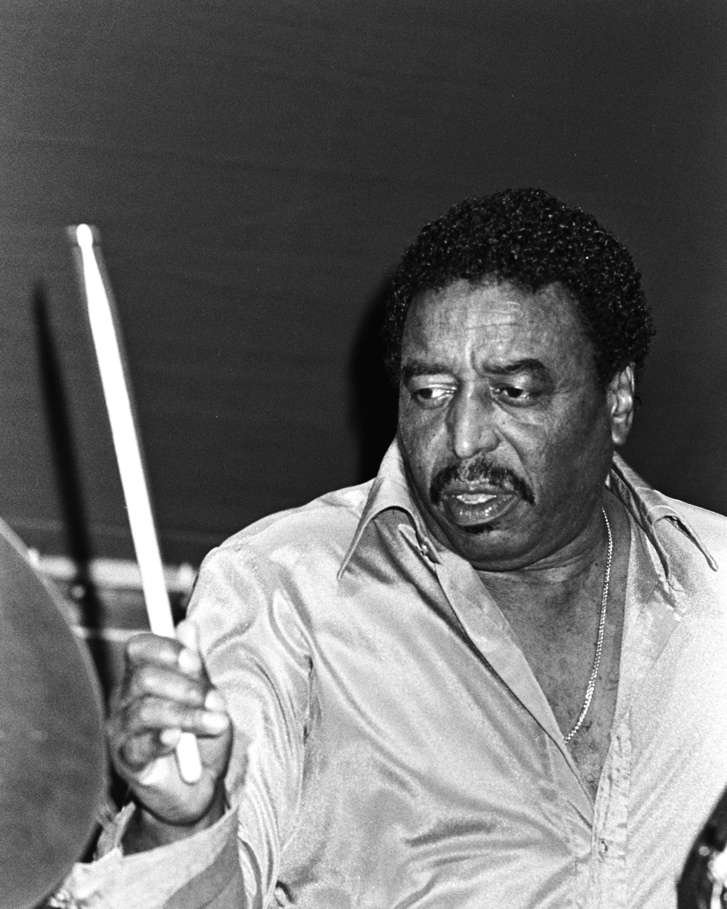 Photo Credit: Tom Weschler
I was home at my apartment in Birmingham, Michigan with my girlfriend Lisa, one night in 1978 when my phone rang. It was 'Fat Sonny' a local promotion man for many of the record companies in the Detroit area. He asked me if I could come to Baker's Keyboard Lounge the next night and take some photos for him of Chico Hamilton who was playing there. I asked if I could bring Lisa with me, Sonny said: "Of course you can."
When we arrived at Baker's, Sonny was at the door greeting all his guests at this promotional engagement for Chico. He welcomed me and then said to the waiter nearby: "Please, two glasses of Cordon Bleu for my friend and his little lady." Sonny was always dressed to the max and as polite as anyone I knew. Lisa said she thought Sonny was very cool, she was right.
After half an hour of hob-knobbing with Detroit's jazz music people from radio and record stores, the lights went down and the stage brightened up as Chico came on. He went right in to 'Conquistadors' his most famous tune. As this was Jazz, I wasn't surprised at the first selection because in Rock and Roll (what I was used to) you always save your most well-known tunes for last. If you want to see and hear some great Jazz in the Detroit area Baker's is the place, it has been there since the 1930s.
Nancy Wilson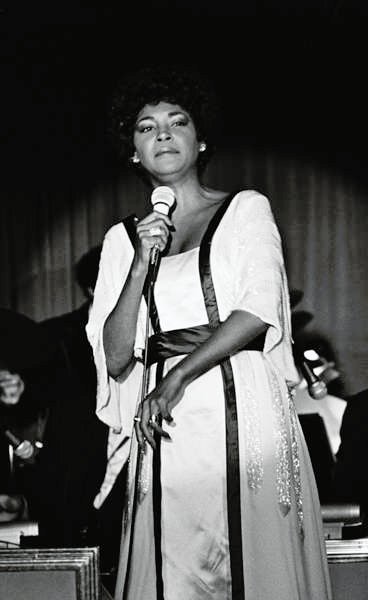 Photo Credit: Tom Weschler
I was called by my people at Capitol Records to photograph another of their greats, Nancy Wilson who was performing at DB's in the Hyatt Dearborn.
Excited and happy to get this gig I met the promotion people at the Hyatt, we went to sound check where Nancy was just finishing up and met her and her handlers.
The head of her entourage told me that I shouldn't use a flash at the performance that night. Little did he know that I don't use a flash when photographing live acts. That night's show was as incredible as I expected, Nancy spoke softly and sang beautifully throughout the hour and a half engagement. It was my pleasure to meet her at the after party the record company set up after her show.
She asked me if I got some good photos from her gig and wanted to see them the next day. I did and brought proofs and a few 8x10s with me when I went back on day two of her stint there. She was duly impressed with the pics and told me she "loved those photos". That from an artist of her caliber made my day. So did her voice!
Loving You performed by Nancy Wilson and Peabo Bryson
Stanley Clarke, jazz guitar
Some of my favorite musical moments occurred at Masonic Auditorium in Detroit. I was lucky enough to be able to photograph some Jazz greats there.
Photo Credit: Tom Weschler
Stanley Clarke and Lenny White were talking backstage at Masonic Auditorium in Detroit as I walked up to them. Stanley said he was going out back for a smoke, Lenny said "cool". Then Stanley said not "cool" but … then he pointed to the item to smoke that he had in mind. Lenny looked over at me and said "come on man." I went out to the alley in back of Masonic with the two Jazz greats and I had a Camel while they didn't.
My time there was well spent; I got some historic performances on film. I got to go out back with Lenny and Stanley to have a smoke, what a night!
At a later date, Stanley Clark came to Detroit playing bass for 'The New Barbarians' at the Masonic, along with Keith Richards on guitar it was one of those shows you just got to see. The crowd was thrilled to see the Jazz great playing along with a living legend from the Rolling Stones. The music was very different for the two of them but they played well as expected. Bobby Keys on sax, Ronnie Wood playing guitar, Ian McLagan on keys, and Joseph Zigaboo Modeliste on the drums.
Photo Credit: Tom Weschler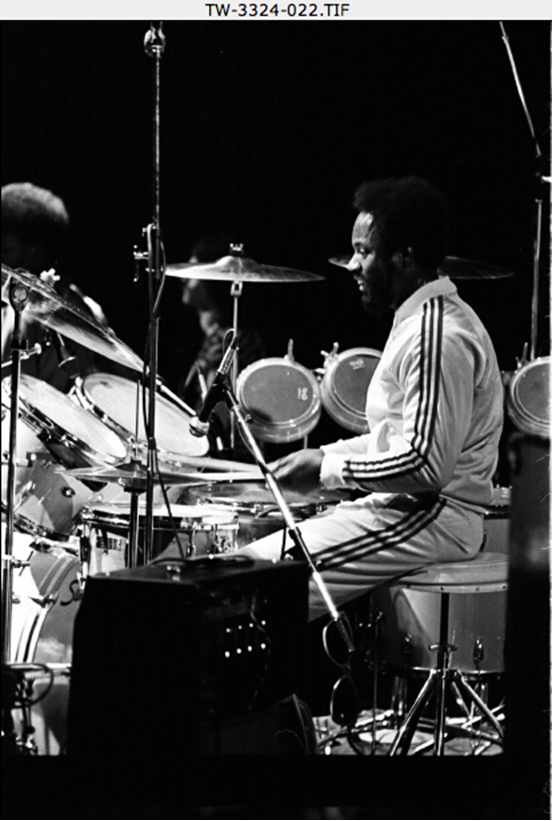 Photo Credit: Tom Weschler
Al Jarreau, jazz singer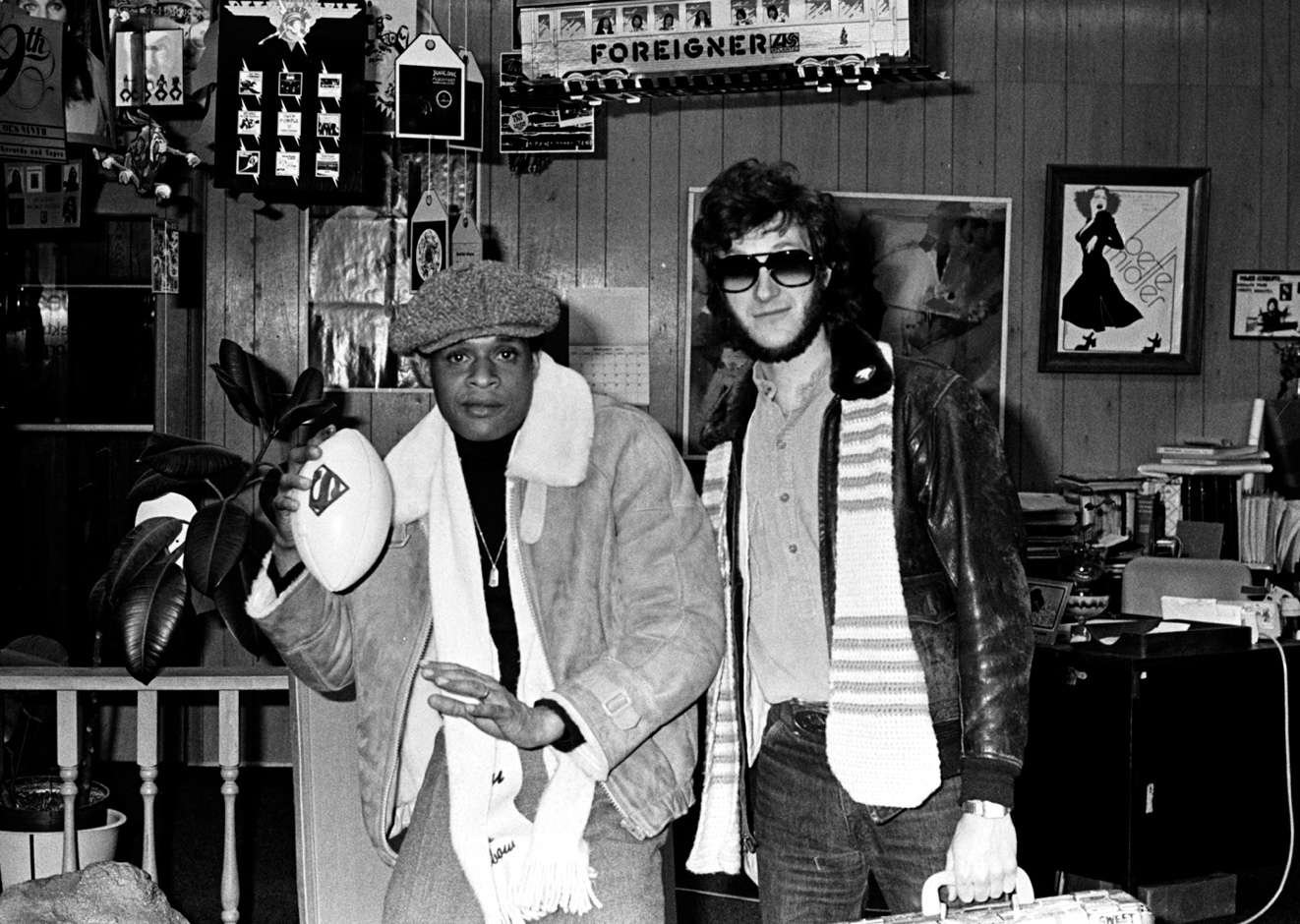 Tom Weschler with Al Jarreau, Weschler self-photo
Speaking of Jazz and some luck, here is a photograph of myself with Al Jarreau at the WEA (Warner, Elektra, Atlantic) office in Southfield, Michigan. I put my Nikon on the secretary's (Chickie) desk and pushed the remote button to give me a few seconds to get into the shot before the shutter went off. This was in December 1978 during the day before his sold out show at Masonic Auditorium in Detroit that evening.
Right after that shot he said: "Let's go out to the parking lot and throw it around." Being a football player myself I was up for that and we went outside and started to throw the ball around. While we were playing Ron Counts (Atlantic) came up in his car, got out and joined in. He had another WEA person with him and we actually had a small touch football game on the asphalt lot in Southfield. Al was quite the athlete, I was glad he was on my two man team, we beat Mike Stone and Ronnie Counts hands down.
Later on we all went down to Masonic to see Al's fantastic performance. The party after was another Detroit tradition: we all went to Greektown to The New Parthenon and had a downtown party with all the radio and record peeps!
Teach Me to Tonight performed by Al Jarreau
https://www.youtube.com/watch?v=hDhkSsTt0VQ
John Lee Hooker, blues singer, guitar
Wescher collection
In 1960 my brother Edward took me to see John Lee Hooker play at the Chessmate in Detroit. It was a folk and blues club on the north side of the city at Livernois and 6 Mile Road, kitty corner from the University of Detroit.
We got there early and went in to find a seat close to the stage. I was 12 years old and way under age to be going in there but my brother was familiar with the doorman who let me in.
When John Lee arrived and came up to the stage for a sound check he spotted us and came over to our seats and said: "Hey Edward, could you go down to the Trade Winds and score me a pint of Bourbon?" The Trade Winds was a party store about a half-mile south of the club. My brother said: "Sure John, this is my brother Tommy look after him till I get back." John's answer was a firm yes. While Edward was gone John said: "Hey Tommy come up here to the stage and check this out." He plugged his guitar into a Fender Twin and began to play, asking if it was loud enough or too loud. I gave him a thumbs up and smiled. He nodded and kept on playing.
The show was very cool and for me a revelation, as it was my first interaction with a performer of any sort in the music biz.
Years later in 1968, while I was at my gig at the Artist's Music store on Gratiot Avenue in Detroit, a red Cadillac pulled up to the back door. A man got out of the Cadillac and came in. Jack Durham, Artist's general manager said to the man: "Hello John, how are you doing?" The man was non-other than John Lee Hooker himself. Quite famous then with several hit records and a big reputation in the blues world. Jack looked at me and nodded, pointing to John Lee, I went over to him and asked what I could do for him. He said he was looking to buy a Gibson 335. I told him we had met before and that my big brother was Edward Weschler. He said: "Oh you're Eddie's little brother Tommy right?" All I could say was: "Yep". John told me to say hello to Edward for him then asked for that Gibson. I got one from the back room and opened the case. He looked at it, picked it up and played it a little and said he'd take it. I looked over at Jack and he nodded again, I went and got a sales slip, brought it back to Mr. Hooker and he signed it then pulled this huge diamond ring off of his finger and handed it to me. I again sought Jack's approval; he just nodded again and told me it was OK.
I walked out to the car carrying the guitar in its case with John as he opened the trunk; I put the case in and said thank you. He smiled and told me again to say hi to Edward for him.
I went back into the store with the diamond ring and asked Jack what to do with it. Jack told me John does this once in a while then comes back after whatever gig he is doing, pays and gets his ring back. "Go over to the safe and in the top drawer you will find an envelope with the name John Lee Hooker written on it, put the ring in there and close the safe."
A week later John came back, paid up, and took back his ring.
The Paul Butterfield Blues Band
Photo Credit: Tom Weschler
I went to see Paul Butterfield at the Grande Ballroom in Detroit in 1967 because I loved the harp playing he did and the blues from Chicago was always something special to me. I had his first album and played it over and over again.
The show was excellent and his harp was exciting every musical fiber in me, I don't really know why but the harmonica has such a special touch and it is quite fitted to the blues for sure. But I do know Paul is one of the best along with Little Walter, Sonny Boy Williamson II, and Charlie Musselwhite.
If you have ever been to Chicago driving through on a sunny afternoon with the window in your car down on the south side you hear it coming from the street, that blues sound with a harmonica and guitar playing somewhere on some street corner. This I have done often over the years. Even up until the present it is a miraculous experience to be sure. Paul Butterfield captures this feeling every time he plays his harp, no matter where he is 'giggin'.
With some of the best guitarists like Mike Bloomfield and Elvin Bishop, and with Teddy Harris on piano, this band made the blues shine.
The Dave Brubeck Quartet, jazz
The Dave Brubeck Quartet album Time Out was released when I was 9 years old, my dad brought it home and put it on the Hi-Fi system we had in our living room. I never heard anything like it, to me music was supposed to be in the same kind of time signature that rock and blues and most jazz I'd been familiar with growing up. This album was way different. The title tune Take Five hit me like a water balloon at full speed. Damn that was refreshing! I thought the whole album by these guys was so cool that I played it over and over again, just like I played other tunes that impressed me fully.
Years passed but my interest in the music by Dave Brubeck's group did not. I was going to the Meadowbrook Pavilion out at Oakland University to see him and his group in 1971. I was off the road for a few days from my road manager gig with Bob Seger and had a little time to take in some other live music. I got out to the venue and found my friends there in the back stage area, got into the inner circle and stepped over to a great place to see this group live for the first time in my life.
The show was very impressive; the tunes were just like I had hoped they would be, even though some of the players had changed in the group. Dave Brubeck was fantastic at the piano and did not disappoint the vast audience out there on that beautiful summer night.
When the show was over I was just hanging around with my stagehand friends when Dave himself came over to where we were all congregating. He asked us what we thought of the performance, I was the first to answer with a rousing thumbs up and a verbal accolade that was to his liking. I got a nod and a handshake from the man himself. While briefly speaking with Dave, I didn't delve into my current music gig or any of my past music biz experiences … that just didn't seem necessary. I did thank him for his fine performance and the way he kept that Cool Jazz thing special all these years.
Eric Clapton, British rock-blues
Photo Credit: Tom Weschler
I was driving down to Olympia Stadium in Detroit to see Cream's last show before they disbanded in October, 1968. On my way in the afternoon (I wanted to get there early) I was driving on Second Ave. just south of Grand Blvd. Where the very low bridge at Milwaukee St. passed over Second I noticed an Avis rental truck under that overpass, stuck. I slowed down and asked one of the guys who was out letting air out of the tires if I could help. He asked me in an English accent, if I knew how to get to Olympia Stadium. I figured it had to be Cream's equipment truck and helped them take some air out of one of the tires. Then told them to follow me. We proceeded to a gas station to fill the tires back up and went on to Olympia. When we got there I pointed to the back stage rollup door and started to drive toward the parking lot. Jerry, one of the roadies said to follow them into the building. I did and was thrilled that I got to park free right in the Stadium's loading zone.
I helped Jerry and Mick to unload the Marshall amps and drums and take them to the back of the stage, which was in the center of the floor.
After that they asked me if I wanted a beer and took me to the dressing room where Eric Clapton was tuning his guitar. Jack Bruce was there talking to a couple of girls and Ginger Baker was fiddling with his drumsticks. I had a beer after being introduced to the band members as the guy who helped them with their earlier low bridge dilemma.
When the doors opened I went out to where the crowd was gathering, it was a sold out show and thousands were there when I took a photograph of the 'scene'. It was incredible. The place was filled with smoke from cigarettes and weed and in the distance on the center placed stage I could read the stenciled word CREAM on the back of the amps.
Back in the dressing room it was time for the show to begin. Eric asked me if I could take some photographs of them walking toward the stage, I did that and then parked myself right in front of the stage to shoot the show. As I got there, LB, one of the promoter's staff, gave me a chair way in front of the front row. I felt special sitting there with nothing between the band and me.
The band was very good, I had seen them often at The Grande Ballroom but this was a much larger venue and the crowd didn't seem to mind the round stage in the middle of the arena, a good time was had by all.
Isaac Hayes, R&B, jazz singer
Photo Credit: Tom Weschler
It was in the fall of 1977 that I got word from my people at Polygram Records that Isaac Hayes himself was coming to Detroit for a promotional visit to introduce his latest record called: 'New Horizon'.
I had met Isaac before on other promotional photo assignments and knew the way he liked to party with the music biz people in town. He knew most of them from being a long time star in the film soundtrack and jazz album groove. Needless to say this excited the music community here and me in particular- couldn't wait!
Bill Schlute the head of Polygram, distributor of Isaac's records in Detroit and their promotion man the infamous Jack Ashton teamed up to put on an extravaganza for the release of 'New Horizon'.
Isaac loved to come to the D because of the fabulous reception he always got here. This time we were partying at the record company's office in Troy, Michigan. Everybody who was anybody in the local music scene was there that night. We had a full bar at our disposal and plenty of food from the best caterer around.
Isaac's pleasant demeanor and his famously good looks made it hard for the girls in the biz to stay away. I got some great pics of the happening!
When the party started to wind down, Isaac and I sat down and talked together over shots of Johnny Walker Red. I asked him what players he liked as jazz musicians; piano players, bass players, horn players etc. His answers were not a surprise: McCoy Tyner, Charlie Mingus Jr., John Coltrane and others in that class of greats, was his answer. I asked about his record labels over the years, of course his latest was his favorite.
When I asked about the movie, I was overheard by one of the interns at WJZZ, she whispered in my ear loud enough for Isaac to hear: Sshut yo mouth." All three of us laughed out loud.
As a member of the Rock and Roll Hall Of Fame and the Songwriters Hall Of Fame, as well as an Academy Award winner for the sound track to the 1971 film 'Shaft,' Isaac Hayes was certainly one of the most influential musicians of his era.
Photo Credit: Tom Weschler
Flora Purim, jazz singer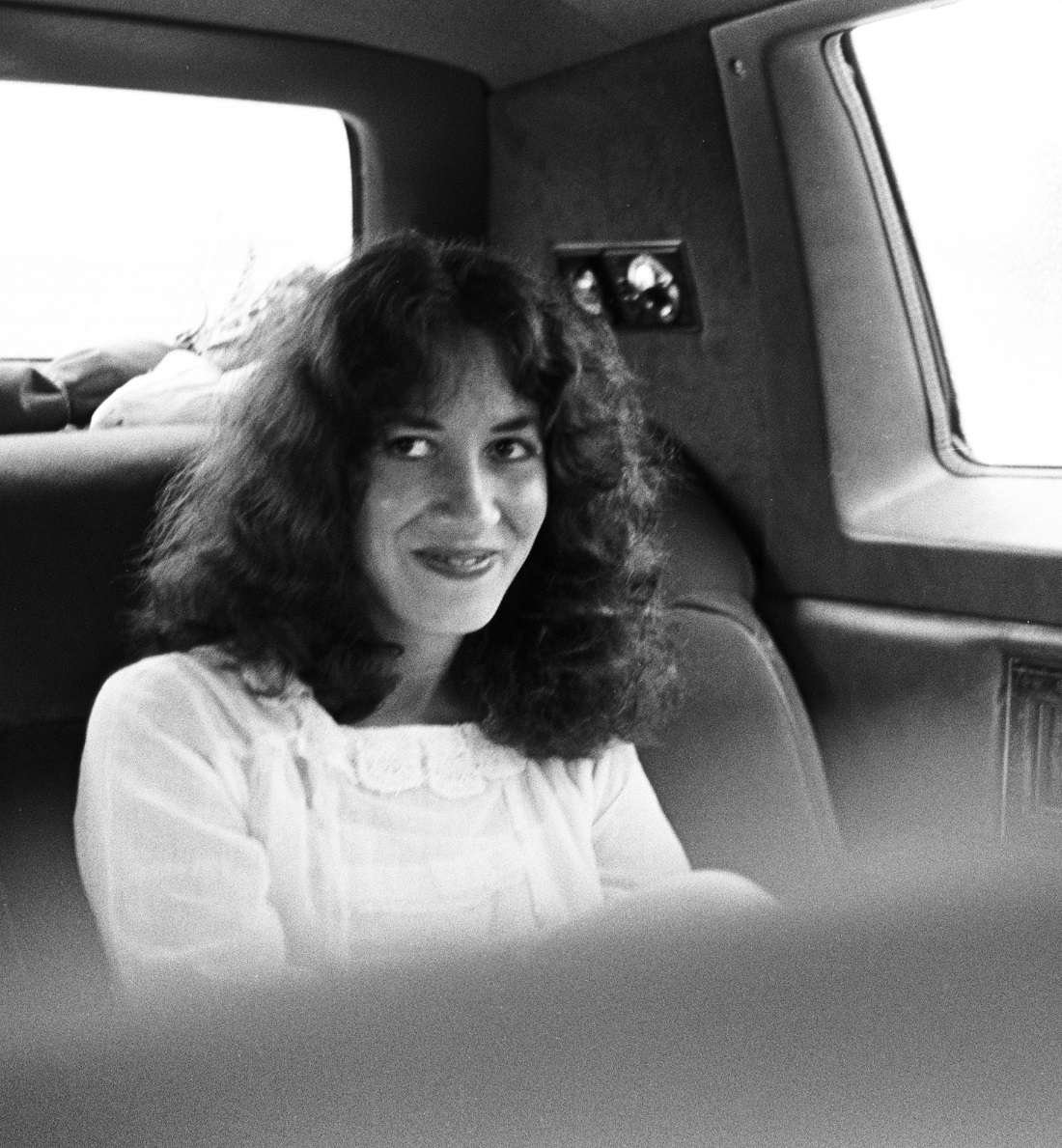 Photo Credit: Tom Weschler
I met Flora at the airport in the summer of 1977. She was in Detroit to promote her newest album 'Nothing Will Be As It Was, Tomorrow'. The record company promotion rep and I took her to many record stores and distributors around Detroit. Then we hit the radio stations, WJR and WJZZ. While we were in the limo I had a chance to talk to her as well as take some photos of her without Detroit music biz personalities surrounding her.
Her musical expressionism is vast from the singing and 'sounds' she made on those Chick Corea records to the exquisite tonality of her voice on her own products. This girl, at that time was 34 years old, had knowledge of music vast and deep. Hell she even liked George Clinton's craziness! When she mentioned Bob Seger I was floored. I asked her about guitar players; of course, Antonio Carlos Jobim and Al DiMeola were at the top of her list.
When we arrived at her hotel, Mike Stone (Warner Bros Record rep) and I took her inside to check in and set up a time to meet for the next day's promotional events. She said she would like to have dinner with us at the hotel and continue talking about music and "other things". Mike and I agreed, of course, who would say no to such a cool person?
She went to her room to freshen up as Mike went to get on the phone to see if he could get any of the music store or radio guys to come to dinner too. I told him I thought we should ask her first, he agreed. When she came down to dinner Mike asked her if she would like some company from the Detroit music scene. Her answer was: "of course but lets have them come after dinner so we can meet in the bar over drinks instead of food," she didn't like to talk with her mouth full.
Polite she was to each one of Mike's invited guests at this impromptu gathering. It's not surprising how many Detroit music people love a gathering at a nice bar like the one at the Michigan Inn in Southfield. Ronnie Rogers from Angott Distributors, Calvin Simpson from his famous record store, Dougi (Moonman) Severson from Full Moon Records, David Handleman from The Handleman Co., and some radio people too; Gene Elsy and Marc Avery from WJR, Wade Briggs from WCHB, and a lot more came to enjoy the company of such a well known and loved musical genius Lady.
As the party continued more 'guests' showed up, Mike got nervous about the bill the group was running up so he called the WEA (Warner Elektra Atlantic) office and got Gil Robert's (branch manager) permission to spend big. Gil himself even showed up!
Flora Purim performing Insensatez
https://www.youtube.com/watch?v=fz_z2P3RG00
Buddy Guy, blues singer, guitar
The first time I saw and photographed Buddy Guy was at the Grande Ballroom in 1968. A 'Strat Man' for sure. We crossed paths over the years at different musical events where my road manager gig took me with Bob Seger's bands. My most memorable visit with Buddy was in Chicago in 2011.
I went to visit my son Dylan who had just started at Columbia College in Chicago. Dylan's dorm room was on the 10th floor high above the 'L' train and right behind the parking lot of Buddy Guy's club a block away.
We were looking out the window toward Buddy's and I saw three tall men walking out of the club and heading toward the parking lot. I said to Dylan that we should go over to Buddy Guy's and have a beer or two, he agreed.
We got out to the sidewalk and headed toward the club, under the 'L' overpass and right in front of the parking lot entrance, the three men I saw walking came out of a large SUV and were coming toward the two of us, as they got closer I noticed one of them was Buddy himself. I looked right at him and made a gesture with my hands like I was taking his picture. He looked at us and said: "Hey, what are you doin' in town?" My answer was: "Goin' to get a beer at your club." He caught up with us and he and his two friends walked in with Dylan and I. The doorman was told by Buddy to let us in … no cover.
All five of us sat at the bar and talked about music. Buddy liked Bob Seger and he said so, telling Dylan how much Bob's voice has done for rock music over the years. My son was duly impressed and told Buddy how his guitar playing had inspired him over the years.
Alvin Lee, rock, blues guitar
Photo Credit: Tom Weschler
I first saw Alvin Lee perform with his band Ten Years After when I was Bob Seger's road manager at the Cincinnati Pop Festival in June of 1970. I was not able to photograph their performance there, as I was too busy with my duties with Bob's band.
I did however manage to photograph Alvin Lee's girl friend at the time Suzanne who later became his wife.
Many years later I saw and photographed Ten Years After with Alvin Lee in Flint, Michigan in the late 1970s.
Although I never spoke with Alvin or even mentioned our near encounter in Cincinnati earlier I had always liked his guitar playing. He was one of the best I'd ever seen.
Just recently, after Alvin had passed away and the band was no more, I
was talking to a friend who happened to know Suzanne. Vince Bannon an acquaintance of mine from the halcyon days in music around Detroit in the 1980s had gone off to a gig in England where he met many rock people there, Suzanne being one of them. He had remarked about a photo I posted on my FB page saying he knew 'her'. That 'her' was Suzanne. I said: "I hope that she can see that photo someday Vince." Vince told me she would.
Photo Credit: Tom Weschler
Peabo Bryson, jazz singer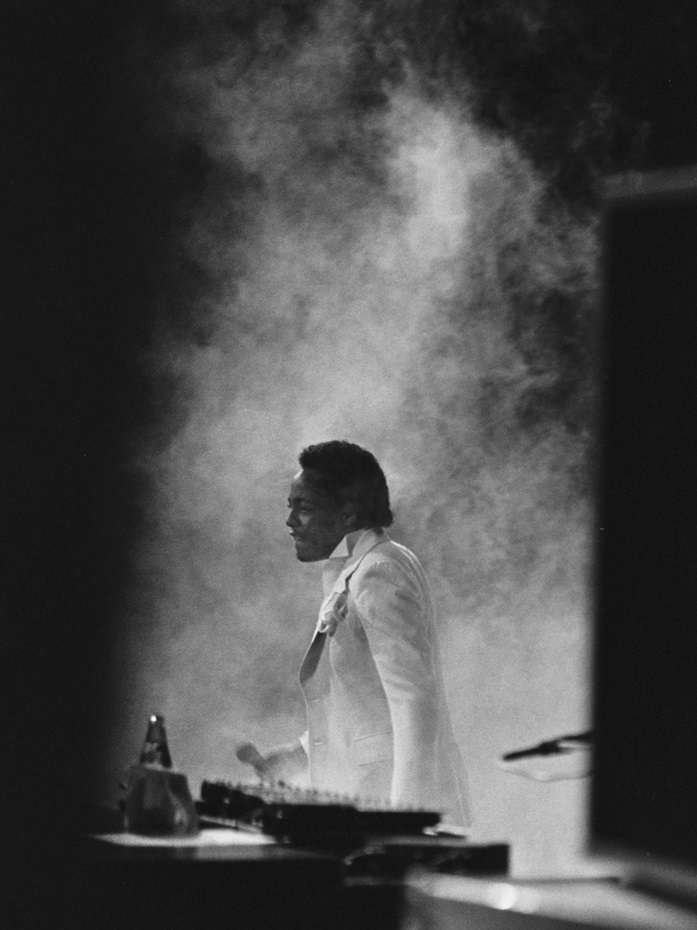 Photo Credit: Tom Weschler
"Yo Peabo come on over here." That was said into the phone by Bobby Fant the Capitol Records regional R&B rep. while calling Peabo Bryson at his hotel in Windsor.
Bobby called me and said: "I'm bringing Peabo up in here tomorrow to hit the stores and radio stations around Detroit, you in?" I was in and happy at that! Peabo is a special entertainer and everyone in the biz dug him.
So, on we went in a big limousine with everybody's favorite chauffeur Robby behind the wheel. That afternoon after we had been to four record stores, two record distributors and three radio stations, Peabo asked me: "Man are you gonna come to the show tonight?" My answer was an emphatic: "Yes!"
In the spring of 1979 I witnessed a great show put on by Peabo at Detroit's Masonic Auditorium, got some good shots too!
Jean Luc Ponty, jazz violin
Photo Credit: Tom Weschler
A scheduled appearance in Detroit for Jean was the reason one of my students came running up to me in the hallway just before class. I was teaching photography at the Academy Of The Sacred Heart in Bloomfield Hills, Michigan at the time. My student was from Quebec and was a huge fan of Jean's. Celine asked me if I was going to shoot photos of Jean at his show that evening. Most of my students knew my background and were aware of my music business ties. Celine wanted to go with me as my assistant if I was indeed going to the concert.
I hadn't shot for any record company gigs for many years, after all it was the mid-nineties and that part of my life was in the past. However, she was so into it that I actually called the venue to see if I knew anyone there anymore. Meadowbrook was at Oakland University (my alma mater) and I was sure there would be someone I knew still engaged at the pavilion. It turned out that Floyd Black, one of my high school friends was still the soundman at Meadowbrook. I put in a call to Floyd, he called me back and asked: "where the hell have you been all these years?" I told him about my teaching endeavor; surprised he was to hear that because we used to chase after ASH girls when we were in high school. I asked if he could hook me up with two backstage passes for Jean. "Of course" was his reply. I then called Celine's mother to ask if it would be all right to take her to Meadowbrook to see Jean. The answer was positive and we made plans to leave at 7pm.
Jeff Beck, British rock-blues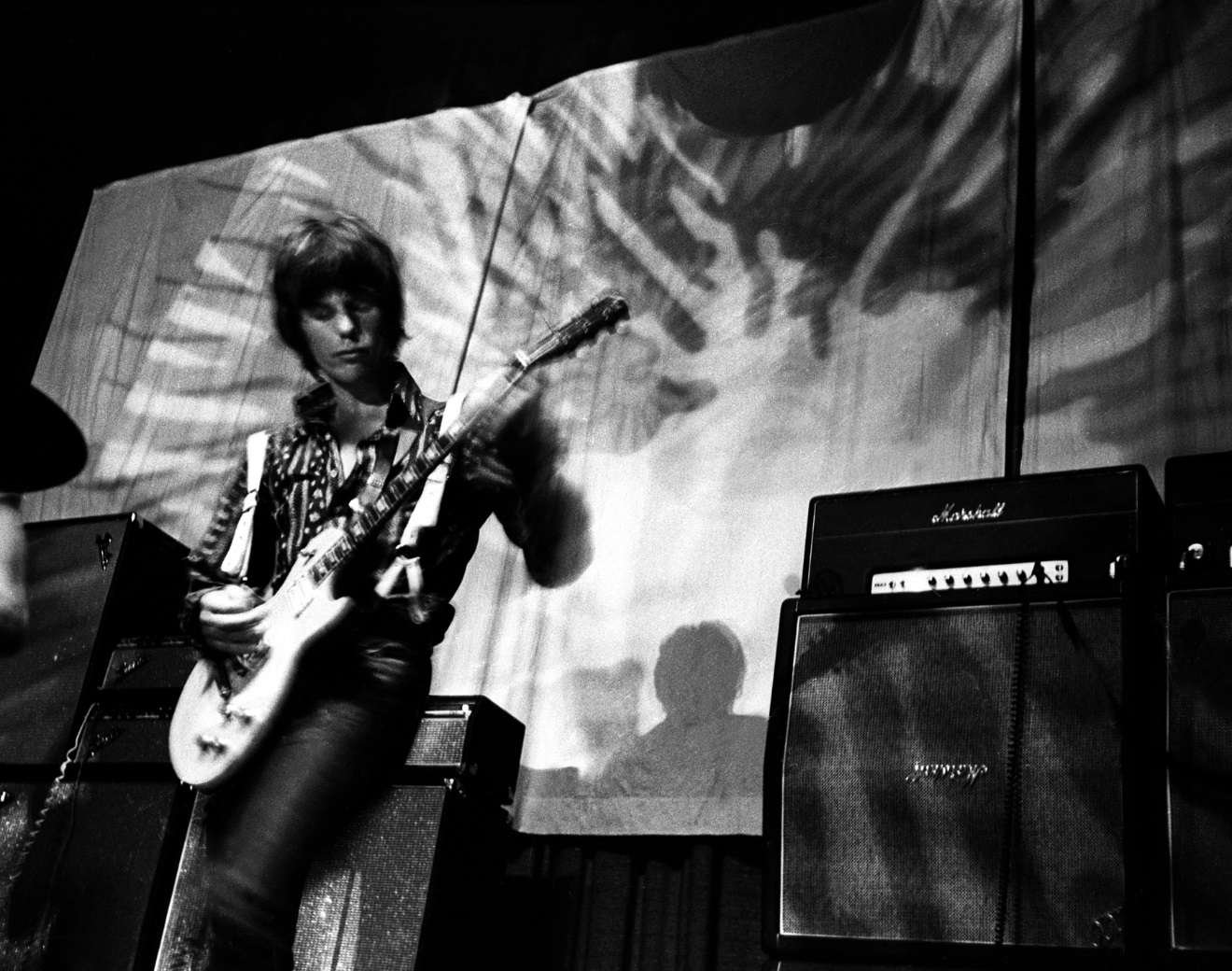 Photo Credit: Tom Weschler
I was off the road for a few days because Bob Seger (I was his road manager at the time) was in the studio. Two friends and I went to see and record The Jeff Beck Group at The Grande. We used my Panasonic cassette player, not the best device for recording a loud band but it did work. We got 35 minutes of the show with Rod Stewart, Ronnie Wood, Nicky Hopkins and Tony Newman with the fabulous Jeff Beck on tape.
I took our BASF cassette tape to the studio where Bob was recording and after the session with Bob, I asked the engineer, Greg Miller to see if he could fix the sound up a bit. He sure did. Greg transferred it to a 7" reel and gave me a copy. I took it home and made several cassettes out of that tape. It sounded very good almost like a record. Not exactly like a record but almost, good enough for me to take it to Jeff Beck the next time he came to town.
We didn't get to see Jeff Beck until the early 70s when he played at Ford Auditorium in Detroit. Jerry and I went to the venue early and got to the back stage area where we found Jeff in the dressing room. Politely we asked if we could give him a copy of a tape we made back in 1969. He laughed and said sure you can. We did and he immediately put it in a tape player he had, played it and told us: "this can't be me, it's too good" while laughing. Then he actually tried to figure out one of his licks on the tape. He said this was made before the car accident. Jeff was in an accident in England in Nov. 1969 and it messed up his playing for a while. We stayed for the show. Obviously he was back and better than ever!
Tony Williams, jazz drummer
When Tony Williams came to perform at The Palladium in Birmingham, Michigan in 1970, we were off the road for a few days. I was Bob Seger's road manager at the time and also worked for Bob's manager Punch Andrews, owner of The Palladium. Bob was recording in the studio. All of us on the road crew weren't needed in the studio so Punch asked me to go to the airport to pick up Tony and his band.
I got there in the early afternoon and met the band, Tony Williams (drums), Jack Bruce (bass), John McLaughlin (guitar), and Larry Young (organ). They were walking toward me in the terminals' hallway at Metro Airport when I said: "Hello, I'm here to give you a ride to The Palladium." Jack Bruce, in a rather condescending way said: "Well, good for you". Tony immediately told Jack to "cool it."
John McLaughlin was the only one of them that had his instrument with him; I asked what kind of guitar was in the case? He said: "It's a 345" (A Gibson stereo 345).
When we got in my car (a very large Ford LTD) Jack Bruce was in the back seat with John and Larry, Tony and I were up front. I pulled out an 8-track of the just released 'Live Cream' album and put it in my tape player. As soon as it came on Jack said: "What's this?" I told him I just got it from the record store. He was genuinely surprised to hear it, saying he was not aware the record company released it so long after they recorded it and after Cream broke up. He was happy the rest of the way to Birmingham, listening to his former band and pointing out the great bass licks he was playing on the live tracks. This bit of music made it so Jack Bruce and I got along just fine for the rest of 'Lifetime's' three-day gig at The Palladium.
We recorded at a few studios back then, one of them was Pampa Recording in Warren, Michigan. The owner of Pampa and its chief engineer Jim Bruzzese who was also a first class drummer who had recorded for Motown and was in the Jazz band that played for the Detroit Lions football team. When we were setting up for Bob's session the day before Tony Williams was due at The Palladium, I told Jim that Tony was going play there. He told me Tony was "the best fucking drummer in the whole world!"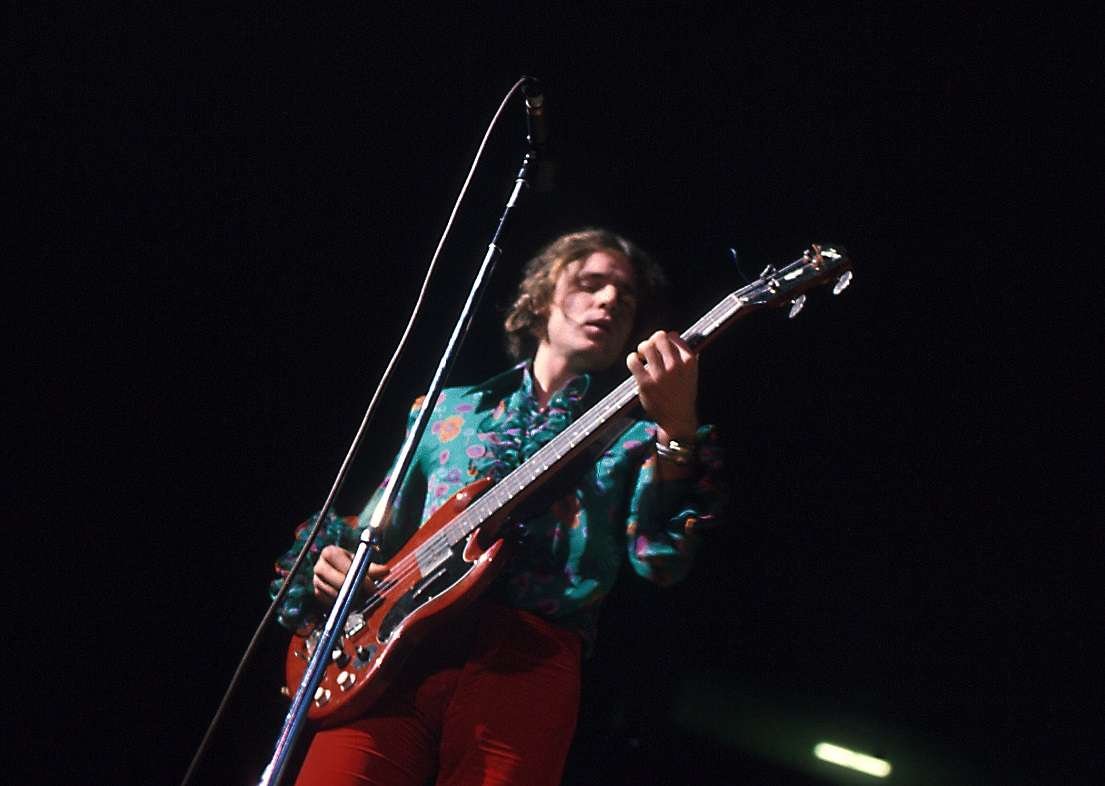 Jack Bruce, Photo Credit: Tom Weschler
Robert Plant, British rock-blues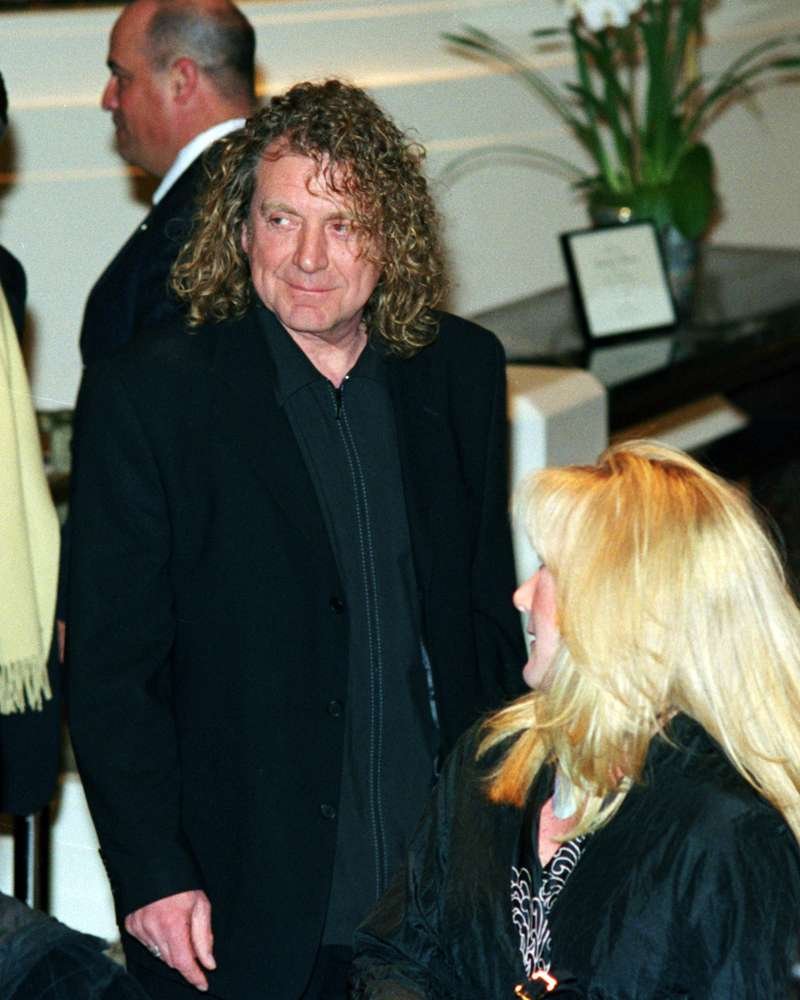 Photo Credit: Tom Weschler
On the road with Bob Seger in July 1969 the band had a few days off. Rather than drive home then back to Chicago again we decided to stay at the Lakeshore Holiday Inn in downtown Chicago so we could go catch some live music. Ace (one of my roadies) and I decided to go to see Led Zeppelin at the Kinetic Playground. Bob said he was going to go see Jefferson Airplane at the Aragon Ballroom.
We arrived at the Playground in time to catch Jethro Tull who was on tour with Led Zeppelin. I brought my cameras and shot a few pics of Jimmy Page and Robert Plant. Ace spotted some girls and asked me to take some pics of them instead of more of the bands so I did. Never having seen Jimmy Page's new group, I was duly impressed, they were better than the Yardbirds, a band Page was in the year before that I had set up equipment for at the Michigan State Fairgrounds.
Back at the Holiday Inn after the show I went to the lobby to get some smokes out of the machine there and Robert Plant was standing in front of it looking at his hand full of change. He asked me if he had enough to buy some Marlboros, not being familiar with American change just yet. I told him no he didn't but then gave him a quarter, which made it so he could get what he wanted. "Thank you mate" is what he said to me he got his smokes and walked off.
Over the next few years I ran into Robert a few times and jokingly said: "Robert, you got my quarter?" He laughed each time.
In 2010 Robert Plant was coming to Detroit to help promote the Cadillac 100th Anniversary because GM had used one of their songs in Caddy spots on radio and TV. I was hired by WCZY, the co-sponsor of this event at the RenCen in Downtown Detroit to photograph the goings on.
A large black Cadillac pulled up out front of the event and out came Robert Plant who looked directly at me and with the small Sony video camera he had he started to shot video of me with my camera pointed at him. We said hello and he asked what the interest was up to now on the quarter I lent him back in 1969. Funny but so true.
Chuck Mangione, jazz trumpet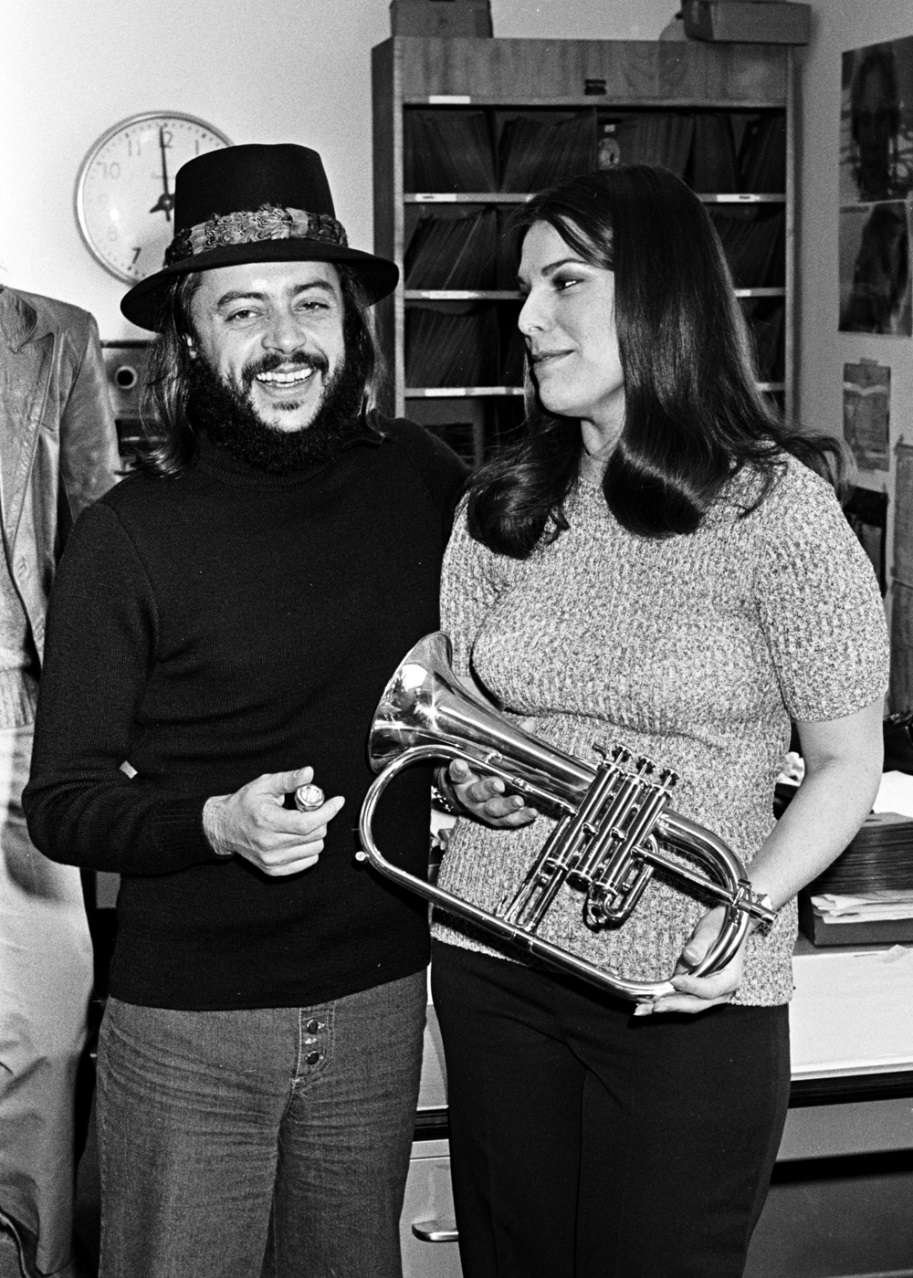 Photo Credit: Tom Weschler
It was a shock when my phone rang at 7:30 a.m. one morning back in 1977. I reached for the phone to hear a voice on the other end, a voice inviting me to take part in what was described as a Jazz event in the D. Steve Dunn a record biz man needed me to come to some radio stations and record stores with him as he took Chuck Mangione around the city on a promotional tour. Of course I answered in the affirmative, I mean what photographer wouldn't want that assignment?
I asked Steve why he called so early, his answer was: he wanted me on the gig and was thinking because another promotion man I worked for occasionally was about to have, on the same day, an engagement with one of his artists, Steve wanted me to commit first to Chuck Mangione.
Chuck loves that Trumpet; he has it with him in most of the photos I took of him during this Detroit visit. We were out promoting a new record release called 'Feels So Good'.
At WJR, Detroit's most listened to radio station at that time, we saw Gene Else the stations' music director and on air personality. For artists coming to Detroit and wanting to get some airplay for their music, WJR was number one on the record companies list! The reception was very good there; lots of photos with the staff and a good on-air interview made us all feel so good.
With Robbie, the favorite chauffer for the record biz promotion people in Michigan, we hit the road over to WJZZ. Another successful meet-up with the staff. Then on to lunch with some of the record store people, who are very much needed by record companies to help promote the product, talk-it-up to the public, and sell it.
After lunch we went out to Troy, Michigan to The Handleman Co., the largest music distributor in the United States and Europe. When we arrived we were greeted by David Handleman himself. When inside I photographed Chuck with some of the employees. Even got a shot of Johnny Kaplan with Chuck's horn. Johnny was a respected and well-loved record guy from way back and at that time the president of The Handleman Co.
After the visits to some of Detroit's radio and record people it was off to dinner at Larco's, a great Italian restaurant on West McNichols in Detroit where Gene Silverman the A&M record distributor used to have many music business parties.
Next stop: Meadowbrook Music Festival in Rochester where Chuck Mangione had an engagement that night.
Feels So Good performed by Chuck Mangione
Natalie Cole, jazz singer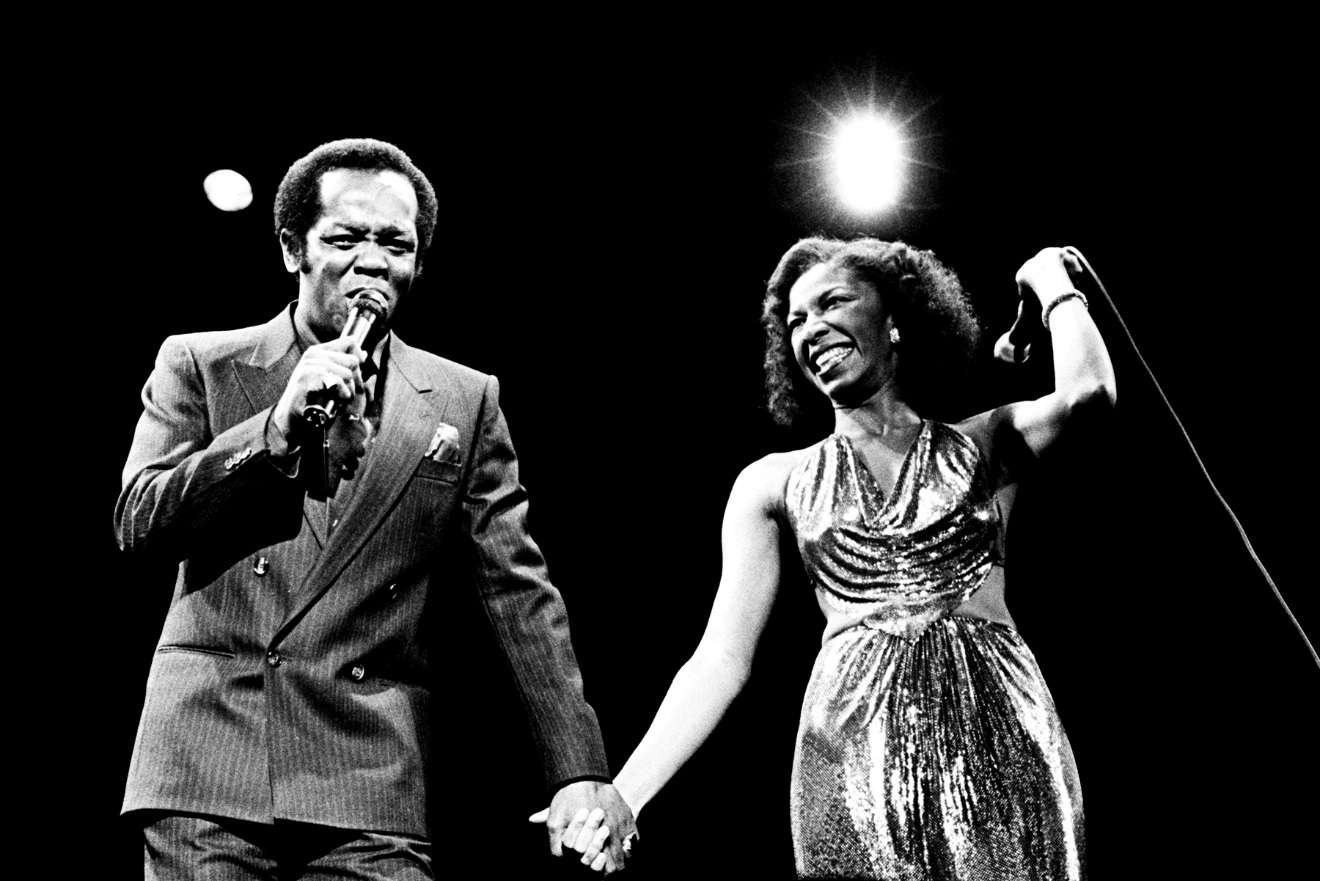 Photo Credit: Tom Weschler
The fine entertainer and vocalist Natalie Cole came to Masonic Auditorium in Detroit in January of 1977, with Vivian Fant from Capitol Records. I went there to take some photographs of the show. What a night, as Natalie was performing and the audience reveling in it, out from behind the curtain … a huge surprise: Lou Rawls himself! Wow a fabulous duet for sure!
Next day we all met up at the Capitol Records office in Madison Heights, Michigan to get some shots with the Capitol staff. Natalie wanted to get some pics with the people in the warehouse too. Then we all took off in a limo, with Natalie heading to the radio stations in and around Detroit.
WJLB was first on the list where we met up with 'The Big Soul Rocker': Claude Young. Natalie did an on the air interview with him. We photographed her with some of the other people there then headed down to WGPR.
Natalie Cole and Diana Krall performing Better Than Anything
Keith Jarrett, jazz piano
In 2000 Keith Jarrett was playing at Hill Auditorium in Ann Arbor, I took one of my former students (I taught High School photography) to see him. At the beginning of his performance, a few people were coming in late. He stopped, looked right at them and said over the mic: "you're late." It didn't surprise me, I'd seen his ego erupt before. However, that concert had a positive effect on my former students. Keith is an improvisation musician, that is, he plays whatever he wants to at the time and does so with a style all his own. Adagios brought into his chording with precision and balance overtaking his first higher tempo then receding again. Great playing in my book.
On the way home all we talked about was the way Keith played the piano, in their opinion he attained perfection. The opinion they expressed strengthened my belief that people should be exposed to music early in life. All kinds of music brooks all kinds of opinions from all kinds of people.