New album reviews
This is the first article in a regular column on jazz, blues, and other musical topics by music critic and journalist Eric Harabadian.
Jeff Cosgrove/John Medeski/Jeff Lederer
"History Gets Ahead of the Story" album
Self-released
Drummer Jeff Cosgrove leads this trio of modern jazz heavyweights, along with organist John Medeski and saxophonist/flautist Jeff Lederer. Most of the material on this 10 track release is composed by the percussionist's former bass partner William Parker. And, indeed, the compositions are quite intriguing in the sense that they walk a fine line between being "in" and "out." Rarely has a mix of experimentalism and post-modern bop been so well executed. The music takes some interesting twists and turns.
For example, "O'Neal's Porch" opens with a straight-ahead intimate club feel, but quickly explodes with splashes of avant-garde color. "Corn Meal Dance" follows, with an atmospheric melody fused with a roots-oriented sax solo. "Gospel Flowers" is more pedestrian swing firmly stated by Lederer's Sonny Rollins meets John Coltrane lyrical freedom. Lederer further delves into woodwind exploration on flute-centric tunes like "Little Bird" and, with various saxophones, on "cool" themes like "Moon" and the noir-ish "Harlem." In addition, Medeski's spacey Larry Young-inspired volume swells and chord harmonies further define the beautifully fresh and progressive nature of this group.
###
Zoom with Shawn Kellerman
"Chocolate Cake" album release
Self-released
Zoom (aka Karen Lawrence) is a singer-songwriter active on the Detroit and international blues scene since the early '90s. She started singing as a child, with one of her idols being the legendary Koko Taylor. Years later she got the opportunity to perform with Taylor and other luminaries like Bobby Bland, Albert King, James Cotton and Junior Wells. Guitarist and old friend Shawn Kellerman had been touring with Bobby Rush, Sherman Robertson and Lucky Peterson when Zoom reconnected with him.
The duo began writing together and the result is this 11 track album "Chocolate Cake." It's a strong and dynamic mix of old school R&B grooves, funky beats and down and dirty traditional blues. Zoom knows how to modulate a performance. She can be bigger than life or subtle and seductive. Kellerman is a great counterpoint as, not only a diverse guitar stylist, but a gifted producer as well. Highlights include the James Brown-flavored "Are You Ready," the signature sing-a-long "Big Boss Woman," the Muddy Waters meets "Big" Bill Broonzy testifier "Born to Sing the Blues" and the Tower of Power/Average White Band/Joe Tex seasoned title track.
Rest assured, there is a ton of partying and fun here, but Zoom gets real and personal on the finale "Tired of the Hate." It's a powerful social statement whose time is NOW!
Eric Gales
"Crown" album
Provogue/Mascot Records
Guitarist-vocalist Gales has shook hands with the blues via past drug use and incarceration. But he's kicked that to the curb and is back in fine form on one of his best albums to date! "Crown" is a whopping 16 track excursion into Gales' takes on personal struggles, survival, spirituality and lowering the temperature on social divisiveness. This is kind of a concept album in the sense that all the songs seem to have a musical, as well as, lyrical arc. This master craftsman of the six-string takes you on a journey that will stimulate your mind and electrify your soul.
The album is produced by fellow ace guitarists Joe Bonamassa and Josh Smith. They bring out a candidness and unbridled natural energy from Gales that equally spotlights his superb vocals as well as uncanny guitar skills. Tracks like "Death of Me" and "The Storm" really connect on a visceral level. "Stand Up" and "Survivor" are exceptional for their humanistic messaging and scorching guitar work. There are also some lighter moments like the semi-autobiographical "I Want My Crown." Here, Gales goes toe to toe with "Joe B" for the heavyweight guitar champion of the world. Everyone comes out a winner!
Fred Hersch
"Breath By Breath" album
Self-released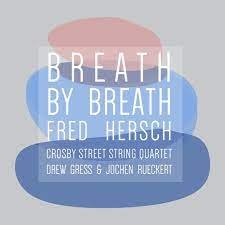 One of the leading lights on the modern and progressive jazz scene today is pianist Fred Hersch. He's worked in all types of musical settings but, perhaps, one that's closest to his heart is the sound of a string quartet. He's had an affinity for them as a child and that is the basis of this current album. Hersch is also an avid practitioner of meditation and his "Sati Suite," which is the concept of this album, reflects that. The Pali/Buddhist derived word "sati" means "mindfulness" or "awareness." And all the moving parts of this suite are all reflections of achieving inner peace, focus and insight. Hersch is joined by bassist Drew Gress, drummer Jochen Rueckert and percussionist Rogerio Boccato, with musical augmentation from The Crosby Street String Quartet.
Many of the tracks are quite dynamic in scope, but naturally take on a serene or calming effect. Cuts like "Begin Again" and "Awakened Heart" have a baroque feel and elevate classical and mainstream jazz to a higher plain. And then you have the title track which seems to suggest similar work by classic artists Bill Evans and Dave Brubeck. There are many other gems to explore here, with the Keith Jarrett-like "Rising, Falling" captivating the senses in a whirlwind melodic ebb and flow.
Kristian Montgomery & The Winterfall Band
"A Heaven for Heretics" album release
Ultrasound Productions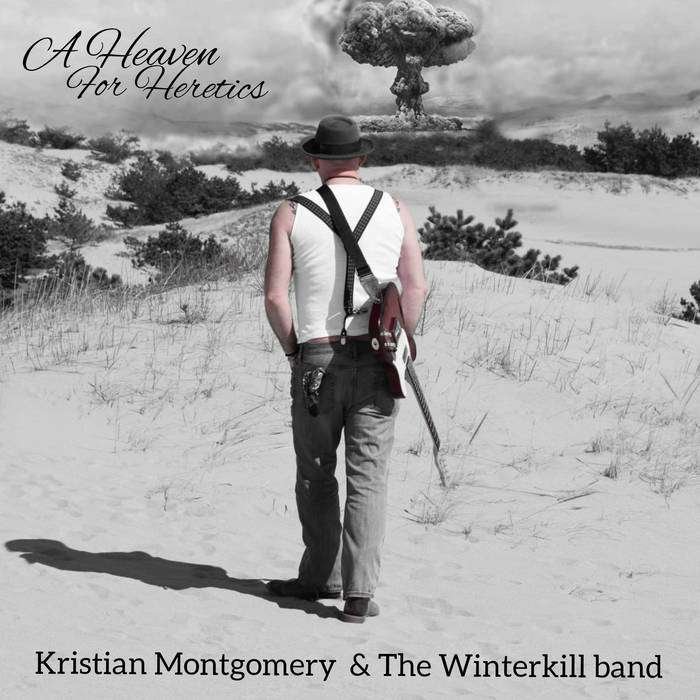 This is the third album for the very accomplished Boston-based singer-songwriter Kristian Montgomery. He's been nominated several times for the Boston Music Awards and has amassed a steady following of loyal fans and critics alike. Montgomery draws from outlaw artists like Steve Earle and Chris Stapleton as he infuses his songs, with a healthy dose of darkness, grit, country, blues, spirituality, survival and redemption. You get a full array of the human condition when you engage in a Kristian Montgomery record.
Right out of the gate his robust and earthy vocals capture your soul in "I'll Break Your Heart Again." It's an anthem of country rock and blues that finds Montgomery as a sort of anti-hero. His crying guitars soar in the background and illustrate the lyrics. There are a number of other tasty musical flavors on here such as the smoking guitar work and rockabilly feel of "Times Like These" and the New Orleans groove of "Secret Watering Hole." "Ain't Got Nobody But Me" is significant for its stealth blending of two songs in one, and "Peach" is uptempo country in its finest and most authentic form. Well done!