Many of my aunts and uncles were teenagers in the 1950s. As a kid, I would be around their teen gatherings at soda shops for burgers, fries and malts, and their dance parties. I grew up with early rock 'n' roll and seeing my aunts in poodle skirts and pony tails, and my uncles in bowling shirts with crew cuts, driving 1957 Chevy's with fuzzy dice, and everyone wore white socks. I bought my first 45 single records of Elvis, Everly Brothers, Chuck Berry, Buddy Holly, Jerry Lee Lewis, and others. Today I get nostalgic when I see people imitating the styles back then for parties, dream cruises, and dances.
Jerry Lee Lewis "Whole Lotta Shakin' Goin' On"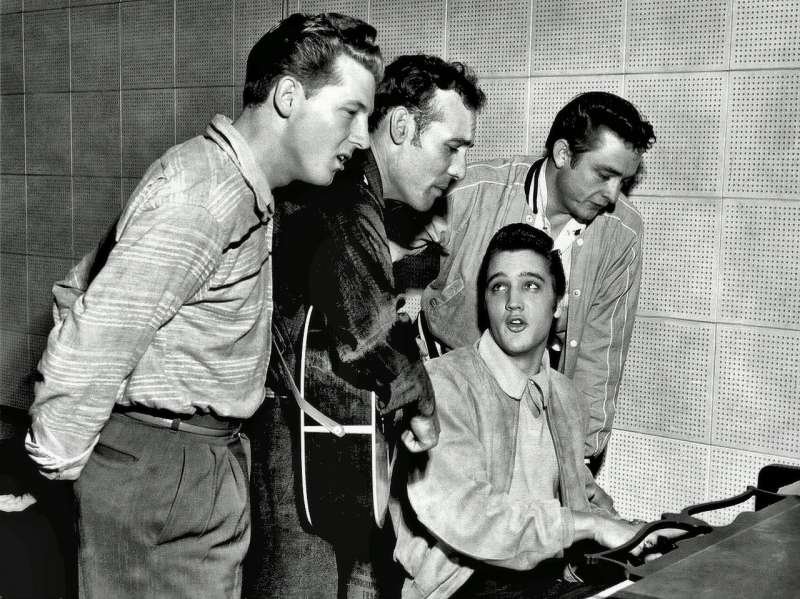 Jerry Lee Lewis, Carl Perkins, Elvis Presley, Johnny Cash
To get ideas for a Rock 'n' Roll theme party look at Elvis Presley movies and old TV shows like Dobie Gillis, Happy Days, American Bandstand, and Ozzie and Harriet. See movies such as, Elvis, Back to the Future, Grease, Bye Bye Birdie, Great Balls of Fire, West Side Story, Bye Bye Birdie, Rebel Without a Cause, Rock Around the Clock, Cadillac Records, and Shake Rattle and Roll. As well as other movies that include such actors as: Elvis Presley, Ann Margret, James Dean, Natalie Wood, Marlon Brando, Tuesday Weld, Bill Haley, Sal Mineo, Jayne Mansfield, and others.
Rock 'n' Roll and Juke Box Blues
Juke Box blues was the original tock n' roll, performed by African American R&B singers. The music was picked up by early white rock n' roll singers and promoted by a few DJs on the radio and at concerts and dance halls. By the mid-1950s, rock n' roll went mainstream on readio, TV, and film.
Juke Box Blues: Joe Turner, Ruth Brown, Louis Prima, Big Maybelle, Louis Jordan, Helen Hume, Roy Milton, Ann Cole, Wynonie Harris, T-Bone Walker, Ella Mae Morse, Muddy Waters, Roy Brown, Willie Dixon, and others.
Louis Jordon "Caldonia"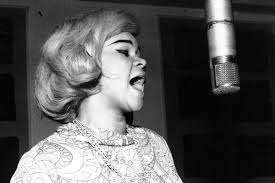 Etta James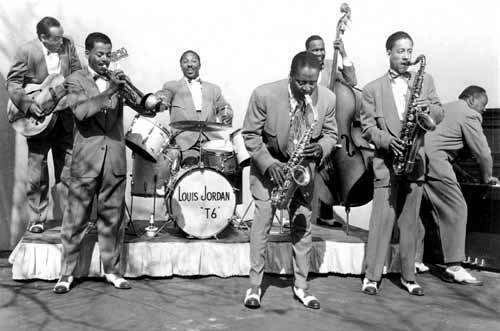 Louis Jordan
Rock 'n' Roll: Elvis Presley, Etta James, Buddy Holly, Big Mama Thornton, Jerry Lee Lewis, Carl Perkins, Roy Orbison, Duane Eddy, Eddie Cochran, Lavern Baker, Ricky Nelson, Brenda Lee, The Platters, Everly Brothers, Chuck Berry, Fats Domino, Bill Haley, Big Bopper, Gene Vincent, Little Richard, Sam Cooke, Ray Charles, Johnny Cash, James Brown, and others.
Grease dance
Everly Brohers "Wake Up a Little Susie"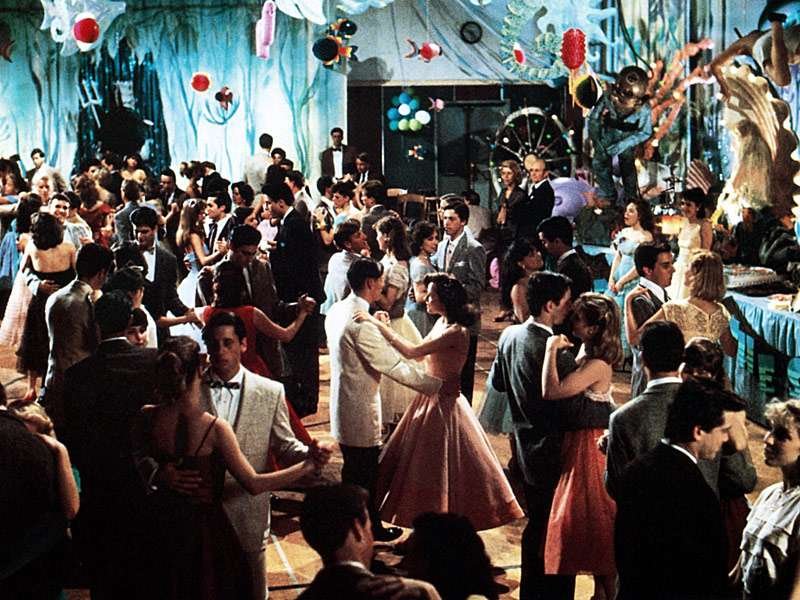 Back to the Future dance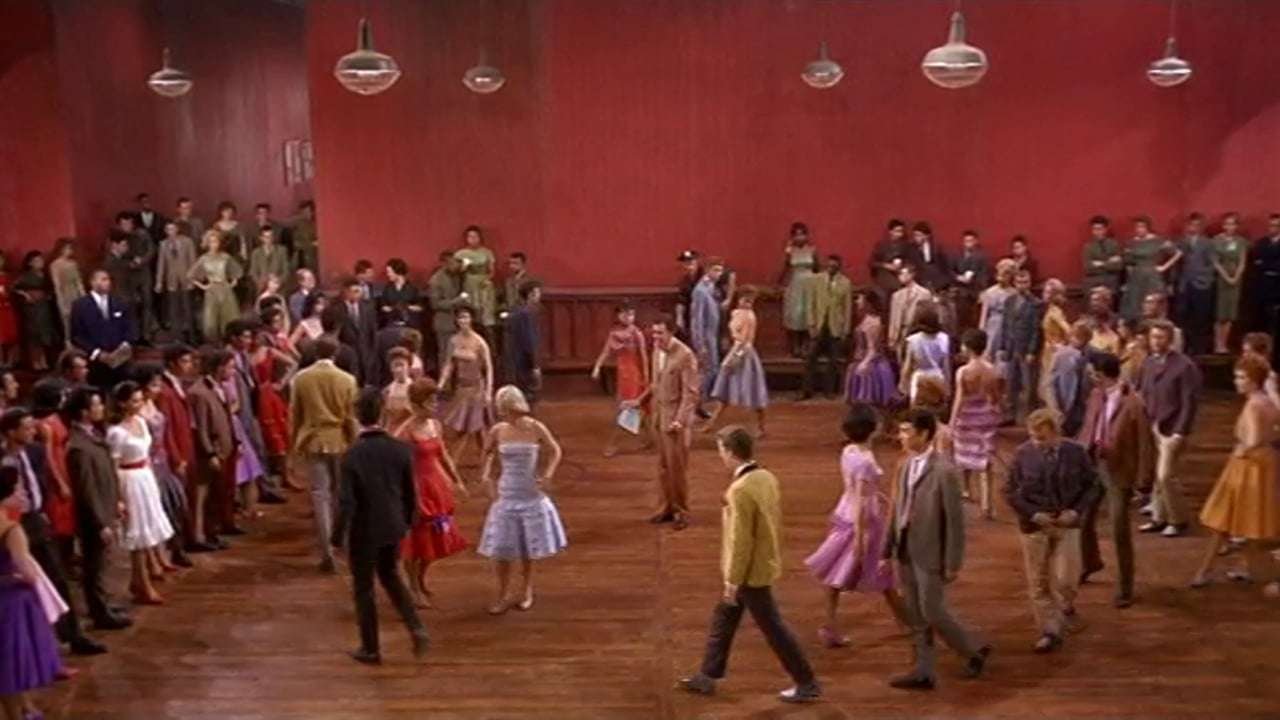 West Side Story dance
Elvis Presley "Jailhouse"
Elvis, the King
1950s Party Games
Parties were often organized by the host with optional games, dance, singing, cards, and board games. My parents would have bridge cocktail parties with four or five tables of four players each. Charades was always popular. Often there would be door prizes.
Games are a great icebreaker to help people relax, get to know each other, and start conversations. They create a fun-filled and memorable experience. Games are meant to be silly and fun. Door prizes can include movie tickets, gift certificates, lottery tickets, and other items.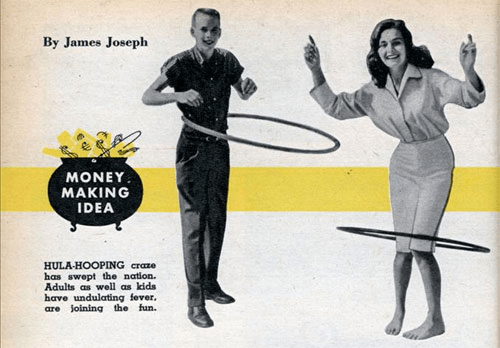 Hula Hoop
Hula Hoop Contest
Divide people into smaller groups. Each person performing gets a hula hoop. Play music and players work the hoops. The top two from each group are picked and compete in the final round. Door prizes are given to the Best, Second, and Third players.
Twister Contest
Is played on a large plastic mat spread on the floor. The mat has large color circles. A spinner picks color, feet, and hands. Players must move their matching hand or foot to the right color circle. Players get all tangled up in hilarious positions. A person is eliminated when they fall or touch the mat with their knees or elbows. Prizes for winners.
Twister
Limbo Stick
Played to Caribbean music, people line up and one by one go under the limbo stick. After each round the stick is lowered. Play continues until there is only one person left. Prizes for First, Second, and Third places.
Hand Jive
Hand jive is a dance of the hands that resembles a complicated version of patty-cake. Hand moves include slapping, clapping, crossing wrists, fist pounding, and hitch hike moves. Give a lesson then play music and have a hand jive contest with prizes. Youtube has videos of how to hand jive, which could be played for the group. Ask people to learn it before the party.
Charades
Charades
A popular word guessing game. Teams are chosen. An actor from the team is chosen to mime a selected word without speaking. A set time is set for the team to guess the word. Scores are kept. Play continues until all players have a chance to act at least once.
Common signals:
Number of fingers for words
One for first word, etc.
Number of fingers on the arm for syllables
Earlobe for sounds like
Hands close for shorter
Hands apart for more
Come here gesture for close, keep guessing
Touch nose and point to the person for a correct guess
Name That Tune
Play a beginning or portion to a popular 1950s or 1960s song. The first to blurt out the title gets a point. Another point for the person who names the singer. A third point is awarded to anyone who can name the movie or musical the song came from.
Twist
Have a twist dance contest to music. Prizes for First, Second, and Third places. (see Dances section below).
1950s Dances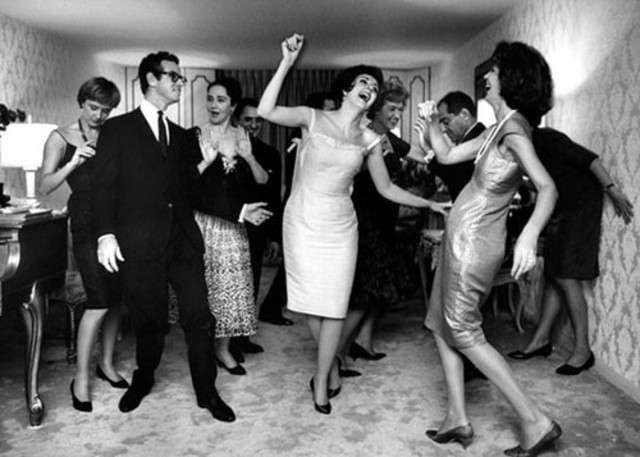 Social dancing has always been part of American culture going back hundreds of years. Parties in the Fifties and Sixties continued this tradition. My parents took dance lessons and their cocktail and family parties had dancing where the slow close dancing and mambo were popular. Teens in the Fifties had their own style which was often copied by older adults, such as the Hully Gully and the Twist. At extended family functions, our young band of siblings and cousins would have our own dance – a line dance with two lines and one person would dance down the aisle. We would go for hours and have a blast. My young teenage aunts and uncles would dance rock 'n' roll at high school dances, roller rinks, and dance hall concerts.
Chuck Berry "Johnnie B. Goode"
Twist
The Twist was a worldwide dance craze of the late 1950s and early 1960s, started by Chubby Checker's number one hit The Twist. The Twist is danced with feet shoulder width apart. The arms are held out front of the body with elbows bent. The hips, torso, and legs rotate on the balls of the feet as a single unit. The feet grind back and forth on the floor, like putting out a cigarette.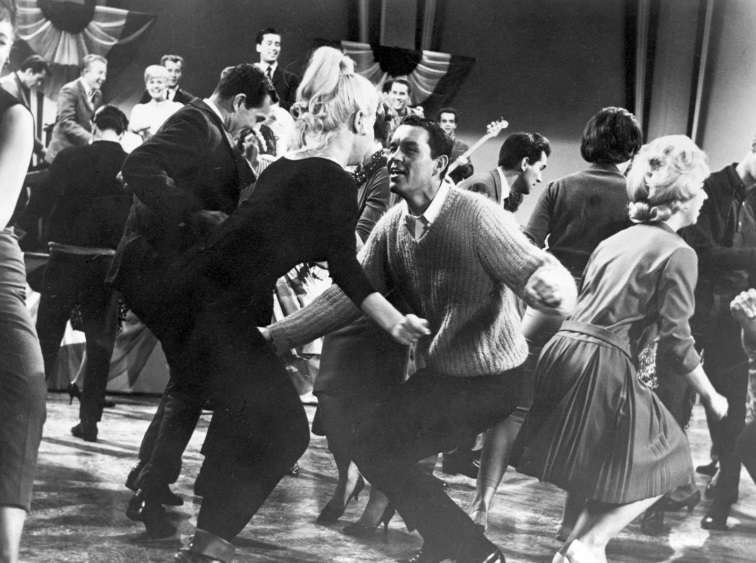 Twist
Rock 'n' Roll (Swing)
In the mid-1950s rock 'n' roll emerged. Early rock dancing was mostly Swing dance variations from East Coast Swing, Lindy Hop, Jive, Jitterbug, and Boogie Woogie. There are many examples of swing dancing in 1950s rock 'n' roll movies, including Elvis Presley movies. Swing is a medium fast 6-count dance with feet going side to side on the 1 and 2 counts on one foot, then 3 and 4 counts on the other foot. Counts 5 and 6 involve a back rock step. The dance includes a lot of turns and swirls.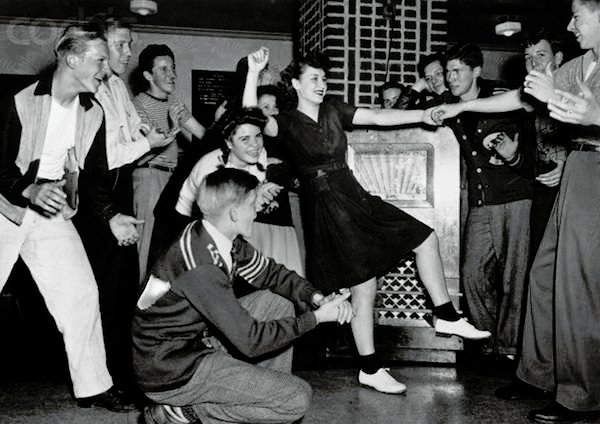 The Stroll
A dance popular on the American Bandstand TV show. There are two lines of dancers, one of men and the other of women. Paired couples at the front slowly dance down the aisle between the rows of dancers.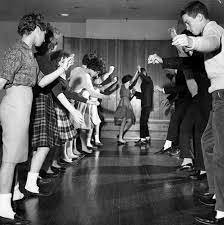 The Stroll
Little Richard "Long Tall Sally"
1950s Rock 'N' Roll Clothing
Retro and vintage 1950's Rock 'n' Roll clothing, or Rockabilly fashion, is a lifestyle statement of individualism, freedom, and rebellion. It is a culture of rock 'n' roll, jump blues, honky tonk, vintage cars, motorcycles, bars, swing-jive dancing, and tattoos. It is sexy, macho blue collar, and proudly American.
Women's Rock clothing is inspired by Bette Page, Marilyn Monroe, and Rita Hayworth. Men's Rock clothing is inspired by Elvis Presley, Marlon Brando, and James Dean.
Carl Perkins "Blue Suede shoes"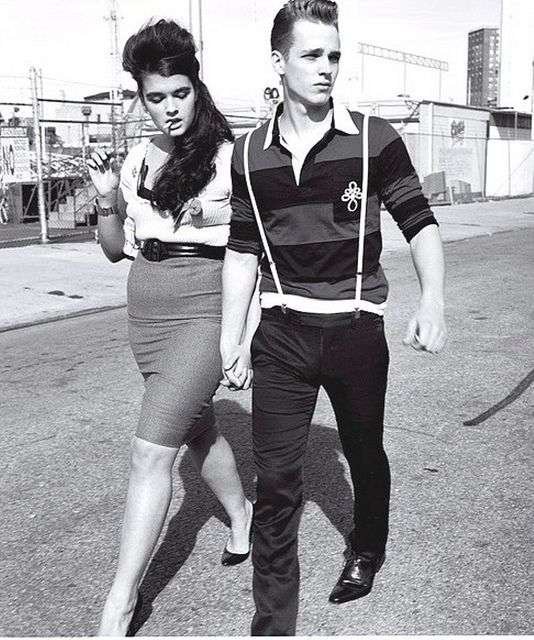 Women's 1950s Rock Clothing
Rock 1950s fashion emphasizes an hourglass figure, cinched waist, and enhanced bust and hips.
Dresses – swing dance dresses, pencil dresses
Skirts – pencil, denim, swing, poodle skirts
Tops– vintage blouses, tops, pullovers
Pants – capris, jeans, leggings
Denim- skirts, capris, jeans
Cardigan sweaters
Jackets – college, denim, baseball, leather
Petticoats
Seamed nylon stockings
Shoes – dance shoes, pumps, sneakers, kitten heels
Scarves, bandanas, headbands
Buddy Holly "That'll Be the Day"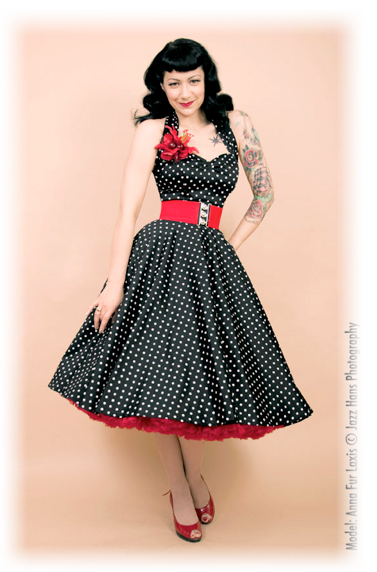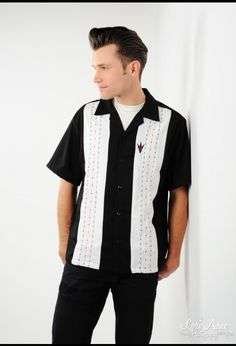 Men's 1950s Rock Clothing
Focus on 1950s macho, car hop, and motorcycle culture.
Denim – cuffed jeans, jackets, vests
Jackets – leather, baseball, college, denim
Pants – jeans, chinos, trousers
Racing sweaters
Shirts – bowling shirts, work shirts, flannel shirts
Vests – denim, leather, flannel, tweed
Sweaters – college, cardigan
White socks
Shoes – leather boots, dance shoes, sneakers
Key chains
Big Bopper "Cantilly Lace"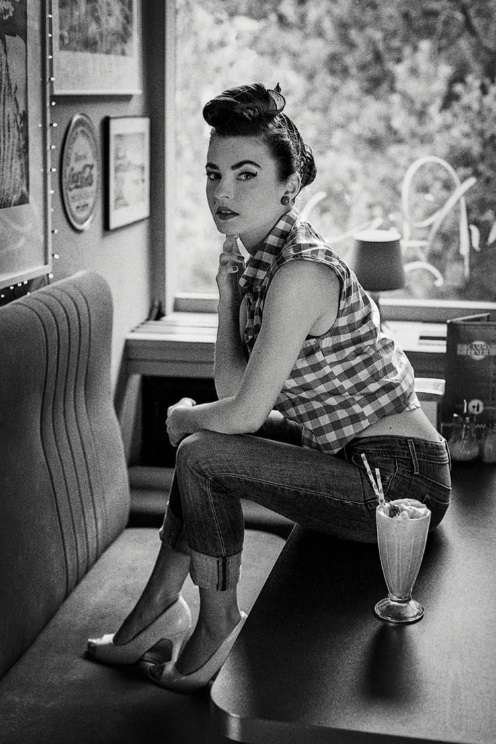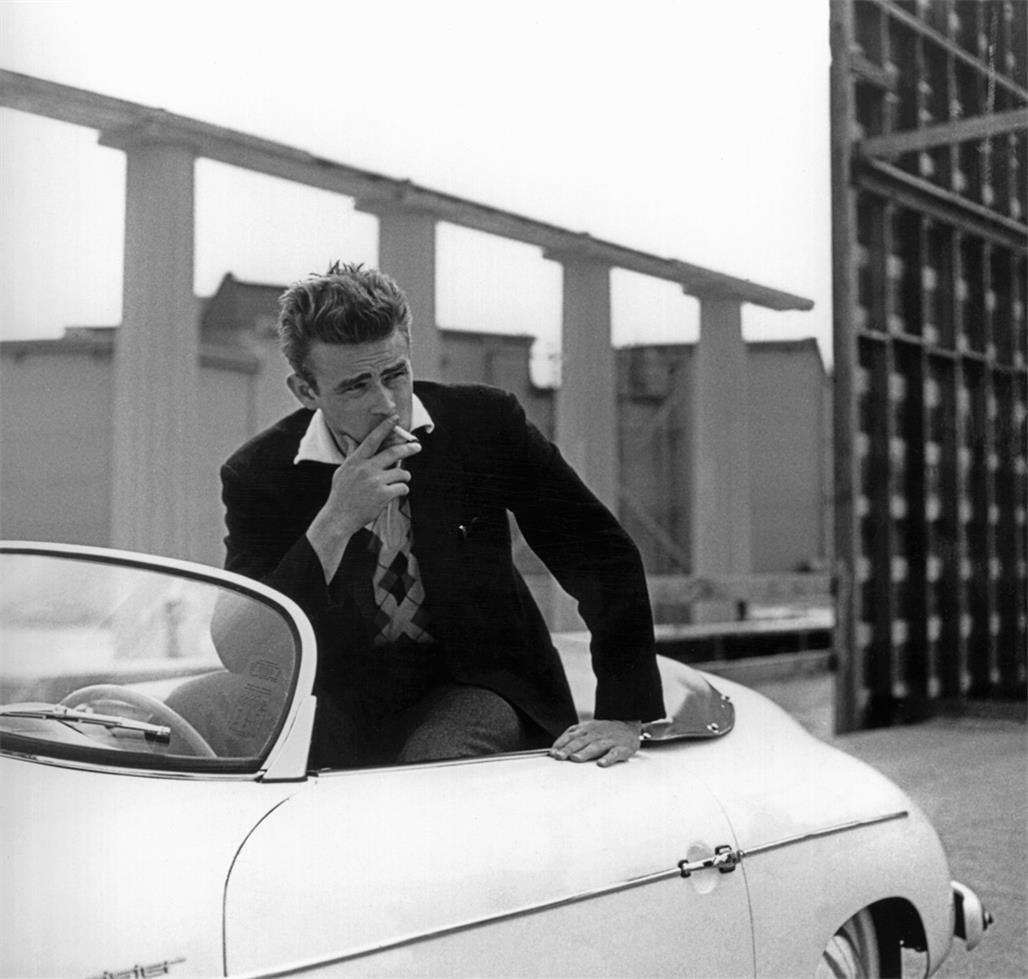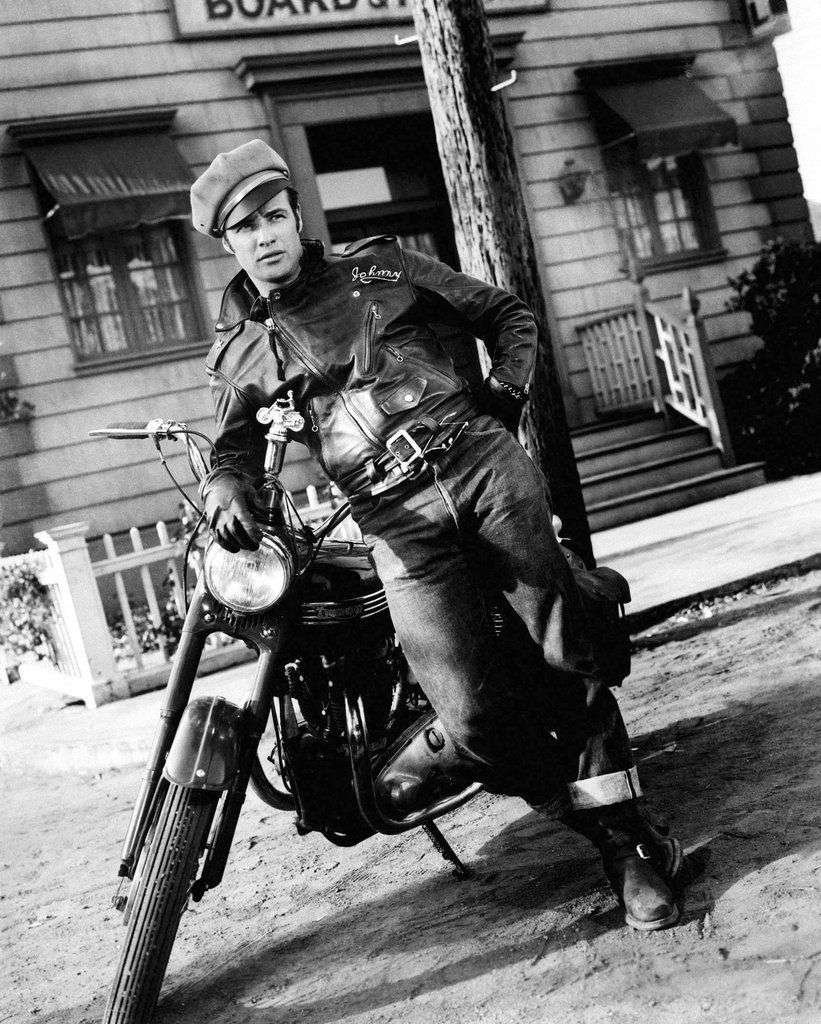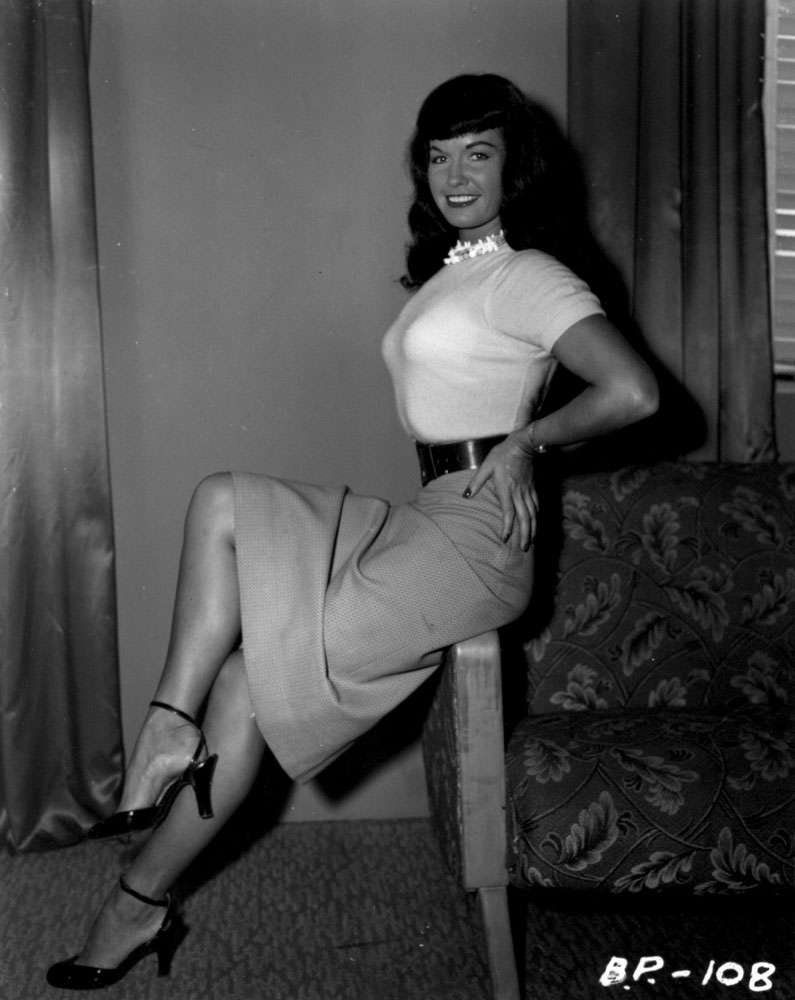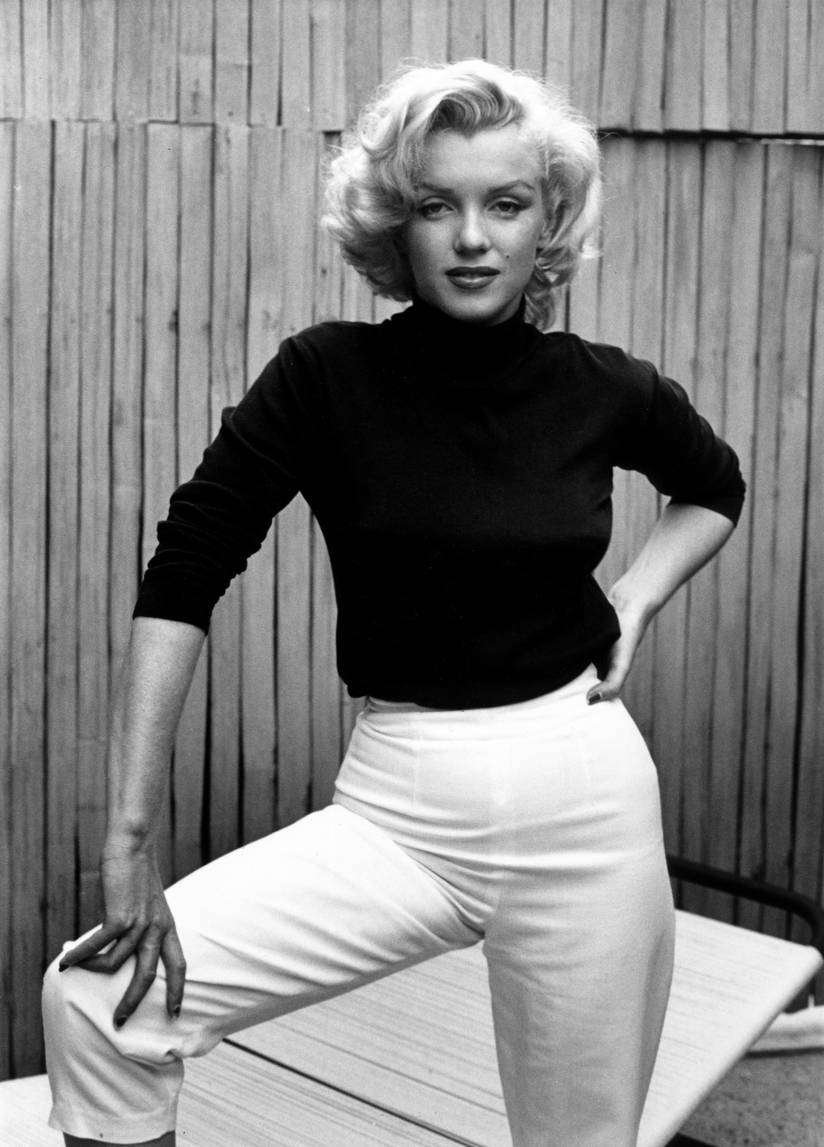 Bill Haley and the Comets "Rock Around the Clock"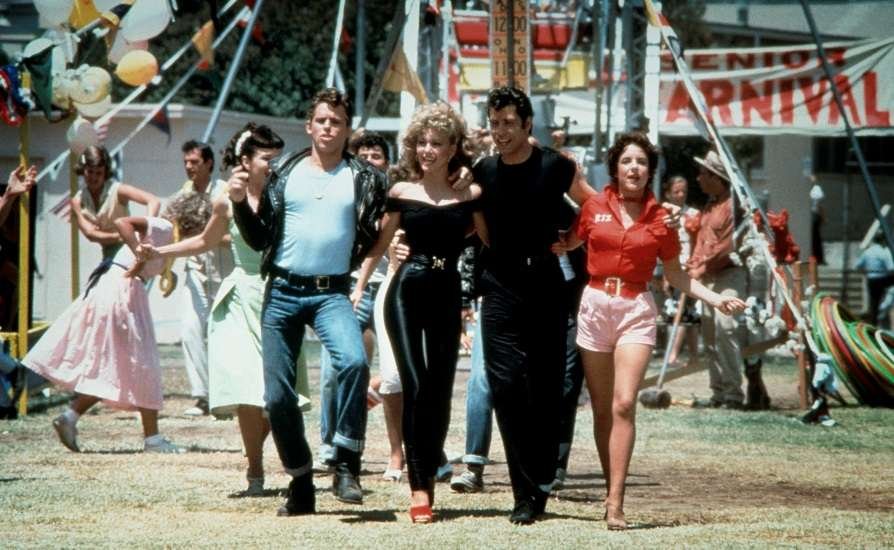 Grease
1950s Décor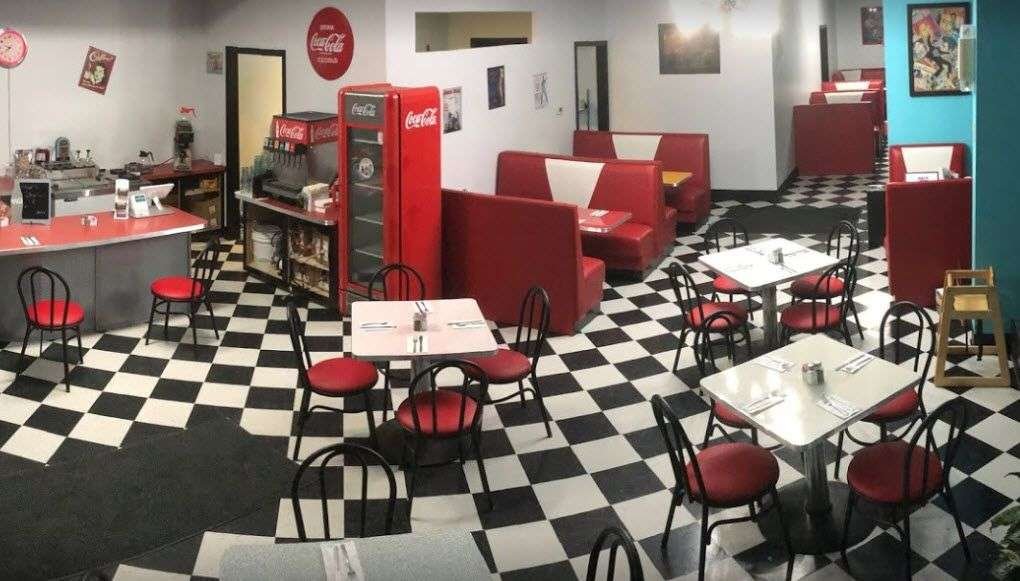 In the post-war era, 1950s home ownership and suburbia grew and people focused on the home as the center of entertainment. Dynamic decorative designs flourished. Home décor in the 1950s was influenced by abstract expressionist art and Scandinavian minimalist design. The era explored new modern art, jazz, textures, color, and fabrics. Design was also greatly influenced by Space Age and Atomic Age themes.
Abstract Expressionism seized the spotlight to become the preferred art style in the Fifties. These artists rejected social realism and challenged the aesthetic establishment to express their creative freedom amidst the uniformity of the post-war era. Leading artists included Jackson Pollack, Willem de Kooning, Mark Rothko, and others. The same trend emerged in other art forms, such as jazz, literature, theater, poetry, film, and television.
Home décor popular colors were pastels of soft pinks, turquoise, pale yellow, mint green, and baby blue. Scandinavian earth tones were also popular, with browns, cream, tan, and green. Fabrics had bold designs of stars, stripes, checks, polka dots, and floral patterns.
Wallpaper was popular with floral patterns and murals. Knotty pine paneling was all the rage. Walls were decorated with ornate clocks, mirrors, abstract wall sculptures, and curtains.
Scandinavian minimalist furniture was very popular and so was clean abstract designs. New materials were used in furniture such a laminated plywood, formica tops, chrome legged chairs, vinyl chairs, plastics, and fiberglass. Ornate lamps and pole lamps adorned the rooms.
Bathrooms had pastel colors and ceramic tiles. Kitchens used both pastel and bright colors, formica counter tops, and linoleum floors.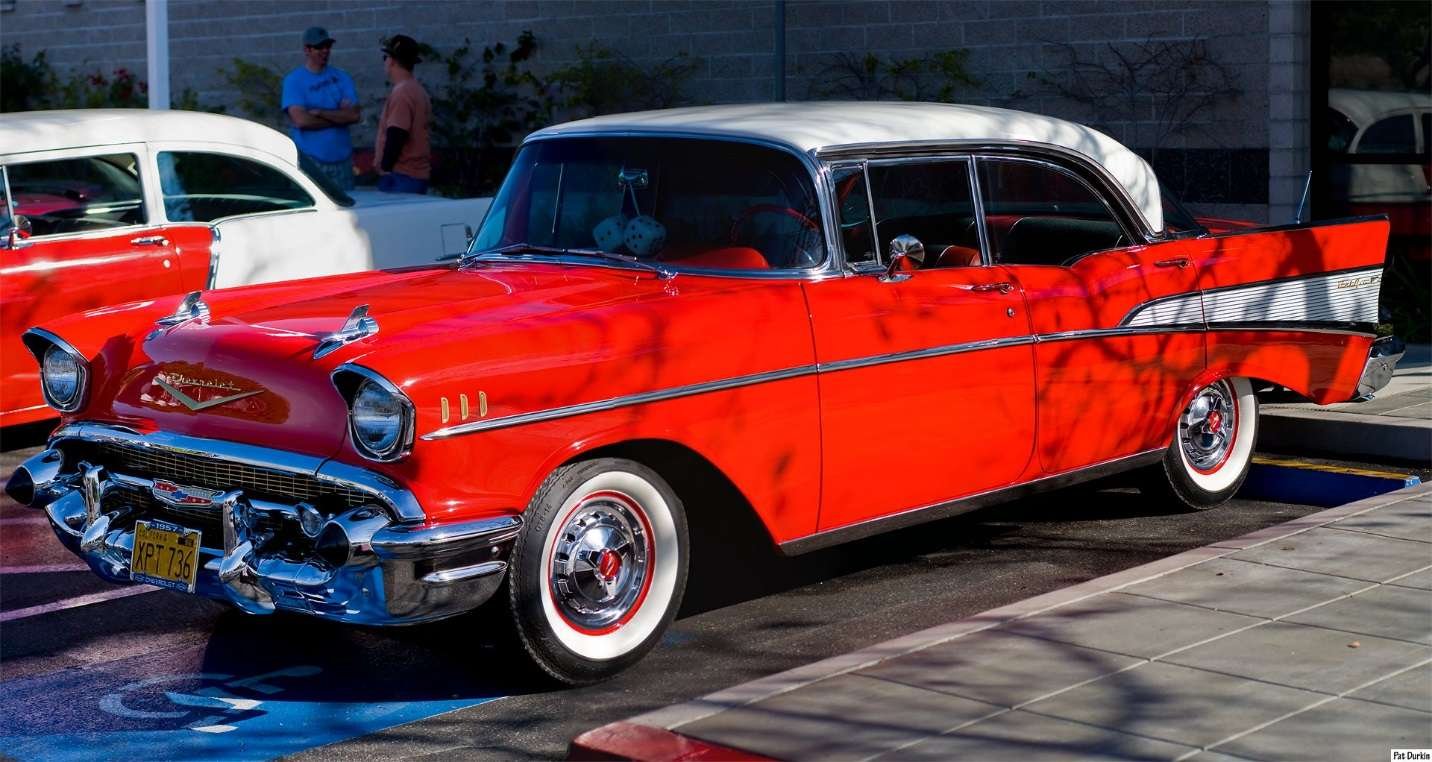 Cocktails
The traditional 1950s cocktails that would most likely to be served for a cocktail party would include: Martini-gin or vodka, Manhattan, Old Fashioned, Tom Collins, Whisky Sour, Stinger, Mojito, Mint Julep, and Sidecar. Specialty drinks that require additional ingredients include: Daiquiri, Margarita, Bloody Mary, and Pina Colada.
Of course beer, wine, champagne, and soft drinks.
Punch Bowls – A punch bowl was always available at a party for guests to serve themselves. The punch bowl would include a ladle and matching glasses. Popular punches include:
Planter Punch – rum, curacao, bitters, grenadine, lemon juice, pineapple juice, lime juice, orange juice, and soda water.
Pim's Cup – Pim's, lemonade, orange slices, lemon, apple
Champagne Punch – champagne, brandy, rum, curacao, pineapple, lemon juice, and maraschino cherries.
Gin Punch – gin, ginger ale, orange juice, lemonade, pineapple juice, lime juice, strawberries, and sugar.
Mimosa – champagne and orange juice.
Traditional 1950s Party Food
Salads – popular party salads included: cucumber salad, Italian antipasto, Greek salad, Jello mold with fruit, Ambrosia salad, three bean salad, potato salad, cole slaw, melon ball salad, vegetable tray, fruit tray, and others.
Cucumber salad – peeled and sliced cucumbers, sliced onions, sour cream, vinegar, dill, salt, pepper
Melon ball salad – scope out balls of watermelon, cantaloupe, honey dew melon, put the melon balls in the carved out watermelon rind
Antipasto tray – tomato, cucumber, olives, marinated artichoke hearts, roasted peppers, grilled zucchini, cheeses, Genoa salami, prosciutto, other items
Greek salad tray – hummus and tzatziki dips, pita bread, feta cheese, grape tomatoes, cucumber, kalamata olives, marinated artichoke hearts, roasted red peepers, pepperoncini, vegetarian stuffed grape leaves
Vegetable Vinaigrette – cooked vegetables in a vinaigrette. Vegetables can include asparagus, green beans, onion, peppers, mushrooms, artichokes, cauliflower, and others. The vinaigrette uses ½ cup olive oil, 2 tbl vinegar, 2 tbl lemon juice, 2 tsp dill, 1 tsp paprika, 1 ½ tsp sugar, ½ tsp salt, and ½ tsp dry mustard. Increase the measurements for large bunches of vegetables. Ingredients can be suited to taste. Serve chilled.
Skewers – bamboo skewers with pineapple, grapes, pears, apples, figs, dates, strawberries, melon balls, mandarin orange slices, olives, ham and pineapple, cheese and salami or ham, shrimp, sausage, or other items.
Spinach-Artichoke Dip – a baked dip with chopped spinach, chopped artichokes, mayonnaise, cream cheese, sour cream, parmesan, and one package of Knorr Vegetable Recipe Mix.
Stuffed Mushrooms – baked or broiled mushroom caps that can be stuffed with any combination of cheese, bacon, artichoke, crab, bread crumbs, spinach, onion, pecans, sausage, clams, oysters, or other items.
Prosciutto Wraps – melon balls, pineapple, figs, dates, pear, apple, peaches, apricots, nectarines, shrimp, mussels, grilled asparagus, goat cheese, mozzarella, or other items.
Fondue – a hot melted cheese dip in a fondue pot used to dip food items on long stemmed forks. Cheeses most often used include Swiss, emmenthaler, gruyere, and fontina. Items to dip can be cubes of bread, fruit, cooked vegetables, and other items.
Bruchetta – grilled bread topped with olive oil, chopped tomatoes, basil, mozzarella, prosciutto, grilled peppers and onions, and other items.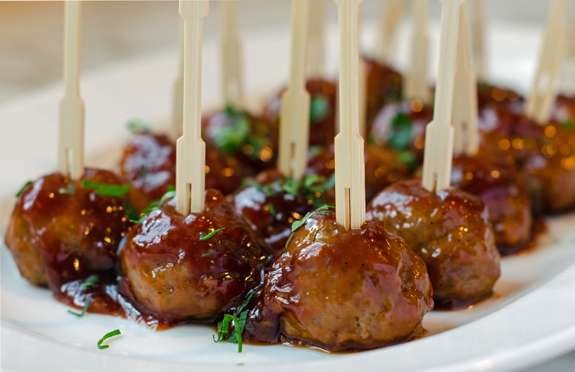 Meatballs
Canapes – savory food or a spread placed on a small piece of rye or pumpernickel bread, puff pastry, cracker, or cucumber slice. Items would be placed on a crème or cheese spread and often garnished with capers, sliced cucumber, crumpled hard-boiled egg, or chopped onion. Usual items on the canape could include: caviar, crab, lobster, lox, smoked salmon, foie gras, liver pate, anchovy, truffles, sautéed mushrooms, smoked oysters, cheese, prosciutto, or other items.
Smoked Fish – smoked salmon, sturgeon, trout, whitefish, tuna, or Lox. Serve with cucumber slices, saltine crackers, lemon, capers, minced red onion, horseradish, and Tabasco. Cream cheese for lox.
Crab Dip – dip prepared with cream cheese and lump crab meat. Additional items may include artichoke, onion, peppers, parmesan, and other. Baked or served cold.
Salmon Mousse – flake, debone, and strain one 15 ½ oz. can of salmon. Reserve the salmon fluid and heat with two gelatin envelopes. Add 1 ¼ cup of mayonnaise, ¼ cup tomato sauce, 2 tbl lemon juice, 2 tsp Worcestershire, and partially chill. Fold in salmon. ½ cup chopped celery, 2 chopped hard boiled eggs, 2 tbl chives, ¼ tsp pepper. Fold in ½ cup whipping cream, pour into a mold. Chill until firm. Unmold mousse unto a tray and serve with crackers and cucumber slices.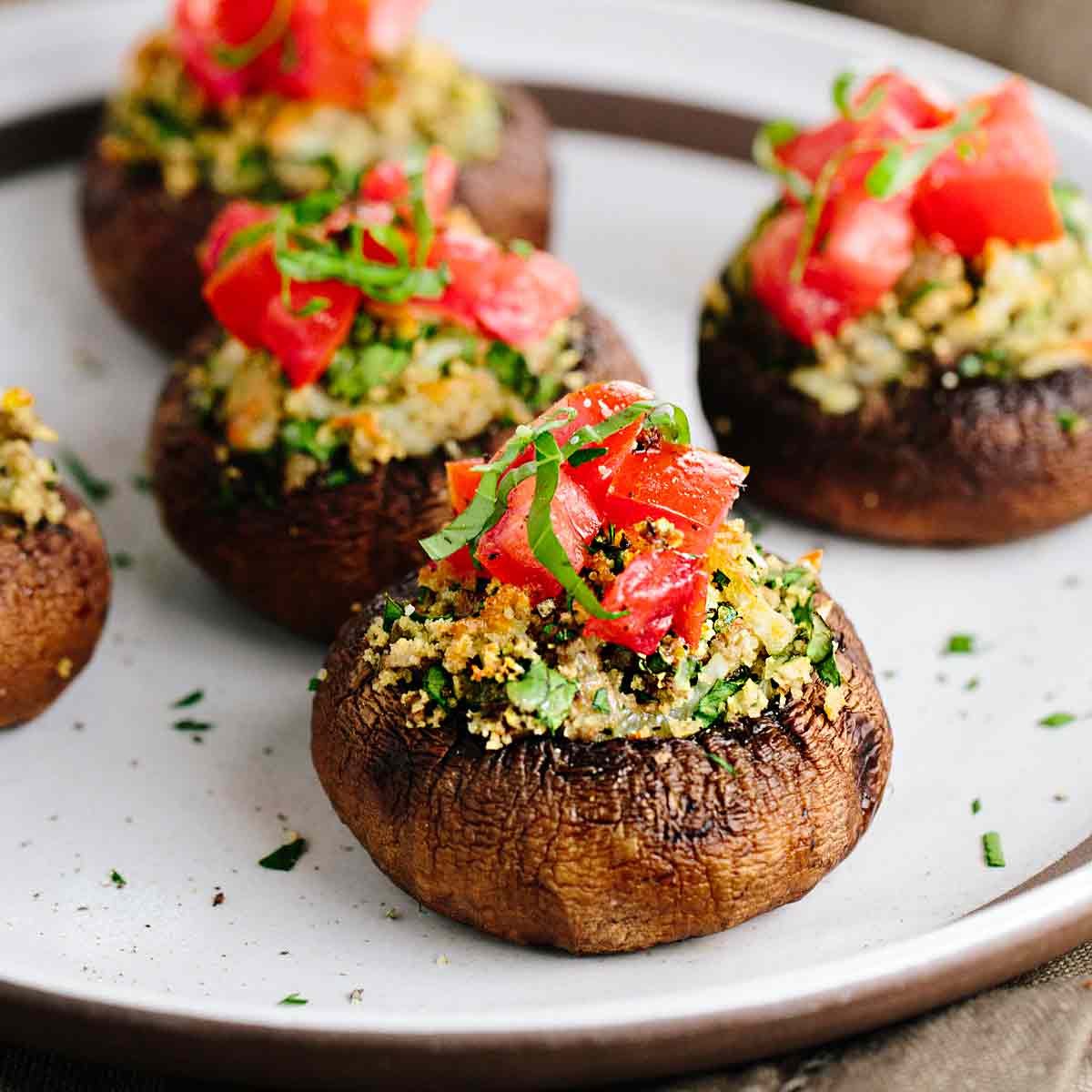 Stuffed mushrooms
Shrimp Cocktail – cooked, peeled, and deveined shrimp, served with lemon wedges and cocktail sauce. Cocktail sauce can be made with chili sauce, catchup, horseradish, Tabasco, and lemon juice.
Stuffed Eggs – Hard boiled eggs cut lengthwise, removed yolks to blend with stuffings.
Deviled eggs – add to taste – mustard, mayonnaise, salt, pepper, dill, pickle relish
Liver stuffed – ¼ pound liver pate, 3 tbl mayo, 1 tbl chives, 1 tbl lemon juice, dash cayenne, ¼ tsp salt
Anchovy stuffed – 1 tbl anchovy paste, ¼ tsp Worcestershire, ¼ cup mayo, 1 tbl chives, 1 tbl lemon juice, dash cayenne, ¼ tsp salt
Creamy – 3 tbl sour cream, 1 tbl chives, 1 tbl lemon juice, dash cayenne, ¼ tsp salt
Caviar stuffed – 2 tbl caviar, 2 tbl capers, 1 tsp vinegar, 1 tsp mustard, 1/3 cup mayo, dash pepper
Almondine – 1/3 cup mayo, 1 tbl chives, 1 tbl lemon juice, dash cayenne, ¼ tsp salt, garnish with chopped almonds
Swedish Meatballs – In a mixing bowl add 1 pound of ground beef, 1 ½ cup bread crumbs, ½ cup dry sherry, ¼ tsp nutmeg, ½ tsp salt, 1/8 tsp pepper. Shape into 40 meatballs, coat in flour, brown in a skillet with 2 tbl oil, drain on paper towel. To skillet add 2 tbl butter, 1 tbl flour, one 10 ½ oz. can condensed beef consume, and ¼ cup heavy cream. Add meatballs and 1 bayleaf. Simmer 15 minutes, serve on a hot chafing dish.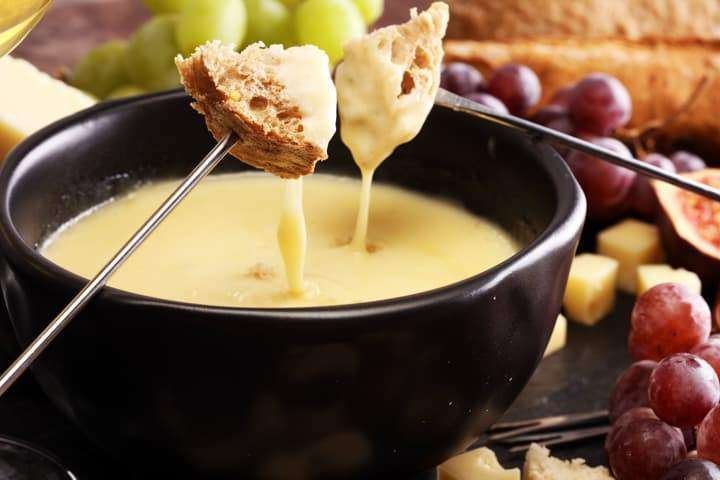 Fondue
Sausage en Croute – cooked Italian sausages wrapped in pastry dough and baked. Sliced into bite size portions and serve on a tray.
Bacon Wraps – broiled with crab, shrimp, chicken livers, sausage, olives, figs, dates, apricot, pineapple, fried oysters, water chestnuts, or other items.
Snacks – salted snacks used in the 1950s included: Lay's potato chips, Ruffles, Fritos corn chips, Pretzels, Chex Mix, Better Made Potato Chips, Chez Whiz, Popcorn, and others.
Soft Beverages in the 1950s included: Coca Cola, Pepsi, 7-Up, Squirt, Canada Dry Ginger Ale, Vernor's Ginger Ale, Faygo Pop, Hires Root Beer, Royal Crown Cola, and others.
Dessert Coffees
Chocolate syrup and orange liqueur
Benedictine and light cream
Coffee liqueur and chocolate syrup
Chocolate mint liqueur
Crème d'almond
Desserts – popular desserts in the 1950s included: pineapple upside down cake, angel food cake, bundt cake, pound cake, cheese cake, Rice Krispie squares, brownies, pies, and other favorite sweets still common today.