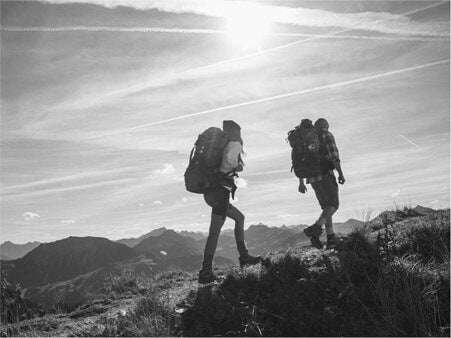 I grew up camping with my family and would go on camping canoe trips with the Scouts
and friends. As an adult, I have continued to hike and backpack and love every minute of it in natural forests and mountains. National and state parks and forests provide excellent opportunities for camping, hiking, biking, climbing, paddling, hunting, fishing, horseback riding, cross country skiing, and snowshoeing in natural wilderness.
Outdoor adventures are great fun, excellent physical exercise, mentally challenging, and beautiful scenery and wildlife. Backcountry activities also burn up energy reserves and require food with high levels of calories, carbohydrates, fat, and protein. Don't worry about carbs and fats, you will burn them off.
On the trail, I will often stop at a scenic view and take a quick rest with a snack or lunch. There is something special about enjoying good food in the forest by a lake, mountain, river, or stream. Once I came upon a cliff overlooking an S-shaped bend in the river through the wilderness with an eagle circling in the blue sky – picture perfect. I stopped and prepared a nice lunch. Other times I have come upon deer or elk grazing, swans and geese on a lake, wild turkeys on the trail, otters or beaver in water, raccoons, fox, and other wildlife providing an opportunity to rest and observe with a little high energy snack.
In my travels I have found that there are a few rules to obey about food on the trail.
First, bring tasty and enjoyable food.
Second, the food needs to be high in calories to replenish energy; high in complex protein, carbohydrates and fats.
Third, it needs to be light weight, you don't want to carry extra weight for dozens of miles up and down hills.
Fourth, it should be easy and quick to prepare.
Finally, clean up after yourself, leave Nature as you found it – leave no trash, no food waste, no ground fire ashes, no plastic or aluminum – be respectful of the environment, wildlife, and other outdoor enthusiasts.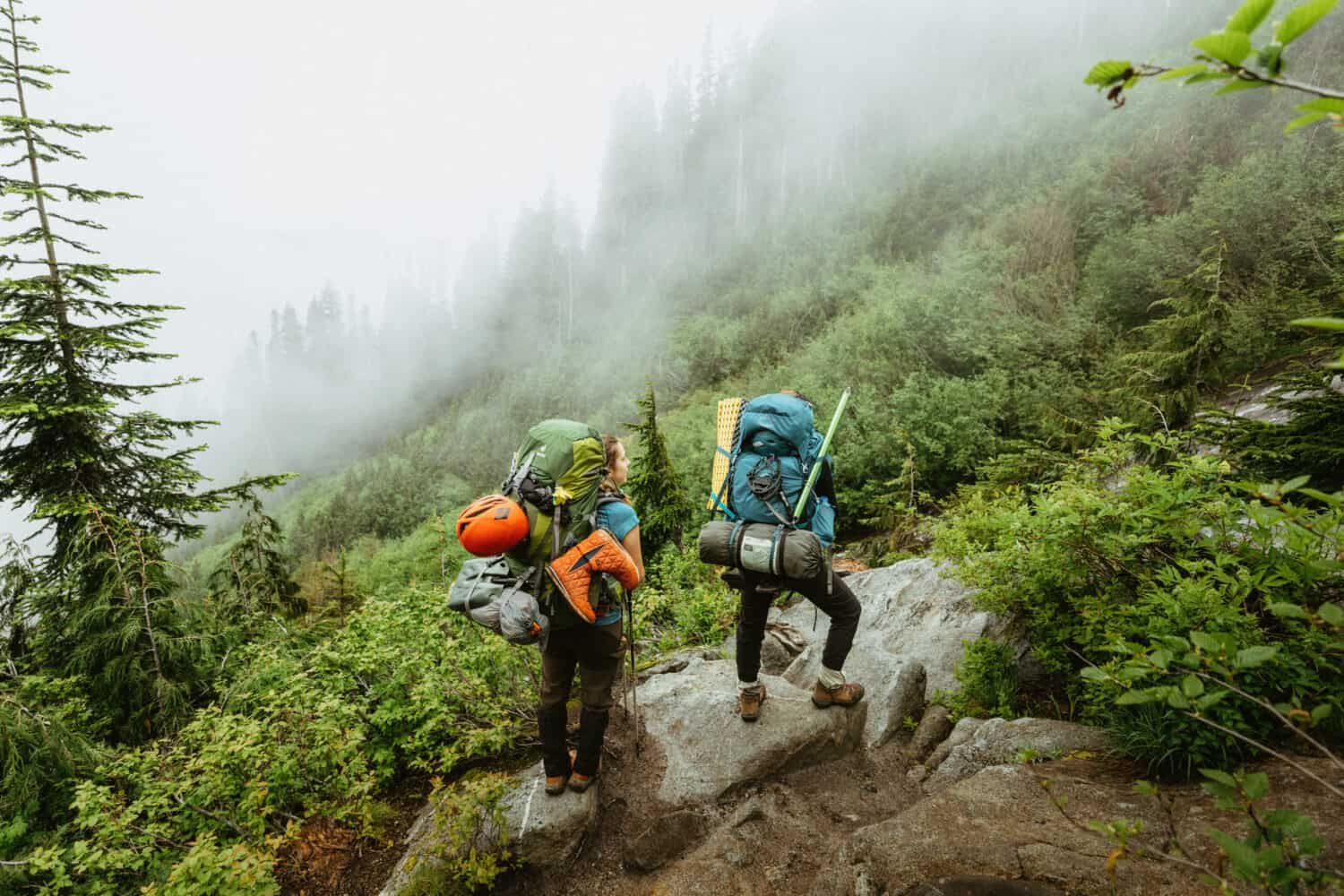 Preparation
The key is planning three meals and snacks for each day. Breakfast can be at a restaurant on the first day. Day one can include some perishable foods but all other days should have non-perishable and dehydrated foods. A daily calendar should be drawn up and a shopping checklist.
Hikers should consume 2,500 calories per day, more or less depending on body weight. A high carb, high fat, and high protein diet, as well drink lots of water. Diminished electrolytes, vitamins, and minerals need to be replenished for energy and stamina. Carbohydrates release energy quickly. Fats release energy slowly. Protein is critical to body energy utilization of cabs and fats. The daily recommended protein amount is 46 grams for women and 56 grams for men (0.8 grams per body kilograms).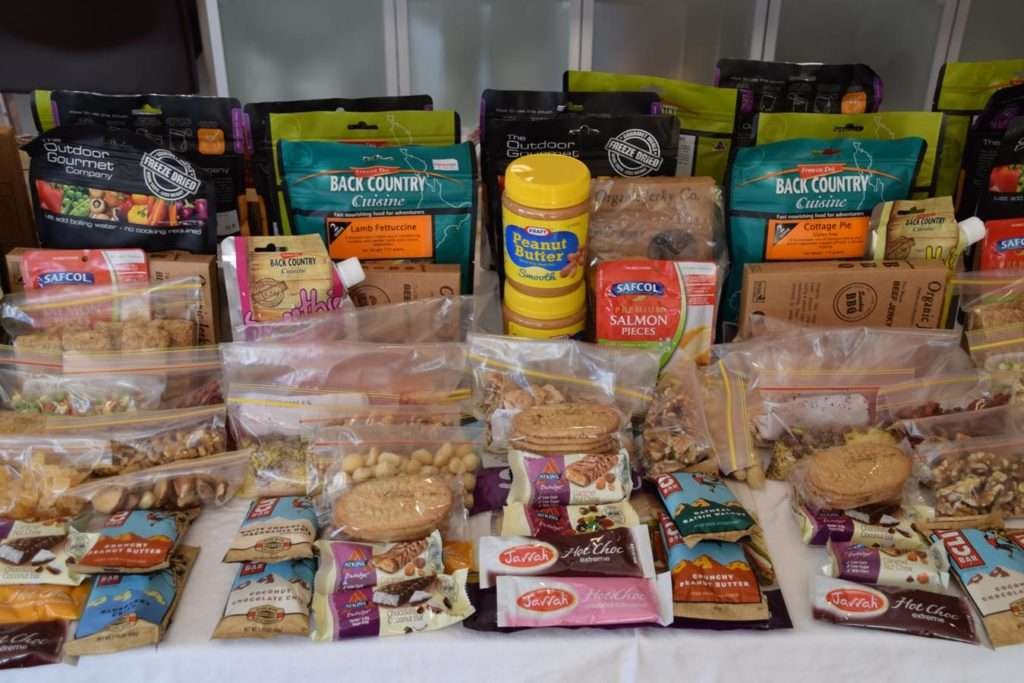 Plan on making one-pot-meals to reduce fuel consumption and cleanup. Take food out of canisters, jars, and boxes to reduce weight and waste. The ingredients for each meal should be measured, mixed, and put into quality zip-lock bags, such as small, medium, and large. Each bag should be labeled. Combine the different bags for one meal in a larger bag. Zip lock bags should be reused and aluminum foil should be avoided because it breaks apart and litters the forest.
Be sure to test all the meals at home to see if they are tasty and easy to cook. I have made many meals that turned into unappetizing mush, it is best to learn this before you are out in the wilderness. An old adage is 'measure twice, cook once'. Be careful to follow cooking instructions and have exact measurements.
Foods that don't need refrigeration includes: cured meats, smoked fish, hard cheese, nuts and seeds, dried fruit and vegetables, dried beans, rice, and pasta. Fruits and vegetables that do not need refrigeration include potatoes, onions, garlic, carrots, roots, apples, oranges, and tangerines.
Day Trips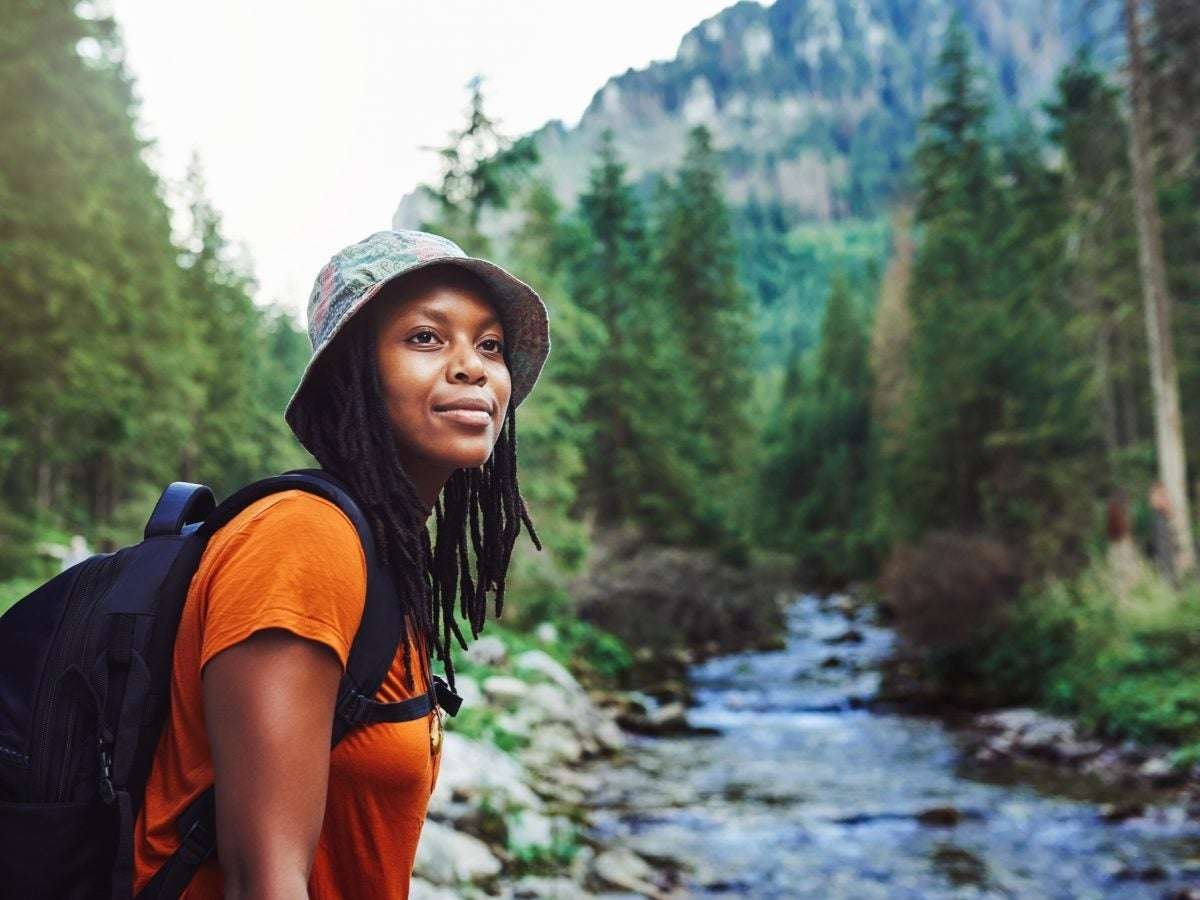 I do Day Trip hikes every week I can at local nature preserves, state parks, along rivers and rail lines. Day trips involve driving to a trail or park and spending the day hiking or other activities. Little gear and food is needed but water is critical. I eat breakfast before traveling, lunch and snacks can be eaten on the trail or at the trailhead. Sometimes I set up a nice picnic lunch at a park table, relax, and maybe read or write. After a day of hiking I usually opt for a restaurant or takeout because I don't want to cook, I want to relax.
Alternative Base Camp
An alternative to hiking many miles with a heavy backpack to a destination and then set up camp and dinner, is to establish a Base Camp. I have often set up a Base Camp for several days and nights at a national or state park and hike from the camp each day on different trails. I leave my vehicle during the day and hike the trails. This way I don't need to carry a heavy backpack with gear and food. I can use a tent or sleep in the car with the seats folded down. I keep gear, supplies, a container of water, and a cooler for food in the car.
Another approach is to rent a cabin or motel room, hike during the day, and return for a hot meal like pizza, take a shower, wash clothes, drink a little wine, watch a movie, and have a comfortable night's sleep.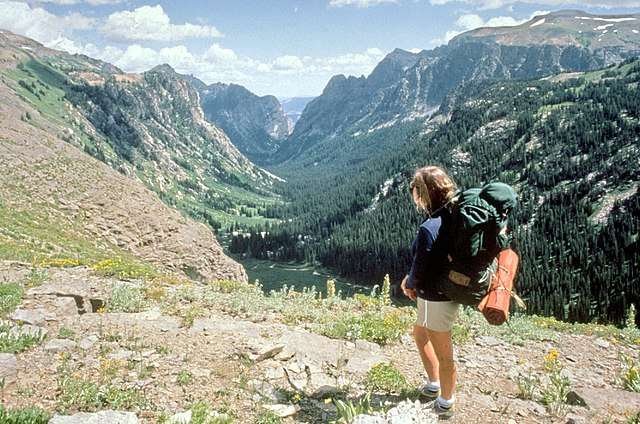 Snacks
Snacks are essential for energy and should be eaten every 2 to 2.5 hours.
Tasty snacks curb hunger, reenergize, replace electrolytes, and are delicious. The following items can last for a long time without refrigeration. My favorites are Frito corn chips, GORP, beef sticks, protein and energy bars, and Peanut M&Ms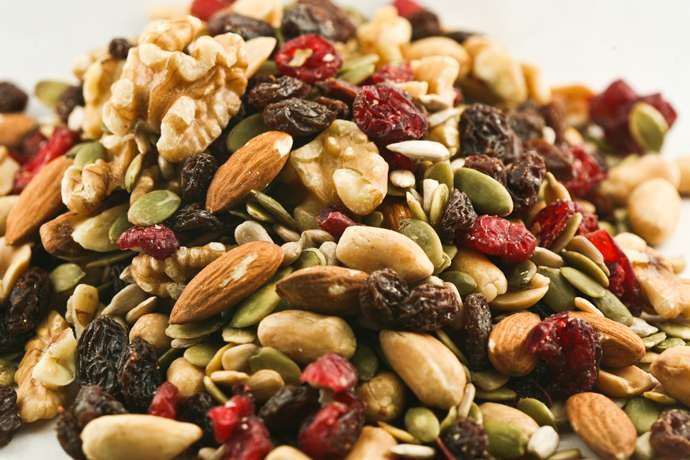 Crunchy Snacks – Frito corn chips, Chex Mix, pretzels, sesame sticks, Cheezits
Trail Mix – granola, dried fruit, nuts, seeds, chocolate
Dried Fruit – raisons, cranberries, cherries, banana, prunes, figs, apricots, dates, pineapple, coconut
Fresh Fruit – grapes, apple, pear, berries, peach, plum, banana
Nuts – peanuts, walnuts, pecans, almonds, hazel nuts, cashews
Seeds – pumpkin, sunflower, sesame sticks
Energy and Protein bars – granola bars, CLIF, KIND, LUNA, RXBAS, PROBAR, Larabar, Power Crunch
Jerky and meat sticks
Candy – chocolate, Snickers, Peanut M&Ms, Pay Day, Reese's, Almond Joy, others
Cookies, brownies, crackers
GORP, or 'Good Old Raisons and Peanuts', is an energy packed trail mix of anything you like to add. It usually includes some of the following items: granola, nuts (peanuts, almonds, walnuts, pecans, hazel), raisons and other dried fruit (cranberry, cherries, dates, apricots, banana, apple), seeds (sunflower, pumpkin), sesame sticks, coconut, and chocolate.
Breakfast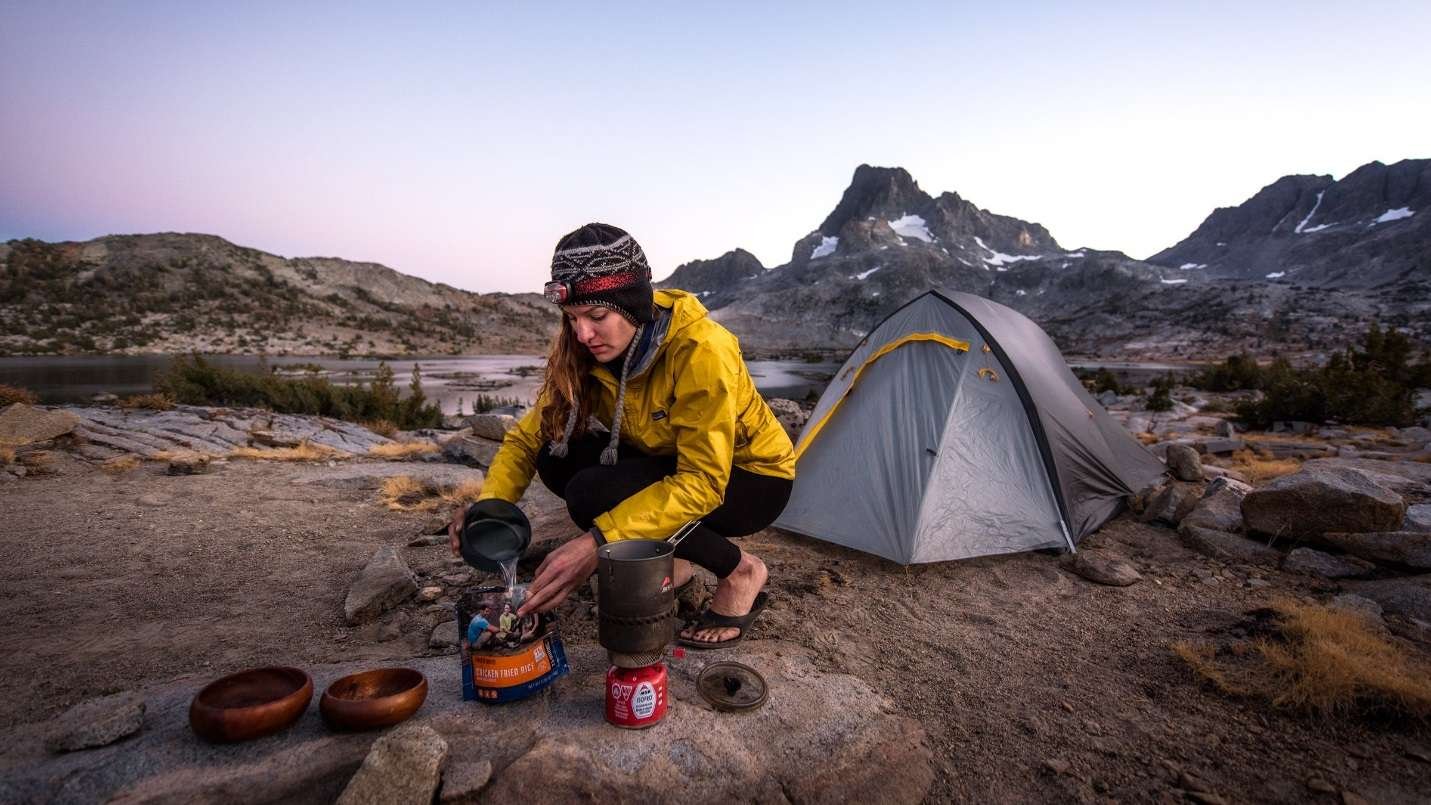 Backpacking gives a new appreciation to the cliché that breakfast is the most important meal of the day. Time to wake up, drink coffee, and bulk up on energy food for the 8 to 12 or more miles to hike that day. Some like to eat a light non-cooked breakfast and have a large lunch. I prefer a good filling hot breakfast and have a light lunch on the trail.
Drinks
Carnation Instant whole milk has 8 grams of protein and has many uses. Add 1/4 cup of mix with 1 cup cold water.
Carnation Breakfast is a powder drink with 13 grams of proteins and 21 vitamins and minerals. It comes in vanilla, strawberry, and chocolate. Mix with one cup of instant made milk. I like to add a scoop of whey protein powder to the drink.
Ovaltine has 8 grams of protein. Mix with one cup of instant made milk. A scoop of whey protein powder can be added.
Coffee can be made from single instant coffee packets. Coffee Mate non-dairy creamer, sugar or honey, hot cocoa mix, and cinnamon can be added.
Swiss Miss Instant Hot Cocoa single packets can be used and is cheaper than buying all the ingredients to make it from scratch. Mix with a cup of instant made milk. A little cinnamon and nutmeg can heighten the drink.
Fruit powder drinks – like orange drink Tang and other drinks full of vitamins.
Breakfast Dishes
Quaker Instant Oatmeal single packet is easy to make. Instant milk, raisons, cinnamon, cashews, slivered almonds, maple syrup, or brown sugar may be added.
Cornmeal mush – cooked cornmeal, water, and salt takes 5 to 7 minutes. One option is to spread the cooked mush on a dish and let it cool. Then cut up and fry squares and serve with Butter Buds and maple syrup.
Complete pancake mix, such as Aunt Jemina, Hungry Jack, and Bisquick, has milk, oil, and eggs, just add water and optional blueberries or other items. Cook on a frying pan or skillet. Maple syrup and Butte Buds can be used.
Quaker Quick Grits are easy to make, serve with Butter Buds.
Scrambled Eggs – instant eggs fried up in a little oil. Options include adding bacon bits, cheese, instant mashed potato powder, instant beans, minced onion, dried peppers, and taco seasoning. Wrap it in a tortilla or pita.
Bagel – with a salmon packet or smoked salmon, cream cheese packet, crumbled red onion, and capers.
Dried Fruit – can be eaten dry or it can be soaked in water to restore moisture and to soften texture.
Breads – with a long shelf life include: bagel, pita, tortilla, pumpernickel, English muffin, Wasa crispbread, naan flatbread, and crackers.
Lunch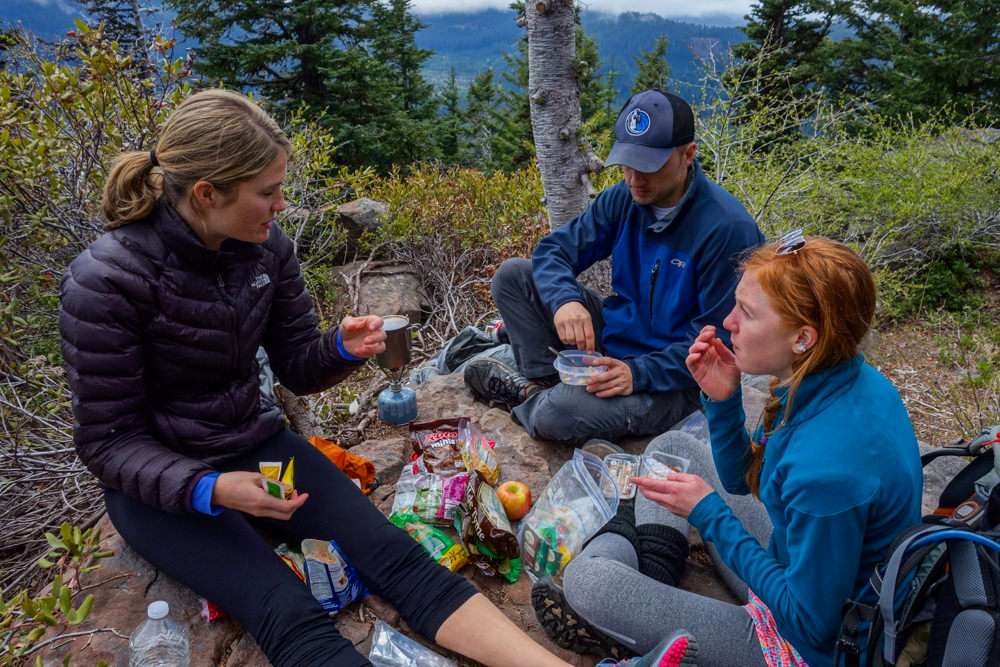 Lunch is a good time to rest and replenish after many miles on the trail. Many, including myself, do not want to spend too much time with lunch and would rather cover more miles and get to the destination camp early. I like lunch on the go but on occasion will stop at a scenic view and rest with a good lunch.
Make lunches simple and easy without using a stove.
Condiment packets – get from restaurants or buy them online. Put together a plate with different items.
Pickled foods – olives, pickles, peppers, marinated artichokes, capers, beets.
Meats – hard salami, smoked sausage, hunter sausage, winter sausage, jerky, meat sticks, smoked or pickled fish, chicken packet, tuna packet.
Smoked fish – on a saltine cracker with crumbled red onion, lemon juice, and capers is wonderful. The most popular are smoked salmon, trout, and whitefish. Other smoked fish includes sturgeon, herring, mackerel, turbot, and sablefish. To me, saltines are the best cracker with smoked fish and many fine restaurants agree.
Jerky and Meat Sticks – are light weight, high in protein, and can be rehydrated for cooking. No need for refrigeration. Beef jerky can be used in meat dishes and turkey jerky can be used in poultry dished. There are many reputable producers who make quality healthy jerky and meat sticks without additives. Jerky can be used in salads, tomato sauce, rice dishes, omelets, soups, gumbo, stews, and pastas.
Fruit, Nuts, Veggies – dried or fresh. Apples, oranges, tangerines, and carrots do not need refrigeration.
Cheese – hard cheeses have a longer shelf life, chedder, smoked gouda, Swiss, colby, American, fontina, parmesan.
Sandwiches – peanut or nut butter, cheese, cream cheese, veggies, hummus, jam or jelly, chicken, tuna, salmon, salami, and condiments.
Breads – bagel, pita, pumpernickel, tortilla, crackers, English muffins, naan flatbread, and others.
Wasa Crispbread – is a German hearty, crispy whole grain rye flatbread that comes in different flavors. It can be used with different meats, seafood, cheese, and spreads. Wasa lasts a long time without refrigeration. I like it with lox with cream cheese, onion, capers, and lemon.
Hummus – is a spread made of chickpeas and sesame tahini that is high in energy and protein. It will last a week without refrigeration. Hummus can be purchased or easily made at home with chickpeas, tahini, lemon, garlic, and olive oil.
Guacamole – a tangy spread made of mashed avocado, diced tomatoes, and salsa which is great on corn chips, tortillas, crackers, or pita.
Protein or Granola Bars
Dinner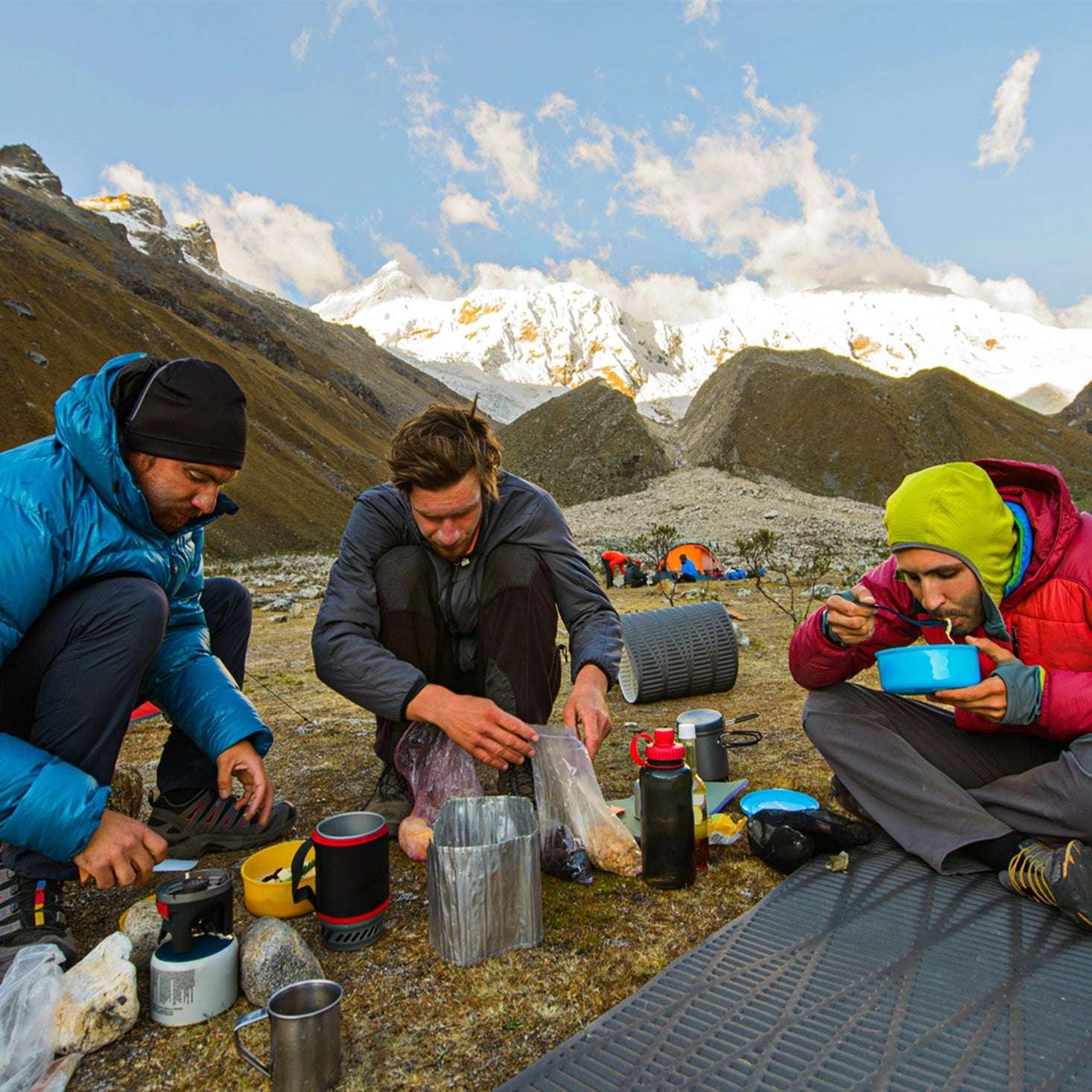 Hikers like a filling quality dinner in the early evening after hiking many miles. After the trail you have plenty of time to prepare a good meal, pitch a tent with a sleeping bag, wash and dry cloths, make any repairs, and gaze at the stars. Campfires may or may not be allowed at campsites, or only in designated areas.
A good stove is needed with all the appropriate accessories. Meals should be pre-packaged and easy to cook. There is an abundant variety of foods and recipes to choose from which are tasty, nutritious, and satisfying.
Many hot meals can be put together by mixing combinations of pre-packaged dehydrated meals, Minute Rice, Fritos, dehydrated beans, chicken/ tuna/ salmon packets, pita bread and tortillas, cheese or cheese powder, gravy mix, mac & cheese, ramen noodles, dehydrated vegetables, onions, and bell peppers, instant mashed potatoes, Stove Top stuffing, pepperoni, jerky and meat sticks, and more.
Ready Dehydrated Meal
Full packed dried meals offer convenience, variety, and no guess work, just boil water. It is best to test how appetizing these are at home before the trip. These meals are available at retail outfitters like REI, Moosejaw, EMS, Bass Pro Shop, or online. Popular meals include chicken Alfredo, chicken and rice, chili mac and beef, beef stroganoff, beef stew, and others. Add spices and other food items to heighten the meal. Boil water and pour it into the bag then eat it out of the bag, no pots or plates to wash.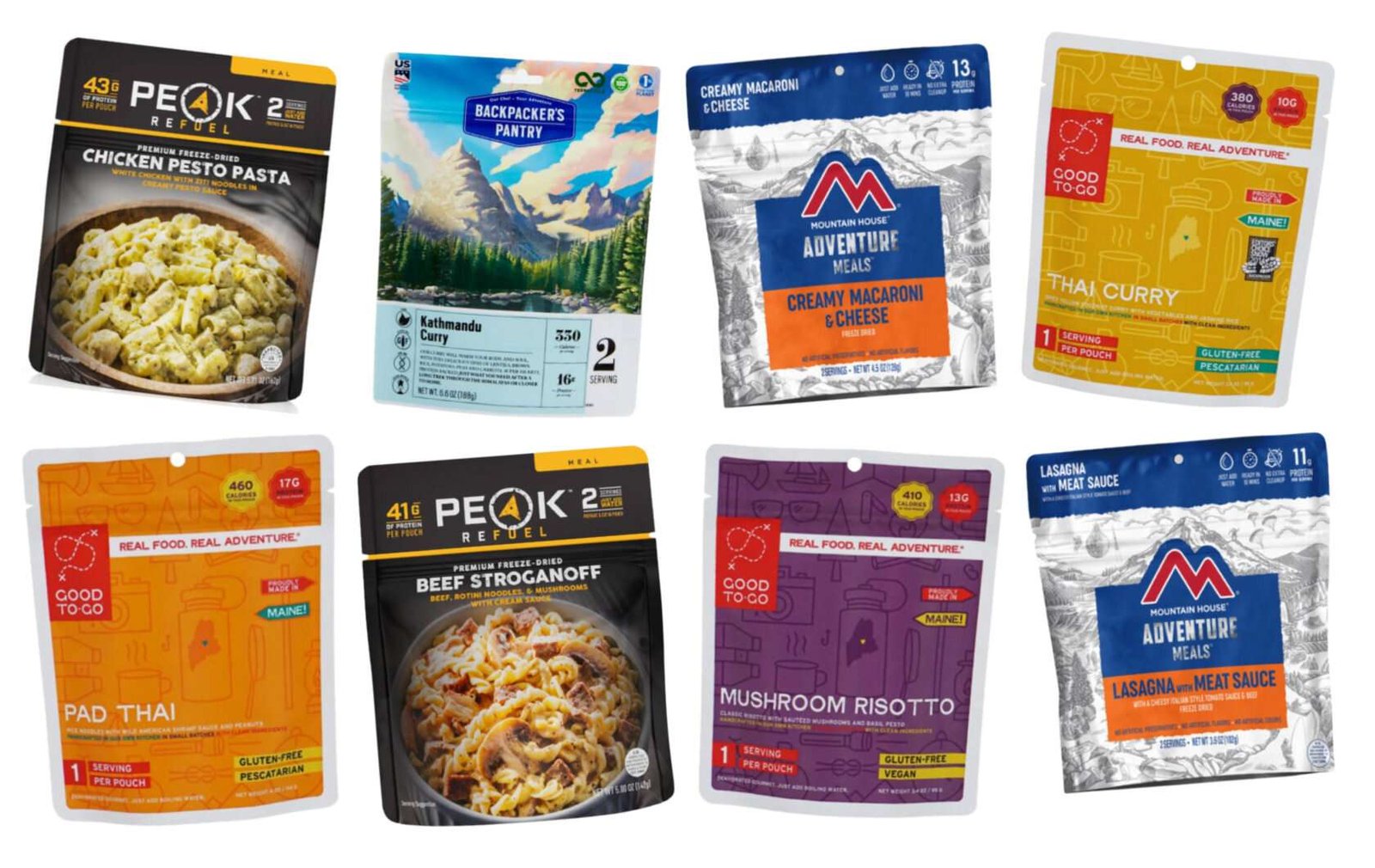 Frito Chili Mac
3/4 cup dehydrated ground beef
1/2 cup dehydrated beans
2 tb tomato paste
2 tb chili powder
3/4 cup Frito corn chips
1/2 cup chedder cheese
Cook meat, beans, tomato paste, chili powder in 1 cup water for 5 minutes. Add cheese and Fritos.
Chicken Fajitas
Cut into strips and saute one medium onion and one medium bell pepper until tender, Add one Valley Fresh or Sunkist chicken packet and some McComick Fajita seasoning to taste with a little water. Fill a tortilla with the food and top with grated cheese, sour cream, or guacamole.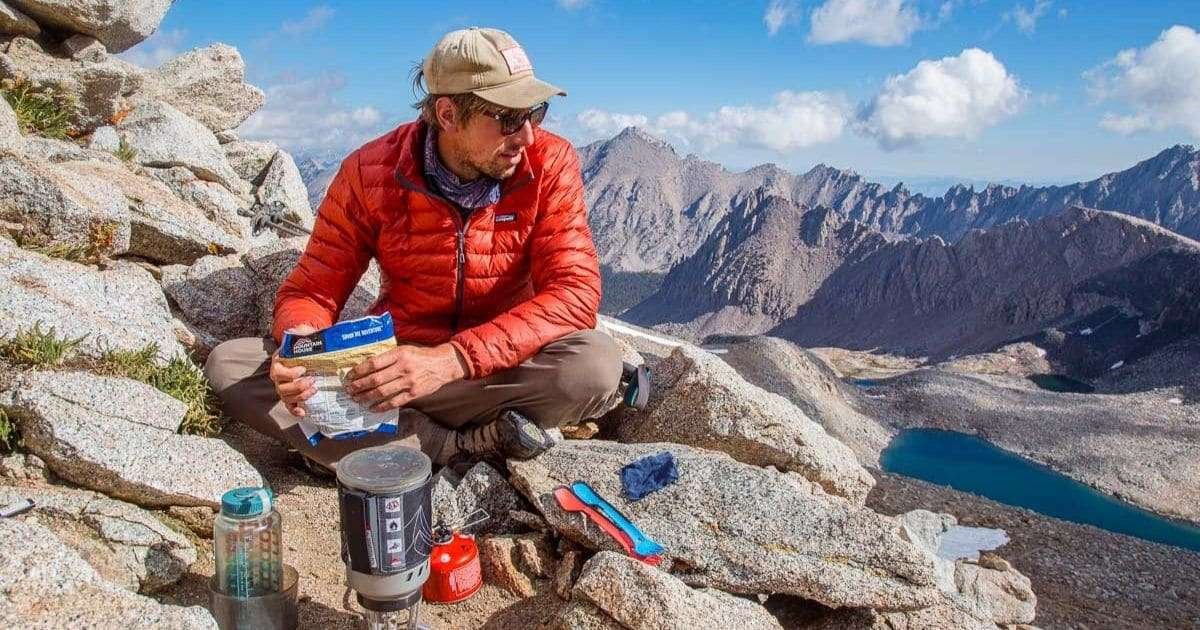 Ramen Noodles
Another no brainer, just boil water and add noodles and simmer for 3 minutes. The meal can be enhanced by adding additional items such as chicken, jerky, meat sticks, dehydrated vegetables, spices, cheese powder, and other items.
Pita Pizza
Rehydrate and cook onion, peppers, and mushrooms. Slice a 4 inch opening along the edge of the pita and fill with pizza sauce, grated chedder cheese, pepperoni slices, onion, peppers, and mushrooms. In a pan heat the stuffed pita on a medium heat until brown and the inside is hot.
Chicken and Rice
Valley Fresh or Sunkist chicken packet
1/4 cup instant rice
1/4 cup fried vegetables, like carrots, onion, peppers
1/4 cup dried or fresh broccoli
1/4 tsp chili powder
1/4 tsp curry powder
Soy sauce packet
Oil
Combine rice, vegetables, and spices in a pot with 1 1/4 cups of water, soak for 5 minutes. Bring to a boil for 1 minute. Add chicken, soy sauce, and a little oil.
Lentil Curry
2 cups lentils
1 medium onion, diced
1 clove garlic, minced
1 tsp ginger
3 tsp curry
1 tsp cumin
1 tsp salt
Cook onion and garlic in oil, add spices, add ¼ cups water, for 2 minutes. Add lentils and rest of water, bring to boil, reduce to simmer for 15 minutes or until tender.
Beans and Rice
5 oz. instant rice
2 oz. dehydrated beans
1 oz. cheese
1 oz. Fritos, crumbled
Taco seasoning to taste
Few pinches pepper flakes
Boil 1 1/4 cups of water, add beans and rice for 30 to 60 seconds, don't overcook. Add taco seasoning, pepper flakes, and cheese, stir until cheese melts. Add Fritos.
Shepherd's Pie
1/2 cup dried ground beef
1/2 cup instant mashed potatoes, such as Hungry Jack or Idahoan
1 to 2 oz. dried vegetables, such as carrots, peas, corn
1 tsp dried onion
1 beef bouillon cube
1/4 tsp Worcestershire
1 tsp butter powder
Salt and pepper to taste
Boil 2 1/2 cups of water, reduce heat. Pour 1 cup of hot water into a bag with potatoes and butter. Add bouillon cube into the pot and stir in beef, vegetables, onion, and Worcestershire. Turn off stove, remove pot and cover for 5 minutes or more until cooked. Spoon mashed potatoes over the mixture.
Backcountry Thanksgiving
1/2 cup Stove Top stuffing
1 packet McCormick chicken gravy mix
1/4 cup instant potatoes
1/4 cup dried cranberries
1 tb celery flaks
A little oil
Boil 1 3/4 cups of water, turn of stove, add ingredients and cover for 10 to 15 minutes.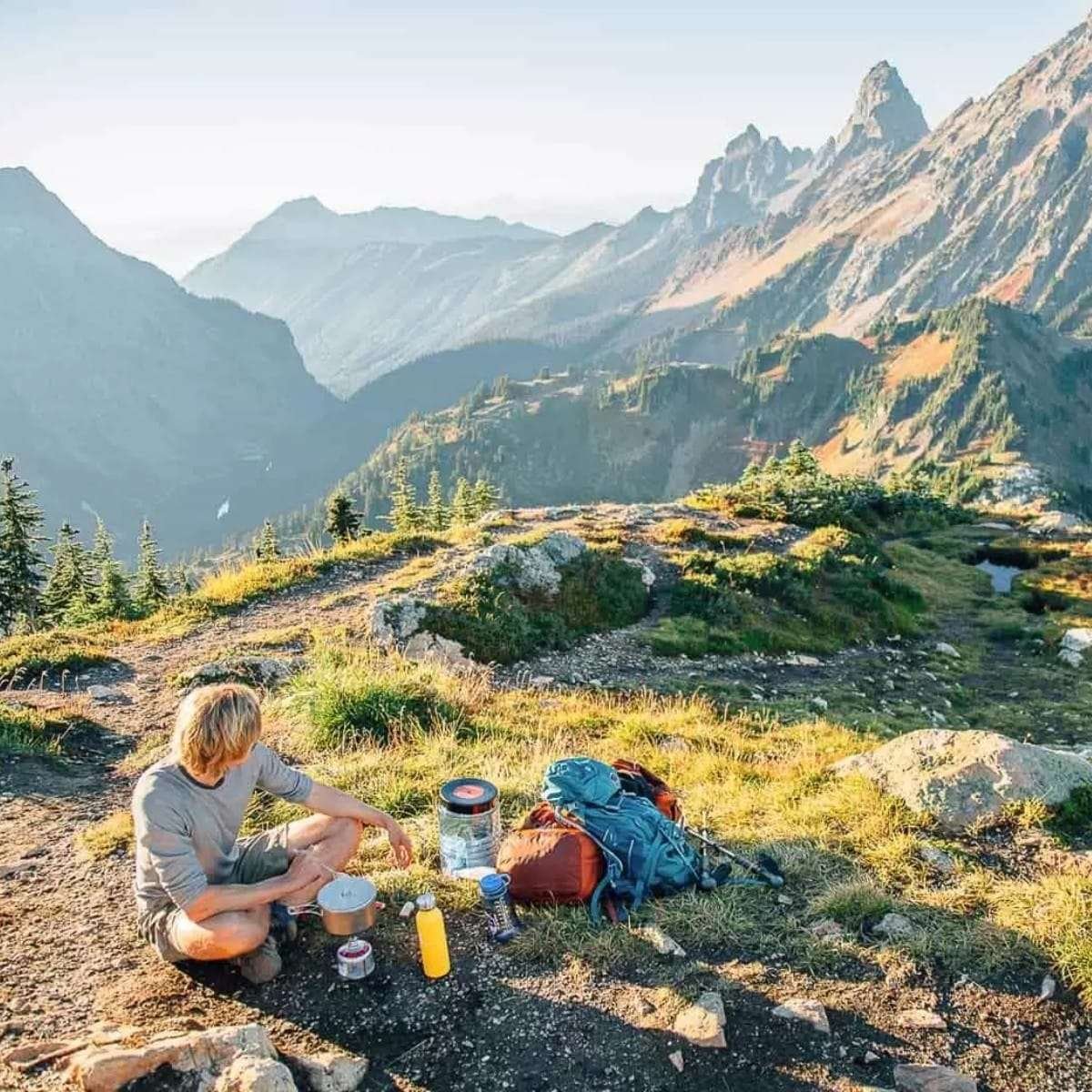 Sausage and Peppers
Saute cured or smoked sausage links in a little oil with onions, peppers, salt, pepper, garlic, and oregano. Serve with pasta, rice, or pita bread.
Cheese Nachos
Heat tortilla or Frito corn chips in a skillet or frying pan and cover with grated cheese. Toppings can include diced tomato, peppers, chiles, corn, avocado, black olives, sour cream, or other items.
Gnocci
Heat store bought gnocci with a little water. Add tomato paste or sauce, garlic, oregano, basil, parmesan, onion, bell pepper, salt, and pepper.
Maple Chorizo Skillet
2 tb egg powder mixed with 6 tb water
1/3 cup instant potatoes
2 tb dry minced onion
2 tb dry peppers
1 tb oil
Salt and pepper
2 oz. cured chorizo diced
1 tb maple syrup
Cooking Gear
MSR WhisperLite gas camp stove
Cooking a hot dinner at camp after a day of hiking is part of the whole backpacking experience. Food just tastes better in the deep forest, on a mountain, near a lake or river, and under the moon and stars. Cooking backpacking food is easy and fun. If planned well the food is tasty, healthy, and filling. If you have leftovers give them to a starving hiker.
Test out the stove at home before the trip.
Make sure you have fuel, wood matches, a lighter, and a wind screen. Place the stove on a flat area free from flammable material. Using rocks or logs around the stove as work counters is helpful.
After cooking wash the pots and dishes with biodegradable detergent, use sparingly. Use a scrub brush and towel. Dirty cookware attracts bugs and wild animals. Wash water should be disposed according to local regulations and designated park areas. Pack out all waste, do not leave it behind.
Stoves
My favorite is the MSR WhisperLite portable camp gas stove with a fuel canister. It folds up into a small unit, is light weight, dependable year round, efficient on fuel, and easy to use. The MSR Pocket Rocket camp stove is also very good.
Cooking Gear Checklist
Backpacking gas camp stove, wing shield, fuel container, lighter, wooden matches, pot, lid, frying pan, cutting knife, stirring spoon, spatula, pot holders, cooking oils, spices. Washing gear, scrub brush, towel, biodegradable detergent. Use light non-metal items where possible.
Eating Ware Checklist
Light non-metal plate, bowl, cup, fork, spoon, knife, salt, pepper. Get condiment packets from restaurants or online.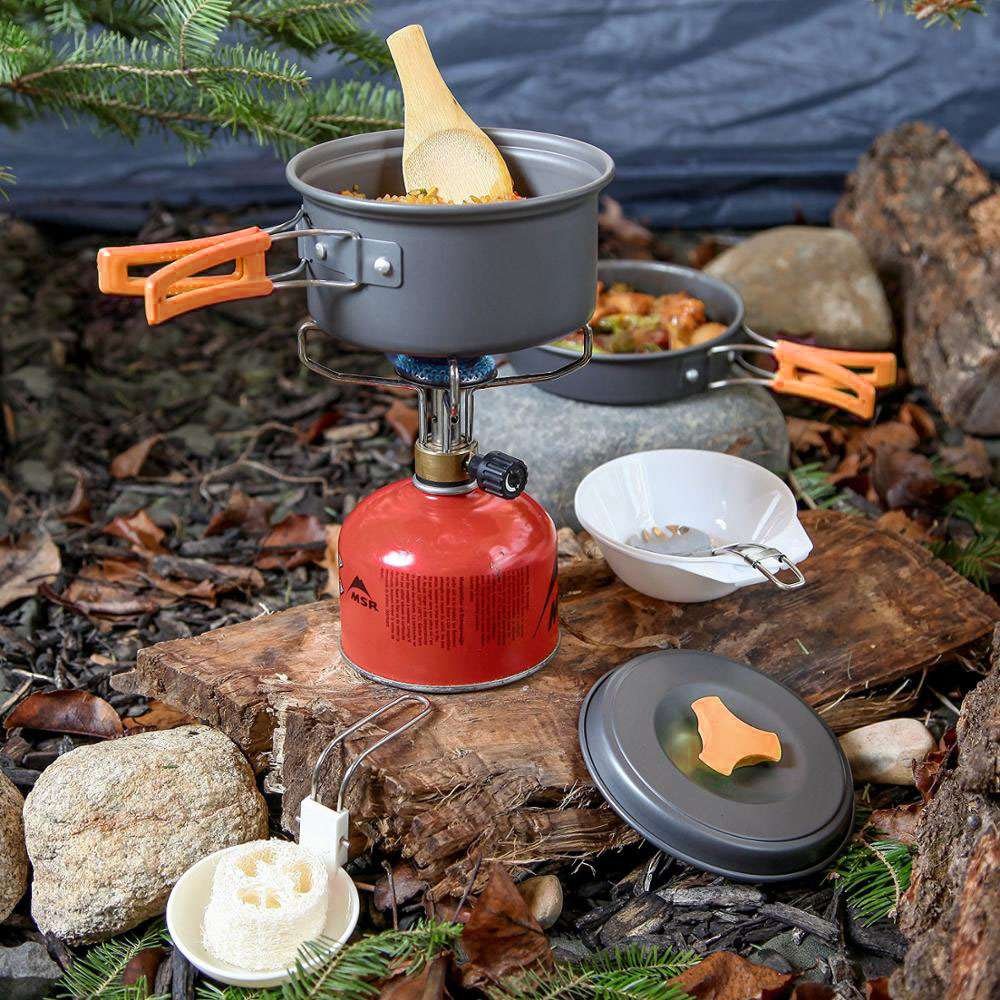 MSR Pocket Rocket gas camp stove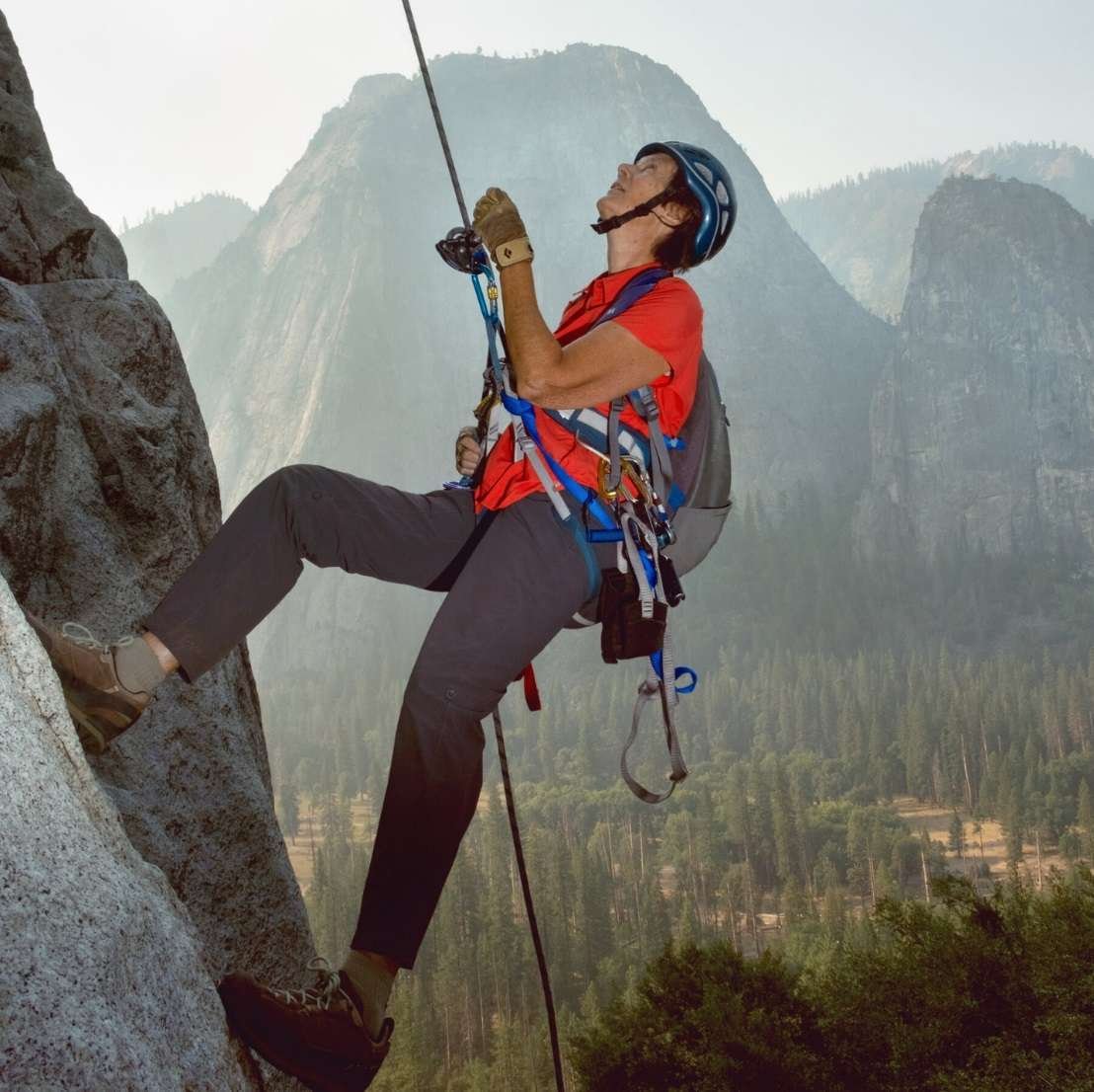 Further Reading
The Backpacker's Field Manual, Rick Curtis, Three Rivers, 2005.
The Food Dehydration Bible, Brett L. Markham, SKhorse, 2014.
Mary Bell's Complete Dehydrator Book, Wm. Morrow, 1994.
Lip Smackin' Backpackin', Christine and Tim Conners, Falcon Guides, 2018.
Preserve It Naturally, Excalibr.
Trail Food, Alan Kesselheim, Raged Mountain, 1998.
Ultimate Hiker's Gear Guide, Andrew Shurka, National Geographic.
Ultralight Backpackin' Tips, Mike Clelland, Falcon Guides, 2011.