Exploring Gourmet Cooking
Bruce J. Wood, 2022
I'm a foodie, which makes me a gourmet enthusiast. Gourmet is not only about expensive delicacies, it's about good quality and tasty food and drinks. Home cooking and comfort food can be gourmet, all it takes is attitude and style, and voila!
For most people gourmet brings up images of caviar, champagne, pheasant, truffles, lobster, and morels, and rightly so. The majority of people may think these require an acquired taste or studies at a high level culinary school. Not true, anyone can access and enjoy these delicious, sensuous, and complex foods and drinks. Everyone who eats can be a gourmet connoisseur, and you don't need to take out a mortgage to enjoy it.
Open your mind and taste buds, experiment. Some of the best food preparations have been around for thousands of years, and they taste great, such as Greek, Mediterranean, Chinese, Italian, French, Spanish, Jewish, Indian, and so forth.
And a final note – a gourmet dinner can be very romantic, add a rose and light a candle.
Try peel shrimp, strawberries, brie, French baguette, chocolate, and good wine.
Cooking Is Fun and Easy
I enjoy cooking because I like to eat. When I was young our family didn't have much money. My dad was gone and my mother had to work two jobs as a seamstress. That left me and my two younger sisters on our own when it came to meals. We had to learn how to cook and be self-sufficient.
As a teenager I worked as a cook in a Howard Johnson's restaurant during high school and other restaurants and bars in my college years. As an adult I have often been asked to prepare food for parties, holidays, picnics, camping, boating, and events, which I enjoyed doing. Cooking is relaxing, therapeutic, creative, and fulfilling. It really isn't that hard if you can read a cook book or look at a Youtube video.
Exploring Gourmet
As a young adult I got interested in cooking gourmet foods. I received a gourmet cook book as a gift which motivated me. James Beard, Julia Child, and Joy of Cooking cookbooks were also very helpful. I was pleasantly surprised to learn that gourmet cooking was relatively easy and really not all that expensive.
Below are some of my favorite gourmet dishes that I have prepared over the years.
Lobster Bisque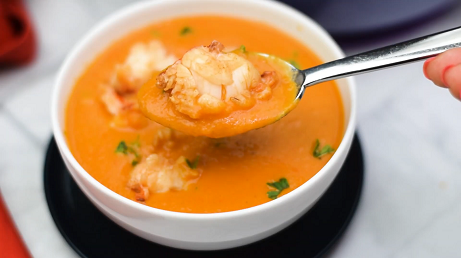 When I am at a restaurant with good lobster bisque I'm in paradise, or close enough to it. There is something wonderful about this traditional French creamy and savory soup, with chunks of lobster. A few markets and delis offer 'homemade' lobster bisque for take-out, try it, it's worth it.
In a large pot melt 3 tbl butter and add 1 chopped onion, 2 chopped leeks (white part), 2 celery ribs chopped, and 2 carrots chopped. Cook at a medium high heat for 10 minutes. Stir in 1 thyme sprig, ¼ tsp of salt, 6 peppercorns, 2 whole cloves, 1 bay leaf, 2 ½ cups of chicken broth, 2 tbl tomato paste, and 3 tbl flour. Bring to a boil, lower heat, and simmer for 10 minutes.
Reserve meat from two cooked lobsters. Pour broth into a blender, add ¼ cup of lobster meat, and blend. Return the broth to the pot and stir in 3 cups of milk, 1 cup of heavy cream, ½ cup of dry white wine, and the remaining lobster meat in small pieces. Cook on a low heat until thickened for 30 minutes.
(Source: Julia Child, Bobby Fly–Food Network, Joy of Cooking)
Vichyssoise
I first tried vichyssoise at a French cultural festival. Served cold in a chilled bowl set inside a bowl of ice. This delicate potato-leek soup was first recorded in France in the 18th Century. It is a unique taste treat that is light and flavorful.
In a pot cook 2 leek white parts sliced and a small onion chopped in 2 tbl butter for 5 minutes at a medium heat. Add 3 small peeled potatoes sliced, 2 cups of chicken stock, and 1 tsp salt. Bring to a boil, reduce heat, cover, and simmer for 35 to 40 minutes, or until potatoes are tender. Pour the soup into a blender and blend.
Return to the pot, stir in 1 ½ cup milk, add salt and white pepper to taste, and bring to a boil. Cool soup and then add 1 cup heavy cream. Cover and chill.
Serve cold in a chilled bowl. Garnish with snipped chives.
(Source: James Beard, Julia Child, Alton Brown-Food Network, Joy of Cooking)
Oysters Rockefeller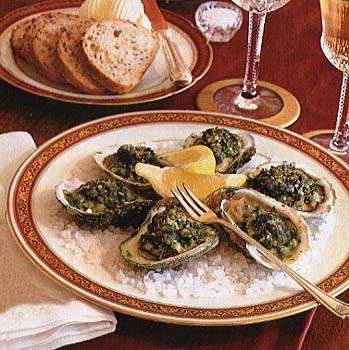 Oysters Rockefeller was created in 1889 in the New Orleans Antoine's restaurant by Jules Alciatoe. The dish was named for John D. Rockefeller. I first had this savory dish as a teenager at a fine restaurant Sunday brunch with my family. As an adult, I have often had this dish at a bar with cocktails.
Wash 24 oysters and open into a half shell. In a saucepan mix: 1 cup chopped cooked spinach, ¼ cup breadcrumbs, ¾ cup butter, 1 tbl parsley, 1 tbl minced onion, ½ tsp salt, ½ tsp pepper, ¼ tsp basil, ¼ tsp paprika, and a dash of cayenne. Heat through. Spoon one tablespoon of spinach mixture atop each oyster half shell and bake at 450 degrees F for 10 minutes. Garnish with lemon wedges.
Often served with chardonnay, cabernet sauvignon, pinot noir, or cocktails to taste.
(Source: James Beard, Joy of Cooking, Better Homes and Gardens, Food Network)
Salmon Mousse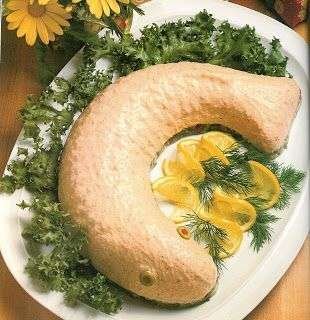 Salmon mousse is a light and delicate spread often served at parties. It tastes wonderful, not fishy at all and does not have a heavy salmon flavor. I read about it in cook books and made it for a few holiday dinner parties. People loved it.
Flake, debone, deskin, and strain one 15 ½ oz. can of salmon. Reserve the salmon fluid and heat it along with two gelatin envelopes. Add 1 ¼ cup of mayonnaise, ¼ cup tomato sauce, 2 tbl of lemon juice, 2 tsp Worcestershire, and partially chill. Fold in salmon, ½ cup finely chopped celery, 2 chopped hard boiled eggs minced, 2 tbl chives chopped, and ¼ tsp pepper. Fold in ½ cup whipping cream and then pour into a mold. Chill until firm.
Unmold mousse unto a tray and with crackers and cucumber slices. Serve with champagne, vouray, or dry Riesling wines.
(Source: Julia Child, Martha Stewart, Better Homes and Gardens)
Escargot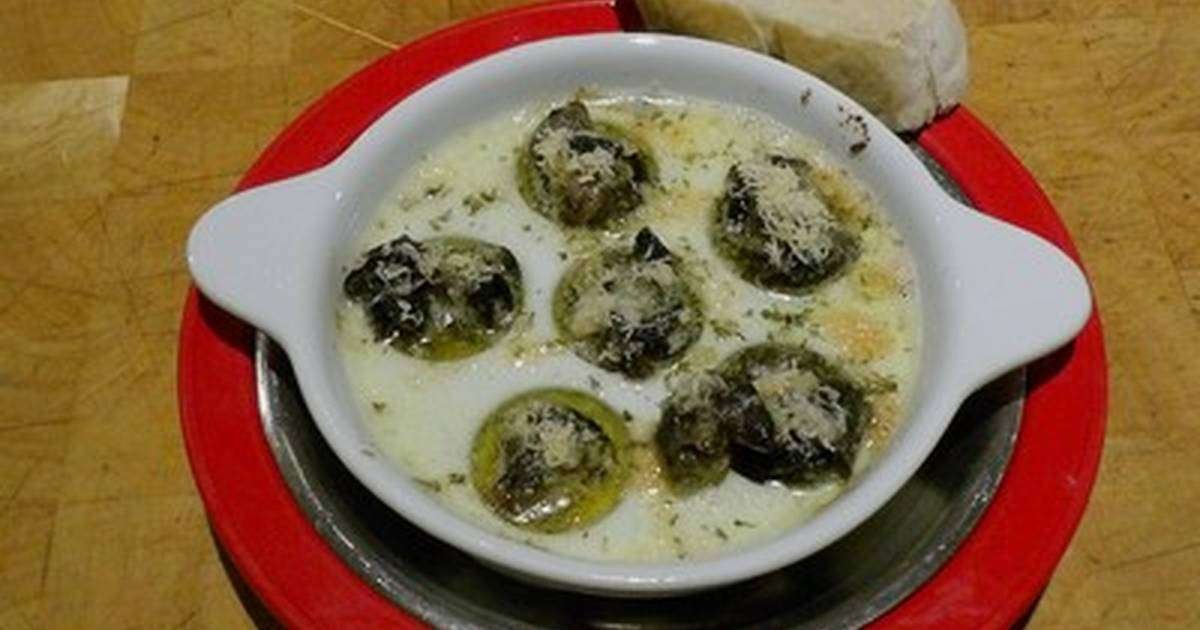 Snails have been eaten since prehistoric times and are described in ancient Greek and Roman literature. Escargot is part of the cuisine of Europe, Middle East, Asia, and India. Snails are a delicious food served as an appetizer worldwide. They are a mollusc in the same phylum as octopus, squid, conch, oyster, clam, scallop, and mussel.
I began eating escargot when I was a teenager. I like escargot baked in garlic butter served with French baguette bread for dipping. Parmesan or wine can be added to the preparation.
Cooking escargot is rather simple. Take 1 pound helix snails without shells, cook snails in a saucepan with 4 cloves of garlic, ½ cup butter, ½ cup parmesan, and a splash of dry white wine. In an escargot baking dish, arrange cooked escargot and cover with the garlic butter sauce. Bake until bubbly and slightly brown, about 10 minutes. Serve with French baguette bread.
(Source: PBS, Food Network)
Caviar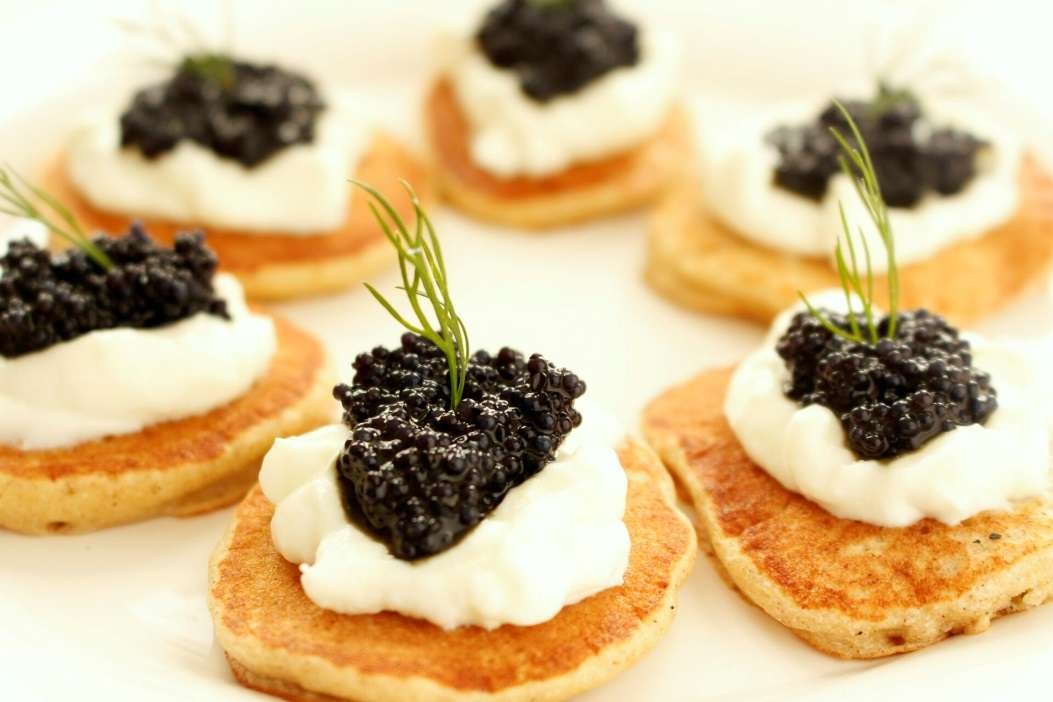 I first tried caviar at fancy parties when I was young and developed an appreciation of this delicacy. Most people have a wrong impression of caviar. It is neither fishy nor briny; it is light and delicious. There is a reason it is so popular, and expensive.
Caviar is considered a gourmet delicacy made of salt cured roe (eggs) of sturgeon, salmon, trout, cod, or other fish. It goes back to ancient times. The best caviar is considered sturgeon from Russia or Iran, which is very expensive, Chinese caviar is also highly prized. Caviar is popular worldwide.
Fine caviar is best served chilled and eaten alone. Most often caviar is served on crème fraiche (buttermilk and heavy cream) or sour cream, over a blini pancake or toast point, and often garnished with minced onion and crumbled hard boiled eggs. Make sure to use plastic spoons when serving and enjoying caviar, since metal changes the taste. Caviar compliments lobster, salmon, crab, scallops, shrimp, pasta, eggs, dips, and sauces. It goes well with chilled vodka, champagne, chardonnay, or pinot noir.
(Source: James Beard, Joy of Cooking)
Foie Gras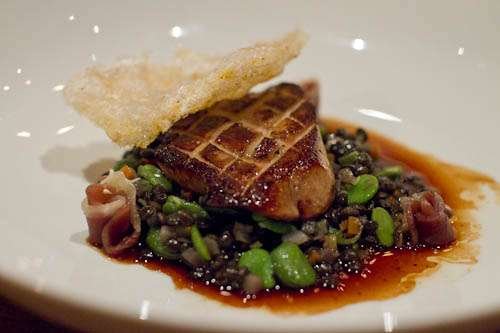 Foie Gras is considered a French culinary delight that dates back to ancient Egyptian times. It is specially prepared goose or duck liver or liver pate that has a nutty flavor that is rich, buttery, delicate, and smooth. It has a delicious flavor that does not taste like liver. It comes in three forms – sliced liver to be sauted or roasted in a caramelized sauce; pate made with cream; or a mousse often made with brandy and truffles. Leading producer nations include France, Hungary, Bulgaria, U.S., Canada, and China.
Foie gras is usually served on French baguette or brioche slices and can be garnished with fig jam, fruit or berry sauces, baked apples, onion chutney, Dijon mustard, or other items. Pate or mousse should be served at room temperature. It is often served with champagne, port, or Sauterne wine.
Foie gras compliments a good steak, combined it is like Beef Wellington.
(Source: James Beard, Julia Child)
Morel Mushrooms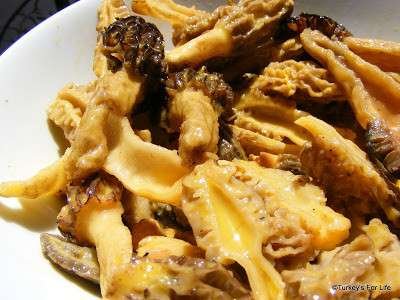 Morel mushrooms are praised as one of the best mushrooms in the world. They can be cooked and used in numerous ways. Morels are usually gathered wild in the northern regions of Europe, Asia, and North America. I have gone morel hunting in the spring and have gathered an abundance of this delicacy.
Simply fried – rinse morels, cut lengthwise, dredge in flour, saute in oil or butter for 5 to 8 minutes, salt to taste.
Morels in a wine sauce – saute 2 cups morels sliced, 1 cup scallion diced, 4 tbl butter, and ¼ cup olive oil. Remove morels. De-glaze pan with ½ cup dry white wine, reduce to half. Add back morels and simmer for a few minutes.
Morels in a cream sauce – saute 1 lb morels, 1 diced shallot in 2 tbl butter for 7 minutes. Stir in 1 tsp thyme and 1 tbl lemon juice. When lemon juice evaporates add a splash of white wine and evaporate wine. Reduce heat and stir in 1 cup cream, cook to thicken.
(Source: allrecipes, Morel guidebooks)
Orange Pheasant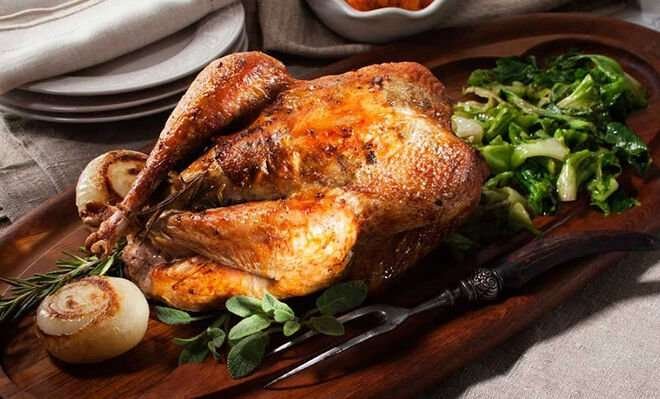 When I was young, my dad and I would go pheasant hunting in Autumn with a guide and a pointer dog. We would bag a few pheasant and quail. We then would cook pheasant with an orange sauce and serve it with wild rice and mushrooms, baked acorn squash, green beans, green salad, and homemade rolls. Later I discovered the following recipe in a cookbook, a different and delicious way to cook game hens, such as pheasant, quail, grouse, partridge, or Cornish hens. I have cooked it several times.
Stuff the cavities of 2 pheasants with two peeled, chopped oranges. Tie legs and bind birds. Place in a roasting pan breast side up. Combine ½ cup orange juice, ½ cup dry white wine, 2 tbl brown sugar, 2 tbl cider vinegar, 2 whole cloves, and ¼ tsp ginger. Pour over birds. Cover pan and bake 1 ½ hours at 350 degrees F. Remove birds and place on a baking sheet and bake to brown skin. Remove and discard orange stuffing.
Strain off fat from juices. Reserve the juice. Make an orange sauce in a sauce pan, combining 1 ½ cup of reserved liquid, 2 tbl of orange liqueur such as Grand Marnier, and a little cornstarch to thicken. Spoon a little sauce over the birds and put the rest in a gravy boat to pass.
Great served with rice and vegetables. Pheasant is best served with a light red wine, such as pinot noir.
(Source: Better Homes and Gardens)
Veal Piccata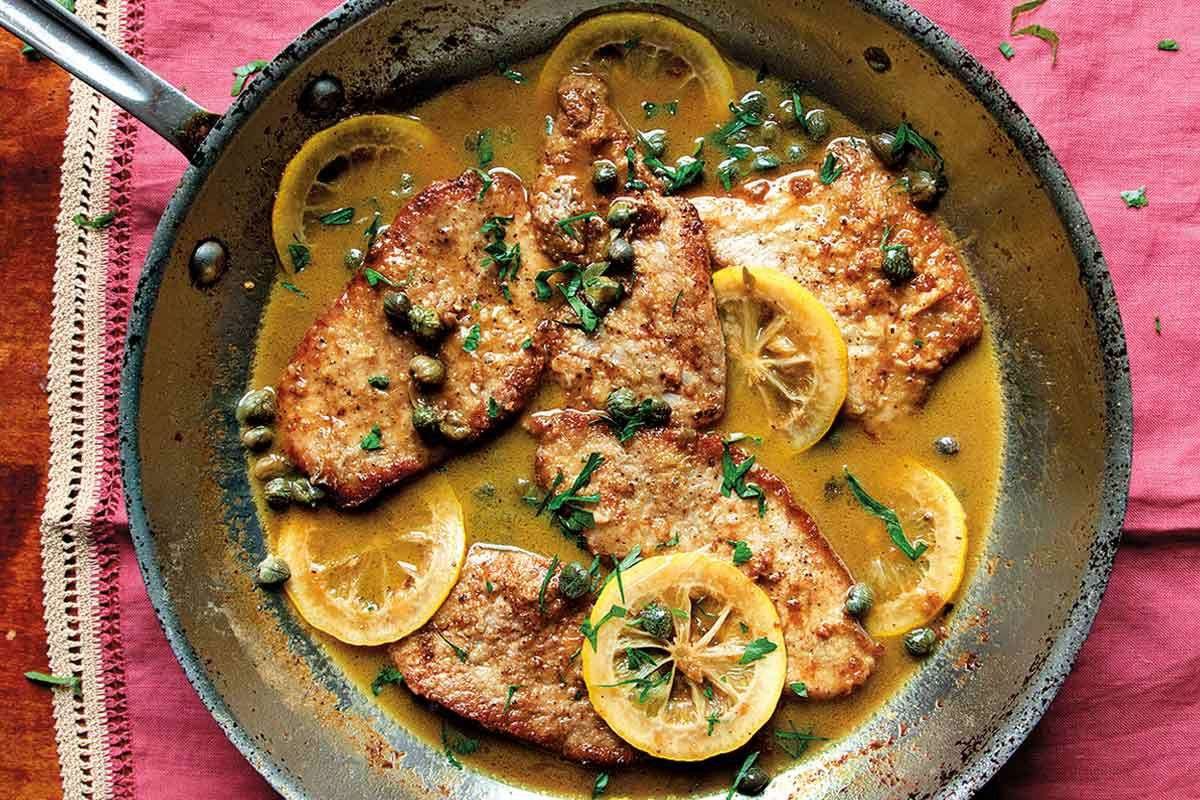 Veal piccata is a traditional Italian dish of veal in lemon and butter. I have enjoyed making veal picatta many times. It is easy to cook and it is a wonderful light dish.
Take 4 veal scallops, about ¾ pounds, and pound each to 1/8 inch thickness. Mix flour, salt, and pepper on a plate. Dredge the veal and shake off excess. Saute veal in a skillet with 5 tbl of butter and 1 ½ tbl of olive oil until golden brown, about 1 minute. Set aside veal.
Add 1 cup dry white wine, bring to a boil and scrape bits from the bottom of the pan. Reduce heat and add ½ cup chicken stock, 1 clove garlic chopped, 3 tbl lemon juice, a few lemon slices, and 2 tbl capers drained, cook for 5 minutes. Whisk in some salt and pepper to taste and 3 tbl butter. Add back the veal and cook 1 minute. Garnish with parsley. Serve on a platter.
Complimentary dishes served with veal piccata include Caesar's salad, pasta, polenta, risotto, roasted vegetables, green beans, mushrooms, and spinach. Best served with rose, chardonnay, pinot grigio, pinot noir, cabernet sauvignon, and zinfandel wines.
(Source: Better Homes and Gardens, Food Network, PBS)
Osso Buco
A traditional Milanese dish made with veal shanks, or shanks of beef or lamb can be used. I have made this at home and have enjoyed it at Italian restaurants.
In a Dutch oven, brown 2 pounds of veal skanks in butter for 15 minutes. Remove veal. Add in 1 large onion diced, 1 carrot diced, 1 celery rib diced, and 2 cloves garlic minced. Saute for 5 minutes.
Return veal to pan and add 1/4 cup butter, 1 tbl flour, 1 can (14.5 oz.) diced tomatoes, 2 beef boullions, 2/3 cup dry white wine, 2/3 cups hot beef stock, 1 tsp salt, and 1 tsp pepper. Simmer for 1 ½ to 2 hours.
Can be served with garlic mashed potatoes, rice, risotto, polenta, and green beans. Best with pinot noir, chianti, Beaujolais, dolcetto, or barola wines.
(Source: James Beard, Giada De Laurentiis-Food Network, Good Housekeeping, Joy of Cooking)
Coq Au Vin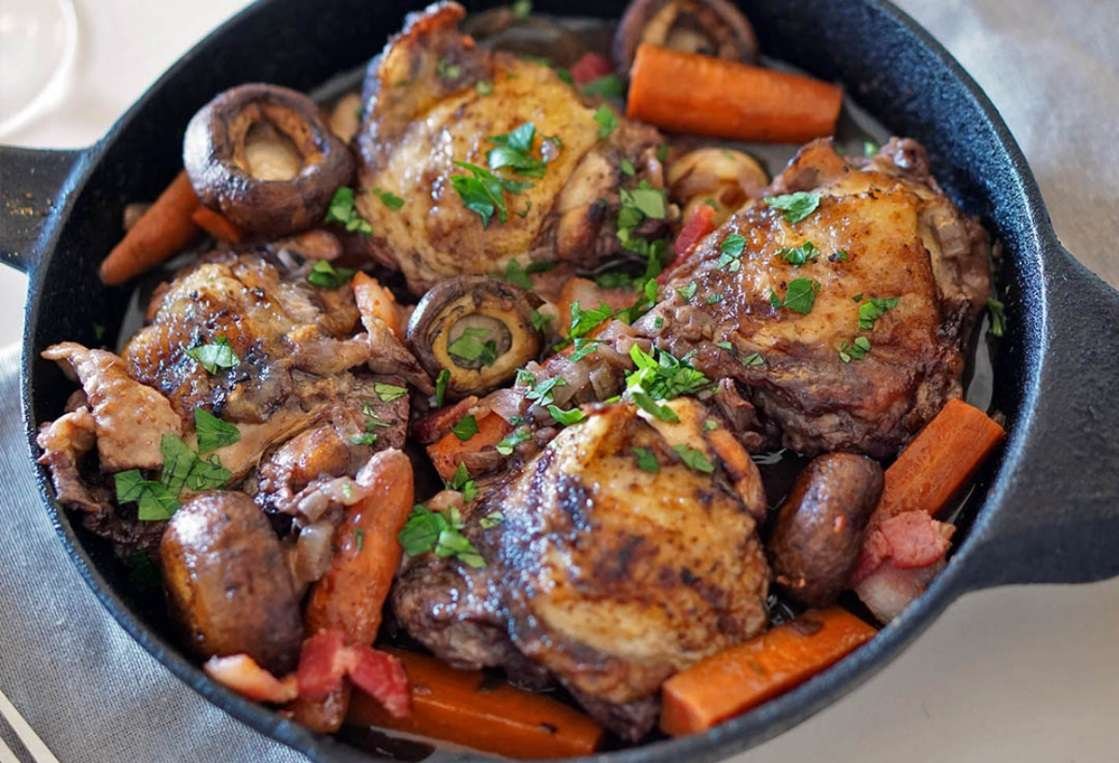 Coq au vin dates back to ancient Roman times in Gaul (France). It is fun making this dish (make extra bacon to snack on). Great taste treat.
In a pan cook 4 slices of bacon until crispy, remove, crumble, and reserve. Dredge 4 to 6 chicken thighs in flour and add to the pan with ½ tsp salt and 1/8 tsp pepper. Brown over a medium heat for 15 minutes, turning. Pour 2 tbl of cognac or brandy over chicken. Remove chicken and set aside.
Stir in 1 tbl flour and 1 cup dry red wine, cook and stir until bubbly. Add 1 bay leaf, ¼ tsp rosemary, ¼ tsp thyme, reserved bacon crumbs, 1 diced onion, 1 clove garlic diced, 1 cup diced mushrooms, ½ cup diced carrots, and 1 rib celery diced. Return chicken. Bring to a boil, reduce heat, cover, and simmer for 35 minutes, until chicken and vegetables are tender. Remove chicken and vegetables. In the liquid blend in 2 tbl flour and 2 tbl butter. Cook until thickened and pour over the chicken and vegetables.
Serve with garlic mashed potatoes, a green vegetable, and salad greens. Good with pinot noir, red burgundy, beaujolais, and Rhone wines.
(Source: Julia Child, Ina Garten-Food Network)
Lamb Rib Chops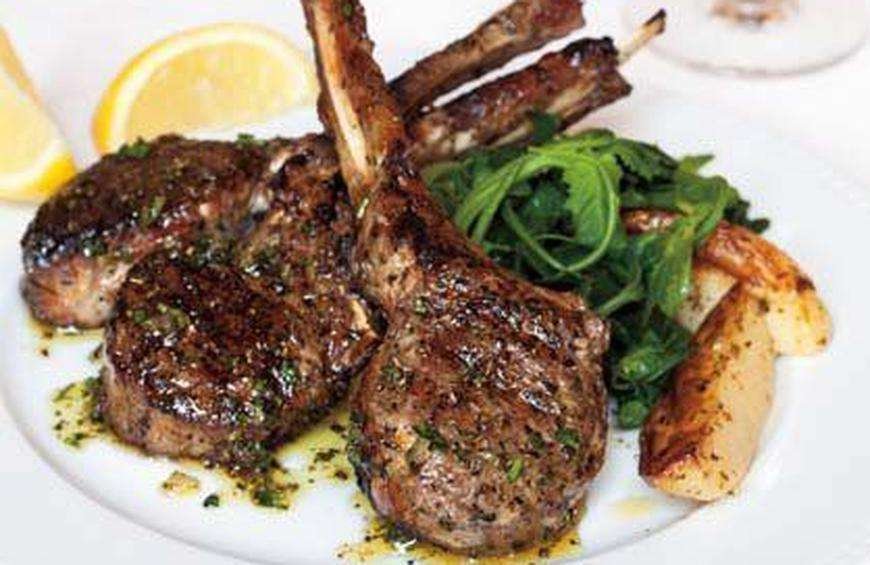 I love broiled rib lamb chops with squeezed lemon juice. I often go to Greek restaurants because they cook it like nobody else can, delicious and tender. Greeks have been cooking these for thousands of years. I have heard some people joke that it's like eating gold because they are so expensive – true, but well worth having on special occasions. They are a real treat. I often make them for myself around Christmas and New Years.
Considered a delicacy, rib chops are the best part of the lamb, being very tender and delicious. Shoulder lamb chops are different, but are still very tasty.
Lamb chops are best cooked rare (6 to 8 minutes) or medium rare (12 to 14 minutes). Greek preparation (Paidakia) includes salt, pepper, lemon, and oregano. Another modern method is crusted Dijon mustard. Broiled or grilled are preferred and are excellent. Serve with lemon wedges.
Complimentary food may include Greek artichoke and feta salad, roasted potatoes, green beans in tomatoes (Fasolakia), rice, Greek bread with Taramoslata (cold whipped potatoes with smoked caviar) and Tzatsiki (yogurt, cucumber, garlic). Best served with red wine, I prefer pinot noir, or try Greek wine if you like.
(Source: James Beard, Regional Greek Cooking)
Poached Pears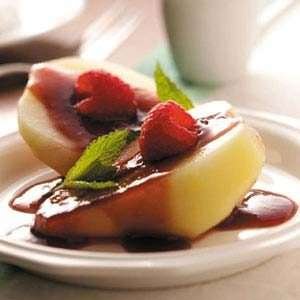 I often make this as a holiday dessert, people love it.
Peel, core, and half lengthwise 12 pears. Place 12 pear halves in a pot with 1 pint dry white wine, 1 cup sugar, 3 slices of lemon, and 3 slices of orange. Poach pears until tender and remove pears to cool. Reserve the liquid for a sauce and to make more poached pears.
In a separate pot, place the remaining 12 pear halves with 1 pint red wine, 1 cup sugar, 3 slices of lemon, and 3 slices of orange. Poach pears until tender and remove pears to cool. Reserve the liquid.
Sauce: puree 1 ½ cups of frozen or fresh raspberries by pressing through a sieve to remove seeds. In a saucepan put the pureed raspberries, 1/3 cup of the white wine liquid, and 3 tbl of orange liqueur. Heat.
On a plate place one white pear half and one red. Pour a little berry sauce over the pears. Garnish with a whole raspberry.
(Source: James Beard, PBS)
Crepes Suzettes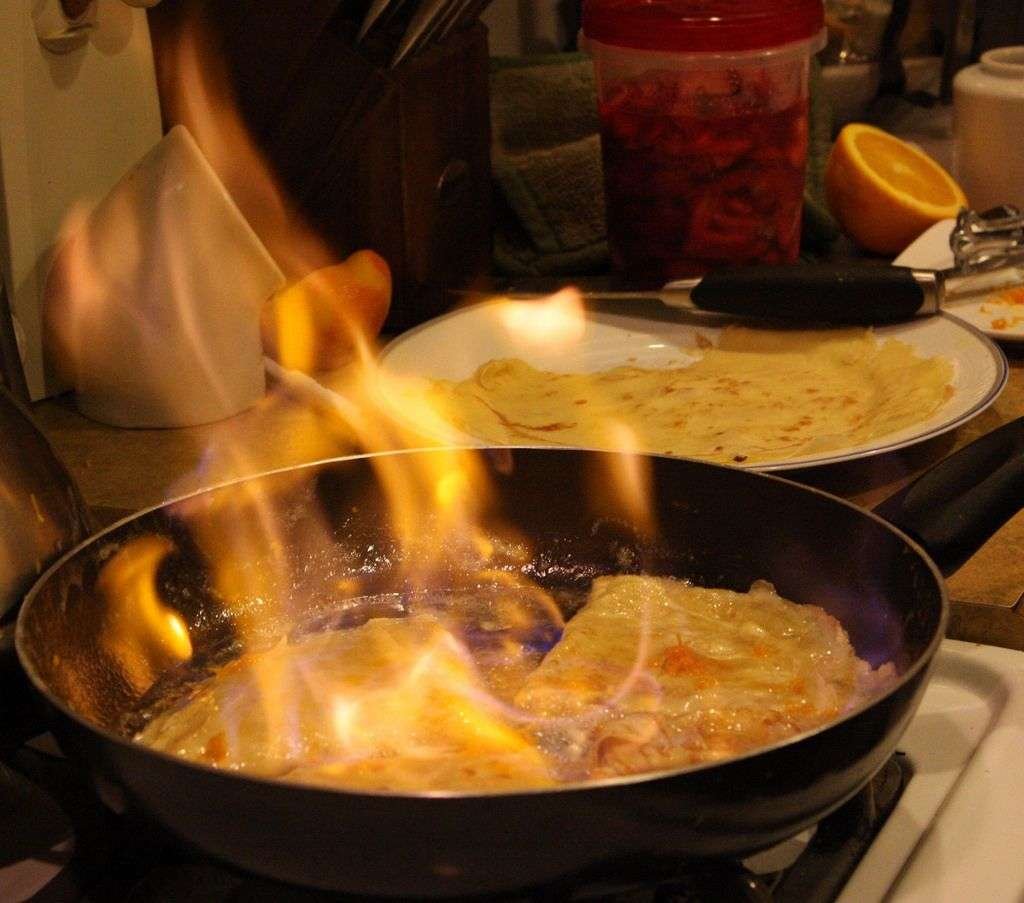 Flambed Crepes Suzettes with orange liqueur was created in Paris in 1895. The flambe makes it spectacular and the taste is divine.
Fold 8 dessert crepes into triangles. In a frying pan mix ¼ cup butter, ¼ cup orange liqueur, ¼ cup orange juice, 3 tbl sugar, cook until bubbly. Arrange crepes in pan and simmer until the sauce thickens. Add 2 tbl of brandy and ignite for a flambe. Serve when the flame goes out.
The flambe burns off the alcohol and enhances the flavors.
Dessert crepes: combine 1 cup flour, 1 ½ cup milk, 2 eggs, 2 tb sugar, 1 tsp oil, 1/8 tsp salt, blend into a batter. Heat a small skillet, spoon 2 tbl of batter, spread evenly, brown both sides.
(Source: Julia Child, Better Homes and Gardens)
Crème Brulee
Crème brulee is one of my favorite desserts, especially after a sumptuous meal at a fancy restaurant. The vanilla flavored custard with a caramel crust is wonderful. Crème brulee is first mentioned in 14th Century Spanish cookbooks and in the 17th Century in France.
In a double boiler pan beat 6 egg yolks with 1/3 cup of sugar until thick. Blend in 1 tsp of cornstarch dissolved in 3 tbl of milk. Stir in 3 cups of heavy cream. Simmer pan over water, stir constantly until it thickens. Remove from water and stir in ¼ tsp of vanilla extract.
Pour custard into 6 individual heat proof serving dishes. Sift brown sugar 1/8 inch deep on top of custard. Cool and chill until firm. Set dishes on a baking sheet under a hot broiler and let sugar caramelize. Let cool to serve.
(Source: James Beard, Julia Child)
In Summary
Treat yourself to a high quality gourmet meal – experiment and learn what millions of people over many centuries have experienced – a sensual, exciting, wonderful experience of sight, smell, touch, sound, and taste.
The world is diverse and vast. Exploring the cuisines of different cultures not only expands your imagination and horizons – it may enable you to enjoy some of the greatest treasures in the world.
Try different spices, oils, syrups, butters, wines, liqueurs, coffees, teas, chocolates, nuts, seeds, cheeses, fish, shellfish, poultry, meats, desserts, fruits, vegetables, grains, legumes, pastas, breads, imported foods, and so forth.
Life is short, so live up to its limits. Bon appetit.
References
Food Network
Bon Appetit
Gourmet
Betty Crocker Cook Book, 1950.
Better Homes and Gardens New Cook Book, 1951, revised 2010.
Everyday Italian, Giada De Laurentiis, 2005.
The James Beard Cookbook, 1959, revised 1996.
The Good Housekeeping Cook Book, 1942, revised 2007.
The Joy of Cooking, 4th Edition, Irma S. Rombauer, 1931, revised 2019.
Mastering the Art of French Cooking, Julia Child, 1961.
The Official Foodie Guidebook, 1984, Paul Levy and Ann Barr.
Regional Greek Cooking, Dean and Catherine Karayanir, 2008.
Written by Bruce J. Wood, founder of Aoide Magazine.