Feature Image – Soft Machine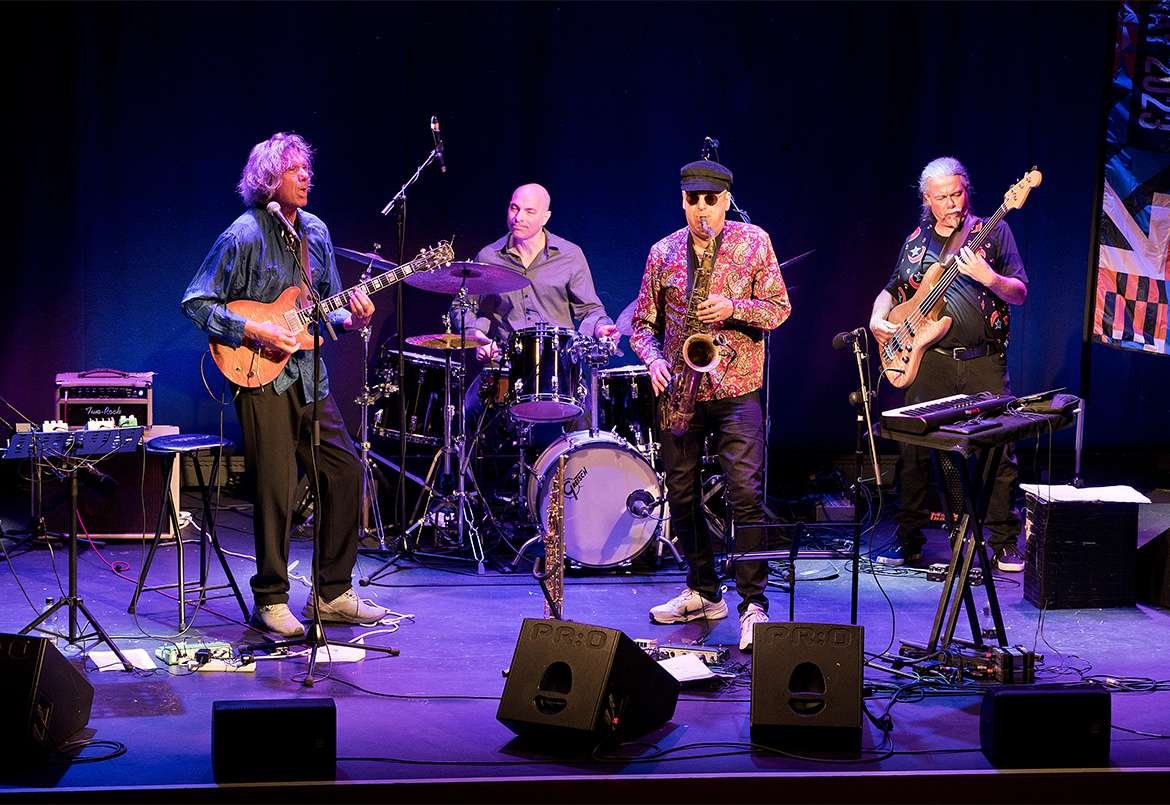 Other Doors, album
Moonjune Records
British progressive jazz-rock band Soft Machine has been at the forefront of the fusion music movement since the mid '60s. They began as a quirky psychedelic-influenced rock outfit, with one of its early claims to fame sharing some live dates opening for Jimi Hendrix. Mike Ratledge, Daevid Allen, Robert Wyatt and Kevin Ayers were the original founders of the group. But, over the years, the band has morphed and evolved from a vocal-oriented rock-based band to more of an instrumental modern jazz ensemble.
To a great degree, the musical changes were a result of the mixed bag of excellent and diverse British players that filtered through the group's doors. Some of the finest musicians in, primarily, the U.K. have been a part of the Soft Machine family. And this, their 12th "studio" release is no exception. Guitarist John Etheridge, saxophonist-flautist-keyboardist Theo Travis, bassist Fred Thelonious Baker and drummer John Marshall comprise the current personnel here.
This legendary band is still full of surprises and blends brand new original compositions along with reworked cuts from their historic catalog. Many of the tracks are strong and stand alone as individual set pieces. There are more compact tunes that act as transitions like the atmospheric "Careless Eyes" and the guitar-centric "Whisper Back." There are deep catalog gems like the dreamy guitar and sax lead "Penny Hitch" and a swinging number from their very first late '60s release called "Joy of a Toy." And then you've got some all out post-bop-influenced material that features Travis' Coltrane/Shorter chops on the title track.
Soft Machine song Other Doors
In particular, Etheridge and Marshall are charter members from the band's early and mid-'70s period. They bring an astute pedigree , with one foot in the past and one in the present. Travis has been part of the new and improved "Softs" for a few albums now, and Baker, while no "kid" in the least, is the newest addition. A real treat is the inclusion of former SM bassist Roy Babbington as guest on the aforementioned "Penny Hitch" and the stunning bass duet with Baker called "Now! Is the Time."
If you're a fan of Weather Report, Terje Rypdal, Mike Stern, Tony Williams' Lifetime and early Impulse or Blue Note recordings there is a lot here for you to unpack and explore. "Other Doors" is also significant for being the final studio recording that 82 year old drummer Marshall played on.
So, as the legendary Marshall bids adieu in retirement, the group marches on into its next chapter of truly mind-blowing progressive music.
Roberto Magris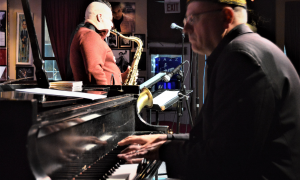 High Quote, album
J Mood Records
Italian jazz pianist and composer Roberto Magris has done a series of recordings for J Mood Records. He's also composed and arranged for big bands in Europe as musical director of the Europlane Orchestra. In 2012 he was asked by producer Paul Collins to compose and arrange for a small big band with an American perspective. Being a fan of American big band composers and leaders like Oliver Nelson and Gerald Wilson he leapt at the chance.
What you have here is a document of a meeting of the minds between Magris' eclectic European approach and, at the time, these burgeoning young Kansas City players. On hand for the recorded festivities are Matt Otto on tenor sax, Jim Mair on alto sax, Jason Goudeau on trombone, Josh Williams on trumpet, Aryana Nemati on baritone sax, Elisa Pruett on bass, Brian Steever on drums, Pablo Sanhueza on percussion and vocalist Monique Danielle.
It's an interesting sequence of tunes where the track list rides this wave of somewhat traditional fare and standards to increasingly more progressive material as you follow in order. From the liner notes Magris elaborates on his musical philosophy about the album. "I had to follow my now 'old fashioned' tastes or further developing my own direction in modern jazz," said the pianist. "After putting down a first batch of new compositions and arrangements, the result was obvious—both!"
Roberto Magris song Elmo's Delight
"High Quote" refers to paying tribute and homage to some of the greats of classic jazz composers and arrangers. And the title track, written by Magris, kicks off the album in buoyant and upbeat style. It swings hard and employs the full use of the entire ensemble. "Together in Love" sounds like an evergreen from the '40s or '50s but is another of the leader's originals. Vocalist Danielle brings a lot of emotion and tenderness to this track. The follow up "Black Coffee" is a little more bluesier and sassier too. The Webster/Burke nugget was first popularized by Peggy Lee and others of the era. Danielle brings her own take on it that's rich with bravado and cool. "Hong Kong Nightline/The Island of Nowhere" begins to take the listener on a journey into a musical world less traveled. It's more of a modern big band feel that starts out melodic and then goes into an open ended sax and percussion section. It appears mostly improvisational and is a departure from the traditional written form of what came before. Other tracks like "Steps in the Dark" and "The Endless Groove" go from ballads to burners and really show the range of Magris' composing style as well as the accomplishments of the JM Horns. Hank Mobley's "The Changing Scene" stealthily bookends this big band date as the track honors tradition while displaying the advancement of the medium from the sounds of the big brass ensemble heyday to modern harmonic advancement.
From small combos to larger groups, as his body of work, particularly for J Mood Records, attests, Magris proves time and time again that he is a man for all musical seasons.
Tracy Nelson
Life Don't Miss Nobody, album
BMG
Tracy Nelson is a country and blues singer-songwriter that first hit the music scene in 1965. She began her illustrious career playing folk music on the coffeehouse circuit. One of the first bands she put together was an outfit called Mother Earth. She gained notoriety with that group when she moved from the Midwest to San Francisco, sharing bills at the Fillmore Auditorium with Janis Joplin, Grateful Dead and Jefferson Airplane. Nelson has written material recorded by Linda Ronstadt, Cyndi Lauper and Etta James, among others. She's also recorded over 20 albums for various labels, including Prestige, Atlantic, Rounder, MCA and Columbia.
Nelson has been at the forefront of what we now refer to as "Americana" music. It's been a dozen years since her last album "Victim of the Blues" was released. But the wait, as they say, was well worth it. She has a voice that's rich in soul and substance and a background diverse enough to handle many different styles. The grand dame of roots music does it all on this one—from gospel and R&B to folk and jazz-tinged songs.
Tracy Nelson song Life Don't Miss Nobody
Nelson is joined by legendary old friends and top notch talent from Nashville, Austin and New Orleans. While each of the 13 tracks here are significant, some highlights that caught this reviewer's ear include the African American spiritual "Strange Things Happening Every Day." Sonny Boy Williamson's "Your Funeral And My Trial" is a tasty collaboration between Nelson and guitarist-vocalist Jontavious Willis. Willie Dixon's "It Don't Make Sense" commentary is made even more poignant when Nelson has a meeting of the minds with former musical partner Charlie Musselwhite on harmonica. She also shares a vocal with another former counterpart, the great Willie Nelson, (no relation) on Hank Williams Sr.'s "Honky Tonkin'." Chuck Berry's "Brown Eyed Handsome Man" and Gene McDaniels' funky "Compared to What" truly round out her vast abilities to elicit the subtleties and nuances of a classic.
Tracy Nelson is an original , as both a superb composer and interpreter of song. She's at the top of her game and this is a welcome addition to her stunning body of work.
Popa Chubby & The Beast Band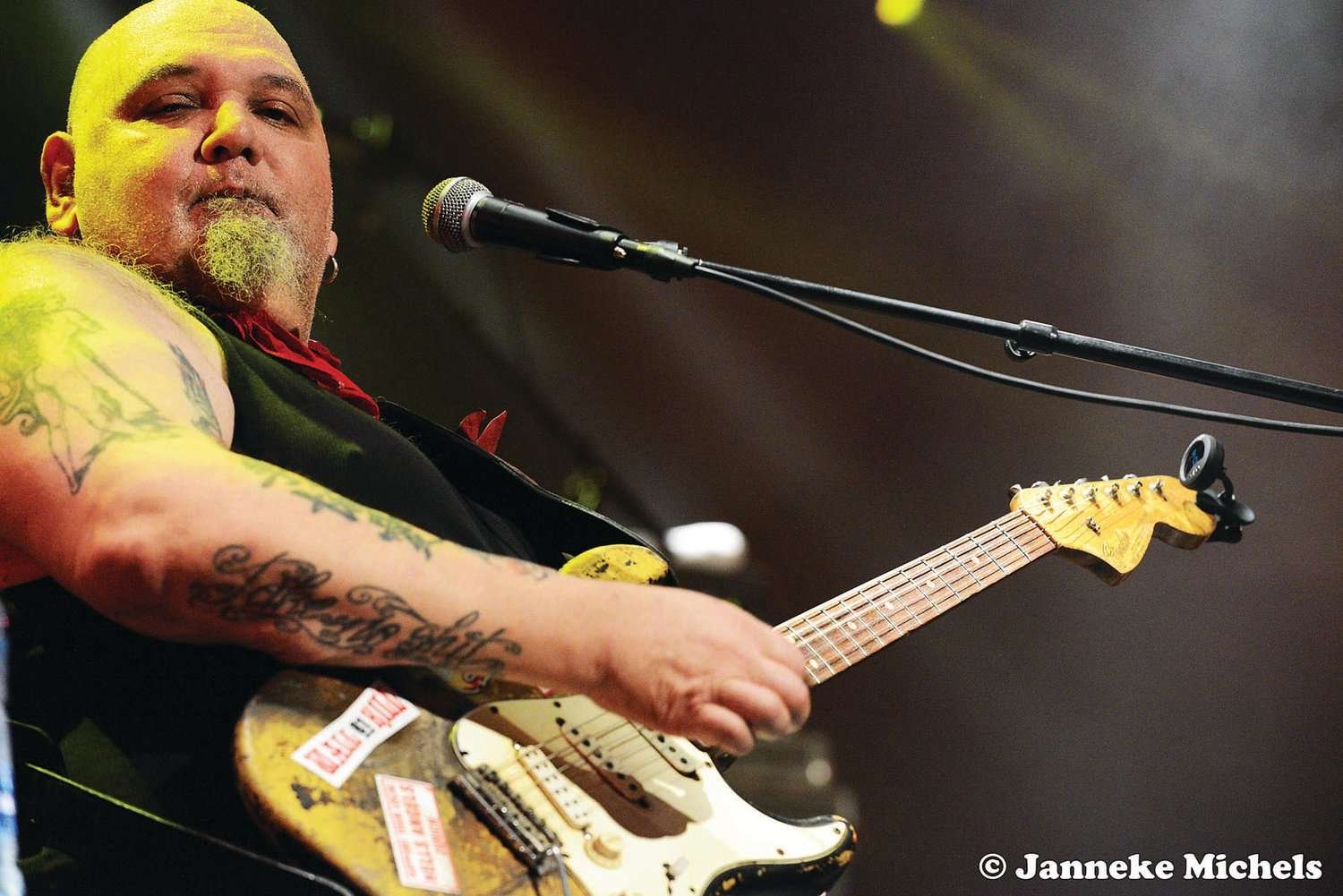 Live at G. Bluey's Juke Joint NYC, album
Gulf Coast Records
This record has been something Ted Horowitz ( aka Popa Chubby) has been wanting to do for some time now. The vivacious blues-rock singer-songwriter/guitarist has known Gulf Coast Records owner Mike Zito for many years. Horowitz was searching for a new vehicle that would feature original material and choice covers in a comfortable and exciting live setting. The result is what you have before you. This is Popa Chubby in his purest and most unadulterated form. And this live format would not be complete without his loyal compadres, The Beast Band. Joining Popa Chubby is Michael Merritt on bass and backing vocals, Mike Dimeo on keyboards and backing vocals and Stefano Giudici on drums and backing vocals.
Popa Chubby began his musical journey over 30 years ago playing rock and punk clubs in his native New York City. Over the years, being a long-time blues fan, he integrated more B.B. King and Buddy Guy licks into his playing and the result is what you have here. Before a select audience in this Long Island, NY club the leader and his crack band slay the crowd, with an entertaining mixed bag of classic rock, blues, Tin Pan Alley treats and slices of Americana.
Popa Chubby song Rollin' and Tumblin
This two disc set lays all its grit and gravitas on the table for all to experience. This is a road-tested sounding entity that exhibits deep grooves and stellar solo skills. Neil Young's "Motorcycle Mama" kicks off the festivities in high gear, with a boogie motion. That's followed by the dramatic original "Another Ten Years Gone" and the blues-rock staple "Hey Joe." Throughout the first set Popa Chubby turns up the heat with some surf-like guitar acrobatics and even includes an appropriately sentimental take on Nino Rota's "Godfather Theme (Speak Softly Love)." The man is out there and takes some chances while working within a blues-oriented framework.
That impressive sense of daring and devil-may-care continues on Disc Two. Tracks such as "It's a Mighty Hard Road" and "I Don't Want Nobody" are Popa Chubby originals and prime examples of his incendiary guitar chops and emotive vocals. But then he can dip into a delicate song like Leonard Cohen's "Hallelujah" and wipe you out with a heart-wrenching performance. A Great American Songbook gem "Nobody Wants You When You're Down and Out" and a transformative version of Jagger/Richards' "Sympathy for the Devil" round out this stellar collection. The band really digs in on the Rolling Stones standard and the addition of "Chubby's Story" in the mix is a clever semi-auto-biographical rap that serves as a love letter to the audience.
Popa Chubby is, indeed, in his element performing live on the concert stage. And, as a two disc set, there is an overload of guitar-fueled excellence here to absorb, love and appreciate!
Marc Jordan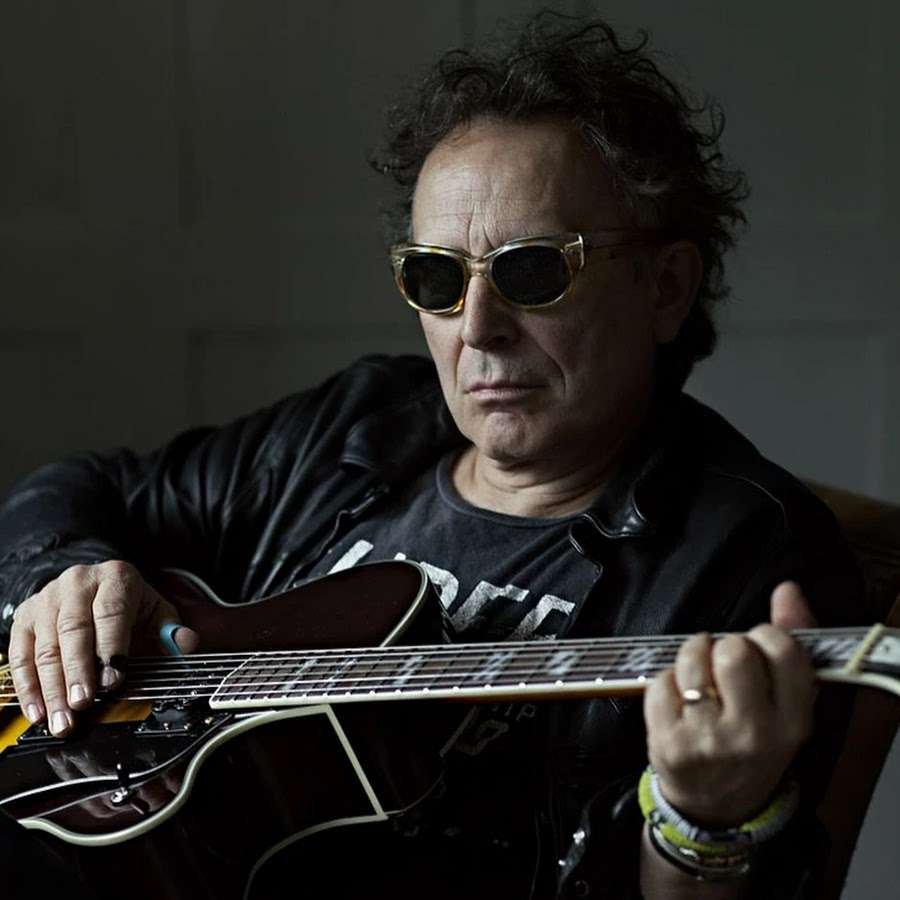 Waiting for the Sun to Rise, album
Linus Entertainment
This reviewer first became aware of singer-songwriter Marc Jordan back in 1978 when he released his debut solo album for Warner Brothers entitled "Mannequin." With tunes like "Living in Marina del Rey" and "One Step Ahead of the Blues" he had a penchant for Latin rhythms and straight ahead jazz in one fell swoop. From that time forward he has proven to be a songwriter that top tier artists have gravitated to. Diana Ross, Rod Stewart, Joe Cocker, Cher, Chicago and Bette Midler are just some of the luminaries that have recorded his material.
This is Jordan's 15th solo record and his first collection of, mostly, original material since 2013. With a healthy pedigree in pop, jazz and theater, he brings all those elements into his process here. It's an interesting album that puts the emphasis on storytelling and emotional directedness. There is also a backdrop of modern classical interludes and piano/strings orchestrations from award-winning producer, composer and arranger Lou Pomanti(Michael Buble , Blood Sweat & Tears).
Marc Jordan song Waiting for the Sun to Rise
But front and center is Jordan's thoughtful demeanor and attention to detail. He skillfully knows how to set a scene and creates a mood with his laid back vocals and vivid lyrics. Tracks like "Best Day of My Life" and "Coltrane Plays the Blues" run the gamut from hopelessly romantic to jazz poetry. And when he dives into a cover song it's never by rote. Take for instance his take on Tears for Fears' '80s classic "Everybody Wants to Rule the World." He distills the essence of the melody and extracts the lyrics but replaces the tune's somewhat original sunny buoyancy, with a reflective cool. Under Jordan's care the words seem even more profound. The addition of Randy Brecker's solos on trumpet kick the song's swing into overdrive. Other songs like "Tell Me Where it Hurts," "The Downtown Lights" and "Cradle to the Grave" also have a strong sense of contemplation and pathos wrapped in a jazzy bow.
Since his late '70s debut, Jordan has always had a clever and unique way to turn a phrase. He also knows how to make you feel where he's coming from and paints indelible pictures on your soul.