It was the great McKinley Morganfield (aka Muddy Waters) who was famously quoted many years ago with, "the blues had a baby and they called it rock 'n roll." More prophetic words were never spoken as the music of Waters, Buddy Guy, B.B. King, John Lee Hooker, and a host of other Americana and blues musicians paved the way for, and popularized, the rock and pop music movement.
Singer-songwriter and guitar stylist Howard Glazer was certainly one of those kids that got bit by the rock and blues bug growing up in '60s-era Detroit, Michigan. Glazer came up through the metro Detroit public school system and first studied trumpet before switching over to guitar. The multi-award winning musician grew up in a musical and visual artistic household. His father taught music privately and was saxophonist in the Don Pablo Orchestra. And his mother was also an accomplished musician and taught music in the Detroit public schools. His brother Steve is an accomplished ceramic artist and often accompanies Howard on bass. His other brother Stuart is a visual artist and educator as well.
Song link by Glazer, "Midnight Postman"
Glazer emerged on the Detroit music scene in the late '70s and early '80s following in his family's footsteps as an educator and musician. He taught guitar and theory for many years at Hewitt's Music in Dearborn, Michigan by day and jammed with various jazz, rock and blues bands by night. His dedication to the pursuit of a full-time musical career led to a series of recordings as a leader. Glazer was selected as a Downbeat Magazine Critic's Choice Awards nominee (Best Rising Star and Best Blues Artist) and was also inducted into the Michigan Blues Hall of Fame in 2013. In 2014, he received "Outstanding Blues/R&B Instrumentalist" from the Detroit Music Awards. The bushy salt and pepper-haired bluesman was also selected to perform in the Don Was 2013 Detroit All Star Review at the Concert of Colors. In addition he's amassed successive "Best Guitarist" awards from Detroit Metro Times magazine and has toured the globe, playing over 18 countries. Some of those tours have been shared with esteemed Detroit blues legends Harmonica Shah and, former John Lee Hooker guitarist Emanuel Young.
Throughout the past 40-plus years Glazer has plied his trade and shared the studio, stage and rubbed elbows with the afore-mentioned blues luminaries Shah and Young, but also others such as Willie D. Warren, Billy JC Davis, Eliza Neals, Johnny Winter, Honeyboy Edwards, Maggie McCabe, John Sinclair, Buddy Guy, Sweet Claudette, et al. Glazer is also endorsed by a plethora of musical gear manufacturers, including Olympus Custom Guitars (Greece), Ohlinger Amplifiers, National Reso-Phonic Guitars, GHS Strings, Godin Guitars, D. Allen Pickups, Blues Pearl Effects, and Stan Hinesley Handcrafted Pickups.
Link to Glazer song "Gas Pump Blues"
As with many musicians and performers, the pandemic has had a considerable chilling effect. Everyone has had to pivot and find new ways to reach out to their respective audiences. Glazer's experience has been no different; doing an occasional online Zoom jam here or, primarily, a stray outdoor gig there. But two fortuitous opportunities of late have blossomed into unexpected career boosts for the Motor City axe man. One of Glazer's early blues recordings was an album he cut with his trio The EL 34s entitled "Liquor Store Legend." Years later that title offers curious significance, tying into an online radio gig for the 60-something guitarist. "There was this guy named John Jeffries who used to work at this neighborhood liquor store that I would go to," recalls Glazer. "He really liked my music and would often come and hear me play live at some local clubs. It turns out he had an extensive radio background, having previously worked at local Detroit stations like WLLZ and WABX back in the '80s. He told me he was in the process of starting an internet radio station and wanted me to host a show on it. He was a nice enough guy, but you never know about these things. I've had people pitch stuff to me over the years, so you never know if it will go anywhere."
In 2015, Jeffries' internet radio dream became a reality in its embryonic form as "Radio X Rocks." It then morphed into www.dcxrocks.com and "Extreme Music." Glazer came on board with a 60-minute jazz and blues specialty program called "Detroit Blues Party" in August 2021. "The station wants to offer something different," says Glazer's show co-producer Anelia Kruczyca. "John Jeffries wants to fill that gap in AOR radio that has become redundant. When John talked to Howard he said you have the opportunity to introduce blues to a classic rock crowd. So a lot of times we'll play a song that's been played by classic rock people and then play the original blues version. If we're gonna play the old school guys we try to find stuff that hasn't been heard much before. And then we'll play, like, 'House of the Rising Sun,' but play the Leadbelly version." "We'll also play some of the British blues rock bands like Clapton, Savoy Brown, and early Fleetwood Mac," adds Glazer. "These artists have so much music out there. Why play the same stuff over and over again? I don't think anybody wants that. But if you listen to a lot of radio today it seems that's all there is."
Link to Glazer song "Brown Paper Bag"
"There was a time where D.J.'s actually played music—even if it was previously recorded," says Kruczyca. "But now with a lot of radio programming, there is this computer algorithm that you deal with where songs are programmed to play in a frequent and very specific sequence. I think convenience wins out over quality in this case. But having 'Detroit Blues Party' embedded in a classic rock station gives us the opportunity to make that connection between rock, blues, and jazz."
Howard Glazer's "Detroit Blues Party" airs online at www.dcxrocks.com, 10am Sundays. That same show is repeated later that evening at 10pm. When one tunes into the show prepare to be graced with some of the greats of blues and jazz such as Son House, B.B. King, John Lee Hooker, Robert Johnson and Lightnin' Hopkins. But classic jazz by artists like Gene Ammons, Dexter Gordon and Count Basie pop up quite frequently as well.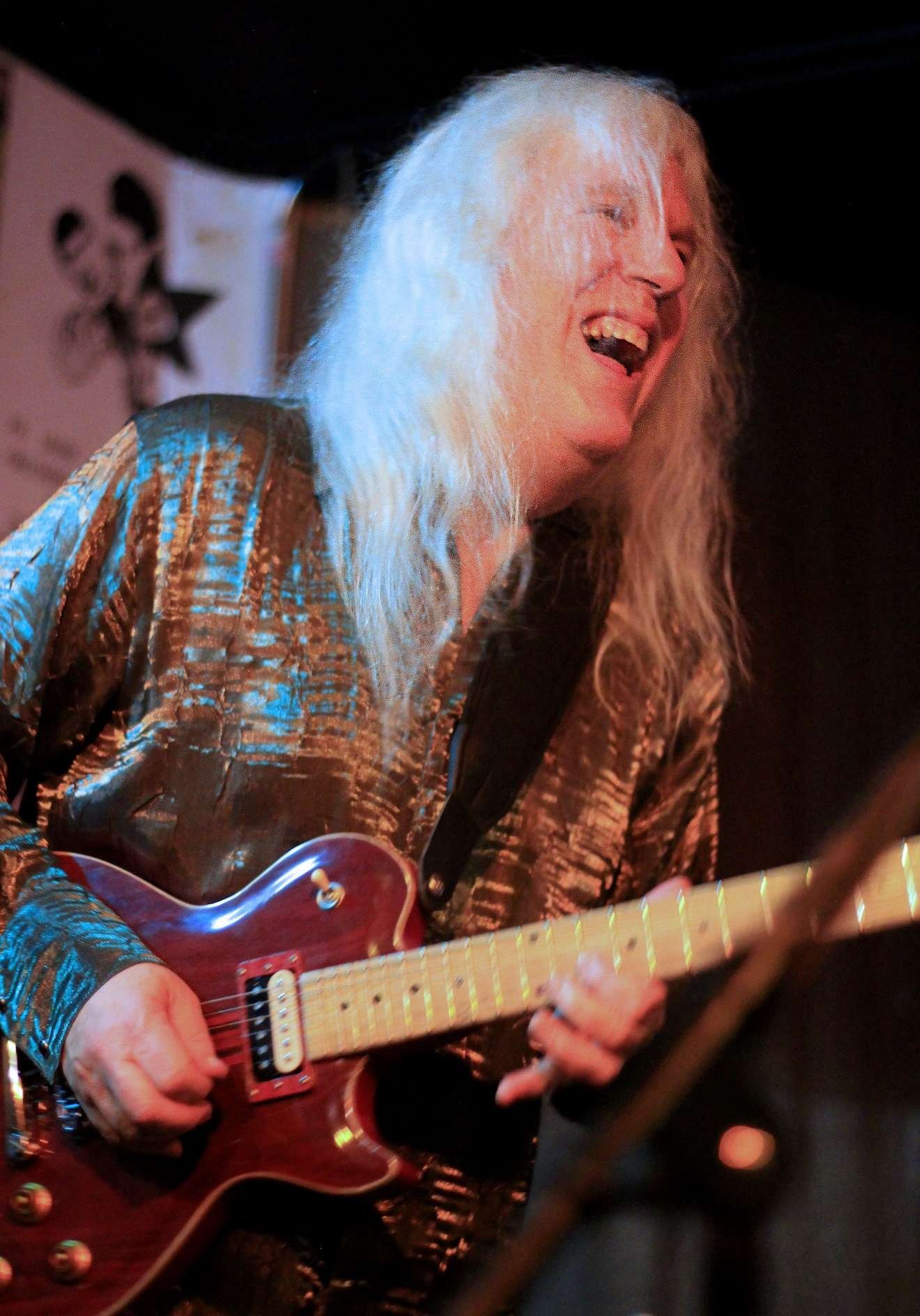 Another musical venture that the individualistic Glazer has pursued is a regular once-a-month standing gig at Northville, Michigan's premier Italian restaurant Genitti's Hole-In-The-Wall. Nationally-recognized Detroit-based comedians Bob Phillips and Sal Demilio had been hosting a dinner and comedy show there for a while. Apparently, Phillips had been a fan of Glazer's music for years and asked Howard to join him as musical accompaniment. "I had never done anything like that before but I didn't see why I couldn't give it a try," says Glazer. The first gig was in December of 2021, as the venue was just returning from the shutdown to providing their dinner and show packages. Phillips' and Demilio's show concept is based on "adult humor" where they perform their segments and then bring up three up-and-coming comedians.
Link to Glazer song "West Side Drive"
Apparently, Phillips' instincts were right on target as that mixture of music and comedy has produced a series of sell-out shows. "What they liked about Howard is he had the right rhythm and timing for comedy," says Kruczyca. "Howard is very improvisational, unlike a lot of musicians who auditioned for the job but didn't quite fit in."
To keep up to date on all events and information for Howard Glazer please check out www.howardglazer.com . And be sure to tune into the best in all things blues and jazz on the "Detroit Blues Party" every Sunday at 10am and repeated at 10pm on Extreme Music: www.dcxrocks.com .
"The Sal and Bob Show" is happening every mid-month at Genitti's Hole-in-the-Wall, 108 E. Main Street Northville, Michigan. For show dates and details just go to: www.genittis.com or call 248-349-0522 for reservations.