A short story by Tom Weschler©
Berthe Morisot With a Bouquet of Violets, Edouard Manet, 1872,
inspiration for the story.
1994
Sept. 19, 1994
Attn.: Admissions Director, Cranbrook Academy of Art Graduate School Program
My name is Carrie Foran-Kelly I am a fourth year student at The Center for Creative Studies in Detroit, Michigan. I live next to my school in The Park Shelton Apartments. I also have a part time job at the Detroit Institute of Arts bookstore just across the street.
My interest in painting began early. I was a child when my mother told me stories about our French ancestors. Beautiful stories filled with inspiration and love, my favorite by far was about how my grandmother discovered the now famous miniature paintings. She told it to me many times always beginning the same way.
She would say: "Carrie, are you ready for art?" My reply: "Yes I am".
I wish I could tell that story here but we are busy are we not?
Each time I heard the story it confirmed my desire to follow an artistic path through my life. The paintings I imagined I would paint were all in my head. I reviewed them each day in my mind and drew them in my school notebooks.
Now, as a student at one of the finest art schools in the United States, I'm still searching for those paintings that were so clear to me in my youth. Perhaps the feeling I got imagining them so long ago is really what I want to find. That's what some of my friends tell me.
Anyway, in closing, I hope you will consider my work so far (slides provided herein) and allow me to continue to search for those images and feelings I seek, as a graduate student at Cranbrook next fall.
By the way: This fall October 21 – December 18, 1994 The Detroit Institute of Arts will present a show called: Impressionist Miniatures Lost … Now Found. I couldn't be happier! I mean how would you feel if a major museum was featuring your own grandmother's discovery for the first time in the United States? It's going to be so fun.
Sincerely,
Carrie Foran-Kelly
1874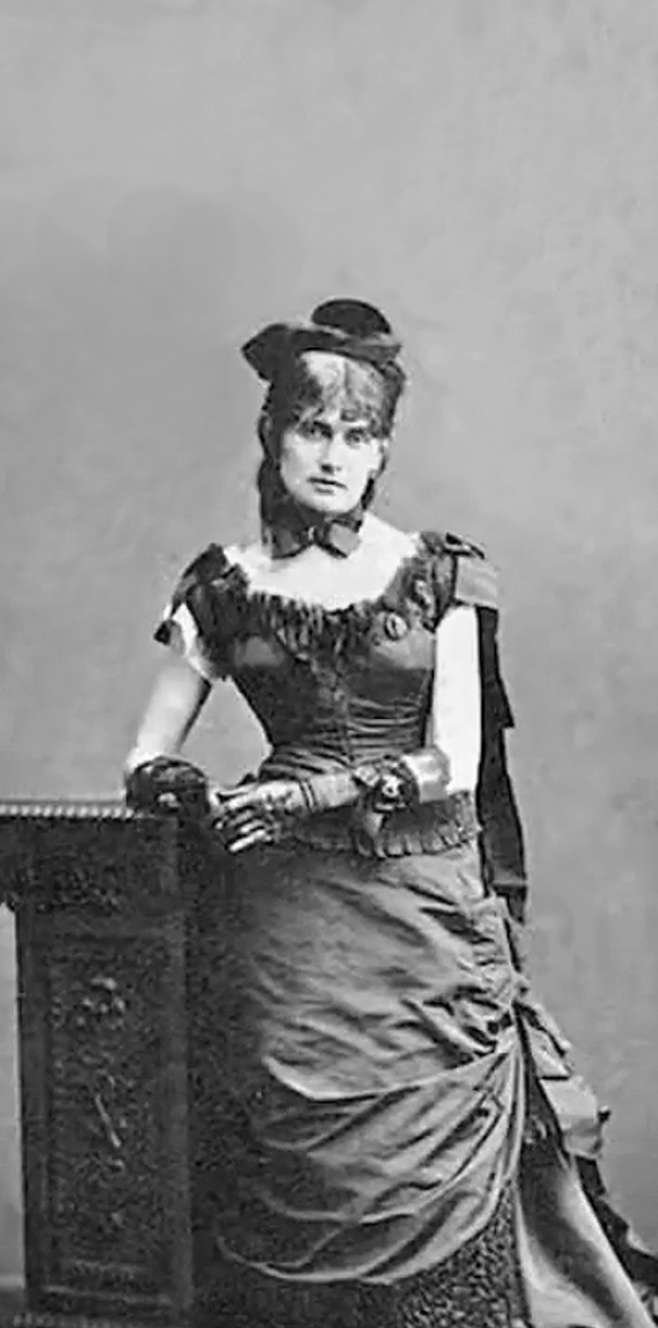 Berthe Morrisot (1841-1895) French painter, inspired the story.
It was Paris at the beginning of an era that came to be known as the Belle Epoch, a period of new artistic endeavor, enlightenment and peace that would last until 1914 and the start of World War One.
On a grey April afternoon Lili Bergnon entered her greenhouse/studio in the courtyard of her family's home to begin a painting lesson with her tutor Edouard Manet. Lili loved to have her lessons 'en plein air' (out doors). When it rained the greenhouse served as her studio.
In France at that time, women were discouraged from attending the traditional schools for art training, often relying on a professional tutor instead. Lili's father, a close friend of Mr. Manet asked him to help her with her painting. They had the lessons on Tuesday afternoons.
A spring rain began to fall. The sky grew darker depriving the studio of its light. Mr. Manet suggested instead of a painting lesson they go visit a florist friend of his. He wanted the two of them to indulge in painting even if it wasn't with a brush.
They ran through the downpour to Mr. Manet's carriage and rode off through the rain soaked streets. Arriving at a place called Duran's Florist, they stepped out of the carriage and into a world of color, fragrance and beauty creating an ambiance Lili had never experienced.
The man behind the counter was Manet's friend, Andre Duran. After a hearty greeting the two men talked for a moment while Lili looked around this fantastic place. Two male assistants behind a half-wall covered in white tile were working at a very large sink preparing flowers. Customers were admiring the floral displays while children played in the aisles. There were many art books and magazines on the counters and table tops. Portfolios full of colorful prints, small miniature paintings and etchings were scattered haphazardly everywhere.
Though Lili didn't know it yet, this shop was frequented by working artists, Berthe Morisot, Edgar Degas, Claude Monet, Auguste Renoir and others visited Duran's often. Manet introduced Lili to Andre Duran, the shop's owner. She remarked on the combination of art, books and flowers in his shop, saying it was like a friendly library that smelled so good she wanted to move in and be quiet! Her comment drew a smile and a laugh from the two men. Mr. Duran took a small wrapped package from Manet. In turn, Andre handed a parcel full of different colored roses to him.
Manet said: "You see Lili, these are for you to paint before your next lesson."
As the two of them were leaving the shop Manet turned back to Andre, "Good day Andre."
"Good day Edouard, I hope to see you again soon."
"Yes, within a few weeks no doubt."
Lili turned to Andre and with a smile said: "I will see you much sooner Mr. Duran."
The door shut behind them as they ran to the waiting carriage. Andre Duran was quite taken with Lili, he hoped she would be back soon. On the way home, holding the beautiful bouquet close Lili talked with Manet about her painting. She told him she felt happy when she painted as if the world was hers to portray.
He told Lili, "If one can learn to paint flowers, the rest of the world's subject matter flows from the canvas like a waterfall." She said she would re-double her efforts and learn to paint flowers.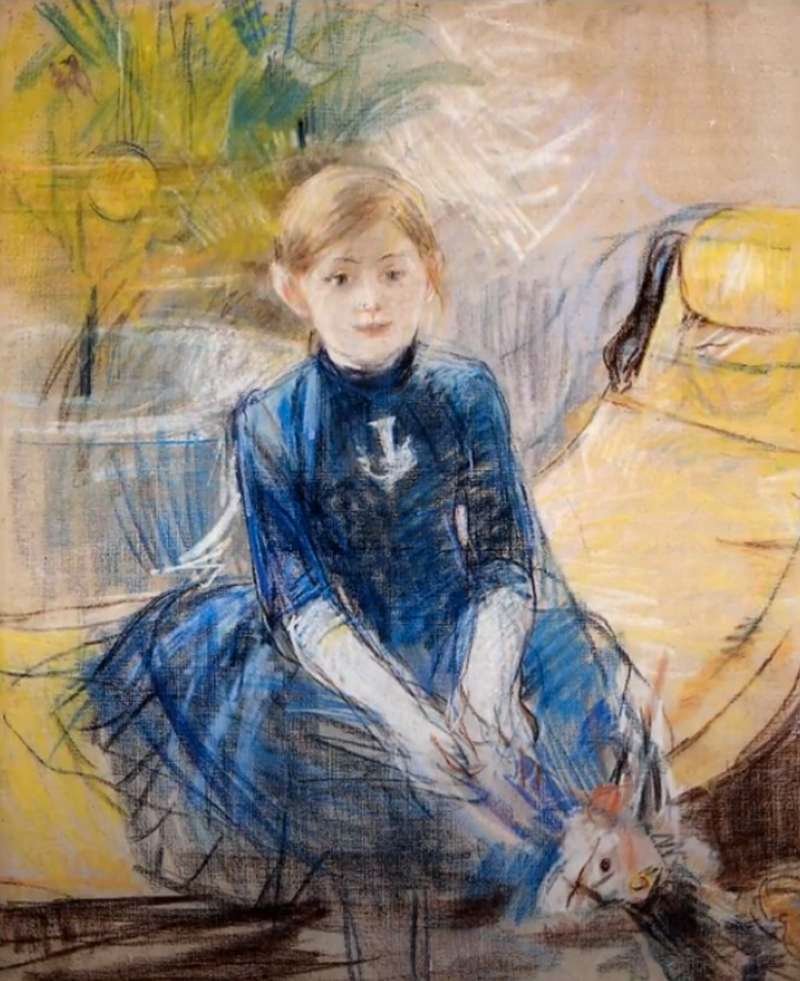 Julie by Berthe Morisot who was Julie's mother
The rain kept falling as they rode toward Lili's home. Manet did not, as a rule, teach. This favor he was doing for Lili's father was most unusual for him and with Lili as a student, most rewarding. The carriage arrived at Lili's home. Thanking Manet she quickly ran to the front door, turned, waved and went inside.
She walked through the house and outside to the greenhouse, put the flowers in a vase and then back inside to see her seven year old daughter who was with her governess in the middle of a lesson.
Not wanting to disturb them, Lili looked in and whispered "I love you Denise."
She went on to the kitchen for something to eat then to her room to begin writing in her new diary. She had never kept a diary until now. This was the first entry:
7 April 1874 (on events from the summer of 1866):
With each breath my strength waned, I could not sustain this position much longer. My hands clasped a metal rod meant to be a decoration on the front porch of our cottage in Alsace Lorraine. I was trying to pull myself up high enough to see over the shrubs in front of the cottage. I wanted another look at a handsome blonde boy I had made special eye contact with earlier that day at the military camp across the path out front. The strain on my thirteen-year-old arms was getting to be too much. I thought "This boy had better be worth it". Then I saw him. He was so handsome and strong looking. He did seem worth all of this fuss. Letting go, I fell back to the floor with a thump. I had to devise a scheme to get closer to him.
I was sure my beauty and style would lure him to me once I got close enough. I had developed in mind and body much faster than other girls my age. I felt like I could enchant any boy … or man for that matter. I was so silly back then. I am glad I did not try to write a diary at age 13.
The next morning after breakfast my parents went for a stroll in the woods. I quickly ran to my room and changed clothes. I stood in the sunlight at the gate in front of our cottage in a beautiful red dress I wore for nights out with my parents in Paris. I was in view of some of the soldiers across the way. Now all I had to do was make this boy see me again and go on from there. I did attract attention from many of the soldiers. Some whistled. Others waved. I liked being the center of attention but I wanted to have a closer look at this special boy. Most of all, I wanted him to have a closer look at me!
The trees next to the path up to the front of our cottage were very close together. They could hide someone from view because they lined both sides of the pathway. My blonde soldier ran up the embankment. No one noticed him slip away. He made his way across the field and on to the pathway. He stood just within earshot of me and gave a loud whisper as I ran out in between the trees.
His shirt was still off like the rest of the soldiers during exercise drills. I felt a strange, new, wonderful sensation overtake me. Without conversation and out of anyone's view, we embraced and kissed as if the rest of the world was non-existent. A far too brief encounter ended with a second kiss.
As he left to re-enter the field where his company was still training, he said he would be back just after nine that night and hoped to see me then.
After dinner with my parents I said I would go for a walk. My father cautioned me about the men camped across the pathway which happened to be the border with Prussia. My mother said the soldiers would have to be in their tents at this hour and given Prussian military code, none of them would dare to go out.
I was confident he would come back. He did.
A warm breeze and a bright moon enhanced our amorous intentions as we took pleasure in each other's company. I had never made love and was not sure just what to do. He had and helped me kindly and firmly as I gave myself to this beautiful stranger.
I returned home with delightful unfamiliar feelings rushing through my head and body. I was made happy by this young man! Hoping to dream about our encounter, helped me to get to sleep.
When I awoke I leapt out of bed and ran to my window. To my surprise and dismay the camp was no more, the tents all gone. No men or horses to be seen! I thought out loud. "Was last night a dream?"
I did not know I was pregnant. That knowledge came later.
Lili had been alarmingly attractive since she was very young. Her brilliant wavy auburn hair, bright green eyes and perfect facial features attracted attention wherever she went. Although Lili had grown up in luxury she was a levelheaded girl, not one to flaunt her position in Parisian society or belittle others for theirs. She was different than many other women of her age and social status. Having a daughter to look after guided Lili's progress through life. She loved her daughter and raising her was, to Lili, a labor of love in the highest sense.
Two days later Lili paid a visit to Andre Duran the florist. She walked to the counter to find Andre in the back near the huge sink drying his hands.
"Hello Lili," he said as he approached the counter, "How are you today?"
"I am well, thank you for asking."
Andre inquired about her lessons with the renowned Edouard Manet. She told him she felt special that Manet would do such a favor for her father. Lili said she was elated each time Manet came to her studio and thrilled at the progress she was making with him as an instructor. Andre told her he had two weddings and a few customers to get flowers ready for. Lili asked where his assistants were. He said they had quit the day before to go to London and join the circus.
Instinctively she offered to help, saying she loved flowers and had her own garden and greenhouse. Andre asked if she had ever worked in public before. She had not and said so, then added that she felt confident she could do the work well.
Wecshler photo inspiration for Lili Bergnon
"Will I get paid?" She asked.
"If you do a good job you will."
Lili asked if she could start right away. Andre said yes. She excused herself for a moment and ran out the door to the corner where her carriage was waiting. She asked Thomas, the driver, to meet her there at five o'clock on that same corner.
"I've just been hired to work for the florist!"
"Be careful." Thomas replied. She said she would as he drove off.
Thomas had been the Bergnon's driver for many years. He was used to Lili's impulsive behavior and as protective of her as his station would allow.
Andre had gone to the window to see where Lili had run off to. As she re-entered the shop he asked, "Whose carriage was that? Your family's?" implying her 'much above average' social status.
"Yes," she replied, "I am willing to work even though I don't need to. I want to and I want to work here."
Andre said: "That's good enough for me, shall we begin?"
At home that night, she told her parents about her employment. To Lili's surprise her parents were more than supportive. Once again she felt blessed to be their daughter. Lili needed their support many times in the past and always received it, even though she was uncertain of it until the moment arrived to tell what she had done or needed or lost. Each time she issued a confession or earnest request, her parents gave their support. With each answered need, a familiar warm feeling enveloped her. Lili's parents loved their only child above all else, knowing that was very important to her.
The home where they lived was in one of the wealthy sections of Paris. It was a very elegant, large mansion. The domestics who worked for her family, the maid, the cook, and the driver were all exceptionally loyal to the Bergnons.
Her Father, Paul Bergnon was a very wealthy, generous man with the best interests of his family first in mind. Her mother, Louise Bergnon was a practical woman with a keen artistic sensibility.
Andre Duran, a married man with two small sons, inherited the flower shop in 1850, the year his father died. He was 21 years old at the time. Andre ran the business until his own death. While he was in charge the shop was reborn. It became an icon on the streets of Paris, attracting an affluent clientele, as well as many artist-customers in need of flora for their paintings.
The artists were Andre's favorites, especially the younger ones. He liked to help them create by providing them with flowers to use in the paintings they made. Andre didn't ask for money from them. He requested only a small 'miniature' painting or drawing in return. Often, they were no larger than a postcard. Most of these artists were happy to oblige such an ardent supporter. Andre called the miniatures his "little flowers".
As word spread through the artist community about this helpful man and his excellent flowers, more artists began to visit the shop. This thrilled Lili, who hoped to join their ranks one day.
As time passed that spring and summer, Lili became more and more popular with the shop's clientele. Her charm and demeanor brought people back to have her wait on them again and again. Mr. Duran was very happy with Lili as his assistant. Her presence in the shop with her knowledge of flowers and art made her nearly indispensable. Lili was quite happy to have a friendly place to work while learning more about life's beautiful things. Duran's Florist Shop was her home away from home.
One summer afternoon a young man entered the shop with a large camera on a tripod slung over his shoulder. Lili had never seen a camera up close. It looked difficult to manage.
The man asked for Mr. Duran. Lili had trouble taking her eyes off of this handsome stranger as she went to fetch Andre. The two men talked for a moment. When they were finished, Andre asked Lili to put together a bouquet of red roses for the photographer. As she returned with the roses Lili saw the two men had gone outside to the front of the shop. The photographer gestured for her to come out and stand next to Andre. An exchange took place – a photograph for some roses.
A few days later the photograph of the two of them was delivered already framed. Andre hung it on a wall in the shop's back room.
The rest of that summer and into the fall Lili had been seeing the photographer at his studio and elsewhere. When she posed for photographs she was always happily obliging to Henri's wishes as to her poses.
After one special photographic session she went to her diary to describe it in detail:
23 August, 1874 (on my first nude photographs):
I walked up the two flights of stairs to Henri's studio, my shoes making such a loud noise on the wooden floorboards. I was sure he could hear me coming. When I arrived at his door I did not have to knock as he had indeed heard me coming … and said so as he opened the door.
I immediately got out what I had to say to him: "Henri, I want you to take my clothes off and pose me as you like."
Paris flower shop
I think that shocked him but he did indulge me. I was so aroused and ready for anything. We worked on several poses for an hour or two. He was kind enough to let me stay as he developed the negatives and prints. The photographs were so very beautiful I had to make love with him right then and there! And I did.
Duran's Florist had a small room behind its back wall with a narrow opening for an entrance. There was a beautiful green curtain in place of a door. With a small cabinet, a few pieces of furniture and no windows this room became Lili's sanctuary. Each time she entered this room to write in her diary or read Andre's art books and journals by lamplight she felt at home. Andre allowed her to stay after work. He told her if she promised not to have visitors and lock the door when she left, she could stay as long as she liked.
One evening, just before one of Lili's extended stays as Andre was leaving she mentioned the many small paintings leaning against the walls and on counter tops in the way and vulnerable to damage. She asked him if she could display them in the room behind the curtain. He told her that would be fine, happily anticipating a small, candle lit gallery in his back room. Lili learned a lot from Andre. She had wanted to repay him somehow and now she had a 'commission' to decorate 'their' little room! This project would show appreciation to Andre in a way she was sure he would love.
She gathered the small pieces of art and brought them into the back room carefully arranging them against the walls so she could see them all. She would evaluate each one for a matte or frame and begin putting them on display the next day.
Lili reached up into the cabinet where her diary was hidden, pulled it out and began an entry:
3 December, 1874
Elation! I am to make a gallery for Andre to view his treasured miniature pieces of art! It will be in the back room at the shop. I have been hoping for this opportunity for months. I just wasn't sure how to approach him. Now I can hardly wait to begin!
She put the diary back into its hiding place and made her way home for the night.
Through a very chilly December Lili worked on her project for Andre, putting all of those little paintings and drawings into proper view. She left the photograph of her and Andre just where he had put it as she constructed a gallery in his honor all around it.
Lili got many of the paintings framed at her own expense. She made Andre promise not to look until the gallery was finished. Although he knew something special was happening in his back room, with the smell of paint and the sound of nails being driven, Andre never looked, as promised, even though he was often tempted to. When she was satisfied, Lili asked Andre to come in and see what she had made.
As he entered the room, looking at Lili's fine work his eyes welled with tears of joy. The 'gallery' was perfect. The miniature paintings, prints and drawings were arranged beautifully on small easels on the mantle and table tops and against walls painted with different colors to accentuate the art. Now Andre could view his 'treasures' properly thanks to this wonderfully creative young woman.
Lili was to leave the next morning so they decided to keep this room a secret until she came home from the Christmas holiday with her daughter and parents. Then they would show the 'gallery' to both families and anyone else they thought would be interested. Both of them agreed not to mention it to anyone until then.
Lili had gone with her family to their second home in La Rochelle on the Atlantic coast for the holidays.
She never returned.
On January 4th, 1875 Andre saw a notice in the press regarding Lili Bergnon. She had come down with pneumonia and passed away. Just as he was about to go get another newspaper to confirm this tragedy a carriage stopped in front of his shop. Getting out of the carriage Edouard Manet walked toward the flower shop's door where Andre was now standing in a daze. Manet confirmed this terrible news.
Young Girl Among the Flowers, Edouard Manet, 1879
Distraught, Andre closed the shop and went to buy bricks and mortar. He came back with it all in a wheel barrel, put a 'closed' sign on the front door, locked it then proceeded to brick-up the entrance to the room so lovingly put together by Lili. The art remained in place, now hidden from view.
To Andre this gallery was their secret. He planned to keep it that way as long as he could, fearing the sadness that would overtake him each time he entered that room. Eventually he thought he would make this great work public but not now, not so soon after his Lili had gone. Andre was never able to do that.
Two nights later, after paneling the entire back wall so no one could see the now bricked-up doorway then drawing a very large curtain across all of the paneling, Andre left for home. Stepping out into the street directly in the path of a speeding carriage, he was killed instantly.
For decades the handsome little flower shop thrived under various owners, none ever discovering the 'secret' room. When World War One ended in triumph for France, the building was sold. For over twenty years it was a bookstore.
In 1940 when France was defeated by Germany, the shop was made into a message center by army troops in charge of that part of Paris. The Nazis never knew what was just a wall away in the back of the building that they used until 1944.
Shortly after World War Two ended the property became an antique shop. The back room with its special contents remained undisturbed for decades.
1952
In 1952 the property was sold to a young woman from Scottsdale, Arizona named Eunice Fulbright. Since childhood Eunice had visited Paris many times, falling in love with the city like so many people do. She wanted to settle there so when the opportunity came to purchase a property she liked, she took it.
While going over the plans her architect had drawn, she noticed a 4-meter difference between her property and the ends of the identical properties on either side. The architect said it was probably a storage room or coal chamber.
She had her contractors remove the paneling on the back wall to reveal a small, amateurishly bricked-in doorway. Eunice asked them to remove the bricks. When they finished she entered by herself with a lit candle. The room was just as Andre had left it 77 years before. Walking from one end to the other her candle's light revealed the small paintings, drawings and prints. Several magazines were on a table. The cover of one of them read 'Art Journal Summer 1874'. There was a cabinet against a painted wall with framed art sitting on its top.
A chill overtook her. She didn't want to reveal the contents of the back room to anyone just yet, not until she was sure of what was there. Eunice quickly came out of the room and thanked the contractors while letting them go for the day, saying only that the architect was right – a small storage room was indeed behind the back wall.
Now alone in her building, Eunice got a standing lamp and an extension cord. She took the lamp back through the narrow entrance and set it in the middle of the room. Turning it on she was greeted with a spectacular display of color and beauty. Paintings and drawings were everywhere. Bright seascapes here, sun and sky over there, a pretty girl in a white dress amidst colorful flowers, boats on a river, all in place as if to echo the others' presence.
Eunice took hold of one of the paintings on an easel and saw it was signed by August Renoir. With her love of Impressionist art and her schooling in art history she was amazed to be holding what could be a 'real' Renoir! She looked at some of the others, many with famous names – Sisley, Manet, Monet, Morisot, and othets.
Eunice had come upon a cache of paintings by Impressionist masters in her own building!
Overwhelmed, she sat down in a chair by the entrance to this magical little room. Noticing a photograph on the wall, Eunice moved closer to it. What she saw thrilled and scared her. The image was of a girl standing next to a man. They were in front of a flower shop. This girl looked exactly like she did. 'She' was holding roses.
Eunice remembered over-hearing bits of conversation about a woman from Paris ever since she was a child. Those conversations began her interest in Paris in the first place.
This woman was possibly a distant relative or an old friend of her family. She remembered the woman's name was Bergnon. Eunice had always been curious about this person but was never informed about her directly. Elated at the prospect of being involved in a honest-to-goodness historical event, Eunice called her mother in Arizona.
After mentioning the photograph with the girls' amazing resemblance to her, her mother began to sound distant, almost as if she was not interested. Her mother made her usual excuses to hang up and did so with an all too familiar "good-bye". Eunice's mother's reaction deepened her curiosity about the girl in the photograph. She needed to find out more about her.
Eunice contacted a newspaper and asked for a photographer and reporter to come to her building. She told them they would not be disappointed, they weren't.
In a few days these new found art works by artists whose names are synonymous with the Impressionist era became all the rage in the art world. Curators and other officials from the great museums and galleries of France came to see this most unusual find. The art experts were in agreement. The paintings, drawings and prints were authentic.
Eunice Fulbright found herself in the middle of an 'art storm'. With all of these newspaper and newsreel film people, radio reporters, art experts, French police, and museum representatives milling around her, she was the center of attention and happily so!
The resemblance between Eunice and the woman in the photograph could not be denied. The French press picked up on it immediately. Eunice hoped all the attention would result in finding more information about this 'Parisian woman' she had heard about in her youth.
During the week after her discovery, Eunice searched daily through the little gallery for more information about this amazing property she had purchased.
During one of these visits she reached up into one of the cabinets to find a diary hidden inside written by Lili Bergnon. This was what she had hoped for! Eunice read through the pages. They told about the times Lili Bergnon lived in, her love for art and the devotion and love she had for – "my wonderful daughter Denise whom I love as much as life itself". It mentioned she was taught how to paint by Edouard Manet and produced many paintings, all kept in her home in Paris. She wrote about the special relationship she had with – "the two most loving people in my world", her parents. The diary mentioned her "elation" at being allowed to make this small gallery for the little works of art.
Lili had written about her "progress" with a photographer named Henri through the summer and fall of 1874. She expressed a need to be photographed "over and over" to see herself in different ways.
She had him for a friend and lover: "He helps me look into my soul. I help him with his desire for me . . . a most excellent 'quid pro quo' if ever there was one. I love the way I feel as I gaze upon myself in pose or in motion. Henri's photographs touch me deeply, emotionally and lovingly. I am beautiful. I am his muse. This happy happenstance has me in its grasp!"
Those, the last words in Lili's diary, were dated 21 December 1874.
In 1952 Denise Bergnon, Lili's daughter, now age 85 lived on the Cote-de-Azur in Nice, France. Her villa overlooked the Mediterranean Sea just a few hundred meters from her patio.
One morning, Mlle. Bergnon's maid brought the newspaper to her saying there was a photograph on the front page that resembled her mother when she was young. Denise stared at it then said to her maid, "This is my mother! The man with her is her friend Andre Duran, a wonderful man who helped my mother through a delicate time in her life, a life that ended much too soon. She was overtaken by pneumonia in the winter of 1874 and died on New Years Day 1875. I was seven years old at the time. We were living a rich life with my grandparents in Paris. My mother was an aspiring painter taught by Edouard Manet, no less. She worked with Mr. Duran at his flower shop. My mother spent a lot of time with the man who made this photograph. His name was Henri, I don't recall his surname. The newspaper's comparison photo of this other young woman is surprising. She looks just like my mother did I'd like to meet her."
The maid told Denise about the newspaper's inquiry for information about this photograph. Denise asked her maid to call the newspaper to make arrangements to meet the people interested. She was sure the young woman in the newspaper's comparison photograph was her granddaughter but she didn't say so.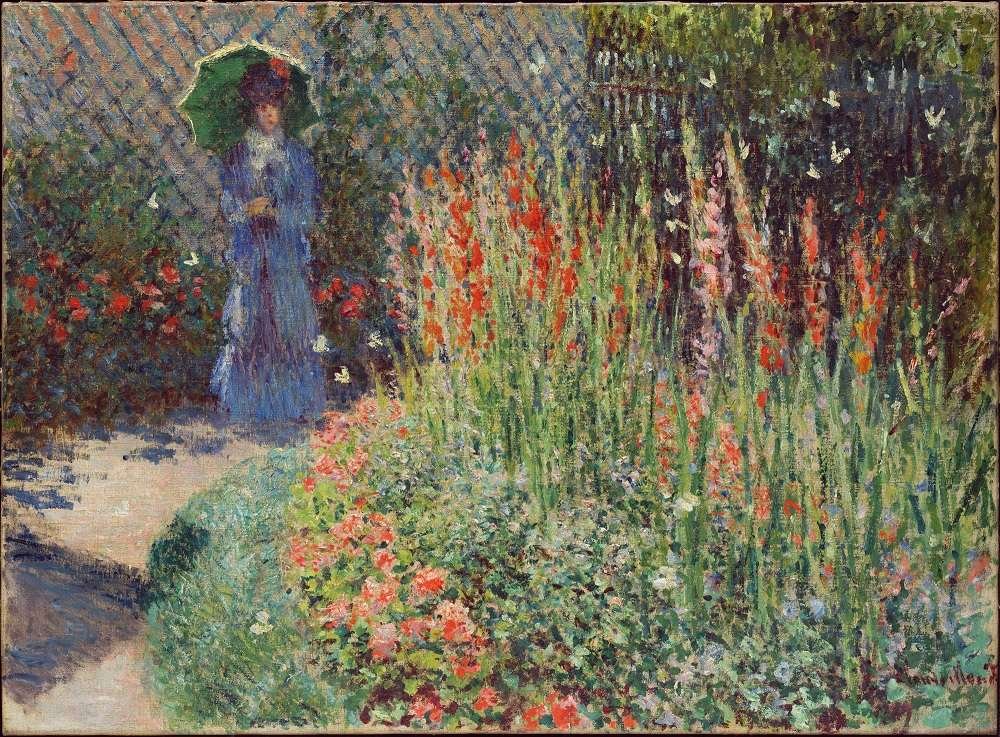 Flower Garden, Claude Monet
Denise Bergnon was very wealthy. She inherited her family's fortune in 1912 and had greatly expanding it during her lifetime. Her name was well known and she was well loved in France. Denise was a patroness of the arts, doing much good with her money.
Eunice was informed about a woman in the south of France who had some knowledge of the photograph. The newspaper people told Eunice that the woman was none other than Denise Bergnon, a very well respected woman of France!
Keeping her secret about the 'Bergnon' stories she'd heard in her youth and the diary she had found, Eunice was most anxious to meet this "woman of France". She immediately accepted the newspaper's invitation to visit Denise Bergnon at her home in Nice. A reporter would go along.
In Nice, Eunice and the reporter checked into their hotel then went to Denise Bergnon's villa. Mlle. Bergnon's maid brought Eunice to the drawing room to meet her. The reporter was asked to wait in the library for a while, until the women got acquainted.
Entering the room, Eunice and the woman resting in a wheelchair by a window smiled knowingly at each other. Neither one had any doubt they were related. Eunice was ready to hear everything Denise Bergnon wanted to tell. An embrace fulfilled the moment as a first meeting between grandmother and grandchild came to pass.
Eunice asked her to tell what she knew of the photograph in the newspaper.
Denise began "I was a love child born in 1867 to Lili Bergnon. The life I led was incredible. I wanted for nothing. My mother was working, but not far away. I saw her a great deal. I never knew my father. My grandparents, the Bergnon's helped raise me along with my mother."
"The man in the photograph with my mother is Andre Duran, a great and kind man. He helped my mother by being a friend to her. She helped him in his work. She was in need of companionship. He gave it to her in a most pleasant way."
"I know this because my mother told me stories about her time away from me. And her home away from home in Andre's flower shop. She read his art books and journals. She learned much from him about life while working with him in his most excellent shop."
"She took me there many times. I remember being very happy to be in that wonderful place. I believe she created this gallery for him because she complained to me many times that he left a lot of small paintings leaning against the walls where it was difficult to see them and they could be damaged."
"My mother's lover at that time, a man named Henri was the man who took the photograph in the newspaper. He photographed her many times, I believe he even took nude pictures of her once or twice."
Denise had Eunice in the palm of her hand. At eighty-five years of age she was a fascinating storyteller.
Denise continued "I read the accounts in the newspapers of the discovery you've made Eunice. It is simply fantastic! You came across all of those works by famous artists in one place at the same time. Just fantastic! I suspect. Andre Duran would have liked to share the art with his family while he was alive but he was killed in a carriage accident a few days after my mother died, obviously never telling anyone about this gallery."
"You now have a great responsibility child, you must further the cause of this art by creating a place for it to be seen."
"I suspect your parents did not indulge you with many details of the Fulbright family's 'Parisian connection' did they? Of course, to them, our situation was 'too French' Where morals were and still are, out of fashion as far as Americans are concerned. You know your mother is my daughter. And yes, she is a 'love child' as well, but nonetheless a child of mine."
"The marriage between her and a member of the great American Fulbright family was partly pragmatic in nature. They needed money to keep their businesses afloat during the depression. I had money and a daughter who was in love with their son and heir Kitridge Fulbright."
"Did your parents tell you how they met each other?"
Eunice replied that no one ever told her how her parents met or even much about her mother's past.
Denise continued: "I was thirty four years old when your mother was born. I met a very handsome man at the base of the Eiffel Tower one spring day. It is easy to guess what happened next. He must have been married because we never met again."
"So much for your unnamed grandfather. Your mother, Roxanne Bergnon, was born 2 January 1900 at my family's second home in La Rochelle. A bright eyed, beautiful baby. I can still see her that way!"
"During her education in the United States at the University of Michigan and after much time spent with men, in and out of France, she met and fell in love with your father. I believe the year was 1929."
"When Mr. Fulbright sought her hand in marriage, he had to come and ask me!"
"To go back for a moment, my grandparents died on the Titanic in 1912, making me the stewardess of the family fortune, a task I delved into with all the force I could muster. I was a real 'tough boss' you Americans might say."
"I believe the Fulbrights did not want a scandal regarding their son's 'fatherless' French wife, and that's why there was very little communication between us in all these years."
Weshler photo muse inspiration of Margarite
"I am not offended by such nonsense. However, it seems shallow to me that anyone would favor a less-than-truthful life over family affection. But how can I be bitter? I have a beautiful young woman, who is my grand-daughter sitting right in front of me today. Yesterday I did not."
"I believe your mother would like to explain herself to me before I pass. I am sure this is the reason you are here. It is apparent to me that fate wants this story told, otherwise you would never have found the shop and the art work and me!"
"I want to see my daughter again, soon." Eunice replied "I'll write the phone number here for you so you can initiate this reunion whenever you wish."
After finishing her interview with the reporter, Denise called her daughter. This telephone 'mother and child reunion' lasted over three hours. Eunice decided to stay with her grandmother for a few days before going back to Paris. The reporter was on his way back the next morning with his story.
Denise and Eunice got along famously. They talked about their lives, their new relationship with each other, the past, present and future. Neither woman wanted to part with the other but Eunice did have business back in Paris. She had to leave. Her grandmother suggested she take the train across to Marseilles, then north to Paris. "It's a beautiful train ride with so much to see and enjoy." This would be a pleasant change from flying.
After a long good-bye and a fast cab to the train station, Eunice found herself on the sleeper car looking for a place to settle in. Finding an empty compartment, she entered and put her bag on the overhead rack, sat down and looked out the window as the train sped away from Nice and her grandmother, the only person who knew the details of her family and her find.
She decided to get some dinner and perhaps a glass or two of wine. Entering the diner car she found an empty table. After ordering and with a glass of wine in her hand a man entered the car. He came over to her and asked if she was the woman who discovered the small paintings. She politely said: "yes".
Then for some strange reason she asked this perfect stranger "If you have time would you indulge me and I'll tell you about this most unusual week?"
He answered with a smile "I would love to hear your story."
The man took a seat opposite her and introduced himself as Bill Peterson from Troy, New York. She had to muster what story telling ability she could as she began to tell him of her strange and magical week. After an hour Mr. Peterson was enthralled with the story and was beginning to be very interested in this beautiful woman whose recent experiences seemed so unreal. As the wine flowed and the train moved on Eunice began to get more and more excited about the possibility of spending the night with this good looking stranger. She was, after all, in France, a place where she would from time to time let her inhibitions lapse.
As they entered her compartment both of them were feeling the effects of too much wine, which in turn made them both fall asleep immediately.
A night, a man and a woman on a train, complete with wine, a sleeper compartment and a nearly full moon shining down in southern France went by without sex. Strange. Yes, so strange that upon arrival in Paris the next morning both of them went their separate ways exchanging pleasantries, of course, but without exchanging phone numbers. A nice enough good bye but one lacking in a plan to meet again.
Returning to her hotel, in the lobby, a desk clerk handed Eunice an envelope, her name very neatly printed on the front. In her room she opened the envelope. It contained a typed letter from someone named Jean Foran.
In the letter, Mr. Foran explained how he was, in a minor way, involved with her discovery. His father had some antique photographic glass plate negatives. He had printed them in a photography class when he was in school many years ago. One of the 15 prints he had made matched the one in the newspapers. His father told him the photographs were taken by a relative, but which relative he did not know.
Would she like to see them? He asked in the letter. If so, she could contact him at the phone number he provided.
Later that night Eunice waited excitedly in her hotel's café for the man with the photographs. He would meet her there at eight o'clock. She could identify him by his curly blonde hair and wire rimmed glasses.
Jean Foran entered the dimly lit café. Eunice noticed him, caught his eye and then waved to him. He walked to where she was sitting and introduced himself. Then asked her to come with him to the lobby where there was more light.
Eunice began looking at the photographs, each one of them a view of the shops, streets and people of Paris in the nineteenth century. The last one was a print of the photograph on the gallery wall in her building – and now in newspapers all over the world.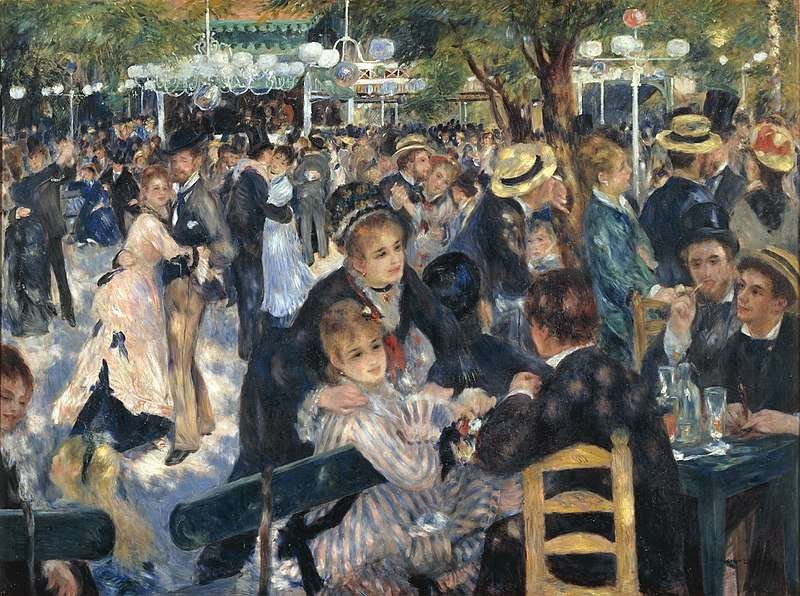 Dance at Le Moulin de la Galette, Auguste Renoir, 1876
Eunice was quite impressed by Jean Foran. His appearance and politeness pleased her. She invited him to dinner at the hotel's restaurant. During dinner, they talked about the photograph in the newspapers, the diary she'd found containing only the first name of the man who made that photograph. They talked about the miniature art and its reason for being there. Their conversation expanded to personal interests, wants, desires and with more wine and a full moon that night, a growing interest in each other.
When dinner was over Eunice asked Jean to her room so they could peruse the diary together perhaps finding more clues to the photographer's last name. Entering her spacious room each of them very pleased with the night's activity so far, she called room service and ordered another bottle of wine.
Eunice asked Jean if he would call his father in the morning to find out if any more plates or prints like these existed. They spent the night together as new lovers do. In the morning Jean called his father and was told many more images did exist. They were in the attic of his family's home in a large reddish colored trunk.
After breakfast Eunice and Jean drove to his family's farm outside Paris. She was once again impressed with this new person in her life this time by his automobile, a 1939 blue and grey Citroen. They arrived at his family's estate about 35 kilometers outside the city.
Excited to see this large reddish trunk, they walked into the house and with a short introduction to his father, proceeded to the upstairs attic to find the trunk. Opening it they found many glass plate negatives stored quite neatly in rows. Each negative was held in felt-covered brackets keeping them apart so they would not scratch each other. The brackets were part of a large tray-like unit that fit precisely into the trunk. A sturdy, well built trunk to be sure.
After an hour of viewing these photographic wonders by holding each one up to the light at a slight angle to get the positive image they were unable to find any more images of Lili or a single plate with a name etched on it.
They went to the kitchen where Jean's mother was introduced to Eunice.
Madam Foran had this to say to her: "My dear, I hope you plan to leave the art you have found here on French soil as it is ours you know".
Eunice replied "Of course. I plan to leave them with The Louvre for now while I build a gallery for them. Then perhaps a traveling exhibit in the future."
Jean's mother was so pleased with Eunice's answer she asked her to stay for lunch. While eating at the kitchen table with Jean and his parents, Eunice had a thought about the large trunk. It was very large indeed and quite deep. Maybe there was a compartment under the felt-lined rack. Like her building – a hidden place where more art was to be found!
Without a word she left the table and ran back to the attic, opened the trunk and found on either side of the felt tray, hidden beneath the plates, a two-inch wide cloth strip folded under the negatives. She took hold of each end of the strip and carefully pulled it up, reveling a whole new section of the trunk!
She put the now mobile felt negative tray carefully on the floor and looked inside the trunk to find another rack with many more glass plate negatives. She picked one of them up and held it to the light to reveal an image of a woman, nude in a pose like an Egyptian, hands cupped over her head, a wide brilliant adornment around her neck like a princess of the Nile.
It was her great grandmother Lili! This plate was etched at the bottom with the name Henri Foran Dulone.
Jean and his mother came up to the attic as Eunice was looking at a second plate. This one showed a large trunk, the same trunk the plates were stored in, with Lili emerging from it clothed in flowing silk and looking directly at the camera. Etched at the bottom of the plate again with the name of the photographer was a title: "Pandora's Box?"
Eunice and the Forans spent the afternoon viewing all of the 'new' plates, one showing Lili in costume as Diana, Roman goddess of the hunt. In another she posed in a full eighteenth century Marie Antoinette style dress complete with a hand held mask. Another showed her as Charlotte Corday leaving a dark room with a dagger in her hand, fire in her eyes. Many of these negatives were perfectly preserved and would be easily printed.
With all of these 'lost' photographic images now in view, Eunice thought about the last entry in Lili's diary … "I am his muse".
Indeed she was.
When the interview with Denise Bergnon was published it caused some interest with members of the Duran family who still, after many years lived in Paris. The descendants of Andre Duran noticed his photograph and the mention from Denise in the article about her mother working for Andre Duran and how the local artists flocked to the flower shop to trade their art works with Andre for floral arrangements for their paintings. The Durans felt the paintings belonged to them, even though Eunice Fulbright found them.
Making contact with Eunice at her hotel Frederick Duran (Andre's great-grandson) told her of this ownership problem. Armed with several antique photographs of Andre Duran and various documents containing proof that he was a direct descendant of Andre, Eunice decided to make Frederick an offer to purchase the art. The offer was one million American dollars (350,000,000 francs at the 1951 exchange rate). The Durans accepted the offer and a potential court battle was averted.
1972
Eunice and Jean Foran's daughter Lili had grown up to appreciate the arts. She was to attend Parsons School of Design in New York City in the fall of 1972.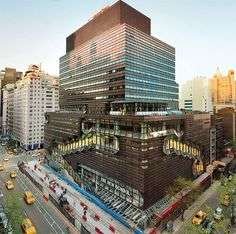 Parsons School of Design, NYC
At JFK Airport, on a sunny Tuesday afternoon in early June of that year, Lili Foran handed her passport to the customs official behind the window.
"What is the reason for your visit to the United States Miss Foran?"
Lili answered in perfect English "I will attend Parsons this fall and thought it best to find out what New York City is all about first. Hence my early arrival."
He asked "Do you have a student visa?"
"Of course." She said and handed it to him.
"How did you learn to speak English so well, I mean without any accent at all?"
"Thank you sir, my mother is from Arizona."
The official handed the passport and visa back to her with a smile and said: "Welcome to New York."
Lili carried herself with grace, confidence and maturity. Her family background was a guiding presence in her life. She was aware of the family's past, unlike her mother who had to discover it. Lili had her great, great grandmother's first name … she was very proud of that.
She caught a cab to her hotel in Manhattan. The Plaza was a place Lili had stayed before when she was in New York with her mother. She was fifteen years old then. She remembered the hotel's ambience and civility. It reminded her of the hotels she had frequented in Europe while growing up.
On the elevator she met a young man from Detroit named Tom Kelly who was, she found out through casual conversation with him, a road manager for a rock band playing in the city that night.
Her curiosity and interest in all things new and American overtook her and without the slightest chagrin she asked "May I attend the show?"
As he got off at the sixth floor on his way out of the elevator Tom said "absolutely! I'm in room 607. Call me if you're sure you want to come."
Lili went to her room and set it up the way she always did – clothes hung properly in the closet, shoes in view on the floor, all toiletries set up in order on the bathroom sink, undergarments in the drawers in perfect order. She took a quick shower and then went to the phone to call room 607.
In her best American accent (with a French twist) she said "Hello, this is Lili. I don't think I gave you my name on the elevator. I would love to attend the show tonight. May I go with you?"
He said: "yes . . . I was hoping you'd call."
Lili was excited about what might happen that night. On the other end of the phone line the excitement was mutual. For the kid from Detroit it was not so unusual that a pretty girl was into going to one of their shows but this girl seemed different.
He said: "By the way my name is Tom. I'll meet you in the lobby at 7:00. Alright?"
She replied: "Yes, that's fine. See you then Tom."
As Tom thought more about it, those familiar apprehensions concurrent with someone in his position began to add a negative to the moment. He would be taking this exceptional girl into a den of 'wild-wolf musicians' bent on upstaging the road crew where women were involved – every time!
His 'boss' status would be challenged by his 'charges' once again. His immediate thought was as usual: "Fuck them, I'm gonna keep this girl to myself!" But he really didn't believe that. They were, after all, stars.
Lili spent the next two hours dressing and re-dressing for her first 'date' in New York. Her choice of clothes had to be correct. The shoes must be comfortable. Lili went to the mirror over and over making sure she looked the way she wanted to. As she readied herself to leave, she made one more visit to the full-length mirror then said to herself: "Ah yes! Time well spent."
In the Plaza's lobby at 7:00 Tom was on the house phone while he waited for Lili. He phoned each band member reminding them that the President of their record label was coming to meet them in the lobby and take them to the venue at 8:00. Tom arranged for a call to each of them from the front desk at 7:55 to remind them again. Transportation was not on Tom's list of to do's for this night. They were guests of their record company. The quality hotel and other perks were paid for so the performance was all that mattered to Tom and his boys. Well, almost all that mattered.
Tom finished his last call and hung up. He turned toward the elevators as Lili was quickly coming toward him. She opened her arms as she got close and embraced him tightly saying "Thank you for being so nice to me on my first night in New York."
"You are welcome" was all he could say. He thought to himself: How Delightful!
They walked the four blocks to the venue and entered through the stage door.
Jake the security guard said: "Hello Tommy, who's this?"
"Her name is Lili and she will be with us tonight."
Lili said hello to Jake as she walked past.
Tom had to see if all was ready in the dressing rooms then check with the sound man and roadies to make sure the PA, drums, and amps were all set. When he was finished with that Lili and Tom would have time to talk before the band arrived. They sat in front of the stage and began to get acquainted.
"My full name is Lili Fullbright-Foran and yours is?"
"Tom L. Kelly."
She asked what the L stood for.
"Leroy is my middle name, after my mother's oldest brother." With this question Tom summed up his curiosity: "Who are you and what are you doing in New York?"
Lili replied with a smile: "I am a French spy looking to infiltrate the American music industry and begin a subversive action there in."
Tom replied: "That shouldn't be too difficult for a pretty girl like you, do you want some help?"
A jovial "Yes" was her reply. 98
Lili had gotten used to her new home in New York City. She would stay at the Plaza until mid-August when Parson's housing was made available to the new students. For the first two weeks she made many friends and had lots of adventures like nineteen-year-old girls do.
She stayed in touch with Tom as he took the band on a tour of eastern Canada. Starting in Ottawa and moving on to Montreal, then Toronto and ending back in Windsor across the Detroit River from his home.
In Early July the band was off the road for ten days to record and Tom was off to see Lili. On the plane to New York the butterflies set in. Tom had always been nervous around girls especially ones he had a crush on. As he emerged from the terminal at JFK the sounds, smells and that fascinating, unique swirl of human activity welcomed him back to the east coast. Tom enjoyed his work as a road manager but in New York City it was doubly enjoyable.
Surprise caught Tom off guard the moment he saw Lili waiting in front of a yellow cab at the terminal door! She had come to greet him and with a big smile and a loving hug she did just that.
"I've missed you so much Tom and couldn't wait for this moment!"
"That's how I've felt too and what a surprise to see you so soon!"
"I do have tonight off so we can be together at the hotel."
Tom was puzzled "The night off? Did you get a job?"
Lili said she had taken a job as a dancer at a strip club in Brooklyn.
Tom replied: "That's great! Will you show me some of your moves at the Plaza tonight?"
With a faux-frown on her face she said "You don't believe me do you?"
Tom answered "Of course not."
Lili laughed and said that she was glad he didn't.
Tom said: "All this time I thought you were a French spy." Both laughing, they got into the cab.
At dinner that evening Lili finally got her courage up enough to tell Tom something of great importance. She wasn't quite sure how to say this or what his reaction would be but she went ahead with it anyway.
"Tom, I am afraid I am pregnant."
He reacted with a smile and a reassuring hand on her's. "When did this come about Lili?"
"I think it was on our first night together. I was so enchanted with you I forgot my pill."
"What do you want to do about this?"
Lili surprised Tom with her answer: "If I had my way we would have this child and two more, live in the south of France and love each other and our children until we die."
Tom was quite to the point as well: "That's exactly what I want to do!"
Both of them knew it would be a bit more difficult than that but they were willing to try.
The telephone at Jean and Eunice Foran's home rang. It was night time in France and the Foran's were on their front porch enjoying some wine. Eunice went in and answered it.
Lili was calling.
"Hello mama?"
"Yes Lili, how are you and how is this week in New York?"
"I have gone and gotten myself pregnant. I am not sure what to do but I think I have a plan."
Eunice answered her daughter with a soft and loving voice "Well, Lili you must decide for yourself what is to be done. I would love to hear your plan."
Lili answered: "I will send it to you in a letter as my plan is not yet complete. Thank you for being so understanding."
1994
Carrie Foran-Kelly, Lili and Tom's oldest daughter was a student at The Center for Creative Studies in Detroit. Her aspirations were all about painting and men. She felt good about herself and her abilities. Hopefully someday she would be able to teach others to paint. Carrie walked to the mailbox on Woodward Avenue on her way to work at the Detroit Institute of Arts bookstore. She deposited her letter to Cranbrook with high hopes of a positive reply.
As she mounted the steps to the front entrance of the DIA, Clarence, the head security guard opened the heavy brass door for her and said "Good morning Miss Carrie. How are you doin'?"
"Just great Clarence. And you?"
"I'm feelin' real good. Did I see you in the video surveillance from last night?"
Carrie smiled at him and answered with a "Yes".
Dag Friholdt, a Swede, and head of photography for the DIA was the man in Carrie's life at present and he wished this to continue. She wasn't so sure.
The night before they had had a photo session in the DIA studio. Each time Dag was photographing someone he put lens caps on the two surveillance cameras in his studio. Carrie was nude in this session and carrying a fancy modern bow with pulleys and springs. She was emulating the character of Artemis, Greek goddess of the hunt, with a non-traditional weapon.
She was aware the DIA had security cameras on everywhere all the time and also aware that Dag covered the camera lenses with caps. She removed the caps without Dag knowing so Clarence Masters, the chief of DIA security would see her naked. He was a very good-looking man from Jamaica who stood six foot five. She did want to bed him, like most of the female help there.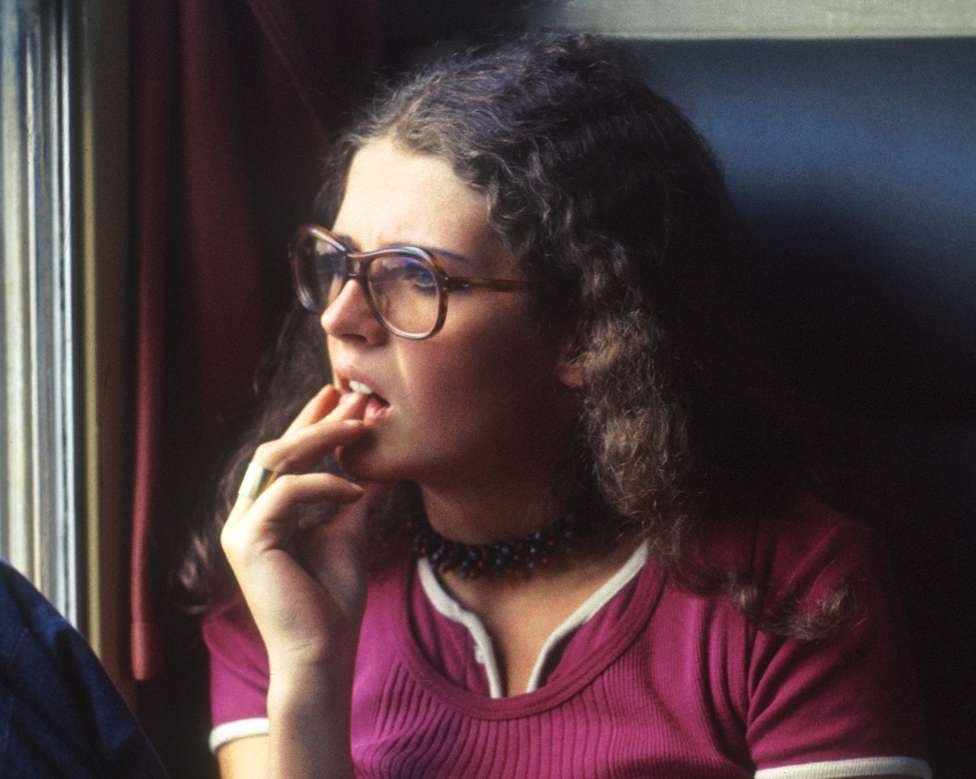 Weshler photo muse inspiration of Margoorie
Carrie walked toward the bookstore with a big smile on her face. She had just finished step one on her quest for the attentions of Clarence Masters. At closing time Carrie was in the bookstore's office finishing up her work when Clarence came in and asked her what she was doing by showing off her body in such a way as she did the night before.
Her straightforward reply surprised even her "I was hoping to have sex with you Clarence."
"But I'm a married man Carrie, I can't go around havin' sex with every girl I want to."
Carrie took that as a positive "So you want to but you're not sure how?"
Clarence replied "I guess you're right Carrie."
Her answer was simple "Then close the door." For a moment Carrie felt like Artemis must have felt while hunting down her prey.
The next day while walking to work with a big smile on her face, Carrie was as pleased with herself as could be. She had had a sexual liaison with a man that had been an object of her desire for a very long time. As the moment got closer she'd felt better and better about it. When her plans actually came to fruition she was not only elated, she was content. Her contentment with this short affair was fueled by the idea that she could agree with Clarence, he probably shouldn't go around having sex with anyone he wanted to. After all he was married!
She was so confident this was a good way to end that sexual liaison on a high note, she planned to do it immediately. This lucky, beautiful, pleasant, scheming, French girl was right on! Clarence called on her that morning at the bookstore and said, with a little apprehension in his voice that they should not have sex again. Even though he said he had a great time with her. Carrie complimented him on his sexual prowess and then agreed with him.
She had to help prepare for the exhibit of her grandmother's collection of miniature paintings, drawings, and prints coming in two weeks to the DIA. An exciting time lie ahead for Carrie and she was determined to enjoy all of it unencumbered by any new sex-driven endeavors. Carrie would continue with Dag for the moment. That seemed to be the most practical thing to do.
Surprise upon surprise! Carrie had seen the works of art in her grandmother's collection many times before but she was not aware that the photographs of her mother's great-great grandmother Lili Bergnon … the ones taken by Henri Foran-Dulone, would be included in the traveling exhibit.
The exhibition catalogue arrived at the DIA a week ahead of the art. As Carrie opened one of the catalogues to see that these fascinating photographic images were indeed part of the exhibit. Some were so reminiscent of the images she and Dag had worked on recently. She took one of the catalogues to show Dag. The photographs were so beautiful he said that they would make a great exhibit all by themselves.
New Year's Day 1995
Alone at her apartment Carrie brought out her diary and began:
1.1.95 DetroitI thought New Year's Day would have a hangover for me. Thank God it didn't. The family's' exhibit has come and gone. It is now on its way to San Francisco's MOMA. Oh, hell, I'll finish this later!
2015
Cranbrook Academy of Art
Carrie had attended Cranbrook Academy of Art in the fall of 1995 where she earned a masters degree in painting. She met, fell in love with and married one of the professors there Derek Michaels. When Carrie and Derek moved to Santa Barbara, California to indulge Carrie's desire to open a painting studio and teach others to paint, they had their first child. And once again those family, female, French genes played a role.
Anna Foran Michaels, just eighteen years old was a brilliant student at Our Lady of Mt. Carmel high school. A member of the soccer team and with many extra-curricular activities to her credit she had graduated Valedictorian. She had her mother's good looks and like her mother and grandmothers is an avid artist, more interested in the 'Dali school' of painting than her family's traditional style.
Anna has her mother's penchant for sex and art but she goes about them in entirely different ways. She will attend the Savannah College of Art and Design in the fall of 2015. Anna was sometimes more attracted to girls for her sexual pleasure than boys. Although boys did fit in once in a while.
Her current love interests are Goldie and Javier, two friends from high school. The three of them are all about surfing and partying on the beach till late at night now that school is out for the summer. One night at the beach all three decided to get involved sexually and did so with promiscuity and youthful abandon.
"So fun!" Anna exclaimed as she described the sexy 'beach night' to her mother the next morning.
Carrie, not surprised at all, remembered her own promiscuous behavior in her youth … kind of wishing she could re-do some of that. At forty-two years old Carrie still stunned people with her good looks. Her relationship with her husband was open enough that they didn't really let jealousy enter into it.
Anna's girl friend Goldie Harrison had a beautiful, full head of blonde hair cascading down to her waist. Her looks were that of a fashion model or movie actor. Anna felt lucky that such a beauty would be interested in her. Javier was more Goldie's friend than Anna's, that is until the 'sexy beach night' when he became both of theirs, in a way more like lovers than just friends.
Anna had planned to leave for the Savannah College of Art and Design in late August. She wanted to drive so she could take in the country's beautiful landscapes and forests, rivers and mountains on her way to Georgia.
She was a practical girl, wise enough to realize the friends she had would be friends at a distance for the next few years.
The journey was fabulous, filling her mind with all kinds of ideas for the canvases she would paint in school this fall.
Upon arrival on the first day of class in painting 101 her professor, Dr. Hale PhD (he had a doctoral degree in art history) asked his fifteen students (the classes were kept small so more attention could be paid to each student) to spend the rest of that day's class putting together an individual presentation to the whole class to introduce themselves to each other. The assignment was kept simple: a song or a reading of a favorite work or a skit in which the student gives a dramatic portrayal of themselves. With one restriction: each student gets five minutes to complete the introductive demonstration.
The next day Dr. Hale was treated to a very entertaining group of assignments, songs sung, poems read, a slide show and more. Anna went last she entered the room in a black trench coat carrying a large folded sheet. She walked slowly, silently to her front row desk and put one end of the sheet on it's top adding a few books on top of it to keep it in place. She slowly unraveled the white sheet while moving away from her desk. Then held the end of it between her teeth leaving it draped over the trench coat. She then opened the coat and let it slip off of her body to the floor. Anna proceeded to ravel herself up in the sheet slowly as she turned in circles moving toward her desk.
When she finished she said: "I have wrapped myself as an enigma, when I unravel I'll be the truth."
She proceeded to slowly unravel herself out of the sheet in a ballerina like manner. When she was free of the white sheet Anna let it fall away reveling her naked body, she looked at the audience of students and quickly raised both arms in a V for victory stance. She received a round of applause from her fellow students, as did other students for their projects, who now knew each other better than they had the day before.
One student wrote in his notebook after Anna's 'show', quoting poet John Keats: "beauty is truth truth beauty".
By October of her freshman year Anna had finished several paintings. So good and exciting were these works of art that her professor sent some photos of them to the High Museum in Atlanta. The museum was immediately interested in displaying her work. This seemed to Dr. Hale almost like the rise of Andy Warhol in the sixties or Julian Schnabel in the seventies. A fast rise to stardom could be just around the corner for Anna Foran Michaels. It wasn't long before some of the High Museum's gallery affiliates in Atlanta began offering her work for sale.
2016
By the fall of 2016 Anna was known as the newest, hottest artist on the scene. She was big in New York, London and Paris, Los Angeles and San Francisco. Her paintings were selling for six figures everywhere. She had found the love of her life . . . painting!
Anna had taken to art and painting like her mother and grandmothers did. To her it was a calling! And Anna blessed that calling with all she had.
The End
These photographs represent an overview of the story and its era. Berthe Morisot and her painting of her daughter Julie. The young girl I photographed walking at the Birmingham Carnival in 1971 was the inspiration for the character Lili Bergnon. Margerite photographed in 1994, she was a muse/model of mine, she led me to the character Lili Foran. The girl looking out the window was Marjoorie from Holland, we met on a southbound train in France, 1971. This photograph was part of the process for my 'muse project'. I began writing French Flowers in 1996 in the library of The Academy of The Sacred Heart, a high school I taught photography at in Bloomfield Hills, Michigan. Writing on and off, it took me until 2016 to finish the story. Art and music, girls and love are what this story is all about. Tom Weschler
Tom Weschler is a professional photographer known for his photography of entertainment and music bands and singers. He studied at Oakland University and taught photography at the Academy of the Sacred Heart in Bloomfield Hills, Michigan. Tom was Bob Seger's road manager and photographer in the 1960s and 1970s. Weschler published a book named Travelin' Man, a photo collection on Bob Seger's career, which includes a foreword by John Mellencamp and an afterword by Kid Rock. A new book of Tom's is soon to be released, In the Blink of an Eye: Photographs 1964 -2014, as well as future books on music, art, and fashion models. He is also currrently working on two movie projects.