As a child in the 1950s, I saw the cocktail party lifestyle firsthand. My dad was a banker and was expected to entertain clients and their families with cocktail parties at home, as well as at country clubs, or while golfing, hunting, and boating.
Cocktail parties at our home were a regular affair—it seemed we had one every week. For indoor parties, men wore suits or sports jackets, and women wore cocktail dresses. Conversely, summer outdoor affairs were very casual; guests usually wore golf or boating attire. When my parents had formal cocktail parties, they seemed to follow a certain code: the evening must be a lavish, stylish affair with lots of music, dancing, games, cocktails, and food.
As we consider what was happening in the 1950s that gave rise to the cocktail party culture, we see that the adults of this generation grew up in the Great Depression and fought in World War Two—people were tough; they worked hard, and partied hard.
As the economy improved and war ended, the U.S. saw rapid post-war economic growth, raised standards of living, increased home ownership, and the growth of suburbia. People were employed and had a positive outlook.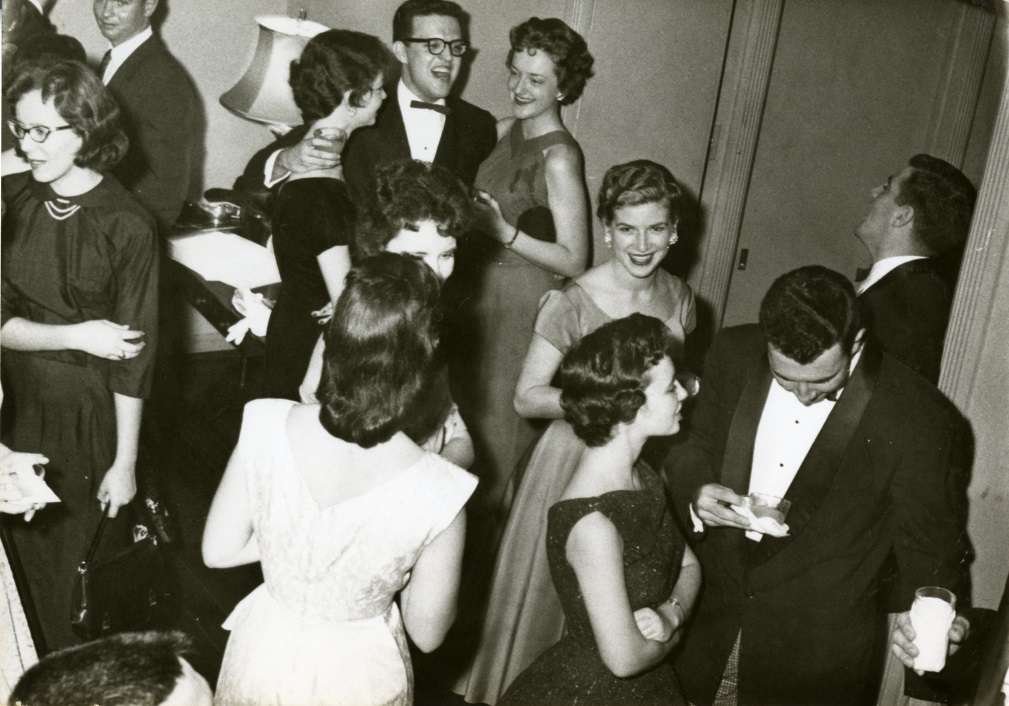 Returning World War Two veterans took advantage of GI grant college programs; they got married, raised families, and obtained federal backed GI loans to purchase homes.
To increase jobs for returning veterans, the government incentivized women to leave the post-war workforce to become housewives and mothers.
There was more emphasis put on family, comfort, and leisure. Home entertainment became the central form of recreation—driven by the development of shopping malls, high fidelity record players, television sets, automobiles, modern home appliances, and backyards with decks, patios, pools, and barbeques. Drinking became common at most social functions, and people were expected to be able to hold their alcohol.
Within just a few years, society shifted to include more alcohol consumption in the home. A 1951 Bowden beverage trade association study looked at alcohol consumption in the 1940s and compared those statistics to those of 1951. In the 40s, seventy percent of drinking was done outside the home and only thirty percent was consumed at home; however, by 1951, those figures had completely reversed with 70% at home.
In the Fifties and early Sixties, along with the rise in alcohol consumption, people looked up to legendary drinkers like Humphrey Bogart's Holmby Hills Rat Pack, Frank Sinatra's Rat Pack, and Sean Connery as James Bond—and hence, the cocktail party culture began to take over.
Although the 50s are far behind us now, the ambience of the era lingers on and can be witnessed in the 1990s and 2000s retro lounge and swing music revival, as well as in beloved Sinatra Rat Pack and James Bond movies. This is further seen in the current cable TV channels that air 1950s movies and TV shows, the ever popular vintage car meets and dream cruises, the Mad Men TV show, and the Internet providing billions of people access to older music and culture.
Continued exposure to the 1950s lifestyle, via programs and outlets such as those listed above, has kept interest in this era alive and has also generated a resurgence of retro theme cocktail parties.
If you are looking to try your hand at planning a 1950s soiree, then read on! There are many factors to consider when hosting a theme party.
First off, hosting a 1950s cocktail theme party involves more than just mixing up a few retro drinks. A host or hostess might also like to consider incorporating 1950s décor, fashion, music, and food into the event, along with the era-specific cocktails.
If you're not sure what section of the 1950s to focus your theme party, you may find it helpful to read about three popular cocktail party themes: a Lounge (or Mad Men) party, a Tiki party, or a Rock 'n' Roll theme. This article will focus on the Lounge party.
Along with providing a look into this first type of 1950s theme parties—you'll also note that I offer advice on the décor, fashion, music, and food of the era, as well as cocktail recipes that you might like to try out.
1950s MADMEN COCKTAIL THEME PARTY
Hosting a Fifties lounge cocktail theme party involves creating a replica of what most adults did when entertaining at that time—they hosted parties at home and offered their guests lots of food, drinks, and music. Invitations would have been mailed out, and both host/hostess and guests would dress to impress, donning formal attire for such dinner-cocktail parties, much like we do for weddings today.
Sometimes group games and cards would be played, cigarettes or cigars were passed around, and often there was dancing throughout the evening. However, most cocktail parties of the era put their focus on stimulating conversation enjoyed over cocktails and hors d'oeuvres.
Social drinking with friends and neighbors, at one another's houses, was the norm and was at an all-time high in the 1950s. Homemakers relished showing off their home décor, cooking skills, and fashion by hosting cocktail parties. Parties gave married couples activities to do together.
According to Antiques & The Arts magazine: "the suburban cocktail party epitomized the nuclear family as the essential setting for all social interactions." Neighbors bonded like at no other time before or since.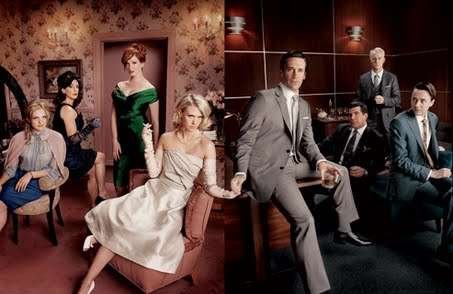 Mad Men TV show
You may say to yourself, "Where do I begin looking for 1950s inspiration?" First, familiarize yourself with the era:
A great place to start getting ideas for hosting a Fifties cocktail party is to search up past issues of Sears, Spiegel, and Wards catalogs, along with looking at retro and vintage websites and magazines, and picking up old copies of magazines, such as Life, Time, Look, Vogue, Ladies Home Journal, Better Homes and Gardens, Good Housekeeping, and Saturday Evening Post. You can also delve into fashion magazines, cookbooks, and home decor books at the library.
To get more ideas regarding the ambience of the 1950s cocktail party, presented with a more modern flair, perhaps take a look at the Mad Men TV series.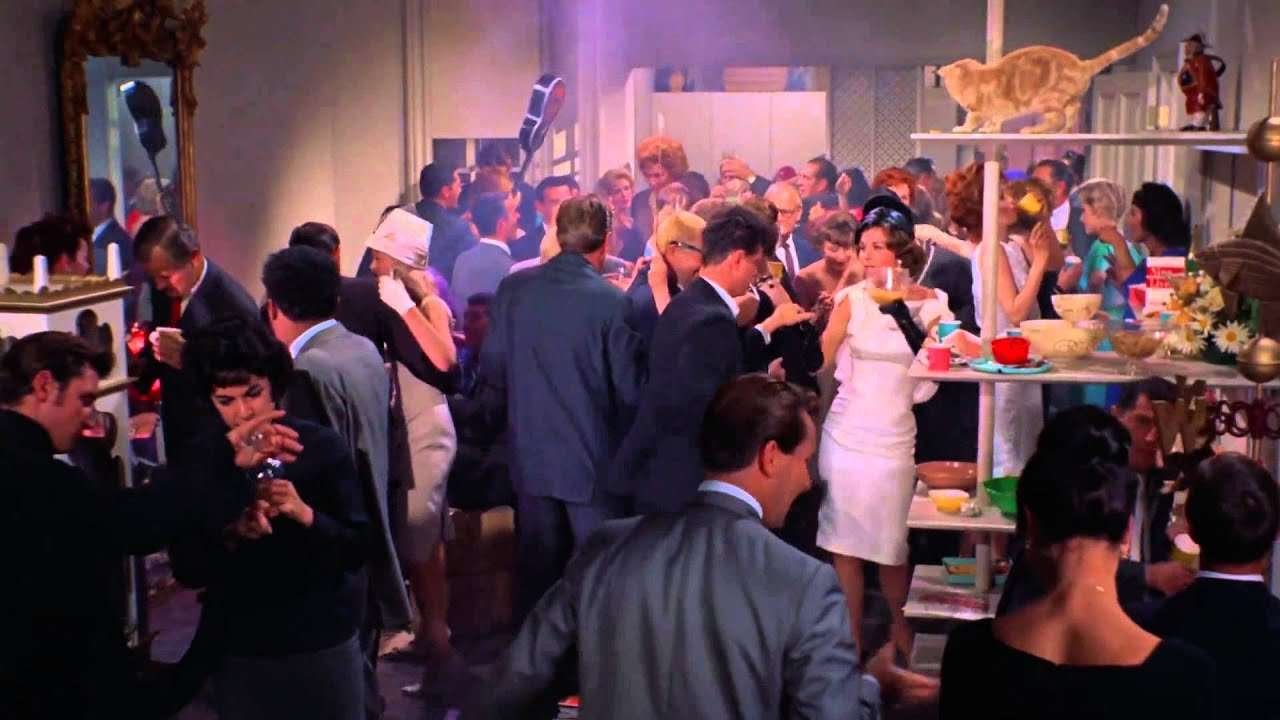 Party scene from Breakfast at Tiffany's
In addition to magazines and modern shows, movies can be of help as you are choosing décor, fashion, menus, or cocktails.
Seek out: Alfred Hitchcock films, film noir greats, and 1950s musicals. Treat yourself to watching the Frank Sinatra Rat Pack in the Ocean's Eleven, Audrey Hepburn in Sabrina, Funny Face, Charade, and Breakfast at Tiffany's, Sean Connery's many James Bond movies, An American in Paris with Gene Kelly and Leslie Caron, How to Marry a Millionaire with Marilyn Monroe and Lauren Bacall, Woman's World with Lauren Bacall, How To Catch a Thief with Cary Grant and Grace Kelly, and High Society with Sinatra, Bing Crosby, and Grace Kelly. These characters, plots, and sets will put you in the mood to host one hell of an authentic 1950s party!
If you don't have time to watch complete movies, perhaps tune into an episode of TV shows from the 1950s that may give you more inspiration regarding how you might decorate for and plan out your theme party.
Check out TV shows: 77 Sunset Strip, Peter Gunn, Mr. Lucky, What's My Line, Milton Berle, Ed Sullivan, Jackie Gleason, Sid Caesar, Jack Paar, Steve Allen, Perry Como, Lawrence Welk, Dinah Shore—just to name a few.
Now that you've had some time to get the "look" of the 1950s, it's time to think about how to dress for the party—and before you start digging through the racks at a local thrift shop or calling up your relatives to borrow an outfit or two—you may find it beneficial to scroll through pictures of movie fashion icons of that era, including such actors as:
Doris Day, Humphrey Bogart, Lauren Bacall, William Holden, Elizabeth Taylor, Gregory Peck, Tony Curtis, Janet Leigh, Gene Kelly, Cyd Charisse, Leslie Caron, Marilyn Monroe, Jane Russell, James Stewart, Kim Novak, Debbie Reynolds, Susan Hayworth, Paul Newman, Marlon Brando, Ann Miller, Gene Tierney, Judy Garland, and others—choose your own icon to pattern your outfit after.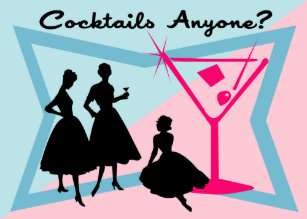 PLANNING THE COCKTAIL PARTY
Now that you've done a bit of homework regarding 1950s décor, fashion, and style of the 1950s, and you've jotted down ideas for your menu and drink list, first and foremost, you've got a lot of decisions ahead of you.
To pull off a stylish cocktail party, make sure that you pay attention to the details to ensure that your guests will have a wonderful and comfortable time. You want them to have a memorable experience that they will not forget.
After you have chosen the date and time of the party, write out a plan of tasks to be accomplished well ahead of the event and make sure to include the following areas:
Selecting the Guests: determine how many people you wish to invite and select those couples and individuals who would get along well with each other. Have back up names to add if needed—just in case certain people RSVP their regrets.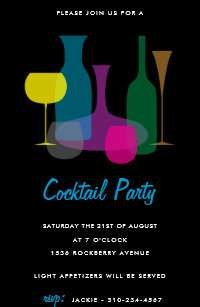 Invitations: in the 1950s, a party invitation would be mailed at least three or four weeks in advance. These days, you can send special email invitations, but an invitation in the mail would give your party a very retro touch. If you don't have everyone's street address, you could do both. Be sure to print R.S.V.P (please respond) on your invites—you want to be clear on how many guests are attending.
The invitation should have a description of the theme, if food will be served, and any pertinent notes your guests need to know regarding the dress code, as well as the expected date, time, and address for your party.
Dress code: you may ask people to dress in 1950s vintage formal or dressy attire, like the Mad Men TV show. You can offer your guests ideas of 1950s styles. (See the following sections on Clothing below). And finally, to keep with the theme, make mention somewhere on your invitation that guests should not wear jeans, T-shirts, or sneakers etc.
Décor: you may want to adapt your home to showcase a 1950s décor and with a number of retro party decorations to set the atmosphere. (See the following section on Home Décor below).
Arrange the Rooms: depending on the number of guests you invite, set up chairs around the rooms—you can borrow or rent chairs and card tables if needed. Make sure to arrange a food buffet area that will avoid crowding, set up a bar away from the main room/food area, and have an attractive table centerpiece, or set up small vases with flowers throughout the rooms.
Music: having 1950s pop, Latin, and jazz music is a must. There are compilation CDs available, and 1950s play lists can be downloaded on the Internet. You and your friends may even have CDs of 1950s music. (See the following section on Music below).
Games: there are many fun 1950s and 1960s party games that would make the party a success. Door prizes can be awarded to winners and runner-ups. Card games are optional but are better suited for special card parties. (See the following section on Games below).
Dances: planning a section of the party devoted to music and dancing may be an option, or part of the games. (See the following section on Dances below.)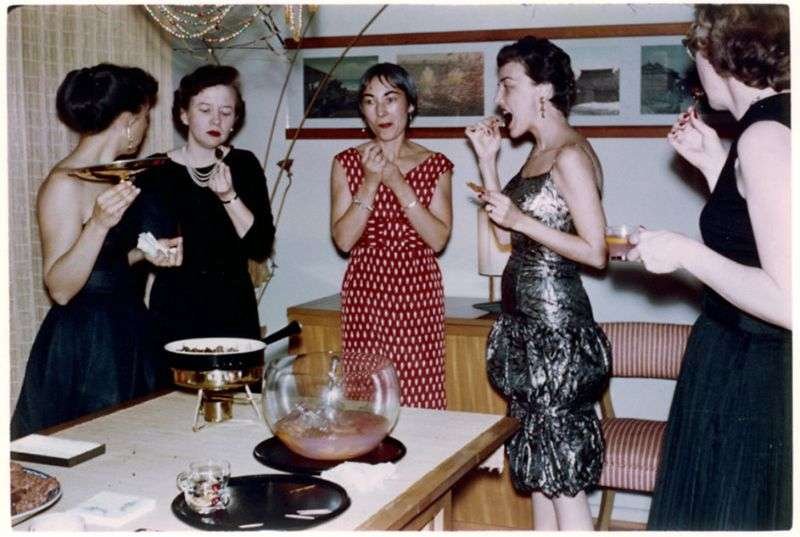 Cocktails: when it comes to what drinks to serve, traditionally, 1950s parties often had a punch bowl and a home bar where, typically, the male host would function as bartender. The most popular drinks would be mass made on a buffet or served on circulating trays. Serving authentic 1950s cocktails is part of the fun of hosting a theme party. (See the section on Cocktails below).
Food: plan a menu of authentic 1950s party food. Buying and preparing the food is part of the ambiance. Get friends to help make hors d'oeuvres with you or even share costs and divide menu items. There are a few basic food rules – plan to serve a variety of visually appealing and tasty food items, and don't skimp; leftovers are better than running out of food. Cooking equipment and serving ware can be purchased, rented, or borrowed. If one can afford it, the party can be catered with waitstaff serving guests. Food should be presented in an easy to access buffet style, with some items also circulated on trays. (See the section on Food below).
1950s COCKTAIL PARTY CLOTHING
In the Fifties, most adult men and women prided themselves on being fashionable and wore formal clothing at work, church, dining, and shopping. People dressed up as a sign of respect for themselves, to be seen favorably by others, and as a demonstration of their personal polish and class. I grew up watching my father head off to work every day in a suit—with a hat, belt, and shoes to match—and my mother would never think of going out, even for a quick errand, without a hat, heels, and gloves. My parents would dress in stylish formal wear for a cocktail party, as well as for dances, holiday functions, dining out, and church outings.
Cocktail parties were special social events; they signified a time for adults to relax, unwind, play, network, and share stimulating conversation; therefore, such parties were another occasion for people to dress to impress. The expected dress code for cocktail parties were cocktail dresses for women and suits with ties for men.
For less formal affairs, dressy, stylish casual attire was called for, such as sports jackets for men and nice dresses or pantsuits for women. For summer outdoor parties, leisure wear—such as a variety of slacks for either gender, cropped pants for women, matching shirts/sweater,socks, and sleeveless blouses; and button down shirts for men—were often appropriate.
Women's Cocktail Dresses
No other dress imprinted 1950s ladies' fashion more than the classic cocktail dress. A cocktail party, whether for the host/hostess or guests, demanded effort and an attempt at elegance. Such a party was a chance to dress up more than usual. Cocktail dresses in the Fifties were either formfitting, showing the contours of the wearer's body, or partly fitted styles—slim in the bodice, then billowing out at whatever length; for each category of dress, petticoats were often part of the design. Popular fabrics at the time included chiffon, crepe, lace, and silk. Women wore high heels and jewelry to complete their party wear, often pairing their pumps to match their dress for a sophisticated finish. Shoes were usually simple and understated to let the cocktail dress shine.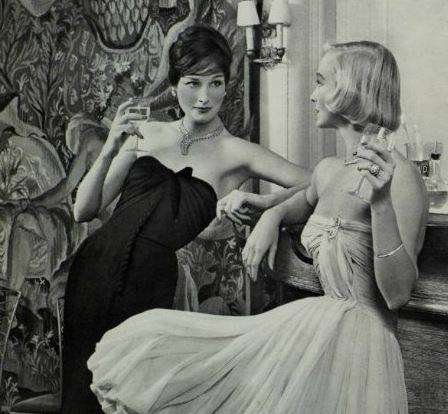 Antiques & Arts Magazine described the cocktail dress as: "dresses [that] emphasized romantic feminine hourglass silhouettes full of skirts of luxurious, expensive fabric, layers of petticoats and lengthened hemlines, sloping shoulders, cinched waists, padded hips and a long, rounded back added to its appropriateness for cocktail party viewing."
French designs became all the rage in the Fifties, and many cocktail dresses were fashioned from glamorous designs that leading Paris salons, like Dior and Givenchy, created "The New Look". The New Look used billowing, extravagant dresses (like the one worn by Grace Kelly below) that enhanced the figure of the wearer to showcase her in an ultra-feminine manner. The Parisian style soon was copied by more affordable retailers.
Soon, Hollywood picked up on The New Look, as can be seen with the dresses worn by Grace Kelly, Audrey Hepburn, Elizabeth Taylor, and others in movies of that era.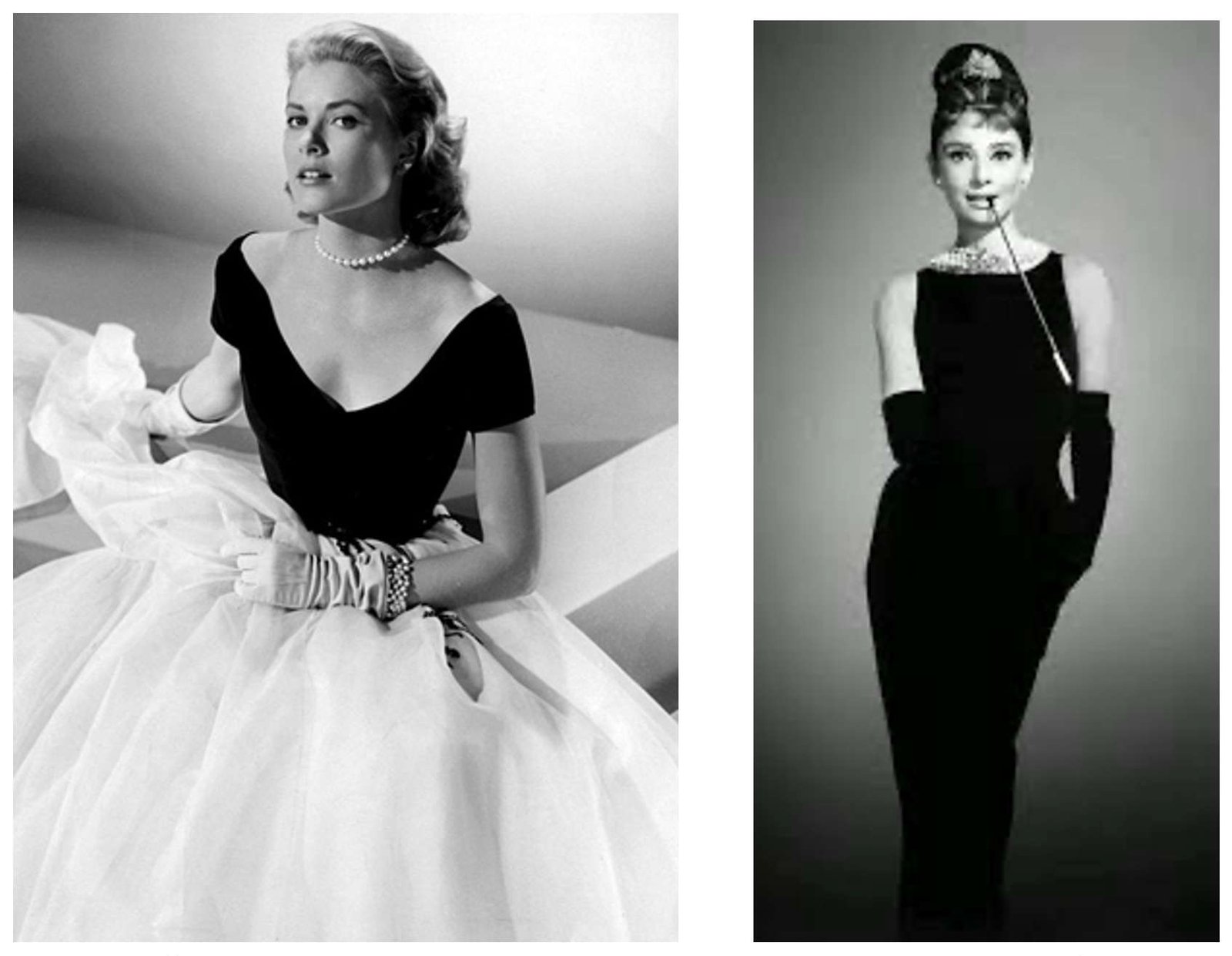 Women's 1950's Fashion
In the post-war era, there was a return to femininity and womanhood from the 1940s 'working girls'—the term refers to women who worked various war-effort jobs while many men were away fighting in World War Two. Once the surviving soldiers returned, women were encouraged to leave the workforce and focus on homemaking. Thus, in the 1950s, traditional rolls of family and motherhood became a driving force in the restoration of national pride, and the desire for social uniformity and propriety.
After the war, most people could not afford lavish clothes and jewelry, so many women made their own clothes. Whether store-bought or hand-sewn, style became of utmost importance.
In the 1950s, women spent time and energy selecting their wardrobe choices and/or the material and patterns for making their desired outfits—they purchased or created elegant suits or dresses, paired with trendy high heels, matching jewelry, stylish hats, purse, and gloves to complete their ensembles.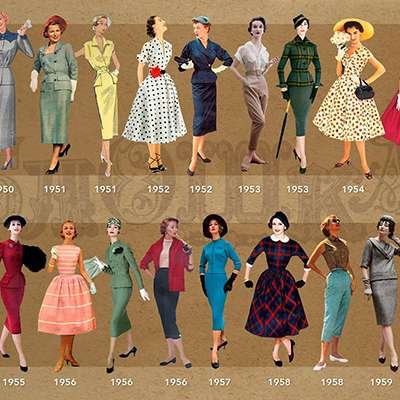 Women's fashions, both stylish and casual, emphasized an hourglass shape, bringing focus to the bust and hips, along with a cinched in waist. It was also considered standard for women to wear a girdle, garters, seamed nylon stockings, slips, and petticoats.
Both billowing skirts and slim fitted pencil skirts became popular, with hemlines landing below the knee in the early 1950s, then moving up to mid-knee by the late 1950s.
The 1950s also saw the rise of manufactured, affordable, and ready to war clothing, both in natural and synthetic fabrics. With the abundance of clothing available in stores or catalogues, women's sewing at home began to decline.
Casual clothing for women included A-line midi skirts, capris pants, cropped trousers, high waist shorts, cardigan sweaters, gingham, checks or polka dots, and denim jeans. Pool side glamour included silk hair wraps, large rim hats, and one piece swimsuits, with the new fashion bikinis just beginning to emerge on the scene.
In terms of color choices for women's fashion in the 1950s, popular spring colors were soft pastels such as light pink, powder blue, cream, aqua, rose, maize, lilac, Kelly green, and lavender. Fall and winter colors included deep hues such as charcoal, rust, brown, teal, black, royal blue, navy, olive, purple, and red. Popular prints included plaid, polka dots, checks, flora, and abstract patterns.
Natural fibers like cottons and wools maintained their popularity and offered an array of choices; cottons included denim, chambray, corduroy, gingham, gabardine, crepe, damask, pique, and twill, and wools included tweed, gabardine, serge, velour, and sharkskin.
In addition, the debut of new synthetics, such as nylon, rayon, dacron, orlon, acrilan, and dynel, offered easy to wear clothing that was affordable, shrink resistant, non-wrinkle, and non-fading.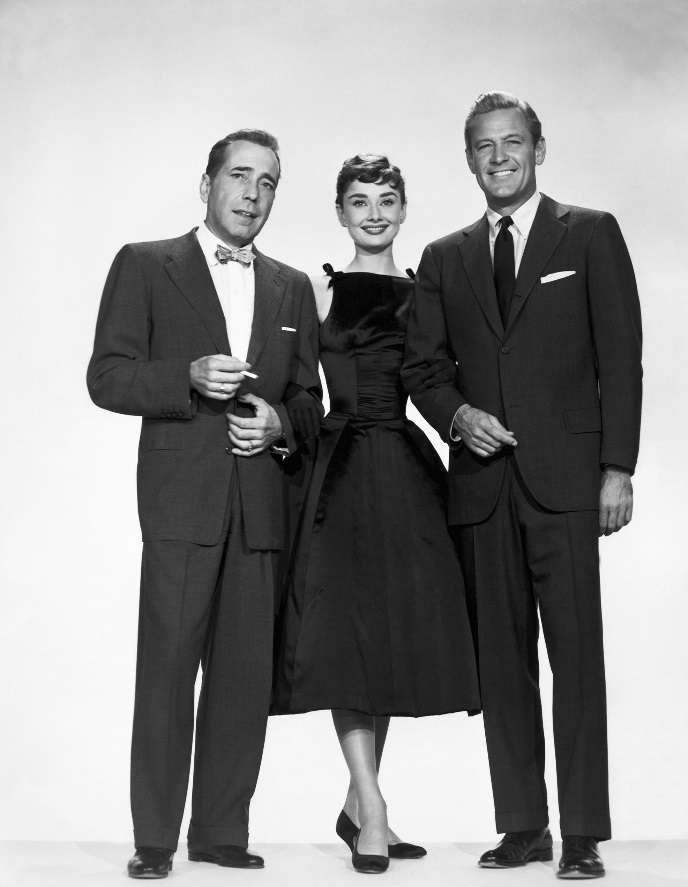 Beyond the, now iconic, clothing of the 1950s, women's hairstyles also changed. It became popular for adult women to wear their hair short, such as in pixie cuts, or to wear longer hair in buns; ponytails were a prevalent style among youth and teenagers.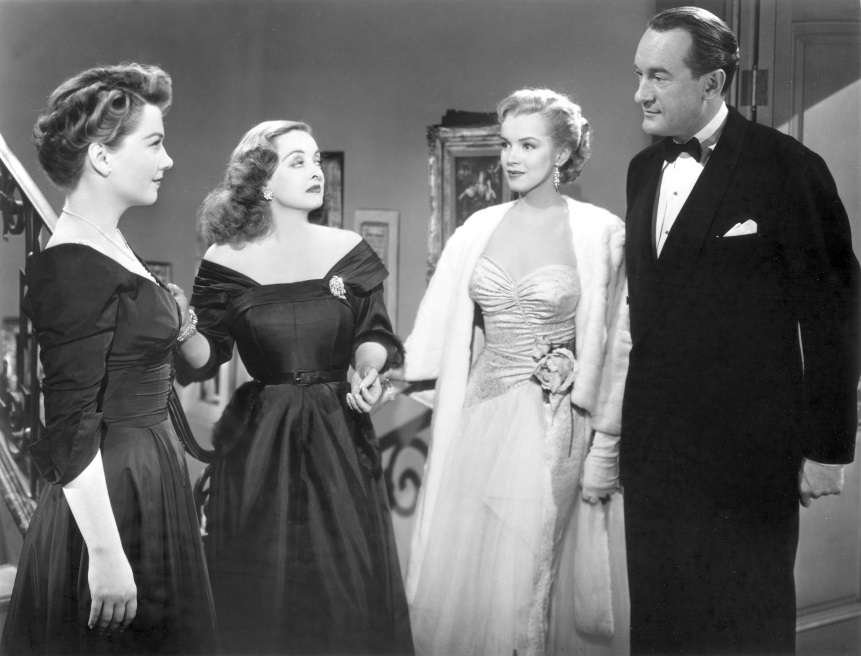 Moreover, Ladies' everyday make-up became more bold: thicker eyebrows were accentuated, often darkened with powder, eyeliner became thicker, more pronounced, and drawn out, popularizing the "cat eyes" look, bright eye shadows became the rage, as well as using a darker rouge, and highlighting their lips with liner and vibrant red lipstick.
To put the finishing touches on their outfits, ladies' accessories included decorative hats, scarves, gloves, and cat eye shaped sunglasses. Shoe choices were classy single color pumps, flats, wedges, and loafers. Jewelry included slim watches, clip-on earrings (pierced ears were rare), beaded jewelry, and (whether costume jewelry or the real deal) showing off their gold, diamonds, and pearls.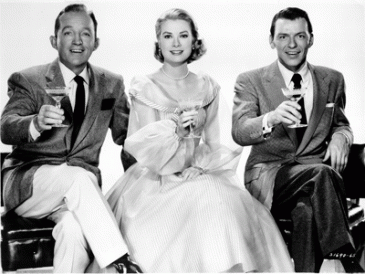 Men's 1950s Fashion
The Fifties was a time of conservative traditional values; this was reflected in the uniformity of men's fashion. Men's fashion was determined by British traditional style of Savile Row suits with conservative fabric and color.
This London style influenced American fashion, whether via conservative business looks, to sporty casual ensembles, to Ivy League Prep attire, and would not be complete without the Conduit Cut Anthony Sinclair suits and ties, made famous by Sean Connery as James Bond.
In general, men's clothing of the Fifties became slimmed down. Along with traditional fabrics and materials, such as wool, cotton, tweed, herringbone, and plaid, new synthetic fabrics came into the market with a variety of colors, mainly black, gray, navy, and the occasional brown. Close fitting trousers allowed for the use of belts instead of suspenders, and structured layers were used with coordinated patterns and colors. Overall, the look of men's fashion in the 1950s was sophisticated and suave.
In the pictures below, two prominent Hollywood leading men, Cary Grant and Gary Cooper model two examples of the British traditional look: layered suit coats, wide lapels, heavier fabrics, and subdued colors.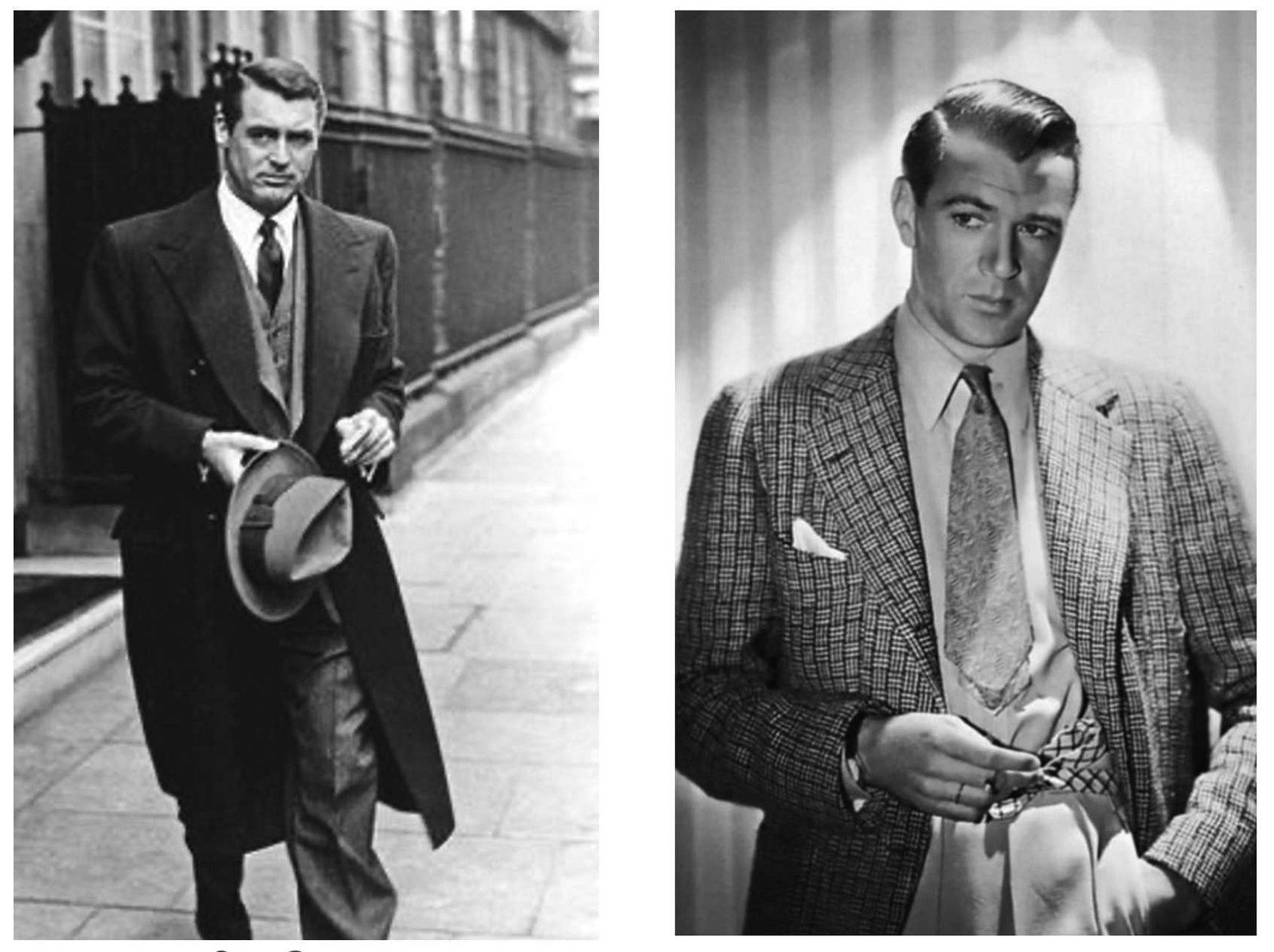 Male fashion icons of the Fifties included notable Hollywood actors and singers such as:
Cary Grant, William Holden, Gary Cooper, Humphrey Bogart, Gene Kelly, Frank Sinatra, Dean Martin, Sammy Davis Jr., Peter Lawford, Gregory Peck, Miles Davis, Elvis Presley, James Dean, and Paul Newman.
During the 1950s, along with slimmed down slacks, men wore either single or double breasted suitcoats with pocket squares paired with starched straight collared or Oxford button down cotton shirts with cuff linked sleeves; also, depending on the event, they usually wore white undershirts beneath their kit. Sport jackets were on slightly more casual occasions, with a tie or paired with turtlenecks.
Accessories were ties, shoes, watches, overcoats, and hats. Narrow to medium silk ties, with solid or printed patterns, became popular. Polished, leather Oxfords were the dress shoe of choice, and leather-banded watches became fashionable, as well as fitted overcoats or raincoats, and an array of hats—most popular of which was the Fedora.
Casual clothing often consisted of sports jackets and golf, tennis, or boating apparel, and leisure wear included slacks, jeans, and Bermuda shorts with Oxford button down shirts, turtlenecks, or Polo shirts. Footwear for casual events included loafers and sneakers.
Also, in the 1950s, V-neck and cardigan sweaters came into vogue, as well as Hawaiian shirts, turtlenecks, and 'bowling' shirts.
It was common to see men dressed casually for backyard barbeques and get-togethers, or when meeting pals at the country-club, but see them out later, dressed to the nine's.
1950s HOME DÉCOR
In the post-war era, 1950s home ownership increased, and suburbia grew; people focused on their home as the center of entertainment, and as such, they took pride in decorating, and soon, dynamic decorative designs flourished.
American society began to redefine itself after the World Wars, and abstract expressionism became the preferred art style in the Fifties. Artists of this era and genre rejected social realism and challenged the aesthetic establishment to express their creative freedom amidst the uniformity of the post-war era.
Leading artists such as Jackson Pollack, Willem de Kooning, Mark Rothko, and others, began to shake up the homogenized, cookie-cut, narrow definitions of what art was. The same avant-garde trend emerged in other art forms of the era, such as jazz, literature, theater, poetry, film, and television.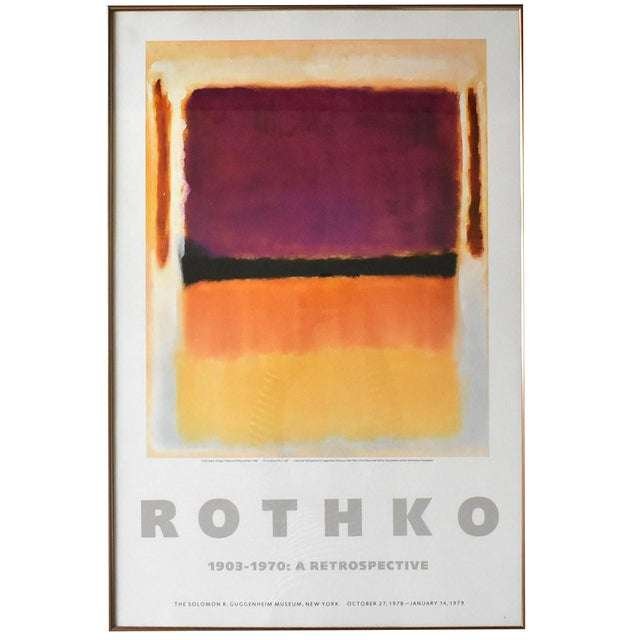 Jackson Pollack
Home décor in the 1950s was influenced by abstract expressionist art and Scandinavian minimalist design (Boucher). The era explored new modern art, textures, color, and fabrics, and home designs of the time also became influenced by Space Age and Atomic Age themes.
Popular colors, at the time, were pastels of soft pinks, turquoise, pale yellow, mint green, and baby blue. Scandinavian earth tones were also popular, with browns, cream, tan, and green. Fabrics had bold designs of stars, stripes, checks, polka dots, and floral patterns.
As for the use of texture in home decor, wallpaper with floral patterns and murals became popular, and knotty pine paneling soon was all the rage. Along with the textures on the wall themselves, homes were also decorated with ornate clocks, mirrors, abstract wall sculptures, and various curtains.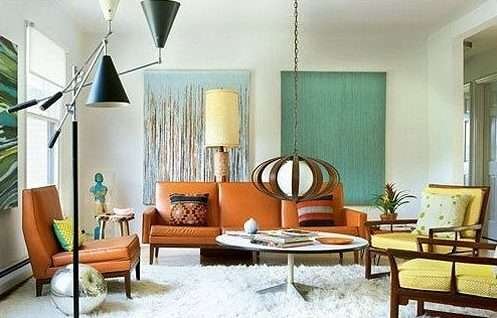 Scandinavian minimalist furniture (as seen in the photograph above) was very popular in the 1950s, and so were clean abstract designs (notice the lamps and various knick-knacks). New materials were used in furniture such a laminated plywood, Formica tops, chrome-legged chairs, vinyl chairs, plastics, shag carpeting, and fiberglass. In addition, ornate lamps and pole lamps also became focal points of living rooms.
Bathrooms were designed in pastel colors, such as pink, blue, or green, with matching commodes, and sinks and ceramic tiles of various dimensions. Kitchens used both pastel and bright colors, Formica counter tops, and linoleum floors in numerous styles and patterns.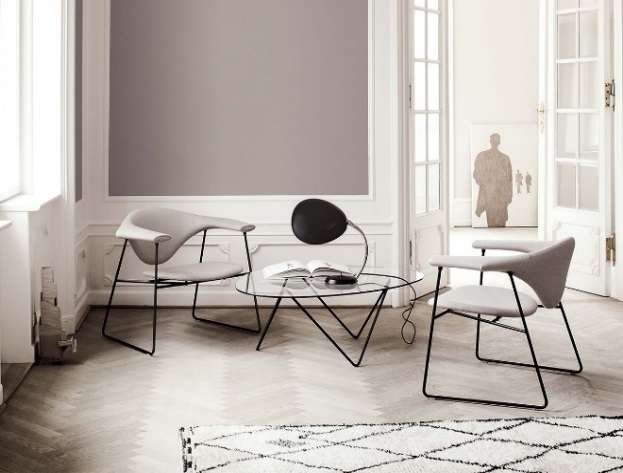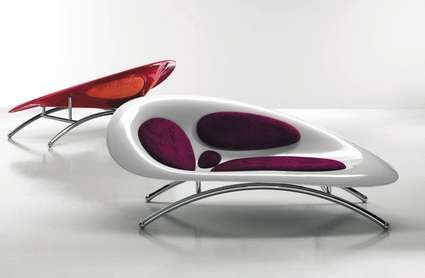 Party Decorating Tips to Create a 1950s Look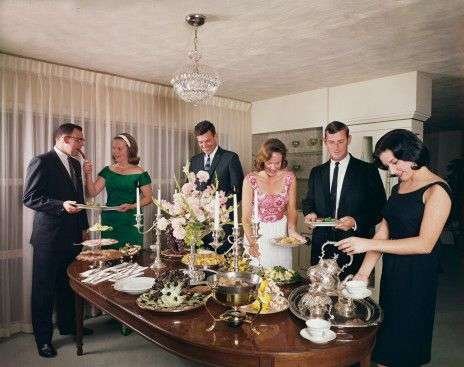 Play 1950s crooner, lounge, Latin, and jazz music in the background
Place a few ornate lamps (hanging or free-standing), pole lamps, magazine racks, ashtrays (if you are smoke friendly), couch pillows, and coffee table books scattered throughout the main room you are hosting the cocktail party in
Consider locating some 1950s modern art – perhaps at a thrift store—perhaps try finding a print by Pollack, Rothko, Kooning, Kline, Still, or Newman
Seek out wall decorations: abstract sculptures and art, ornate clocks and mirrors, wallpaper, wall murals
Set your main table with a tablecloth, cloth dinner napkins, candelabras, colorful dinnerware, and centerpieces
Place flower arrangements in vases and fruit bowls on your main serving table/area
Set up various 1950s items in your kitchen (either for show only or to use during the party), such as: a mixer, blender, electric frying pan, lazy Susan, set of food storage canisters, a bread bin, waffle iron, electric can opener, meat grinder, old pop up toaster, pressure cooker, electric coffee percolator, or vintage tea pot
If needed, consider using chaffing dishes to keep your food warm between courses
Set up a home bar area, complete with bar stools, cocktail utensils, at least one martini shaker, and matching cocktail glasses
If you prefer, prepare punch (alcoholic or non-alcoholic) in a glass bowl and serve with matching glasses
For after the meal or appetizers, set out a vintage tea set, and/or large coffee maker with matching cups and saucers, a creamer, sugar bowl and spoon
For extra 1950s touches, have fun picking and choosing among the following items:
Rotary dial telephone(s)
Black and white TV set with antenna
High fidelity vinyl record player with amplifier and speakers
1950s LP long playing vinyl albums (to be played throughout the evening)
1950s TV shows and movies, (perhaps to be viewed at times throughout the evening)
1950s books, coffee table books (to be browsed at your guests' leisure)
1950s magazines: Life, Look, Time, Post, Reader's Digest, Better Homes and Gardens, Good Housekeeping, Vogue
1950s JAZZ and LOUNGE MUSIC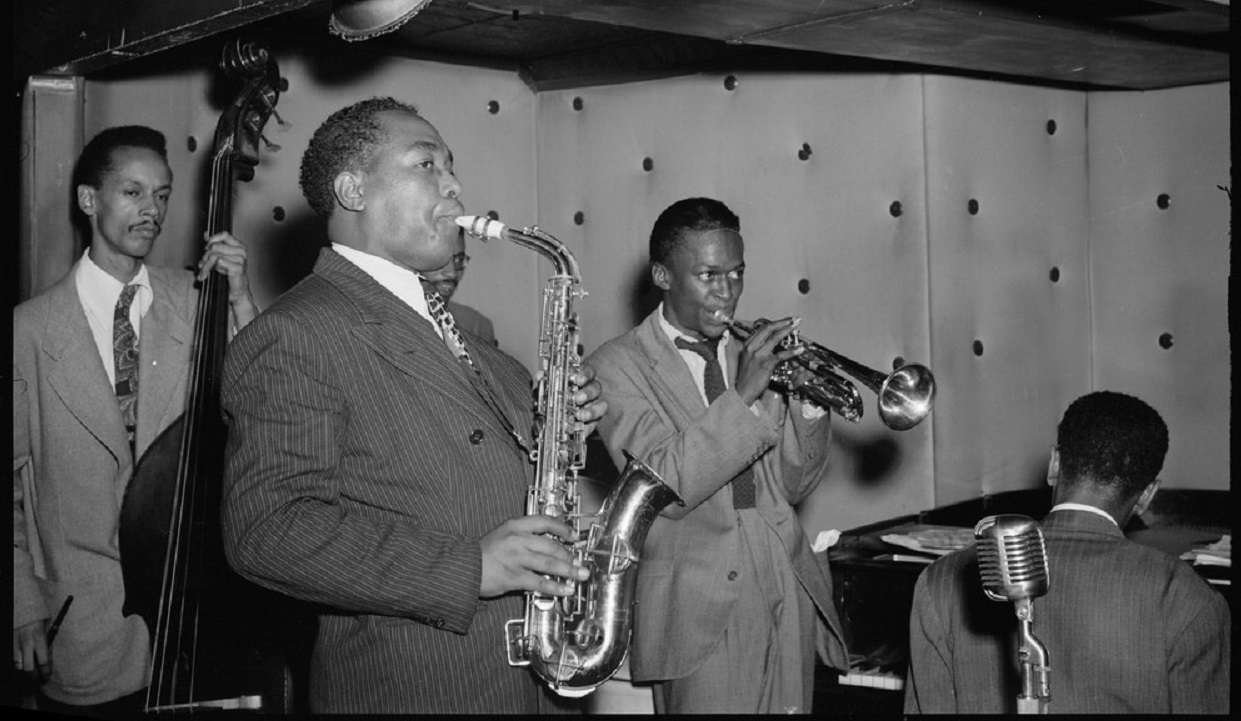 Charlie Parker and Miles Davis bebop jazz
If you want to bring authentic sounds into your 1950s themed cocktail party, your musical selections should include Pop and Jazz Crooners, Jazz Bands, and Latin music such as Mambo, Bossa Nova, and Calypso.
Music in the 1950s was dominated by pop and jazz singers who had emerged from the 1940s Big Band era. Musical tastes changed in the Fifties, and the Big Band sound started to lose popularity. Singers had to transform their style as they began to sing in Las Vegas clubs, films, and TV, as well as record singles and albums. Several popular singers of the era were given their own TV shows.

On a personal note, music was essential to our family in the 1950s and 60s. I developed a love of jazz and classical music as a result. My mother was a classical pianist, and she had hundreds of classical and opera vinyl LP records. My father liked pop, jazz, and folk singers. Both my parents liked the 1930s and 1940s Big Band swing music of their youth. Every weekend, our family would barbeque and listen to Broadway musical soundtracks, pop and jazz crooners, and folk music all day long. We would also watch musical variety TV shows such as the Mitch Miller sing-along, Your Hit Parade, Name That Tune, Ed Sullivan, Lawrence Welk, Dinah Shore, Nat King Cole, Perry Como, Milton Berle, Steve Allen, and Andy Williams.
To select the best 1950s pop vocal music, here is a list of the best vocal albums of the era:
Frank Sinatra, Songs For Swingin' Lovers, 1955
Ella Fitzgerald, Cole Porter Songbook, 1956
Sarah Vaughan (with Clifford Brown), 1955
Dinah Washington, Dinah Jams, 1954
Tony Bennett at Carnegie Hall, 1961
The Nat King Cole Story, 1961
Peggy Lee, Black Coffee, 1956
Chet Baker Sings, 1954
Plus the Greatest Hits collections of Dean Martin, Theresa Brewer, Kay Starr, Bobby Darin, Doris Day, Nat King Cole, Patti Page, Perry Como, Judy Garland, Lena Horne, Rosemary Clooney, Julie London, and others
1950s Jazz
No 1950s lounge Madmen cocktail party can be without jazz. Jazz was big in the 1950s. It caught people's attention. I grew up with jazz music, I loved it and still do. In my teen and college years, I amassed a large collection of jazz singer and instrumental vinyl LP albums and worked part-time as a jazz DJ at parties. When the 1990s swing, jazz, and lounge revival came about, I was in my glory – I am all about jazz.

Major jazz musician albums of the 1950s include:
Miles Davis & John Coltrane Quintet, Kind of Blue, 1959
Dave Brubeck, Time Out, 1959
Charlie Parker and Dizzy Gillespie, Jazz at Massey Hall, 1953
Theloniuos Monk with John Coltrane at Carnegie Hall, 1957,
Erroll Garner, Concert By the Sea, 1958
Bill Evans, Waltz For Debby, 1961
As well as albums by Sonny Rollins, Art Blakey, Modern Jazz Quartet, Gerry Mulligan, Stan Getz, and others.

Mambo
There was a "Mambo Craze" in the 1950s. Latin bands grew, and people danced the Mambo. The Mambo is Cuban dance music that developed in the 1930s and grew in popularity worldwide in the 1940s and 1950s. Leading Mambo musicians of the era were Prado Perez, Tito Puente, Tito Rodriquez, Desi Arnaz, and others. Several mainstream pop singers had mambo hit songs, such as Doris Day, Perry Como, Rosemary Clooney, and Dean Martin. Mambo dancing can be seen in such movies as West Side Story, Dirty Dancing, The Mambo Kings, and The Mask.

Bossa Nova
Bossa Nova is a smooth music style of Brazilian samba that became very popular in the 1950s and 1960s. Leading bossa nova artists included Antonio Carlos Jobim, Joao Gilgerto, Astrud Gilberto, Baden Powell, Luis Bonfa, and Sergio Mendes.

Calypso
Calypso Music was hot, it was very popular worldwide in the 1950s. Calypso is an Afro- Caribbean music that spread throughout the Caribbean. The big breakthrough for calypso took place when Harry Belafonte had two calypso Gold records and a number one hit song, Banana Boat, in 1956.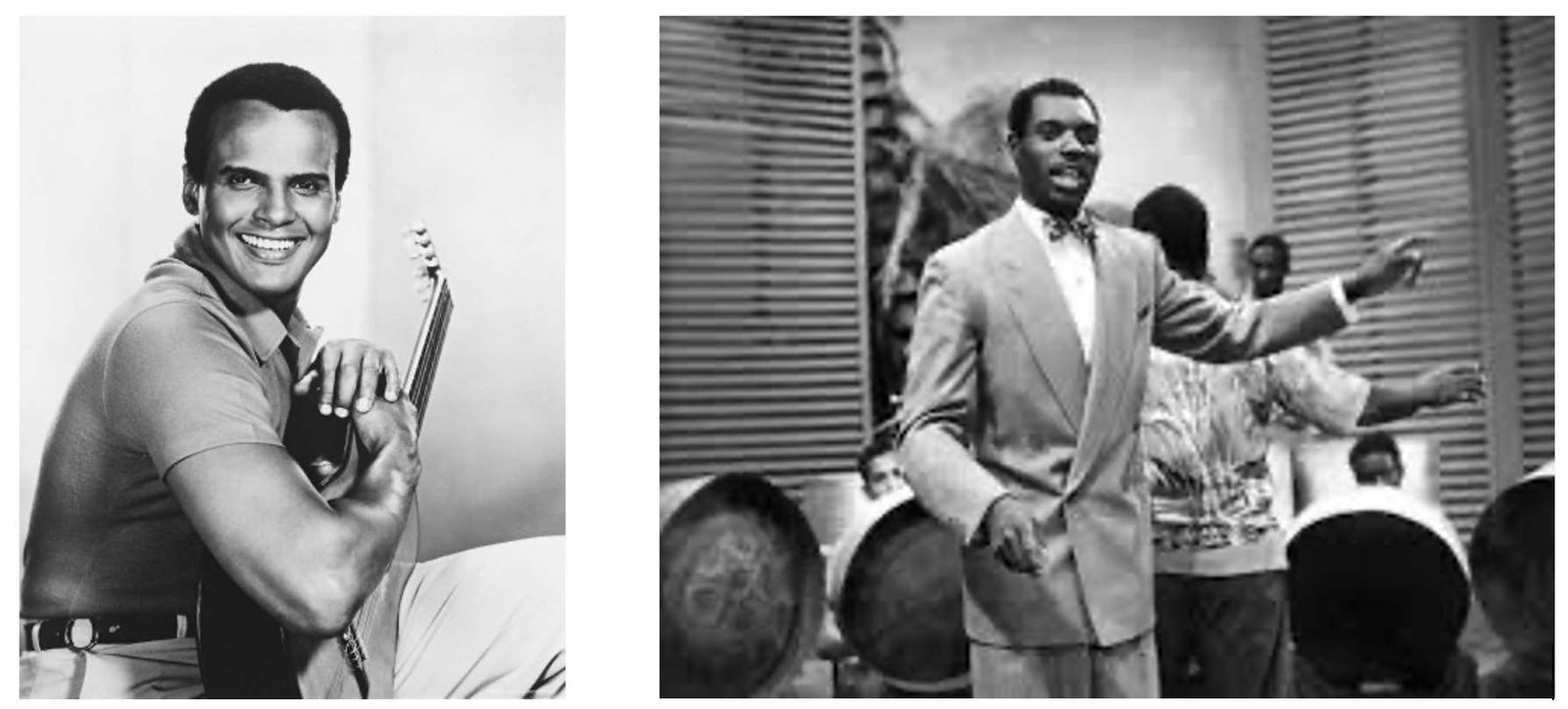 1950 Musicals
The 1950s was the Golden Age of Broadway musicals that were often made into Hollywood movie musicals and were highly popular. It seemed that every household purchased soundtracks of the leading musicals. Our family would go to the drive-in movies to see the latest musical film. We loved listening to the soundtracks.
The top 1950s musicals included: My Fair Lady, Oklahoma, Carousel, Camelot, The Sound of Music, West Side Story, Brigadoon, South Pacific, Kiss Me Kate, Damned Yankees, Gypsy, Can-Can, Pal Joey, The Pajama Game, The King and I, and others.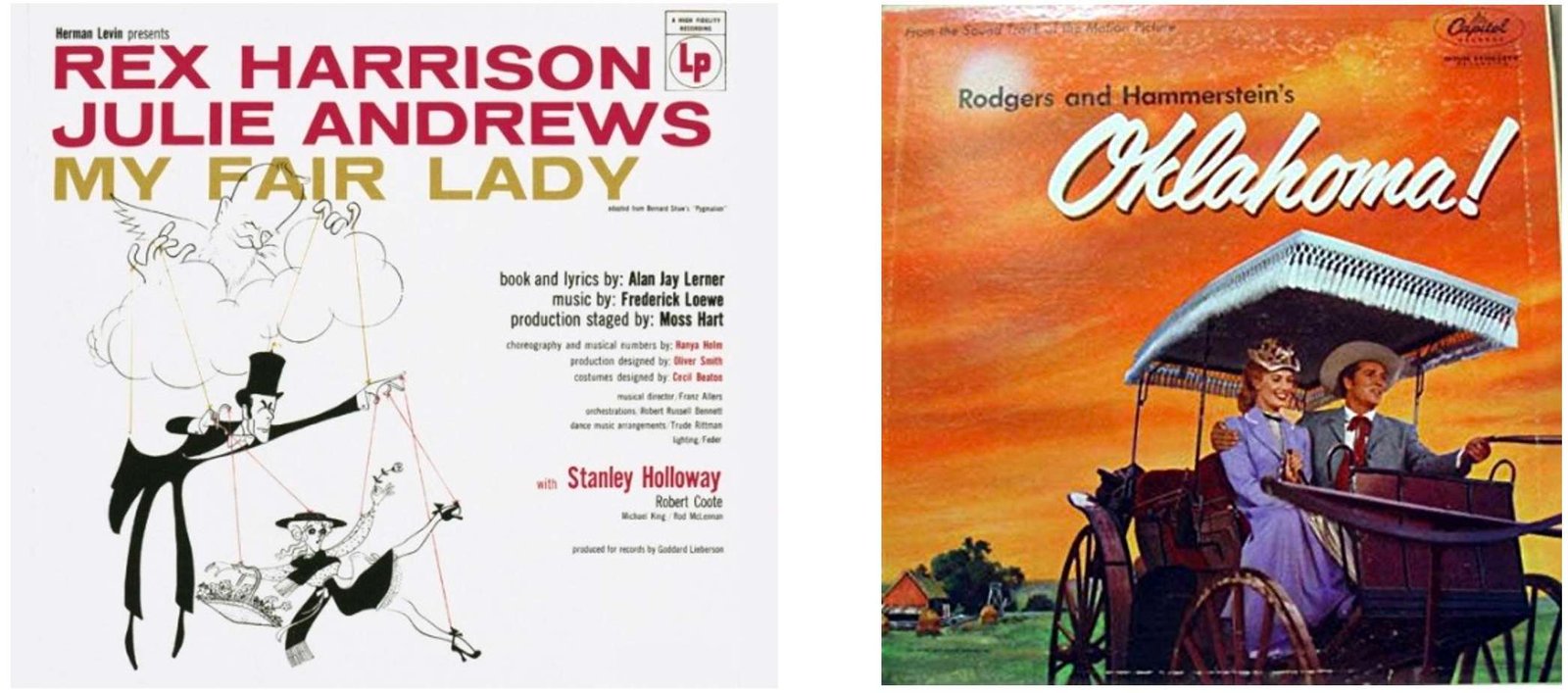 POPULAR 1950s DANCES
Social dancing has always been part of American culture going back hundreds of years. Dance halls and cocktail parties in the Fifties and Sixties continued this tradition.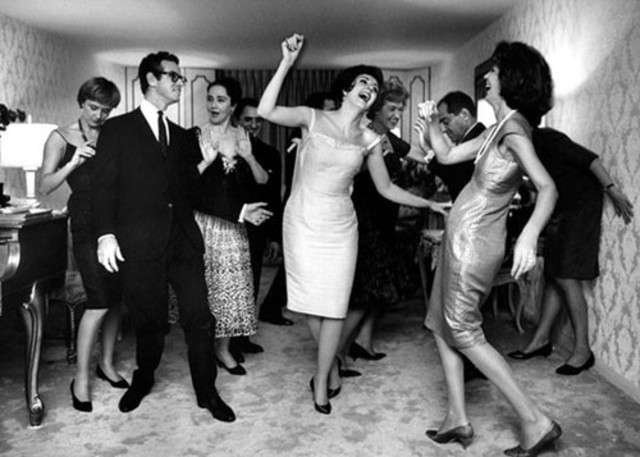 My parents took dance lessons and their cocktail and family parties always included dancing—I recall that the slow, close dancing, and mambo were popular.
Teens in the Fifties had their own 'rock n' roll' style which was often copied by older adults, such as the Hully Gully and the Twist.
In my youth, I remember that at our larger, extended family functions, while the adults danced, our young band of siblings and cousins would hold our own dances – a line dance with two lines and one person would dance down the aisle. We would go for hours and have a blast.
I also recall that my young teenage aunts and uncles would dance rock 'n' roll at high school dances, roller rinks, and concerts.
If you are looking to add some dancing into your 1950s cocktail party, below I have included a brief description of some of the most popular dance styles on the era. Once you choose the music for your party, you can then select a dance style(s) that match. There are numerous videos available on the web that can serve as tutorials for you and your guests—or—you could even hire a dance professional as a fun way to incorporate learning the dance styles of the 1950s.
Twist
The Twist was a worldwide dance craze of the late 1950s and early 1960s and was started by Chubby Checker's number one hit The Twist. Dancers start with their feet shoulder width apart, and their arms are held out front of the body with elbows bent. The hips, torso, and legs rotate on the balls of the feet as a single unit, and to create the "twist look", dancers' feet grind back and forth on the floor, as if they are putting out a cigarette.
Twist
Rock 'n' Roll (Swing)
In the mid-1950s, rock 'n' roll emerged. Early rock dancing was mostly Swing dance variations from East Coast Swing, Lindy Hop, Jive, Jitterbug, and Boogie Woogie.
There are many examples of Swing dancing in 1950s rock 'n' roll movies, including Elvis Presley movies. Swing is danced to a medium fast 6-count, and dancers take up to three steps, with a quick, quick, slow rhythm, moving from side to side on the "1 and 2" counts on one foot (left start for men, right start for women), and then "3 and 4" counts on the other foot. Counts "5 and 6" involve each dancer completing a back rock and a forward replacement step. Swing dance includes the partners changing places a lot, through individual turns and couple's turns.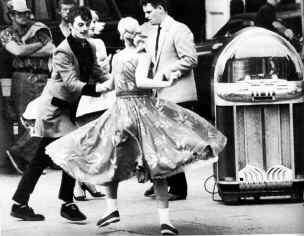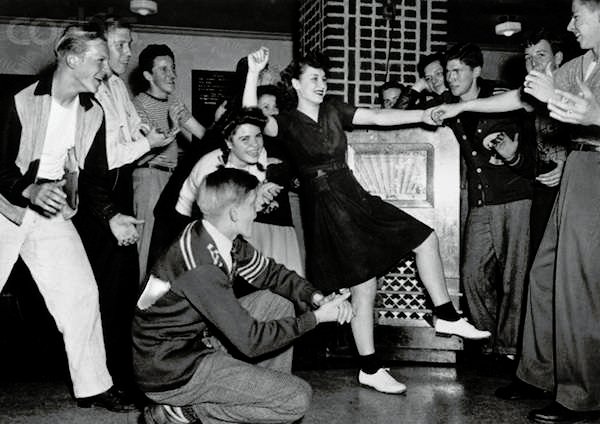 The Stroll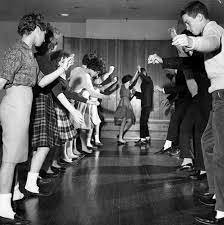 This dance became popularized on the American Bandstand TV show and involves two lines of dancers, men on one side, a space between, and with the line of women facing the men. Paired couples at the front slowly dance down the aisle between the rows of dancers.
Mambo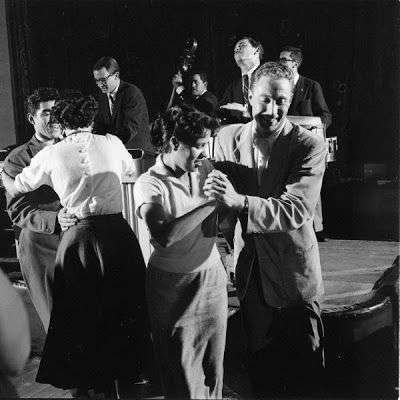 The Mambo is a Cuban dance which developed in the 1940s. In the 1950s, there was a large Mambo craze across the U.S. and Latin America.
Mambo later evolved into Salsa. Mambo dancing can be seen in such movies as West Side Story, Dirty Dancing, The Mambo Kings, and The Mask.
Mambo, like Salsa, is danced in a 4/4 time, involving three steps to the beats on the count 2—a forward step for the men, but backwards for the lady—(this step is danced as a quick beat); count 3 is a backwards step for the men, and forward replacement for the lady—(danced on another quick beat), and counts 4 and 5–where dancers bring their feet together and transfer weight (slow).
The second half of the basic step is the mirror opposite (danced, quick, quick, slow as well—encompassing counts 6, 7, 8 and 1). On count 6, men rock backwards as women rock forward; on count 7, they each have a replacement step in the opposite direction, and on counts 8 and 1, the couple completes their final change of weight step in the middle of the rocking action.
Mambo moves forward and backward, mimicking a swing set action, with three steps in each half of the basic. As the man goes forward the woman goes backward, as the man goes backward the woman goes forward. Dancers face each other in a closed hold position and allow their hips to release on the completion of each step—called settling—in a fluid Cuban motion.
Cha Cha Cha
Cha Cha is another Cuban dance that evolved from the Mambo in the 1950s and became popular worldwide. This style involves the rocking action of the Mambo steps described above, while also adding a triple step chasse in-between the front and back half of the Mamba basic, (this chasse step can be danced either via a side-together side action, or a forward or backward three step combo).
Dancers will count "two, three (for their rock and replacement step) and then count "4 and 1" (for the cha-cha-cha chasse). Like the Mambo, Cha Cha moves forward and backward on the rock steps and is often danced in closed position.
The Hully Gully
This line dance also became popular on the American Bandstand TV show. It originated in Columbus, Ohio in the 1950s. An MC calls out moves and dancers dance back and forth patterns, including side steps, kicks, right turns, crossing feet, walking turn arounds, and hand clapping.
The Madison
Another popular line dance on the American Bandstand TV show, The Madison also involved an MC calling out moves that direct dancers into traveling patterns that utilize various steps, kicks, turns, crossovers, turn arounds, and hand claps.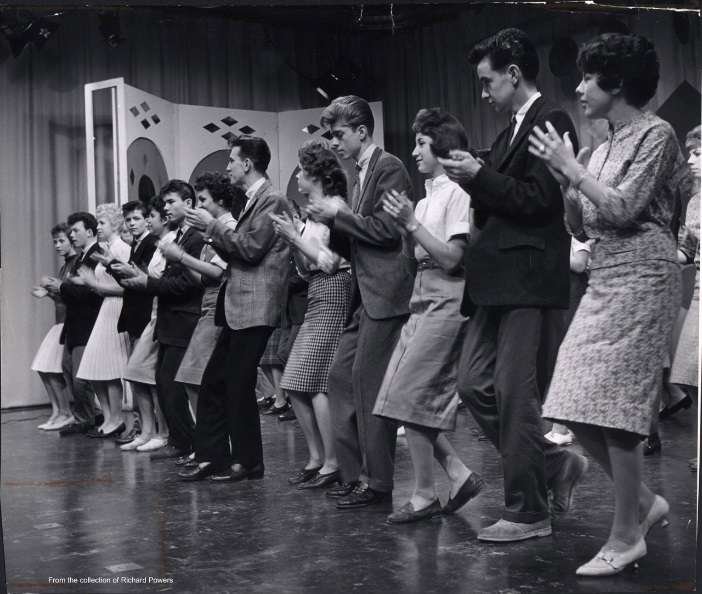 1950s PARTY GAMES
In the 1950s, when parties were organized by the host, optional games, dance, singing, cards, and board games were often included. Games are a great icebreaker to help people relax, get to know each other, and to start conversations. They create a fun-filled and memorable experience and are meant to be silly and fun.
I recall that my parents would host bridge cocktail parties and set up four or five tables of four players each. Sometimes they played Charades during those evenings, and occasionally, they incorporated door prizes.
If you are considering including door prizes for your guests, and are looking for ideas, movie tickets, gift certificates, lottery tickets, various food novelties, or gifts of wine/spirits make excellent party favors. Additionally, if you are thinking of incorporating games into your 1950s cocktail party, I have listed a few contenders below.
Hula Hoop Contest (best done out of doors)
Divide people into two or three person groups. Each group gets a hula hoop. Play music while the players work the hoops. If anyone drops his/her hula hoop, another team member gets a turn. Eventually, the top two hoopers from each group are picked to compete in the final round. Door prizes are given to the Best, Second, and Third players.
Twister Contest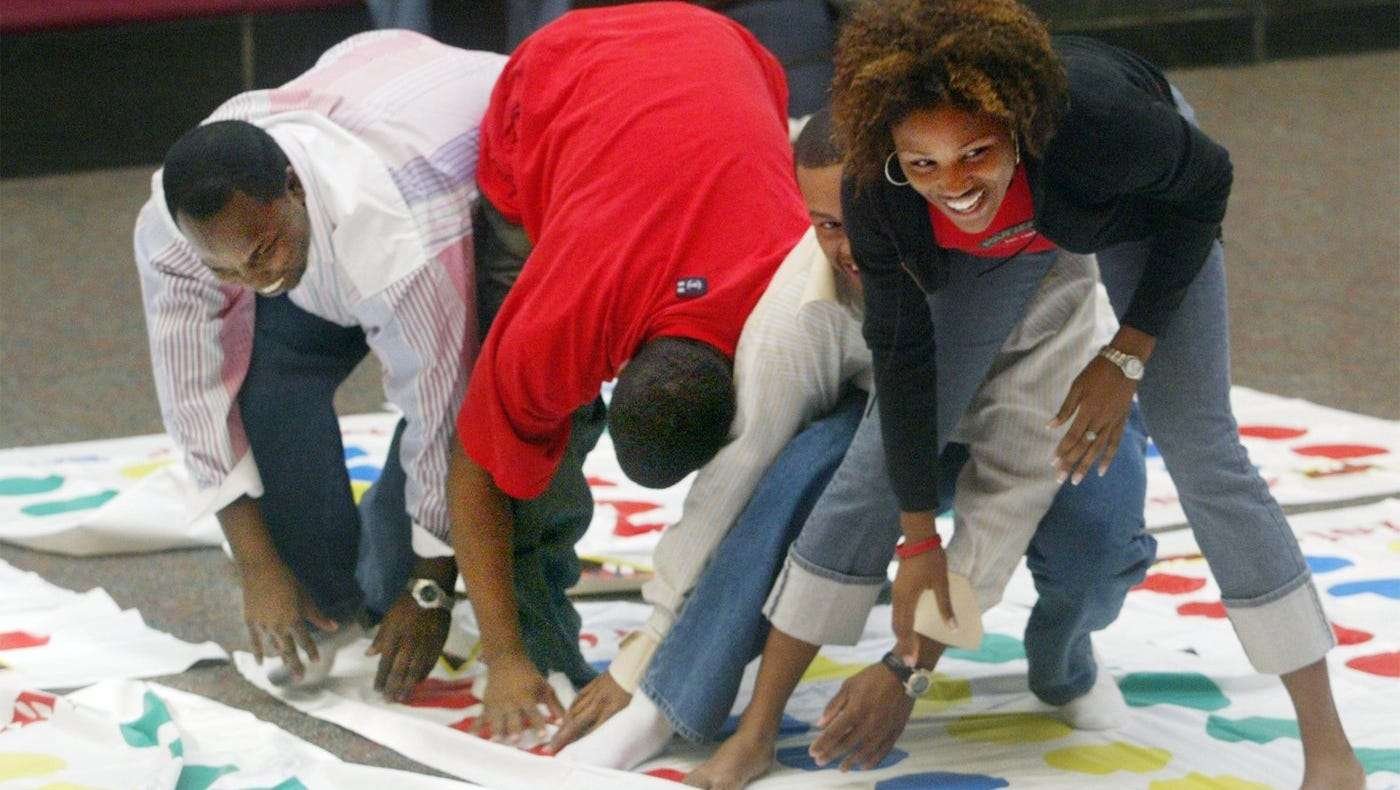 This game is played on a large plastic mat that is spread on the floor. The mat has large color circles. A spinner device lands on a color and denotes whether players must touch that color with their feet or hands.
Players must move their matching hand or foot to the right color circle. As more spins occur, players get all tangled up in hilarious positions. A person is eliminated when they fall or touch the mat with their knees or elbows. Hand out prizes for winners.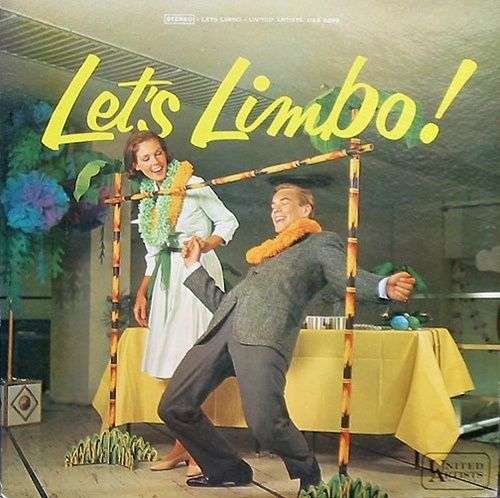 Limbo Stick
Limbo is a game of flexibility that is often played along with Caribbean music. Two people agree to hold opposite ends of a limbo stick or pole. Contestants line up and, one by one, dance underneath the limbo stick, passing to the other side. They must not touch the stick.
After each round, the stick is lowered. Play continues until there is only one person left. Give prizes for First, Second, and Third place dancers.
Hand Jive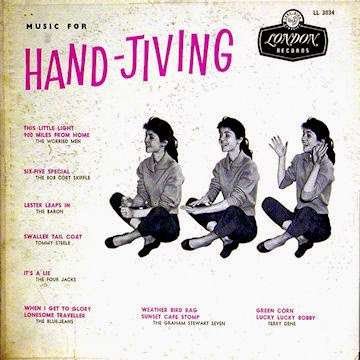 Hand jive is a dance of the hands that resembles a complicated version of patty-cake. Dancers are guided by a song to move their hands in specific slapping, clapping, crossing wrists, fist pounding, thigh slapping, and hitch hike moves, in a directed order.
You could send your guests a YouTube tutorial before the party, and then play the "Willie and the Hand Jive" song by Johnny Otis when you have your guests show off their hand jive skills. Offer prizes for participants—either based on skill or passion!
Charades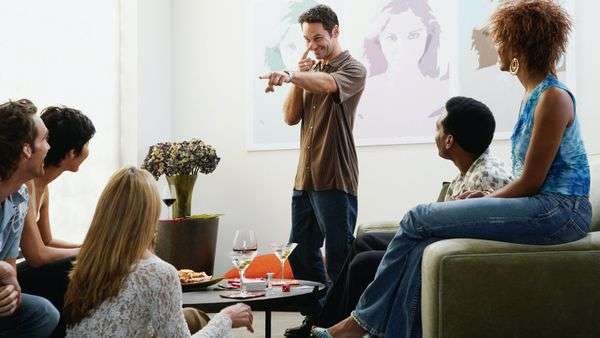 This popular word/phrase guessing game involves two teams of players who come up with known phrases or famous persons that will have to be acted out in pantomime and correctly guessed by their teammates within a set time.
Players must decide on the rules as to which phrases are allowed; for example, single words often must be nouns, and multi-word phrases would be commonly used phrases or expressions. A popular restriction is to agree that the secret phrases might be titles of books, songs, or movies.
The opposing team will show one player from the competing team, "the actor" the secret phrase for that round. This actor must mime the selected word or phrase without speaking. This rest of his/her teammates do not know the secret phrase. If the actor's team can guess the phrase, that team scores a point. If they do not correctly guess that word/phrase during the allotted time, no point is awarded for that round. Teams take turns, and every team member takes a turn as the actor. Scores are kept, and play continues until all players have a chance to act at least once.
Common signals actors and teams use to pantomime the word(s)/phrases:
Holding up the number of fingers for the number of words
Holding up the Index finger to single the first word, etc.
Placing the number of fingers on the arm for the number of syllables in the word
Touching his/her earlobe to indicate that the word "sounds like" the next action
Bringing their hands closer to signal a shorter word
Moving their hands apart to indicate more of a word/idea
Motioning the "come here" gesture to encourage teammates to keep guessing
Touching his/her nose and pointing to the person for a correct guess
Name That Tune
At your 1950s cocktail party, this game could be played to a popular 1950s or 1960s songs. The first person to blurt out the correct song title gets a point. Another point is awarded for the person who names the correct singer of that song. Finally, a third point is awarded to anyone who can name the movie or musical the song came from.
Twist
If you have guests who don't mind having a dance off, consider a twist dance contest. Put on Chubby Checker's "The Twist", and hand out prizes for the First, Second, and Third place twisters. (See Dances section above). This is also a great way to work off some of the party food!
1950s COCKTAILS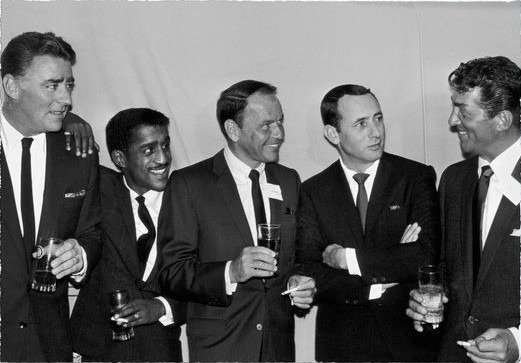 The traditional 1950s cocktails served at parties would include the: Martini (made with gin or vodka), Manhattan, Old Fashioned, Tom Collins, Whisky Sour, Stinger, Mojito, Mint Julep, and Sidecar. Specialty cocktails were also popular: Daiquiri, Margarita, Bloody Mary, and Pina Colada. Optional party drinks include: beer, wine, and champagne (depending on the occasion).
Punch Bowls:
If you prefer a one-stop-shop for your cocktail party, consider setting out a punch bowl with your favorite spiked or un-spiked concoction. Your punch bowl set up should include a ladle and matching glasses. Guests can serve themselves.
Popular punches of the 1950s include:
Planter Punch – rum, curacao, bitters, grenadine, lemon juice, pineapple juice, lime juice, orange juice, and soda water.
Pim's Cup – Pim's, lemonade, orange slices, lemon, apple.
Champagne Punch – champagne, brandy, rum, curacao, pineapple juice, lemon juice, and maraschino cherries.
Gin Punch – gin, ginger ale, orange juice, lemonade, pineapple juice, lime juice, strawberries, and sugar.
Mimosa – champagne and orange juice.
Home Bar
Every cocktail party should include a designated space for a home bar where drinks are made and offered to guests. Your bar should be well equipped and well stocked.
Common bar utensils: jigger, bar spoon, strainer, cocktail shaker, squeezer (for fresh fruit), sharp knife, cutting board, ice bucket, tongs, bottle opener, corkscrew, drink pitcher, stirrer(s), and an ice pick.
Needed drink accessories: beverage napkins, drink straws and/or mixers, as well as glass wear: martini, rocks, tumbler, highball, and snifter glasses.
Alcohol: your bar should include plenty of bourbon and/or rye whisky, gin, vodka, rum, tequila, and brandy/cognac, and potentially beer, wine, and champagne.
Mixers and Sweeteners: sugar cubes, vermouth, bitters, soda water, simple syrup, orange juice, lemon juice, tonic, coco cola, 7-Up, ginger ale, and orange liqueur.
Popular Garnishes include: lemons, limes, and oranges (wedges and twists), cocktail cherries, pearl onions, pickles, celery, and olives (stuffed or unstuffed).
Below, I am including the recipes to many of the popular cocktails of the 1950s. Happy mixing!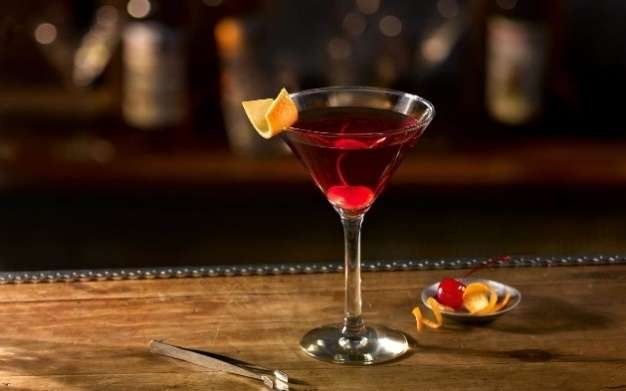 Manhattan
This well-known and fashionable drink is rich with strong flavors. The Manhattan cocktail originated in 1870s in New York and became popular with the Sinatra Rat Pack. More recently, it appeared on the Mad Men TV show.
Recipe:
2 parts rye whisky or bourbon or Canadian whisky
1 part sweet red vermouth
1 dash Angostura bitters
Mix with ice, stir, then strain into a chilled martini glass.
Garnish with a cocktail cherry.
Martini
Originating in the 1860s, Martinis may very well be the best known cocktails to this day. This widely popular drink can be made with either gin or vodka. In the 1940s the vodka to vermouth ratio was 4 to 1; by the 1950s it was 6 to 1.
The vodka martini was popularized in James Bond films, (shaken not stirred) and was also a regular drink on the recent Mad Men TV show. Always a classy choice, consider serving up these beauties at your party!
Recipe:
6 parts gin or vodka (or old traditional 4 parts)
1 part dry vermouth
Mix in a shaker with ice, then strain into a chilled martini glass. Garnish with a lemon twist and/or olives (stuffed or un-stuffed).
Old Fashioned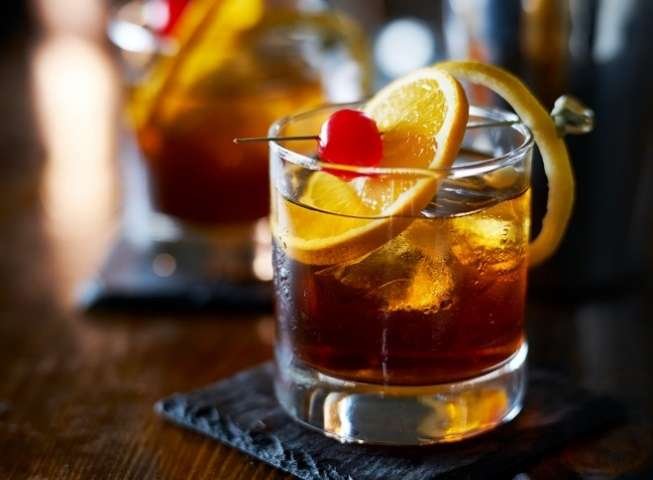 This iconic cocktail that originated in the 1830s. Making a proper old fashioned is considered an art form. This is the Don Draper cocktail of choice on Mad Men.
Recipe:
2 parts bourbon or rye whiskey
1 sugar cube
A few dashes Angostura bitters
A few dashes of water
Muddle sugar, bitters, and water in an old fashioned glass. Fill with ice and whisky, then stir. Garnish with an orange slice and a cocktail cherry.
Stinger
In the 1890s,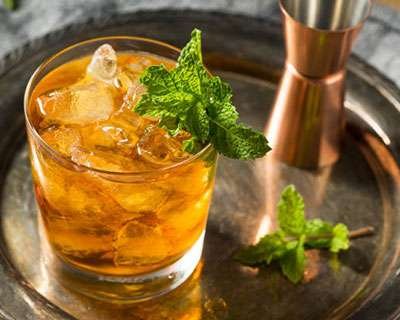 the Stinger became a popular 'society' cocktail of the upper class in New York. Billionaire, Reginald Vanderbilt popularized the drink, and since its inception, the Stinger has appeared in many novels and movies.
Recipe:
3 parts cognac or brandy
1 part white crème de menthe
Mix with ice, then strain into a chilled martini glass. Garnish with mint leaves.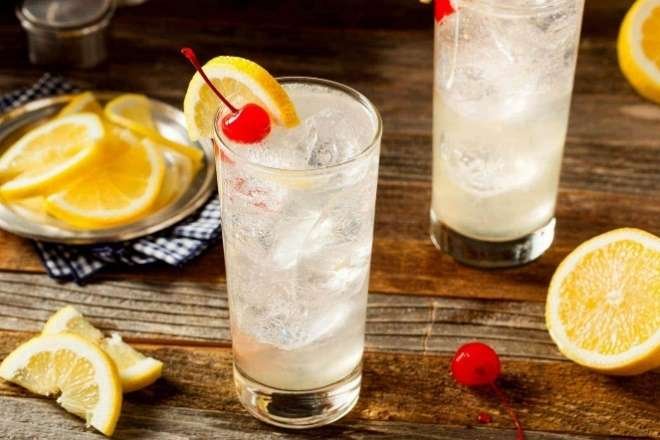 Tom Collins
This cocktail became popular in the 1880s, in the U.S., England, France, and Germany.
Recipe:
3 parts gin
2 parts lemon juice
1 part sugar syrup
4 parts soda water
Mix all ingredients in a tumbler glass and serve over ice. Garnish with a lemon slice and a cocktail cherry.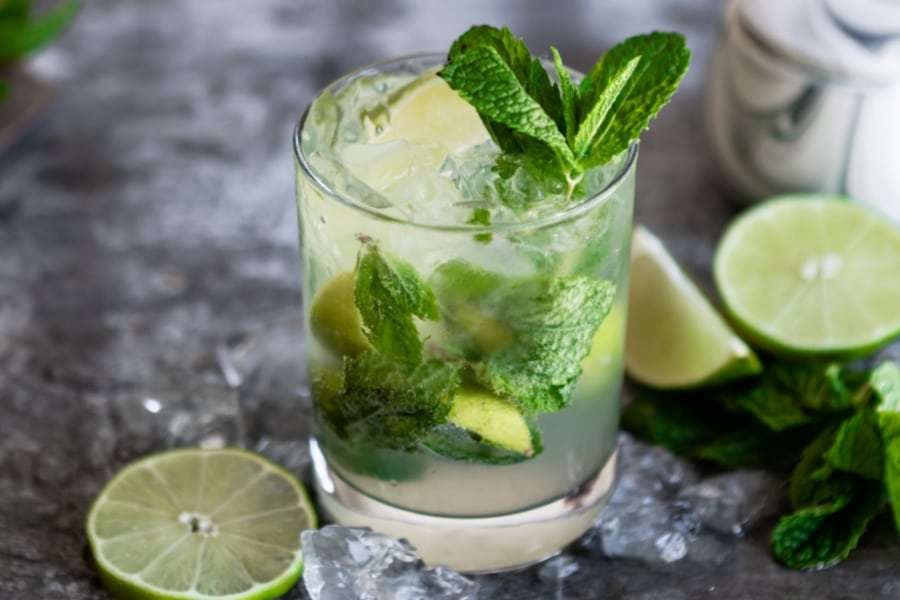 Mojito
Another favorite Cuban drink of Ernest Hemingway, the Mojito is a perfect blend of of rum, sugar, and lime.
Recipe:
2 parts rum
1 part fresh lime juice
6 mint sprigs
2 teaspoons of sugar
slash of soda water
Muddle mint, lime, and sugar together, either with a mortar and pestle, or with a teaspoon in the bottom of the serving glass. Leave the mixture to cure. Pour the rum and lime juice into a shaker, then mix. Pour the contents into a rocks or tumbler glass on top of the rum and sugar, stir. Add a splash of soda (or not) to taste. Garnish with fresh sprigs of mint and a slice of lime.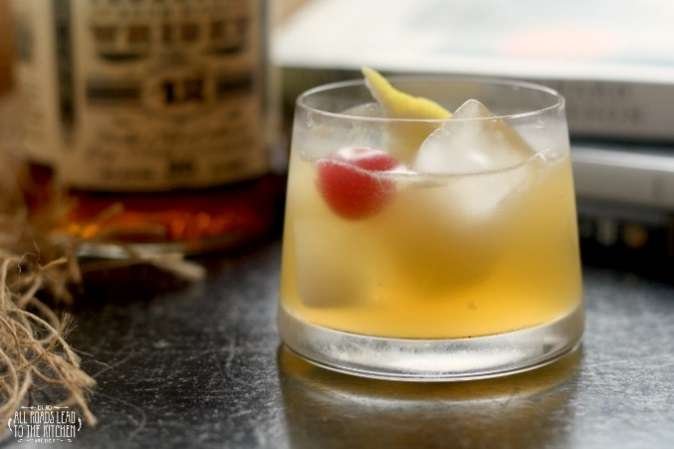 Whisky Sour
This drink originates in the 1870s and was popular in North and South America.
Recipe:
3 parts bourbon
2 parts fresh lemon juice
1 part sugar syrup
Shake with ice, strain into an old fashioned glass.
Mint Julep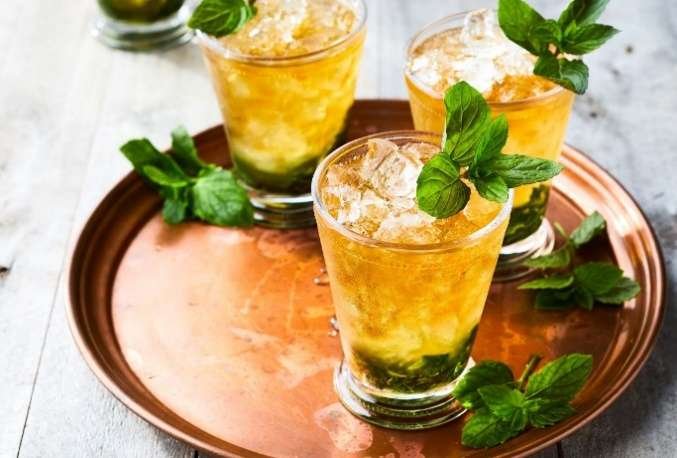 The drink has been the signature cocktail of the Kentucky Derby since 1932.
The drink originated in the 1780s and was a popular drink throughout the southern states.
Recipe:
3 ounces bourbon
4 mint sprigs
1 teaspoon powdered sugar
2 teaspoon water
Muddle mint, sugar, and water in a highball glass. Fill with cracked ice, add whiskey, and stir. Garnish with a mint sprig
Side Car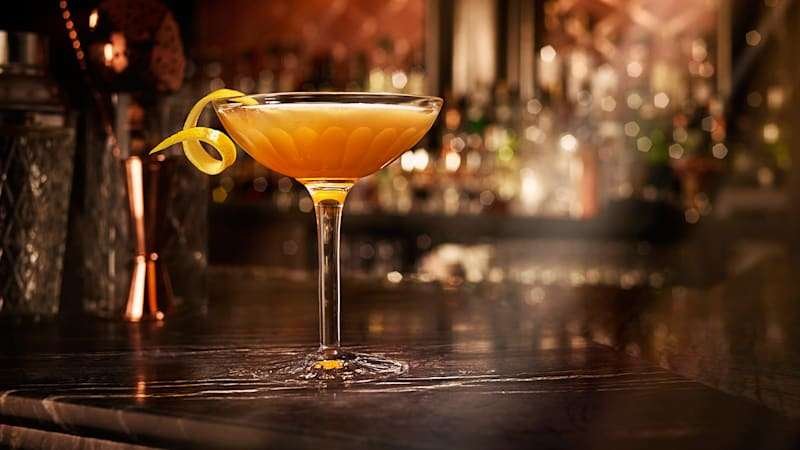 The side car developed in London and Paris after World War One; this drink is often served with Oysters Rockefeller.
Recipe:
2 parts cognac or brandy
1 part orange liquor
1 fresh lemon juice
Shake ingredients with ice, then strain into a chilled martini glass.
1950s PARTY FOOD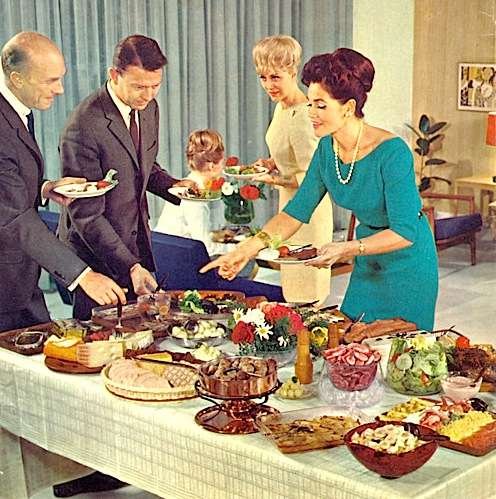 Cocktail party appetizers and entries were elegant preparations meant to impress guests with a mix of rich gourmet delicacies and tasty comfort food to compliment the cocktail beverages. Many 1950s hors d'oeuvres were influenced by French cuisine due in part to the American fascination with French style and culture at the time.
The included pictures show examples of the wide array of main course options offered at cocktail parties, and a glimpse at a more simplified sandwich, coffee, and dessert cart option.
Reviewing the following list may help you to think about how to design your authentic 1950s cocktail party menu. You will notice that many of these dishes are still served at parties today. To find further menu ideas, it is helpful to look at cookbooks of the era, such as those offered by Better Homes and Gardens, Good Housekeeping, James Beard, Joy of Cooking, Julia Child, and Betty Crocker.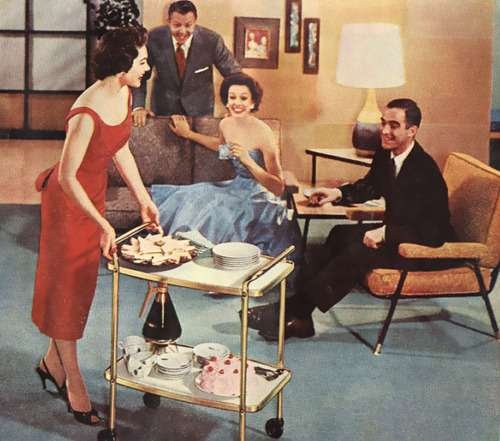 Note: non-gluten, vegetarian, non-dairy, low sugar, or low fat is your choice.
Let's start our foray into 1950s food with a look at the (not so humble) salad options.
Salads – popular party salads of the Fifties included: cucumber salad, Italian antipasto, Greek salad, Ambrosia salad, three bean salad, potato salad, coleslaw, and melon ball salad, with staples like a Jello mold with fruit, vegetable tray, fruit tray, also offered.
Below, I have included a closer look at the ingredients of several of these popular salads:
Cucumber salad – peeled and sliced cucumbers, sliced onions, sour cream, vinegar, dill, salt, pepper to taste
Antipasto salad/tray – tomato, cucumber, olives, marinated artichoke hearts, roasted peppers, grilled zucchini, cheeses, Genoa salami, prosciutto
Greek salad/Greek tray – hummus and tzatziki dips, pita bread, feta cheese, grape tomatoes, cucumber, kalamata olives, marinated artichoke hearts, roasted red peepers, pepperoncini, and vegetarian stuffed grape leaves
Melon ball salad – scoop out balls of watermelon, cantaloupe, honey dew melon, put the melon balls in the carved out watermelon rind
Beyond salads, many other vegetable, meat, and cheese dishes were popular at 1950s cocktail parties, such as those listed below:
Vegetable Vinaigrette – cooked vegetables in a vinaigrette. Vegetables can include asparagus, green beans, onion, peppers, mushrooms, artichokes, cauliflower, and others. The vinaigrette uses ½ cup olive oil, 2 TBL vinegar, 2 TBL lemon juice, 2 tsp dill, 1 tsp paprika, 1 ½ tsp sugar, ½ tsp salt, and ½ tsp dry mustard. Increase the measurements for large bunches of vegetables. Ingredients can be suited to taste. Serve chilled.
Skewers – bamboo skewers can be grilled or served chilled using ingredients such as pineapple, grapes, pears, apples, figs, dates, strawberries, melon balls, mandarin orange slices, olives, ham and pineapple, cheese and salami or ham, shrimp, sausage, or other items.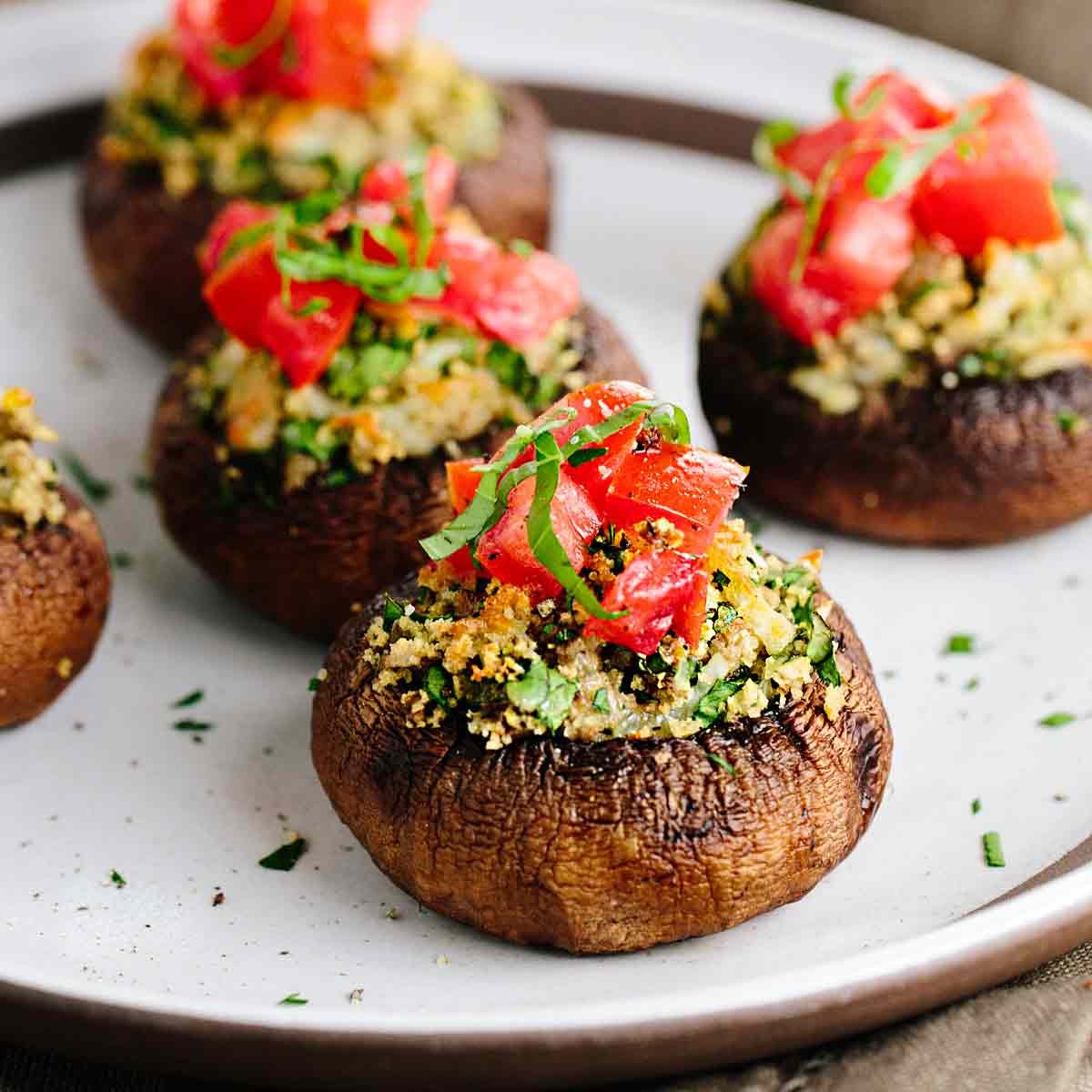 .
Stuffed Mushrooms – baked or broiled mushroom caps which can be stuffed with any combination of cheese, bacon, artichoke, crab, breadcrumbs, spinach, onion, pecans, sausage, clams, oysters, or other items that the host/hostess desire
Prosciutto Wraps – thinly sliced prosciutto, served over or along with melon balls, pineapple, figs, dates, pear, apple, peaches, apricots, nectarines, shrimp, mussels, grilled asparagus, goat cheese, mozzarella, or other items.
Spinach-Artichoke Dip – a baked dip with chopped spinach, chopped artichokes, mayonnaise, cream cheese, sour cream, parmesan, and one package of Knorr Vegetable Recipe Mix. Serve with pita chips, crackers, or bread wedges.
Fondue – a hot melted cheese dip served in a fondue pot. Food items are dipped into the cheese dip via long stemmed forks. Cheeses most often used include Swiss, gruyere, Emmenthaler, and fontina. Items to dip can be cubes of bread, fruit, cooked vegetables, meatballs, cocktail sausages, or other items.
Canapes – an appetizer made with a variety of savory items and/or a mousse-like spread placed on a small piece of rye or pumpernickel bread, puff pastry, cracker, or cucumber slice. Usual canape items often include: caviar, crab, lobster, lox, smoked salmon, foie gras, liver pate, anchovy, truffles, sautéed mushrooms, smoked oysters, prosciutto, and/or cheeses. Items would be placed on a crème or cheese spread and often garnished with capers, sliced cucumber, crumpled hard-boiled egg, or chopped onion.
Bruschetta – grilled bread topped with olive oil, chopped tomatoes, fresh basil, mozzarella, prosciutto (optional), grilled peppers and onions.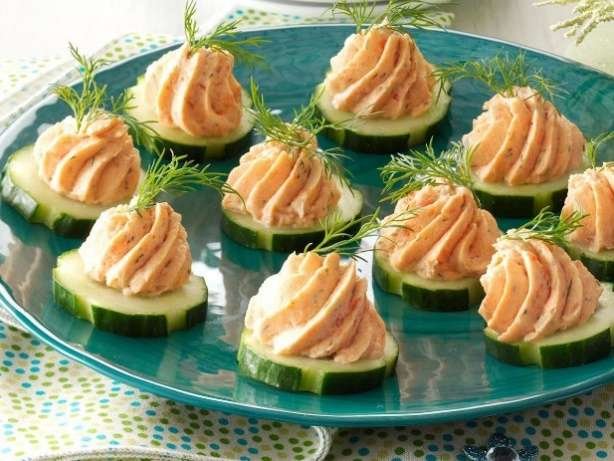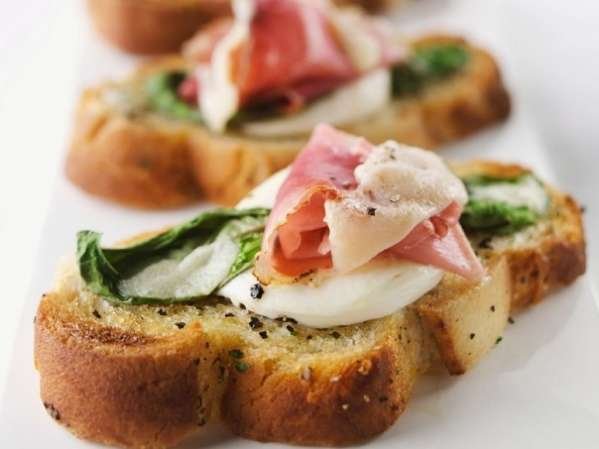 Smoked Fish – smoked salmon, sturgeon, trout, whitefish, tuna, or Lox are popular. Serve chopped, shredded, or sliced along with cucumber slices, saltines (or other crackers), lemon wedges, capers, minced red onion, horseradish, and Tabasco (or other favorite hot sauce). Cream cheese is customarily served with lox.
Crab Dip – This dip is prepared with cream cheese and lump crab meat. Additional items may include artichoke, onion, peppers, parmesan, and other. Once baked, serve it hot or cold.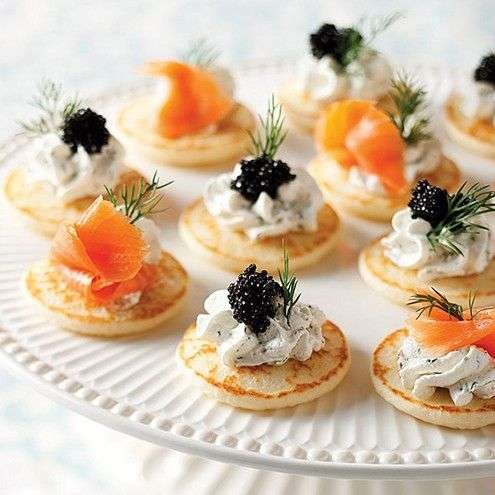 Caviar – is a considered a gourmet delicacy made of salt cured roe (eggs) of sturgeon, salmon, trout, cod, or other fish. Perhaps, surprisingly, caviar is neither fishy or briny.
The best caviar is considered sturgeon from Russia or Iran. Fine caviar is best served chilled and eaten alone. Most often caviar is served on crème fraiche (buttermilk and heavy cream), over a blini or toast point, and garnished with minced onion and crumbled hard boiled eggs. Make sure to use plastic spoons when serving and enjoying caviar, since metal changes the taste. Caviar goes well with chilled vodka or champagne.
Oysters Rockefeller –In a saucepan, mix 1 cup chopped cooked spinach, ¼ cup breadcrumbs, 1 TBL parsley, 1 TBL minced onion, ½ tsp salt, ½ tsp pepper, ¼ tsp basil, ¼ tsp paprika, ¾ cup butter, dash cayenne. Heat through. Spoon one tablespoon of spinach mixture atop each oyster, (serve 24 oysters in the half shell) and bake at 450 degrees for 10 minutes.
Salmon Mousse – flake, debone, and strain one 15 ½ oz. can of salmon. Reserve the salmon fluid and heat it along with two gelatin envelopes. Add 1 ¼ cup of mayonnaise, ¼ cup tomato sauce, 2 TBL of lemon juice, 2 tsp Worcestershire, and partially chill. Fold in salmon. ½ cup chopped celery, 2 chopped hard boiled eggs, 2 TBL chives, ¼ tsp pepper. Fold in ½ cup whipping cream, then pour into a mold. Chill until firm. Unmold mousse unto a tray and serve with crackers and cucumber slices.
Shrimp Cocktail – cook, peel, and devein shrimp. Display them on a serving tray or chilled bowl and serve with lemon wedges and cocktail sauce. You can buy pre-made cocktail sauce, or make your own with chili sauce, catchup, horseradish, Tabasco, and lemon juice.
Swedish Meatballs – In a mixing bowl, add 1 pound of ground beef, 1 ½ cup breadcrumbs, ½ cup dry sherry, ¼ tsp nutmeg, ½ tsp salt, 1/8 tsp pepper.
Shape into 40 meatballs, coat in flour, brown in a skillet with 2 TBL oil, then drain on paper towel. To the skillet add 2 tbl butter, 1 tbl flour, one 10 ½ oz. can condensed beef consume, and ¼ cup heavy cream. Add meatballs and 1 Bay leaf. Simmer for 15 minutes and serve on a hot chafing dish.
Foie Gras – is considered a French culinary delight. It is specially prepared goose or duck liver pate. Foie gras is usually served on French baguette slices and can be garnished with figs, current jam, chutney, Dijon mustard, balsamic vinegar, or other items. It is often served with champagne or Sauterne wine.
Sausage en Croute – cooked Italian sausages wrapped in pastry dough and baked. Sliced into bite size portions and serve on a tray.
Liver Pate – sauté 1 pound of chicken livers, 2 tbl minced onion, and a little butter for 5 minutes. Add ¼ cup of dry vermouth or dry sherry, reduce heat, simmer for 5 minutes, cool. Blend mixture in a blender with ½ cup softened butter, ½ tsp salt, ¼ tsp dry mustard, ¼ tsp hot sauce. Spoon into a dish and refrigerate until chilled and firm. Serve on crackers.
Bacon Wraps – wrap your chosen ingredients in bacon slices, and broil along with crab, shrimp, chicken livers, sausage, olives, figs, dates, apricot, pineapple, fried oysters, water chestnuts, or other items.
It's customary to offer your guests other simple snacks as well as an array of non-alcoholic beverages.
Snacks – salted snacks used in the 1950s included: Lay's potato chips, Ruffles, Frito's corn chips, Pretzels, Chex Mix, Better Made Potato Chips, and Popcorn.
Beverages in the 1950s included: Coca Cola, Pepsi, 7-Up, Squirt, Canada Dry Ginger Ale, Vernor's Ginger Ale, Faygo Pop, Hires Root Beer, and Royal Crown Cola.
Dessert Coffees (Coffee served with liqueur) When it's time to serve dessert, it was typical in the 1950s to offer your guests coffee. You may decide to serve the beverage as is or to take you hosting to the next level by offering your guests a choice of several dessert coffee options, such as: orange liqueur, Benedictine, coffee liqueur (such as Kahlua), chocolate mint liqueur, crème d'almond, Frangelico, or Amaretto
Desserts – And finally, no cocktail coffee service would be complete without an accompanying dessert offering. Popular desserts in the 1950s included: pineapple upside down cake, angel food cake, Bundt cake, pound cake, cheesecake, and Rice
Krispie squares; these favorite sweets are still common today.
IN CONCLUSION
The post-war era of the late 1940s, 1950s, and early 1960s is called the Golden Age – it set the Gold Standard for style, music, dance, art, Broadway, and Hollywood. The era generated some of the most iconic figures in history. It was full of class, swagger, and style, which is unlikely to be ever seen again.
Have some fun and take a trip back in time to an age of eloquence.
A Madmen lounge theme cocktail party will get you into the feel and attitude of this wonderful time in America. Dress to impress, dance, sing, joke, talk, eat, and have a cocktail on me.
ADDENDUM
Sources That Can Assist You With Cocktail Party Ideas
Cocktail Parties
Entertaining, Martha Stewart, 1998.
Cocktail Parties, Ben Masters, Georgeanne Brenan, 2000.
The Everything Cocktail Parties and Drink Book, Cheryl Charon, 2000.
Cocktail Parties For Dummys, Jaymz Bee, Jan Greger, 1997.
1950s Fashion and Vintage Clothing
Online Fashion: Esquire, Gentlemen's Journal, Gentlemen's Quarterly, Marie Clare, Vogue, Harper's, Vanity Fair,
Online Vintage Clothing: Hanna Nikole Women's Vintage, Etsy, ebay, Amazon, Unique Vintage, Vivien of Holloway, Stop Staring, Pinup Gil, Bette Pagr, Hell Bunny, Collectif Clothing, Raise the Rebel, Doll Factory, Rockabilly Rules
Fashionable Clothing, Sears Catalogs: Mid 1950s, Tina Skinner Bapsc, 2002.
Everyday Fashions of the 1950s From the Sears Catalogs, Joann Olian, 2002.
Fabulous Fashions of the 1950s, Ming-Ju Sun, 2015.
Vintage Fashions for Women: The 1950s and 60s, Kristina Harris, 1997.
1950s Women's Magazines
The American Home

Cosmopolitan

Family Circle

Glamour

Good Housekeeping

Harper's Bazaar

Ladies Home Journal

Life

Look

McCall's

Pageant

Photoplay

Practical Householder

Reader's Digest

Redbook

Saturday Evening Post

Vogue

Woman's Day

Woman's Home

Woman's Journal
1950s Décor
Online: Retro Planet, 1950s Glam, Vintage Life, Interior Design
1950s Magazines: Time, Life, Better Homes and Gardens, Post, Look, Good Housekeeping, Practical Householder, Interior Design, The American Home, Living
The 1950s American Home, Diane Boucher, 2013.
Inspiring Interiors: 1950s, C. Eugene Moore, 1998.
Mid-Century Modern: Furniture of the 1950s, Cara Greenberg, 1995.
House & Garden: 1950s House, Catriona Gray, 2015.
1950s Movies
Online: IMDB, Allmovie, Rotten Tomatoes, Wikipedia
Movies of the 1950s, Jurgen Muller, 2005.
The Great Movies, Roger Ebert, 2003.
1950s Jazz and Lounge Music
Online: Billboard, Rolling Stone, Down Beat, Dance, Allmusic, Spotify
The Essential Album Guide to Martini Music, Steve Knopper, Visible Ink, 1998.
The Jazz Singers: The Ultimate Guide, Scott Yanow, Backbeat, 2008.
Lounge Music, Hal Leonard, 1997.
1950s Food
Online: Food Network, Bon Appetit, The Heritage Cook, The Spruce Eats
Betty Crocker Cook Book, 1950.
Better Homes and Gardens Cook Book, 1951.
Complete Cookbook for Entertaining, James Beard, 1954.
Good Housekeeping Cook Book, 1958.
The Joy of Cooking, 4th Edition, Irma S. Rombauer, 1951.
Bartender Guidebooks
Online: Chilled Magazine, Distiller Magazine, Imbibe Magazine, Liquor.com, Punch Magazine, Spirited Magazine
The Bar Book: Elements of Cocktail Technique, Jeffrey Morganthaler.
The Ultimate Bar Book, Mittie Hellmich.