My first childhood encounters with viewing Tango involved seeing snippets of the dance in movies, TV programs, and commercials. The typical depiction involved a couple clutching onto one another, in an over-extended and dramatic promenade hold, who then Tangoed across their kitchens or living rooms—supposedly the embodiment of spontaneity and desire—sometimes, they did so with the cliché' rose (or carnation) clenched between a partner's teeth.
One such TV program was the Addams' Family; I recall that Morticia and Gomez favored Tango, and in one 1964 episode, Gomez even ventured to teach Lurch how to "draw the senorita closer." If you fancy a laugh, check out that farce. Hats off to Ted Cassidy for his stilted performance.
Overall, these TV commercials and programs all too often portray Tango in a solely comedic or broad stroke manner. This type of stereotypical Tango insertion, whose intent is to merely posture passion or "sell" desire for dishwashing liquid, life insurance, or orange soda, does not do justice to the dance or people's love affair with it.
It's true that such moments in advertising or entertainment may garner a chuckle, and yes, most viewers "get" the message that Tango is supposed to "equal" passion. However, the true passion of the dance falls flat in such unskilled renditions.
Throughout the years, I have been lucky enough to attend extraordinary professional Tango performances, such as Forever Tango or Tango Pasión, and as evidenced in this article, there have been an increasing number of movies that showcase topnotch Tango dancing. It seems, that I am not alone in being captivated by Tango in all its forms.
I heard my first Tango songs in the ballet studio. Whether practicing barre work, turns, or combinations across the floor, Tango's staccato rhythms rooted me to the present moment, making me conscious of the movements of my body and the feel of my breath. As I ventured into learning, then teaching Ballroom dance, Tango became a lifelong interest for me.
In fact, my feelings about dancing Tango are best summed up in the wistful statement my beloved maternal grandmother, Kazimiera shared with me:
"For just once in my life, I would like to dance the Tango with someone who really knows how!"
Absolutely! My grandmother was right—Tango is electric. A joy and power course through Tango dancers when an excellent connection is established, and the music itself invites transformation; we suddenly become one with the Tango and are swept away by the staccato crashes and plaintive melodies. Tango offers a world of expression to be explored.
After watching or co-creating any stellar Tango performance, I believe many people may share my grandmother's appreciation and wistfulness for the dance. In her honor, and to applaud Tango dancers who really know how, let's take a close look at a few great Tangos!
Tango, film
I my opinion, Tango is the best tango movie ever made. This film stands as a triumph by Spanish director Carlos Saura, who directed similar movies on flamenco. Saura is a master of blending drama, music, and dance to blur the lines between fiction on the stage/film and reality. He creates characters and choreography that express a full range of emotions and intent.
Set in Buenos Aires, Argentina, the movie is a sequence of tango music and dance scenes that loosely tell the story of a tango dancer and film director who is on a quest to create the ultimate tango movie. His estranged wife, and principal dancer, has left him, and he soon falls in love with the girlfriend of the film's chief investor. What ensues are dramatic and complicated engagements both on and off the dance floor. The choreography in Tango captures these characters' erupting minefield of emotions.
Saura combines incredible set design, heightened drama, and some of the top tango dancers, choreographers, singers, and musicians in Buenos Aires. Throughout the film, song and dance scenes mirror plot development. Overall, Tango is an example of spectacular art cinema by one of the leading directors in the world.
Film Details: Tango, 1998, Argentina-Spain, director: Carlos Saura; Cast: Miguel Angel Sola, Juan Carlos Cops, Carlos Rivorola, Mia Maestro, and Cecilia Narova.
Dance: "Trio de tango"
Dancers: Carlos Rivorola, Mia Maestro, Cecilia Narova
Music: Tango del atardecer, by Lalo Schifin
Dance video link
This number opens with both women, Laura, the estranged wife, and Elena, the new tango protégée, about to rehearse a number. They stare at their partner like he is prey while director Mario looks on.
A notable moment in this number is the intro, when the trio began to circle one another, first in one direction, then another. The tension this opening creates is palpable with synchronized cat-and-move movements that convey desire, competition, and jealousy.
The tension between the women grows in intensity as they vie for both their partner's and Mario's attention. Saura brilliantly utilizes choreography to show character development, juxtaposing Laura's maturity, ferocity, and seductiveness with Elena's youth, hunger, and allure. The male dancer has his attention drawn to first one, then the other woman—back and forth—as tension builds, he cannot seem to choose and dances with both women in tandem.
These love-triangle moments, where all three dancers are connected, are the most complicated and incredible choreography of this number and truly are a joy to watch.
In addition to the stunning dancing throughout the number, Saura also makes sure that the camera catches glimpses of Mario who watches as the dance in front of him expresses the intensity of the entangled relationships he is trapped in.
With this dance, Saura shows that these four main characters in Tango are driven, passionate, talented, and possessive, and he showcases the costs of such intensity—witnessing this number, we know that all parties concerned will be left bleeding from love's sharp edges.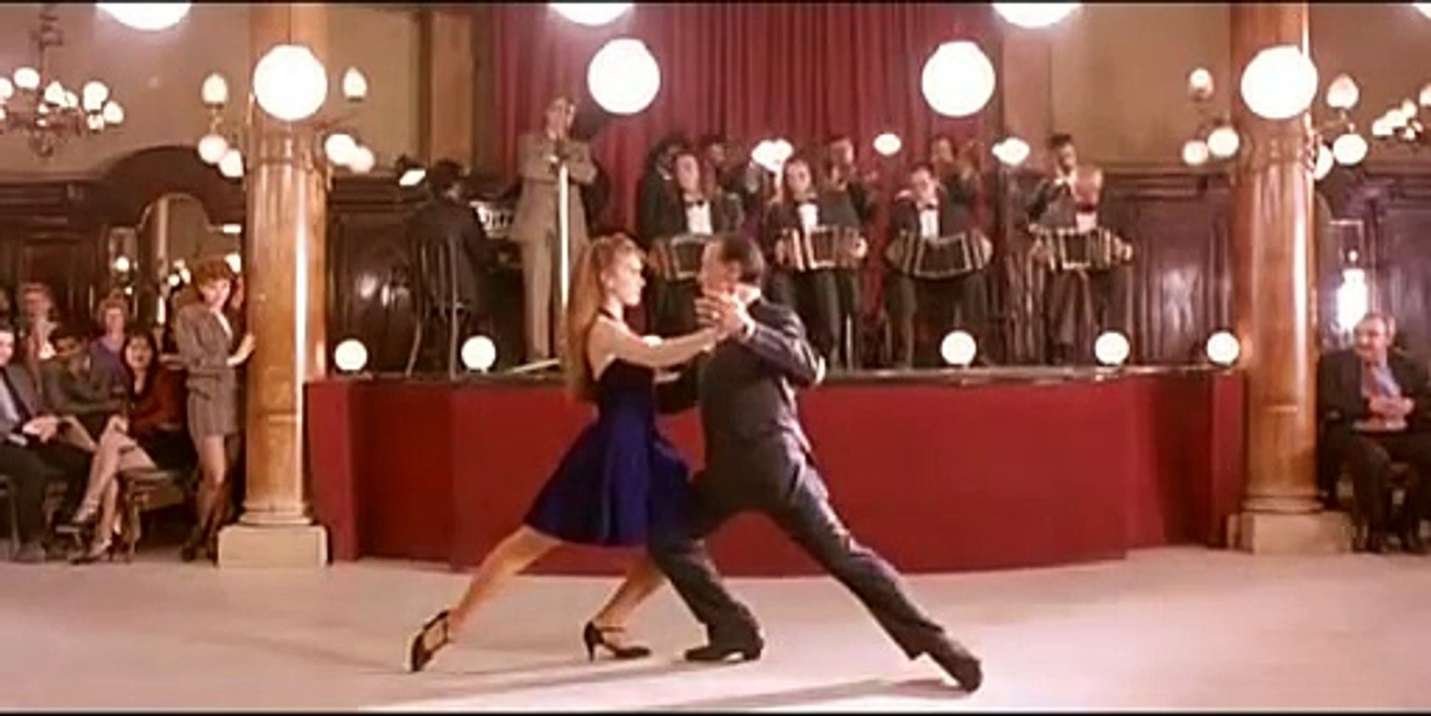 Dance: "Tango Recueros"
Dancers: Juan Carlos Copes, Lorena Yacono
Music: Recuerdo, by Osvaldo Pugliese
Dance video link
What I appreciate most about this Tango number is the absolute connection and precision of lead and follow. Their eye contact alone is compelling—it never wavers.
It is refreshing to see this couple taking their time to enjoy one another and the dance, unlike the previously explored dance number, "Trio de tango," where characters were fiercely vying for attention and status—here, we see the softer side of tango.
Many Argentine Tango dancers will be familiar with this concept, yet for others who are newer to the dance style, Tango is referred to as a 'conversation.' Like any good conversation, there should be give and take, attention paid, and room for personalities and moods to be expressed between a couple.
This Tango is an example of two top quality dancers who are communicating with nuance and skill. Their mutual affection for the dance and one another is a pleasure to witness. Yes, Grandma, this is most definitely a: "For once in my life…" moment.
Scent of a Woman, film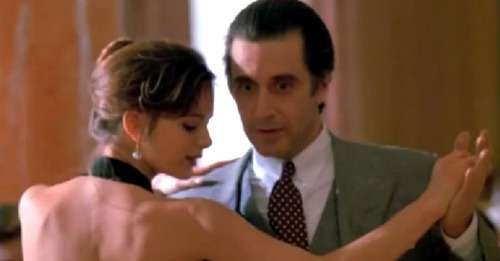 Scent of a Woman is a wonderful and charming movie made popular by a great plot, incredible acting, and its underlying themes. It is a tour de force by Al Pacino, who won an Oscar for the role. The movie centers around the relationship between a working class prep school student Charlie, played by Chris O'Donnell, who for extra income, takes on a short term job accompanying a blind, retired Lt. Col. Frank Slade, played by Al Pacino.
Frank has an extremely difficult personality, but Charlie needs money to afford the travel home for Thanksgiving break, so he endures Frank's antics. It turns out that Frank has planned one last weekend hurrah, and he takes Charlie on an unexpected whirlwind trip to New York City.
On the first evening at the hotel Frank has booked, Charlie and he head to the restaurant for dinner where Frank, who we gather is quite the ladies' man, asks a woman, played by Gabrielle Anwar, to dance a tango while she waits for her date. Viewers watch, along with Charlie, in disbelief as a blind man dances with a shy, young woman who does not know how to Tango. This entire scene is charming and very well acted. Their tango has become a movie favorite—both for its quality and for the triumph we witness these two characters achieve.
Unbeknownst to Charlie, the Colonel views himself as a burden to his niece, and he has lost the will to live. Despite many funny scenes over the weekend, on the final night of the weekend, Charlie intuits Frank's underlying depression, and he prevents the Colonel from taking his own life.
Throughout the movie, through Frank, Charlie learns to let loose a little, and by helping Charlie embrace life more fully, along with aiding the boy at school (where he is being unfairly bribed then threatened with punishment to snitch on other boys who pulled a prank on the headmaster), Frank regains the will to live.
Overall, Scent of a Woman is a well-acted and moving film—and its tango scene is a shining dance moment not to be missed.
Film Details: Scent of a Woman, 1992, director: Martin Brest; cast: Al Pacino, Chris O'Donnell, and Gabrielle Anwar.
Dance: Por Una Cabeza
Dancers Al Pacino, Gabrielle Anwar
Music: Por Una Cabeza, Carlos Gardel
Dance video link
Al Pacino and Gabrielle Anwar's tango has become iconic, synonymous with carpe diem. This scene takes place in a gorgeous hotel, the actors are accompanied by live musicians, and the couple exhibits the perfect blend of vulnerability, openness, and transformation during their dance. How can we not be pulled into the moment?
Still, 30 years from the film's release, I receive numerous inquires from people who have seen the movie and subsequently fallen in love with Tango.
In fact, I met a new student yesterday who wants to learn tango because he has never forgotten Pacino's dance scene—and he is not alone in his desire.
My two most memorable requests from students seeking to learn tango as a direct result of the dance scene in Scent of a Woman, have been from a 95 year old man who, this year, had seen the film and wanted to Tango on stage at his local performing arts group production, and a 99 year old man who had just seen the movie prior to his birthday party, so he announced to his guests that he would learn to tango for his 100th year celebration—and he did!
I believe that one of the main reasons this film's Tango has such a lingering impact is that the dance scene is heightened by the character's specific vulnerabilities: Frank is blind, and Donna has never tangoed before. These two realities combine and allow viewers to simultaneously root for the couple and live vicariously through their success.
Accolades must go to Al Pacino for maintaining the façade of being blind while dancing—that is no easy feat given the choreography and remains one of the reasons his was an Oscar winning performance.
I continue to celebrate any students who want to learn to Tango, and as the Colonel said, "If you get all tangled up, just tango on."
Take the Lead, film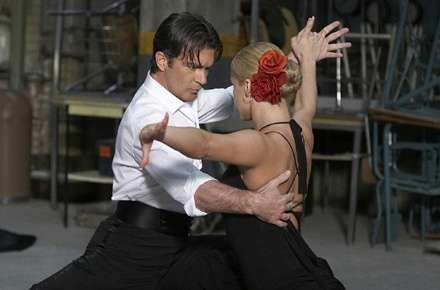 Take the Lead is based on a true life story about a professional Ballroom dancer, Pierre Dulaine, who set up a ballroom dance program in the New York City public school system to teach problem kids how to build trust, discipline, teamwork, and self-respect.
Dulaine, played by Antonio Banderas, is given the school's most troubled students, and he must overcome multiple levels of skepticism from the principle, fellow teachers, and parents who don't believe that learning dance can help the students reform.
Initially, the kids are resistant to Dulaine and Ballroom Dance. To connect his students to the power and passion of dance, one day, unexpectedly, Dulaine invites a female partner to perform an Argentine Tango in front of the teens which shocks them into attention and breaks their preconceived notions of what Ballroom Dance looks and feels like.
The teens begin to invest in the process of learning to dance and thrive as they start believing in themselves. Dulaine creates even more common ground with his students as they work together to blend Ballroom and hip hop.
Eventually, the students prepare for and enter a dance competition; throughout the process, they develop and transform. Dulaine and his students triumph in the process.
Film Details: Take the Lead, director: Liz Friedlander; cast: Antonio Banderas and Alfre Woodard.
Dance – Detention Tango
Dancers: Antonio Banderas, Katya Virshilas
Dance video link
Director Liz Friedlander should be credited for how she incorporates and maximizes the synergy of cinematography and choreography in this number. It is shot to command attention and inspire desire—both that of the students and the audience.
The scene opens with a closeup of Katya Virshilas' tango shoes as she descends the staircase. Step by step, we catch glimpses of glamour, and the mystery of her arrival is set against the backdrop of the students' scattered attention. Her dramatic composure is interspersed with their surprised reactions.
Soon, her silken black robe and popped color come into frame, along with her slicked back bun complimented by a cluster of red roses. Katya's obvious overdress, lack of introduction, and dramatic comportment culminate in the students' silence as she slips off her dance robe to reveal a stunning, strappy black Tango dress.
When Banderas's character enters the room, Katya begins their dance with the briefest of head turns. Without a word, she presses play on an Argentine Tango and lures Banderas onto the floor. Here is where the partnership of cinematography and choreography truly excel. The couple circles one another, striking side by side Paso Doble-like lunges, and the intensity of their eye contact is highlighted.
In between the partners' dramatic poses, we are given quick images of the students being pulled into the gravity of the moment; they are seeing their teacher in a whole new light and gather round for a closer look.
The intensity of the couple's tango begins to increase; complicated footwork and patterns are augmented with leg wraps, spinning lifts, swift ganchos, press lines, grapevines, and slow motion turns.
Despite so many levels of emotion, desire, and story at play, Banderas and Virshilas dance extremely well together. Their choreography is a mix of aggression, passion, and push-pull antics, yet they stay committed to the intensity, even when their movements simulate slaps.
The tango choreography allows each partner to take turns being dominate or submissive, alternating between connected or conflicted. What results is a masterful blend of dance, drama, choreography, and cinematography.
Friedlander's choice to intersperse the dancing with the students' reactions and growing engagement add to the purpose and development of the scene. We realize along with the students that Mr. Dulaine performed this tango to shock and inspire them, to expand their perspectives on dance, and to challenge them to find their own inner intensity.
Given all the above, Friedlander's capture of Bandera and Katya's tango is an onscreen partnership of plot, performance, and film. Yes, Grandma—this is another tango moment to savor and applaud.
Moulin Rouge!, film
Moulin Rouge! is a highly acclaimed, over-the-top, quirky, tragic romance musical known for its lavish performances and stunning visuals.
The plot is an adaptation of both Puccini's opera La Boheme and Giuseppe Verdi's La Traviata, performed via a bizarre bohemian mix of vaudeville, cabaret, and Bollywood based numbers that showcase a unique blend of musical, operatic, and cinematic stagecraft. The film's song choices are adaptations of contemporary pop hits which give the film a postmodern edge.
The story, set in 1900 Paris, takes place in a night club named the Moulin Rouge. The plot centers on a young down on his luck writer, Christian, played by Ewan McGregor, who falls in love with talented, yet dying, cabaret actress Satine, played by Nicole Kidman. The plot gets dark and twisted when a love triangle forms between Christian and Satine, and the Duke.
Satine, who eventually falls in love with Christian, is simultaneously courted and controlled by the Duke, a rich investor who covets Satine and promises to make her a star. Jealously, passion, obsession and tragedy ensue. Yet, the show must go on.
Film details: Moulin Rouge!, 2001, Australia, director: Baz Luhrmann: cast: Ewan McGregor and Nicole Kidman.
Dance – El Tango de Roxanne
Dancers: Jacek Kuman, Tara Morice, dance team
Music: El Tango de Roxanne by Sting
Dance video link
This Tango scene is masterfully choreographed, filmed, and edited. The entire number plunges into the audience like a dagger. The choreography is a power-packed showcase of passion twisting into obsession; the cinematography intensifies during the dance, conveying emotion via a variety of camera angles, set against the number of dancers in each segment, steering who our eye focuses on, and the pacing of the scene.
Throughout the number, the editing rapidly juxtaposes the dancing with film clips which show Christian, Satine, and the Duke in the throes of their love triangle. The resulting tension is palpable and continues to escalate during the scene. In sum, "El Tango de Roxanne" is a disturbing, violent, and dramatic display of the dangerous intersections of jealousy, aggression, and lust.
It is no surprise that the film won 87 awards, and 132 nominations. I give a standing ovation to all people involved in creating, performing, and filming this difficult number. Without a doubt, Baz Luhrmann is not afraid to push an audience's comfort zones to serve the story. This scene is certainly not meant to be comfortable to watch. Indeed, it mercilessly exposes the dark underbelly of passion and obsession, and what better dance form to probe the pitfalls of love and tragedy than the Tango?
P.S. While this a plotline that my grandmother would have understood and appreciated for its intense dramatic flair, this Tango does not make the "for just once in my life" list. Kazimiera was a classic romantic at heart. Despite her flair for drama, she would have much preferred a sweeter Tango to savor.
Sources
Film and dance descriptions from viewing the movie.
Film details from Wikipedia and the Internet Movie Database.