Part One included dance scenes from the movies Tango, Scent of a Woman, Take the Lead, and Moulin Rouge.
The Tango Lesson, film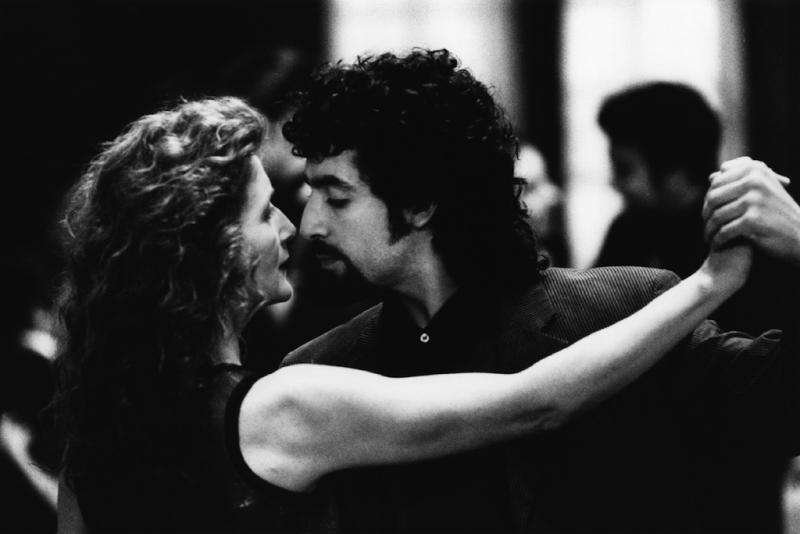 The Tango Lesson is about a filmmaker and writer, named Sally, who has writer's block regarding her current film project. Taking space from the project, she travels to Paris and discovers tango after witnessing a dancer named Pablo perform. Instantly captivated by the dance, she offers Pablo a part in her film in exchange for tango lessons. The two dancers become romantically involved which causes waves in their personal and professional lives.
Sally Potter wrote the screenplay, as well as directed, acted, and danced in the film—she also composed some of its music. The featured dancers include some of the top tango dancers in Buenos Aires.
The Tango Lesson is shot in a series of vignette sequences of "lessons" that explore the nuances of dance and relationship—be that through the qualities of seduction, rejection, conflict, domination, jealousy, triumph, disappointment, growth, or love—each of these explorations reflect themselves in the tangos that Sally and Pablo perform.
Film details: The Tango Lesson, 1997, Argentina-British, director and writer: Sally Potter; cast: Sally Potter and Pablo Veron.
Dance – La Yumba
Dancers: Pablo Veron, Sally Potter
Music: La Yumba by Osvaldo Pugliese
Dance video link
What strikes me the most about this tango is the palpable coldness with which it is performed. The dancing is brilliant, the footwork precise, and the choreography challenging and well delivered—even the cinematography is incredibly thought out.
If this scene were shot from the audience, it would be a completely different experience—we would see a couple performing an intricate and stunning tango, and we would think they were absolutely connected and enjoying themselves.
Yet, during this number, shot on stage with the dancers, I am completely aware of the rift between them. It's almost painful for me to watch. What could and should be a joyful moment for the couple—an on stage performance and celebration of Pablo's teaching and Sally's accomplishments—turns out to become a public spotlight for this couple's disconnect and discontent.
Throughout the number, I am struck by the emotional distance between this couple—from their entrance and initial eye contact, where Pablo gazes for a moment, before haughtily looking away, his character gives off an angry, almost punishing energy. In contrast, from that same moment, Sally looks searchingly into Pablo's eyes, and through a very faint hint of a smile, I feel her deep longing for connection.
It is the stark juxtaposition of Sally's wistfulness and the angry undertone of Pablo's movements that rattle me. I wanted Sally to smile, and Pablo to respond with warmth; I wanted the couple to gaze into each other's eyes vs. avoid one another.
Because to this dynamic, I am too aware of this tango's lack of joy and connection. To feel the difference that I am noting regarding how connection, enjoyment, and eye contact make a tango come alive, please compare this tango with the "Tango Recueros" from the movie Tango.
While it was clinically precise, Sally and Pablo's tango felt cold to me—chalk that up to my personal preference. Like my grandmother, I want to be transported along with a tango partner, not distanced from one.
This being said, Pablo and Sally are tremendously talented and should be commended for their performance. Truly, their tango was flawless—and I commend both dancers for perfectly portraying the emotional climate of their characters during this number. It is hard to love dance and enjoy performing with a partner, while also having to maintain a pervasive coldness and subtext. That must have taken them quite some time to "get right". For this fact alone, this tango makes the "cut" for notable onscreen dance numbers.
Now, let us look at a second intricate dance scene from The Tango Lesson: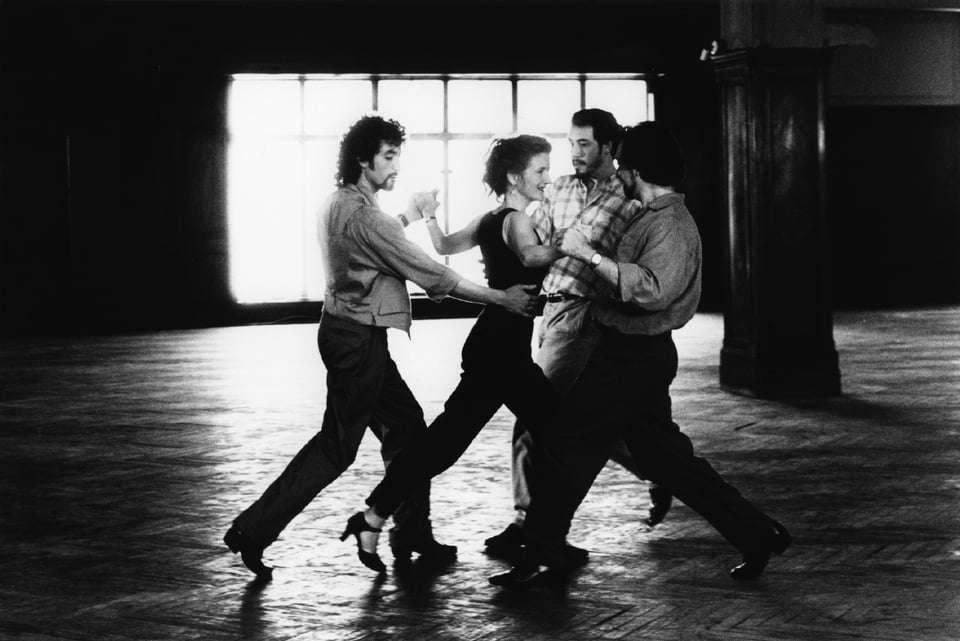 Dance – Libertango
Dancers: Pablo Veron, Sally Potter, Gustavo Naveira, Fabian Salas
Music: Libertango by Astor Piazzolla
Dance video link
This scene opens with exuberance and builds in intensity. I love the intricate choreography between all four dancers. Sally dances with each of the three leaders, and is seamlessly swapped between them, while the camera angles fluctuate between close ups on the foot and leg work to whole body wide shots.
There is a sense of the frenetic to the number, partly due to this fast paced rendition of "Libertango," and also due to the camera racing along to capture every aspect of the exchanges and partner work.
Despite the frenzy, the standout feature to this piece is the amazing choreography. Among the many Tango moves, we see paradas, ganchos, molinetes, sacadas, boleos, lapiz, leaps, lifts, and redirections—these dancers create a challenging and stunning Tango. At one point, the four dance together—with each man taking turns leading versus following, and with all four dancers occasionally mirroring the same patterns—this part of the number captures the synergy and connection these dancers achieve.
There is no doubt that this Tango is incredible, but what I love the most about the number is that the dancers are smiling, unable to hide their obvious enjoyment of Tango and dancing with each other! For me, that elevates this number even higher. Bravi!!
Love and Dance (Kochaj I tancz), film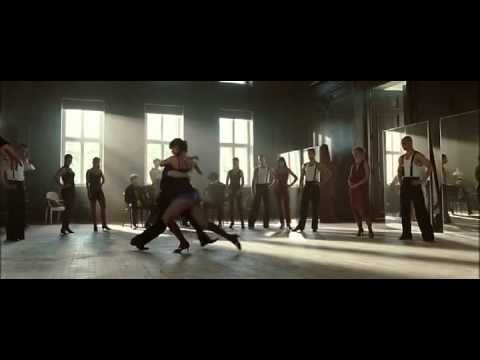 A young journalist goes behind the scenes of a dance organization and discovers more than she bargained for. While on assignment, she falls in love with a rebellious dancer who challenges her to embrace her own dormant dreams. Kochaj i tancz is a beautiful mix of drama, comedy, romance, music, and dance. The dance scenes in this Polish film are delightful, diverse, professional, and powerful.
Film details: Kochaj i tancz (Love and Dance), 2009, Poland, director: Bruce Parramore; cast: Mateusz Damiecki, Izabella Miko, and Violetta Dilaz.
Dance – El Tango de Dosiente
Dancers: Jacek Koman, dancers
Music: El Tango de Dosiente, by Lukasz Tagosz
Dance video link
https://www.youtube.com/watch?v=2XiHtlw3urg
In "El Tango de Dosiente," during practice, the company director asks a principal dancer to demonstrate Tango with him. Her surprise soon turns into confidence as she holds her own with the director's lead. While the rest of the company looks on, the pair wind their way through all manner of choreography. I appreciate the levels shown; the dancers move from standard height, to lifts, dips, leg wraps, ganchos, lunges, and floor level sweeps throughout the number.
One of the best aspects of this Tango is witnessing how the dancers and musicians create the dance together. As the musicians speed up or slow down their tempo, the dancers adjust and visa versa. In addition, the camera angles and lighting blend well to focus on the moment being created between the dancers, the onlookers, and the musicians. All in all, of the numerous incredible dance choreography in Kochaj i tancz, this number serves as an example of Tango's beauty, intensity, and power.
Assassination Tango, film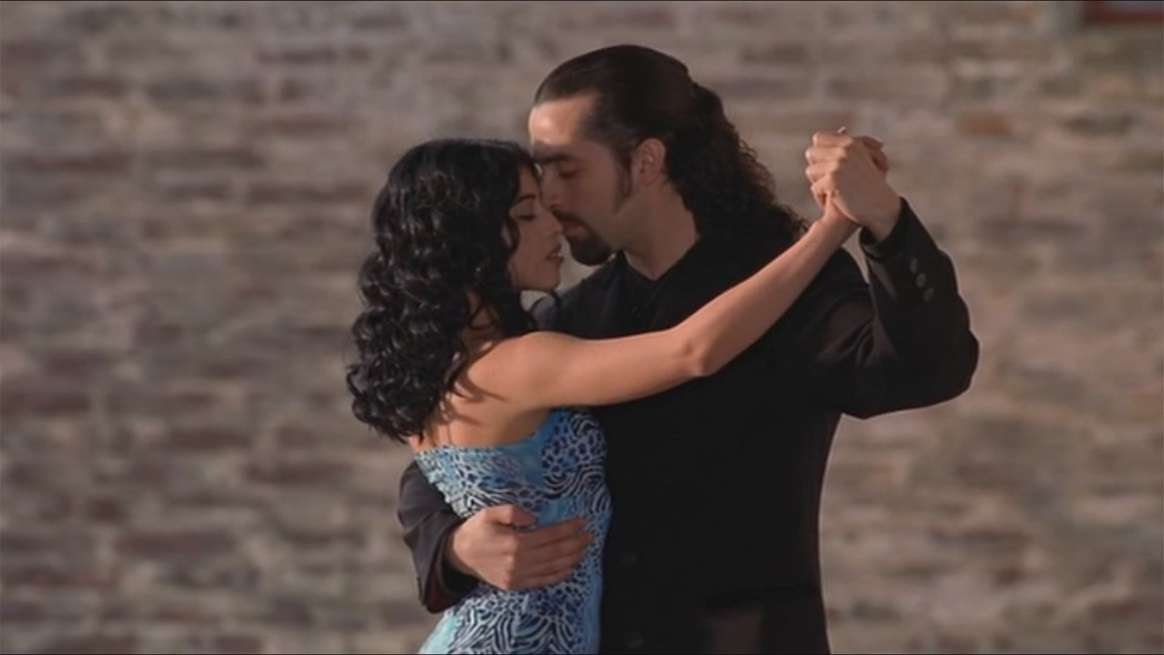 Assassination Tango is a quirky crime movie written, produced, directed, and acted in by Robert Duvall, an accomplished tango dancer both on and off screen. Duvall's wife also acts and dances in the movie, along with some of the most iconic tango legends in Buenos Aires, such as Geraldine Rojas, Marie Nieves, Pablo Veron, and Javier Rodriquez.
The film is about an American hitman, Anderson, played by Duvall, who is contracted to assassinate a former general in Buenos Aires. Expecting this job to be a get in, get out affair, Anderson is frustrated when his job is delayed due to his target being injured. Angry that his time to complete the assassination is now unexpectedly extended, Anderson takes a walk, hears Tango music from behind a curtain, and is rivetted by the dance and woman he sees. Thus, Anderson begins to learn tango as he bides his time.
The movie has numerous great tango scenes, and each one is worth the watch, but in my opinion, the best dance in the movie is by Pablo Veron and Geraldine Rojas, two of the top tango dancers in the world. Ironically, this number takes place during the end credits. Viewers will not be disappointed with the wait.
Film details: Assassination Tango, 2002, U.S.-Argentina, director: Robert Duval; cast: Robert Duval, Luciana Pedraza, and Ruben Blades.
Dance – Una Emocian tango
Dancers: Pablo Veron, Geraldine Rojas
Music: Una Emocian by Raul Kaplun
Dance video link
In "Una Emocian tango," Pablo Veron and Geraldine Rojas make Argentine Tango look effortless. The level of mastery these two dancers have achieved, individually and together, is undeniable. They move seamlessly from close to open embrace, vary their tempos, turn on a dime for direction changes, and take every opportunity to embellish. What is striking to me is the level of call and response these two exhibit with one another while they expertly execute intricate foot and leg work. Their Tango is full of sharp and soft movements, rotations, listening, and space for each dancer's expression.
In addition, it should be noted that their "dance space" is delegated to a rectangular patch of cement; thus, the fact that Veron and Rojas produce their amazing choreography in such a limited space and challenging surface should not go applauded.
This Tango has it all: elegance, power, play, and mastery. It is a Tango worthy of Kazimiera's dreams. I believe many of us have my grandmother's wistfulness when we see a stellar Tango; I know that I did. Luckily, I have now enjoyed many such "once in my life" moments with Tango, and I always dedicate such moments to her.
In my grandmother's honor, I encourage everyone to try learning this incredible dance. You will not be disappointed. We are never too young or old to Tango. Shall we dance?
Sources
Film and dance descriptions from viewing the movie.
Film details from Wikipedia and the Internet Movie Database.