Rembrandt's Self Portraits are the most magisterial triumphs of one of civilization's greatest artists. I have seen many of his paintings, drawings, and etchings at museums, galleries, collections, and exhibitions in the U.S., Canada, and Europe. They evoke an uplifting experience of looking into the soul. His self-portraits stand among a few rare works of art that excel to the heights of creative genius and have had a profound impact on Western culture.
I have been fascinated by Rembrandt's self-portraits for many years. I took art history courses in college, have attended numerous lectures on Rembrandt and the Renaissance, and have an extensive library on art. The best source I have experienced was a lecture at Columbia University by Dr. Stephen Pepper on the self-portraits.
Rembrandt van Rijn (Leiden 1606- Amsterdam 1669) was a painter, printmaker, and art collector-dealer in the Dutch Republic. The Dutch Republic brought in great wealth through its control of worldwide trade in the 17th and 18th Centuries. This funded the Dutch Golden Age with such artists as Rembrandt, Vermeer, Hals, Claesz, Bosschaert, Heist, Velde, Elder, and others.
The self-portraits are a unique visual autobiography, capturing his youth, successes, failures, losses, and old age. He surveyed himself uncensored, without vanity, and with a vulnerable sincerity. He produced 40 paintings, 31 etchings, and seven drawings of self-portraits.
Self Portrait, 1659, National Gallery of Art, Washington D.C.
Rembrandt is universally hailed as one of the greatest artists in history. No other artist matched Rembrandt's sheer output, in which his self-portraits constitute a substantial part of his works. His artwork takes its place among civilization's greatest treasures. His art is unique and stands alone, timeless.
Artists and Critics on Rembrandt
Artist Francisco Goya of Spain said, "I have had three masters: Nature, Velázquez, and Rembrandt." When a critic referred to Auguste Rodin's sculpture in the same vein as Rembrandt's portraits, the French sculptor responded: "Compare me with Rembrandt? What sacrilege! With Rembrandt, the colossus of Art! What are you thinking of, my friend! We should prostrate ourselves before Rembrandt and never compare anyone with him!"
Vincent van Gogh wrote to his brother Theo, "Rembrandt goes so deep into the mysterious that he says things for which there are no words in any language. It is with justice that they call Rembrandt—magician—that's no easy occupation."
"Because of his empathy for the human condition, he has been called one of the great prophets of civilization." Kenneth Clark
"He wanted to ravish the celestial life, to put the vibrations of life into still form, to express in the visible that which by its very nature is non-material and undefinable." Emile Michel
"Rembrandt's portraits are viewed as a manifestation of the human condition – brutal, triumphant, truthful, and transcendent." Park West Gallery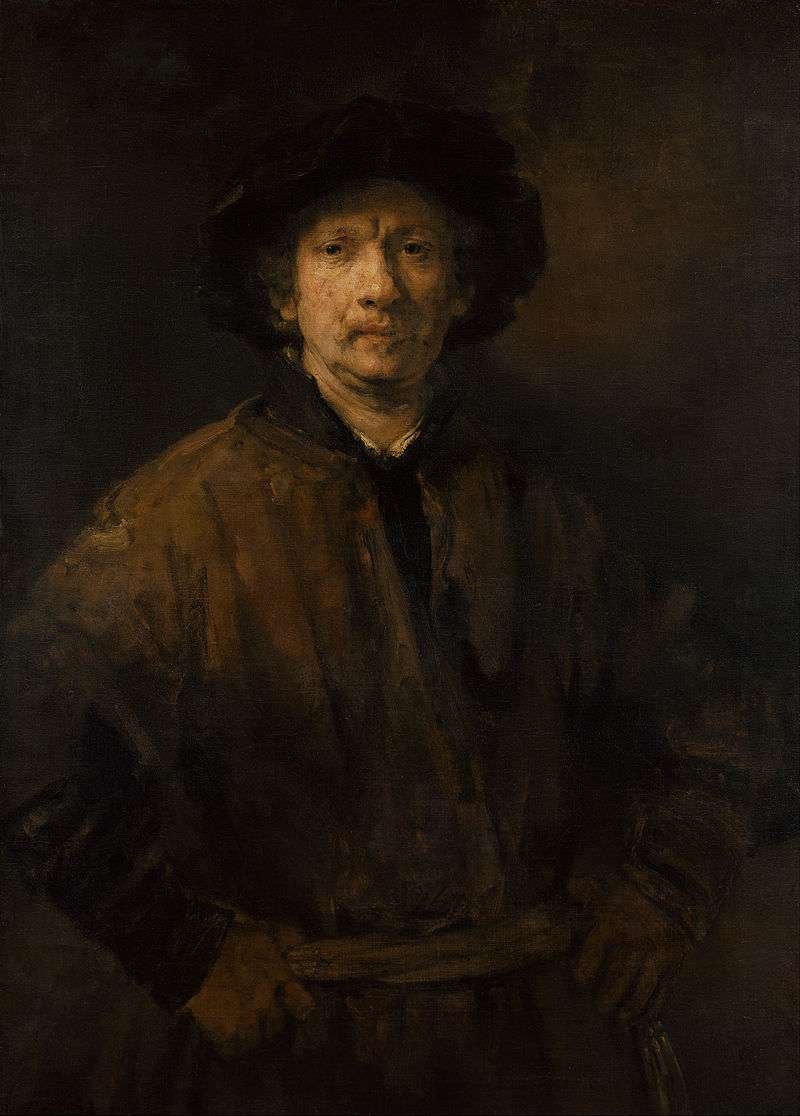 Self Portrait, 1652. Kunsthistorisches Museum, Vienna.
Touching the Sublime
In the portraits of himself and his subjects, Rembrandt conquered a new province of expression and articulated a world of thought that had never been given shape before. With these breakthroughs, paintings were no longer seen as representations of life as much as discovery of psychological states and attitudes. Rembrandt revealed not only how to see the world in a novel way but how to portray its inner spiritual life. This was the central aim of his artistic explorations after years in which his early portraits show an interest in the dramatic and various facial expressions, often comical. He gradually shed these devices as he learned how to convey his understanding of the inner life of his figures by the slightest nuance. It is the difference between the barnstorming actor and the mature master whose very stillness can "speak volumes."
Young Rembrandt, Self-Portrait With a Velvet Beret, 1634, Gemaldegalerie, Berlin.
This process of search was a conscious and deliberative one. His success was not merely attributable to his formidable powers of observation and memory for gestures and movements. The real life work of Rembrandt was in creating a model of higher reason, keeping alive a vison of mature life, and confronting the tasks of his age. In this 'mature character' we see a view, not primarily on certain kinds of knowledge, but on certain kinds of human traits upon which the whole cultural tradition of humanity is based.
Self Portrait With Two Circles, 1665–69. Kenwood House, London.
Rembrandt achieved the understanding of cultural maturity by chronicling his own facial development over decades to intensively self-scrutinize the way a real mood marks and molds the face. Rembrandt's mature 'Renaissance' view is that man strives to be universal, transcendent, and enobling. He painted faces with an expression of mind whose concern exists to fulfill a purpose, rather in mere gratification of drives and instincts, or in merely reconciling the conflicting claims that tear us asunder.
Rembrandt studied his own and others' facial expressions. He learned to represent the minds of his subjects through their faces with a unique range of images of psychological concentration and overpowering individuality. It is the mind itself that was his subject. This was expressed universally, a mature mind with specific emotions. A universal mind whose character traits were arrayed over a broader cultural context. Rembrandt came to reject common sentimental emotions for the range of expression which transcend the mind and soul.
He entered into an unchartered region of the soul where specific emotions of joy or sorrow lose their meaning. Gazing at his work, we are drawn deep into the gallery of the artist's mind; this interactive 'becoming' unearths new portraits of ourselves. Through the artist's reflections, we see our own creative force; our eyes elevate and expand, and now contemplate our own minds. The artist inspires us to transcend our own humanity, and to delve deeper into our soul's inscrutable source.
Rembrandt was steeped in the Italian and Dutch Renaissance ideal of humanity endowed with Reason (logos) – what Plato defines as the Golden Soul , what Dante describes as the highest virtue of Paradiso, what Dutch philosopher Spinoza called the Extended Mind of the Infinite, and what Schiller, Goethe, Shelley, Keats, Heine, and Poe describe as the Poetic Principle. It is rooted in the Greek, Judaic, Christian, Islamic, Confucian, Buddhist, and Vedic Hindu notion of Imago Dei – that the human mind/soul is a reflected image of the Divine. (Sources cited below).
He learned how to be indefinite, using the technique of Ambiguity like other great artists, such as Leonardo da Vinci who called it Sfumato (turned to mist). Ambiguity was used in art to create both tension and balance between opposites and embrace uncertainty and paradox. Rembrandt used ambiguity, as a poet uses metaphor, to take the viewer away from a specific meaning to a 'thought process' characterized by a greater meaning emerging from an array of mere imagery.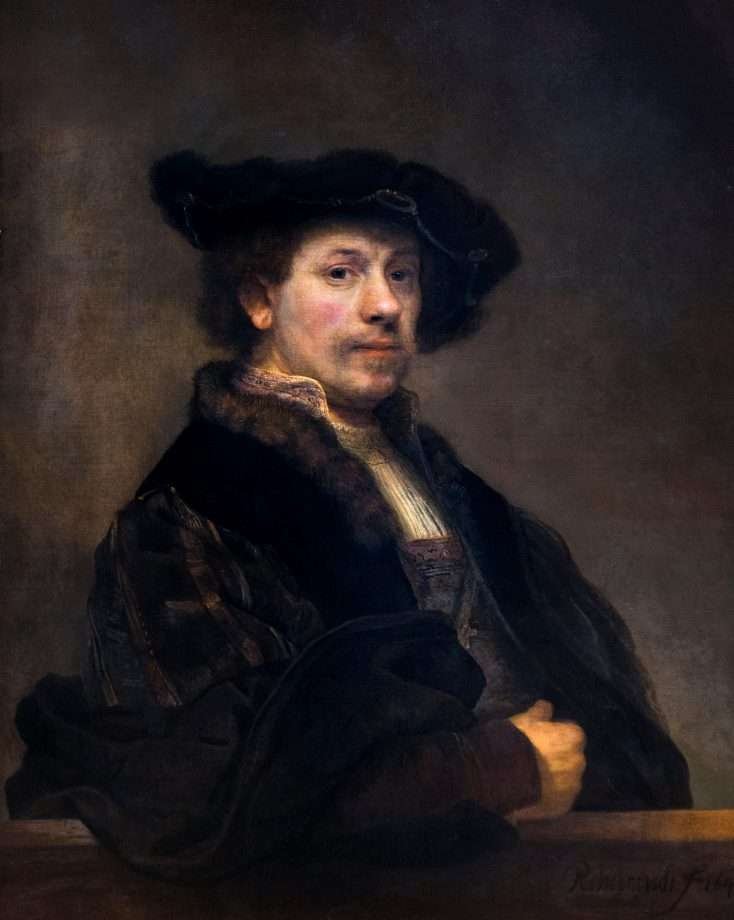 Self Portrait, 1640, National Gallery, London.
His use of darkness broken by luminous reflections, the mysterious glows in a pool of shade, the expressiveness of a face not through the conventional signs of a smiling mouth or a wrinkled brow, but by the way the cheekbone indicates the structure of the head were the perfect metaphor for his expressive means. His use of light in specific regions of a painting was used precisely as a poet uses certain transcendent language within a frame of predicates, to afford the mind a path to a greater thought.
It is in this sense that the self-portraits must be viewed both metaphorically and poetically. Mental images arrayed in such a fashion that one can transcend what might be viewed visually with one's eyes to what one might imagine or contemplate with one's mind.
It is important that the self-portraits bespeak culturally maturity. To not view the outside world formed only by one's desires, fears, or petty gratifications. Rather from an objective point of view, as the world is, with a specific reality into itself in which humans must interact with reason, objectivity, and humility.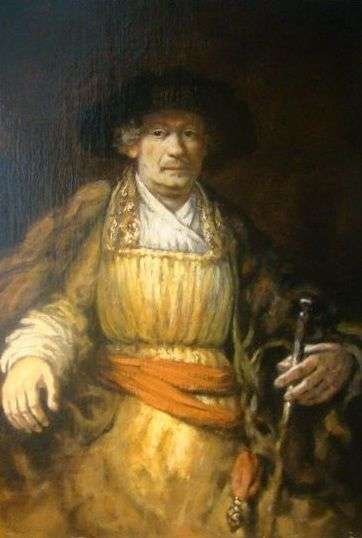 Self Portrait, 1658, Frick Museum, New York City.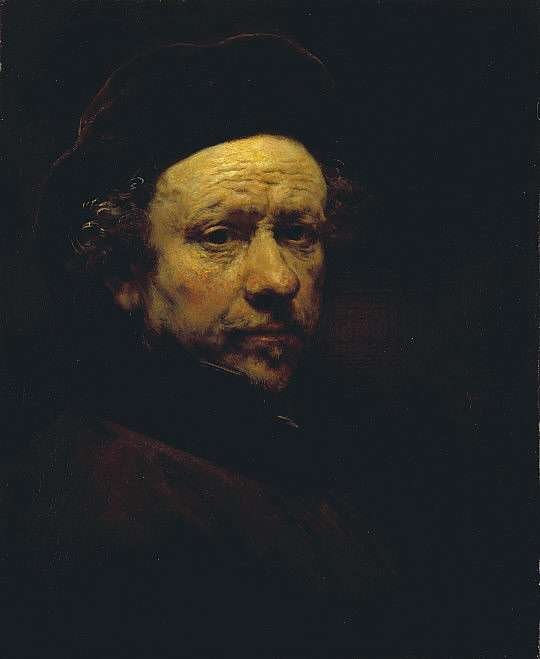 Self Portrait, 1659, National Gallery of Scotland.
References
Art in Context
Art Institute of Chicago
A Defense of Poetry, Percy Bysshe Shelley, 1840.
Dialogues: Republic, Ion, Gorgias, Phaedrus, Plato (428- 347 BC).
Divina Commedia, Dante Aligheiri, 1321.
Ethics, Baruch Spinoza, 1675.
Frick Museum
Metropolitan Museum of Art
National Gallery of Art
On Naïve and Sentimental Poetry, Friedrich Schiller, 1795.
The Poetic Principle, Edgar Allan Poe, 1850.
Rembrandt By Himself, Christopher White, National Gallery, London, UK, 1999.
Rembrandt By Rembrandt: The Self Portraits, Pascal Bonafoux, Abrams, NY, 2019.
Rembrandt and the Italian Renaissance, Kenneth Clark, New York University Press, NY, 1966.
Rembrandt: Life and Works, Jakob Rosenberg, Phaidon, London, UK, 1964.
Rembrandt Self Portraits, H. Perry Chapman, Princeton University, NJ, 1990.
Rembrandt: The Self Portraits, Volker Manuth, Taschen, Cologne, Germany, 2019.
Sothebys
Thoughtco
Wikipedia