* song by the Safaris, 1960
I am a professional photographer who has made a career of photographing celebrities, fashion models, and advertising photos. I also taught photography at the Academy of the Sacred Heart in Bloomfield Hills, Michigan and I had my own professional photography studio. Because of my broad archive of music photography when I was the road manager for Bob Segar, the Rock and Roll Hall of Fame invited me to be an associate. As an artist, I have always aspired to capture the beauty of the feminine image and ideal.
For millennia the "image of a young woman" has been lauded by humanity and revered by the people in ancient Egypt, Greece, Rome, China, and the rest of the world. The face, the body, the clothing, and all that goes into the creation of the image of a young woman have been the subject of sculpture, painting, drawing, literature, drama, poetry, and all forms of communication throughout history. With the advent of photography that reverence has been sharpened to perfection. Now in the digital imaging age, we see all manner of reproductions of that image be it in advertising, fine art, or the everyday pics taken on the subject. My personal experiences are what I wish to present here in this short treatise on the subject.
While traveling through the world of photography, I came across different avenues: the fork in the road, the street with no name, the highway to hell, and then some. These assorted choices worked their spell on me while I was on my journey, camera in hand: I almost chose them all.
I have been taking photographs of women since the mid-fifties. I started with my neighbor Susie who lived across the street. I was happy to see the results when the prints came back from the drug store film and print-processing counter. Her hair was lit up by the morning sun in such a way that I thought it made Susie look very nice indeed.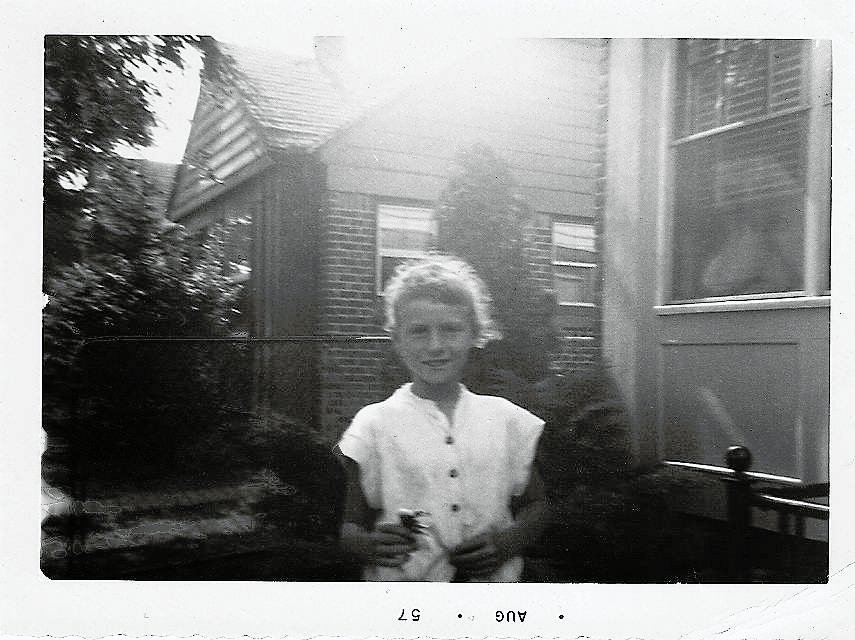 Neighbor Susie
One fine day camera in hand, I met up with a young woman that I could not pass by without snapping a photo of her. While walking through the woods at Oakland University on my way to a class in 1967 she was going my way too … what else could I do?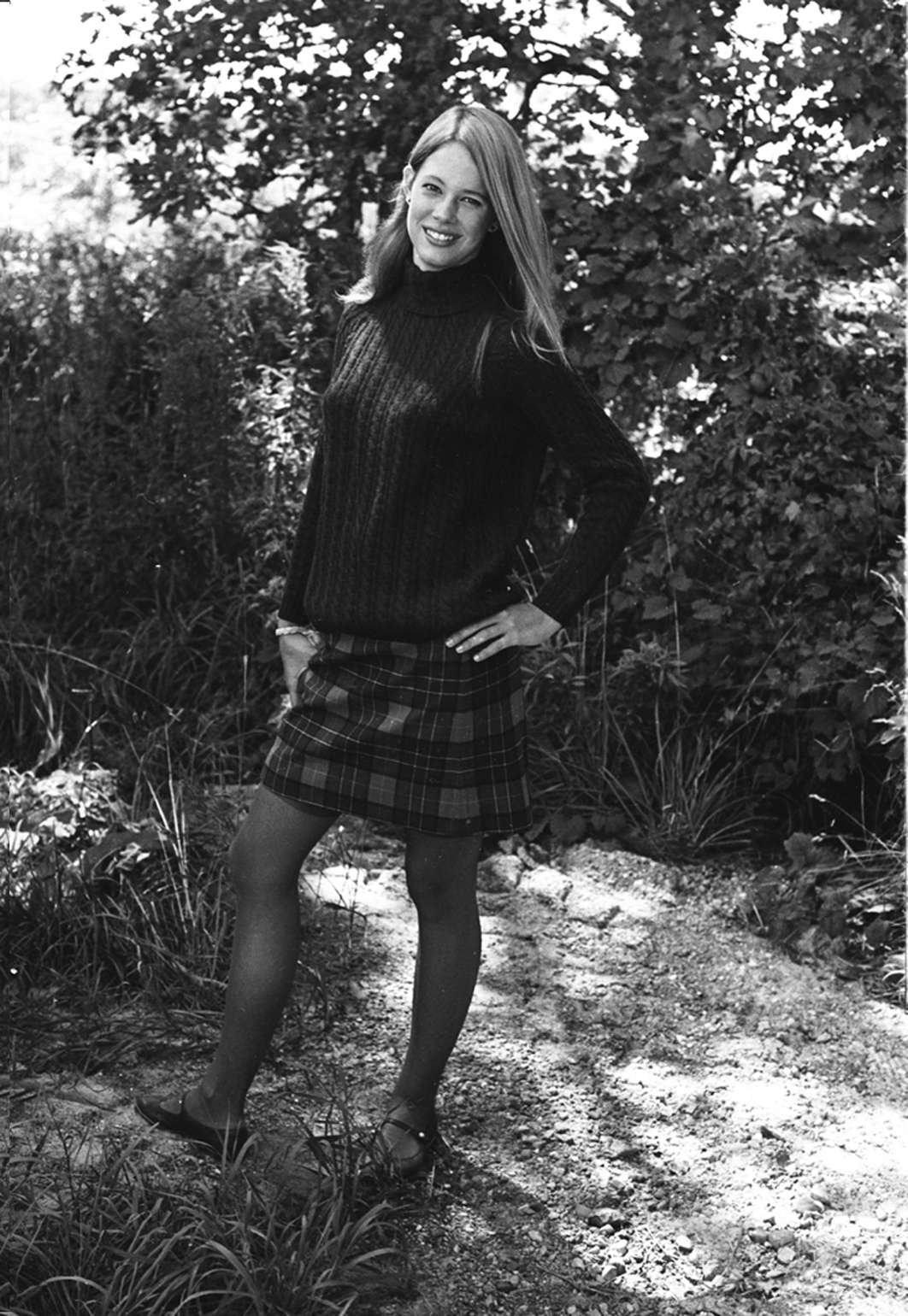 Brigette, Oakland University, 1967
My good friend Patty was sitting in her backyard on a concrete step, so alluring and well, actually hot! … A pic was in order. This was in 1968.
Patty, 1968
Moving on to the seventies, 1971 to be exact, on the road in Europe (I went there with The James Gang's road crew) at the Paris railway station Gare du Nord an alluring girl was sitting in the window of a train car looking out as I passed by. No way, was I going to keep walking to another car, that one was it. I entered and went to the door of the compartment she was in. I opened the door and asked if I could share her space. She didn't speak English but she did nod yes. She was from Holland her name was Marjorie. We had lots of fun on the way to Nice. I had never slept on a train before and it was a long way down to Marseille, then across the Cote de Azure to Nice. My night on a southbound train in France is something I will never forget.
Marjorie, on a train in France, 1971
At the Cincinnati Pop Festival in June of 1970 while on the road with Bob Seger after my road crew and I set up the equipment on stage, I wandered into the dressing room where I saw a very pretty young woman. I asked if I could take a photo of her, and she said yes. At the time I didn't know she was Alvin Lee's (Ten Years After) girlfriend.
Alvin, who was on the show with Bob and many other great acts walked in just when I was walking out.
Suzanne, wife of Alvin Lee, 1971
Bob Seger was playing down south in Birmingham, Alabama in 1971, after we got the equipment set up at the venue; Dancer, Ace, and I (the road crew) took the truck back to the hotel. On the way, we passed a bunch of kids milling around on the street outside the Holiday Inn where we were staying. I shot his pic through the truck's window. I always wanted a photograph of an actual Peace Sign in use! A young woman obliged me quite well.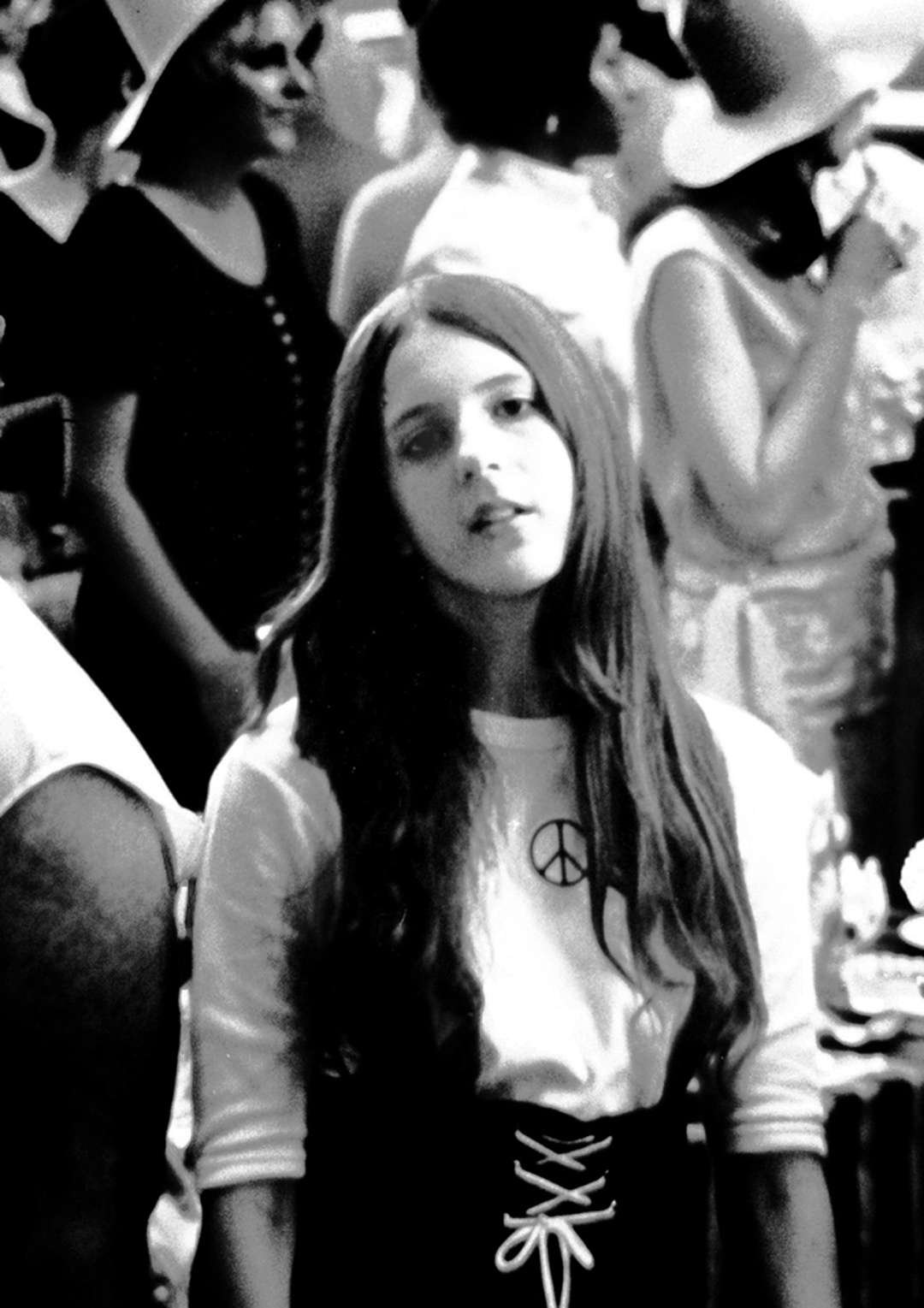 Birmingham, Alabama, 1971
In 1977 there was a big party for WDRQ Radio in Detroit and all kinds of music biz people were there from the record stores, the record labels, and DJs. My job was to photograph the event. I noticed Pat from DRQ sitting with one of the jocks (China Jones) the pose she gave me was very cool. She was a very cool woman, I am happy I shot this one. I didn't discover it until many years later while I was searching through proof sheets to find pics of China for him to use in a promotion he was doing. While looking at the shot of this particular table of attendees Pat's image just popped out.
Pat, Detroit, 1977
Walking down Woodward Avenue in Detroit with my camera, I came across this colorfully dressed woman sitting on a large pillow writing in a notebook I asked if I could take her picture and she said yes. We talked for a little while. She told me that she was a Wayne State University student writing an essay for her English literature class. That was in 1967.
Dawn, Wayne State University, 1967
In 1977 I was at WABX Radio shooting for the station when Pat Benatar was being interviewed on the air. It is always fun to photograph famous people. She was very polite, beautiful, and interesting.
Pat Benatar, 1977
"In the middle of a world on a fish hook you're the wave you're the wave you're the wave" from the song 'Swallowed' written by Gavin Rossdale in the British band Bush from the 1990s.
This is a lyric that points to the way I feel when confronted with a magnificent image of a young woman.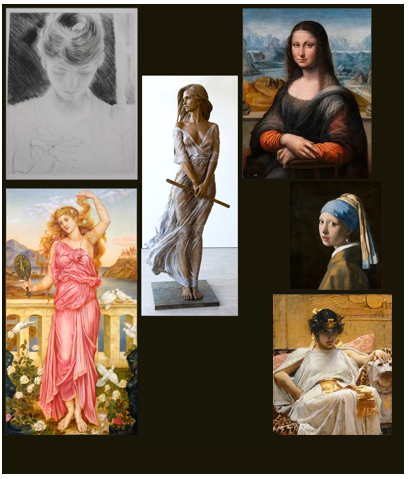 Threading A Needle, Paul Helleu 1895; Bronze Girl With Flute, Luo Li Rong; Mona Lisa, Leonardo Da Vinci 1517; Girl With A Pearl Earring, Johannes Vermeer 1665; Helen Of Troy, Evelyn De Morgan 1898; Cleopatra, John William Waterhouse 1887.
Beauty is defined by Plato as an emotional, intellectual, and pleasurable 'uplifting' of the soul to the sublime. Beauty in human form is perceived in the inner beauty of grace and elegance; and the outer beauty of aesthetic form. Artists have aspired to capture this principle, often with the beauty of the feminine form.
'Image Of A Girl is the title of a song from 1960 by The Safaris. I was riding my bicycle around the neighborhood with my transistor radio hanging from the handlebars listening to WJBK one evening. That song came on the radio, I heard it for the first time, and loved it. I still pursue those images today. Here are a few more: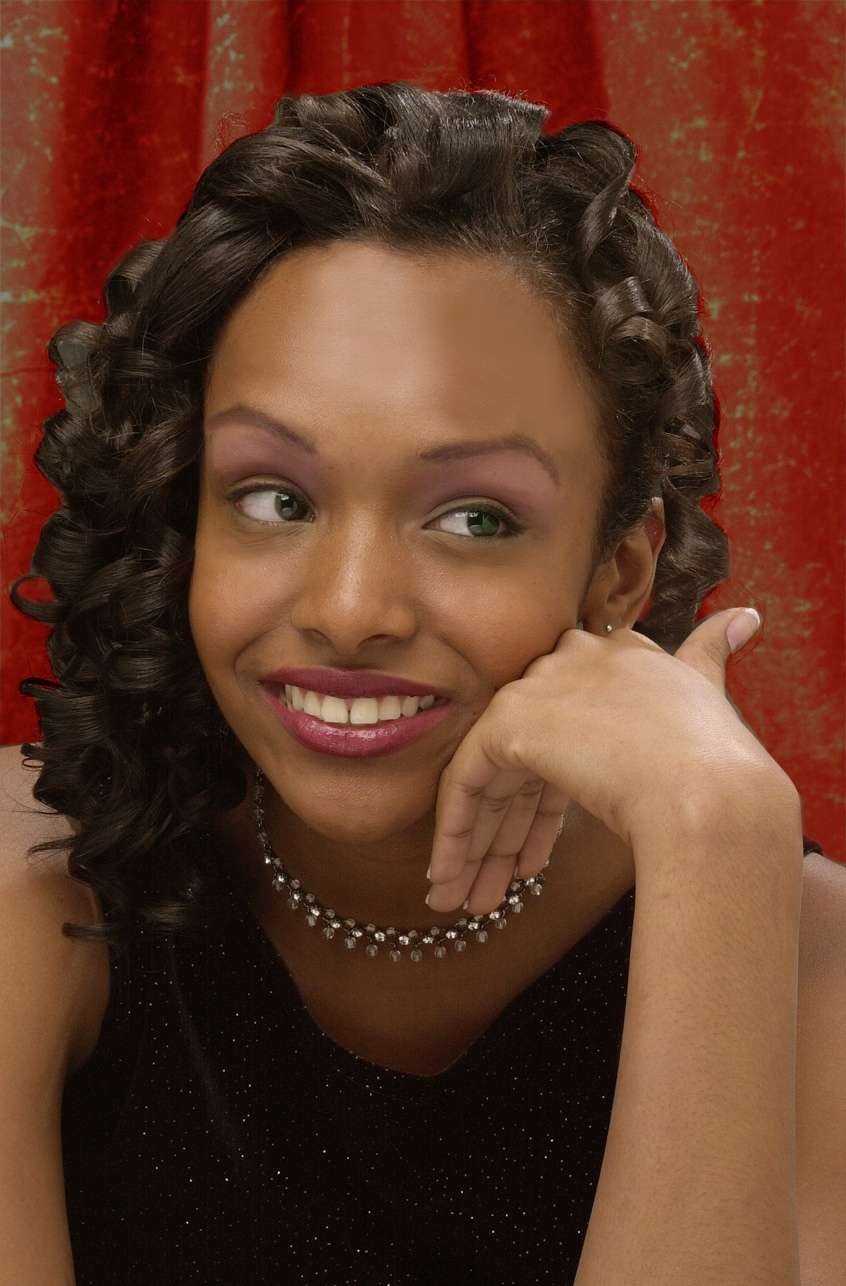 Musing in the studio 2004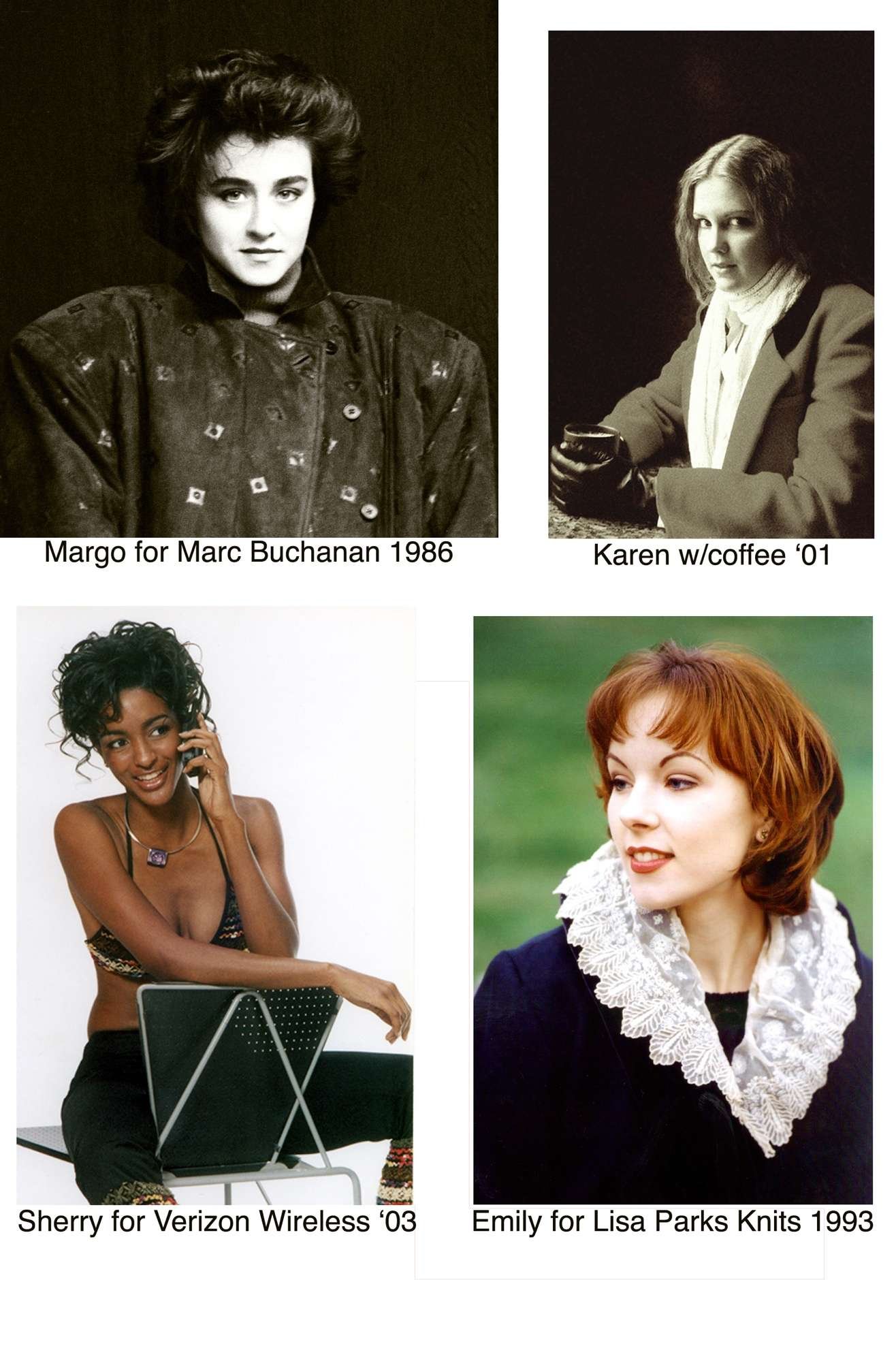 Occasionally an image will just show up like this one of a young woman waiting for The Doors to perform at Cobo Arena in Detroit in 1968. I did not know who she was, I saw her sitting in the front row after we set up the amps for The Doors … I'm glad I did.
The Doors Concert, Detroit, 1968
There are many more photographs of this nature in my life's work. I plan to show more of them another time.
Thanks to all of the women I have photographed so far.