Death on the Nile, 2022, Director: Kenneth Branagh. Cast:  Tom Bateman, Annette Bening, Branagh, Russell Brand, Ali Fazal, Dawn French, Gal Gadot, Armie Hammer, Rose Leslie, Emma Mackey, Sophie Okonedo, Jennifer Saunders, and Letitia Wright. Based on the Agatha Christie novel of the same name.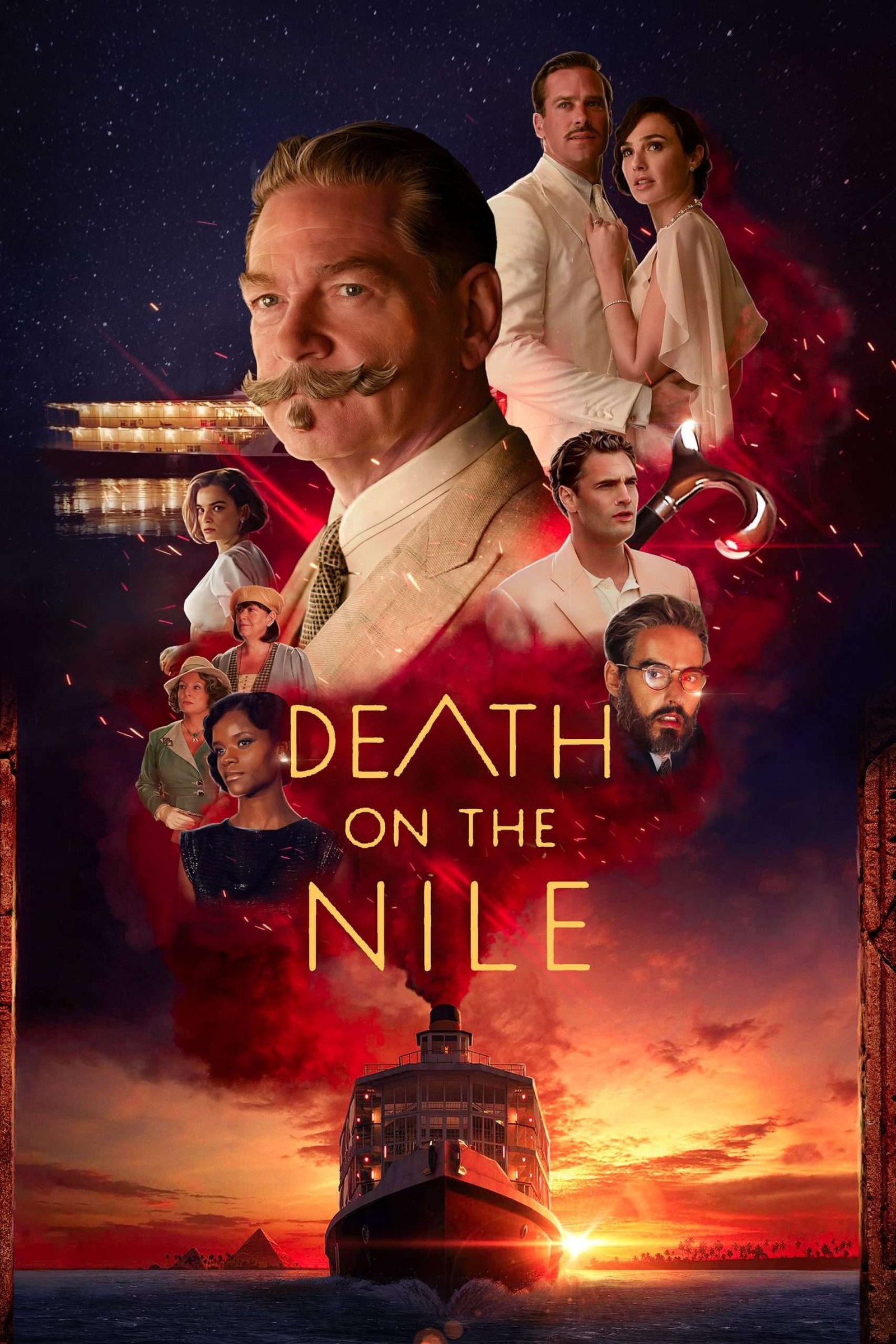 "There's no such thing as coincidence. Notice how every major event in your life somehow leads up to the next. It's all connected." (quote from Livelifehappy.com)
Remember this quote when watching this movie.
My obsession with Hercule Poirot began when I was 12 or 13 years old. It was my first exposure to any Agatha Christie novels, and I was completely hooked from the first page of, "Death on the Nile". I immersed myself in all of her Hercule Poirot mysteries after that, and to this day can still reread all of them as if I had never read them before. Hercule was himself ADHD and OCD. (Sort of a gilded age version of the TV character, "Monk".) Watching TV and movie portrayals, it was almost expected that at some point he would declare, "Oh look! Something shiny!" At which point, he would wander off into the desert looking for the shiny object. But no, his character still had the amazing wherewithal to observe and take in all that was around him. And for that reason, in my mind, he was a living breathing person. Of course, he's not. If he was, you'd half expect to see him sitting at Starbucks or some cafe, sitting and watching, analyzing every person who walked through.
David Suchet as Hercule
My favorite actor portrayals of Hercule are Albert Finley and David Suchet. There are others, Laughton, Trevor, and Ustinov, with a newcomer, Kenneth Branagh. Most of the reviews of this new version of "Death on the Nile" seem to report that the end-all, be-all portrayal is that of Peter Ustinov. That is a matter of opinion, while I will not contest that his portrayal is good, it's not my favorite.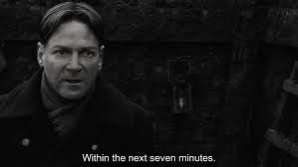 Kenneth Branagh, Young Poirot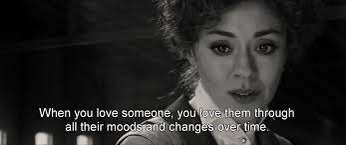 Katherine, wife of Hercule Poirot
So, let's begin, shall we? The film opens beautifully in black and white. (This immediately hints that we are watching a memory.) It's WW1, the boys are in the trenches and the soldiers are tired of fighting. We find ourselves listening to a war-tired soldier, explaining that the Belgium officials want them to take the bridge from the Germans. How is that possible? How can they? It is surely a death sentence. From the shadows comes an unlikely solution, a clean-shaven, youthful man up with a plan. That plan leads to the defeat of the Germans and the victorious win of the Belgium soldiers. But just as the celebration begins, a tragedy happens. The captain triggers a trip wire and an explosion happens, smoke clears to the overcrowded hospital where we find our brave soldier, horribly scarred, speaking to his wife. It revealed to us that this is Hercule Poirot. And that the horrible scarring is the reason for his mustache. (A fact, that I must also reveal, I never knew.)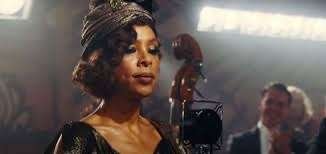 Salone Otterbourne, jazz singer
Open to a dim alley, packed with reporters and cameras, all vying for a delicious prize spot to get a photo of the celebrities who are entering a doorway. It's a club called "Che Ma Tente." We see a mature Poirot entering the club, he is greeted by the Maitre 'D, seated at a table, and immediately served six desserts, as he cannot do the uneven number of seven, and a drink. We are then introduced to the tenacious Rosalie Otterbourne, niece of the jazz singer, Salome Otterbourne, who is the evening performer.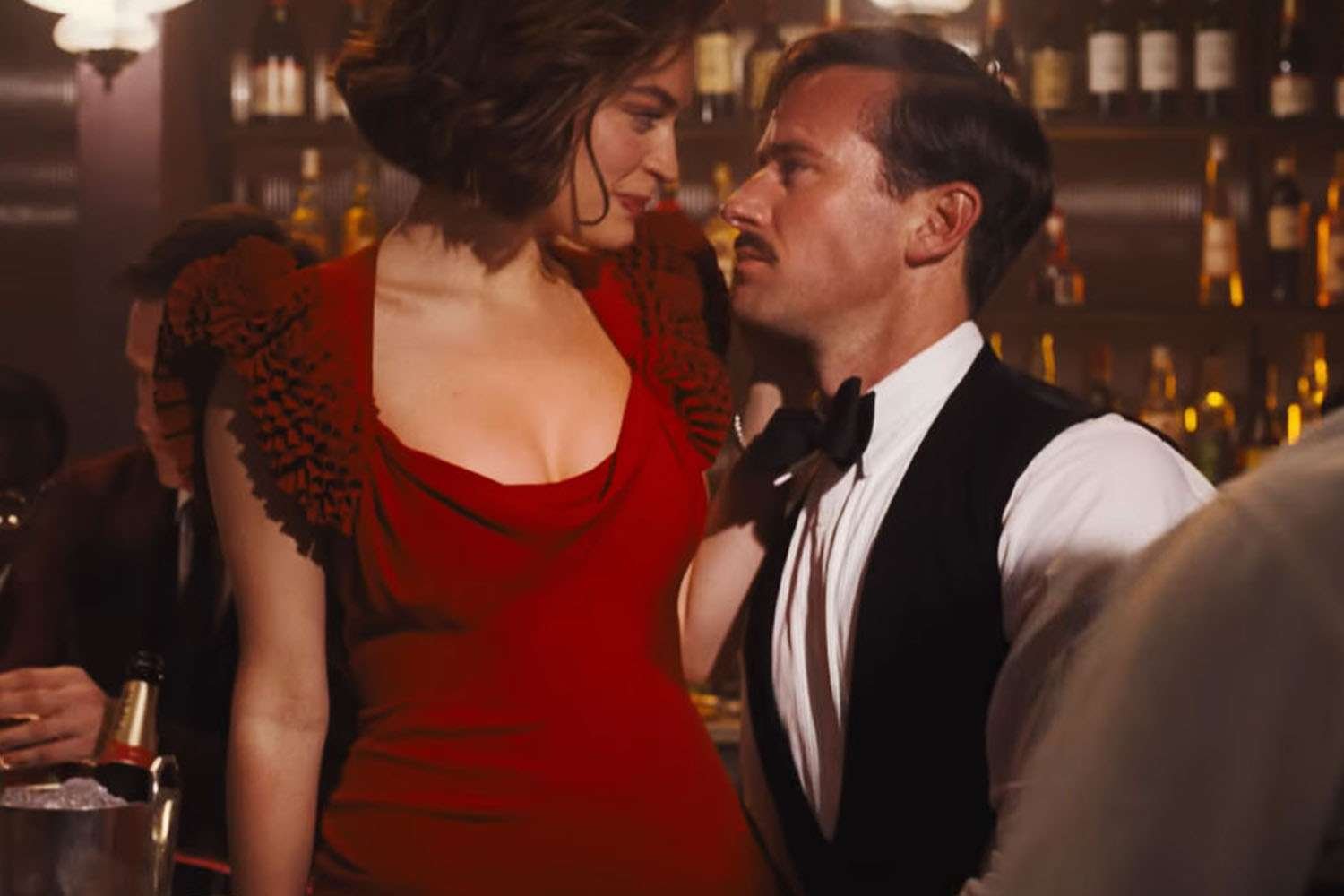 Simon and Jacqueline
Next, we are introduced to Jacqueline de Bellefort and her fiancee, Simon Doyle. They are dancing and can't keep their hands off each other. (In fact, you are almost prepared for them to begin copulation right on the dance floor.) Poirot, always ready for a good show, has begun observing all that is going on around him. You can already sense he knows a good story is about to begin.
The Beautiful Linnet Ridgeway
It's after the introduction of the two lovers and our musician, that the piece d' resistance is introduced, the beautiful Linnett Ridgeway. She comes in and proceeded by name shouting and cameras flashing. The Maitre D greets her at which point she hands him her shawl and walks down the stairs; he looks completely confused at his demotion to coat boy. All eyes are on her, she floats towards Jacqueline who is now off the dance floor awaiting her prince charming to bring champagne. She flashes her ring finger before Linnet, announcing her engagement. Isn't it so exciting!? Could Linnett give him a job at her new villa? Simon walks up and, immediately, there is a connection between him and Linnett. Of course, she can give him a job. Jacqueline then insists that Simon and Linnett have a dance. With all kinds of sexual tension, all kinds, the two of them take to the dance floor. Even Hercule is watching now.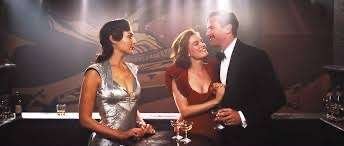 Linnet, Jacqueline, and Simon
Cut to Jacqueline with, what can only be described as a sinister look, is glaring at the dance floor.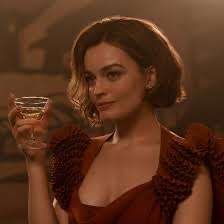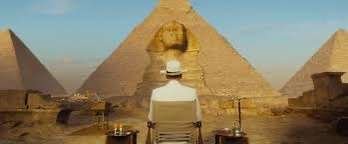 Hercule Poirot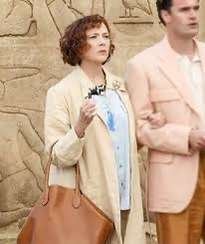 Euphemia and Bouc
We then find ourselves in Egypt. And not just anywhere in Egypt, we are at the Great Pyramids. Hercule is having his tea and desserts in a chair facing them. His serene view is distorted by a man, flying a kite from the pyramids. You're not in a horrible dream, you're simply enjoying a day in the life of our Poirot. Turns out the kite flyer is a friend of his, Bouc. He's here with Mom, Euphemia, you know, for a wedding. He insists that Poirot join them at the reception. Mom and Poirot exchange a knowing glance. (I'm not telling you why…!)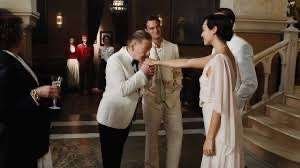 Bouc, Poirot, and Linnet
So, the party has begun. The decadence of all forms is present. Cakes, champagne, food!
Angry exes, jealous financial experts, bitter Aunts, and their friends, overworked and underpaid staff. You name it, it's there. It's the usual suspect for someone's certain death. And here comes the bride and groom, grand entrance, and the movie viewer is shocked, well, at least slightly shocked, (and if you're not, at least try to be.)
I'm going to stop with my play-by-play there. No spoilers.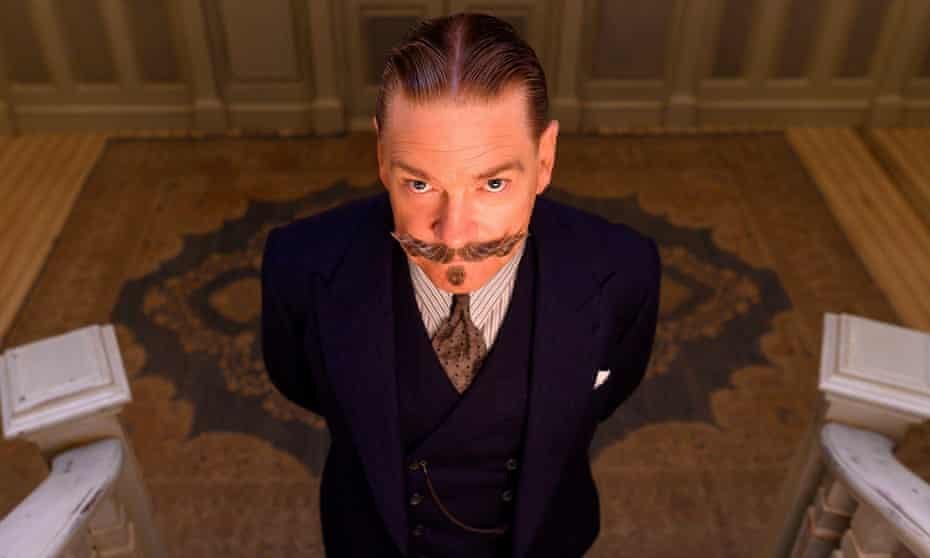 Kenneth Branagh, as Hercule Poirot
First and foremost, I would like to start with the acting, it's really first class. At no point did I have the urge to say, "Boy, that person is having a hard time playing that part." Branagh, as usual, has done an outstanding job picking the actors to portray our characters. They all immerse themselves into the parts. He's got high standards.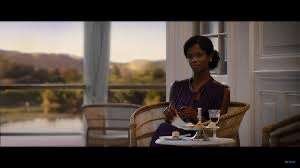 Letitia Wright as Rosalie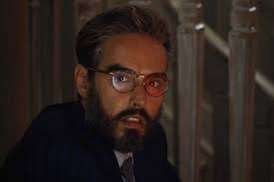 Russel Brand as Dr. Windlesham
Gal Gadot has the graceful elegance to play the Linnett Ridgeway with zero effort. Beautiful, with a megawatt smile. She's perfect. Armie Hammer plays the slightly slimy salesman Simon Doyle. He seems so perfect, but you just can't get 100% behind him. There's something that isn't right. Kenneth Branagh is brilliant. He gives Poirot something that most who have portrayed him have not, emotions. He lets everyone talk themselves into a corner, as usual, he plays the fool so well, you can only suspect that it's an act. Emma Mackay as Jacqueline is very good at the scorned woman, she plays it as a very condescending, angry, and entitled woman. Jennifer Saunders is very good at the aunt and her sidekick Dawn French portrays their parts seamlessly. It's a secretive mood they set. And after the film, you find out why. But it gives you cause for suspicion. Rose Leslie and the neurotic Louise Bourget, bitter and angry, ready to make some money off revenge. Annette Bening as Euphemia and her son Bouc, a friend of Poirot, is a much better match. The norm is that Bouc is portrayed as a middle-aged man in previous films made in which he is included. It makes more sense that a young man would be traveling with his benefactress mother than that of an older man. Salome Ottorbourne and her niece, Rosalie Otterbourne, portrayed by Sophie Okonedo and Letitia Wright, are excellent, Salome is tenacious and jaded. She won't play games; she says how it is. Rosalie is a lovelorn young lady, who knows how to play the game. Ali Fazal plays Andrew Katchadourian, the "cousin" of the lovely Linnett. He is her financial advisor, and up to no good. And Russell Brand, Dr. Windlesham, plays the shunned ex-fiancee. He plays the quiet, very reclusive doctor that once was engaged to Linnett so well, that you almost feel sorry for him, and her, because the opposite personalities surely would not have lasted in marriage. He's still so enamored with her, that he is too blind to see it.
The Old Cataract Hotel, circa 1899
The sets are amazing. The ornate decadence of the hotel and reception venue are well set up. The decorations, oodles of champagne, the gilded age at its best. There is a charming hotel that this is staged in, the Old Cataract Hotel, and it was built in 1899. (Agatha Christie stayed there while writing the novel on which the movie is based.) The actual scenes were filmed in the Longcross Studio based on visuals captured during the visit to the actual structure. But if you are so inclined, you too can stay there. The Cataract has other famous people who have stayed there: Princess Diana, Queen Noor, Winston Churchill, and Jimmy Carter.
Temple of Abu Simbel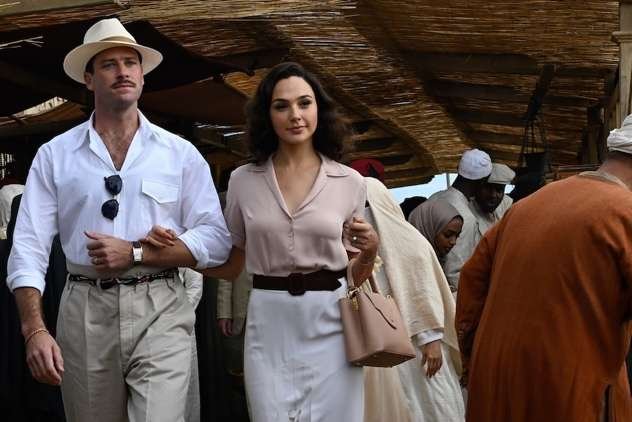 Scene from the outdoor market
The green-screened scene of the S S Karnak, the vessel that carries the wedding party down the Nile, that stops before the Temple of Abu Simbel is brilliant and breathtaking. (Inside and outside.) It is also correctly placed in the original location on the banks of the Nile. The Temple of Abu Simbel was moved to higher ground in 1968 and no longer sits on the River Nile/Lake Nassar. (That would've been a fun job, moving that huge temple stone by stone to higher ground. But that's an article suitable for national geography. Not here.) A dam was built to create Lake Nassar and would have destroyed the structure, as it would've been flooded over time. The outdoor markets, accurate for the time, are well set up. They look dusty, hot, and too close for comfort. (Completely unacceptable for the post-COVID world of today.) People rushing to sell the tourists goods are very well characterized.
Jennifer Saunders and Dawn French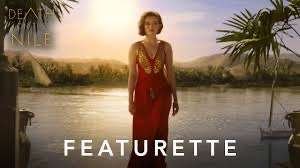 Emma Mackay as Jacqueline
The costumes are simple, yet elegant. The gorgeous 1930-style designs are created by Oscar nominee, Paco Delgado. His designs make Linnett look rich and effortless. They create an ethereal aura for her. Jacqueline's dresses were created with colors that imply passion, a lot of reds. They are sensual and beautiful. Some of the lady's evening gowns even have hand-painted designs on them. The important thing to remember is that Mr. Delgado designed the costumes to reflect the person's personality. Salome's dresses were risque, while her nieces, Rosalie was beautiful but refined, they portrayed a businesswoman's wardrobe. Poirot's suits are well-tailored and well-made.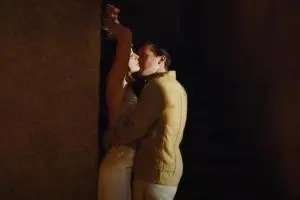 Linnet and Simon being newlyweds
Make no mistake, there are some definite contradictory scenes, one such scene is when Jacqueline boards the SS Karnak, when it is stated that the married couple rented the whole boat, so Jacqueline would not be able to follow them. Hmm. It's only explained that she booked the spot on the boat days ago. You'll find one or two others in the film, I'm sure, something I missed. It does make you pause for a moment. The very, very, VERY dramatic ending of the "guilty pair" does seem like it could've been shortened just a smidge. (Just a little.) As well as an overly sexual meeting of the new couple on the ledge of a temple. This can be forgiven, however, as we must try to remember they are newlyweds and can't keep their hands off each other.
This movie was very well done. I was very surprised that I enjoyed the version of Death on the Nile. Kenneth Branagh gives Poirot a voice, emotions, and a little something different than other actors. He stays true to the Agatha Christie ideal with his twist. And I've already said the acting/actors are very good. It's been out for rental and purchase for some time. Use your discretion as to which you would prefer. If you enjoy murder mysteries set in beautiful backgrounds, this one is for you. I purchased it and his other remake, "Murder on the Orient Express." My favorite Poirot actors still stand, with one more included, Kenneth Branagh. Thank you, sir, for a new twist to a classic.
Kenneth Branagh, Hercule Poirot