Who doesn't like a good old-fashioned horror movie that curls your toes and sends chills up your spine? I once heard a psychologist say that horror movies, especially vampire movies, are good therapy – they help one confront their inner demons and infantile fears. Horror reflects universal archetypes in our inner psyche.
When I was a kid, my cousins and I delighted in watching horror movies on late-night weekend TV and going to the Saturday movie matinee to see the latest horror or sci-fi film while we loaded up on popcorn and candy. Our family would go to the drive-in movies to see drama and horror, such as Psycho.
The old B-class movies with cheap special effects were pretty hokey but they did scare the dickens out of us. Contemporary horror films have become quite sophisticated, often dark comedies or tongue-in-cheek satires winking at the audience. But some are outright scary, like The Invasion of the Body Snatchers, The Exorcist, The Birds, Alien, The Grudge, Ex Machina, and Life.
Another aspect of modern horror films is fashion. Some, like The Hunger, are more fashionable, worn by both beautiful women and men, than horror. Alfred Hitchcock was a master in blending fashion with horror. He would have the leading lady dressed in designer clothes that would set a tone for the scene. He did this in Psycho, The Birds, Rear Window, Vertigo, and others. Rosemary's Baby was another film where fashion made pregnant Mia Farrow look like an innocent and helpless victim. The French, Germans, Swedish, and Italians are masters of this technique. Filmmakers utilize visually stylish set designs and costumes for effect. The wardrobes add to the magic and spectacle. Smart costuming communicate the themes of the film and gives depth to the narrative.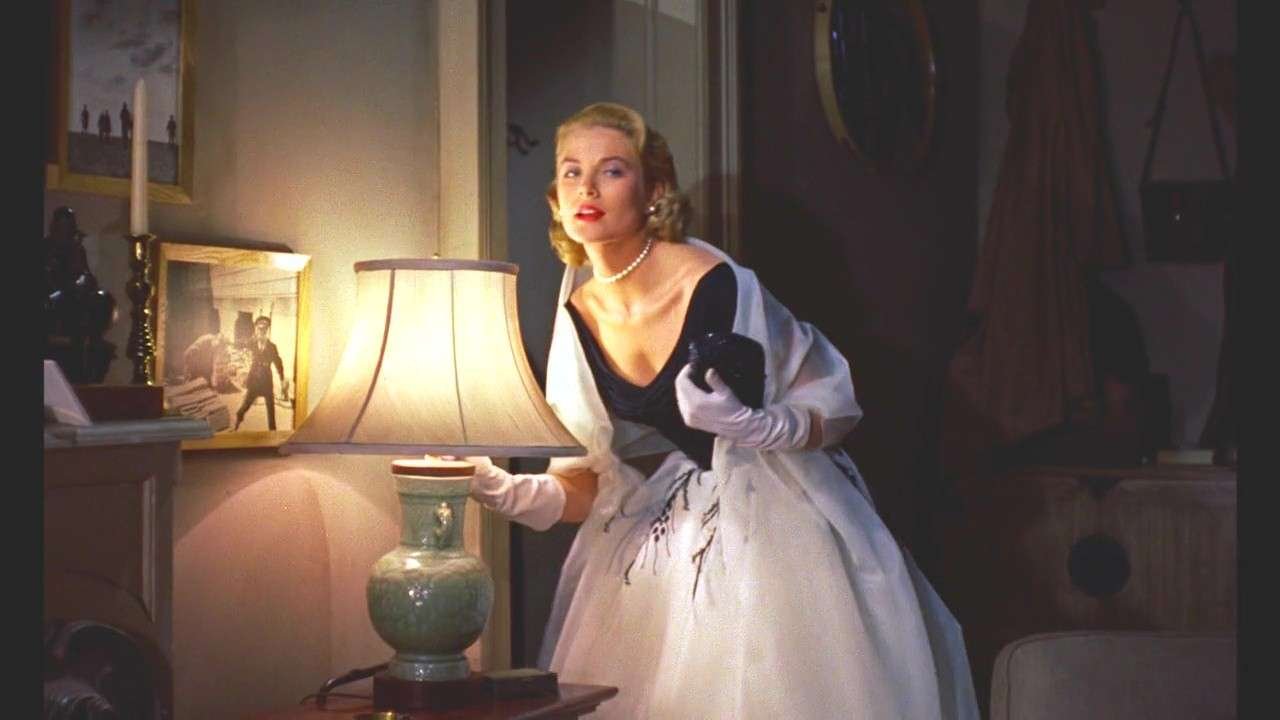 Grace Kelly in Rear Window
It is my view that horror films utilize two aesthetics to create atmosphere and psychological mood. One is the film noir aesthetic and the other is the erotic aesthetic. Both are used to heighten the viewer's senses and imagination, making them more susceptible for psychological terror.
The film noir aesthetic uses darkness and mystery to evoke paranoia, dread, fatalism, and a feeling of hopeless despair. Film noir horror involves serial killers, psychopaths, monsters, and aliens.
Erotic horror is not pornographic, rather it evokes emotions and desires through seduction, intrigue, and mystique of the film's victims and the audience. Vampires, demons, devils, ghosts, and witches are about erotic seduction.
The Italian Giallo horror style uses both noir and erotic elements. Giallo films arose in the 1960s and 1970s. Giallo is a mystery- thriller horror movie which uses gruesome bloody slasher techniques, psychological terror, erotic sexploitation, stylish visuals, colors, and lighting bordering on camp style and décor. It's amazing that Italian serial killers only prey on scantily clad sexy female fashion models.
The Hunger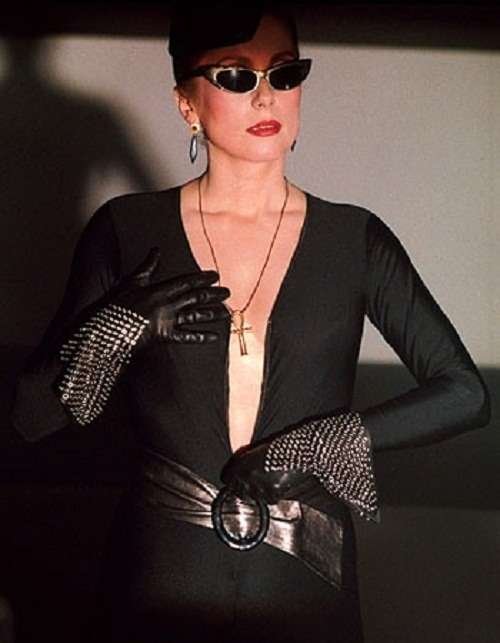 I saw The Hunger at the movie theater when it came out, I enjoyed it and think it's one of the best vampire movies and has become a cult classic. The movie is extremely stylish, erotic, moody, cool, haunting, elegant, and is a sensory overload.
The film is the most fashionable horror film ever made. It's like a long fashion or perfume ad. The cast exudes trendy fashion in black leather, lace, chiffon, designer suits, and dresses. Catherine Deneuve dressed in Yves Saint Laurent 1980s-designed clothing.
Film critics either loved it or attacked the movie for not being a true vampire movie, for a weak plot, and too many impressionistic images and flashbacks. I agree, and that's the point – it's an erotic sensual impressionistic film, more like a music video. The viewer is overwhelmed with trendy fashion and décor, exotica, music, and eroticism. There is subtle horror but done as intrigue and mystery. The movie poses questions and never gives the answers.
The cast is legendary. A threesome of ancient Egyptian vampire priestess Catherine Deneuve, her dying lover David Bowie, and her new victim Susan Sarandon. All three had performed in erotic movies before and they excel in this one. The explicit sexual lesbian scene with Deneuve and Sarandon was quite controversial at the time, a real eye-popper.
The music is one of the best scores in film, with beautiful classical music. The Flower Duet from the opera Lakme by Delibes is very haunting and creates a mysterious mood. Other works include Trio in E Flat, Opus 100 by Franz Schubert, Suite #1 for Cello in G Major, BWV 1007 by Johann Sebastian Bach, and Partita #3 in E, BWV 1006 by Bach.
Details: 1983, UK, U.S., erotic horror. Director: Tom Scott. Cast: Catherine Deneuve, David Bowie, Susan Sarandon. Costume design: Milena Canonero.
Suspiria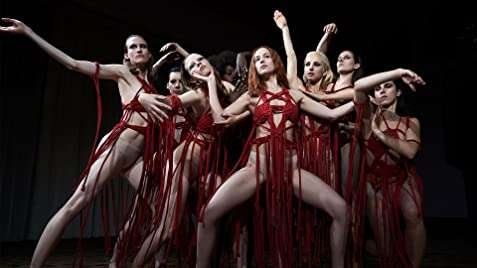 The critically acclaimed Suspiria has been called hypnotic, nightmarish, and a mind melting Hellscape, a fit tribute to the 1977 classic Giallo film of the same name by Dario Argento.
The story is set in the 1970s at a dance academy in Berlin run by a coven of witches that kills off students or possess their bodies. The academy's director is played by Tilda Swinton. The dance scenes are spectacular.
The movie is a fashion catalog of 1970s chic influenced by the fashion designs of Prada, Louis Vuitton, and Gucci. Stylish 70s blouses, midi-skirts, stacked high heel boots, patchwork cloaks, and more.
Details: 2018, Italy, Giallo horror. Director: Luca Guadagnini. Cast: Dakota Johnson, Tilda Swinton, Mia Gota, Angela Winkler, Chloe Grace Moretz. Costume design: Giulia Piersanti.
Rosemary's Baby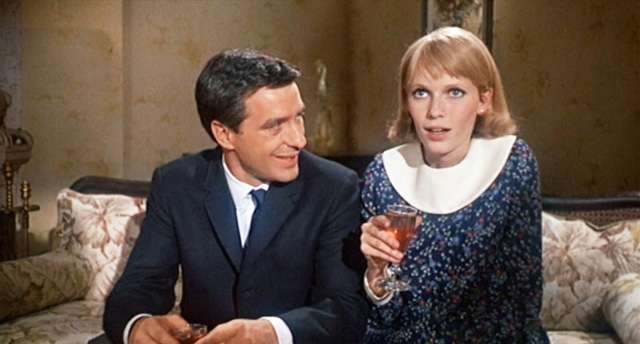 When I was young I read Rosemary's Baby novel and saw the movie at the theater. The film took the story to deeper levels of horror than I expected with the décor, style, music, and cinematography. This is a Roman Polanski masterpiece and a triumph of Mia Farrow's acting. The supporting cast is wonderful. It fulfills horror fans' needs – suspense, intrigue, psychological terror, style, mood, atmosphere, storyline, acting, surprise – it has it all. One of the greatest horror films ever made.
The story is about a young couple played by Mia Farrow and John Cassavetes, who move into a gothic-style apartment in New York City. Soon they are befriended by a charming old couple that leads a Satanic cult that drugs Farrow to be Satan's bride and mother of his child.
Mia Farrow's 1960s Mod style innocent look became a major fashion trend with bright colors and pastel hues, floral prints, baby doll dresses, above-the-knee dresses, frocks, Peter Pan collars, and Mary Jane shoes, and pixie haircut.
Details: 1968, U.S., supernatural horror. Director: Roman Polanski. Cast: Mia Farrow, John Cassavetes, Ruth Gordon. Costume design: Anthea Sylbert.
American Psycho
Perhaps the best men's high fashion movie, set in 1980s Wall Street wealth, excess, and decadence. American Psycho is a very dark comedy about a serial killer that leaves open the possibility that this is just a sick fantasy of a sociopath's imagination.
I worked on Wall Street in the 1980s and this movie captures that era perfectly.
Much of the movie is about personal grooming, men's fashion, luxury lifestyle, and fine restaurants. This is critical to the character Patrick Bateman played by Christian Bale, who works overtime to fit into the 1980s Wallstreet investment banking elite. He has to create an exterior persona to mask his true character, and he lacks emotion and compassion. He is empty, as he declares, "There is no me."
The movie is a 1980s men's fashion catalog of designer suits, striped shirts, blue shirts with white collars, ties, shoes, styled hair, 5-star restaurants, elite nightclubs, and beautiful people. It is also a dark satire on the super-rich living in utter wealth and splendor but leading shallow lives, bored by life, obsessed with greed, and seeking hedonistic pleasures and drugs.
Details: 2000, U.S., black comedy horror. Director: Mary Harron. Cast: Christian Bale, Jared Leto, Willem Dafoe, Reese Witherspoon. Costume design: Isis Mussenden.
The Witches of Eastwick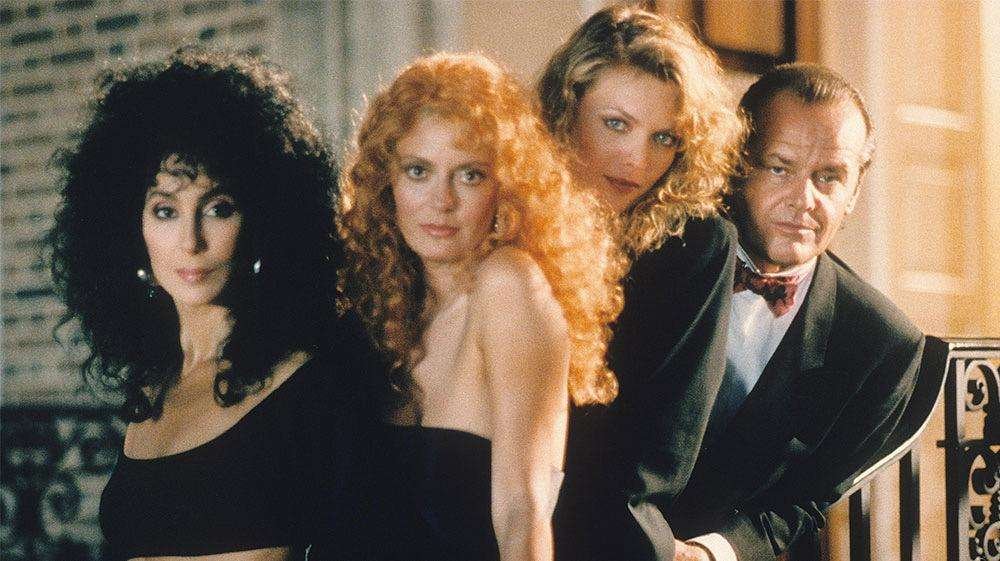 A wonderfully quirky, dark comedy about a lovable "horny little Devil" Daryl Van Horn played by Jack Nicholson, and three New England witches played by Cher, Michele Pfeiffer, and Susan Sarandon. He seduces them with sex, fun, wealth, and personal freedom, hiding his evil motive to father a new generation of the sons of Satan.
The movie is devilish, wicked, naughty fun, the way the Devil would do it. Visually striking and well crafted. The film exudes high fashion and extravagant luxury lifestyles. It is a sensory overload of stylish eye candy taken to the extreme.
Nicholson is adorned as a rich playboy, Cher as a Bohemian artist, Sarandon as a newly liberated music teacher, and Pfeiffer as a shy mother.
Details: 1987, U.S., dark comedy horror. Director: George Miller. Cast: Jack Nicholson, Cher, Michelle Pfeiffer, Susan Sarandon. Costume design: Aggie Guerard Rodgers.
The Ninth Gate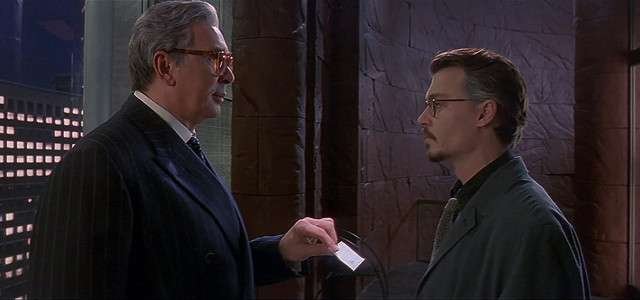 An underrated dark and intriguing movie with stylish Satan worshipers seeking immortality. Johnny Depp is at the top of his game and Frank Langella excels as a scary devil worshipper. The movie is compelling throughout, artfully crafted, and deliberately paced. The film is a fashion plate of old wealth and European style.
Depp plays Dean Corso a corrupt dealer in rare books who is hired by Langella to authenticate The Nine Gates of the Kingdom of Shadows claimed to be written by Lucifer. Legend has it that the book can open the gates of immortality. A thrilling mystery of intrigue, violence, and murder follows Depp's investigation.
Depp, Langella, and Lena Olin are dressed like fashion models, Depp as a rebellious intellectual, Langella as a stylish multi-millionaire, and Lena Olin as a sensual beautiful heiress.
Details: 1999, France, Spain, neo-noir horror. Director: Roman Polanski. Cast: Johnny Depp, Frank Langella, Lena Olin, Emmanuelle Seigner; Costume design: Anthony Powell.
Hitchcock Fashionable Film Noir Horror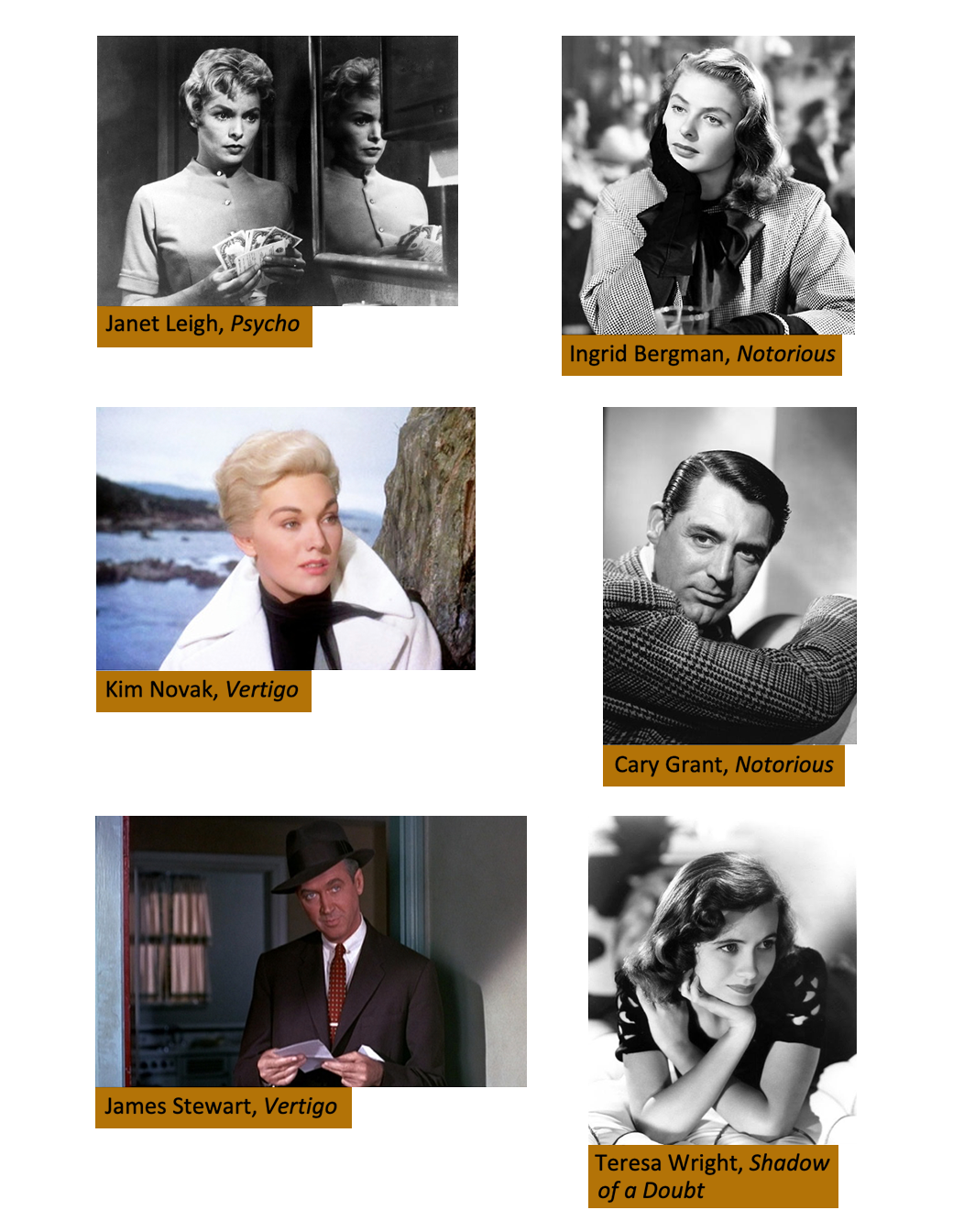 Cat People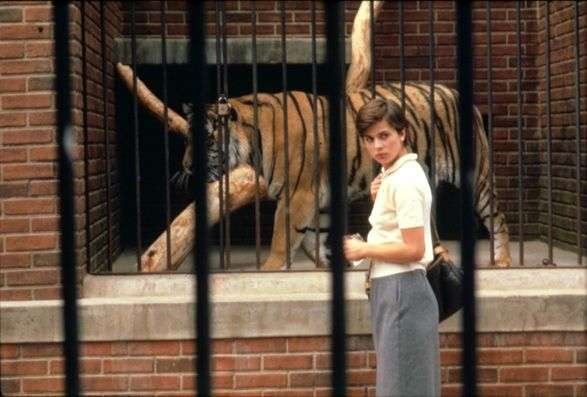 Cat People is a grisly and lurid art house film crafted in a provocative style. Intriguing and very erotic set in a dream-like atmosphere. Natassja Kinski is very watchable and gives a hypnotic performance, she is simply captivating. Malcolm McDonald is excellent as a cunning and seductive villain of the cat people clan. The intense eroticism is explosive and delves into the forbidden realm of incest.
The movie is full of 1980s fashion and style. Kinski is sexy in casual, dressy, and lingerie clothing. McDonald's is stylish and dapper.
Kinski plays a young woman discovering the supernatural bloodline that will cause her to transform into a black leopard when she has sex. The only way she can return to human form is by murdering a human.
Details: 1982, U.S., erotic horror. Director: Paul Schrader; Cast: Natassja Kinski, Malcom McDowell, John Heard; Costume design: Daniel Paredes.
The Craft
The Craft is a tongue-in-cheek supernatural horror movie targeted at the MTV teen market. It is a 1990s trendy teen fashion catalog. Mean Girls meets black magic.
Four private high school students form a witches' coven but soon discover that misuse of magical power can have horrible consequences. They cast spells against their enemies resulting in death and mutilation. Soon they turn violent against each other.
The fashion is a mix of 1990s school-girl goth, grunge, punk, and preppy. Chunky low-heeled boots, black tights, thigh-high socks, layered necklace, black knit mini-skirts, dark lipstick, jackets, and others.
Details: 1996, U.S., supernatural horror. Director: Andrew Fleming. Cast: Robin Tunney, Fairuza Balk, Neve Campbell, Rachel True. Costume design: Deborah Everton.
The Birds
I saw this at the movie theater and it is one of the scariest movies I have ever seen. The Hitchcockian suspense and terror are unrelenting as the world is on the edge of apocalyptical annihilation. This is a true horror masterpiece of Hitchcock's genius.
Real-life fashion model Tippi Hedren is very chic and glam playing a wealthy socialite playgirl dressed in high fashion by Hitchcock's award-winning costume designer Edith Head. Hedren wears a Chanel green suit, a mink fur coat, and a beige crocodile purse.
The movie is about the sudden attacks by birds killing people in a small California coastal town. Soon it is discovered it is a national phenomenon. The movie is very suffocating and claustrophobic as characters are trapped hiding indoors during non-stop waves of bird attacks. The suspense, tension, and horror are unforgiving.
Details: 1963, U.S., horror thriller. Director: Alfred Hitchcock. Cast: Tippi Hedren, Rod Taylor, Jessica Tandy, Suzanne Pleshette. Costume design: Edith Head.
Hannibal
The lovable cannibal serial killer Hannibal Lecter has escaped from prison and has a wonderful time enjoying the world of art in Florence while dressed to the max in high fashion and looking for his next meal. Anthony Hopkins excels in this role, but Gary Oldman as disfigured Mason Verger steals the show with a wonderfully creepy performance. Julianne Moore plays Hannibal's love object FBI agent Clarice Starling.
Hannibal played by Anthony Hopkins is well groomed and elegant in Italian Gucci and Armani suits and a fedora hat. The other characters are displayed in fashionable attire as well. In one scene Hannibal tries to seduce drugged Clarice whom he has dressed up in a Gucci black evening gown and shoes. Florence police detective Pazzi is dressed in Italian designer suits and Mason Verger wears expensive Saville Row suits and ties.
The villains are those trying to trap Hannibal by using Clarice as bait, but he is ahead of them and prepares some of the most gruesome murders on film.
Details: 2001, U.S., neo-noir horror. Director: Ridley Scott. Cast: Anthony Hopkins, Julianne Moore, Ray Liotta, Gary Oldman. Costume design: Janty Yates.
The Neon Demon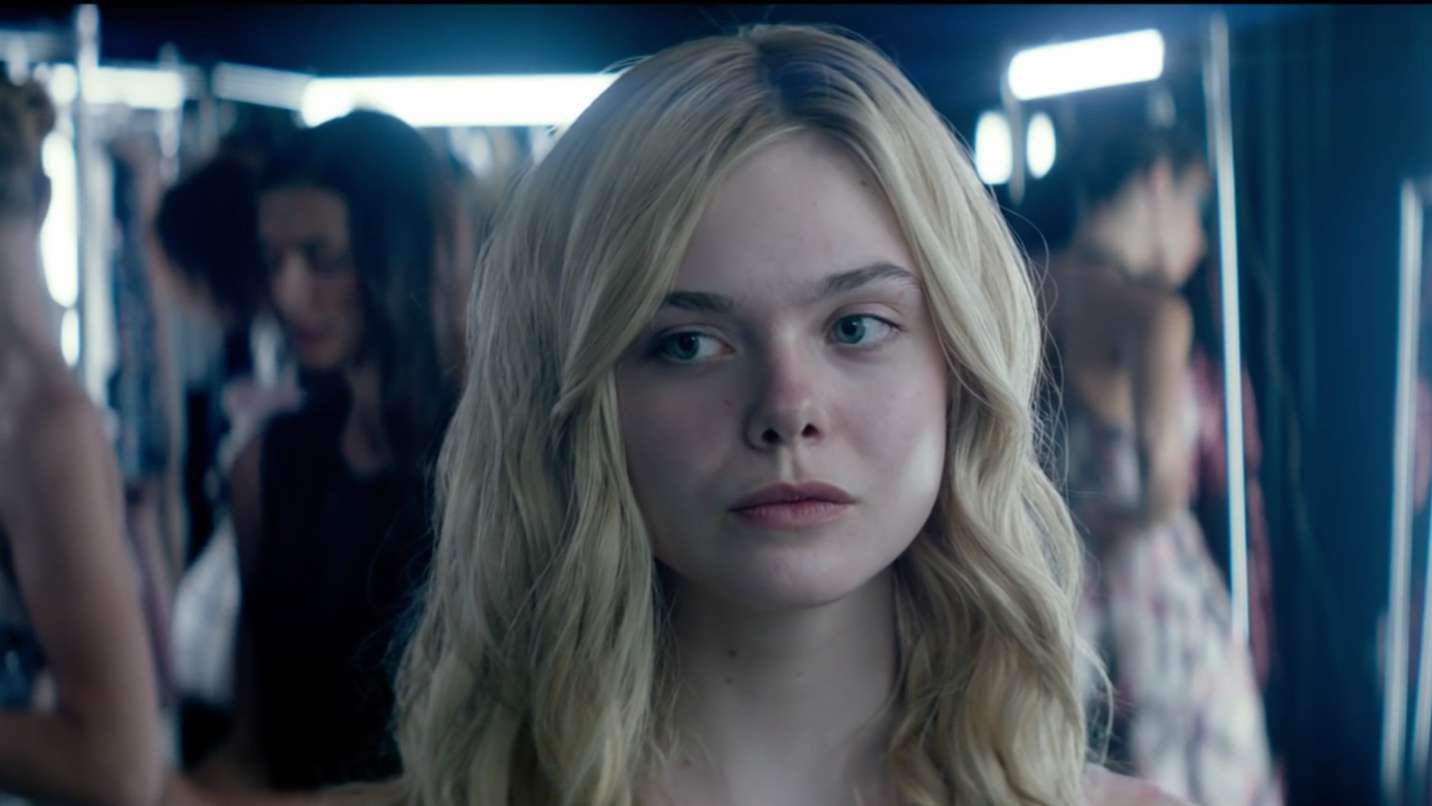 A Danish/ French stylish Giallo psychological horror film. The film is a dark look at modeling, the fashion world, and society's obsession with beauty and youth. The movie is stunning in neon imagery and intentional campy bad taste for effect. It is a homage to Giallo director Dario Argento in aesthetics and mood.
Jesse played by Elle Fanning moves to Los Angeles to be a fashion model. As she rises in the LA fashion world she is despised for her young fresh appeal by the other models. Driven to hysteria the models attack Jesse and each other in a cannibalistic orgy.
Details: 2016, Denmark, France, Giallo horror. Director: Nicolas Winding Refn. Cast: Elle Fanning, Kal Glusman, Jena Malone, Keanu Reeves. Costume design: Erin Benach.
The Devil's Advocate
The Devil's Advocate is full of devils and demons decked out in 1990s high fashion as top defense attorneys and fashion models in Manhattan. The movie is a seductive and stylish thriller full of mystery, intrigue, sex, indulgent excesses, and a little violence, it is very entertaining. The characters and acting are great, especially Al Pacino who steals the show.
The story involves a successful Florida attorney Kevin Lomax, played by Keanu Reeves, who is invited to New York to join a major law firm owned by John Milton, played by Al Pacino. It turns out that Milton is actually Satan and is secretly Lomax's father, who wants Lomax to have sex with his sister to conceive the Anti-Christ. The film makes allusions to Milton's Paradise Lost, Dante's Divine Comedy, and Goethe's Faust.
Details: 1997, U.S., supernatural horror. Director: Taylor Hackford; Cast: Al Pacino, Keanu Reeves, Charlize Theron, Connie Nielson; Costume design: Sarah Edwards, Judianna Makovsky.
Stylish Dracula's – Masters of Seduction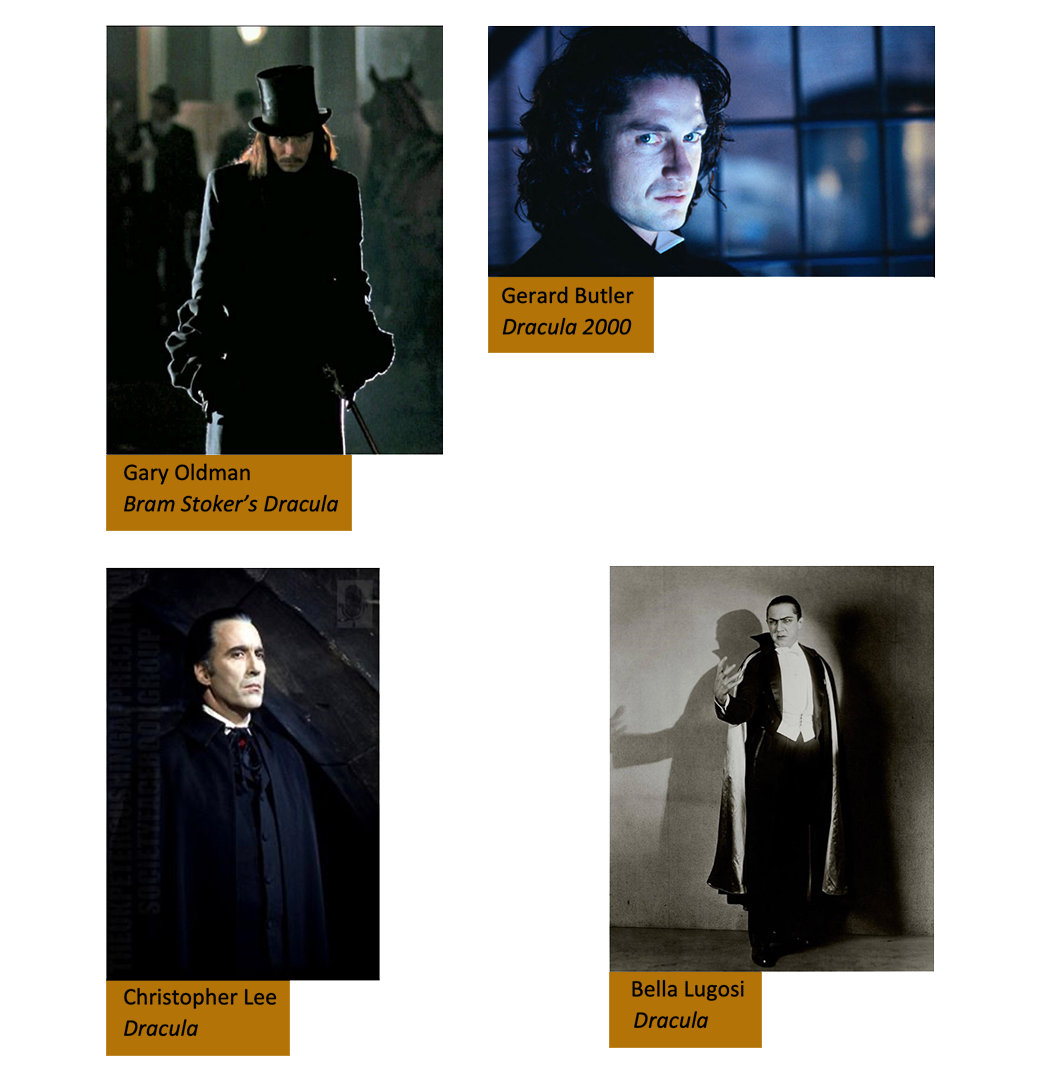 Daughters of Darkness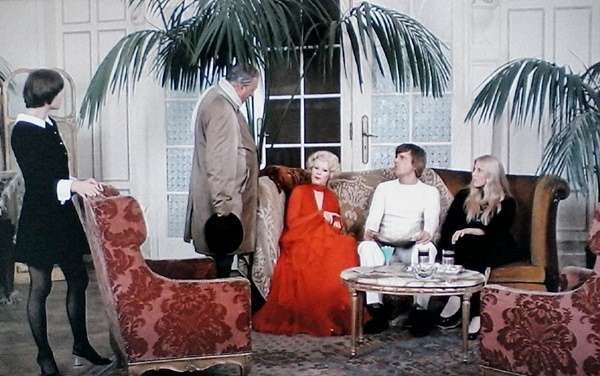 Daughters of Darkness is critically acclaimed as one of the most aesthetically beautiful vampire movies ever released. It has more emphasis on style and fashion than horror. The movie exudes artistic and sensual eroticism, creating a sophisticated blend of weirdness, elegance, beauty, and seduction. Critics claim that it is surrealistic, hypnotic, and intoxicating.
The story is about a newlywed couple Stefan and Valerie staying at a remote extravagant Belgium seaside hotel. The vampire Countess Elizabeth Bathory also stays at the hotel with her secretary Ilona. The Countess works on seducing Valerie while Ilona seduces Stefan, which leads all to a violent tragic end.
Details: 1971, Belgium, erotic horror. Director: Harry Kumel. Cast: Delphine Seyrig, John Karlen, Danielle Ouimet, Andrea Rau.
Dressed To Kill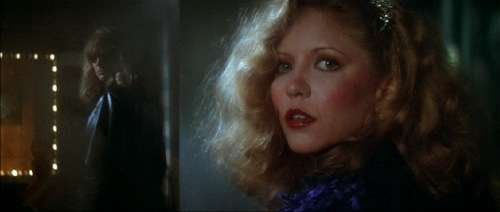 Dressed to Kill is a lurid erotic thriller and a surprising gender bender. With stunning visuals, nail-biting suspense, stylish, kinky sex, and an engrossing mystery. It is a well-made film by director Brian DePalma. All the characters are attired in fashionable style.
Liz, a prostitute played by Nancy Allen, witnesses a woman kill another woman Kate played by Angie Dickinson. It turns out that Liz and Kate were both patients of a psychiatrist played by Michael Caine. Liz and Kate's son Peter discover that the killer is also a patient of Caine. As the story unfolds, Michael Caine is the actual killer
dressed in a woman's disguise.
Details: 1980, U.S., erotic horror. Director: Brian DePalma. Cast: Michael Caine, Angie Dickinson, Nancy Allen, Keith Gordon. Costume design: Gary Jones, Ann Roth.
The Love Witch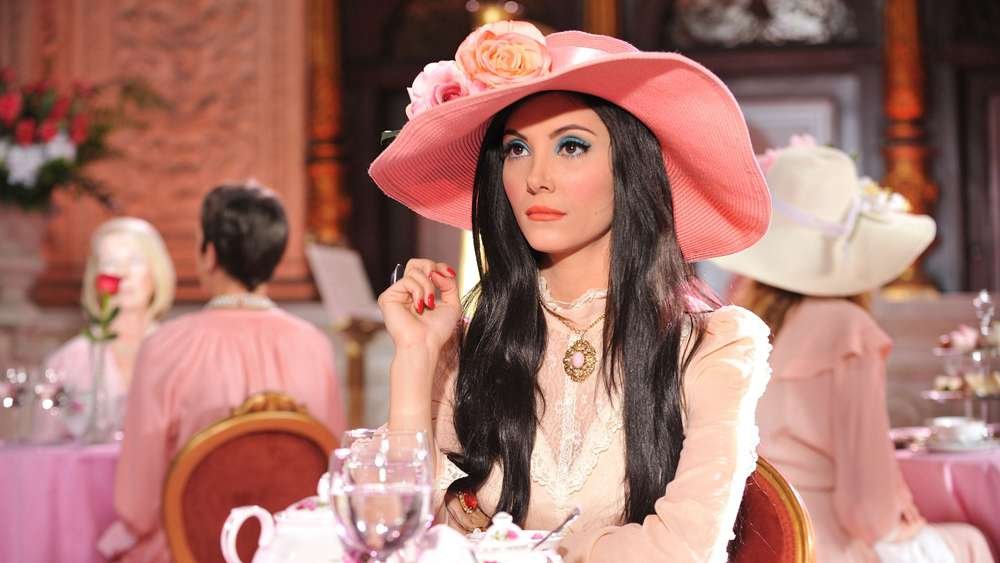 The Love Witch is a fun, witty spoof on horror movies, intentionally made to look over-the-top, camp, kitschy, and glam. It is made to look and feel like a 1960s B-movie. The retro fashion and décor are dazzling.
Elain Parker, played by Samantha Robinson, is a modern-day witch obsessed with finding love, no matter whom she must kill to find it. She seduces men and casts spells and potions on them. When they become obsessed with her, she rejects and kills them and then moves on to her next victim.
Details: 2016, U.S., comedy erotic horror. Director: Anna Biller. Cast: Samantha Robinson. Costume design: Anna Biller.
Rear Window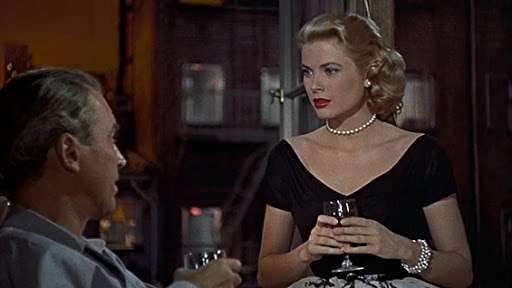 Hitchcock's masterpiece of suspense showcases leading designer dresses worn by Grace Kelly. The movie is as much a fashion show as it is a horror thriller. Considered one of the greatest movies ever made.
Grace Kelly steals the show as the 'too perfect woman' wearing a different French high-end designer dress in every scene. Edith Head dressed Kelly in 1950s French New Look high fashion of Christian Dior, Pierre Cardin, and Balenciaga. The Dior black V-cut bodice billowy dress is the most famous and copied outfit Kelly ever wore.
The story is about Jeff Jeffries, played by James Stewart, who is confined to a wheelchair. His girlfriend is Lisa Fremont, a rich socialite in the fashion industry, played by Grace Kelly. Jeffries suspects that a neighbor, Lars Thorwald played by Raymond Burr, killed his wife. Thorwald discovers Jeff and Lisa are on to him and the suspense thickens.
Details: 1954, U.S., film noir horror. Director: Alfred Hitchcock. Cast: James Stewart, Grace Kelly, Raymond Burr. Costume Design: Edith Head.
Tenebrae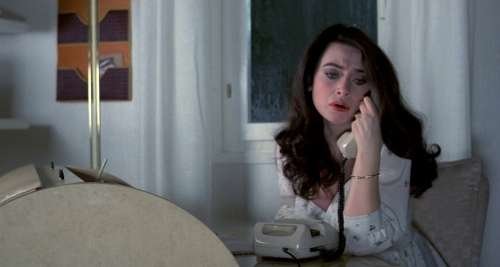 Tenebrae is one of the best thrillers by Dario Argento, the Italian "master of horror" and leader of Giallo slasher films. Argento's films are known for stunning visuals, distinctive use of colors, and their lavish, excessive style.
The movie is about mystery writer Peter Neal played by Anthony Franciosa. Neal is in Rome to promote his new novel and becomes embroiled in the search for a serial killer inspired by his novels. People connected to Neal are murdered one at a time. A true Argento film that is Imaginative, gruesome, suspenseful, twisted plot, surprise ending, and very erotic.
The movie is very stylish using Italian designer clothes. Men in fashionable suits or sports jackets. Women in designer dressy or casual attire in white and pastel creams to contrast the bloody murder scenes.
Details: 1982, Italian Giallo horror. Director: Dario Argento. Cast: Anthony Franciosa, Christian Borromeo, Daria Nicolodi, John Saxon. Costume design: Piero Cicoletti.
Fashionable Witches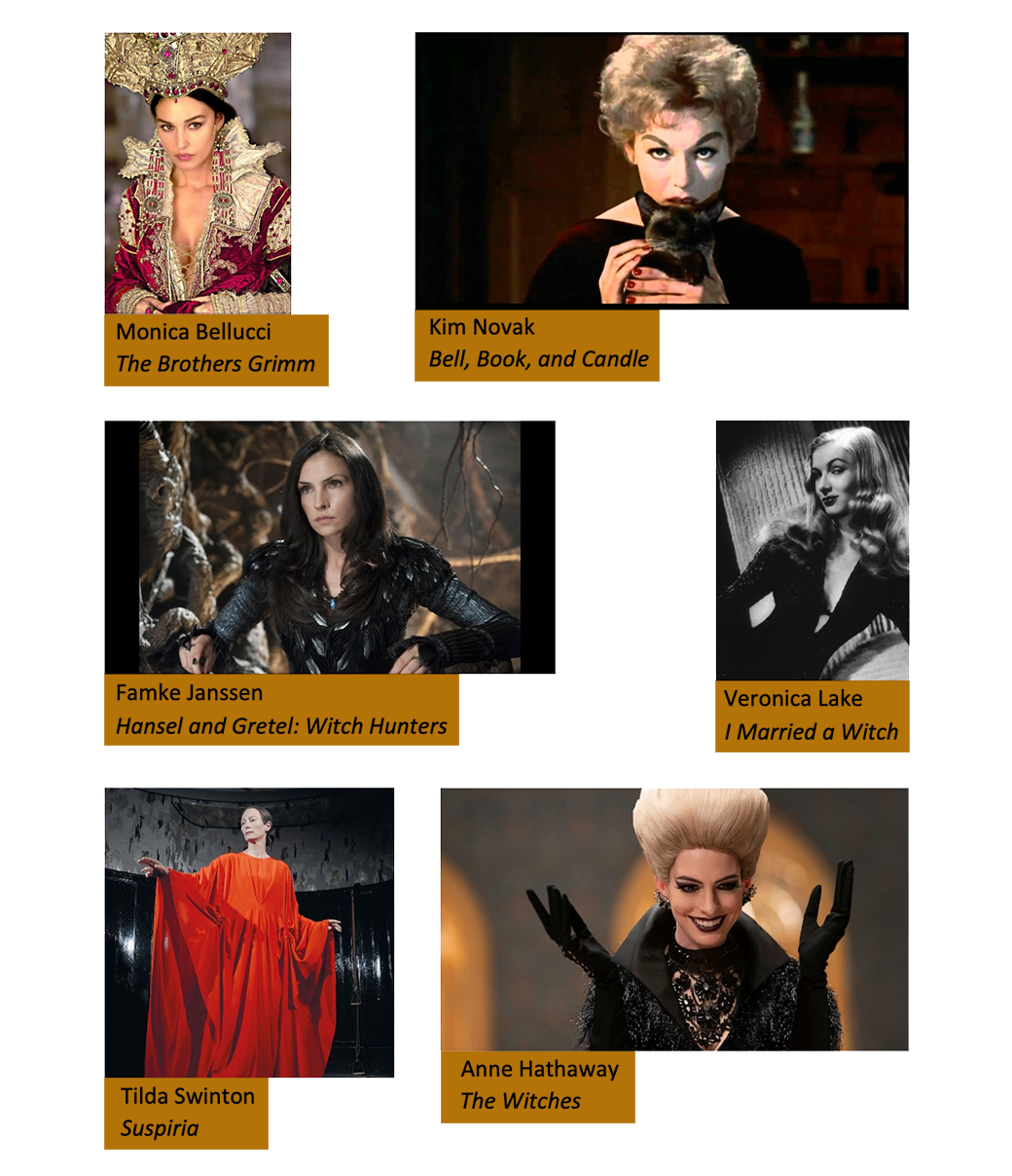 Angel Heart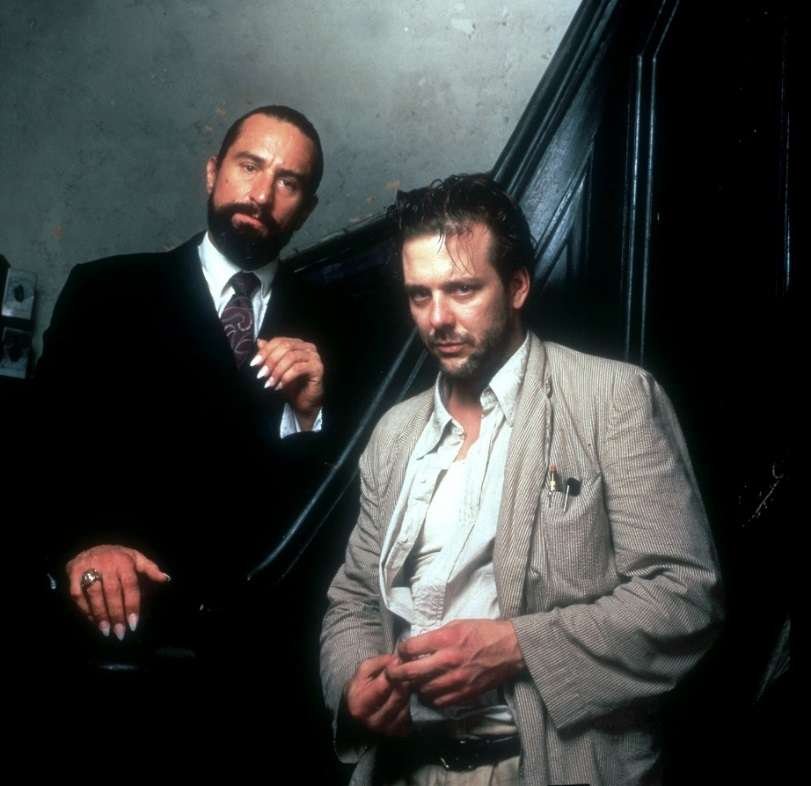 DeNiro steals the show as one of the most fashionable devils on film and Mickey Rourke sells it with a great performance. You will pray there is no Hell. The film delves into a world of ultimate evil and damnation. Stylish, well-crafted, and full of suspense, intrigue, and psychological horror. The characters are dressed in full 1940s fashionable style.
Rourke is a private detective hired by a man looking for Johnny Favorite, a famous crooner. Rourke does not know that his client is in fact Lucifer and that Rourke is Johnny Favorite with plastic surgery and amnesia. Rourke investigates and is unaware he is leaving a trail of corpses from New York to New Orleans orchestrated by Lucifer.
Details: 1987, U.S., neo-noir horror. Director: Alan Parker. Cast: Robert DeNiro, Mickey Rourke, Lisa Bonet, Charlotte Rampling. Costume design: Aude Bronson-Howard.
Blood and Black Lace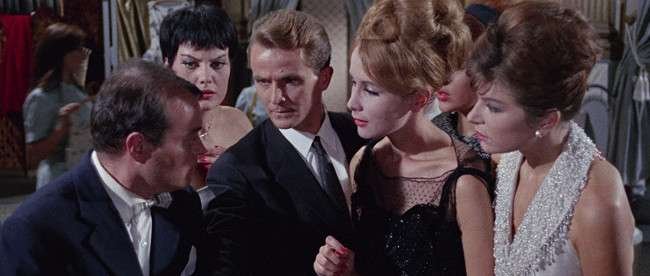 A classic stylistic slasher horror film that influenced Italian Giallo movies and created the Hollywood slasher genre. The movie is stunningly beautiful with brilliant colors, lighting, and shadows. Highly stylish with fashion models dressed in 1960s Italian design.
The film is about the Christian Haute Couture fashion house owned by Countess Cristiana Cuomo in 1960s Rome. The models are individually stalked and brutally murdered by a mysterious masked killer. The police suspect someone working at the salon.
Details: 1964, Italy, dark comedy Giallo horror. Director: Mario Bava. Cast: Eva Bartok, Cameron Mitchell. Costume design: Tina Grani.
Stylish Satan/ Lucifer – Master of Seduction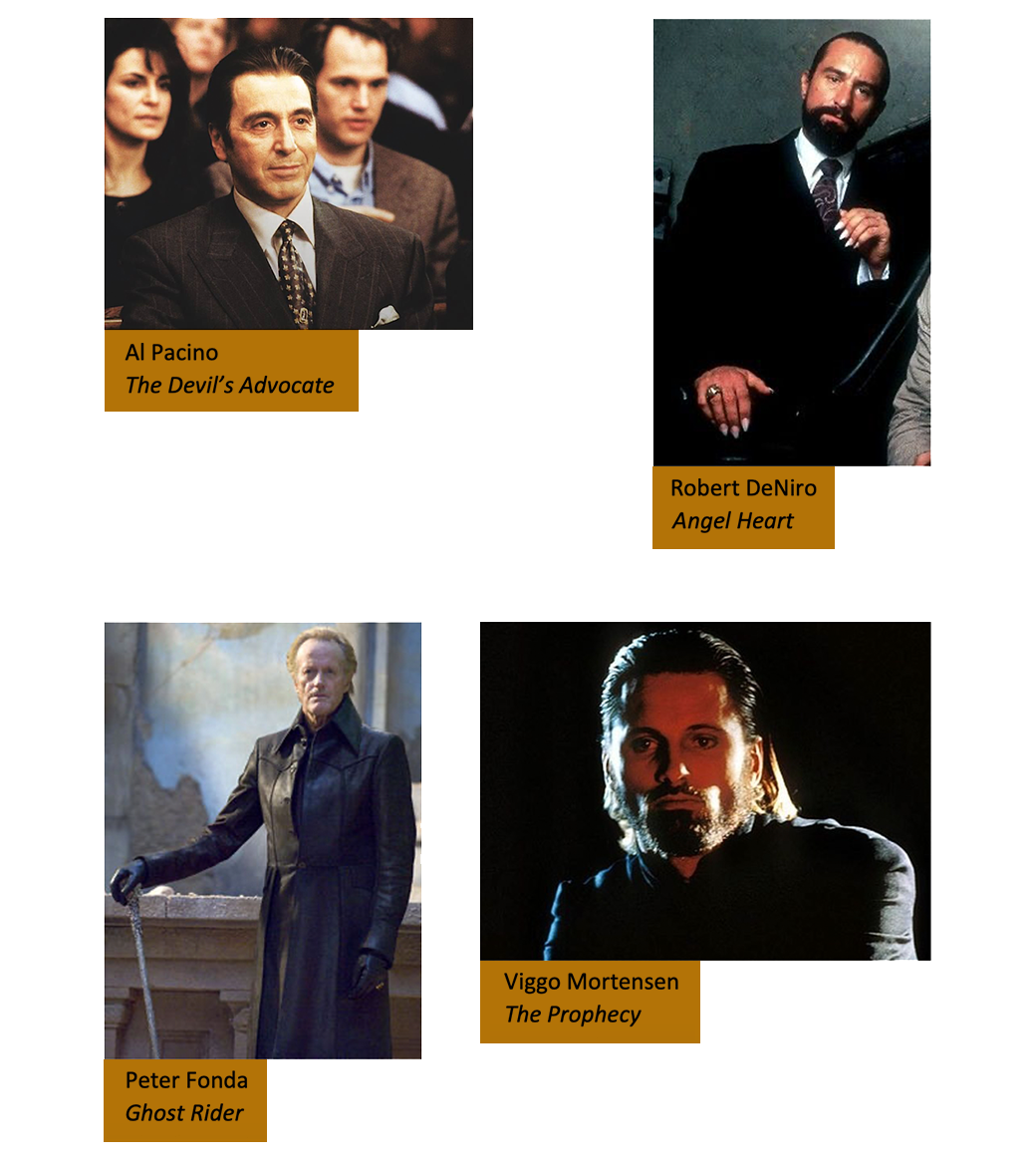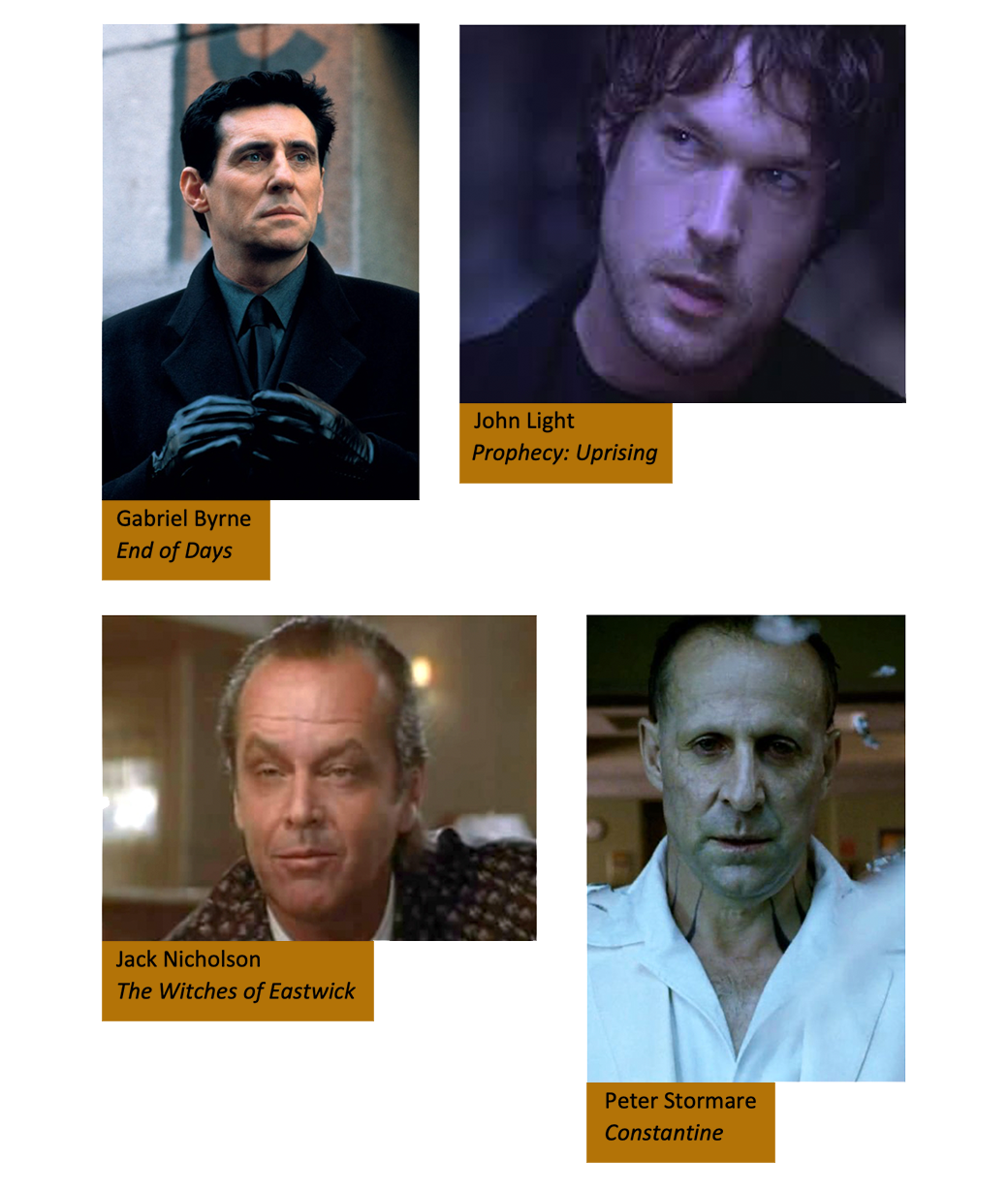 Heathers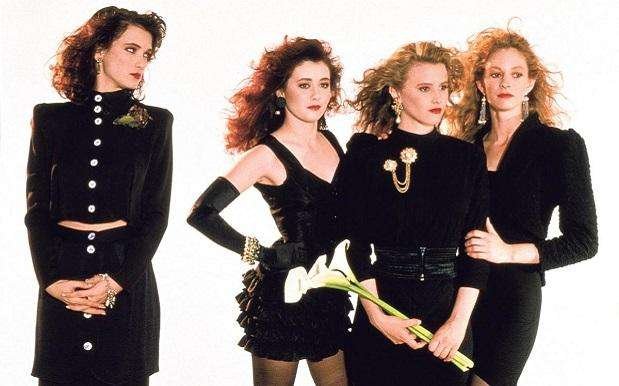 A smart dark comedy that has become a cult classic. A wicked, campy, and funny make-over of high school mean girls. The movie influenced Mean Girls, Gossip Girl, Scream Queens, and Clueless.
Veronica played by Winona Ruder is part of her high school's most popular clique, but she disapproves of the other girl's cruel behavior. She and her new boyfriend J.D., played by Christian Slater, accidentally poison the clique leader and make it look like a suicide. Soon Veronica realizes that J.D. is a psychopath killing students he doesn't like.
The fashion is 1980s teen preppy exemplifying conformity, status hungry, and privilege. Bold shoulder-padded blazers, color-coordinated outfits, skirt suits, buttoned-up blouses, colored tights, and suspenders.
Details: 1989, U.S., black comedy horror. Director: Michal Lehmann. Cast: Winona Ryder, Christian Slater, Shannon Doherty. Costume design: Rudy Dillon.
The Eyes of Laura Mars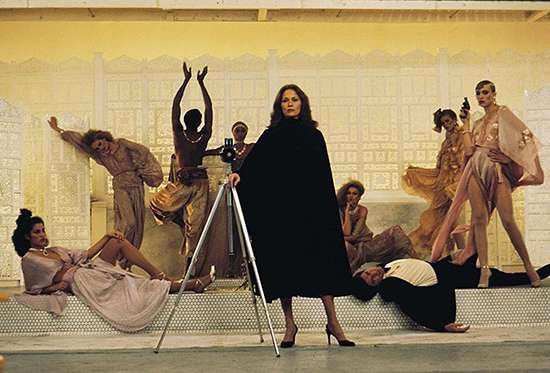 The movie is a neo-noir thriller and is considered an American version of the Italian Giallo horror genre. This is a suspenseful and highly stylish horror film with a top-rated cast. The screenplay was written by horror filmmaker John Carpenter.
Laura Mars played by Faye Dunaway is a glamorous fashion photographer who has a psychic connection to a serial killer. All of Mars' staged violent fashion scenes with fashion models are copied by the killer in actual murders. The movie is a fashion extravaganza, very chic. The fashion and style were designed by Theoni Aldredge, one of the most honored costume designers of American theater and film.
Details: 1978, U.S., neo-noir horror. Director: Irvin Kershner; Screenplay: John Carpenter; Cast: Faye Dunaway, Tommy Lee Jones, Brad Dourif; Costume design: Theoni V. Aldredge.
Fashionable Vampires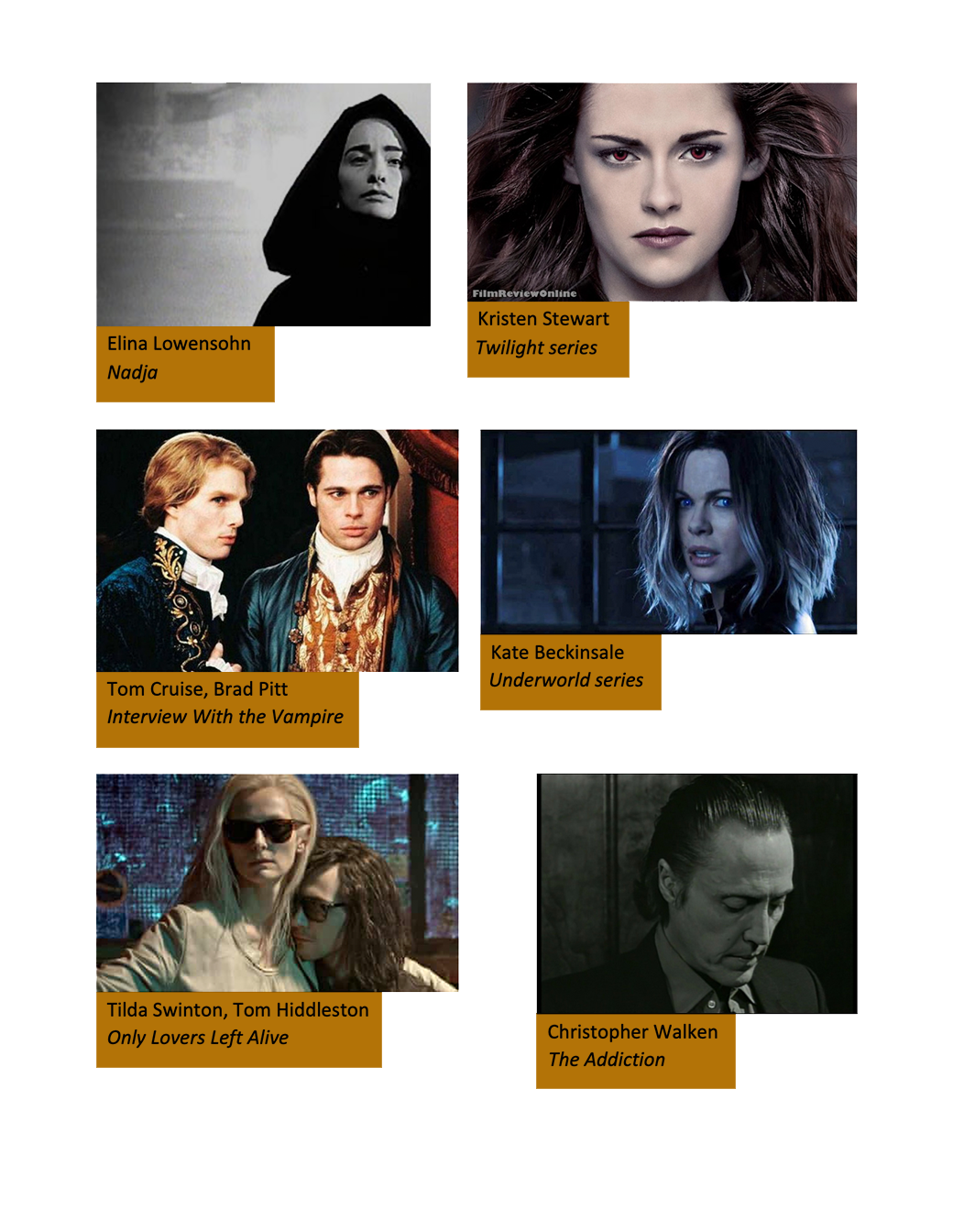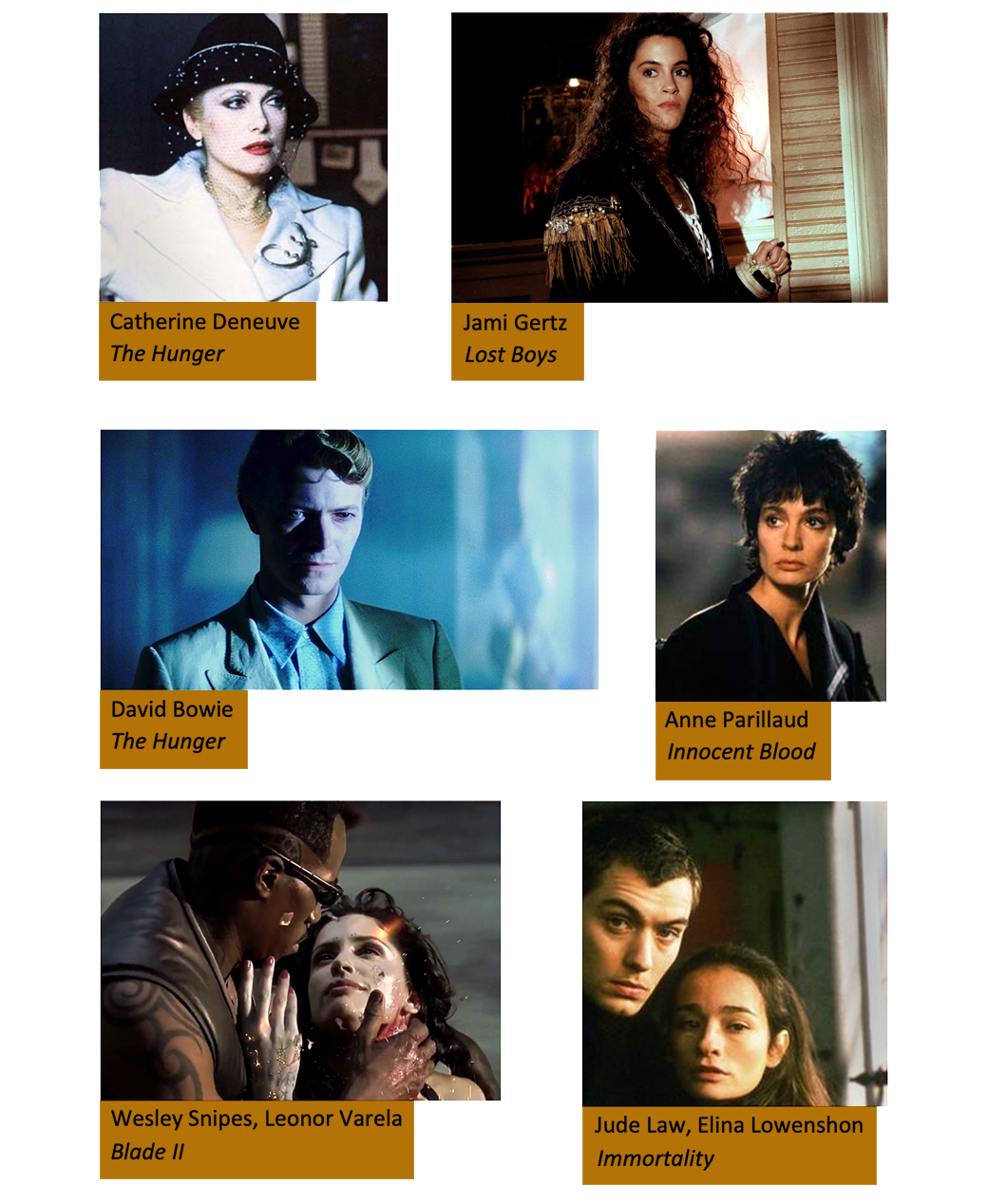 Sources
Cine Vertigo
eFilm Critics
Entertainment
Esquire
GQ
Harper's Bizarre
Highsnobiety
IMDB
L'Officiel
Fandango
Fashion
Stories for Ghosts
Marie Clare
New York Times
Past
Slant
Time Out
Vanity Fair
Variety
Vogue
W Magazine
Wikipedia