I have been a devoted fan of Sarah Vaughan since my teen years. I saw her live and have many of her albums. Her wonderful voice and unique song interpretation is simply a divine experience. In my book there are three goddesses of jazz – Billie Holiday, Ella Fitzgerald, and Sarah Vaughan.
Sarah Lois Vaughan (1924 – 1990) was an American jazz singer. Nicknamed "Sassy" and "The Divine One", she won two Grammy Awards, the Grammy Lifetime Achievement Award, the Grammy Hall of Fame, and was nominated for a total of nine Grammy Awards. She also won a Hollywood Walk of Fame and an honorary doctorate degree in music from the Berklee College of Music.
She began her singing career in the late 1940s with bebop jazz bands such as Earl Hines, Billy Eckstine, Dizzy Gillespie, Charlie Parker, and Bud Powell. She had a number of 1940s hits such as Body and Soul, Nature Boy, Summertime, Black Coffee, and Tenderly.
Vaughan reached stardom by the 1950s and awarded by Esquire, Billboard, and Downbeat. She performed with Count Basie, Dave Brubeck, Horace Silver, Clifford Brown, Errol Garner, and Lester Young. By the 1960s Vaughan became an international superstar.
East of the Sun, West of the Moon performed by Sarah Vaughan, composed by Brooks Bowman
What the Critics Say
Critic Scott Yanow – "One of the most wondrous voices of the 20th century".
Billboard: – "Her individual phrasing, her highly distinctive mannerisms are in the grooves. For the dealer with any jazz trade at all, she is virtually a must."
Penguin Guide to Jazz – "It is very difficult to find any flaw in what should be recognized as one of the great jazz vocalists."
The New York Times – "A singer who brought an operatic splendor to her performances of popular standards and jazz…What may well be the finest voice ever applied to jazz… A youthful suppleness and remarkably luscious timbre, capable of the projection of coloratura passages described as delicate and ringingly high."
Mel Tormé – "The single best vocal instrument of any singer working in the popular field."
September In the Rain performed by Sarah Vaughan, composed by Harry Warren and Al Dubin.
Frank Sinatra – "Sassy is so good now that when I listen to her I want to cut my wrists with a dull razor."
Gary Giddins – "Ageless voice of modern jazz – of giddy postwar virtuosity, biting wit and fearless caprice. No matter how closely we dissect the particulars of her talent, we must inevitably end up contemplating in silent awe the most phenomenal of her attributes, the one she was handed at birth, the voice that happens once in a lifetime, perhaps once in several lifetimes."
Martin Williams – "Her ear and sense of pitch were almost perfect, and there were no difficult intervals."
Henry Pleasants – "Vaughan who sings easily down to a contralto low D, ascends to a pure and accurate soprano high C."
Misty performed by Sarah Vaughan, composed by Errol Garner and Johnny Burke.
Sarah Vaughan and Clifford Brown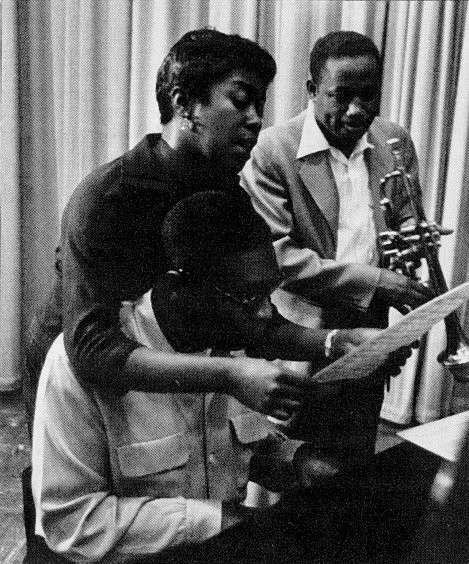 One of the best jazz albums ever recorded. Sarah and Brown are magical together. The album is a mix of bebop and cool jazz with phenomenal vocals by Vaughan and wonderful jazz by the top notch musicians. Inducted into the Grammy Hall of Fame. Allmusic 5/5, Downbeat 5/5, Penguin 4/4.
Album musicians are: Sarah Vaughan – vocals, Clifford Brown – trumpet, Paul Quinichette – tenor saxophone, Herbie Mann – flute, Jimmy Jones – piano, Joe Benjamin – bass, Roy Haynes – drums
Lullaby of Birdland performed by Sarah Vaughan and Clifford Brown, composed by George Shearing and George David Weiss.
Clifford Brown (1930 – 1956) was a phenomenal musician and is considered one of the best jazz artists. His style was clean, crisp, and smooth but could drive a fast tempo. His music is wonderful, very full, rich, and entertaining. Brown has been inducted into both the Down Beat Jazz Hall of Fame and the Grammy Hall of Fame. Unfortunately he was killed in a car accident when he was only 25.
Songs on the album
April in Paris performed by Sarah Vaughan and Clifford Brown, composed by Vernon Duke and E.Y. "Yip" Harburg
Other Great Sarah Vaughan Albums
Sarah Vaughan in HI-Fi, 1955
Songs include: East of the Sun, Nice Work If You Can Get It, Come Rain or Come shine, Goodnight My Love.
Swingin' Easy, 1957
Songs include: Body and Soul, All of Me, Lover Man, Polka Dots and Moombeams.
At Mister Kelly's, Live, 1957
Songs include: September in the Rain, Just One of Those Things, Embraceable You, Honeysuckle Rose.
No Count Sarah, 1959
Songs include: Stardust, Moonlight In Vermont, Smoke Gets In Your Eyes.
Midnight Sun performed by Sarah Vaughan, composed by Burke-Hampton-Mercer.
The Divine One, 1960
Songs: When Your Lover Has Gone, Gloomy Sunday
Vaughan and Violins, 1960
Songs: Misty, Please Be Kind, That's All, I'll Close My Eye
After Hours, 1961
Songs: My Favorite Things, Ev'ry Time We Say Goodbye, In a Sentimental Mood
Count Basie-Sarah Vaughan, 1961
Songs: Teach Me Tonight, You Go to My Head, Perdido
Sarah Sings Soulfully, 1963
Songs: Midnight Sun, Round Midnight, A Taste of Honey
Tenderly performed by Sarah Vaughan, composed by Walter Gross and Jack Laurent.
References
Album liner notes
Online – Allmusic, Billboard, Downbeat, High Fidelity, IMDB, Jazz Times, Wikipedia
Books
The Jazz Singers: The Ultimate Guide, Scott Yanow, Backbeat, 2008.
Living Legends and Ultimate Singers, Maximillien J. de Lafayette, iUniverse.
Sarah Vaughan, Time-Life Music Series, 1985.
Who's Who in Jazz, Cabaret, Music, iUniverse