One of the great 19th Century French artists and pioneer of modern art, Paul Gauguin (1848-1903) post-impressionist painter, sculptor, print engraver, wood engraver, ceramics, and writer. Famous for his paintings while in Tahiti and French Polynesia. Friend of Vincent Van Gogh, Camille Pissarro, Paul Cezanne, and Edgar Degas. He influenced the art of Van Gogh, Picasso, and Matisse.
Born in Paris and raised in Peru. Gauguin worked in the merchant marine, French Navy, and as a stockbroker in the Paris stock exchange. He painted rustic landscapes and the rural life of religious communes in Brittany in 1886. Later he worked with Van Gogh in Southern France in 1888-89. He spent time in Tahiti and French Polynesia painting landscapes, portraits, and symbolic art from 1890 until his death in 1903.
Gauguin began painting in 1873 and become a professional artist in 1882. He was first influenced by the French impressionists and worked with the French impressionist circle of Pissarro, Cezanne, Renoir, Manet, Monet, Degas, and others. In 1888 while working with Van Gogh in southern France, Gauguin developed his Post-Impressionist 'primitive' and symbolic art style.
Gauguin dances a fine line between impressionism and abstraction, often with non-naturalistic landscapes. Known for his experimental use of bold colors. He ignored classical art style with flat 2-dimensional form, exaggerated body proportions, geometric designs, and stark contrasts.
He treated his painting as a philosophical meditation on the ultimate meaning of human existence. He used mystical symbolic themes, often involving fantasy, dreams, religious, and mythical content. His later works pursued primitive style simplicity which he sought from living with "primitive" cultures. He was influenced by the so-called "primitive" art of Africa, Asia, and French Polynesia.
Paul Gauguin on His Art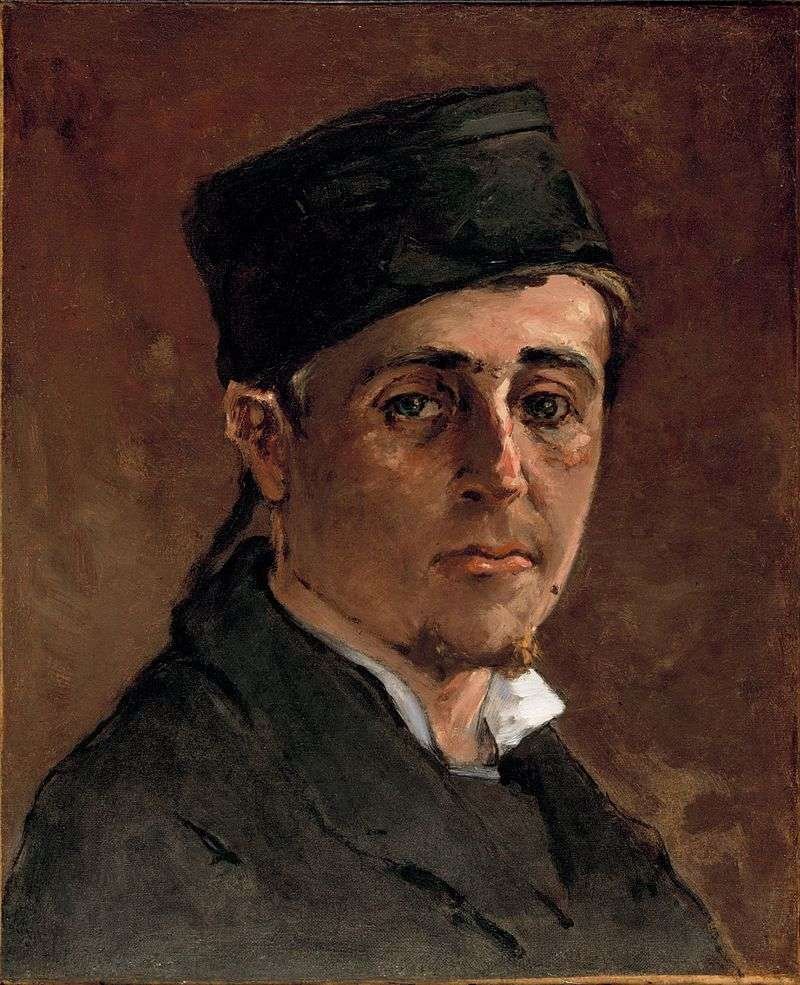 Self-portrait, 1877, Fogg Museum, Cambridge, Massachusetts. The young Gauguin beginning his painting career.
"I have tried to vindicate the right to dare anything."
"The flat sound of my wooden clogs on the cobblestones, deep, hollow and powerful, is the note I seek in my painting."
"I am leaving in order to have peace and quiet, to be rid of the influence of civilization. I want only to do simple, very simple art, and to be able to do that, I have to immerse myself in virgin nature, see no one but savages, live their life, with no other thought in mind but to render, the way a child would, the concepts formed in my brain and to do this with the aid of nothing but the primitive means of art, the only means that are good and true."
"Painting is the most beautiful of all arts. In it, all sensations are condensed, at its aspect everyone may create romance at the will of his imagination, and at a glance have his soul invaded by the most profound memories, no efforts of memory, everything summed up in one moment. Complete art which sums up all the others and completes them."
"Many people say that I don't know how to draw because I don't draw particular forms. When will they understand that execution, drawing and color (in other words, style) must be in harmony with the poem?"
"Don't copy nature too literally. Art is an abstraction. Derive it from nature as you dream in nature's presence, and think more about the act of creation than the outcome."
"Every feature in my paintings is carefully considered and calculated in advance. Just as in a musical composition, if you like. My simple object, which I take from daily life or from nature, is merely a pretext, which helps me by the means of a definite arrangement of lines and colours to create symphonies and harmonies. They have no counterparts at all in reality, in the vulgar sense of that word; they do not give direct expression to any idea, their only purpose is to stimulate the imagination—just as music does without the aid of ideas or pictures—simply by that mysterious affinity which exists between certain arrangements of colours and lines and our minds."
Winter Landscape, 1879, Museum of Fine Art, Budapest. Gauguin's early impressionistic style.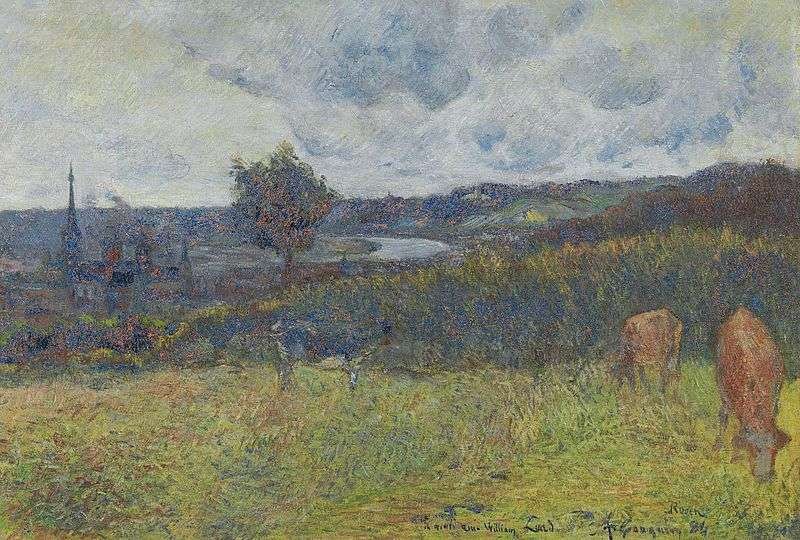 Vue generale de Roen, 1884, private collection, Impressionist style.
Le Port de Dieppe, 1885, Manchester Art Gallery, England. Impressionist style.
Four Breton Women Dancing, 1886, Neue Pinakothek, Munich, Germany
Huutes sous les arbres, 1887, private collection. His late impressionist style starting to transition.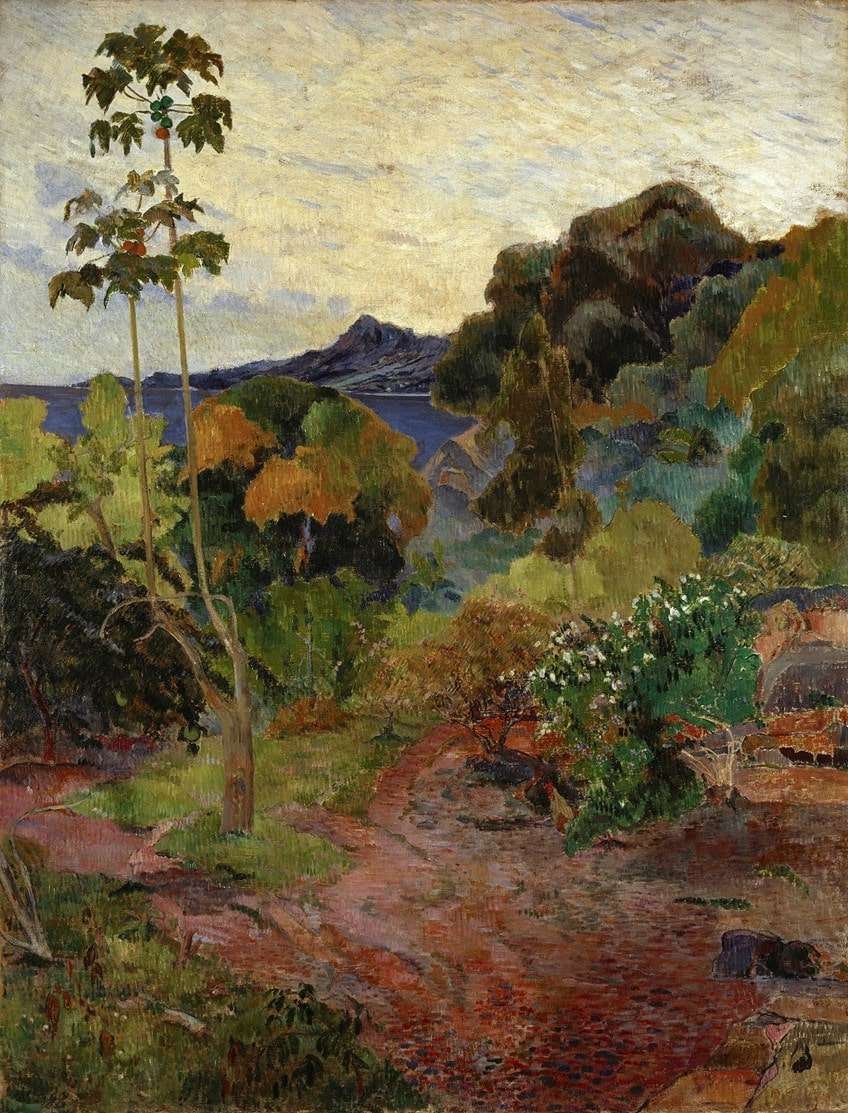 Martiniue Landscape, 1887, Scotland National Gallery. His emerging Post-Impressionist style.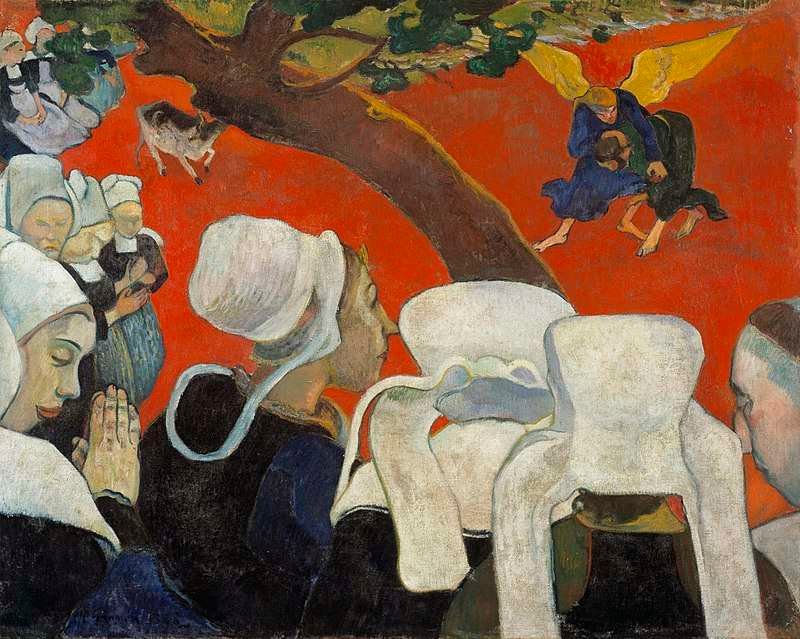 Vision After the Sermon (Jacob wrestling with the angel) 1888, National Gallery of Scotland, Edinburgh. A full break from impressionism.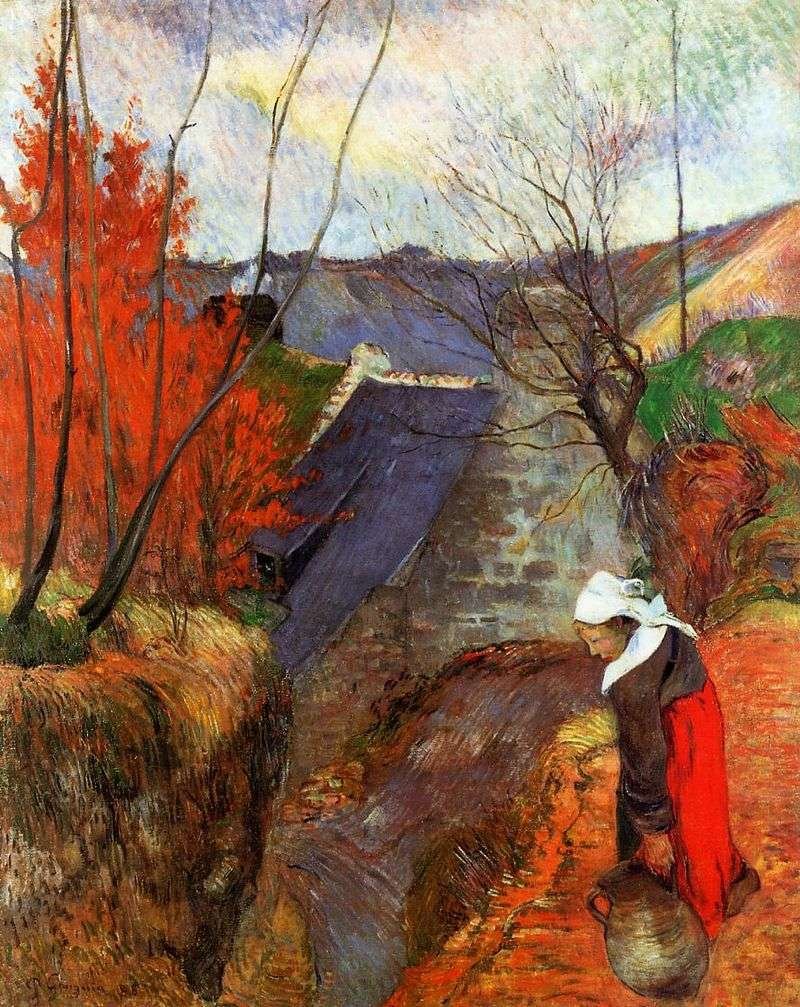 Breton Woman With Pitcher, 1888, private collection. Post-impressionism.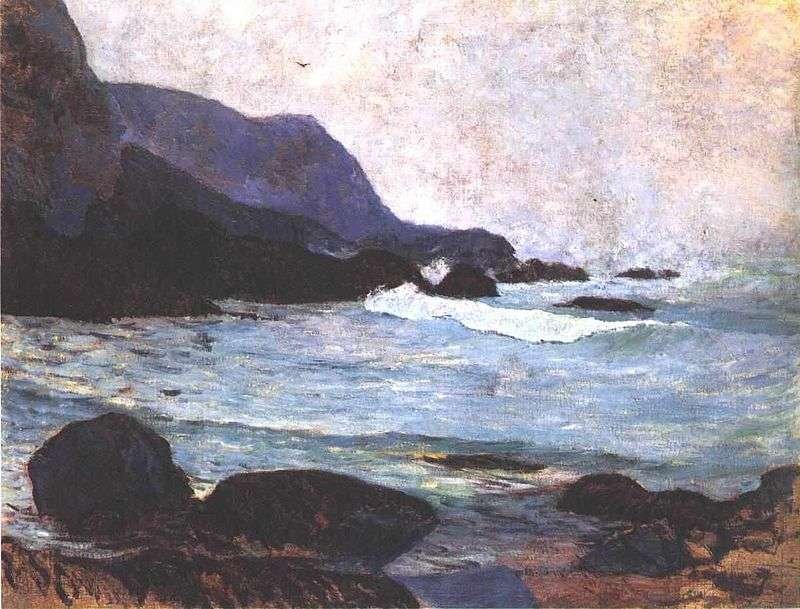 The Coast of Bellangeney, 1889, Springfield Museum of Art, Ohio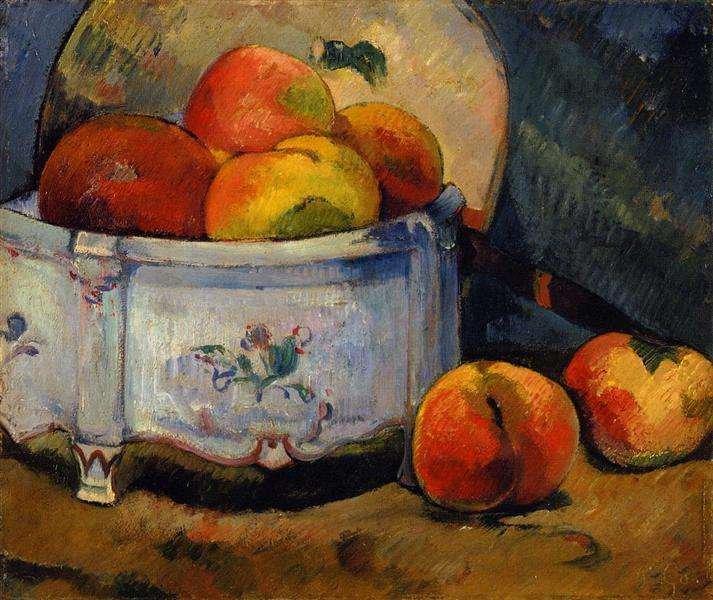 Still Life With Peaches, 1889, Fogg Art Museum, Cambridge, Massachusetts.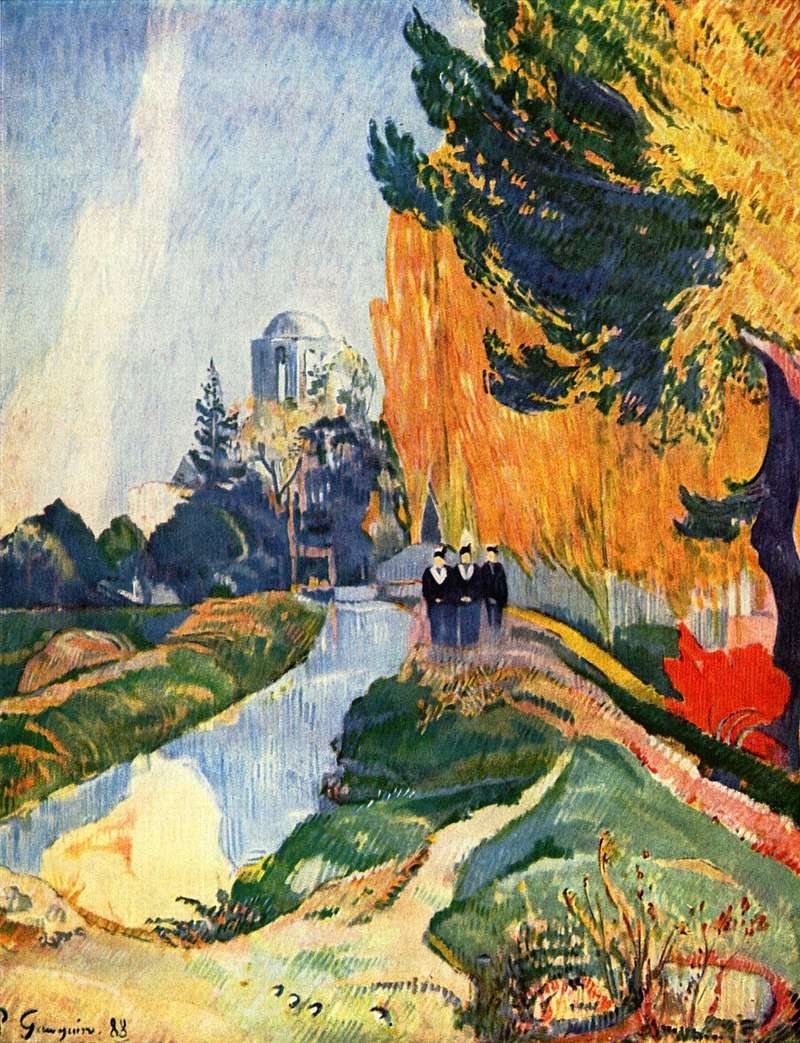 Les Ayscamps ou Les Troi graces du temple de Venus, 1888, Musee d'Orsay, Paris. A full break from impressionism, using flat panels of bright colors.
Tahitian Women on the Beach, 1891, Musee d'Orsay, Paris.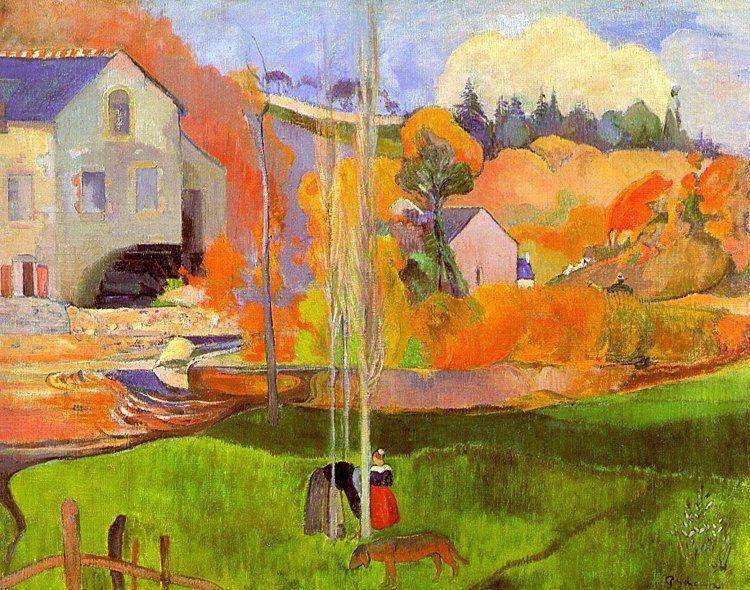 David's Mill, Brittany Landscape, 1894, Musee d'Orsay, Paris. Gauguin's Post-Impressionism 'primitive' style. Using flat panels of bright colors.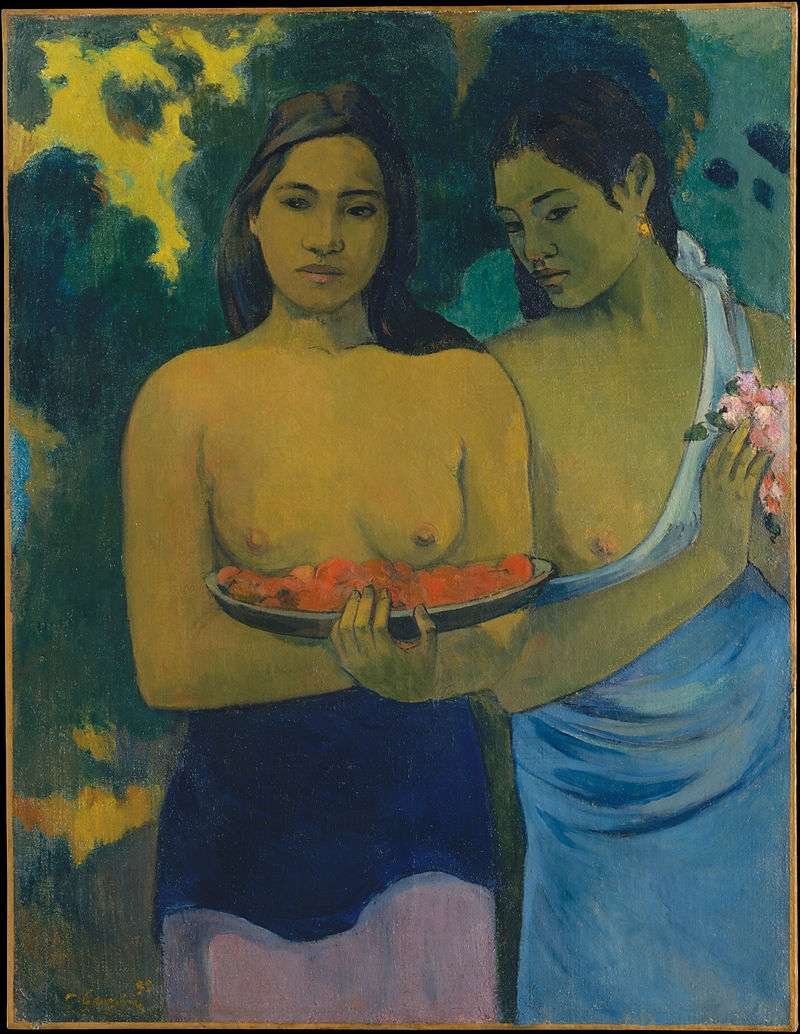 Two Tahitian Women, 1899, Metropolitan Museum of Art, New York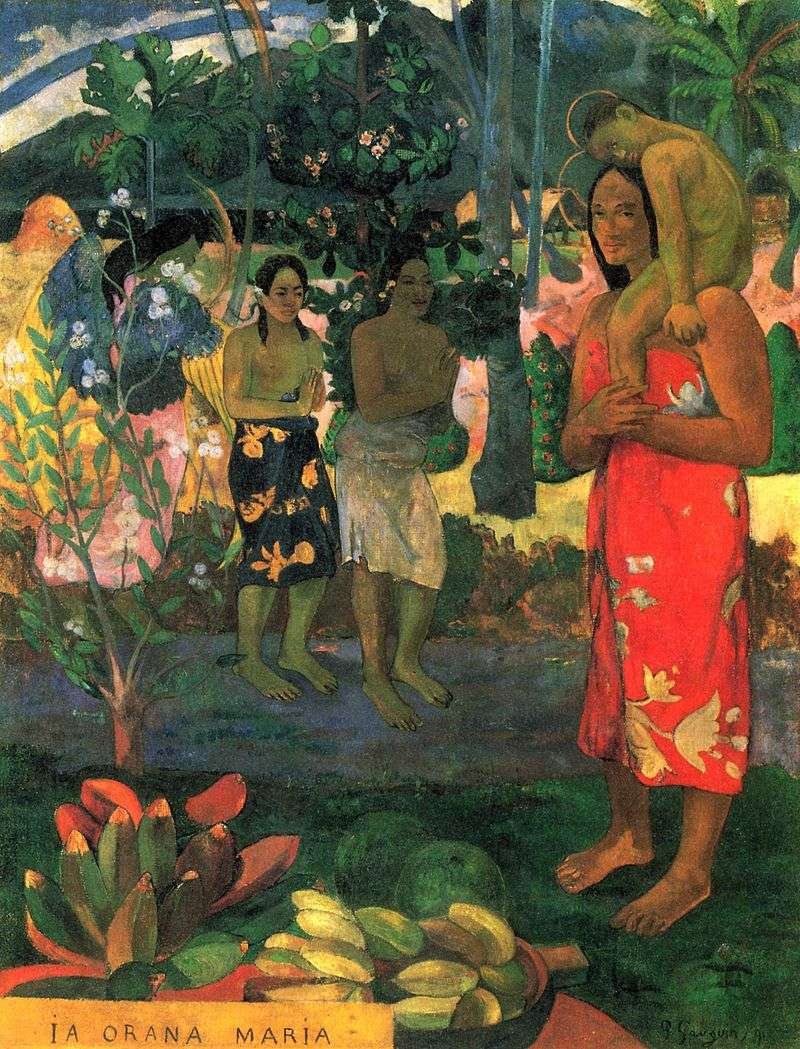 La Orana Maria, 1891, Metropolitan Museum of Art, New York. The 'primitive' Virgin Mary and Child.

Where Do We Come From? What are We? Where ae We Going? 1898, Museum of Fine Art, Boston. A journey into spirituality.
Manou Tipapua, The Spirits of the Dead, woodcut, 1894, Museum of Fine Arts, Boston
References
Gauguin, M. Vazuez Montalban, Flohic
Gauguin, Rene Hyghe, Crown, NY.
Gauguin His Life and Complete Works, Joan, Miquel, Longmeadow, Stamford, CY, 1995.
Paul Gauguin: A Complete Life, David Sweetman, Hodder & Stoughton, London, 1995.