Michelle Lordi and Matthew Parrish are a respective singer-songwriter and bassist-songwriter/arranger duo from Philadelphia, Pennsylvania that bring a rich array of musical and visual artistic experience to the table. Both musicians travel around the world spreading their individual and combined talents that blend traditional and modern post-bop elements, along with slices of ballads, experimentalism, pop standards and Americana.
The raven-haired Lordi has received heavy rotation on jazz radio, both in the U.S. and abroad, for her recordings as a leader, "Drive"(2015), "Dream a Little Dream"(2017) and "Break Up with the Sound"(2019). She's as much influenced by country and folk music as she is jazz, and in 2019 Lordi was nominated in three categories (Best Band, Rising Star and Female Jazz Vocalist) in the Hot House New York City Readers Jazz Awards. In addition to her musical pursuits, Lordi is also an accomplished painter and sketch artist.
Matthew Parrish wears a myriad of hats on the Philadelphia and New York jazz scenes. He is primarily a bassist, but also leads his own groups, is a prodigious sideman and session artist and is a much sought after producer, arranger and educator. His list of work with various musicians reads like a who's who in the jazz and world music spheres, including Wynton Marsalis, Houston Person, Freddy Cole, James Newton, Regina Carter, Dee Dee Bridgewater, Harry 'Sweets' Edison, Clark Terry, Savion Glover and many others.
One of the couple's favorite venues to play in the entire United States is Detroit's Dirty Dog Jazz Café. This past June found them back at their home away from home for a much anticipated repeat performance. They were joined by two of the Detroit area's finest jazz players, pianist Michael Zaporski and drummer Sean Perlmutter. From the very first downbeat it was on, with a classic take on a revered standard "Lover Man." The bass and drums were hot and funky as Zaporski stealthily hovered above the fray. Lordi seemed to really stretch out the lyric in a very ponderous and contemplative manner. This set the tone for the evening, as a performance that was as much rooted in cerebral as it was visceral delights. Rogers and Hart's "Blue Moon" was a balance of darkness and light. As an interpreter of timeless songs Lordi casts the listener in a trance with her sweet and soulful voice. A prime original piece called "Double Cross" simmered in a samba-like stew and really rose with intensity. Zaporski's lithe keyboard runs set this one aflame. One piece that leaned a bit to their pop and rock side was a cover of a deep track by The Rolling Stones called "No Expectations." It's a country/ blues number that remained pretty faithful to the original version. It's slow and soothing as Lordi and the band dug in and really explored the essence of the song's storyline and intent. That blend of country and jazz extended to the "Poor Bird Suite" which aligned the narrative of the singer-songwriter's original song "Poor Bird," with the classic Hank Williams' standard "I'm So Lonesome."
The next morning I met with Lordi and Parrish for a relaxed breakfast in Southfield across from their hotel. We intently discussed the inner workings of what it takes to be an independent musician in today's evolutionary and volatile social and artistic milieu.
Eric Harabadian: I really enjoyed your set last night at the Dirty Dog Jazz Café. One tune that really caught my attention was your song "Poor Bird." What can you tell us about that?
Michelle Lordi: The "Poor Bird Suite" is really the direction we wanna go. That song is about breaking up with your own sadness. As an artist you almost become obsessed with sad things. And that melancholy can power beautiful art. But if you let it get out of control you can't make any art at all. I was thinking a lot about that Hank Williams song "I'm So Lonesome I Could Cry" and how sad it was to be a bird and that it's one of the saddest country songs. And it's really about the existential sadness that can't be fixed by a new truck, a new woman or anything. And I thought about how beautiful that is. But it's only beautiful to the point where, if you can't pull yourself out of it, it's not beautiful anymore. You can't make art if you are disabled by sadness. When I was writing it I imagined the lonesome whippoorwill in that Williams' song. And the next line is "the midnight train is winding low." And the way you hear a train in the distance. That's a sad, sad sound—where are they going and are they ever coming back? That's so representative of an artist when you can't let go of the sadness. I think the first line I had was "breaking up with the sound." And over the pandemic so many people broke up with so many things. So I wrote this song to that poor bird in Hank Williams' song to remind it to keep flying, and that he was lucky to be a bird. And there's a line in my song that says "don't confuse the siren's sigh for the purple sky." That's the part about being an artist and hearing that siren's call of melancholy. Now maybe that's when you write really well or create really well, but then you have to leave it to go and live. It's kind of a reminder.
"The Lamp Is Low" performed by Lordi /Parrish Jazz
Matthew Parrish: You also don't get any of the fruits of your labor if you stay in that place. And that's happened over and over again, especially with jazz musicians. If you stay in that dark place you die there. I always think of Hank Mobley or Philly Joe, being from Philadelphia. But for a lot of people it didn't end very well. And I do some of my best work coming from a darker place, as far as a writer goes. But if you don't come out of it you never realize the benefits of what you've done. There's glamour in that. But the world is suffering so much I don't know if there's any glamour in that anymore. The late '70s and '80s are all gone. We live in a different time now. We're stepping back, basically, 120 years. We're gonna go through a wave of suffering. History really is repeating itself! So to be a suffering artist at this point is nice, but it doesn't have any impact when there are so many people suffering. It's your responsibility as an artist that if you're gonna create great art under that guise, then pull yourself out. There are health exceptions and what not, of course, but I'm just saying it's not a badge of honor anymore.
ML: Our plan is to not end poorly, as a couple, as parents, as artists, and as musicians. And we are surrounded by the stories of people who gave everything to their art and were left with nothing. But we're balancing what we do between six kids. Matthew is professor of bass at Princeton University. He works with the ensemble there. I teach music. These are our day jobs. But we have the artistic side of things and then the business side which is eternally challenging. Things always change and evolve in the music industry.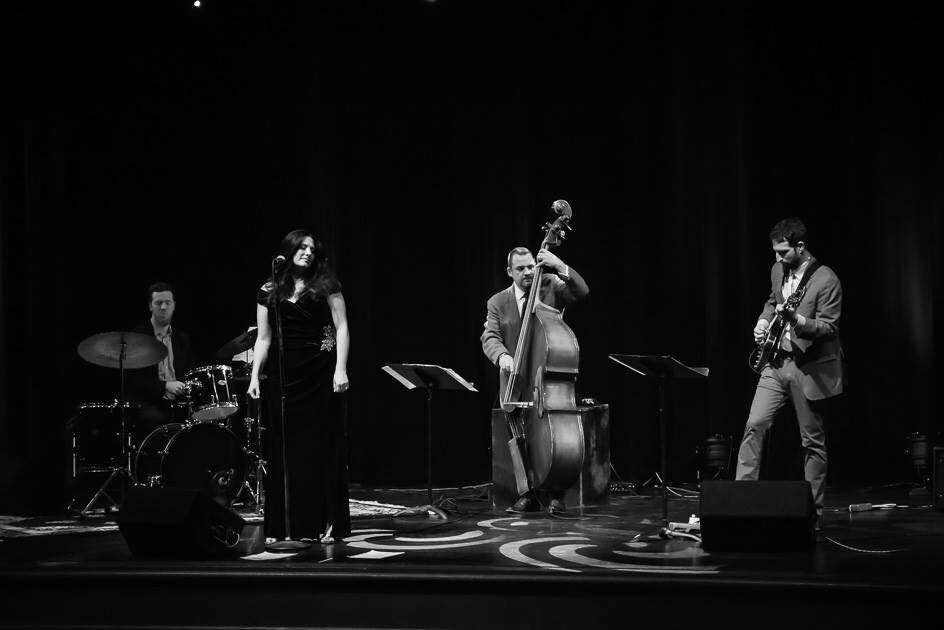 EH: What's it take to be an independent musician today?
MP: You have to create, you have to keep moving content, you have to book and you have to manage and be a marketer. Marketing is something I don't really enjoy. It doesn't come naturally to me. For vocalists, I think it's a little different because they've always had to do all of that. But for us instrumentalists and sidemen, it's new.
ML: To be honest, you used to be able to sit by the phone and decide if you wanna turn stuff down or take it. And it's not really like that anymore.
MP: When you're inside the label and promotion system the money isn't there anymore. For a brief minute I was with Verve and what they did was dramatically different than anyone else, outside of Blue Note or someone like that. And today, even on a larger label level, the artists are responsible for their own promotion.
EH: What are labels offering artists today?
ML: Outside of the top two, nothing! They're ready to take your content and own it and put it out, if and when they want.
MP: We're trying to build our own empire to survive and make the kind of art we wanna make.
ML: It's just survival to be able to do all these facets and put things out ourselves. If you're a fan of evolutionary biology, we're in a moment of punctuation. There is an idea that Stephen J. Gould and Niles Eldredge came up with—if you look at the fossil records it's not what Darwin thought, that there is a smooth incline of speciation towards today. What they saw was nothing happened, and then everything happens. And these explosions of different phyla appear and then they disappear. Whether it's a ball of fire from the sky or a cold snap, there are ups and downs. This isn't to say that Darwin was wrong, with his creationist theory. It's just that evolution happens, but it's more in fits and starts. And that's kind of like music. But for us, right now, we have so many projects we're about to launch. It's very exciting!
EH: What kinds of projects?
ML: Matt has an album he's in the process of finishing with tenor saxophonist Houston Person. Matt has worked with Houston for about 12 years and they've traveled all around the world. Houston encouraged Matthew to record an album. The new album will feature Houston, pianist Orrin Evans, Jim Riddle, Rudy Royston, Me, Jay Rodriguez on tenor sax. And there are two sides to the album—a more straight ahead swing side and an exploratory side.
EH: That's what I got from your set at the Dirty Dog. It was a mix of traditional jazz and more exploratory stuff.
ML: How did that feel as a listener? Did you feel like you were watching one show or you're split?
EH: Well, I've always been very eclectic and into everything, so I'm probably not the best person to ask.
ML: No, you are the best person to ask! You're our favorite kind of person to play for.
EH: I loved it because your performance took you on a trip. You start at this point, and then it might take you on a little bit of a detour here and then resolve there.
ML: Sometimes that's what we wanna do. It's not always fully supported in the jazz community. But we're welcomed in the jazz world. My concern is connecting with people outside of that world and bringing them in.
EH: You mean people that are not necessarily into jazz?
ML: Yeah. For practical reasons there are probably more people that currently don't listen to jazz than do. And we wanna have the flexibility to continue to create music that is a little more non-traditional in the jazz idiom. But I'm having a great time!
EH: What led you guys to the choices that you've made musically?
MP: I think it's Michelle's aesthetic combined with my skill. I think that's a big part of it. The rest just flows between us.
ML: You have an aesthetic too, which is something that I enjoy. What I get from Matt is, of course, his sound. I think you really get to explore your sound with my music. And it's funny to say "my" music because it's "our" music. I really enjoy where you're going with these songs as an artist, which are more like pop songs. But without Matt there to navigate, to explain, to interpret what I'm trying to do, it would all fall apart. We work with a lot of jazz musicians. Jazz musicians are amazing. But when you hand them a chart and there are only three or four chords on it, that's hard for them. Easy is hard.
"I Will Wait For You" by Lordi/ Parrish
MP: The best way I can describe it is, with country music like Hank Williams, the artists that play that music at the highest level will make moving from chord to chord interesting by doing the smallest movements. There are these little clusters that they'll use in between chords that make the music sound soulful and interesting, without coloring it. A jazz musician gets a chord like "A" on a page—and that's all that's written—there's almost too much knowledge base there. To go from the letter "A" to the letter "E," you throw the universe in there because that's what they know to do. Or a jazz player might take it completely R&B or church. But the masters of country music have all those skills to play all those kinds of things too. But they stay very true to the original melody and guitar chords. Now, with a horn player moving through a bunch of changes, my favorite example is Houston. He will often throw in blues, but he can play the melody without coloring it or adding a bunch of extensions to darken a chord. And that's what the country people do, they never darken the chords. They never make it sound so thick, so the listener will stay focused on the lyrics and melody and not the chords. The chords are just there to support the song. In jazz, though, sometimes the chords and the harmonic structure underneath is the focal point.
ML: What we're doing is definitely lyric-driven. And my experience as a singer growing up listening to country, folk, pop and alternative rock is all very lyric-driven.
MP: I guess I'm very practical with my approach to what we do. What I bring is a lot of Mingus, Ellington, and Herbie Hancock. That's my background. I will fill in all the gaps in the music and curtail it to whatever musicians we're playing with. We have our top tier musicians that we work with, but its' not always easy getting those people. And we change the complexity of the music depending on who we're with.
ML: We gravitate toward artists, you know, someone who's not happy just to run down a chart.
MP: Donny McCaslin is a prime example of that. He's a monster tenor player. And then he went the extra 10,000 miles and became an artist. There are a lot of great horn players out there and the colleges are just shoving them out. All these graduates from music colleges are being taught by jazz musicians, so they are learning at a really high level. And they can learn solos off of You Tube, records or whatever. But there's not a lot of progression past that. There are a handful of musicians around the world that have all their skills and then just take it so much further to become a connected artist. I like to use vocalists as an example. You can have all types of knowledge and technique and then you connect past that. But getting back to horn players, I use Donny McCaslin as an example of an artist because David Bowie saw those qualities in him. Donny played on Bowie's final album "Blackstar." What Donny brought to the table for Bowie is exactly what we're looking for in the players we're working with.
ML: There are only a few that fill the space, hold back on all their virtuosity and make music happen.
EH: In other words, they play for the song, as they say?
ML: Yes. And that's what I think being an artist is all about. It's being able to take a back seat to your skills and let something unfold around that.
MP: Recently we've been working with other kinds of players. I don't necessarily not wanna call them jazz musicians, because they can certainly play that. But we've worked with other artists like Jake Morelli, who plays with Bruno Mars and a whole bunch of people. He brings a completely different sense of, not just showmanship, but joy! There are these moments where he'll take these solos and it is the complete equivalent to Michelle's singing.
"Imagination" performed by Lordi Jazz
ML: With Jake, conveying the music is the number one goal. He's really connected to the music we do and passionate about it.
EH: So, you two work with a lot of session players and side musicians that will bring some artistry to a project?
MP: It's very hard to keep a working band together. And as a sideman myself, when you get calls to work you have to go. I can't be beholden to people the way I used to. I've spent a lot of my career being very loyal to people. And I'm not saying don't be that way. But there is a practicality now where I can't turn down a big tour for a couple of smaller gigs. I have to let those go. And that's been difficult for me. It's just the reality of being a jazz musician today.
ML: But, above and beyond all this shop talk, I feel very grateful to create music in this time. And we're not complaining about not being able to keep a band. We're so thankful that we found each other and that we can make music together. I'm thankful we can come to Detroit and play with extraordinary musicians here. We'd love to be able to bring our band, but if we are very strong in ourselves and our vision for what the music is, I know I get something out of every musical experience we have.
EH: That's so important that you two found each other and have a similar musical vision, but are still two individuals as well.
ML: Yes, that's true, but apropos to what happened at the club yesterday, I won't get on my soapbox. But Matt is my secret weapon because he's an established male in jazz. Without that there is a lot of strife. As a female, as a vocalist, and as a bandleader there is a lot of strife.
"No Moon At All" by Lordi/ Parrish
MP: Oh, I see it and I would have to say that I did not fully appreciate it until I saw how it was affecting my partner. I'm talking about everything from the way she may be treated by other musicians on the bandstand, the way club managers may talk to her. A lot of times they'll walk right past her and talk to me. Or they'll walk past her and hand me the check at the end of the night. And that's fine for us because I'm handling all that anyways, but they don't know that. I toured with Regina Carter for a long time and I saw a lot of things, but I don't think it hit me the same way.
EH: I heard a recent radio interview with singer Patti Austin and she talked about touring in Russia and Europe and how women were mistreated.
MP: In my mind, we're so far removed from a woman not being in charge, let alone equal. It just seems so absurd to me that anyone my age or younger would ever treat a woman differently in a business setting. How can you not wake up in the morning and not realize that's how the world is and should be. It is baffling, but then look at what's going on in our country right now, regardless how you feel about it.
ML: There are not a lot of female jazz musicians that are connecting on these issues either.
MP: You're battling for a small slice of the entertainment market and also battling a lot of chauvinism in the jazz world. A lot of jazz musicians, especially in the past, weren't very socially responsible. Historically, there were no consequences. You were so out of the norm anyway, and then you were considered part of the counter culture. And I'm not counting Ellington and those that were superstars.
EH: Thanks so much for your time and insight. Can you share some additional observations about your collective creative and musical approach?
MP: Well, I'll use Coltrane as an example. He'd play these beautiful melodies and sheets of sound. They were multiple motifs happening because he'd be flying through the notes at a rapid rate. But if you slowed it down it would sound like practicing. However, because of his virtuosity and the level he was at you would hear a scape through the whole thing. And sometimes if I'm playing a lot of notes, that's what I'm trying to do. And Michelle has said to me that if I'm gonna do that then make it mean something, make it sound like something. Don't practice playing a lot of notes on your solo. And she's right! A lot of times when a bass player does a solo it's super boring because it sounds like they're practicing, no matter how virtuosic they are.
ML: I can boil it all down to don't leave the melody behind totally. Just don't forget the point of what you're saying. I love when Matt speaks back the melody, takes you somewhere and then brings you back. That is very compelling to me.
Michelle Lordi and Matthew Parrish have a number of new projects, recordings, gigs and productions in the works. You can visit these primary sites to get all the latest news: www.michellelordi.com , www.matthewparrish.org and www.bumpjazzproductions.com.