While driving his daughter to camp (for punching someone), U.S. Deputy Marshal Raylan Givens "family time" gets hijacked to hunt down the murderer of a corrupt Detroit judge. The fugitive: "Oklahoma Wildman," Clement Mansell, an unhinged sociopath with more luck than sense and a short fuse that leaves a pile of bodies in his wake.
"Justified is better than life," an incarcerated friend explained to me over an orange Faygo on visiting day a few years back. "You get a front row seat for the war between good and evil brewing in each character. You've got family feuds going back to Civil War times. For law and order, the best functionally mute gunslinger since Gary Cooper in High Noon. Justified is about being the only guy capable of making a difference in the world and making sure his every kill shot is justified."
High praise! Nevertheless, I wouldn't give the original FX series Justified a chance for a few years. Mostly out of spite. Too many people were talking about the show; it was too popular for its own good. When I heard the show would be returning for a limited run, I gave in to Rotten Tomatoes and streamed Justified Seasons 1 – 6 in roughly three weeks. I was so engrossed; I literally did nothing else during that time. Tales of the show's greatness were greatly under exaggerated.
Bring on City Primeval!
The creative team that brought you the original TV series Justified reunites collaborators including leading man Timothy Olyphant, executive producer Graham Yost, showrunner Dave Andron, and writer/director Michael Dinner [1] to produce the limited series Justified: City Primeval. Based on Elmore Leonard's 1980 crime novel City Primeval, the television series reimagines the book in present day Detroit…and installs the laconic, quick drawing Marshal Raylan Givens as protagonist.
True to genre blending protocols, Justified: City Primeval is half western, half film noir, and lives up to the tropes associated with both. Raylan Givens personifies the cynical, complex yet flawed hero willing to bend the law to keep the bad guys from breaking it. He's a loner with a long memory and a penchant for dry rejoinders, hard liquor, and willowy blonde damsels in distress.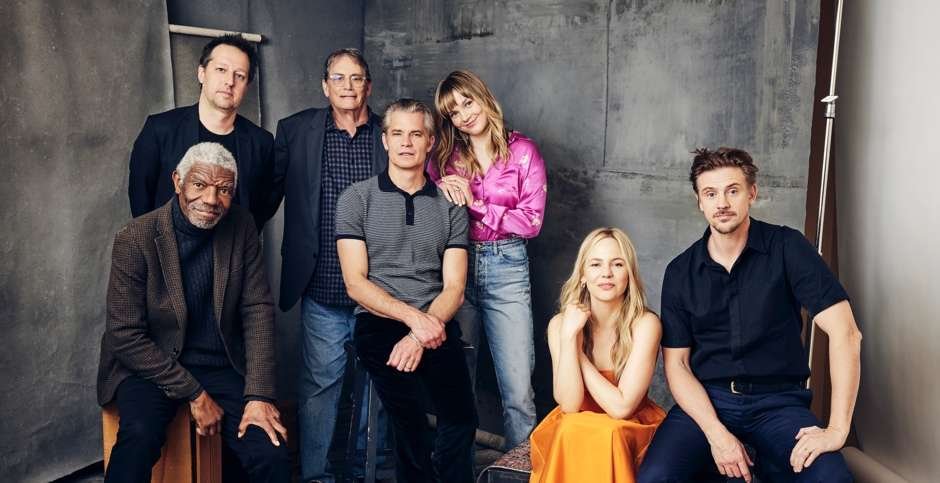 Justified: City Primeval cast
New Dirty Hat, Same Old Swagger
Justified: City Primeval represents a virtual clean slate in the Justified cinematic universe for everyone but the good Marshal Raylan Givens and his trademark Stetson, which is only slightly worse for wear after eight years on the shelf. The always cool-headed protagonist maintains his rock steady grip on his nine-millimeter, but he's no longer quick to squeeze the trigger. The years have undoubtedly bestowed some worldly wisdom and turbocharged Raylan's famous intuition. He remains amenable to killing when he feels it's justified (get it?!). He still sips whiskey like iced tea (as it almost always is on a film set). He's still a loose cannon with a tenuous hold on the realities and protocols of his job. Maladjusted to life outside the old west though he may be, Raylan's still the hero. He still wants to see the best in people but is beginning to think better of that. His hard scrabble life and bitter experience have jaded his perspective. His cynicism serves to bolster his legend as the only man capable to fixing the situation – any situation.
The Story
Judge Alvin Guy thinks himself uniquely positioned to mete out justice Detroit-style. That means allowing the wealthy to skate on legal charges in exchange for cash. Judge Guy takes bribes and details each transaction in a coded notebook he always keeps on his person. That is until he accidentally cuts off Clement Mansell in a parking garage. The psychotic Mansell follows the Judge's Escalade and murders him on the street, unwittingly liberating the little book of bribes.
Mansell is just getting warmed up. For an encore, he reconnects with his girlfriend, Sandy. The duo set up an Albanian hot dog magnate named Skender to rob his safe room, during which they severely maim him. Next, they connect with Sweetie, Mansell's former running buddy from the bad old days, and set out to turn the Motor City into the Upside Down. They begin by attempting to blackmail the people in the judge's book. Carolyn Wilder, Mansell's attorney, who is also terrified of him, plays all sides against each other until she reveals herself and her true character.
Meanwhile, Marshal Givens, on a mission to Detroit to testify against a mope he arrested in Florida, gets roped into the bloody chaos swirling around Mansell. He joins the Detroit Police Department in the manhunt and, knowing neither who's in the notebook nor who to trust, decides to take down Mansell himself. Despite squinting slightly more than before, Raylan's still a dead eye shot. Appearing almost world weary at times, he carries on and does the job he's almost too old to do anymore: catch Clement Mansell by the book.
There's a fine line between Harlan County and Detroit, Michigan
Apparently, that line extends from Wayne County, Michigan, where some b-roll panoramas of downtown were captured on film[2] (presumably by a freelance directing unit) to Chicago – where the majority of the series was filmed. And where shit got real for the cast Detroit-style.
The first on-set incident saw criminals trading gunfire during a high-speed chase that intruded upon (and through) the production. The second occurred when someone threw an "incendiary device" onto the set.[3] No one was injured in either incident. The thing that sticks in my craw is author Elmore Leonard (god rest his witty soul) was from Detroit, the novel was set in Detroit, and, well, I'm from Detroit. I wanted to see more than glamour shots of the skyline and ruin porn.
Much more problematic for me was the absence of Detroit as a character. Harlan County got the creative treatment in the original – feuding families, land disputes, generations-long grudges, multifaceted, conflicted characters. Raylan and Boyd Crowder (original Justified villain) were both from Harlan County and had a history that recalled them digging coal together when they were nineteen. That's where their paths diverged: Boyd drifted into crime and Raylan gravitated toward the law. Harkening back to their commonality strengthens the dyad between the characters and demonstrates the power of blood, of history, of roots to the eastern Kentucky man.
There is simply no depth to Detroit as a character, no analog for Harlan County, its characters, or atmosphere. The closest the show comes are flashback scenes showing Sweetie as Carolyn Wilder's de facto father. Where the original Justified gave viewers a sense that the characters were vitally connected to each other and the land by blood and time, the sequel doesn't account for Detroit as much more than a rust belt town with poorly run casinos and a corrupt legal system.
Raylan Givens and Carolyn Wilder
Cast & Characters
The Judge
Judge Alvin Guy feels like a character loosely based on Detroit's own real-life corrupt ex-mayor, Kwame Kilpatrick, who was convicted for racketeering, extortion and fraud (among other crimes). Played masterfully by Keith David, there's nothing Judge Guy sees that he cannot possess. He's accustomed to being treated with respect and deference. He has blackmail material on Detroit's best and brightest, society high rollers that provide him with the illusion of invincibility. When karma catches up to him, it's in the guise of Clement Mansell. The Judge can't even comprehend that his privilege behind the bench will not save his ass on the street. He dies in the first episode but his ghost haunts City Primeval through all eight episodes.
You may recognize Keith David from such films as Crash, Platoon, Requiem for a Dream and an extensive list of television credits.
The Wildman
Clement Mansell, a.k.a. the "Oklahoma Wildman" is a homicidal villain with a singularly fatalistic view of life. Played by Boyd Holbrook, Mansell is no homage to the original Justified's Boyd Crowder-style bad guy. Nor is he your average noir adversary. Mansell's an unhinged, unpredictable, force of nature who descends on Detroit with the lawless, unbound fury of an Oklahoma twister. Manic spontaneity constantly propels him, careening him uncontrollably into the lives and events of City Primeval.
You get the impression that there's more to his story than meets the eye; that somewhere, sometime long after he's long dead, a lonely tenor would sing narco corridos of his exploits, of the Legend of the Oklahoma Wildman, to posterity. The song would inevitably be an improvement on Mansell's high-toned karaoke version of Seven Nation Army by Detroit's own White Stripes. He's stolen north of 240 cars and committed a litany of other crimes, including multiple murders, in his short life. He's in Detroit to hook up with Sandy and score some scratch.
You may remember Holbrook from such productions as Netflix's Narco's, Wolverine, and The Predator.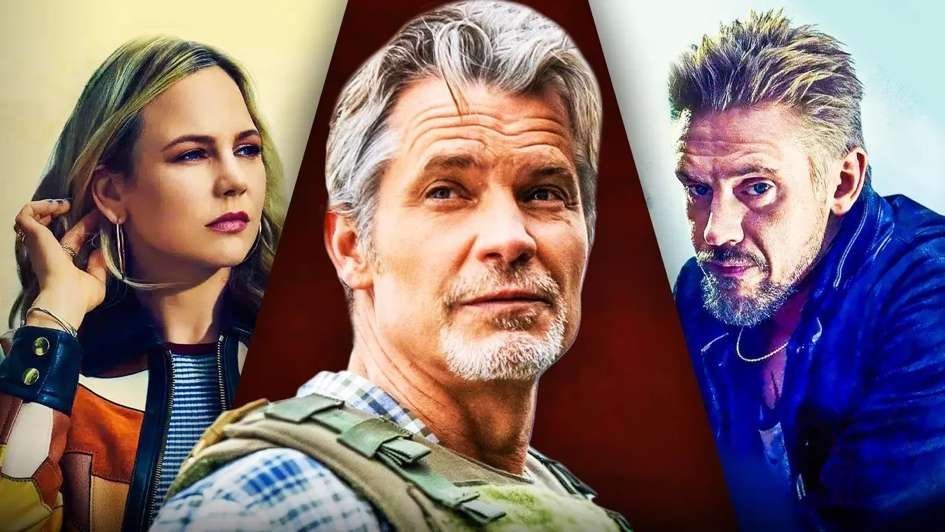 Sandy Stanton, Marshal Raylan Givens, Clement Mansell
The Marshal
Timothy Olyphant's Raylan Givens is the only character returning from the green mountain hollers of Kentucky to the gritty streets of Detroit.[4] He's slightly grayer, still rail skinny, and one-hundred pounds soaking wet. (Which is way too slight for a man of his height – hat not included.) Raylan's also wiser than the last time we crossed paths. When Justified ended, the audience was left to infer that Raylan, Winona, and Baby Willa lived happily ever after in Miami. But times they a-changed fast. The Winona ship sailed, we understand, since she's with someone new in the first episode (named Richard, performed by wallpaper). Raylan seems none the worse for her absence – the new series shows him enjoying a very adult relationship with Clement Mansell's attorney, Carolyn Wilder. But sleeping with women involved in his cases is nothing new to this character. He's still tough as nails, moral as the mountains are brimming with coal, and inclined to resolve most situations peacefully. (Unless, of course, a bullet to the brain would serve justice proper.)
You might know Timothy Olyphant from Hitman, Deadwood: The Movie, Full Circle the miniseries, or any number of guest appearances on animated series including The Simpsons, The Great North, and Archer.
The Marshal's Daughter
When Raylan resurfaces in Florida, he's driving his daughter to a special camp for punching someone in the face (like father, like daughter?). Timothy Olyphant's actual daughter, Vivian, co-stars as Raylan's teenage daughter. Although she grew up on the set of the original Justified, she's no nepo baby. Vivian's audition was lengthier and more involved than her competitions'.[5] Watching Willa sass her dad is no small pleasure. The girl can act too: her eyes come fully loaded for storytelling and her raspy voice makes you strain to hear her dialogue. But Motown is no place for a teenager to wander the streets. As Mansell's body count stacks up, Raylan does the one sensible thing that his own father, Arlo, never would have considered – he sends her away from the danger.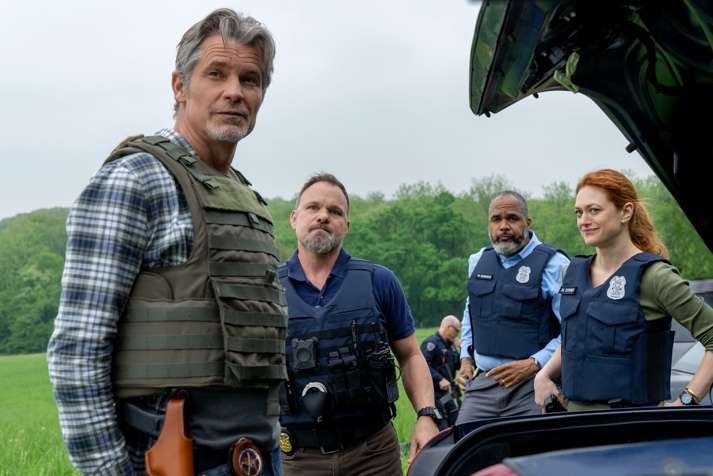 Rayland and the Detroit Police Department
The Moll
There hasn't been a gangster movie produced that didn't include a sultry slip of a femme fatale longing for both intimacy and independence as she dotes on the cocky villain. Sandy Stanton is the gun moll to Mansell's gangster. She works both as a cocktail waitress in a casino and as bait for Mansell's rob-and-roll schemes. The mark is a young Albanian coney island owner, who, to their chagrin, turns out to be a vicious gangster connected to Detroit's infamous Albanian mob. Sandy's innocent act belies her actions as Mansell's accomplice. When Mansell commands her to dispose of the murder weapon in the Rouge River, she hesitates, thinking it could be her insurance policy, and returns the pistol to its original hiding place in the bathroom ceiling of Sweetie's bar. More than anything, Sandy longs for a fresh start and buys into the fantasy Mansell is selling her even as their trust breaks down.
Sandy is portrayed by Adelaide Clemens, who co-starred with Timothy Olyphant in a 2016 stage production of Hold on to Me, Darling.[6]
The Lawyer
Acted to nuanced perfection by Aunjanue Ellis, Carolyn Wilder is an attorney on the rise, who also happens to represent Clement Mansell. In the first episode, Wilder eats Raylan alive on the witness stand. By episode 5 she has him in the sack. Pursuing a brand of street justice unique to Detroit, Wilder plays the angles and isn't terribly concerned with who delivers justice to Mansell. Eventually revealed over eight episodes, the arc of her career begins as a well-heeled defense attorney with a mansion in Grosse Pointe. (Side note: on the series Grosse Pointe is spelled incorrectly – minus the gratuitous "e" in Pointe.) Carolyn envisions a future for herself as a judge that can help wipe out the corruption endemic to Detroit's legal system. Getting Mansell off her client roster and out of her life is a big step in the right direction.
You'll know Aunjanue from King Richard (2021), Lovecraft Country her role in Ray where she played Mary Ann Fisher, the singer whose relationship with Ray Charles was rumored to result in his first divorce.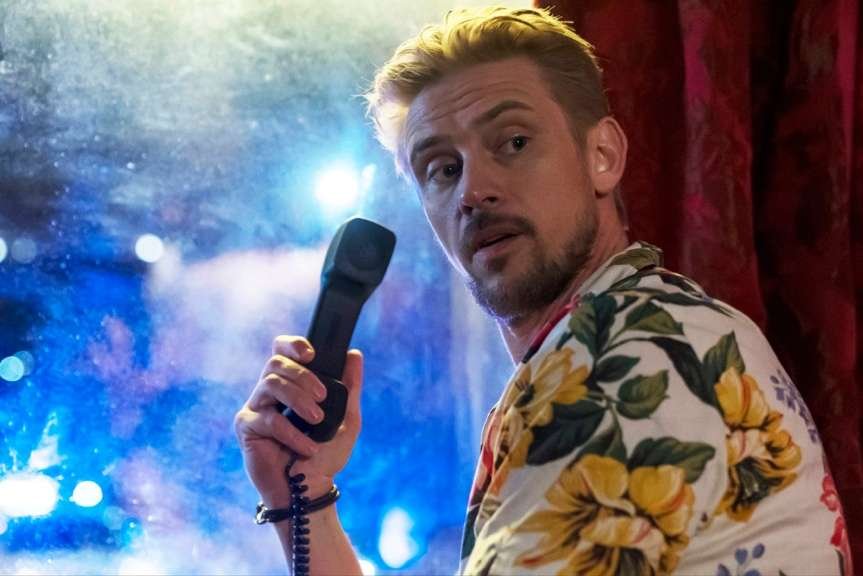 Clement Mansell
The Henchman
Perhaps calling Marcus "Sweetie" Swinton an occasionally reluctant henchman for Clement Mansell isn't fair. Brilliantly acted by Vondie Curtis-Hall (also hailing from Detroit), there's so much more to Sweetie than meets the eye. He's a bar owner, an unrelated father figure to Carolyn Wilder, a brilliant jazz bassist, a former member of a burglary outfit dubbed the Wrecking Crew (which explains how he knows Mansell). Sweetie is a vital character because he connects the Detroit of the past with the characters in the present. Since Elmore Leonard's original novel City Primeval was originally set in 1980 and didn't include Raylan, this is very necessary. Sweetie is bright enough to crack the code in the Judge's notebook. He and Mansell begin blackmailing the people in the judge's bribery notebook.
You may remember Vondie from such films as Romeo + Juliet, Falling Down, and Broken Arrow among his many credits.
The Albanians
Skender is the mark, the prey. Well-heeled from doing double duty as a proprietor of two coney islands and a soldier in the Albanian mafia. He's their version of a made man. Untouchable, inviolable. When Sandy tricks Skender into revealing the safe room where he keeps his cash, guns, and other valuables, she bites off much more than she can chew.
Spoiler alert: while poor Skender gets his leg broken in gruesome fashion, the specter of his mobster family haunts the characters like a perpetual cloud of doom. In the world of Justified: City Primeval the Albanians are the deus in the deus ex machina in more ways than one.
The Albanians serve to authenticate the great divide between the police and the community, not to mention the decentralized nature of street – or real – justice. The Albanian mob boss played by Terry Kinney, engages in the extralegal policing of his own ethnic community, which frequently supersedes whatever plans the Detroit Police Department has in the works. "'Order and justice are not the same thing,' somebody says in the new series, and that might as well be a headline for the entire Justified cinematic universe."[7] The Albanians are the primitive, yet effective police of the Detroit mafia and aren't known for playing by the rules.
City Primeval: Novel or TV Series?
Terabytes have been typewritten about the superiority of "the book over the movie" because, of course, a novelist can capture your imagination, harness your senses, and deliver a multi-layered narrative with compelling, relatable characters in a singular voice. After watching FX's Justified, Justified: City Primeval, and reading Elmore Leonard's novel City Primeval (not to mention Raylan for good measure), I can confidently declare that both can be savored as unique works of art – enjoying one doesn't require screening the other. The novel kicks off in 1980. The TV show pushes into our present day lives and streams accordingly. The novel acts as a vehicle for the story of Raymond Cruz hunting down Clement Mansell. Believe it or not, Raylan doesn't so much as pull back his hammer or tip his hat. He simply does not exist in that paperback world.
One Harlan County-sized caveat: Raylan – the novel that Olyphant convinced Leonard to write – includes a handful of memorable plot lines that feature the Marshal Givens woven into the plot as a quick drawing panacea. The novel includes Dickie and Coover Crowe, Harlan County's highly stoned, backwoods brothers, who are generational weed farmers branching out into the body parts business. After all, you can get $50K from a viable kidney but would have to hijack an eighteen wheeler's worth of weed to pocket that kind of cash. You may remember these bits of plot from the original television show where Dickie wakes up in a bathtub filled with ice and two jagged, Frankenstein-esque stitched incisions over his kidneys.
Perhaps the lack of continuity is kosher in the Justified cinematic universe.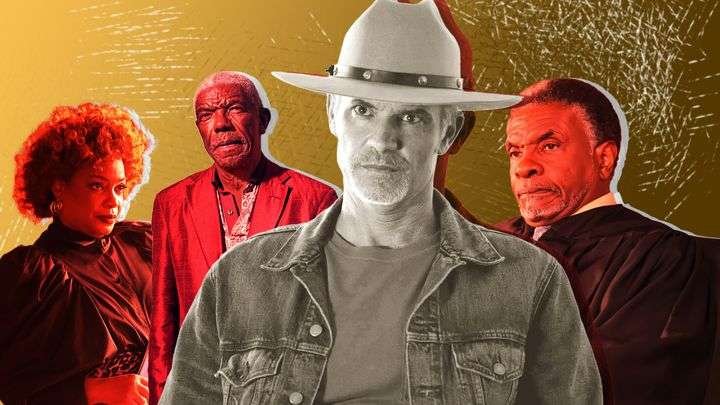 Carolyn Wilder, Sweetie, Raylan, Judge Guy
The Twist
Raylan's fellow coal miner from his late teen years, Boyd Crowder, plays zero role in Justified: City Primeval. At least that's what The Wrap would have us believe. Spoiler alert: while Clement Mansell doesn't survive to the end of the series, Boyd Crowder makes a single appearance at the very end of the show – as he escapes from prison yet again – giving fans just enough lead to contemplate a third iteration of Justified.
Will There Be Another Season?
From its inception as a rumor through postproduction, Justified: City Primeval has been billed as a limited series. Nevertheless, with the return of Boyd Crowder in the final five minutes of the show definitely foreshadowed another season. When asked if there would be a second season, Timothy Olyphant replied "I'd show up. I had a good time. Every time we've done this, I've had a good time," he told the audience at the ATX TV Festival, per Variety.
Sandy and Clement
Another Perfect Ending?
Author Elmore Leonard ranked Justified as one of the best adaptations of his work, which includes Get Shorty, Jackie Brown, 3:10 to Yuma, and Out of Sight. Leonard also praised the casting of Olyphant as Raylan, describing the actor as "the kind of guy I saw when I wrote his lines."[8]
Contrary to what Thomas Wolfe would have you believe; you can go home again. But you really shouldn't. I had high hopes for Justified: City Primeval. I wanted it to live up to the original series. I wanted Detroit to get the Harlan County treatment – to see what mythology the writers would spin around my hometown. I envisioned a villain who would dwarf Boyd Crowder in ego, scale, and imagination. Not just in his level of casual violence. Let's be crystal about this: Clement Mansell is freakin' Gandhi next to Boyd Crowder.
Nevertheless, if I had a gun to my head and was asked which Justified series I preferred, I'd have to go with the original. However, it's only because of the original series that I know the creators can do better – and I really hope they do in the future.
Both the original Justified and Justified: City Primeval were produced by FX. All episodes are streaming on Hulu.