I believe that Jane Austen is the best English language author of the first half of the 19th Century. She is universally praised and beloved as one of the greatest novelists in the history of literature, having gained a global iconic cult status. I have read all of her books as part of my research for novels I was working on set in the 19th Century. I consumed all the greats of the era, Charles Dickens, William Thackeray, Charlotte and Emily Bronte, Washington Irving, Mary Shelley, Georg Eliot, Walter Scott, James F. Cooper, and the poets Blake, Byron, Keats, Shelley, Wordsworth, and was astounded that Austen's prose out shined them all.
Austen is the master of irony combined with merciless, biting satire of high society pretensions and customs. She delivers scintillating insight and an ability to unveil humor in relationships. She develops well rounded realistic characters and orchestrates complex plot twists and turns. Her novels are easy-to-read page turners, filled with realism, wit, charm, tragedy, drama, and comedy. Full of steamy romance and sexual passion. The constant theme is that the good, honor, virtue, and truth, will in the end triumph over greed, pride, betrayal, indifference, and injustice.
Austen doesn't describe scenery, rather it is mentioned within the dialogue of the characters which moves the story with remarkable skill. Her works will hold you in suspense, make you laugh and cry, and force you to reflect on your own life. They are timeless works of art enjoyed by young and old, both women and men.
Austen movies are universally popular and highly successful at the box office and on TV because they are wonderful stories that everyone can relate to. There have been dozens of film adaptations of Austen's novels, mostly produced in England. Many of the top British, Canadian, and American actors have performed in these films. I have chosen my favorites below.
Jane Austen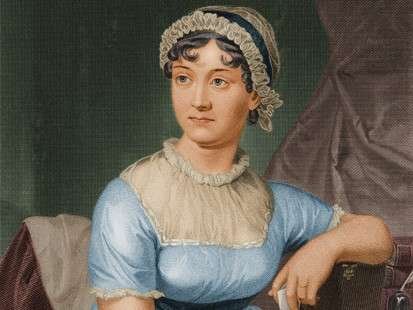 Jane Austen (1775 – 1817) was an English novelist known primarily for her six major novels, which interpret, critique, and comment upon the British landed gentry at the end of the 18th Century. Austen's plots often explore the dependence of women on marriage in the pursuit of favourable social standing and economic security. Her works critique the novels of sensibility of the second half of the 18th Century and are part of the transition to 19th Century literary realism. Her use of social commentary, realism, satire, and biting irony have earned her acclaim among critics and scholars.
She attained little fame in her lifetime but became very popular by the 1830s. She anonymously published Sense and Sensibility (1811), Pride and Prejudice (1813), Mansfield Park (1814), and Emma (1815). Northanger Abbey and Persuasion were both published posthumously in 1818. She also left behind three volumes of writings in manuscript, the novel Lady Susan, and the unfinished novels The Watsons and Sandition.
In her later works, Austen's writing got darker and her female heroines were stronger and more independent, less as victims by society.
Sense and Sensibility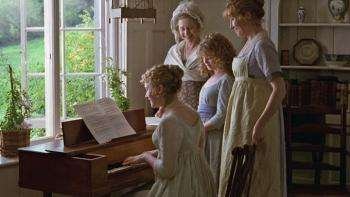 Perhaps the best Austen movie adaptation and one of the most passionate. Sense and Sensibility is a gem, simply wonderful. The film has a superb cast, great story telling, excellent character development, masterful drama, and is critically acclaimed with numerous awards. It is beautifully crafted and finely tuned, highly spirited, charming, witty, good fun, heart wrenching, and highly passionate.
The newly widowed Mrs. Dashwood and her three daughters face poverty and are dependent on their generous relatives for support. The daughters are forced to find financial security through marriage but their attempts at romance become complicated. The sensible daughter Elinor played by Emma Thompson becomes involved with mild mannered Edward played by Hugh Grant. The passionate Marianne is caught between two suitors, the dashing John Willoughby played by Greg Wise and the honorable Col. Brandon played by Alan Rickman.
Details: Senses and Sensibility, 1995, British U.S., romantic comedy drama, based on Austen's 1811 novel of the same name. Director: Ang Lee; Cast: Emma Thompson, Kate Winslet, Hugh Grant, Alan Rickman, Gemma Jones, Greg Wise, James Fleet, Harriet Walter, Hugh Laurie. Awards: 1 Oscar with 7 nominations, 3 BAFTA with 12 nominations, 2 Golden Globes with 6 nominations.
Pride and Prejudice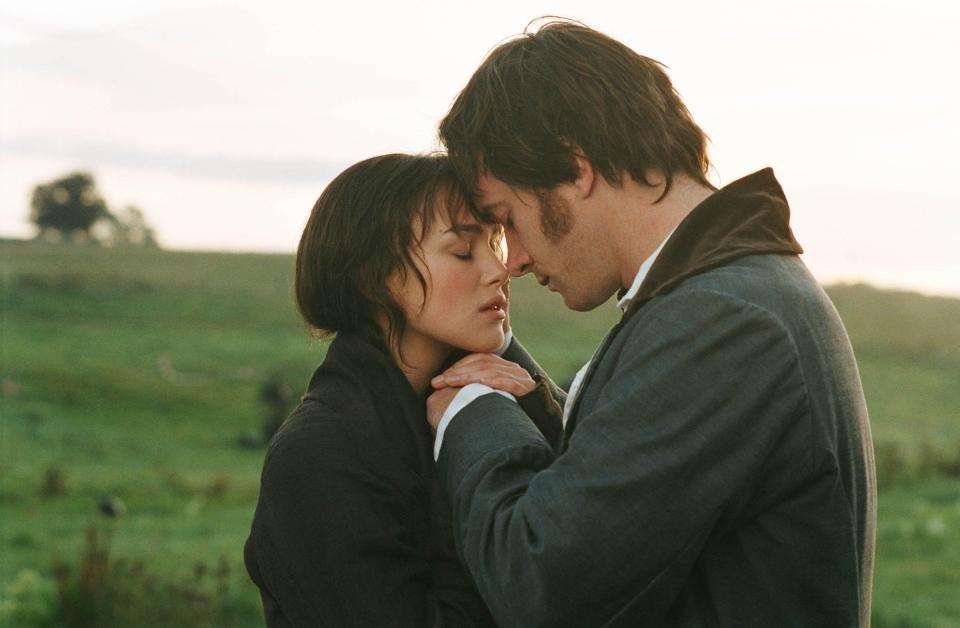 A fresh, enjoyable, and well done film on the ever popular Austen classic tale of steamy romance and passion. The cast is wonderful and the film is vividly realized, sumptuous and sensuous.
Elizabeth Bennet, played by Keira Knightley, is the eldest daughter expected to marry. She is introduced to a handsome and wealthy upper class gentleman – the arrogant and stuffy Mr. Darcy played by Matthew McFadyen. The playful sparring and sparks between the two is excellent. Soon Darcy finds himself in love with a woman beneath his class.
Details: Pride and Prejudice, 2005, romance drama, British, based on the 1813 Austen novel of the same name. Director: Joe Wright. Cast: Keira Knightley, Matthew Mcfadyen, Brenda Blethyn, Donald Sutherland, Rosamund Pike, Jena Malone, Judi Dench, Tom Hollader. Awards: 4 Oscar nominations, 1 BAFTA with 6 nominations, 2 Golden Globe nominations.
Becoming Jane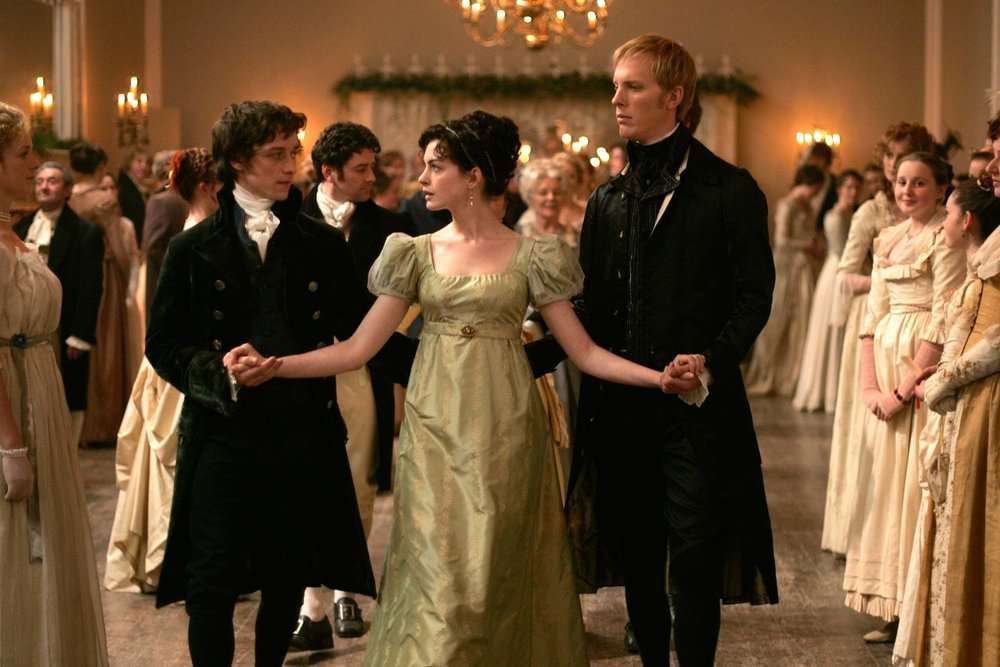 A well-crafted, charming, and enjoyable period film on the early life of Jane Austen on how she learned about love. The sparing chemistry of Anne Hathaway as Austen and James McAvoy as her lover is wonderful. Stunning fashion, style, and décor. An excellent cast and story-telling. This brings the 200 hundred year old Austen as a person into focus, not just a beloved icon.
Austen's parents are financially strapped and expect Jane to marry the nephew of the wealthy Lady Gresham, but Jane knows that this will destroy her creativity and sense of worth. She has a romantic affair with a charming young lawyer who gives her the life lessons of love she needs to become a truly great writer.
Details: Becoming Jane, 2007, biographical romance drama, British. Director: Julian Jarrold. Cast: Anne Hathaway, James McAvoy, James Cromwell, Maggie Smith, Julie Walters, Joe Anderson.
Emma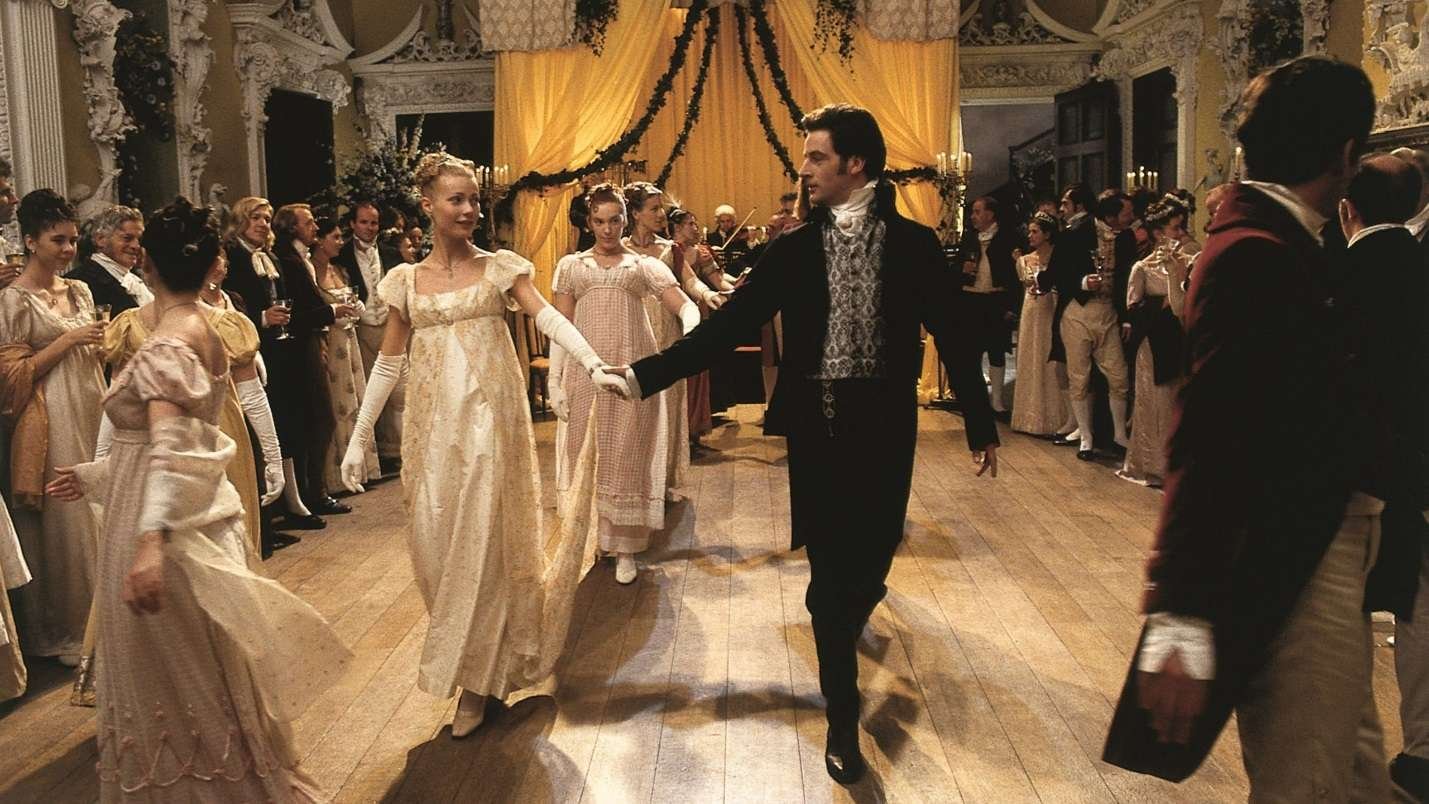 A fun and charming performance of Austen's cutting satire romantic comedy. The movie is visually stunning and weaves a magical spell. Gwyneth Paltrow shines as Emma, the pretty socialite busy body and know-it-all. Emma plays match-maker for those around her but her attempts cause more problems than solutions. She believes she is an expert in love but in reality she is naïve in matters of the heart and soon gets hers broken.
Details: Emma, 1996, romantic comedy, British, based on the 1815 Austen novel of the same name. Director: Douglas McGrath. Cast: Gwyneth Paltrow, Jeremy Northam, Ewan McGregor, Toni Collette, Greta Sacchi, Alan Cumming, Juliet Stevenson. Awards: 1 Oscar with 2 nominations.
Persuasion
Persuasion may be Austen's best novel, absorbing, it is hard to put down. An elegant, intelligent, and well-crafted film about repressed love, betrayal, regret, and honor. After eight years, Anne Elliott played by Amanda Root, regrets being forced by her family to turn down the marriage proposal from poor Captain Wentworth played by Ciaran Hinds. Their lives again interact and Wentworth is now a wealthy war hero.
Details: Persuasion, 1995, romantic drama, British, based on the 1818 Austen novel of the same name. Director: Roget Michell. Cast: Amanda Root, Ciaran Hinds, Susan Fleetwood, Corin Redgrave, Fiona Shaw, John Woodvine. Awards: 5 BAFTA.
Love and Friendship
A wonderful romantic comedy satire based on the Austen novel Lady Susan, very funny and intriguing. Kate Beckinsale shines as the seductive and manipulative Lady Susan who uses devious tactics to win the heart of the eligible Reginald de Courcy.
Details: Love and Friendship, 2016, romantic comedy, Dutch, based on the Austen novel Lady Susan published in 1871. Director: Wilt Stillman. Cast: Kate Beckinsale, Xavier Samuel, Morfydd Clark, Emma Greenwell, Tom Bennett, James Fleet.
Mansfield Park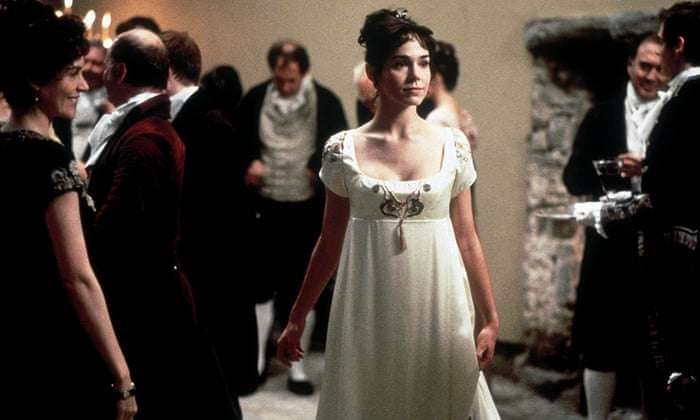 A delightful and devilish fun romantic comedy satire based on Jane Austen's favorite of her own novels. Fanny Price, played by Francis O'Connor, is born into a poor family and is sent to live with her wealthy uncle to be brought up for a proper introduction to society. She is treated unfavorably by her relatives. Her life is thrown into disarray with the arrival of worldly Mary and her brother Henry.
Details: Mansfield Park, 1999, romantic drama, British, based on the 1814 Austen novel of the same name. Director: Patricia Rozema. Cast: Francis O'Conner, Harold Pinter, Embath Davdtz, John Lee Miller, Alessandro Nivola, Lindsey Duncan.
Northanger Abbey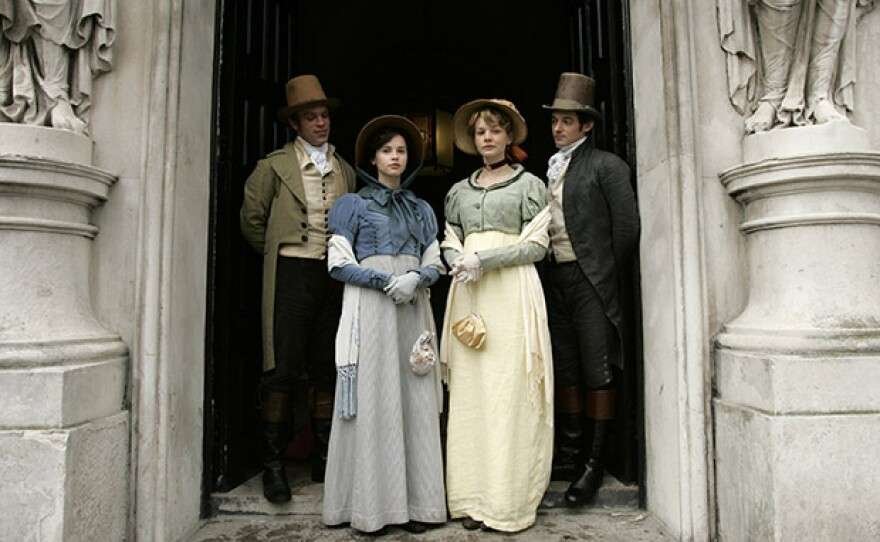 An imaginative and evocative satirical gothic romance. Catherine Morland played by Felicity Jones cannot seem to distinguish her real-life romances from the supernatural gothic love stories she adores. She gets caught into a web of deceit and intrigue around a mysterious murder.
Details: Northanger Abbey, 2007, romantic drama, British, based on the 1818 Austen novel of the same name. Director: Jon Jones. Cast: Felicity Jones, JJ Field, William Beck, Hugh O'Connor, Carey Mulligan, Liam Cunningham, Desmond Barrit, Catherine Walker, Mark Dymond, Syvestrak Touzel.