I hike in the woods every chance I get – it's good for the old cliché 'body, mind, and soul'. I love being with the solitude and beauty of a natural habitat in a deep forest among streams and rolling hills, and I like to hike for around four to five miles to get in a good workout.
When backpacking, I cover as much as 8 to 12 miles per day, depending on the length from trailhead to campsite. Backpacking involves much more adventure, you hike longer distances, and then set up camp, cook, and sleep in the deep woods. Then get up, make breakfast, pack, and hike again. It is strenuous but well worth it.
Whether I am day-hiking or backpacking, I often stop at scenic viewpoints to take a breather and have a snack. Every time I discover beautiful scenic views. Once I was on a trail along a river. Suddenly the trail opened up to a spectacular view from atop a cliff overlooking a bend in the river through the wilderness. There was a bench and I sat for a long time watching the river and hawks circle above the waters.
I often have close encounters with animals such as geese, ducks, deer, wild turkeys, cranes, herons, rabbits, woodchucks, raccoons, foxs, weasels, squirrels, chipmunks, and other critters. I have waited for both deer, cranes, and wild turkeys crossing the trail who gave little notice to me. Water fowl swim by with no concern. Squirrels and chipmunks go about their business. Other mammals are usually grumpy about being disturbed. I have never encountered bears, wolves, coyotes, cougars, moose, or elks.
Since childhood, hiking has been part of my life. I grew up with abundant fields and woods, and was in the Scouts for canoe and camping trips. My father and I would go fishing and hunting pheasants and quail. Our family went on regular picnics and camping vacations every year with a family size tent, gas stove, sleeping bags, and light camp fire to roast marshmallows. Ever since I was a young adult I would go hiking and backpacking to get away from the city and the stress of modern life. Being in nature has always re-energized my spirit and cleared my mind. Plus the exercise of hiking several miles at a fast clip is healthy and exhilertating.
I have hiked almost every trail in Southeastern Michigan and many in Northern Michigan, as well as in Ohio, Indiana, Ontario, Quebec, New York, Pennsylvania, Wisconsin, Texas, Arizona, and New Mexico. My bucket list includes backpacking in Iceland, Ireland, New Zealand, and Costa Rica – these places are beautiful worldwide backpacking destinations and affordable planned trips are available.
The Best Trails in Southeastern Michigan
Outdoor enthusiasts in Southeastern Michigan can easily access a natural forest environment year round and get the "Up North Vibe" without a four-hour drive. The SE Michigan area has an abundance of beautiful parks and forest hiking trails. There are excellent State Recreation Areas, along with the Huron Clinton Metroparks, in the Wayne, Macomb, Oakland, Livingston, and Washtenaw counties. There are also many county and municipal parks with very good forest trails. There is information at the Michigan DNR and Michigan Pure Michigan websites, and other sites such as All Trails.
These parks have lakes, rivers, streams, forests, wetlands, and prairies. Along with trails, several of these parks and recreation areas offer other amenities, including: nature centers, campgrounds, cabins, boat launches, picnic areas, playgrounds, sports fields, shooting ranges, disc golf courses, and scenic views. Look at their websites to determine activities.
At many of these parks and recreation areas in Southeastern Michigan, outdoor enthusiasts have access to hiking, mountain biking, cross country skiing, swimming, boating, paddling, camping, horseback riding, hunting, fishing, snowmobiling, sports, picnics, children's activities, and more. Prospective visitors should call ahead or check the facilities' websites for specific information about what each location offers.
My Favorite Trails
After hiking the most popular trails in State and Metroparks over many decades, I have found five trails that offer 'the best' experiences for hikers and backpackers to get the "Up North Vibe." Below, I have compiled a few key details about each park to assist prospective visitors with their travel plans. For area maps and driving directions, please check out each individual park's websites.
I rate these trails as 'best' based on the following criteria: length of the trail, solitude in a dense forest habitat, streams, rivers, and lakes, breathtaking scenic views, lush with flora and fauna, how challenging they are, and 'up-north-vibe'.
Pinckney State Recreation Area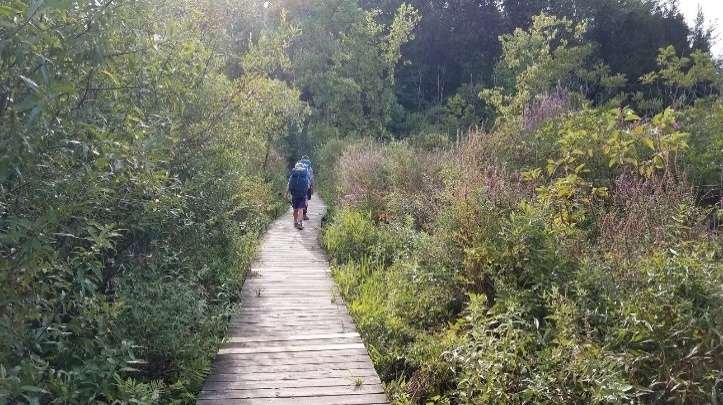 8555 Silver Hill Road, Pinckney, MI 48169—northwest of Ann Arbor
This park has 10,201 acres of rolling hills, mature forests, wetlands, and numerous lakes.
Outdoor enthusiasts from Metro Detroit, Ann Arbor, Jackson, and elsewhere, flock to this conveniently located Recreation Area throughout all four Michigan seasons.
The park offers opportunities for hiking, mountain biking, horseback riding, camping, swimming, boating, paddling, fishing, cross country skiing, snowmobiling, and hunting.
The 5.3 mile Crooked Lake and Silver Lake Loop is the considered the 'best' and 'most scenic' trail, and one of the most rugged and difficult in Southeastern Michigan, according to backpacking and Michigan DNR websites. It is also one of the most popular biker trails in Michigan. It has diverse terrain and habitats, with breathtaking scenic views with cliffs, ridges, rivers, dense hardwood forest, wetlands, lakes, and streams. It is a challenging trail with steep hills, ridges, and ravines. The trail wraps around three lakes – Silver, Crooked, and Pickerel and is open year round.
Proud Lake State Recreation Area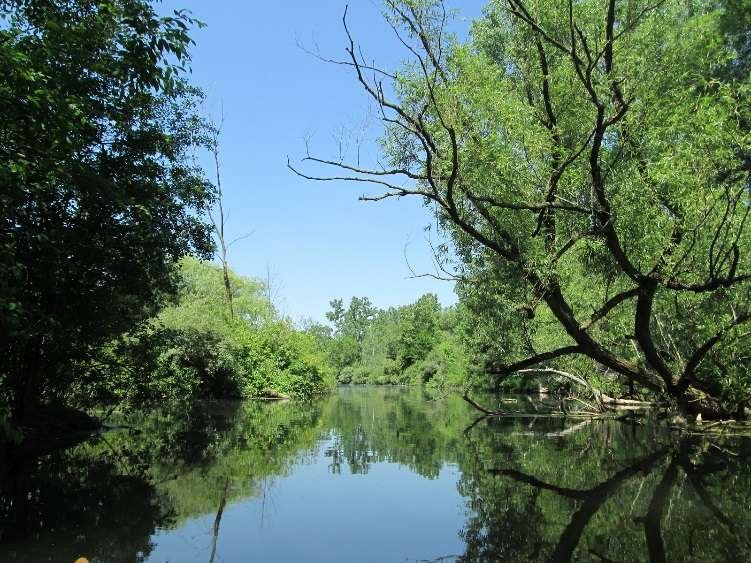 3500 Wixom Road, Commerce Township, MI 48382—east of Milford
The Proud Lake State Recreation Area follows the Huron River to Proud Lake and Moss Lake. It is a very popular destination for picnics, retreats, camping, rental cabins, hiking, mountain biking, horseback riding, paddling, cross country skiing, hunting, trout fly fishing, and boating.
The recreation area comprises more than 4,700 acres of hills, marshes, forests, rivers, and lakes. In the spring, rainbow trout, brown trout, and small mouth bass are released into the Huron River and Proud Lake—this makes it a popular destination for fishing.
The 5.75 mile Bowtie Loop Trail is considered moderate with a few hills and ridges. It is for hikers only; bikers and horseback riders have their separate trails west of Wixom Road. Cross country skiing is allowed in the winter. The woods give a deep sense of solitude and breathtaking views. The diverse terrain includes dense beech-maple-oak-pine forests, fern bordered paths, boardwalks through cattail and horsetail marshes, foot bridges over streams, a chain of lakes, and river paths. This park is open all four seasons.
Highland State Recreation Area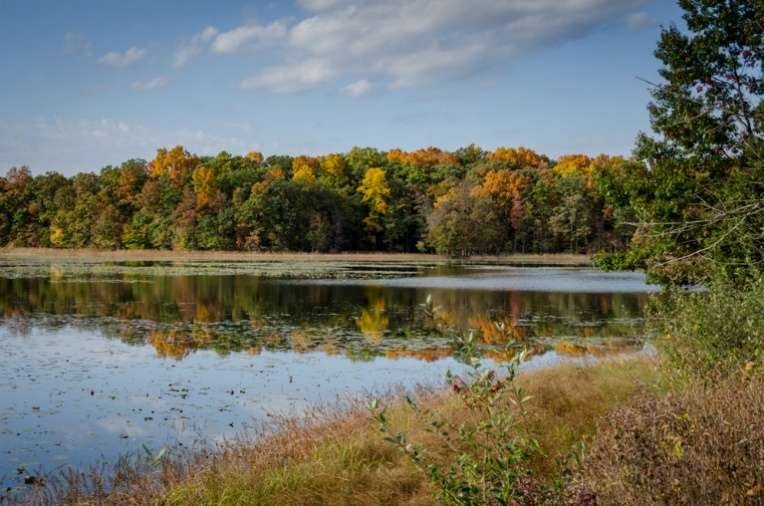 5200 Highland Road (M-59), White Lake, MI 48383—west of Waterford
Haven Hill, the former Edsel Ford family estate, is now a 5,903 acre state park that is open year round.
Along with being a popular spot for hiking, biking, hunting, fishing, picnics, camping, and cross country skiing, this park is a known destination for equestrian events, offering an equestrian campsite along with horseback riding trails.
There are several loop trails to choose from, Green, Blue, or Red, ranging from 5.2 miles to 2.15 miles. The main trailhead is located at the equestrian staging area by the historic Edsel Ford Barn. The 4.8 mile Blue Trail is the most scenic, passing through three forest habitats of maple-beech and oak-hickory, as well as cedar-tamarack wetlands. The trail loops around Haven Hill Lake, is rated as challenging and difficult, and has difficult terrain and steep hills. On all three loops, horseback riders and hikers share some segments of the trail; bikers have their own trails.
Bald Mountain State Recreation Area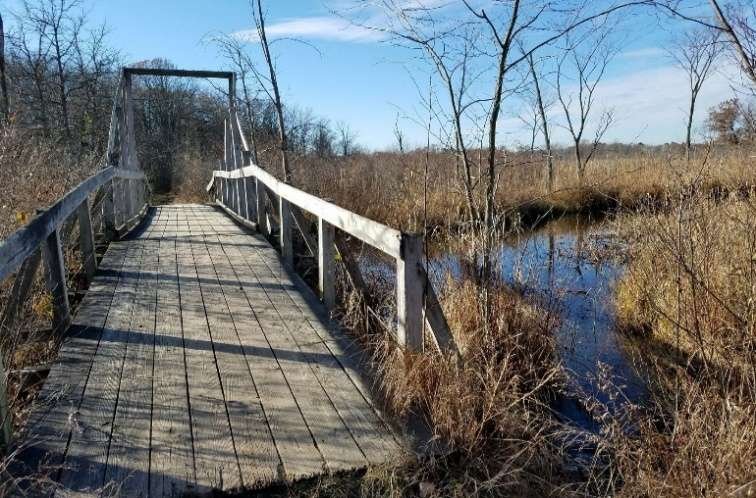 1330 East Greenshield Road, Lake Orion, MI 48360—near Lapeer Rd
The 4,637 acre park is heavily forested, set among rolling hills, and teems with wildlife. The recreation area, open year round, is popular for picnicking, hiking, biking, hunting, trapping, fishing, paddling, shooting, cross country skiing, and snowmobiling. There is no camping but there are rental cabins.
I recommend the 6.7 mile Blue, White, and Orange double loop hiking trail, rated as moderate to strenuous; it is one of the most scenic trails in Southeastern Michigan, popular with both hikers and mountain bikers. It has rugged terrain with steep rolling hills and ridges. The trail wraps around three lakes—Graham, Heart, and Carpenter—and offers many stunning scenic overlooks as it passes through dense hardwood forests, fields, marshes, and over boardwalks and small bridges.
Holly State Recreation Area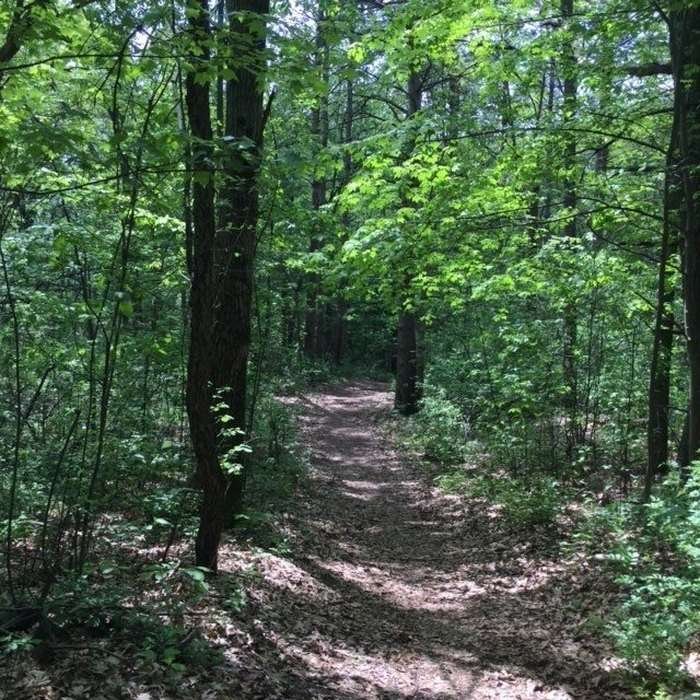 8100 Grange Hall Road, Holly, MI 48442—east of
I-75 and Dixie Highway
Holly has a distinct 'up north' feel with its rolling hills, deep hardwood forest, prairies, wetlands, streams, and lakes. The 8,008 acre Holly State park is open year round and very popular with its beach, picnic areas, 24 hole disc golf course, and a large, modern campsite area.
Outdoor enthusiasts have access to hiking, mountain biking, horseback riding, picnic areas, disc golf, swimming, boating, paddling, hunting, fishing, cross country skiing, snowmobiling, camping, and secluded cabin rentals.
The 6.5 mile dog friendly Wilderness Trail can be accessed from several places in the park—two popular starting points are the McGinnis Lake Campground access and the Overlook Picnic Area (posting is in the second parking lot). The trail, rated as moderate, features a variety of terrain such as rolling hills, ridgelines, meadows ponds, streams, wetland marshes, and deep, hardwood forest.
Other Honorable Mentions for Hiking Trails in Southeastern Michigan
LOCATION NAME
TRAIL LENGTH
CITY
AMENITIES
Waterloo State Recreation Area
Hickory Hills Trail, 4.2 miles
Chelsea
hiking, biking, boating, camping, hunting, picnics, swimming, skiing, fishing, disc golf, equestrian
Brighton State Recreation Area
Penosha Trial, 5.0 miles
Brighton
hiking, biking, boating, camping, hunting, picnics, swimming, skiing, fishing, disc golf, equestrian
Island Lake State Recreation Area
Yellow Trial, 5.9 miles
Brighton
hiking, biking, boating, camping, hunting, picnics, swimming, skiing, fishing
Kensington Metropark
Tamarack Trail, 3.3 miles
Milford
hiking, biking, boating, camping, picnics, golf, disc golf, swimming, equestrian, fishing, skiing
Indian Springs Metropark
Woodland Trail, 3.1 miles
White Lake
hiking, biking, picnics, golf, skiing
Independence Oaks County Park
Rockridge Trail, 3.1 miles
Clarkston
nature center, hiking, biking, skiing, swimming, fishing, picnic, camping, boating
West Bloomfield Nature Preserve
Nature Trail, 2.2 miles
West Bloomfield
hiking trial, picnic
Lloyd A. Stage Nature Center
Blackbird-Fox Trail, 1.5 miles
Troy
nature center, hiking trail, picnic
Stony Creek Metropark:

Habitat Trail

Habitat Trail, 2.7 miles
Shelby Twp.
hiking, biking, boating, picnics, golf, disc golf, swimming, fishing, skiing
Metamora-Hadley State Recreation Area
Nature Trail, 3.4 miles
Metamora
hiking, biking, boating, camping, hunting, picnics, swimming, skiing, fishing
Stay Hydrated!
Now that you have a few ideas of where you can hike or backpack in Southeastern Michigan, the next order of business will be checking your hiking gear—and that includes your water containers.
Make sure to pack enough clean drinking water for the length of your hiking plans or, for longer backpacking adventures, you may elect to bring a filtration system to treat the water you may find.
Some parks and recreation areas offer drinking fountains, but hikers should plan to bring their own water. There are several options, whether you wish to travel with a Nalgene or two—or use another similar impact resistant water bottle—or go for a Camelback or other such water bladder.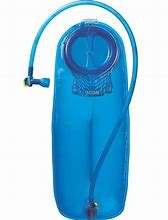 Personally, I like traveling with my Camelback for longer hikes, because it allows me to pack more water and drink hands free from the nozzle. When you are hiking up and down hills for many miles on a hot day, you will drink a lot of water.
Whatever you pack your water in, staying adequately hydrated during outdoor adventures is very important. Dehydration kills and Montezuma's Revenge is not fun!
We've got our water covered—now what?
Back Country Snacks
Along with water, packing nutritious food is essential for both day hikes and backpacking adventures. It's time to head to the grocery store, gear shop, or farmer's market to select your trail food.
Not only do healthy snacks curb hunger, reenergize the body, and boost the spirit, but also—they are delicious.
After many miles, I like to stop at a scenic overlook on the trail to rest and enjoy a few snacks—I usually go for food that is high in carbohydrates and fat to replenish my energy reserves and electrolytes. Here are a few of my favorite 'must have' choices.
| | |
| --- | --- |
| Crunchy Snacks | Frito Corn Chips, Chex Mix, pretzels, sesame sticks, Cheezits |
| Trail Mix | Good ole' GORP, granola, dried fruit, nuts, seeds, chocolate |
| Dried Fruit | Raisons, cranberries, banana, prunes, figs, apricots, dates, pineapple |
| Fresh Fruit | Grapes, apple, pear, berries, peach, plum, banana |
| Nuts | Peanuts, walnuts, pecans, almonds, hazel nuts, cashews |
| Seeds | Pumpkin, sunflower, sesame sticks |
| Energy and Protein Bars | Granola bars, CLIF, KIND, LUNA, RXBAS, PROBAR, Larabar |
| Pickled Snacks | Olive packet, pickles, peppers, marinated artichokes |
| Meats | Hard salami, smoked sausage, jerky, meat sticks |
| Sandwiches | Peanut butter, cheese, salami, ham, veggie |
| Spreadable snacks | Cheese, hummus, or tuna with crackers or pita |
| Desserts | Cookies, brownies, other desserts |
| Candy | Chocolate, Snickers, Peanut M&Ms, Pay Day, Reese's, Almond Joy, others |
Southeastern Michigan's Fauna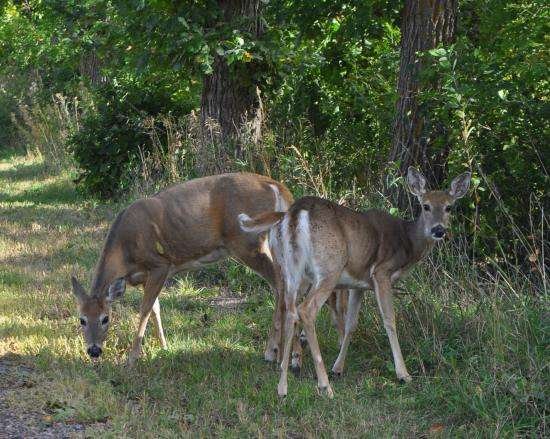 Over the years, I have seen many of animals while hiking Lower Michigan's trails, such as:
Mammals – deer, rabbit, squirrel, chipmunk, woodchuck, raccoon, fox, groundhog, muskrat, weasel, skunk, bat, beaver, opossum, and others.
Birds – wild turkey, robin, blue jay, cardinal, woodpecker, oriole, sparrow, finch, thrush, wren, starling, warbler, crane, heron, swan, geese, duck, loon, owl, hawk, raven, crow, pigeon, dove, grouse, pheasant, quail, partridge, and others.
Reptiles and amphibians – snakes, turtles, frogs, toads, salamanders, and others.