For more than 50 years, Ralph Lauren has cultivated the iconographic of America into a global lifestyle brand. He is recognized as one of the most innovative designers and business leaders. His collections for men, women, children, and their homes embody an expression of timeless style identified and celebrated worldwide.
Introduction to Style
Style is in everything that we touch. My grandmother taught me that. She was the first person to introduce me to what style truly means. Her classic taste from the previous generation still influences my sensibility today. I remember as a child taking a bus from Detroit to the Downtown J.L. Hudson department store for an afternoon of shopping. I would watch her study and select her clothing and how well she put these pieces together. She had a certain "je ne sais quoi" about her. Ralph Lauren also has that indefinable quality and consistency. His collections resemble my grandmother's timeless and well-appointed pieces from a former period and feel familiar to me. Perhaps that's why I have a personal attachment to Ralph Lauren's design. Like my grandmother, Lauren reminds us that how we dress can be transformative. Who do I want to be? And what do I want to say through style?
Lifetime Achievement
In 1991 Lauren received the Lifetime Achievement Award from the Council of Fashion Designers of America (CFDA). It was presented to him by the legendary actress and fashion icon Audrey Hepburn. When I think of Ralph Lauren, I often reflect on Hepburn's presentation speech and the way she described him in such careful and accurate detail when she said, "as a designer, Ralph conjures up all the things I most care about the country, misty mornings, summer afternoons, great open spaces, horses, cornfields, fireplaces, and Jack Russel terriers.
"As a man, I respect Ralph for his total lack of pretension, gentleness, kindness, sincerity, and simplicity. He studied nonchalance, Fred Astaire used to say about the easy and immaculate way he dressed. How much study, hard work, passion, and love have gone into Ralph's art. How many hours are spent dreaming about his following collection, collections which are not only beautiful but fun, not only elegant but comfortable, collections that are designed not only for looks but for a living?
"During the past decades, perhaps no person has had such an impact on the way we live. Through the timeless elegance of his men's, women's, and children's clothes, the luxury and breadth of his home collections, his cinematic advertising, and the beauty and rich detail of his stores. Ralph has given American design a distinctive point of view and dignity. He has done this so consistently that his name is often used as an adjective synonymous with quality and style. And if you say something is 'Very Ralph Lauren', you're immediately understood." – Audrey Hepburn.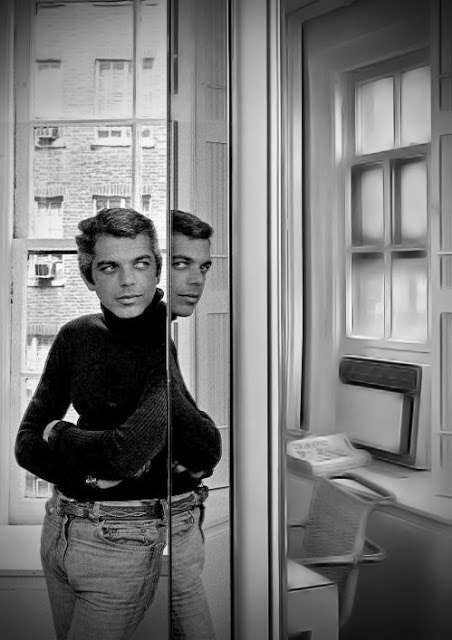 Young Ralph Lauren
When Lauren was young, he saw his dreams and stepped into different worlds through department store windows. He remembered a pair of blue suede shoes in a store window that he passed every day after school. He said, "I loved those shoes and wanted them, but I didn't have the money. I couldn't wait for my birthday, hoping they might be a gift." Lauren still reflects on himself as the boy standing in front of the window filled with the same excitement, yearning for something of
desire… just out of reach. Fashion must be desirable. Lauren sees that and understands it.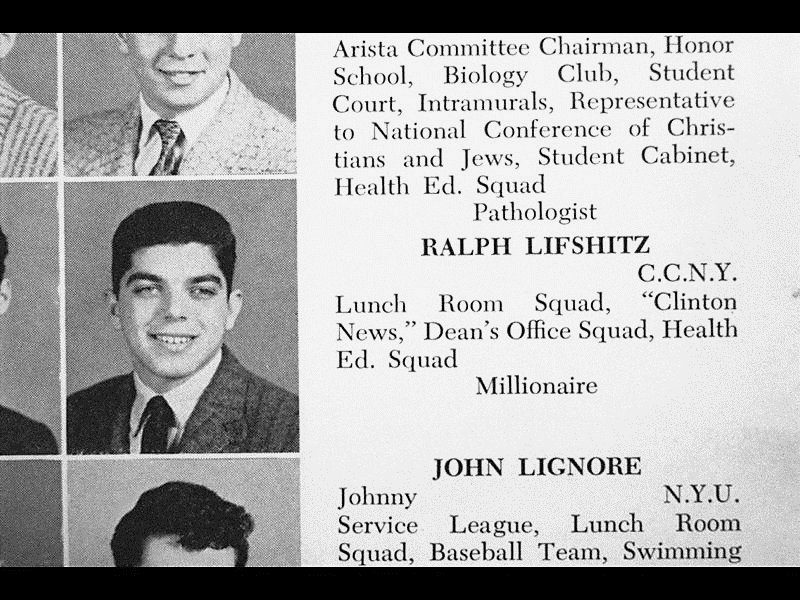 Ralph Lauren was born Ralph Rueben Lipschitz on October 14, 1939, in Bronx, New York, to a Jewish working-class family and the youngest of four children. Ralph and his brother Jerry departed from their Jewish origin in their late teens, changing their last name to Lauren after years of relentless teasing. Although he came from humble beginnings, in his 1957 high School yearbook, Lauren wrote "millionaire" as one of his life goals. According to Forbes, he has over $7 billion with his iconic brand Polo Ralph Lauren.
Lauren never went to fashion school. Instead, he attended Baruch College in Manhattan, studied business, and enlisted in the U.S. Army before graduating. After two years of service, he returned to New York and started working for the Brooks Brothers and then for manufacturer Beau Brummel.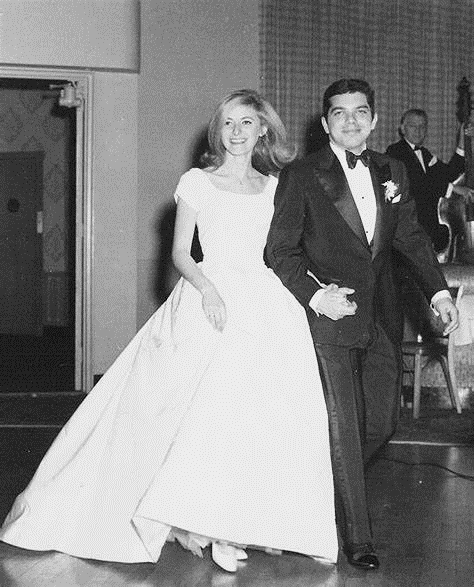 Ralph and Ricky Lauren's Wedding Day
Marriage and Family
In 1964 Lauren met and married the love of his life Ricky Ann Loew-Beer. For almost sixty years, the two have been together and have three children, sons Andrew and David, and a daughter Dylan.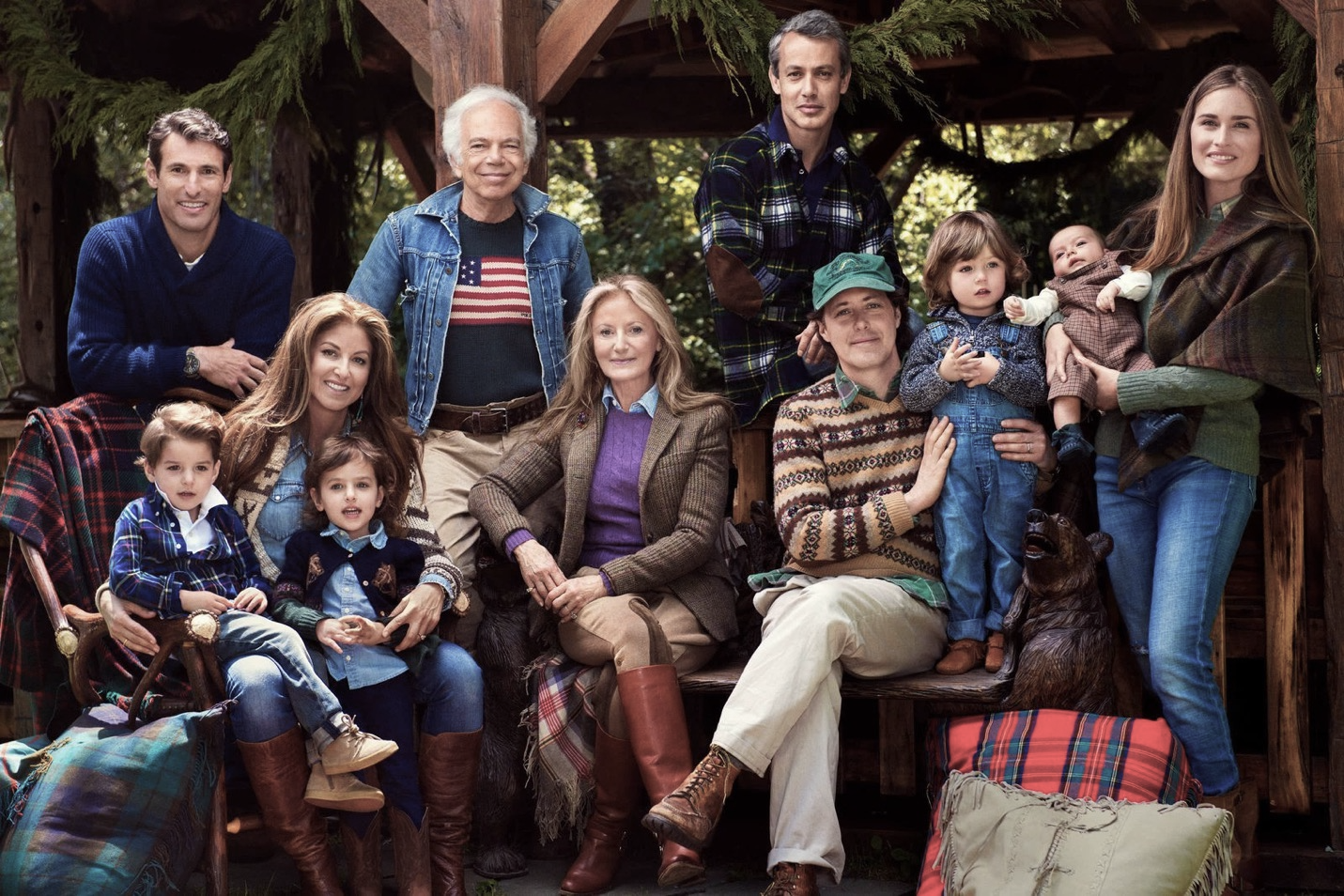 Ralph Lauren and Family at The Double RL Ranch
Lauren credits his painter and artist father, Frank Lifschitz, for passing on his creative talents. However, Lauren acknowledges that he has no skill in the art. Design, however, is different. The early years were difficult. Lauren's wife Ricky tells of sleeping on a mattress on the floor and that they had nothing. Lauren admits to having been insecure about his work as a young man. "Some of the criticism was very painful. Maybe I think I'm good, but I'm not," he said. However, his loving parents inspired Lauren to structure his personal and professional life around family and a sense of involvement in each other's lives. His first Polo tie labels were sewn in by the hand of Ricky's mother and her aunt. Lauren and his wife still share a close-knit way of being together that they pass on to the next generation.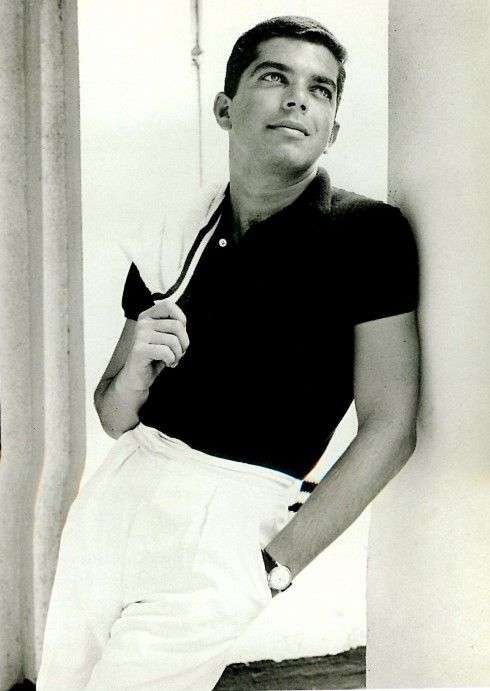 Movie Stars and More
Ralph Lauren grew up playing baseball and wanted to be Joe DiMaggio and then a movie star. Lauren thought it was cool and he would have a lot of girlfriends but never thought it was possible. Nevertheless, he held on to the magic of movies and said, "When I'd go to the movies, it was as if a window opened to a world I had never dreamed of, and I walk right in. If I was watching a western, I wasn't just watching John Wayne on the screen; I was the cowboy and the man on the horse."
Lauren hypothesized that personal style is about having a sense of yourself and what you believe in. In other words, self-confidence. When you have confidence, you can wear whatever you want and be whomever you want. Lauren seamlessly, through fashion, inserts himself into scenes and then becomes the character of Gary Cooper or Cary Grant, for example. Like a movie star, you dress for the role you're playing on that day.
Ralph Lauren is constantly drawing inspiration from the places he travels, the people he meets, the movies he sees, and the heroes he admires. Lauren said, "growing up, I was inspired by baseball legends Joe DiMaggio and Mickey Mantle, writer and novelist F. Scott Fitzgerald, entertainers Frank Sinatra and Fred Astaire, and presidents Franklin D. Roosevelt and John F. Kennedy. I still am."
In the Beginning
In 1967 It all started with the Polo brand while Ralph Lauren, 28, worked for Brooks Brothers and Beau Brummel's manufacturer. Lauren had new ideas for ties and began a neckwear line drawing from his interest in sports. He called his line Polo. A sport with an international sensibility. It was sporty yet sophisticated and stylish. Polo had an image representing old Hollywood's romance and created the "Lauren Look."
He started designing and selling men's ties out of a drawer in the Empire State Building.
Lauren's ties were broader and handmade from high-end fabrics. His ties were bolder and more colorful than others on the market; they were untraditional and dandified. Lauren sold more than $500,000.00 worth of ties in his first year in business. He accomplished this by selling to distinguished businesspeople and department stores in New York, Bergdorf Goodman, and Bloomingdales. As a result of his success, he started the Ralph Lauren Corporation.
In 1970, the Polo store by Ralph Lauren "shop within a shop" opened inside Bloomingdale's, New York, marking the first in-store boutique devoted to a designer. It was positioned in the middle of the men's store at the Third Avenue entrance and carried the emerging Ralph Lauren collections, suits, shirts, ties, and later sportswear. Lauren oversaw every detail of its creation, and it was like stepping onto a movie set. You knew you were about to experience something special. He brought a European sense of quality and nobility into American style and spirit. It merged custom-tailored heritage with the American sensibility of sportswear and way of living. It was an enormous success and helped position both Bloomingdale's and Lauren as leaders in the new direction of menswear.
The Lauren Look
In the sophomore year of his success, Lauren launched a full line of Polo menswear. He decided to do this because there was no one focusing on men. Instead, the focus was on women's fashion. In addition, Lauren said that he wanted more romance and more excitement in the narrative of menswear. The Lauren look was established with the stand-out pieces like the white flannel suit or white slacks, a navy blazer, with a blue and white all-American striped shirt. Lauren references the line as "30s style, today shape."
The Polo Shirt
In 1972, the world was introduced to the Ralph Lauren Polo shirt, a short-sleeved collared sports shirt available in twenty-four different colors with the iconic embroidered Polo Player on the upper left chest. Tennis pro René Lacoste created the brand's famed logo. The Polo shirt quickly became an icon of the American "preppy" style for which Lauren is best known. Lauren also debuted his first collection for women, a line of tailored shirts that introduced the Polo player emblem, appearing on the cuff.
Ralph Lauren's Wife and Inspiration Ricky
Lauren changed the women's shirt and made it sexier, with skinny sleeves and fit. The shirts were much like the men's, but they were not just your boyfriend's shirts — they were 'yours'.
Women's Wear
After firmly establishing himself in the men's fashion field, Lauren's finely tailored shirts and sportswear were an instant success with women who found them welcomed change. This clean and classic look made them feel contemporary yet comfortable. Lauren always thought that women who would wear men's clothes had sexiness. If they were cut right, they would be sharp; a woman in a tuxedo is sexier than a girl in a gown.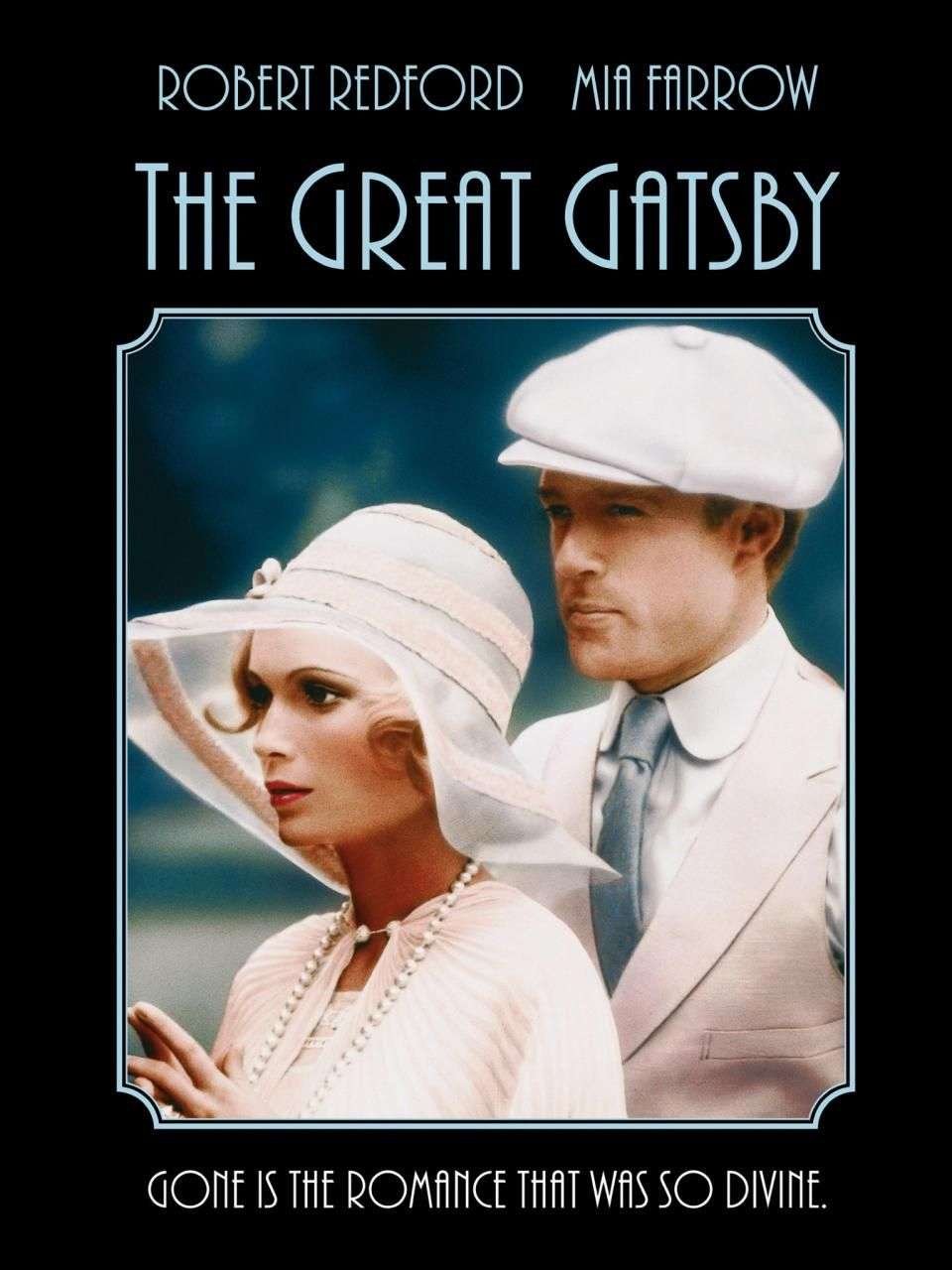 Lauren and the Movies
In 1974, Lauren designed all the menswear for the movie The Great Gatsby, starring Robert Redford and Mia Farrow. Lauren outfitted the male cast of Gatsby in costumes chosen from his Polo line, a 1920s-style series of men's suits and sweaters, except for the pink suit, which Lauren designed especially for Redford's character. "The Gatsby look," as it has become known, had a significant influence on men's fashion, and Lauren's 1920s style became popular.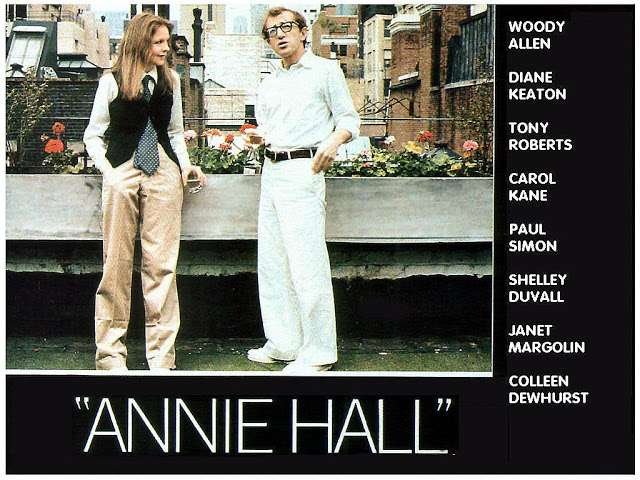 In 1977 the movie Annie Hall was released, starring Woody Allen and Diane Keaton in Ralph Lauren's fashion. Diane Keaton wore Lauren's menswear oversized shirts, vests, and jackets, perhaps a tie. Suddenly women were wearing men's jackets and rolling up the sleeves with mixes of textures like tweeds and plaids. It was independent and original, an eclectic, thoughtful, but a disorderly way of dressing- it was Annie Hall.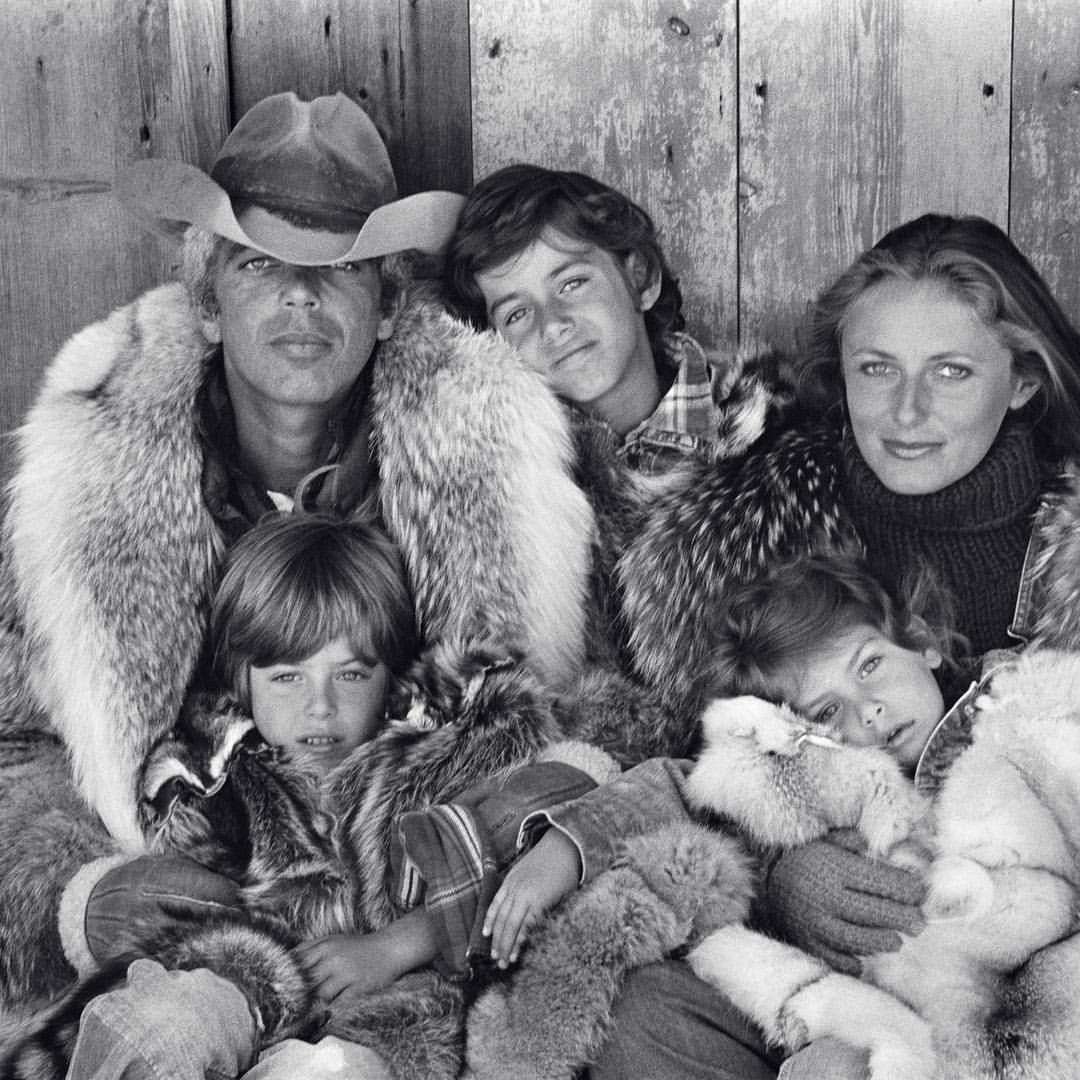 Ralph Lauren and Family at the Double RL Ranch
The Western Wear Collection
In 1979 Lauren launched his western wear for men and women, his first collection inspired by the American West. He appeared in the first ad campaign. Lauren was looking for a style outside of his signature preppy look. So, he created a runway filled with cowgirls, a place where the prairies met with the city's nightlife. It was a whole new kind of chic western movie.
Later a line of casual menswear line was launched. It is named Double R.L. for Lauren's Colorado ranch. The brand is inspired by the well-worn looks of the west, with denim, flannel, leather, and utilitarian-looking pieces. Lauren said, "This is my closet. It's not fashion; it's real stuff."
The Safari Collection
In 1984 Lauren presented the Safari collection for women in the spring. Though evocative of an African safari, the ad campaign was shot in Hawaii but titled "Attitude in Africa." People couldn't get over the attention to detail, the tents, the exotic animals, and the romance of the Safari. The collection appeared a year before the movie Out of Africa, starring Meryl Streep and Robert Redford, contributing to the film's appeal and success.
Wimbledon and the Olympics
In 2006 Lauren became the first outfitter of Wimbledon. In addition, he was the first designer in the tennis tournament's 129-year history to be chosen to create uniforms for all on-court officials. Also, he made an official souvenir T-shirt for the event available to the public. Wimbledon might be the world's most recognizable tennis tournament, but it has also become it's most stylish.
In 2008 Lauren, in recalling the history of the Olympic Games and keeping with the honor and tradition associated with this historical event, Polo Ralph Lauren brought an elegant and contemporary style to the U.S. Olympic and Paralympic Teams. The Opening Ceremony Parade Outfits reflected the heritage and sensibility of the 1920s and 1930s athletes, such as the outstanding track and field Olympian Jessie Owens, with a tailored and modern silhouette. The Closing Ceremony Parade Outfits reflected a sportier aesthetic. Lauren has continued to be the designer for the Olympics for over fourteen years, including the most recent event ceremony in Beijing, China, in 2022.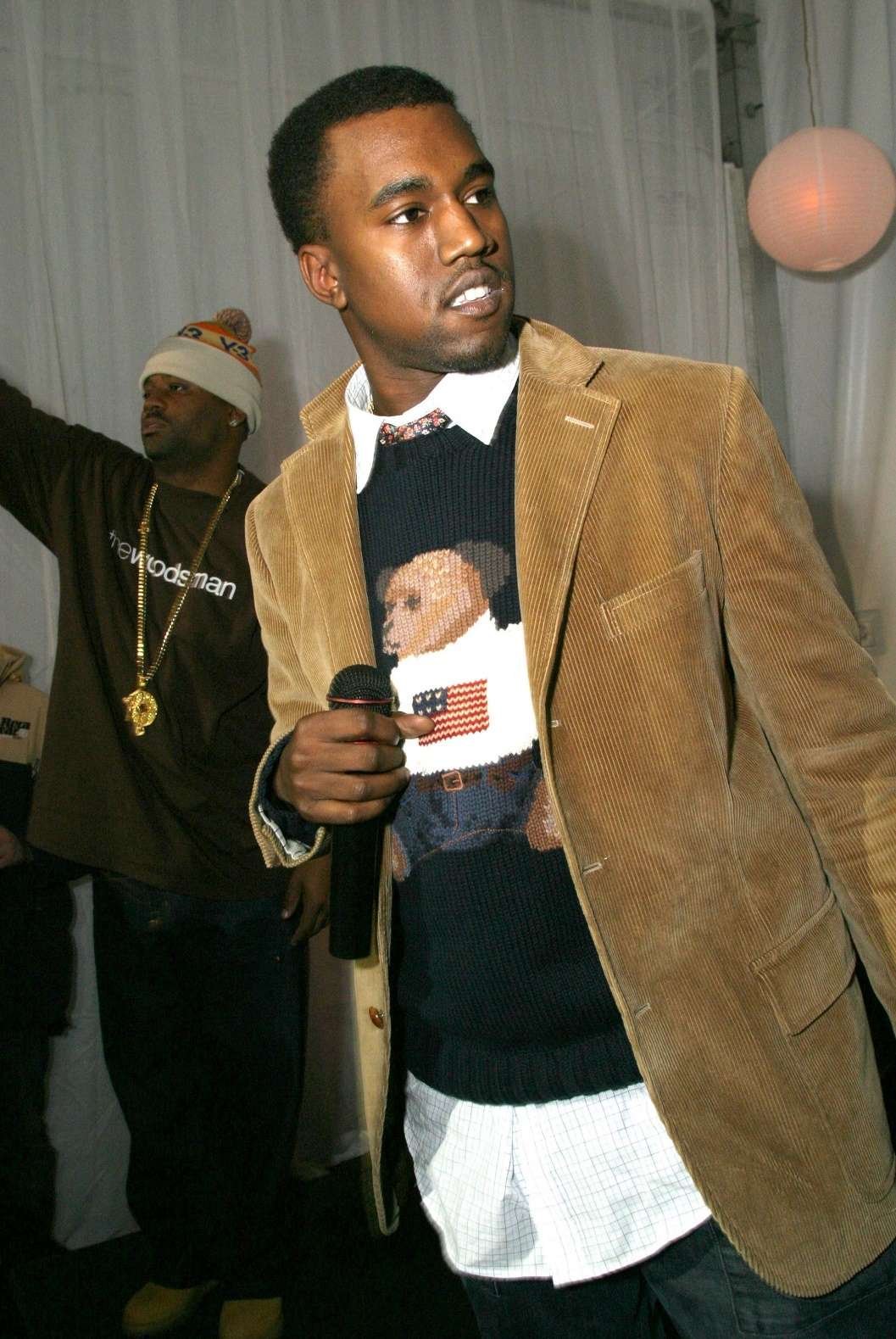 Rapper Kayne West wearing Ralph Lauren
The Subculture
What made Ralph Lauren was his popularity among the sub-cultures of the late 80s and 90s. The Polo brand and its various spin-off lines were picked up by everyone, from preppy Ivy League college students to urban teens in street crews. The rise of hip hop during this time was instrumental in his success. The idea you could start from nothing and become something, a core brand value, was reflected in the rap narrative at the time. The youth identified with the brand by releasing two of Ralph Lauren's iconic motifs, the American Flag and Polo Bear.
An American in Milan
In contrast to the height of Lauren's popularity with the subculture in the early 2000s, he held his first men's runway show in Milan. Lauren said, "When Europe thinks of American fashion, sometimes they say we sell blue jeans. I wanted to make a statement about the level of quality and sophistication in American fashion." Lauren's viewpoint came through the elegant three-piece suits styled with watch chains and pocket squares, checked sports coats, refined sweaters, and luxurious overcoats. A tribute to the seductive power of Lauren's style.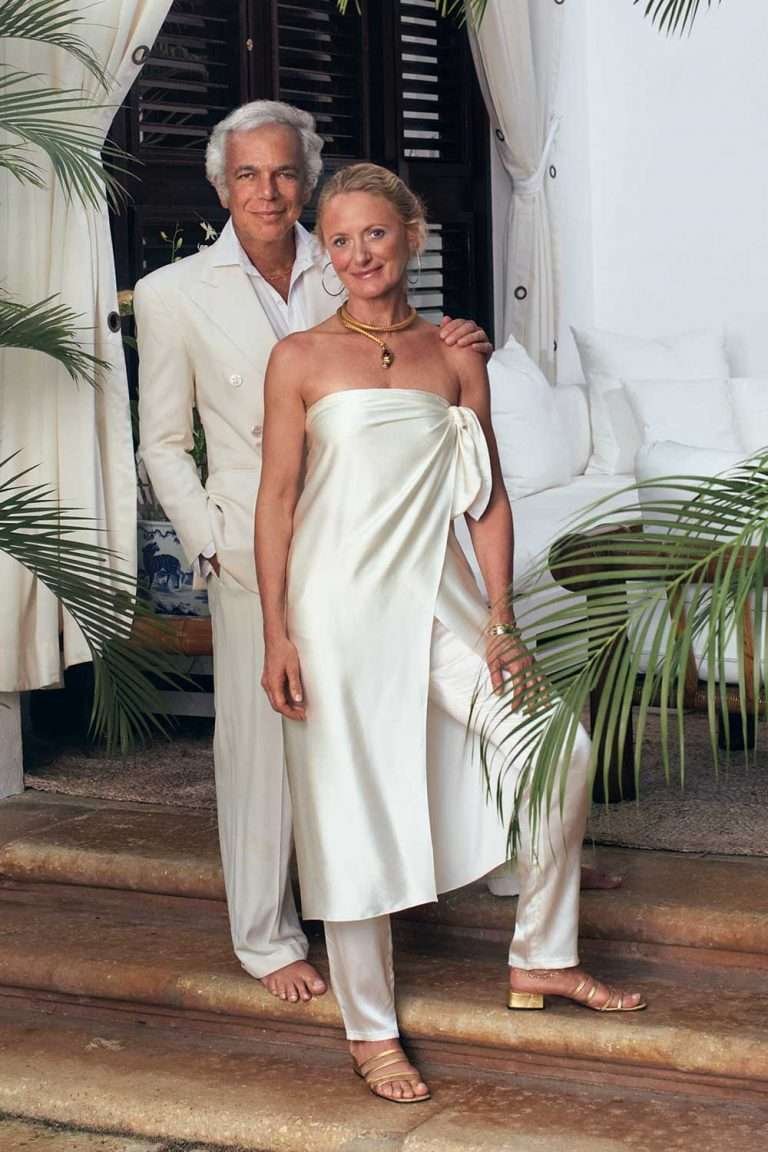 Ralph and Ricky Lauren at their Jamaican Villa
Ralph Lauren Home
The Ralph Lauren Home was launched in the 1980s and was the first complete home collection by a designer. The collection of furnishings for the home included bedding, towels, rugs, coverings, and tabletop décor. A multipage advertising campaign announces the launch to consumers as "How Tradition Begins: offering timeless pieces you will want to live with forever." The Ralph Lauren Home shop opened at Bloomingdale's, presenting environments with different lifestyle themes in four of the Company's signature looks: thoroughbred, New England, Log Cabin, and Jamaica.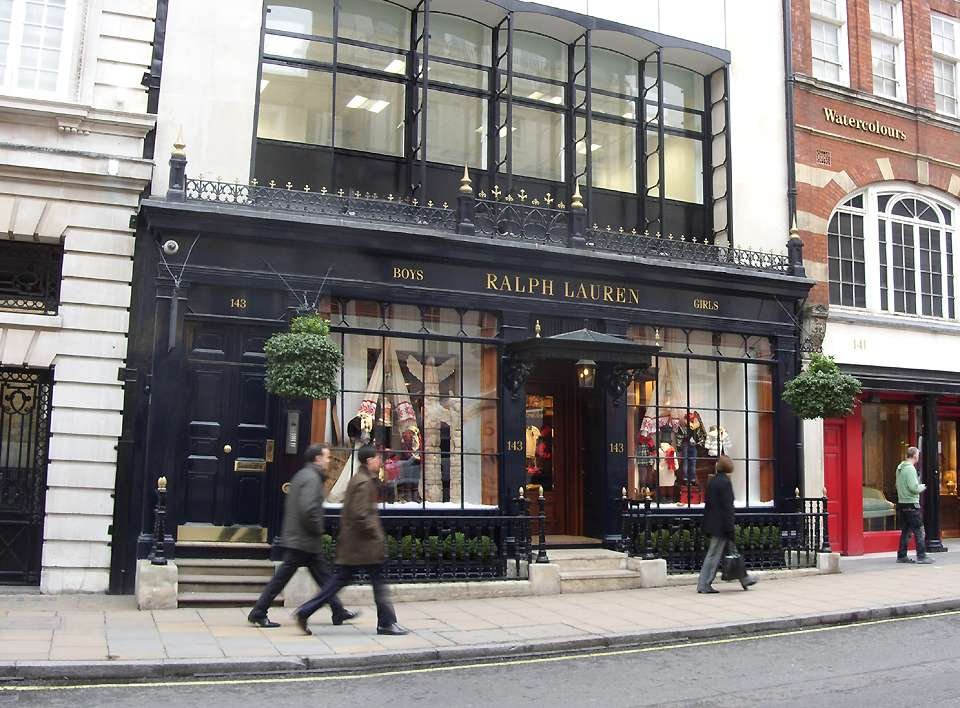 Stores and Restaurants
Lauren opened his first flagship in the Rhinelander mansion on Madison Avenue and 72nd Street. The building was built in the 1890s, and when Lauren took on the reconstruction of it, less than five percent of the original interior remained. So, after extensive research into a few original plans and physical evidence, he attempted to re-create its opulence. The result is a five-floor, twenty-thousand-square-foot environment, an impeccable stage set of traditional design that exudes luxury and ease. Lauren became a producer of everything from fabric to furnishings and buildings, a composite of a fully designed life, a one-of-a-kind Bauhaus.
A children's store was also opened in New York City on Madison Avenue. This was Lauren's first freestanding children's store featuring apparel and accessories for infants and toddlers. The store also offers vintage pieces in children's sizes. In 2004 Rugby by Ralph Lauren was launched. This collection is a contemporary take on Lauren's classic preppy style for young adult men and women. It was established and sold exclusively in Rugby stores near collegiate environments. This first store is on Newbury Street in Boston.
The Company entered the European market and went international by opening the first freestanding store in New Bond Street in the West End of London, UK. Located in a former pharmacy, the store exemplifies the unique atmospheric "gentlemen's club" look that Lauren's stores became known for. The store is decorated with chandeliers, paintings, and antiques highlighting existing Art Deco architectural details. Lauren said, "It's about timeliness, not sleekness. It's about weathering and things that get better with age." This was the first freestanding store in Europe for an American designer.
In 1999 Lauren opened his first restaurant in Chicago adjacent to its most prominent and world flagship Ralph Lauren store at the corner of Chicago and Michigan Avenues on the Magnificent Mile. The opening of two additional restaurants followed it.
In 2010 Ralph opened a flagship store and restaurant in Paris. Located on Boulevard Saint-Germain, the store is housed in a restored 17th-century Hotel Particular. The 13,000square-foot townhouse includes crystal chandeliers, wrought-iron balconies, and Versailles-style parquet floors. Ralph's restaurant serves an elegant mix of American cuisine and French ambiance.
In 2015 the Polo Bar created a scene with Lauren's first restaurant in his native New York City. The restaurant conjures a warm, inviting world on East 55th Street. He drew inspiration from the City's most classic dining establishments and his longtime love of gathering with family and friends over dinner and drinks.
Online Presence
In February 2000, Ralph Lauren Media was formed to develop Polo's online presence and e-commerce site to welcome the new millennium. The following year in a partnership with NBC, the Company launched Polo.com. The site evolved and expanded into a successful outlet introducing Polo magazine containing exclusive articles and interviews in the coming years. In addition, Runway Polo which allowing viewers all over the world to watch runway shows each season. Lauren said, "The internet offers a new world where I can express my designs and thoughts directly to the consumer. It makes my role much more intimate with them."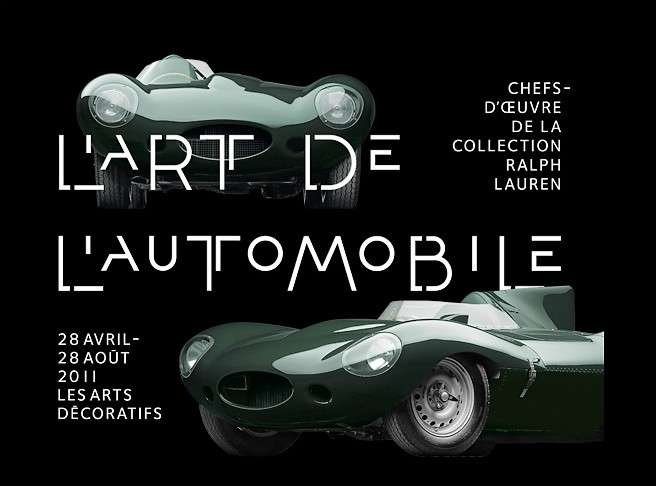 Cars and Fashion
In the 1970s, Lauren began his car collection with a 1971 Mercedes 280SE 4.5 convertible. Fast forward to today, and his collection is worth millions with a vast selection of rare and unique automobiles. In 2011 L'Art de L' Automobile opened in Paris. The exhibition of seventeen cars from Ralph's renowned collection blends Lauren's two passions of speed and style in a landmark event in Paris. In addition, a 160-page book celebrating the history and beauty of these vehicles was published to coincide with the opening.
In 2017 Lauren welcomed the fashion world to his private garage for his Fall runway show. He invited celebrities and friends to his immaculate private space that housed his world-class car collection for the first time. It was an unforgettable viewing inspired by his car's dynamism and beauty.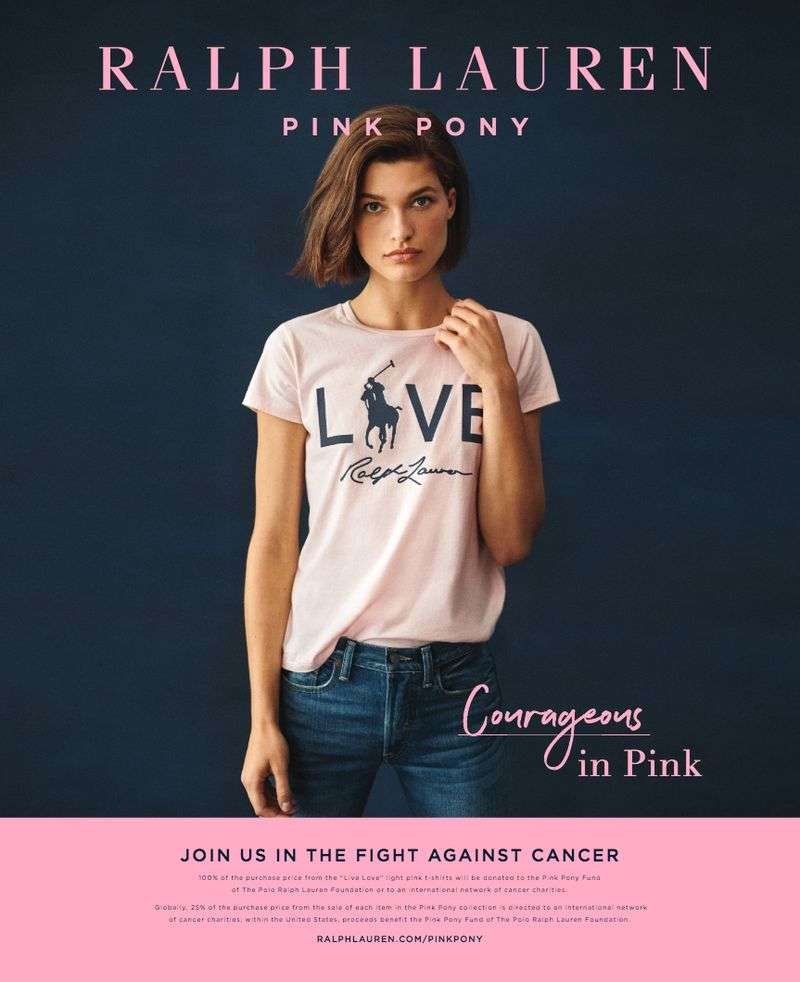 Fashion and Philanthropy
In 1989 Katherine Graham of The Washington Post and Ralph Lauren co-founded the Nina Hyde Center for breast cancer research at Georgetown University Hospital in Washington DC in memory of the late Post fashion correspondent. Graham approached Lauren and convinced him as a designer of women's apparel, he should do something to help combat this illness that takes so many women's lives, and he did.
In 2000 at the spring runway show in New York City, Lauren launched the Pink Pony campaign. The T-shirts have become the symbol of Polo Ralph Lauren's cancer initiative. The fund is a worldwide philanthropic effort to fight cancer, emphasizing breast cancer and supporting education, treatment, patient navigation, and research.
Lauren also partnered with Memorial Sloan-Kettering Cancer Center and North General Hospital in Harlem to open the Ralph Lauren Cancer Center for Cancer care and prevention. The center's mission is to provide the highest quality cancer screening and treatment services to Harlem and surrounding communities.
In 2016 the Ralph Lauren Centre for Breast Cancer Research opened in London. It is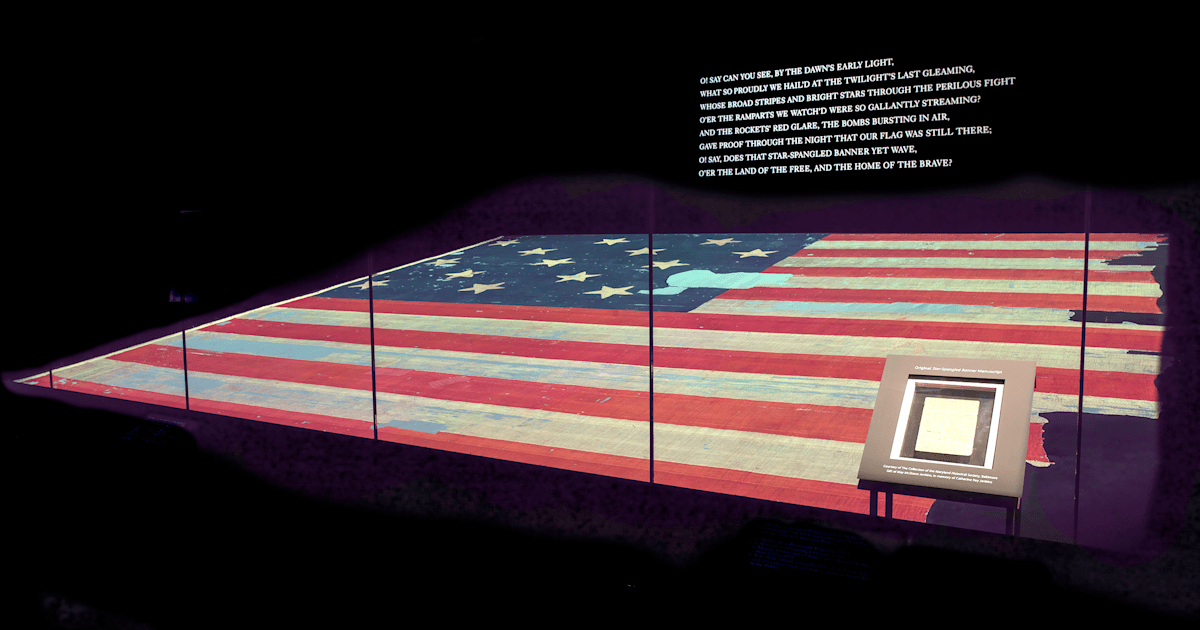 located at The Royal Marsden NHS Foundation Trust in London. The CBC is one of the world's preeminent research institutions. With over 2,000 square-foot of space hosting world-class facilities that allow for more rapid and in-depth analysis of the disease.
In 1998 the admired philanthropist Lauren donated $13 million to the Save America's Treasurers Campaign to help preserve the American Flag from the War of 1812. It inspired Francis Scott to write our national anthem, "The Star-Spangled Banner".
In 2001, The Polo Ralph Lauren Foundation and the American Hero's Fund were established in the aftermath of 9/11. The Polo Foundation donated ten percent of sales from October of that year to help victims of the September 11 attacks and their families. This led to the creation of the American Hero's Fund scholarships for children who lost their parents.
Very Ralph Documentary
The documentary Very Ralph debuted on HBO, revealing the gentleman of style behind the iconic brand. Despite over 50 years as a fashion icon, Lauren used the term reluctantly, "I've never wanted to be in fashion. Because if you're in style, you will be out of fashion." From ties, he built an empire, first with men's tailoring, then women's, before becoming the first fashion designer to create a home collection. Ralph Lauren became an aspirational lifestyle brand that transcended clothing and promised a slice of the great American dream. Lauren pushed boundaries within the fashion industry, challenging conventions and setting new standards throughout his career.
Morehouse and Spelman Colleges
Ralph Lauren partnered in a historic and iconic collaboration. The collection honors the rich heritage and sartorial traditions of historically Black colleges and universities through the lens of two iconic educational institutions. The exhibition celebrates each college's contribution to American style, inspired by vintage campus wear from the 1920s to the 1950s while building on our broader commitment to support HBCU
students. Authentically designed, each collection is rich with references to each college's traditional iconography and colors, like the official "Spelman Blue" color and graphics adapted from archival yearbooks and publications.
The mission of Morehouse College is to develop men with disciplined minds who will lead lives of leadership and service. A private historically Black liberal arts college for men, Morehouse realizes this mission by emphasizing its students' intellectual and character development and upholds a special responsibility for teaching the history and culture of Black people.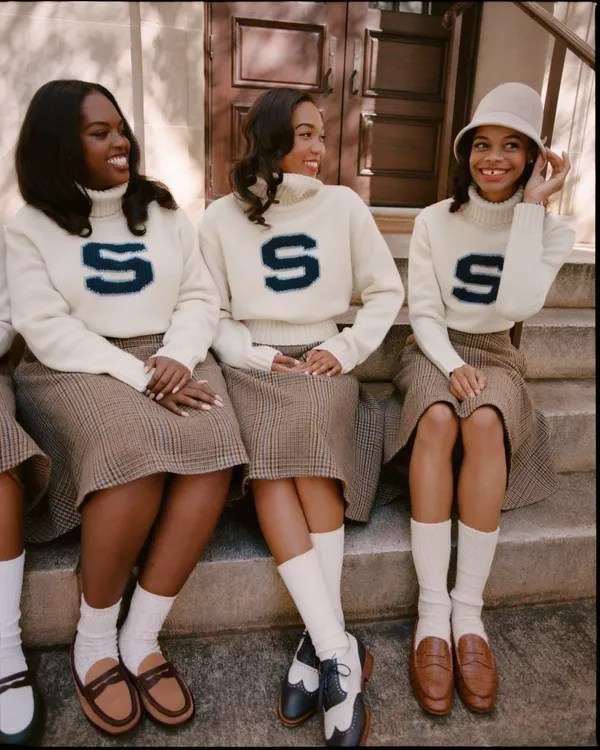 Spelman College, a historically Black college, and a global leader in the education of women of African descent is dedicated to academic excellence in the liberal arts and sciences and its students' intellectual, creative, ethical, and leadership development. Through diverse learning modalities, Spelman empowers the whole person to engage the world's many cultures and inspires a commitment to positive social change.
The Ralph Lauren Foundation has pledged $2 million to support scholarships for Black, African, and African American students, including those at Morehouse College, Spelman College, and ten additional HBCUs through the United Negro College Fund (UNCF). The company is also actively facilitating career pathways for talent at these institutions by deepening internship, recruitment, mentorship, and development programs.
The Ralph Lauren Foundation (RLF)
In addition, the Ralph Lauren Foundation works to make the dream of a better life reality by championing equity and empowering underserved communities worldwide. Established in 2001, the Foundation is committed to making a difference across its core focus areas: supporting cancer care and prevention, protecting the environment, fostering advocacy and access, and strengthening community resilience. In addition, it hopes to deliver meaningful change in its communities through its nonprofit partnerships, investments, and volunteering programs.
The Ralph Lauren Corporation (RLC)
The Ralph Lauren Corporation is a global leader in designing, marketing, and distributing premium lifestyle products in five categories: apparel, accessories, home, fragrances, and hospitality. For over 50 years, Ralph Lauren's reputation and distinctive image have been consistently developed across many products, brands, and international markets.
Reflecting a distinctive American perspective, the Ralph Lauren Corporation is an innovator in aspirational lifestyle branding. RLC believes that, under the direction of renowned designer Ralph Lauren, the company has influenced the way people dress and how fashion is advertised and celebrated worldwide—combining consumer insights with design, marketing, imaging skills, licensing alliances, and broad lifestyle products collections with a unified vision.
The Company's brand names include Ralph Lauren Collection, Ralph Lauren Purple Label, Polo Ralph Lauren, Double RL, Lauren Ralph Lauren, and Polo Ralph Lauren Children, and Chaps, constitute one of the world's most important, widely recognized families of consumer brands. RLC believes its global reach, breadth of product offerings, and multichannel distribution are unique among luxury and apparel companies.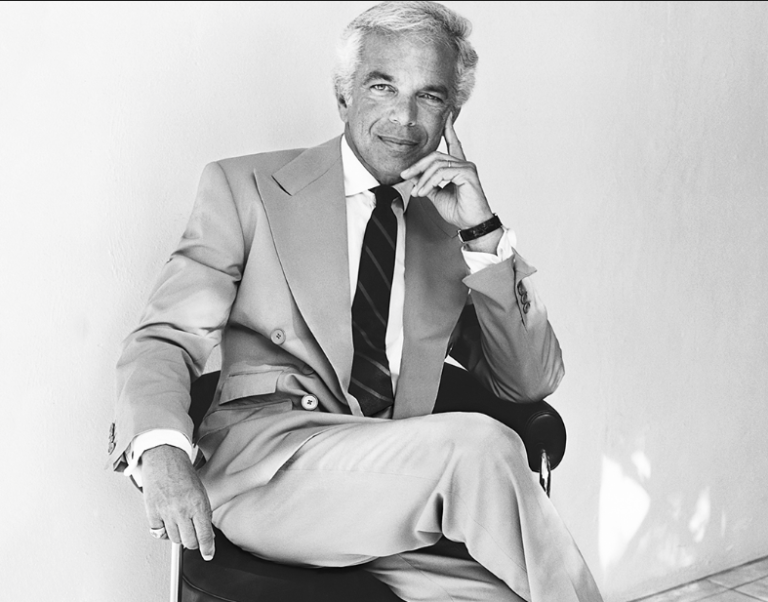 The Ralph Lauren Way
"We do this The Ralph Lauren way. Love what you do, be passionate, work hard, work together, take risks, stay real, never compromise and aspire to the best. The Ralph Lauren way built this company; these values are enduring and will help carry us into the future." -Ralph Lauren.
In 2018, Lauren celebrated 50 years with a star-studded event in Central Park. To mark a half-century of timeless American style, Ralph Lauren welcomed more than 600 celebrities and friends for a landmark fashion show in the heart of New York, accompanied by an immersive digital installation showcasing five decades of groundbreaking advertising with a seated dinner set against the park's iconic Bethesda Terrace backdrop.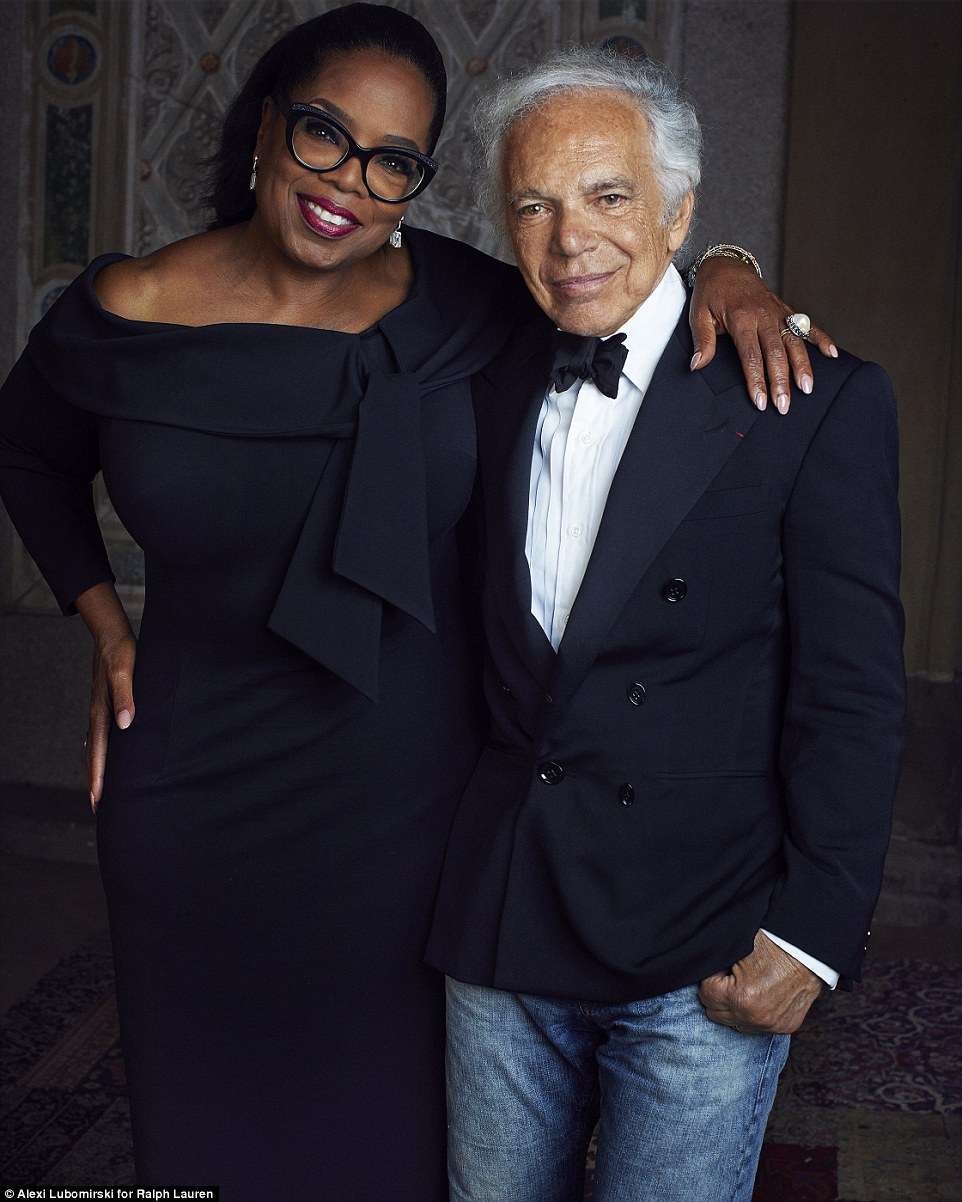 Ralph Lauren and Oprah Winfrey at The CFDA Honor
Lauren was honored by the CFDA as the recipient of its first-ever American Fashion legend award to recognize and celebrate his career achievements and successes. Oprah Winfrey said of Lauren's award, "Ralph is an ambassador for American values. The result is a global fashion empire that has been admired and imitated but never equaled. Has become an icon, a true American success story."
Awards and Honors
The following are his most memorable among Ralph Lauren's many tributes and contributions.
The Key to the City of New York from Mayor Michael Bloomberg for his outstanding civic contributions. Lauren became the first-ever fashion designer to receive the honor. The French Chevalier de la Legion d'Honneur recognized his lifetime of work as a designer, business leader, and philanthropist. The James Smithson Bicentennial Medal recognizes his lifetime contributions as a great American and his leadership role in preserving the Star-Spangled Banner. The Council of Fashion Designers of America (CFDA) has awarded Lauren many high honors. Womenswear and Menswear Designer of the Year and Retailer of the Year. The prestigious Lifetime Achievement Award, Humanitarian Leadership Award, and American Fashion. Ralph Lauren was also presented with Women's Wear Daily's inaugural John B. Fairchild Honor. The British Fashion Award, recognizing his legendary and creative vision. Ralph Lauren is also the first American designer to have been awarded an Honorary Knight of the British Empire (KBE). The Legend Award and the first-ever CFDA Members Salute.
Audrey Hepburn's Speech Continued
Audrey Hepburn concluded Lauren's lifetime achievement presentation speech by saying, "when people see the environments Ralph creates with his designs, it strikes an inner chord, perhaps because he works like a writer or a film director. His stories are not about trends or fleeting moments but values and things that last. He has given us the romance of the west, the glamour of Hollywood, the adventure of Safari, the purity of New England, the ease of the modern beach house, and the richness of an English manor. Only better than we imagined them. Ralph shows us a different way of looking at the world. He can take a concept or inspiration and extend it beyond expectations to create something original and reassuring. His uncanny ability has made him a cultural phenomenon whose creative genius is widely admired and imitated in and beyond the fashion industry.
"I salute Ralph Lauren for his contributions to American style design and culture and to the way he has added beauty, comfort, and dreams to our lives." – Audrey Hepburn.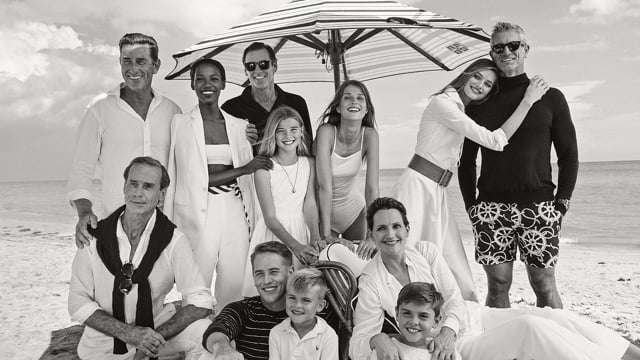 When I think of something "Very Ralph Lauren," I think of the very best. Ralph Lauren made the art of timeless fashion accessible for all of us. Emphasizing a life of passion expressed through personal style, leisurely pastimes, charm, and the cultivation of life's pleasures. He relied on instinct, weaving his beliefs about life and style to capture the American dream through fabric and design. Lauren attests that his real success is not about material wealth but possibility, integrity, and family. A goal for all of us.
In conclusion, Lauren wrote the landmark volume celebrating his life and work in his book autobiographer titled Ralph Lauren.
"I ask you to dream with me, we are all romantics, and the romance I saw was in America, on a farm, out west, or on a safari. Life can be grey. We cherish the characters, stories writers have written, and moviemakers have filmed. We say… I want to be them. Every one of the places and things has to do with my life, the plaid shirts, the tweed jackets, the coats, the cars, the trucks, and the white clapboard farmhouses; they are everything I have aspired to, lived with, and loved. Every nuance that I ever connected to is here. So, I will give them back to you. That's what I do". – Ralph Lauren
Work Cited:
The Tie Makes The Man (fhm.com)
RL Mag – Dream Catcher (ralphlauren.com)
Ralph Lauren History: Founding, Timeline, and Milestones
How Ralph Lauren Went From Dirt Poor to a Multi-Billionaire (businessinsider.com)
Ralph Lauren's documentary "Very Ralph" spotlights iconic American designer – CNN
Book: Ralph Lauren First published October 2017
Take A Look At Ralph Lauren's Jaw-Dropping Car Collection | Motorious
Polo Ralph Lauren Signs Deal to Become Exclusive Parade Outfitter of the 2008 U.S. Olympic and Paralympic Teams | Ralph Lauren Corporation
Videos:
All or Nothing at All Presented by Ralph Lauren on Vimeo
Bruce Weber – Ralph Lauren Collection Spring 2016 Campaign Films – YouTube
VERY RALPH Teaser (2019) HBO – YouTube
RALPH LAUREN | TRAILER: A Portrait of the American Dream – YouTube
Kendall Jenner and Bella Hadid Drive the Ralph Lauren Road to Runway Fall 2017 NYFW Show – YouTube