Renown photographer Tom Weschler has been invited as an associate of the Rock n Roll Hall of Fame which has archived his music related photography. In this article he talks about his work in art photography.
Costumes at the DIA
The Detroit Institute of Art had a very unusual party for donors, it included models wearing very exotic costumes. I was there to photograph it for the costume designer, Dan Cascardo.
We all met at Dan's house before the party and the women tried on various outfits. When the designer was satisfied that the right woman was in the right costume, we all jumped into his van and went down to the DIA.
The museum's guards at first thought we were a group of invaders going to tear the place up but just as we were about to get thrown out the sponsor of the party came to our rescue. Strange … to say the least, I mean really didn't the guards know that we were not going to do any harm? We were just a group of nice women and a photographer and a designer ready to enjoy an evening with the rich and powerful of Detroit.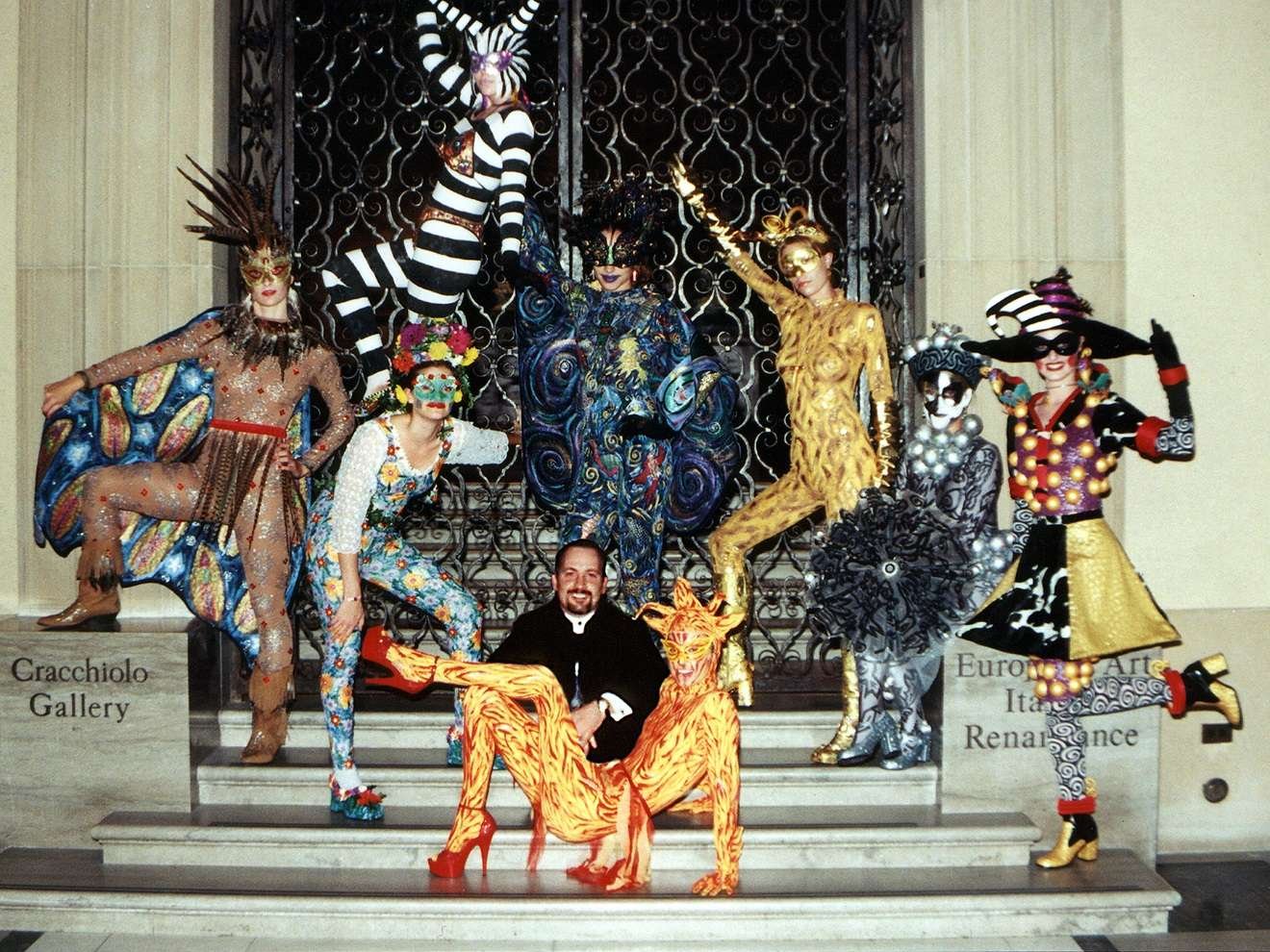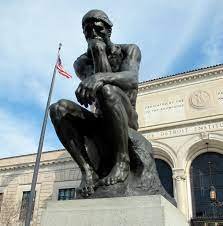 Studio Photography
When people would ask how I decided to get into studio photography my answer was simple, I told them I saw the movie Blow Up in 1966. It was an inspiration that I am sure anyone seeing that film would agree was a milestone in the desire to be a studio photographer. It worked on me and as my career went forward a studio photographer I became.
One of my favorite images is of a former student of mine at The Academy of the Sacred Heart, where I taught photography in the 1990s. Her name is Audi; she graduated in 1992 and went on to become a successful model in New York. She came back to Detroit to visit her family in 1999 and called me asking: "Hey Wesch ya wanna shoot some?" I did and set up a session at CID (Commercial Imaging and Design) where I worked at the time. We were in the studio with the big roll-up door open to the night air, a friend of mine passed by on his motorcycle saw the light in the studio got curious and pulled over. He asked me what was going on? I told him I was shooting a model for her portfolio. With that he said "I've got a prop you may want to use" and he left. My friend returned in his van with a 1957 Gibson Les Paul Sunburst and asked if we could use it in the shoot? "Hell yes!" was what Audi said as she looked at the beautiful guitar. Thanks to my friend Joel and his Les Paul we got a memorable image for Audi and everyone else!
Why Not A Photographic Interpretation?
In 1999 I had been teaching photography at The Academy of the Sacred Heart high school for ten years. It was my belief that photography was as much art as painting or sculpture was. I thought I'd put that to the test. In the past most 'religious painting' was done in the Church's name and in so doing the artists worked on themes predominate within the doctrine of the Church.
I had an idea, I wanted to prove that photography could do as much as painting could to further the belief that one could: "direct thought toward the immaterial through that which is material," a quote attributed to Abbott Sugar at St. Denis in Paris 1297AD.
So I embarked on a sort of 'school project' with three of our students. I set up a meeting with Yvonne, Meg, and Sara and asked them if they would be interested in doing a project to help put photography in the running for acceptance in the world of fine art, they all agreed.
The project would be called: 'Lady Day', an English name for March 25, the Immaculate Conception of Jesus. Where we would try to emulate one of the many paintings depicting the 'Annunciation", a religious theme painted over and over for centuries. My students and I accomplished this in the spring of 1999. Here are the results: Meg was our director, Sara played Gabriel The Archangel, and Yvonne played Mary. I shot it with my 4×5 on outdated Polaroid film which achieved the cyan tone of the original shot. The shot on the stage was on Ektachrome 35mm and the 'scene' with the cloud background was done with the first 4×5 shot and Photoshoped background.
In most 'Annunciation' paintings Mary has a book in hand and is seen standing. The Angel is always prostrated and usually with a Lily in hand. Mary's reluctance as usually portrayed as we have done here.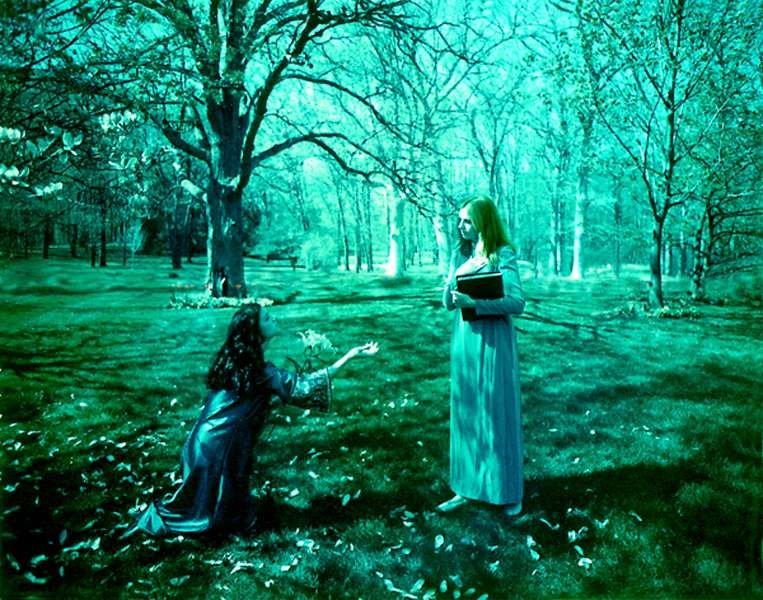 In the Early 1960s
With our existence being threatened by Nuclear War, the assassination of our President, and the start of the conflict in Viet Nam, the United States teenagers like me had to be 'young with all of our might'.
I chose to be so and embarked on a career in photography. One question that kept coming up was: are photographs really art?
Those who asked are ignorant of the answer to the question: what is art?
I say to myself: " I've solved that easily by insisting that: art is the response to a creative endeavor". On the part of the viewer, listener, taster, feeler: no response … no art. A response, positive or negative: … art.
I sometimes think that the photographs I took were to be for our children to look upon with wonder, thinking what a life I had and what a way to live it. All the live music, the parties, and travel put into 8x10s fit into a corral of view that was once something real and now an image on paper of the past. That past teaming with life, music, and light ready for an encore. Well, a photographer I am, that's what I do. And the photographs weren't just for the kids. I made them to record what we did, how we felt, and how we lived through the years.
Each trip to the Grande Ballroom in Detroit with my Nikon solved at least one more mystery for me. After going to see the blues band Fleetwood Mac in the summer of 1968, I realized they were just as good live as they were on record.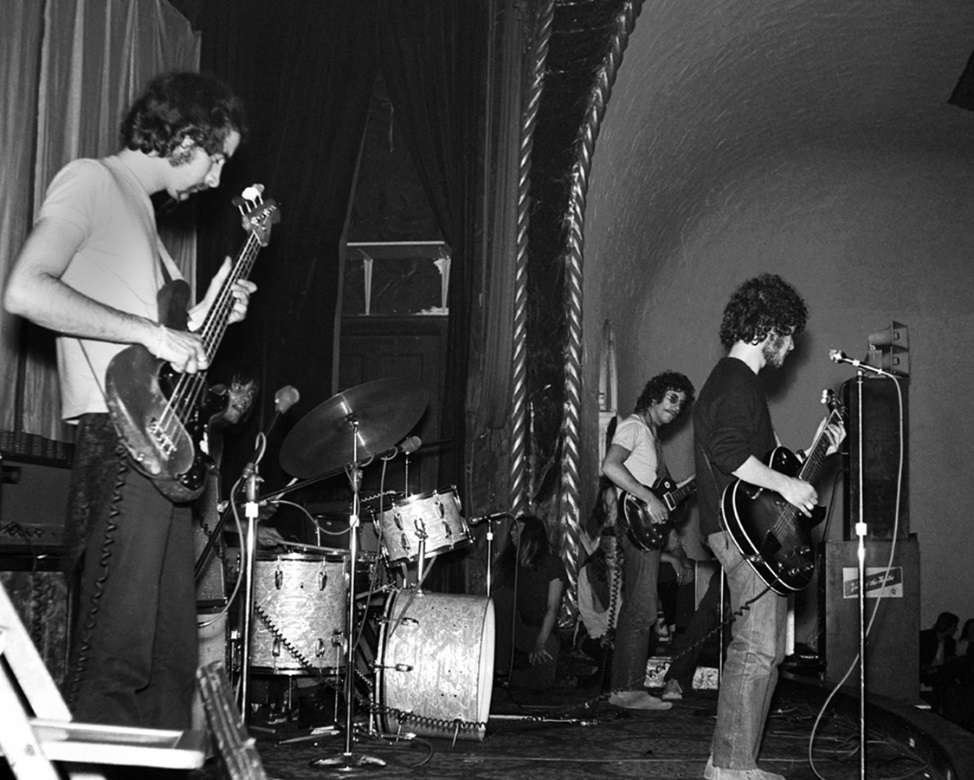 After setting up equipment for The Jimi Hendrix Experience at Cobo Arena the thought that I was in for a treat hit me like the song Foxy Lady!
I worked at a music store (Artist's Music) and was the young van driver delivering amps, guitars, drums, and saxophones to all the customers and sometimes the rock and roll show promoters, who at that time had to either rent or call musical equipment companies to get the set ups for the shows they were putting on. That all came down to me bringing the gear to the venues. I always brought my cameras.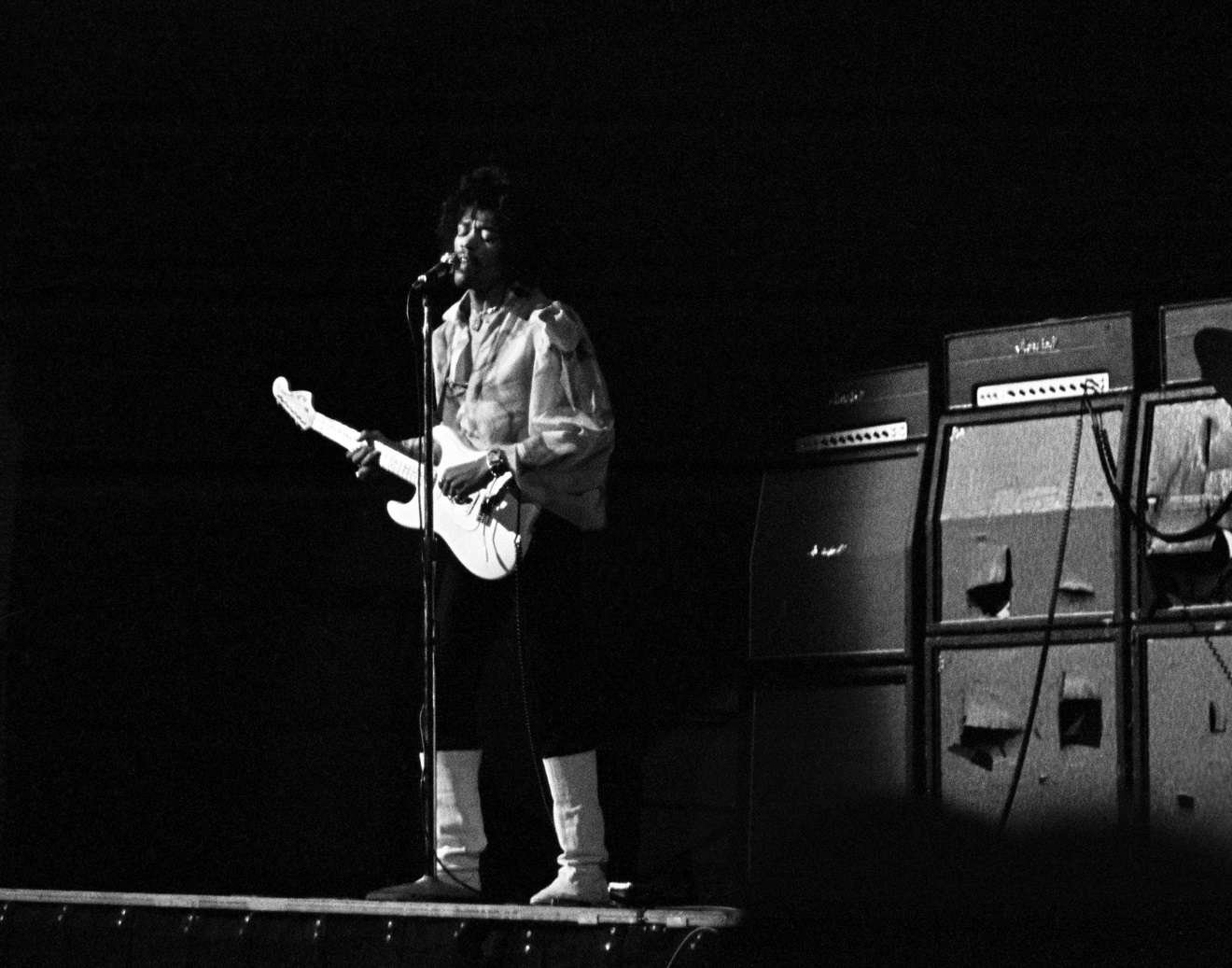 When Pink Floyd opened for The Who at The Grande I was there in a non-official capacity, that is: no equipment responsibilities I just shot the hell out of the show and what a show it was. These new groups fresh from England with their hit records and the mystique they exuded did wonders for this kid with a camera!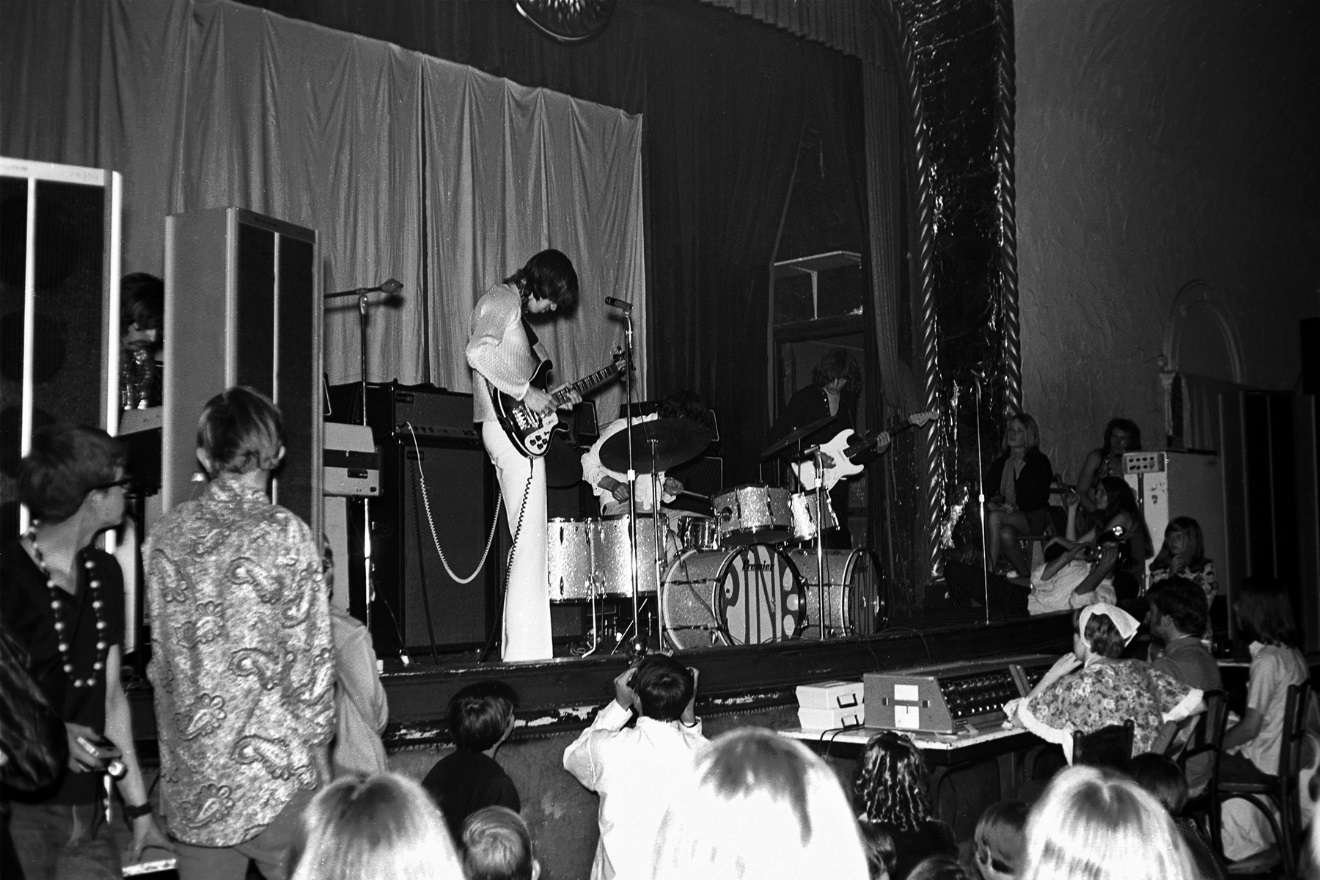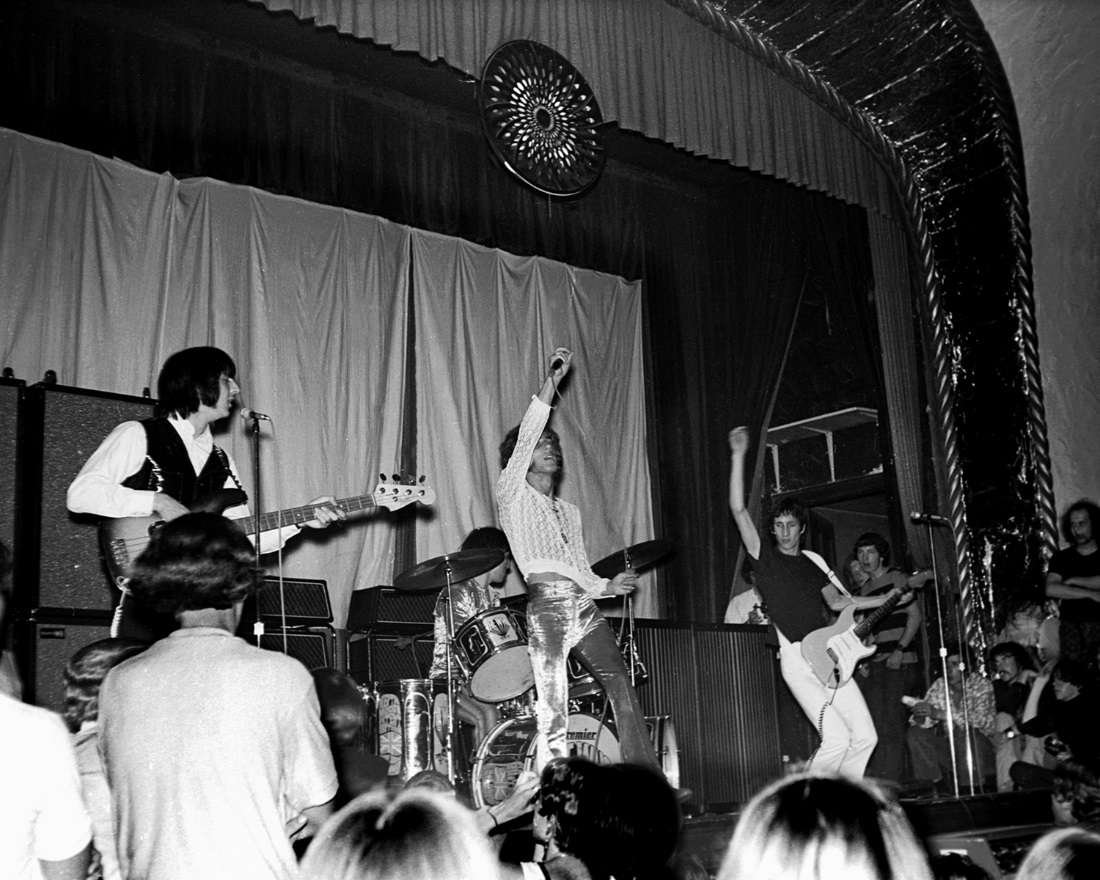 During the fall of 1968 Cream made their last appearance as a group at Olympia Stadium, to be there with my camera was a 'God send' because now I have it for all to see. A memory that to the people I grew up with is priceless.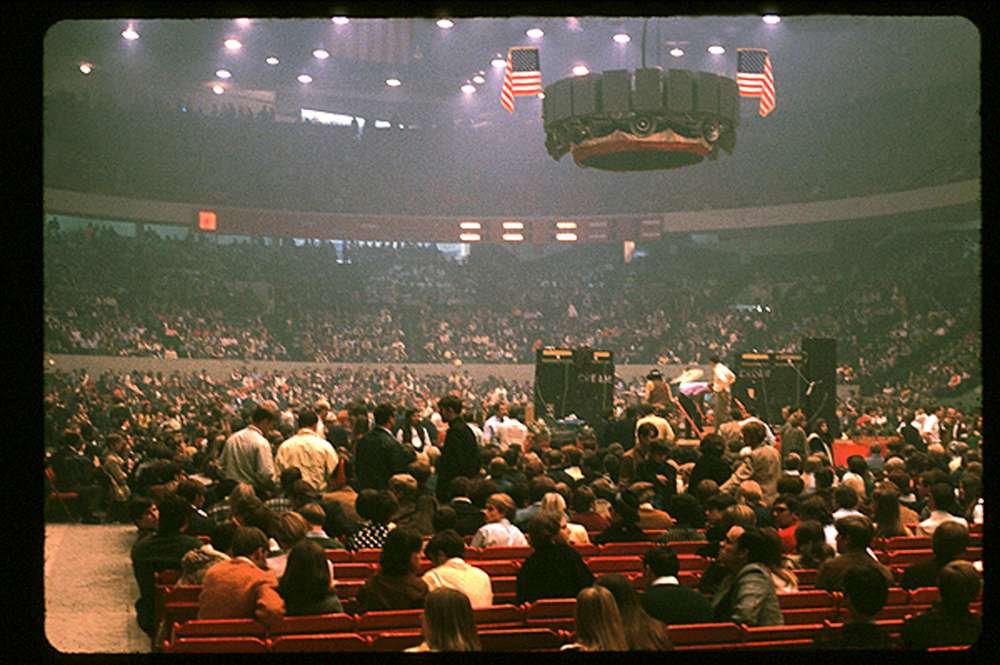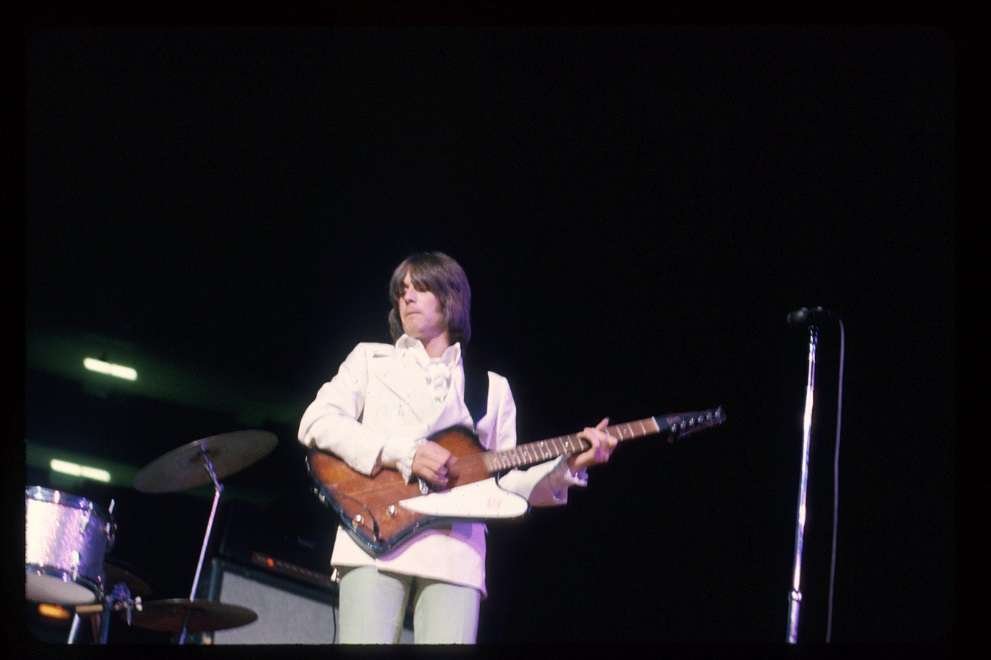 The art is in the response; photographs are definitely art as are great memories and the love of music.
Photography and Art Education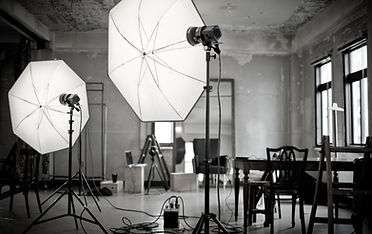 In 1966 I entered Oakland Community College and began an art curricula as my major, when the administration found out I was a photographer one of the board members there (and a neighbor of mine in Rochester) asked me if I would help set up a photography program, including a darkroom and studio at the new campus which wasn't opened yet in Farmington Hills. They had a large budget and wanted all new equipment and facilities so the school could attract more students interested in art and photography. This I did along with two other students and an instructor who would eventually become the photography teacher at OCC Farmington Hills. That was a lot of fun for a freshman that did know the right places to acquire first-class equipment for our new photographic facility.
After two years and plenty of fun at college, I received my Associate's Degree in commercial art and transferred to Oakland University. There I was able as a junior class member to choose my major. I chose art history. It was kind of coincidental that there at OU one of my instructors was in need of photography for his personal work in painting. He was a great painting instructor and had some really good work for display at museums around the country. I shot slides of his paintings for him that was the medium artists used at that time to send their work out to potential customers, clients, and museums. One day I was asked to help him set up a class in cinematography where I would be his student assistant. This was another opportunity to further my career in photography and grateful for it I was.
In late 1968 I became a member of Bob Seger's road crew and for a time my school days were beginning to wane. I did not graduate from OU although I continued part time there until April of 1969 when I became Bob's road manager. That ended my college years but not my school years.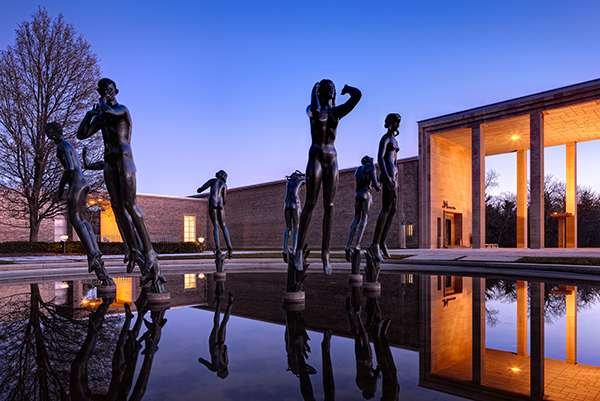 Many years later, married with two boys and a job in a photography studio I got a call from my aunt Ernestine a nun at the Sacred Heart School in Bloomfield Hills. She asked if I could come out to the school and show the students on the yearbook staff how to use cameras. This was in 1989, school-oriented photography was once again entering my life.
After a few visits and some elemental instruction, a teaching job was offered to me. The school wanted to offer a class in photography to the high school girls and I was given the task of setting up this new endeavor there. In 1991 I began a part-time teaching job at The Academy of the Sacred Heart, an all-girls high school. My class was the first hour every morning during the school year and believe me when I say it was fantastic to get up early every morning and go teach wonderful students what I knew about photography. I came from a rock and roll background and word got out around the other teachers that possibly the school had hired a misfit in the art department. After all, being on the road with a band of rockers could sway one's way of dealing with young impressionable girls. The other teachers were leery of my background, to say the least.
I put their fears to rest at the weekly teacher's meetings by informing the others that I was the nephew of one of the nuns, married with two boys that would attend Sacred Heart in the lower school (boys could only go there until 4th grade). Some remained skeptical but after my third year there even the skeptics couldn't deny me anymore. I had the highest number of sign-ups for my class in the history of Sacred Heart it became good for the school to have this former 'roadie' as an instructor there. And I must say I loved it!
Coming from the classic rock genre I was not aware of the new bands and performers in the 90s as much as I would have liked until the girls turned me on to them. I ended up loving Catherine Wheel, Bush, Nirvana and many others I had never heard before. I learned more about the new music than any of my friends, so much so that they started to think I was no longer a fan or "our" music. Wrong! I helped my students with music as much as they helped me. We went on field trips to rock venues and shot photographs. Once I even talked my buddy Wally from high school into driving my students and I to the Rock and Roll Hall of Fame. Wally owned a limousine company I asked him if he wanted to help me out by driving 8 wonderful teenage girls and me down to the RRHOF in Cleveland. Of course he did!
I had lots of fun with the students there and to this day it was by far the best job I ever had.
I left Sacred Heart in June of 2001 with sadness but no regrets. I had to work much more at our studio, which was called CID (Commercial imaging and Design). We had expanded with a new, much larger building and a lot more clients. Photography was very good to me. Here's a pic from school, I'm on the far left:
Weschler office
Selection of Tom Weschler photographs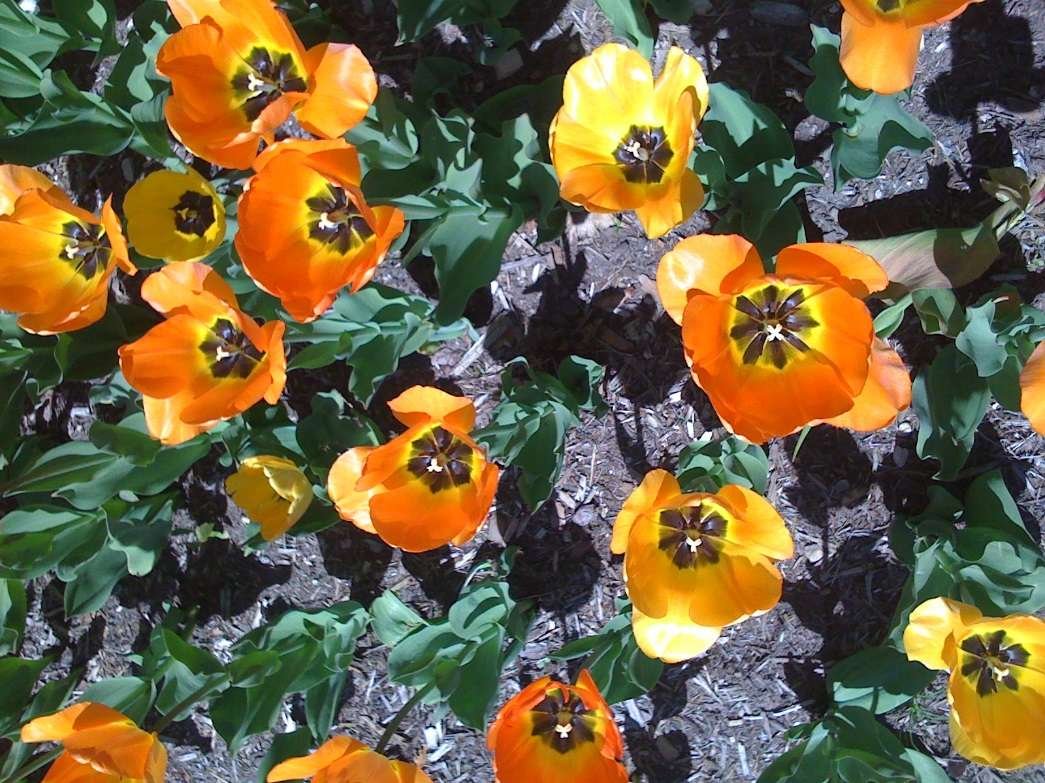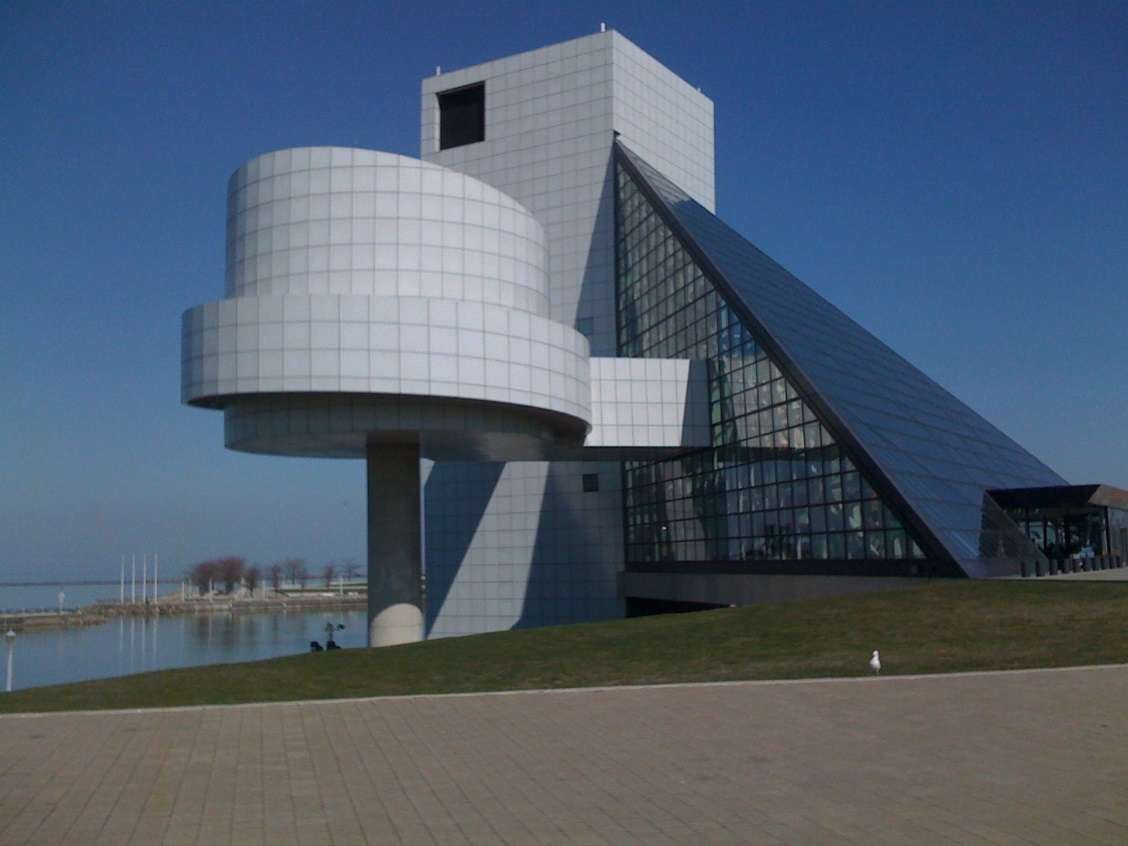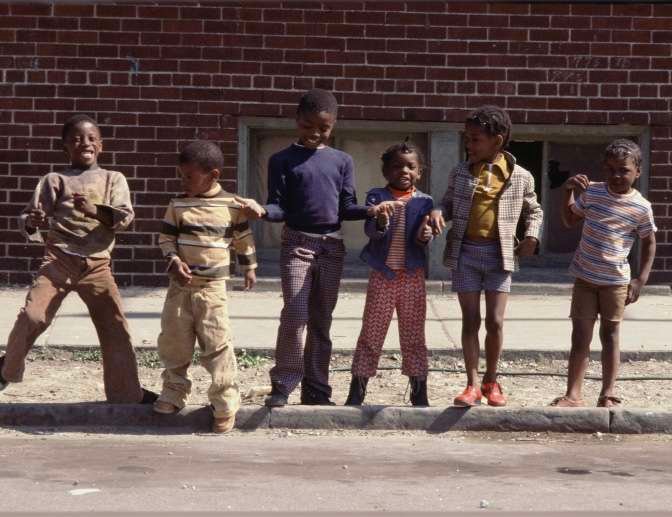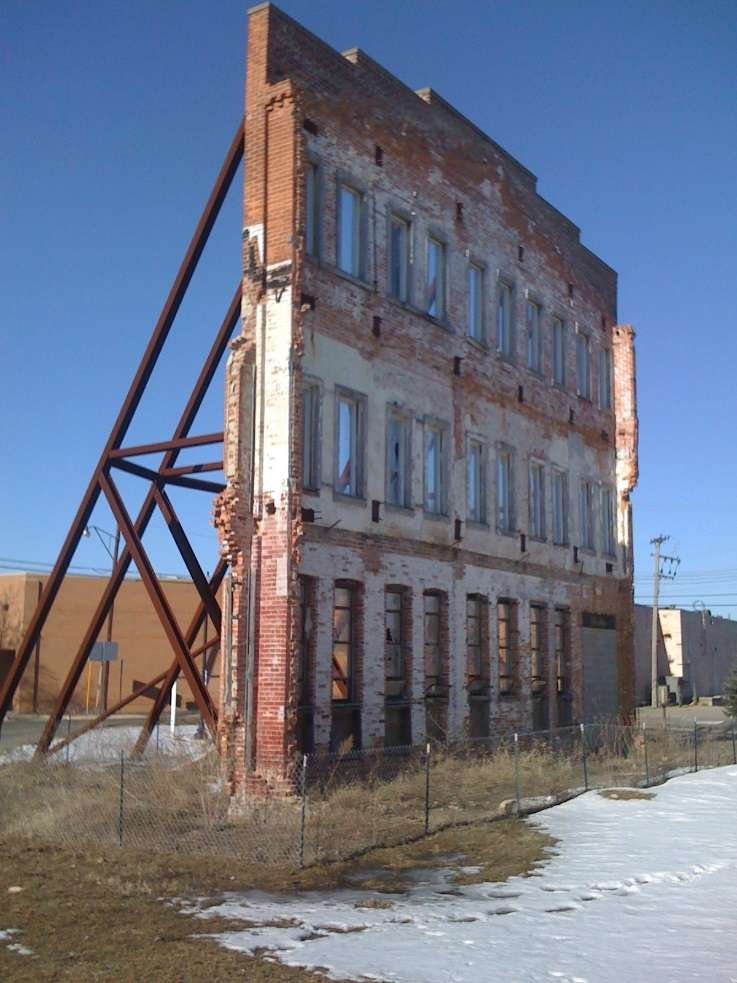 About the writer
Tom Weschler is a professional photographer known for his photography of entertainment, music bands, and singers. Tom has been invited to be an associate of the Rock and Roll Hall of Fame. He studied at Oakland University and taught photography at the Academy of the Sacred Heart in Bloomfield Hills, Michigan. Tom was Bob Seger's road manager and photographer in the 1960s and 1970s. Weschler published a book named Travelin' Man, a photo collection on Bob Seger's career, which includes a foreword by John Mellencamp and an afterword by Kid Rock. A new book of Tom's is soon to be released, In the Blink of an Eye: Photographs 1964 -2014, as well as future books on music, art, and fashion models. He is also currently working on two movie projects.