Hunting wild morel mushrooms is a wonderful adventure and good eating enjoyed by millions every spring. I hike year round and this activity increases the enjoyment of spring outdoors among Nature. Morels are popular mushrooms and prized for gourmet cuisine by fine restaurants as well at home. They have an exquisite taste and texture and pair well with other foods. Chefs worldwide seek morels for their complex, earthy, and savory flavor.
Morels grow in the spring in the United States, Canada, Spain, Poland, Turkey, Cyprus, Israel, India, Pakistan, China, Himalayas, Australia, and elsewhere. The mushroom makes up a multimillion dollar industry but they cannot be commercially grown and have to be harvested from the wild.
Black morels
Morel mushrooms have a unique porus and honeycomb, conical shape. Black mushrooms grow to 2.5 to 6 inches. Yellow morels are larger up to 12 inches. It is important to avoid the poisonous Fake Morel that looks somewhat different.
Morels are very high in protein with all nine amino acids. They are 18% to 35% protein, compared to milk at 25% and soy at 39%. They are rich in vitamins B2, B3, B6, D, and antioxidants. Minerals include iron, manganese, phosphorous, and zinc.
Preparing to Forage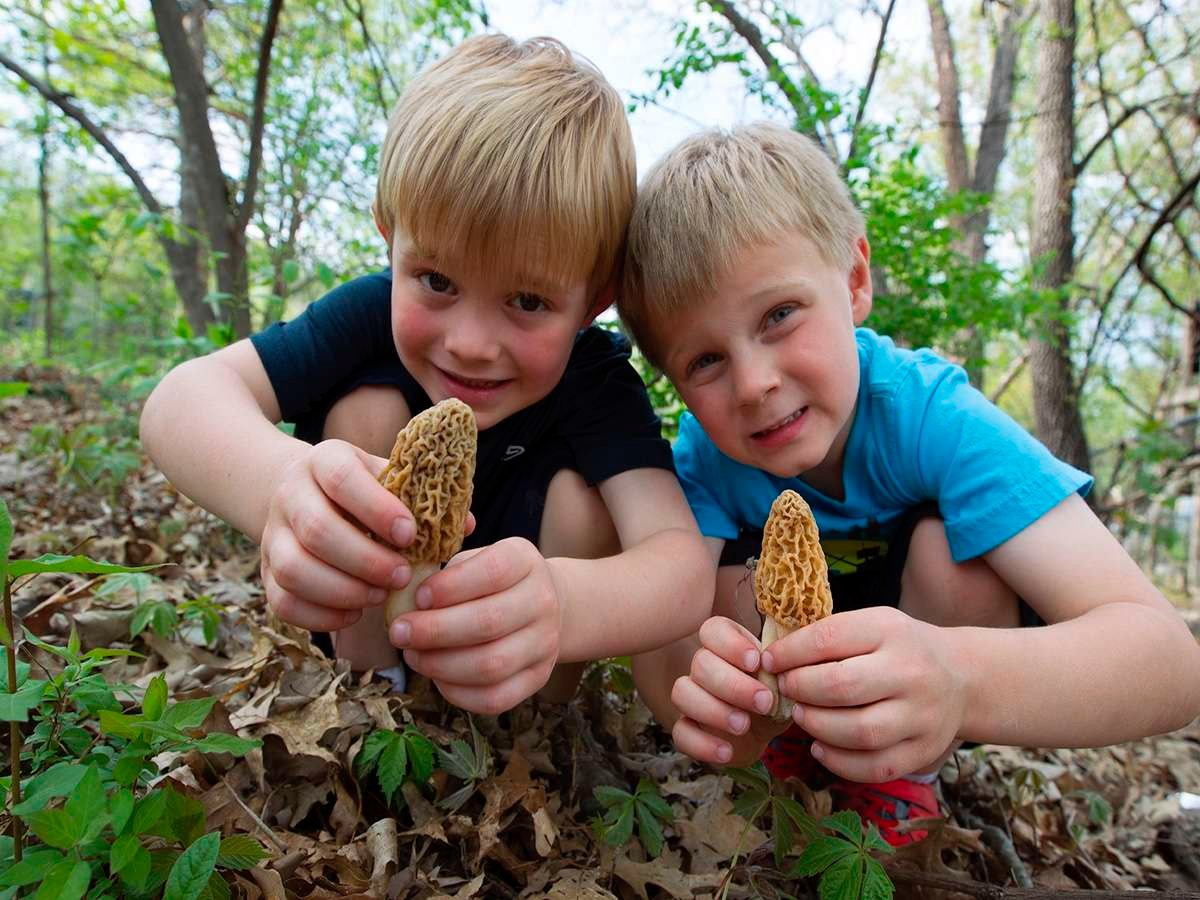 Morel hunting is an adventure in the outdoors and forests. Individuals may hike alone or make it a fun family or group outing. This can be a hiking day trip, camping, or a picnic. Read books and websites to become familiar with foraging. Identify morel regions in your state. Attend mushroom festivals and classes. Go with a veteran mushroom forager.
You need a long stick to overturn underbrush. You also need a mesh bag to carry the mushrooms, this allows dirt, bugs, and mushroom spores to drop away. A knife or scissors can be used to cut the mushrooms, work gloves are also a good idea.
It is important to dress warm in layers for the spring season with proper hiking footwear, walking stick, and gear. Bringing some snack food and water is recommended, as well as maps, insect repellant, hat, sunglasses, sunscreen, and so on. For a longer trip, food, water, rain gear, matches, pocket knife, small first aid kit, maps, compass, and flashlights may be wise for an emergency, depending on location and length of trip.
Be careful to avoid spring turkey hunters, use insect repellent to avoid ticks and mosquitos, and sunscreen to protect from sun exposure. Drink plenty of water.
When to Forage for Morels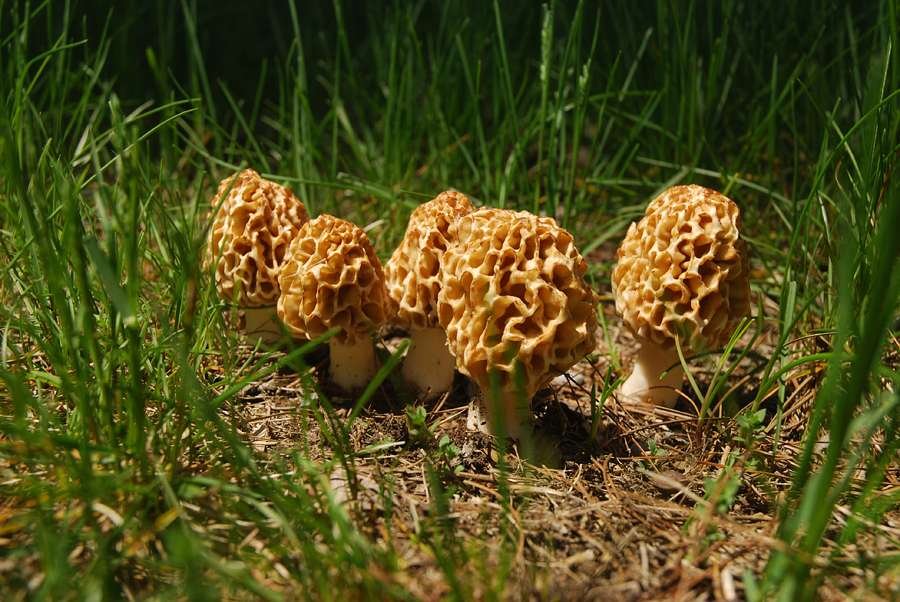 Yellow Morels
Spring is the best time to forage for morel mushrooms. Soil temperature and moisture are critical to morel growth, best with spring rains and soil that is not too cold or warm.
Early spring is a good time for low elevations and late spring for higher elevations.
Soil temperatures five inches down should be between 55 degrees F and 62 degrees F. Morel growth stops at 62 degrees F. It is best when daytime temperature are in the 70s and nighttime temperatures are in the 50s.
A good time to hunt is when tree leaves bud, lilacs bloom, and dandelions pop up. In most of the U.S. April and May are the morel mushroom season. In southern states March opens the season, in central states April and May, for upper northern states May and June.
Where to Find Morels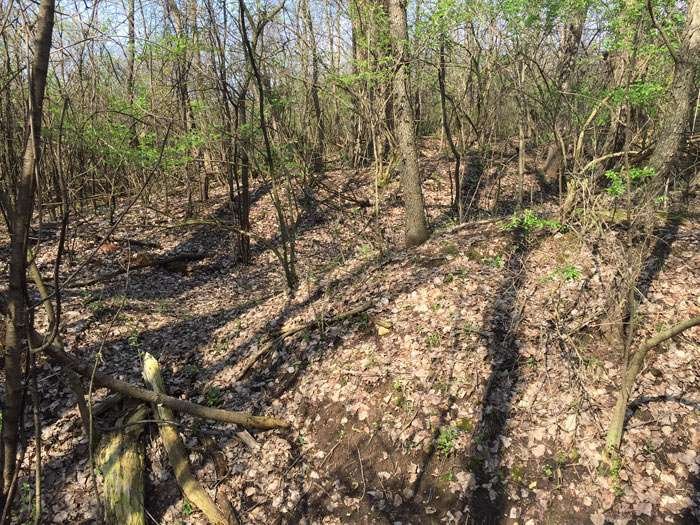 Morels grow in groups, so if you find one look over the perimeter for 20 feet to find more. Be patient and take your time. Unless you know a favorite spot, be prepared to hike several miles to find them, so good footwear and clothing are needed. Public parks and lands are usually picked clean very early.
Use a stick to clear leaves, moss, and brush because morels may be hard to see at first. Be careful since they are fragile. Use a knife or scissors to cut the stem at the ground level in order to let the mushroom return next year. Be careful to avoid poison ivy.
Morel mushrooms are mostly found in sparse, hilly, hardwood forests and woods in springtime with moderate rainfall, away from wetlands. Good locations are where dandelions and moss grow. Particularly areas with disturbed ground and fallen trees.
Moisture: morels like moist soil from moderate rainfall that is well drained and away from wetlands. Well drained soils exist on hill slopes, ditches, river beds, etc. Areas with moss are good locations. Rocky areas block the sun and keep soil moist.
Disturbed Ground: morels tend to grow where the ground is disturbed or broken up, such as: clear cuts, logged areas, downed timber, campgrounds, roadsides, wild fire burned areas, woods struck by lightning, and others.
Trees: morels feed off of the sugars from tree roots and decaying trees. They can be found around the base of trees and especially fallen and decaying trees. Trees where morels gather around include elm, sycamore, hickory, apple, ash, cottonwood, poplars, and others.
Hills: have good drainage and the southward and westward slopes have less direct sunlight.
Morel Mushroom Recipes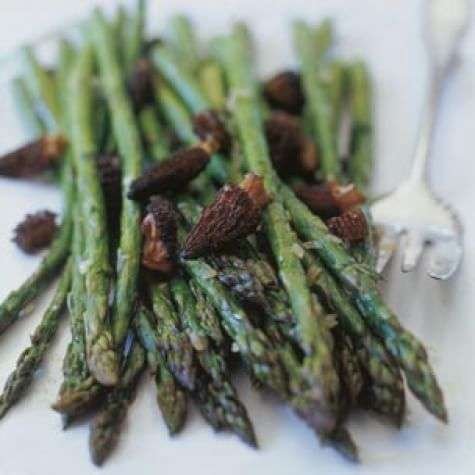 There are numerous ways to cook morels. Morels are excellent with pastas and rice, and in vegetable stir fries. They pair well with seafood, tofu, poultry, and meats.
Morels are best when cooked and eaten within 24 hours after harvesting. Do not store in airtight containers which will ruin the texture. They can be dried for future use. It is important to gently wash the mushrooms to remove any bugs and dirt. Morels should also be fully cooked before eaten to ensure removing any possible environmental toxins.
Sauteed Morels
Slice morel lengthwise and saute in butter or olive oil for 5 to 8 minutes, add salt to taste. Optional can be dredging the mushrooms in flour. Adding asparagus is optional as well.
Morels in Cream Sauce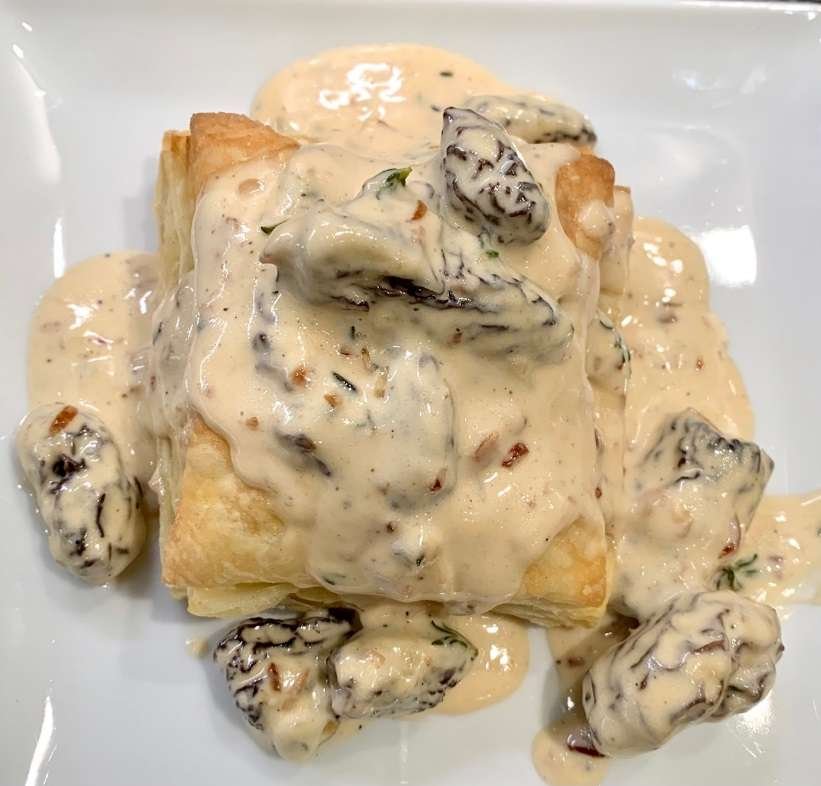 1 pound morels, sliced
1 shallot chopped
1 cup heavy cream
2 tb butter
1 tb lemon juice
Splash of white wine
1/4 tsp thyme
Saute morels and shallots for 7 minutes, stir in thyme and lemon juice. When lemon juice evaporates add wine until it evaporates, reduce heat, stir in cream. Serve on puff pastry.
Morels in Wine Sauce
2 cups morels cut up
1 cup scallions cut up
4 tb butter
1/4 cup olive oil
1/2 cup white wine
Saute morels and scallions then remove from pan. Deglaze pan with wine and cook to reduce to half, add back morels and scallions, simmer until tender.
Crab Stuffed Morels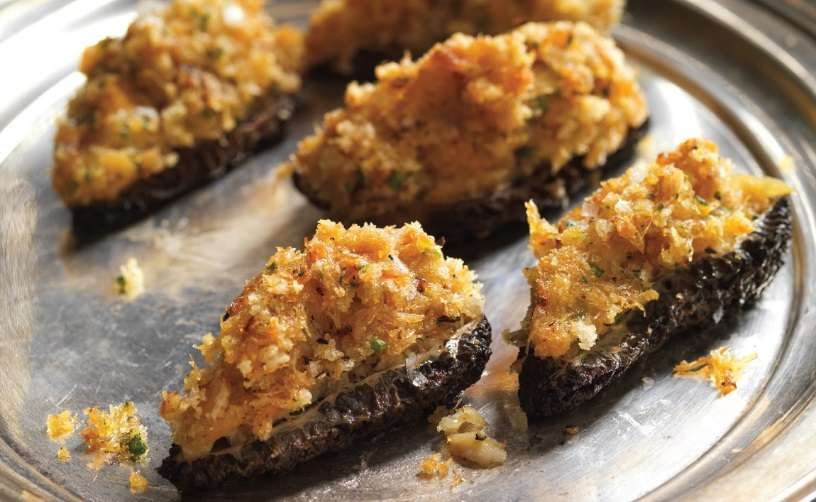 8 morels cut lengthwise, retain caps, chop stems
1 tb red pepper chopped
1 tb green onion sliced
1 (8 oz) package cream cheese
1 (6 oz) lump crab meat
1 egg
1 tsp Worcestershire
4 dashes hot sauce
1/2 tsp salt
Parmesan cheese grated
Bread crumbs
Butter
Saute mushroom stems, red pepper, and green onion until tender, remove from heat. Mix cream cheese, crab, egg, and Worcestershire. Fold in onion mixture. Place a spoonful in each mushroom cap. Sprinkle bread crumbs and Parmesan on top. Bake 30 to 35 minutes at 350 degrees F.
Morel Asparagus Risotto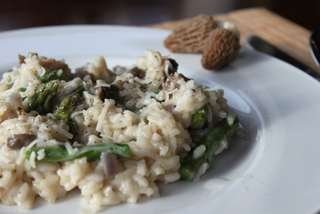 1/2 pound asparagus cut into 1 inch pieces
1/3 pound fresh morels, halved
1 shallot minced
1 cup Arborio rice
3 1/2 cups chicken stock
1/4 cup olive oil
1/4 cup butter
1 tsp thyme
1/3 cup Parmesan
Salt and pepper to taste
Simmer stock in a pan. In a separate pan saute 2 tb olive oil, 1 tb butter, asparagus, morels for 4 minutes, remove from pan. In same pan saute 2 tb oil, 1 tb butter, shallots for 1 minute, stir in rice, cook for 1 minute, add thyme, add stock and cook 12 minutes. Stir in asparagus and morels, cook 3 minutes. Serve with Parmesan.
Pasta With Morels, Prosciutto, and Peas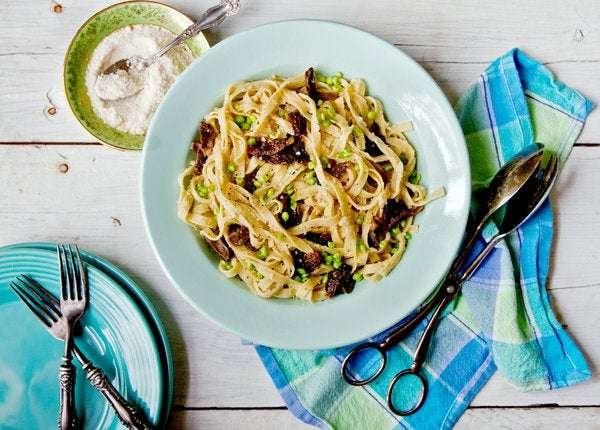 12 morels coarsely chopped
6 slices prosciutto cut up
1/2 cup frozen peas thawed
1 cup chicken stock
12 oz pasta, such as linguine or fettucine, cooked
1/3 cup heavy cream
1/4 cup dry white wine
1 garlic clove minced
2 medium shallots finely minced
1 tsp thyme leaves
2 tb butter
Salt and pepper to taste
Saute prosciutto until crisp, drain on a paper towel. Saute mushrooms 5 to 8 minutes, add shallots, thyme, peas, salt, pepper, cook until tender. Add stock, simmer 5 to 7 minutes. Add pasta, cooked mushrooms and sauce, prosciutto, cook 2 minutes. Add cream, simmer 1 minute, remove from heat, add butter.
Morel Mushroom Bisque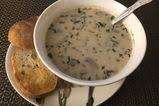 8 oz morels sliced
1 tb minced garlic
1 onion diced
2 cups water
2 chicken boullion
2 cups heavy cream
1/2 cup butter
1/8 tsp thyme
1 tb flour
Salt and pepper to taste
In a pot saute butter, garlic, onion, and morels until tender, add in stock, boullion, and flour, cook for 2 minutes, pour in water and cream, cook another 5 minutes. Puree in a blender and then continue cooking for 15 minutes, then add thyme, salt, and pepper.
Mushroom Festivals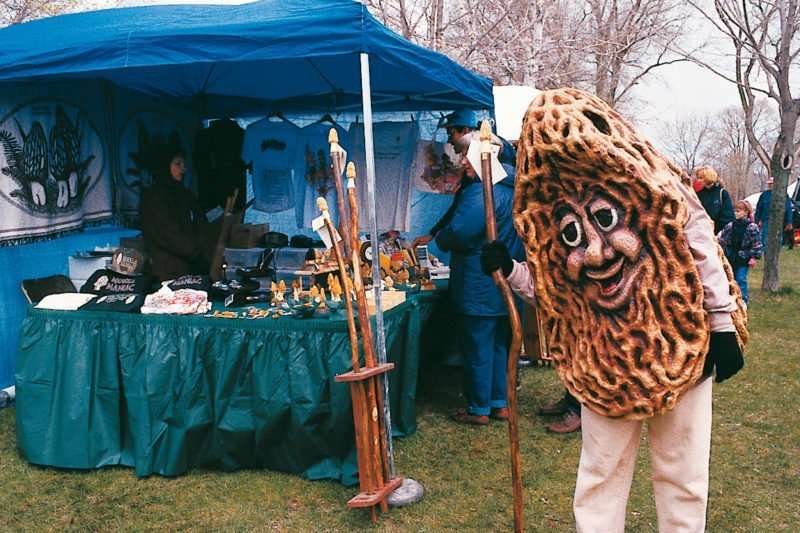 Mushroom Festivals are fun family events with mushroom foraging tours, contests, food, drinks, foraging and cooking classes, arts and crafts, live music, kids activities, classic cars, vendors, sports, races, and other activities.
National Morel Mushroom Festival, Boyne City, Michigan
Mesick Mushroom Festival, Mesick, Michigan
Ohio Mushroom Festival, Garrettsville
Mansfield Mushroom Festival, Indiana
Illinois Morel Mushroom Hunting Championship, Magnolia, Illinois
Muscoda Morel Mushroom Festival, Wisconsin
Mountain Mushroom Festival, Irvine, Kentucky
Richmond Mushroom Festival, Richmond Missouri
Kennett Square Mushroom Festival, Pennsylvania
Georgia Mushroom Festival, Cave Spring, Georgia
Fantastic Forage Mushroom Festival, Laconia, New Hampshire
Telluride Mushroom Festival, Colorado
Buena Vista Mushroom Festival, Colorado
Pisgah Mushroom Festival, Eugene, Oregon
Wild River Mushroom Festival, Brookings, Oregon
Pacific Northwest Mushroom Festival, Lacey, Washington
Spring Mushroom Festival, Olympia, Washington
References
Websites:
Outdoor Life
Morels.com
The Great Morel
Morel Hunters
Wikipedia
Outdoors
The Meat Eater
Mother Earth News
Youtube
Wild Harvest
Books:
Morel Hunting How to Find, Preserve, Care For, and Prepare Wild Mushrooms, John and Theresa Maybrier, Stackpole, 2011.
Morel Mushrooms: Best Kept Secrets Revealed, Michael Phillips, Thunder Bay, 2012.
Morels, Michael Kuo, University of Michigan, 2005.