I grew up watching film noir movies at the theater and on TV. I love the retro vibe, the fashion and décor, the jazz music, and the drama and intrigue of noir films. The leading A-list actors of the 1940s and 50s starred in these films, especially some of my favorites, such as Humphrey Bogart and Robert Mitchum, and directors Alfred Hitchcock and John Huston.
Film Noir is an American crime movie genre in the 1940s, 1950s, and early 1960s. It is about crime stories told from the criminal's point of view. The films use black and white cinematography with dark shadows, symbolism, angle shots, twisted perspectives, and stylized scenes. Film noir expressed the doom, fatalism, and cynicism of the apocalyptic era of World War Two and the Cold War. Characters are helplessly trapped by forces beyond their control, paranoid, and are driven toward a tragic end. Heists that go wrong.
Stylish fashion and decor, nightclubs, vintage cars, jazz and singers, dark alleys, and lonely cityscapes at night are all elements of the noir style.
Noir characters usually portray beaten-down and desperate criminals who cannot escape their fate. Characters include con men, mob bosses, hard-nosed police detectives, and private eyes, femme fatale ladies who lead men to a tragic end, and innocent women who try to reform the wayward criminal hero.
Leading ladies include Bette Davis, Lauren Bacall, Veronica Lake, Joan Crawford, Rita Hayworth, Lana Turner, Gloria Graham, Janet Leigh, Ida Lupino, Marilyn Monroe, Yvonne DeCarlo, Joan Bennett, Susan Hayward, Rhonda Fleming, Collen Gray, Loretta Young, Lizabeth Scott, Barbara Stanwyck, Gene Tierney, Jan Sterling, Shelley Winters, Marie Windsor, Claire Trevor, and others.
Leading men in film noir movies included Humphrey Bogart, Robert Mitchum, Alan Ladd, Glenn Ford, Dana Andrews, Burt Lancaster, Orson Welles, Tony Curtis, Frank Sinatra, Edward G. Robinson, Sterling Hayden, Richard Widmark, James Stewart, Cary Grant, Dan Duryea, Dick Powell, William Bendix, Lee J. Cobb, Kirk Douglas, Ray Milland, William Holden, Joseph Cotton, Broderick Crawford, Raymond Burr, John Garfield, Peter Lorre, Robert Ryan, Edmond O'Brian, and others.
Film noir's leading directors included Alfred Hitchcock, Orson Welles, John Huston, Billy Wilder, Stanley Kubrick, Otto Preminger, Fritz Lang, Nichols Ray, and many others.
Film noir movies are often based on crime and pulp fiction novels, by such popular writers as Raymond Chandler, Dashiell Hammet, Mickey Spillane, W.R. Burnett, James M. Cain, Ernest Hemingway, Graham Greene, W. Somerset Maugham, Cornell Woolrich, and others.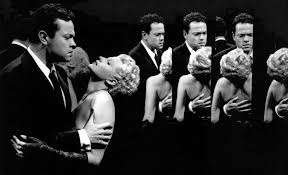 Lady From Shanghai, 1947, with Orson Welles and Rita Hayworth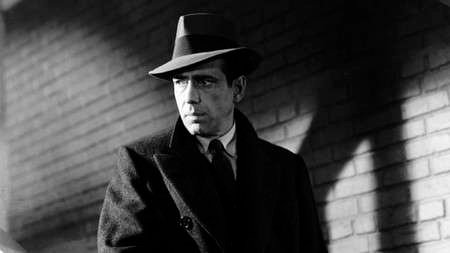 Humphrey Bogart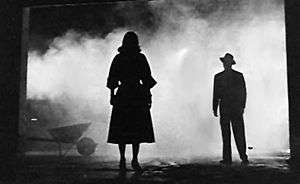 The Big Combo, 1955, Cornel Wilds, Richard Conte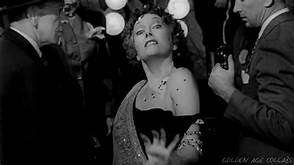 Sunset Boulevard, 1950, William Holden, Gloria Swanson
Laura, 1944, Dana Andrews, Gene Tierney, Clifton Webb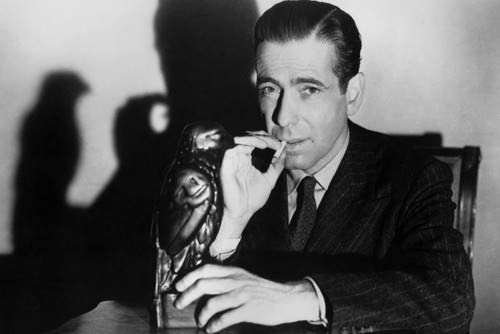 The Maltese Falcon, 1941, Humphrey Bogart, Mary Astor, Sydney Greenstreet, Peter Lorre
Double Indemnity, 1944, Fred MacMurray, Barbara Stanwyck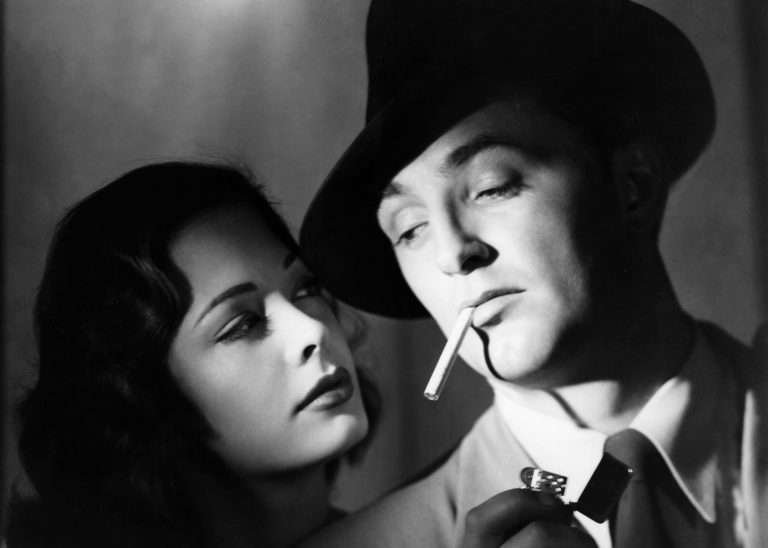 Out of the Past, 1947, Robert Mitchum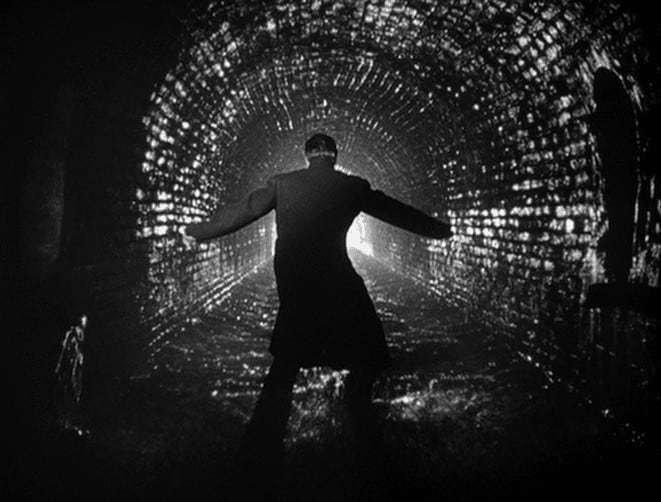 The Third Man, 1950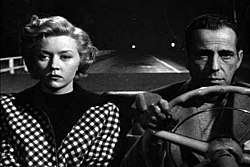 In a Lonely Place, 1950, Humphrey Bogart, Gloria Graham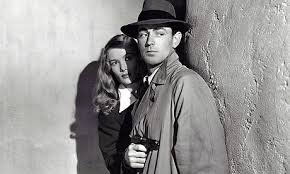 This Gun For Hire, 1942, Alan Ladd, Veronica Lake
The Killers, 1946, Burt Lancaster and Ava Gardner
Out of the Past, 1947, Robert Mitchum, Jane Greer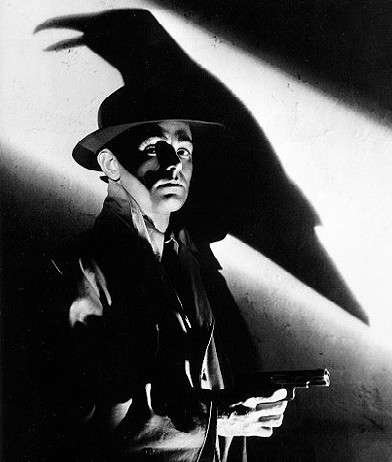 This Gun For Hire, 1942, Alan Ladd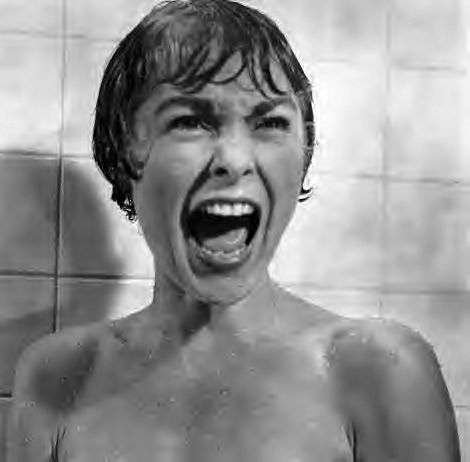 Psycho, 1960, Anthony Perkins, Janet Leigh,
The Asphalt Jungle, 1950, Sterling Hayden, Sam Jaffe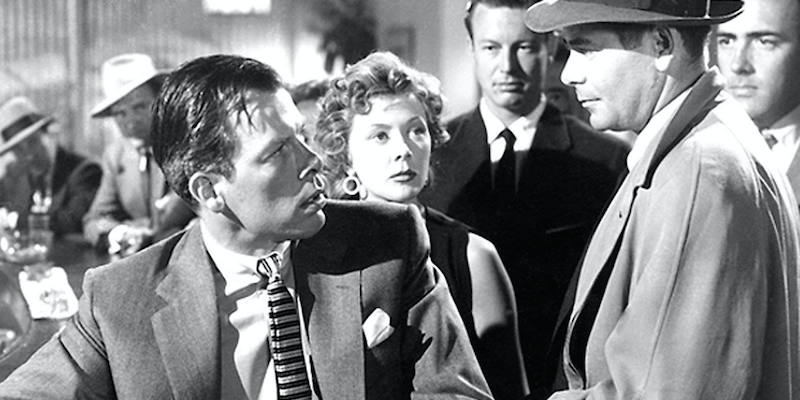 The Big Heat, 1953, Glenn Ford, Lee Marvin, Gloria Graham
The Big Sleep, 1946, Humphrey Bogart, Lauren Bacall
Gilda, 1946, Rita Hayworth, Glenn Ford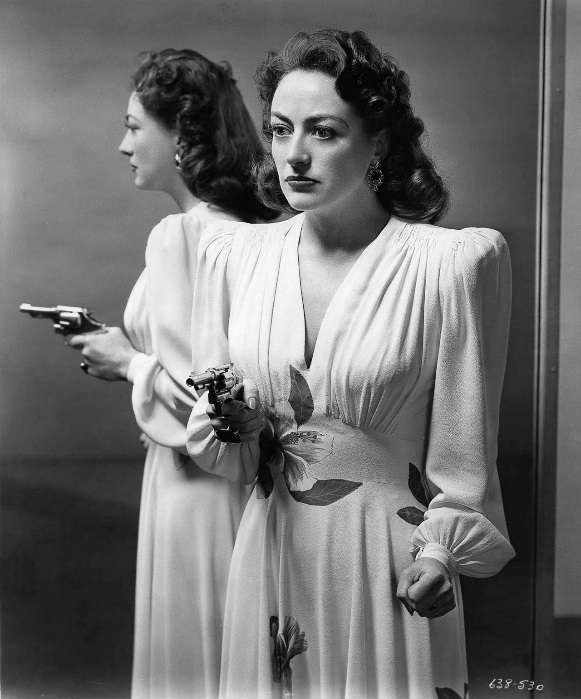 Mildred Pierce, 1945, Joan Crawford, Eve Arden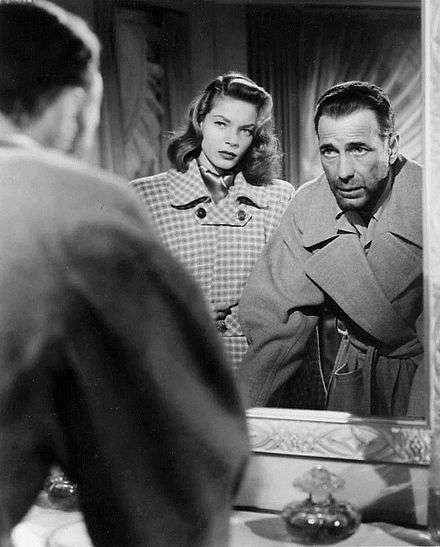 Dark Passage, 1947, Humphrey Bogart, Lauren Bacall
Vertigo, 1958, James Stewart, Kim Novak
The Blue Dahlia, 1946, Alan Ladd, Veronica Lake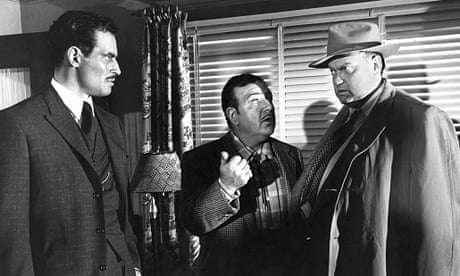 Touch of Evil, 1958, Orson Welles, Charlton Heston, Janet Leigh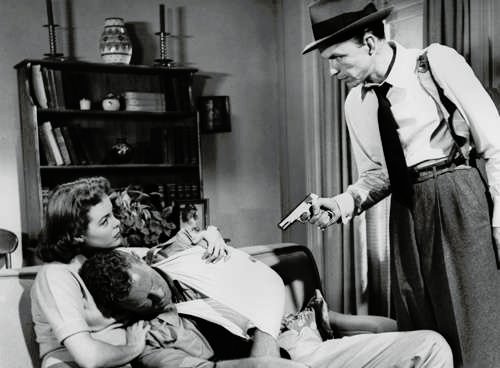 Suddenly, 1954, Frank Sinatra, Sterling Hayden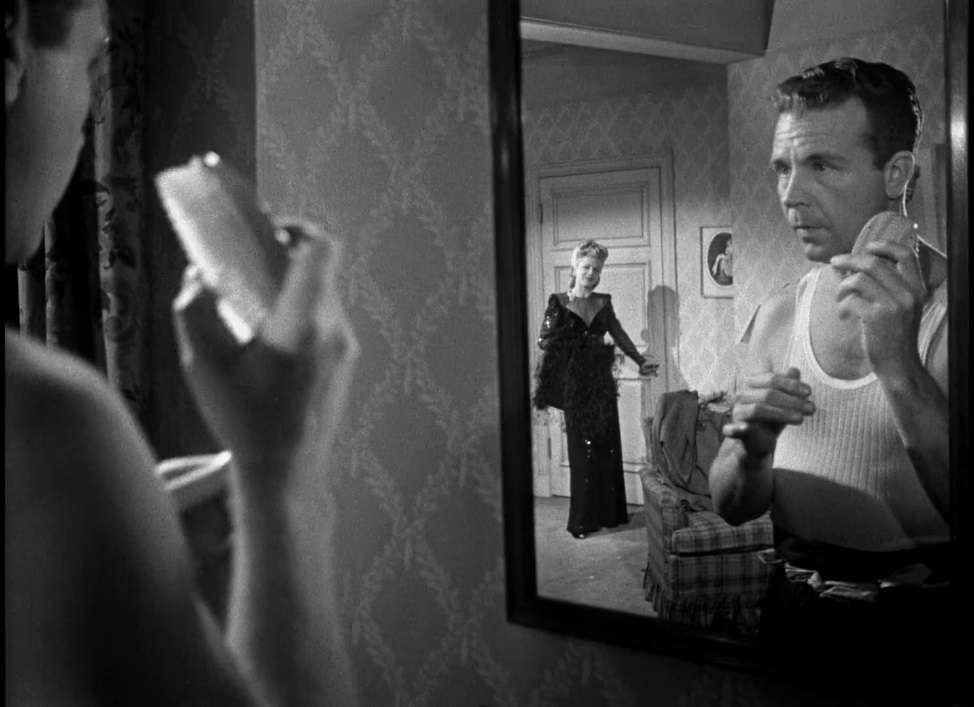 Murder My Sweet, 1944, Dick Powell, Clare Trevor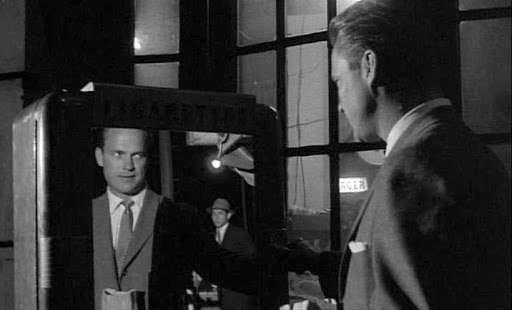 Kiss Me Deadly, 1955, Ralph Meeker
The Killing, 1956, Sterling Hayden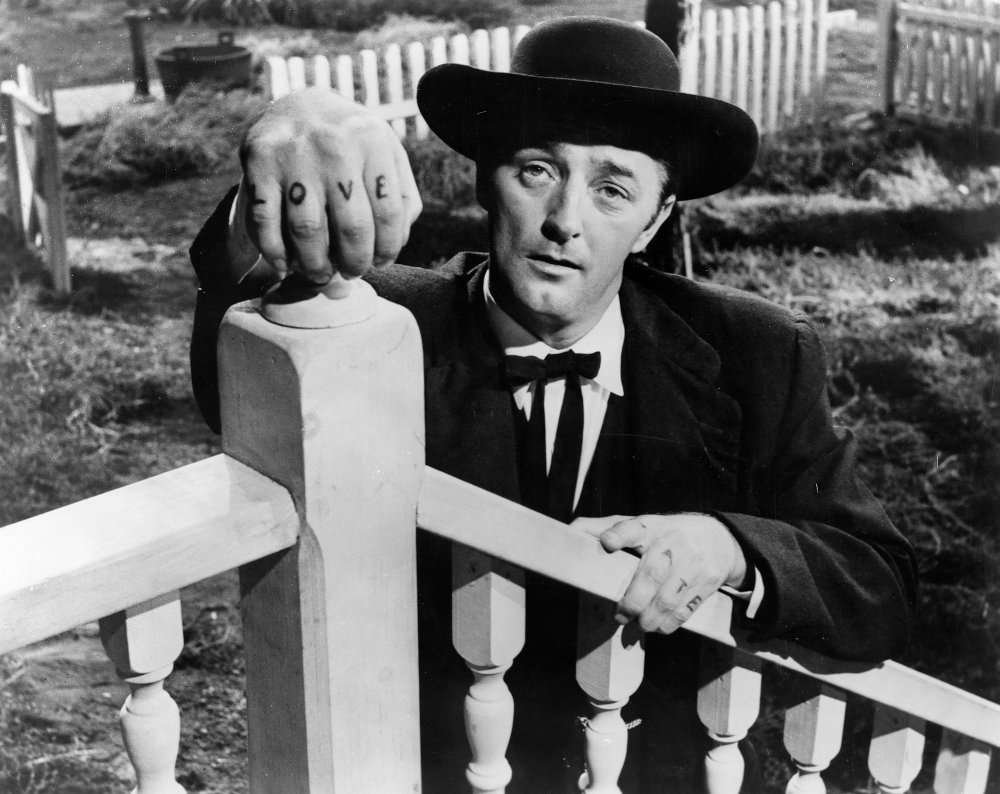 The Night of the Hunter, 1955, Robert Mitchum, Shelley Winters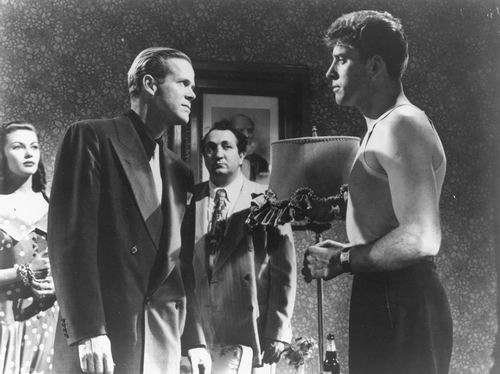 Criss Cross, 1949, Burt Lancaster, Yvonne DeCarlo, Dan Duryea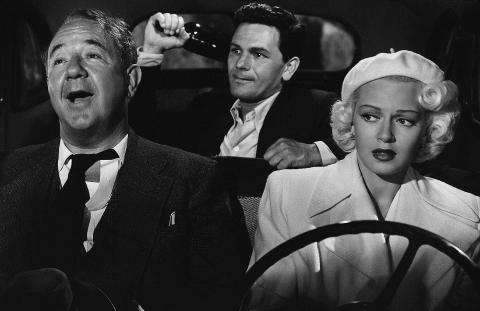 The Postman Always Rings Twice, 1946, John Garfield, Lana Turner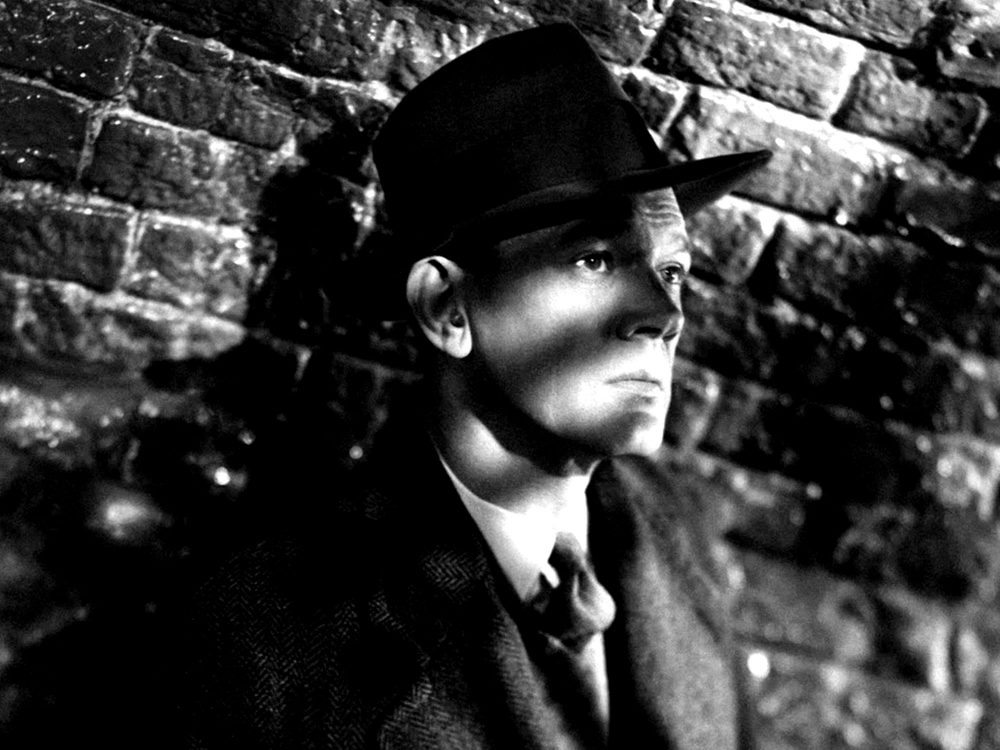 The Third Man, 1950, Orson Welles, Joseph Cotton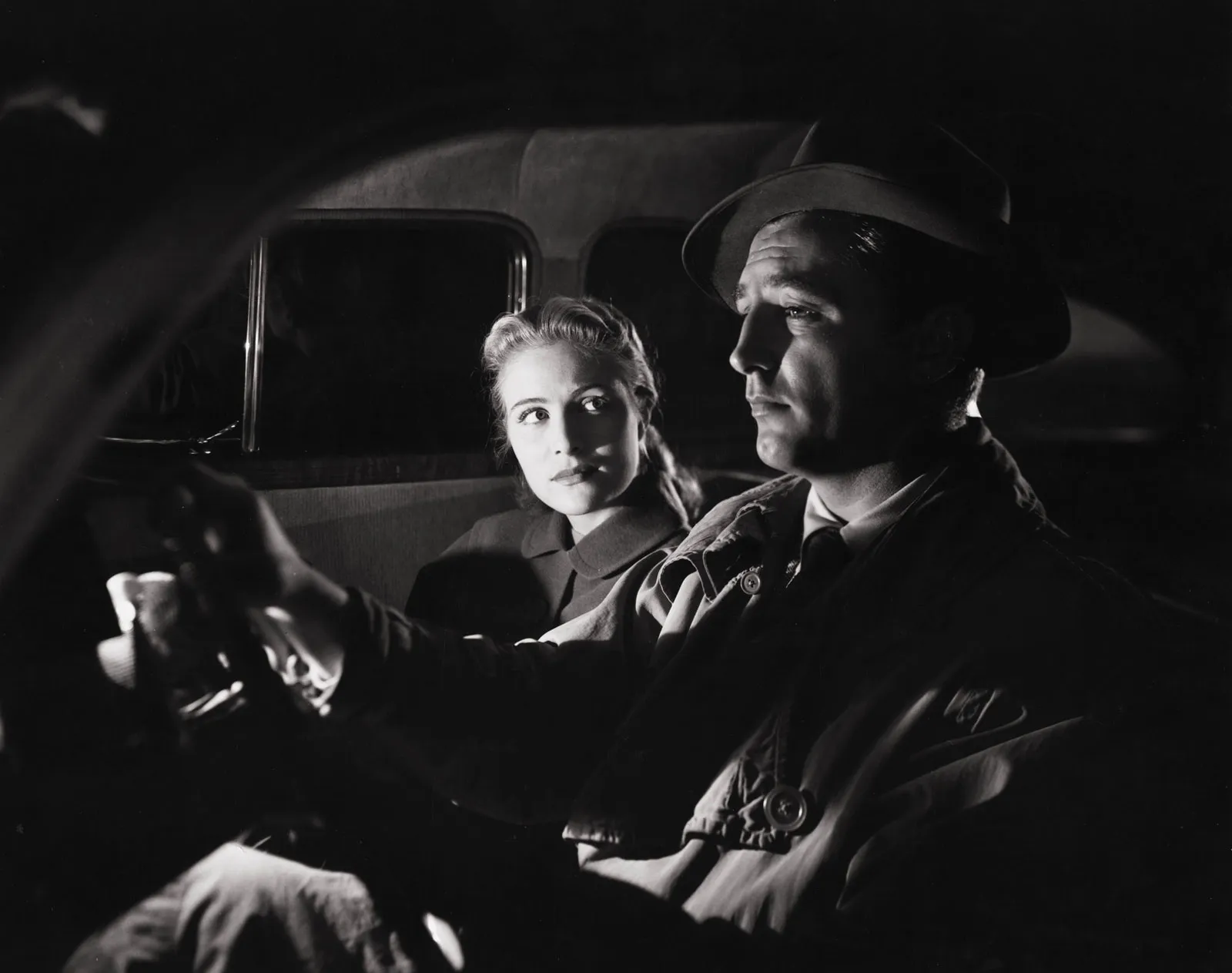 Out of the Past, 1947, Robert Mitchum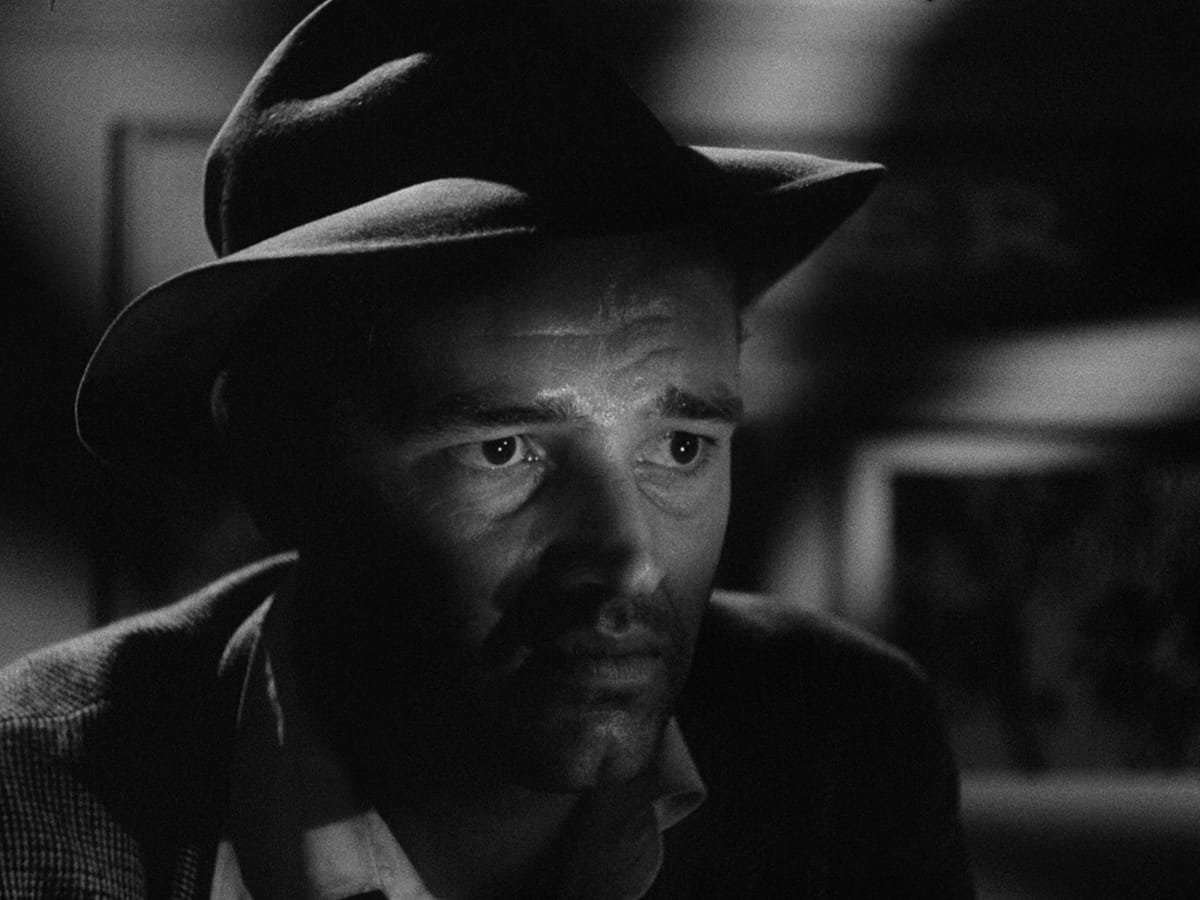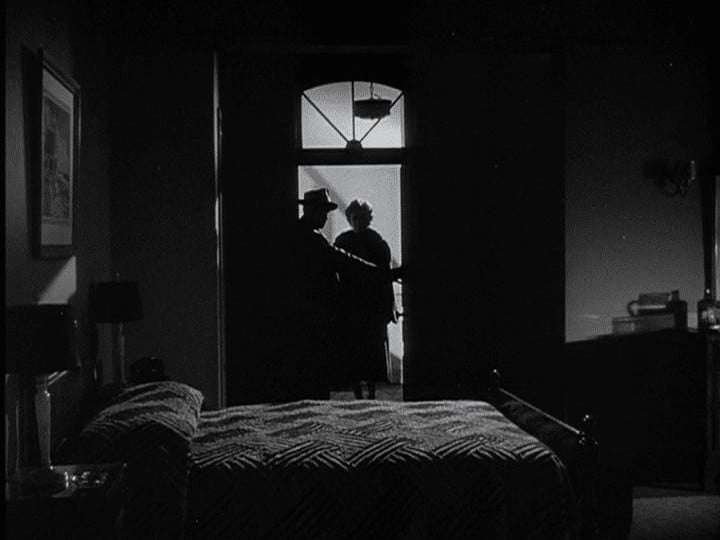 The Big Heat, 1953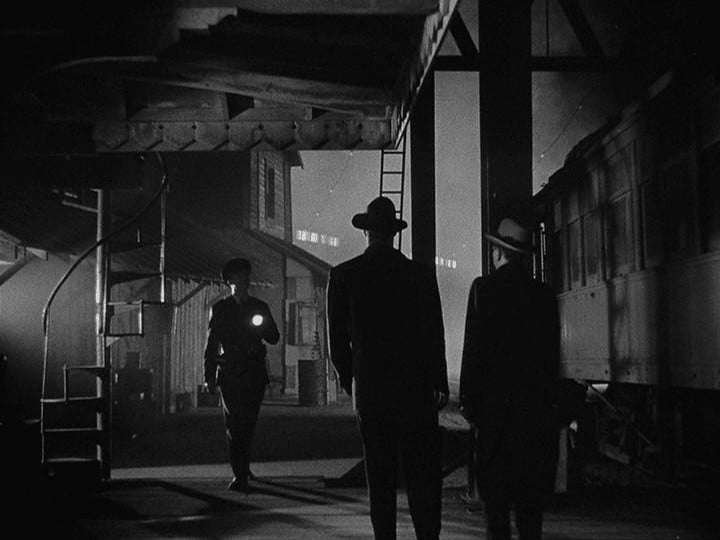 The Asphalt Jungle, 1950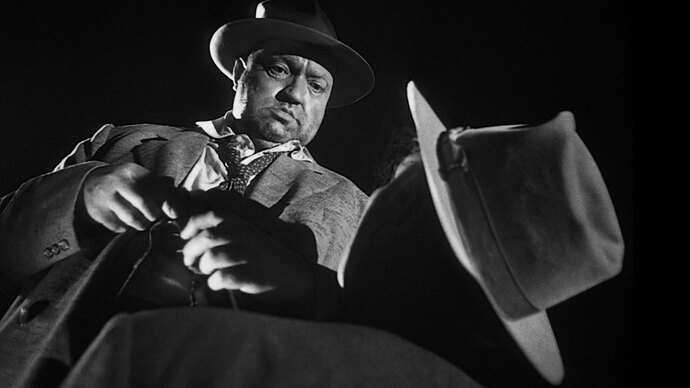 Touch of Evil, 1954, Orson Welles