Ladies and gentlemen, I present the timeless Tony Bennett.
I had the good fortune of attending a Tony Bennett performance, an event that would become the foremost concert experience of my lifetime. The audience was met with the presence of Bennett's greatness a near hundred years in the making. He took us back in time to the sights, sounds, and sensations of America's past. How could one forget Bennett as he embodied the crooners from Frank Sinatra to Fred Astaire, and you cannot help but wonder if they are communicating with him? This was only the beginning of our travels through time as Bennett cast his spell upon the audience, a magic power to transport us to where we belong. His signature song, "I Left My Heart In San Francisco," for an encore performance was the perfect potion. I reminisced that I was a child again listening to his voice on the radio with my grandmother, a place where I was loved. Bennett's sentimental journey reminds us that visiting the past is to discover our potential through history. Since I held this experience, I have often reflected on the interpreters of the Great American Songbook. Yet, a remarkable one remains, Anthony Dominick Benedetto, born August 3, 1926, is the timeless Tony Bennett.
Singer of the Century
Tony Bennett's life embodies the great American "rags to riches" story. It began as a simple yet bold idea to become a great American singer from a humble start in Queens. However, no performer in popular music has recorded for so long and at such an elevated level of excellence than Bennett. He has sold more than ten million records in the past decade alone. Having celebrated his 95th birthday in August, his career as a pre-eminent singer of the century is unprecedented. He has garnered numerous accolades throughout his career, including 19 Grammy Awards, a Lifetime Achievement Award, and 2 Primetime Emmy Awards. In addition, a Kennedy Center Honoree and 2 Guinness World Records. Bennett has also sold over 50 million records worldwide. Unfortunately, in February, he was diagnosed with Alzheimer's disease. Due to the slow progression of his illness, he continued to record, tour, and perform until he retired from concert performances in August 2021 because of physical challenges.
Guinness World Records 2018 and 2021
The Love for Sale is the second collaboration by American singers Tony Bennett and Lady Gaga, released on September 30, 2021. The sixty-first studio album of Bennett's career and the seventh for Gaga. The album has earned him a Guinness World Record, becoming the oldest to release an album of new material at 95 years and 60 days. Bennett made another record-breaking Guinness achievement in 2018 with his collaborative album Love is Here to Stay with Diana Krall. With the latest version of "Fascinating Rhythm," he achieved the longest time between the release of an original recording and a re-recording of the same song by the same artist. He first released the song sixty-nine years earlier.
Tony Bennett – The Family (from The Zen of Bennett)
Young Bennett 1926-1944
Tony Bennett was born Anthony Dominick Benedetto on August 3, 1926, in the Astoria section of Queens, in New York City. His father, Giovanni "John" Benedetto, was a grocer, and his mother, Anna Maria, was a seamstress. His parents were both from poor farming families in the Calabria region of Italy. Before Bennett's father immigrated to America in 1906, he would sing at the top of a mountain overlooking the valley where he grew up. His voice was so strong that the whole village could hear him sing. Other Benedetto relatives came over as part of the mass migration of Italians to America. Unfortunately, Bennett's father, John became ill and could not work, his father died when he was ten, and the family lived in poverty.
Although Bennett suffered from misfortune, his father John instilled a love of art and a compassion for human suffering. His mother Anna raised him, brother John Junior, and sister Mary in a home surrounded by extended family. Every Sunday, when he was a child, the whole family would gather for a big Italian meal at their home. After dinner,
Tony Bennett (Center) World War II Europe
Bennett and his siblings would sing for them. The Benedetto family were his first fans, filling him with the love and encouragement that inspired him to become a performer.
Young Bennett gave a notable performance at the opening of the Triborough Bridge arranged by his uncle Frank, the Queens Borough Commissioner. Bennett's excitement about singing internalized as he stood next to legendary Mayor Fiorello LaGuardia. As a teenager, Tony Bennett attended the New York High School of Industrial Arts in Manhattan, where he studied his two passions: music and art. He soon dropped out to help support his family by working as a singing waiter in Italian restaurants.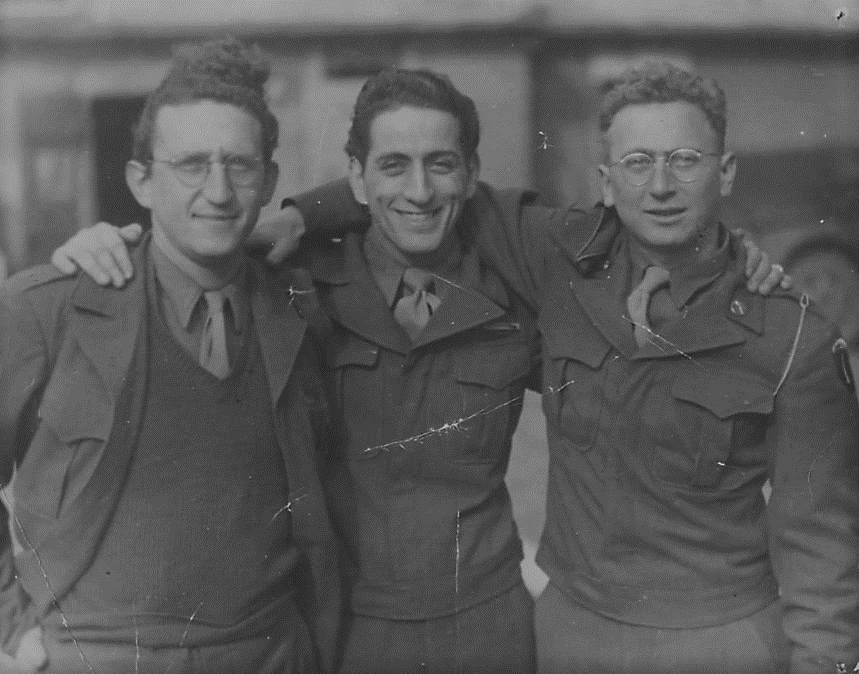 World War II 1944-1946
In November of 1944, he was drafted during the final year of World War II by the U.S. Army and served on the front lines, which Bennett described as "front-row-seat in hell," until April 1945. While stationed in Europe, he saw combat in France and Germany and was also involved in the liberation of a Nazi concentration camp. His experience in the war made him an unwavering pacifist and humanitarian. After WWII, while staying in Europe, he performed with the Army military band and sang in special services under the "Joe Bari" stage name until his discharge and returned to the U.S. in 1946. He studied the Bel Canto (Italian for beautiful voice) discipline at the American Theater Wing on the GI Bill. In the 1950s, the phrase "bel canto revival" was coined to refer to a renewed interest in the opera. Bennett continued singing while waiting tables in New York.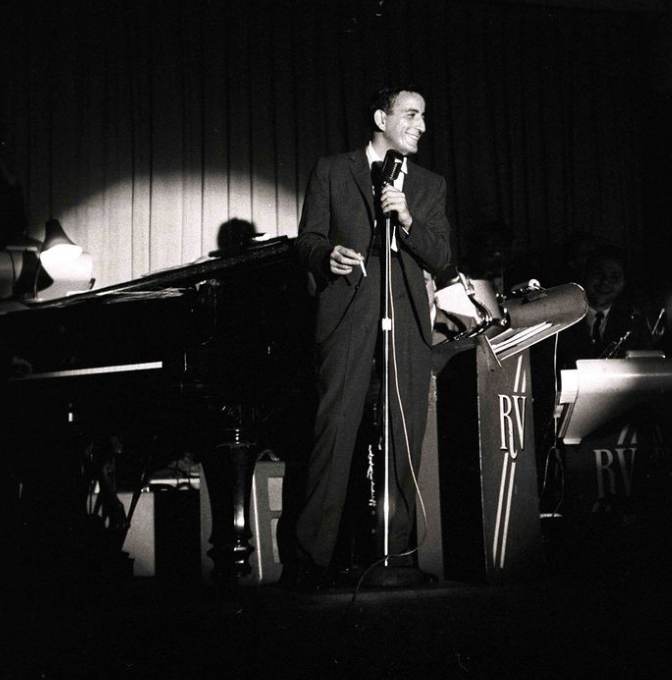 Bennett's Big Break 1949
The first time Tony Bennett sang in a nightclub was in 1946 at the Shangri-La in Astoria. Bennett's big break came three years later in 1949 when he recorded a version of George Gershwin's "Fascinating Rhythm," a single that didn't much but caught the attention of entertainer Pearl Bailey. She hired him to open for her at a Greenwich Village lounge. Comedian Bob Hope attended the performance. Bennett recalled that Hope liked his singing so much that he came backstage after the show and said, "kid, you're going to come and sing with me." However, one of the first things Hope told Bennett was that he did not care for his stage name, "Joe Bari." So, he asked Bennett what his real name was? He replied, "my name is Anthony Dominick Benedetto." Hope paused and then said, "we'll call you Tony Bennett," which is how it happened. A new Americanized name and the start of an incredible career that has continued for seventy years. Hope then kept his end of the deal and invited the vocalist on tour.
Capitol Record Success 1950s
Unlike his idol Frank Sinatra, Bennett was too young to be part of the first wave of the Great American Songbook in the years before World War II. Instead, he achieved his national breakthrough in the 1950s when pop novelties dominated the charts. In 1950, he recorded a demo of "The Boulevard of Broken Dreams," where Mitch Miller signed him to Columbia Records and warned him not to imitate Frank Sinatra leaving the label. Tony Bennett had a string of Columbia singles, including his first big hit, "Because of You," produced by Miller with orchestration by Percy Faith. It sold over a million copies, reaching #1 in the 1951 pop charts.
The label was steeling itself for the departure of Frank Sinatra, who often feuded with Miller. Bennett eased into his vacancy by singing chart-friendly pop tunes, starting with "Because of You," and directly followed by a cover of Hank Williams' "Cold, Cold Heart." This single also reached number one, and its success is often cited as elevating Hank Williams' reputation outside of the South and country music circles. The cover of the song also proved Bennett was not a one-hit-wonder.
During 1952, Bennett had more hit singles, including "Blue Velvet." He reached the top of the charts again in 1953 with "Rags to Riches," unlike his other hits, this was an up-tempo big band number with a bold sound followed by the number two single, "Stranger in Paradise." The Broadway musical Kismet producers had Bennett record the
song to promote the show during a New York newspaper strike. The song reached the top of the charts, and the show was a hit, and he began a long practice of recording show tunes. He continued to chart over the next two years, with a handful of songs breaking into the Top 10 before the pop charts were forever changed in 1956 by Elvis Presley and a style of music called rock-n-roll.
Swinging Jazz 1955-1960
As the '50s gave way to the 1960s, Bennett specialized in swinging Jazz and versions of the Great American Songbook, mining territory pioneered by Frank Sinatra. Renowned guitarist Chuck Wayne became Bennett's musical director, and the two released the album Cloud 7 in 1956. The album featured Wayne and showed Bennett's leanings towards jazz. Then, in 1957, Ralph Sharon became Bennett's pianist, arranger, and musical director, replacing Wayne. Sharon told Bennett that a career singing songs like "Blue Velvet" would not last long and encouraged him to focus even more on his jazz inclinations.
The result was the 1957 album The Beat of My Heart. It featured well-known jazz musicians such as Herbie Mann with a strong emphasis on percussion from the likes of Chico Hamilton. The album was both popular and critically praised. Bennett followed this by working with the Count Basie Orchestra, becoming the first male pop vocalist to sing with Basie's band. The albums Basie Swings, Bennett Sings (1958), and In-Person! (1959) were the well-regarded works of this collaboration, with "Jeepers Creepers" and "Chicago" being standout songs.
The Tony Bennett Show
In 1956 and 1959, he hosted The Tony Bennett Show, which was a summer replacement for Perry Como's Kraft Music Hall. He continued making recordings with the top jazz musicians of the day. Bennett also built the reputation of his nightclub act; in this, he was following the path of Sinatra and other top jazz and standards singers of this era. In June 1962, Bennett staged his landmark concert at the Carnegie Hall featuring forty-four songs accompanied by a Steller lineup of musicians and an all-star band. Carnegie Hall had not featured a male pop performer until Judy Garland one year before. The concert featured songs including favorites like "I've Got the World on a String" and "The Best Is Yet To Come." It was a considerable success, further cementing Bennett's reputation as
a star both at home and abroad. Bennett also appeared on television, and in October 1962, he sang on the initial broadcast of The Tonight Show, starring Johnny Carson.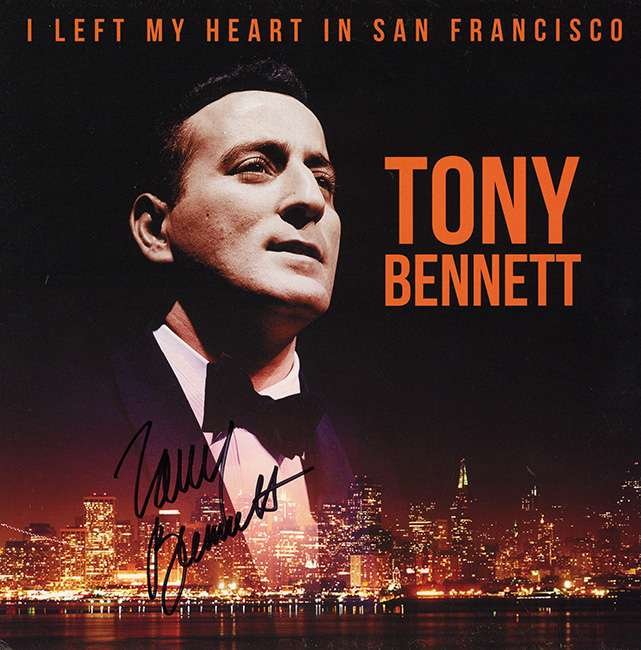 Signature Song 1962
Also, in 1962, Bennett recorded "I Left My Heart In San Francisco," a song styled after the classic pop of the pre-war era. Columbia records placed it on the B-side of "Once Upon a Time," but radio preferred "I Left My Heart In San Francisco" to its other side, and the ballad started its steady climb up the charts, peaking at number 19. The song spent the remainder of the year on various charts and increased Bennett's exposure. An album named after the hit was rushed onto the market, reaching number five on Billboard's Top 200. The song won two Grammy awards for Record of the Year and Best Solo Vocal Performance, Male, and became known as Bennett's signature song that turned him into a superstar.
Tony Bennett Presenting The Beatles 1965
Bennett and The Beatles
"I Left My Heart In San Francisco" may have turned Bennett into a superstar, but he didn't remain at the top of the charts for much longer. After its success, he had Top 20 hits in 1963 with "I Wanna Be Around" and "The Good Life." The following year he had a change of fortune in 1964. With intense competition from The Beatles and the British invasion that swept America, the cultural attention shifted to popular music. His singing career took a downturn when Columbia Records, worried about competition from The Beatles, forced him to change his image and style. Over the following years, Bennett had minor hits with several albums and singles based on show tunes. His last top-40 single was the number 34, "If I Ruled the World." By the mid-1960s, his commercial success started to decline.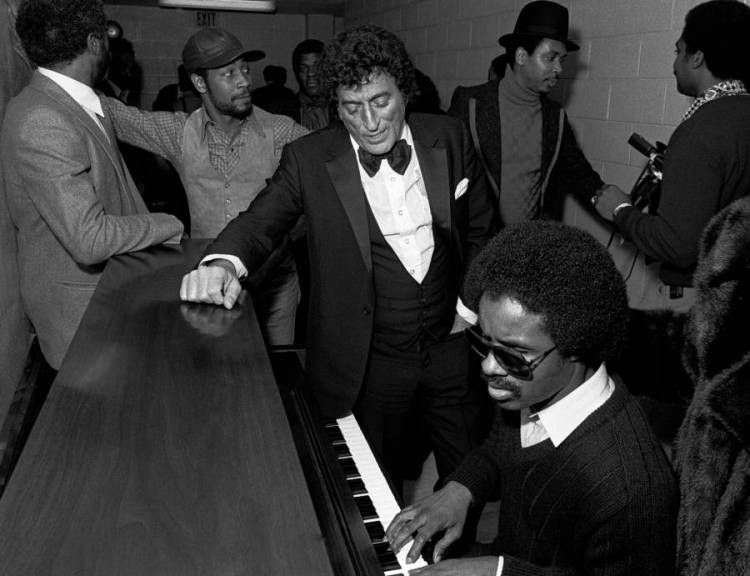 Tony Bennett and Stevie Wonder 1970s
Years of Struggle 1965–1980
Ralph Sharon and Bennett parted ways in 1965, and he also separated from his first wife, artist Patricia Beech, with whom he had two sons eventually ended in divorce. In 1967, Bennett wandered into contemporary pop with a cover of Stevie Wonder's "For Once in My Life." This shift was initiated by the new president of Columbia, Clive Davis, who intended to modernize his easy listening singers. Bennett reluctantly agreed to pursue this path, releasing a cover of George Harrison's "Something" in 1969. There was tremendous pressure on standard and show-tune singers from Frank Sinatra to Barbara Streisand to record "contemporary" pop songs. In this vein, Davis suggested that Bennett do the same. He was very reluctant, and his resistance was amplified in 1970 by Tony Sings, the Great Hits of Today!" when Bennett became physically ill at the thought of recording it. The album featured covers of The Beatles and other current songs with psychedelic art.
Unfortunately, neither the album nor its swift sequel Tony Bennett's "Something," which once again featured a Beatles song on the record, revitalized the
singer's commercial fortunes, so Columbia rode out his contract over the next year, parting ways in 1972. He left for the Verve division of MGM Records. He had relocated for a stint in London with his new label and tried various approaches, including more Beatles material, but found no renewed commercial success. So, he was without a recording contract in a couple more years. Years later, Bennett would recall his dismay at being asked to do contemporary material, comparing it to when his mother was forced to produce a cheaply made dress.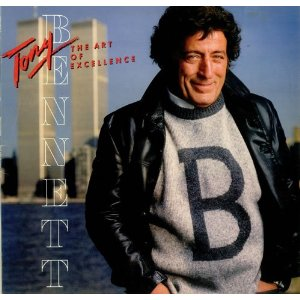 The Turnaround 1980s
Bennett did not weather the 1970s well, and he suffered a series of professional and personal problems that left him at rock bottom at the dawn of the 1980s. Nevertheless, he achieved one of the greatest comebacks in pop music history. After a near-fatal cocaine overdose in 1979, Bennett called his son Danny for help. "Look, I'm lost here," he told them. "It seems like people don't want to hear the music I make." As a result, Danny stepped in as his father's manager controlled his expenses and moved him back to New York. He began booking him in colleges and small theaters to get him away from a "Vegas" image. After some effort, a successful plan to pay back the IRS debt was also implemented. Finally, he reunited with Ralph Sharon as his pianist and musical director. The team began to focus on young audiences without losing its longtime fans. By 1986, Tony Bennett was re-signed to Columbia Records with creative control and released The Art of Excellence. This became his first album to reach the charts since 1972.
The Songbook Comeback 1990s
Astoria: Portrait of the Artist, a 1990 album where Bennett gazed back at his past combined with the 1991 box set Forty Years: The Artistry of Tony Bennett, made a case for his enduring legacy. During this time, he continued to record, emphasizing themed albums like Perfectly Frank. His 1992 Sinatra tribute was the catalyst for his remarkable crossover success in the 90s. The album topped the Billboard Jazz charts, went gold, and won the Grammy for Best Traditional Pop Vocal Performance. Bennett would dominate over the next decade; it also became his first album to be certified Gold since the 1960s.
In 1993 he introduced the Fred Astaire-themed album and the title song "Steppin' Out." A stylish music video for it garnered MTV airplay and was part of Bennett's commercial resurgence at the time. Along replicating the success of the previous album, it took home the Best Traditional Pop Vocal Performance Grammy, topped the Jazz albums chart, and went Gold. It was a defining moment as The New York Times said, "Tony Bennett has not just bridged the generation gap, he has demolished it. He has solidly connected with a younger crowd weaned on rock, and there have been no compromises."

The MTV Generation
The success of "Steppin Out" reached new audiences and opened the door for his appearance in 1994 on MTV Unplugged. He featured guest artists such as Elvis Costello and K.D. Lang. At that time, Bennett's son, Danny, told him to check out MTV, and he liked the idea that each song was being presented as a mini-movie. So, when MTV asked if he would do an unplugged session, Bennett's response was, "of course, I have always been unplugged." His crossover to the pop mainstream seemed to resonate. The show attracted a large audience and media attention. As a result, his MTV Unplugged album went platinum. Besides Bennett winning the Best Traditional Pop Vocal Performance Grammy award for the third straight year, he also received a 1995 Grammy for Record of the Year, introducing this American master to the MTV generation of audiences.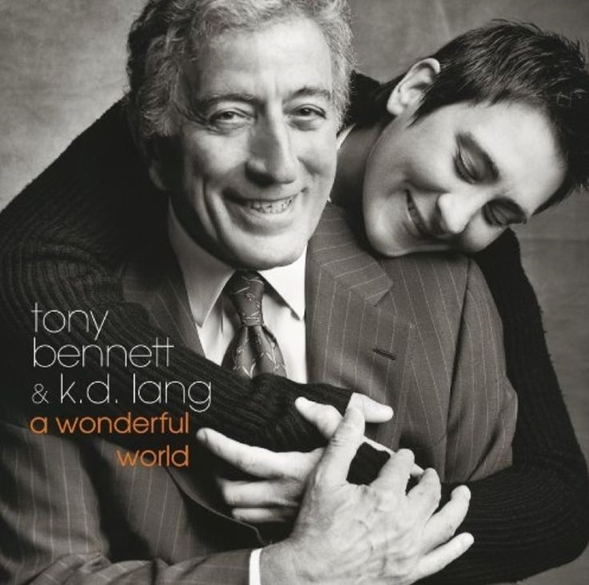 New Millennium
Tony Bennett is the only performer with new albums charting in the 20th and 21st centuries, a seventy-year career dating from the 1950s through the 2020s. He also introduced the stories of the Great American Songbook to a new generation of music artists and enthusiasts. Playin' with My Friends: Bennett Sings the Blues, a 2001 collection, was his biggest hit since MTV Unplugged, but it was upstaged by 2002's duet album with K. D. Lang A Wonderful World, which reached 41 and went Gold; both records won the Grammy for Best Traditional Pop Vocal Album, as did 2004's The Art of Romance.
Since his comeback, Bennett has financially prospered; by 1999, his assets were worth $15 to $20 million. He had no intention of retiring, saying about masters such as Pablo Picasso and Fred Astaire, "right up to the day they died, they were performing. If you are creative, you get busier as you get older." Bennett continued to record and tour steadily, doing a hundred shows a year by the end of the 1990s. In concert, Bennett
often makes a point of singing one song, usually "Fly Me to the Moon without any microphone or amplification, demonstrating his skills at vocal projection, which he learned in part from his father, John. Bennett's Wonderful World: Live From San Francisco was made a PBS special. Bennett also created the idea behind and starred in the first episode of the A&E Network's popular Live by Request series, for which he won an Emmy Award. In addition to numerous television guest performances, Bennett has had cameo appearances in films such as  Analyze This and Bruce Almighty.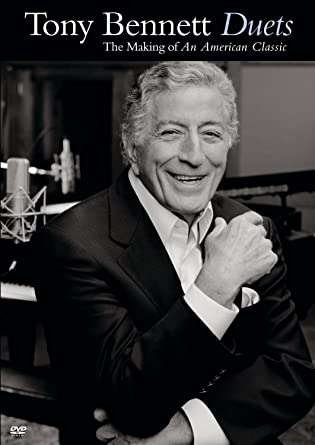 Duets
Bennett's artistry and popularity were higher than ever in the new millennium. In 2006, his 80th birthday, Duets: An American Classic was released. The album, which included performances with Elton John and Paul McCartney, won three Grammy Awards and became one of the best-selling CDs of the year and Bennett's career. His first Duets album also inspired the Rob Marshall-directed television special Tony Bennett: An American Classic, winning seven Emmys making it the most honored program at the 2007 Emmy Awards. the album rivaled MTV Unplugged in popularity, peaking at three on the Billboard Top 200 and earning a Platinum certification.
Duets II
In celebration of his 85th birthday in 2011, Bennett's highly anticipated Duets II release features performances with a new roster of celebrated and contemporary artists, including the late Aretha Franklin and Amy Winehouse. Winehouse's last recording was their duet "Body and Soul." Duets II debuted at #1 on the Billboard Album charts, making Bennett the oldest artist at the age of 85 to achieve this in the history of recorded music. The record was previously held by Bob Dylan, whose "Together Through Life" in 2009 debuted at #1 when Dylan was 67.
Bennett won his 15th and 16th win at the 54th Annual GRAMMY Awards for Best Pop Duo/Group Performance with Amy Winehouse for "Body and Soul" and Best Traditional Pop Vocal Album for "Duets II." In addition, Bennett captured the Record for the longest Grammy participation span of 49 years between wins. "Body and Soul" with Amy Winehouse would mark her final recording before her premature death. "She was an extraordinary musician with a rare intuition as a vocalist. When we recorded together,
she gave a soulful and exceptional performance. I was honored to have the opportunity to sing with her." Said Bennett.
Zen of Bennett
Bennett also won two Grammys for Duets II in the 2012 Grammy ceremony, and that year marked the 50th Anniversary of the recording and release of his signature song, "I Left My Heart in San Francisco." A documentary entitled, The Zen of Bennett, which was created and conceived by Danny Bennett, Tony's son, and manager, was premiered at the Tribeca Film Festival 2012. At the end of 2012, Bennett also authored his fourth book, the New York Times bestseller, "Life is a Gift," highlighting his philosophies learned throughout his life and career.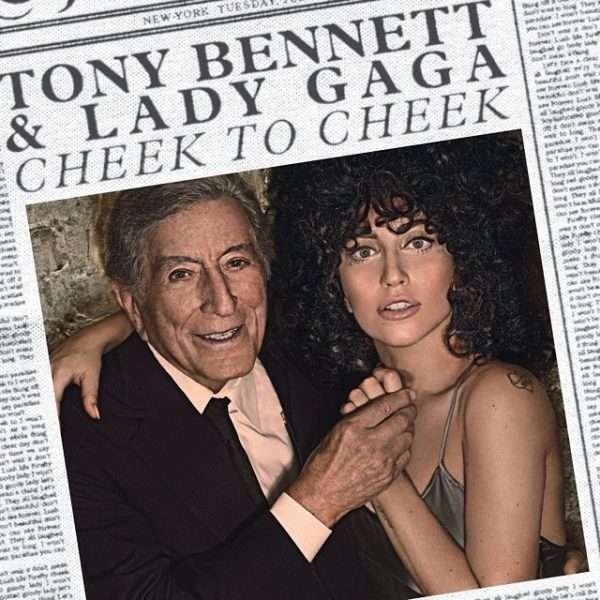 Lady Gaga- Cheek To Cheek
Cheek to Cheek is the first collaborative album by American singers Tony Bennett and Lady Gaga, released in 2014. It was Bennett's fifty-eighth studio album and Gaga's fourth. The two first met at the Robin Hood Foundation Gala in New York City in 2011. Followed by a recording of "The Lady Is a Tramp" together, they began discussing plans to work on a jazz project. The album consists of jazz standards by famous composers such as George Gershwin and Irving Berlin. In addition, it was inspired by the duo's desire to introduce the songs to a younger generation since they believed these tracks have a universal appeal.
Diana Krall- Love Is Here To Say
Love Is Here to Stay is a collaborative studio album by American singer Tony Bennett and Canadian singer Diana Krall. The album was released in September of 2018 by Columbia Records. The album features the New York-based jazz group the Bill Charlap Trio. All songs in the album are from the Great American Songbook and were composed by George Gershwin, with lyrics by Ira Gershwin. Bennett first recorded "Fascinating Rhythm" in 1949. He received the Guinness World Records Title by re-recording Love Is Here to Stay. Krall participated in recording two other Bennett albums, Duets: An American Classic in 2006 and Playin' with My Friends: Bennett Sang The Blues in 2001. This Record was their first full-length project together.
Ninety in New York
On August 3, 2016, Tony Bennett celebrated his 90th birthday marked by the lighting of the Empire State Building in honor of his musical legacy and a star-studded celebration at the famed Rainbow Room. Later that year, NBC aired a two-hour primetime special, Tony Bennett Celebrates 90: The Best is Yet to Come, featuring performances by Lady Gaga, Stevie Wonder, Billy Joel, Bob Dylan, Michael Bublé, and more. Columbia Records released a companion CD to the television special, and Tony's fifth book, Just Getting Started, was published.
Dedicated Painter
Tony Bennett is a dedicated painter whose interest in art began as a child. He continues to paint every day, even as he tours internationally. He has exhibited his work in galleries around the world. The United Nations has commissioned him for two paintings, including their 50th Anniversary. His original image, "Homage to Hockney," is permanently displayed at the Butler Institute of American Art. The landmark National Arts Club in New York is home to Tony's painting "Boy on Sailboat, Sydney Bay." Three of his paintings are part of the Smithsonian Museums' permanent collections, including his
portrait of his friend Duke Ellington that became part of the National Portrait Gallery's collection in 2009. "A view Central Park and watch the four seasons the incredible vastness of the sky–it changes every day. Rembrandt said, 'There's only one master–that's nature.' It gives me unbelievable subjects to study and paint," said Bennett.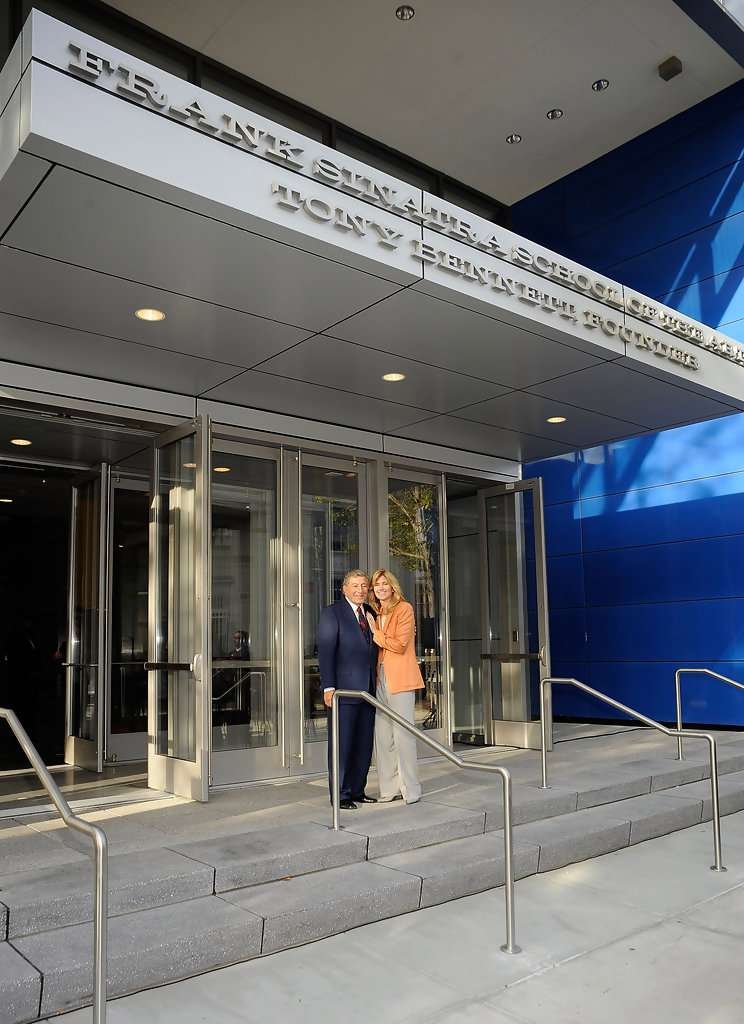 School of The Arts
In 1999, Tony Bennett and his wife, Susan Benedetto, founded Exploring the Arts (ETA) to strengthen the role of the arts in public high school education. ETA connects private funders, individual artists, and cultural institutions to Partner Schools to achieve greater equality and opportunity for the youth of all means and backgrounds. ETA's first endeavor was Frank Sinatra School of the Arts (FSSA), a public high school founded in 2001 by Bennett and Susan in partnership with the NYC Department of Education. FSSA is housed in a newly constructed building in Tony's hometown of Astoria, Queens. Its state-of-the-art facilities include visual-art studios and a gallery, black-box theatres and a stagecraft workshop, dance studios, choral and orchestral classrooms, an 800-seat concert hall, a multi-media technology lab, and a rooftop performance garden. All students major in Dance, Theatre, Film, Fine Art, Vocal or Instrumental Music. FSSA also offers a rigorous academic curriculum and holds one of the highest graduation and college enrollment rates for NYC public high schools.
Final Album and Performance
Love for Sale is the second collaborative album by American singers Tony Bennett and Lady Gaga, released on September 30, 2021, by Columbia Records. It is the sixty-first studio album of Bennett's career. Following Cheek To Cheek, the duo's first collaborative album, Love For Sale, consists of their renditions of jazz standards by American composer Cole Porter, to whom the Record is a tribute.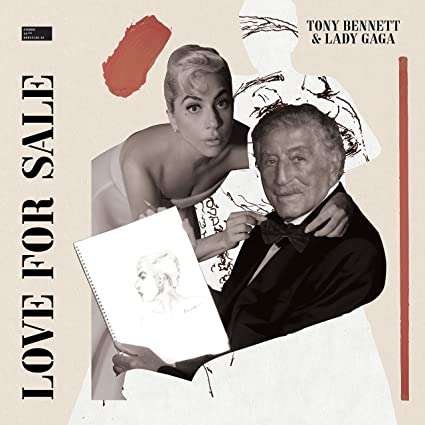 Upon release, Love for Sale received favorable reviews from music critics, highlighting the vocal chemistry between Bennett and Gaga. In addition, the album garnered Bennett the individual Record for the longest span of top-10 albums for any living artist; his first top-10 Record was "I Left My Heart In San Francisco" in 1962. Bennett also broke the Guinness World Record to release an album of new material for the oldest person.
Love For Sale also received nominations for Album of the Year, Best Traditional Pop Vocal Album, and Best Engineered Album, Non-Classical at the 64th Annual Grammy Awards. At the same time, the track "I Get a Kick Out of You" is nominated for Record of the Year, Best Pop Duo/Group Performance, and Best Music Video.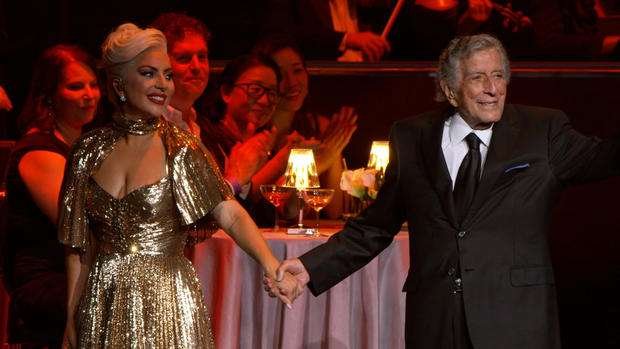 One Last Time
Tony Bennett and Lady Gaga gave a recorded performance at Radio City Music Hall on August 3 and 5, 2021, called One Last Time: an Evening with Tony Bennett and Lady Gaga before Bennett retired from performing live. The album's promotion includes the duo's appearance on MTV Unplugged and The Lady and the Legend documentary. In addition, an hour-long special, which is the filmed rendering of the two concerts, simultaneously premiered on CBS, and Paramount+ Lady Gaga was there to walk Tony Bennett off the stage one last time at the end of the night. Gaga stated the last thing she said to him on stage was, "Mr. Bennett, it would be my honor if I could escort you off the stage." And he said, "Okay." And I did. And just simply being the woman that got to walk him off stage, that's enough for me."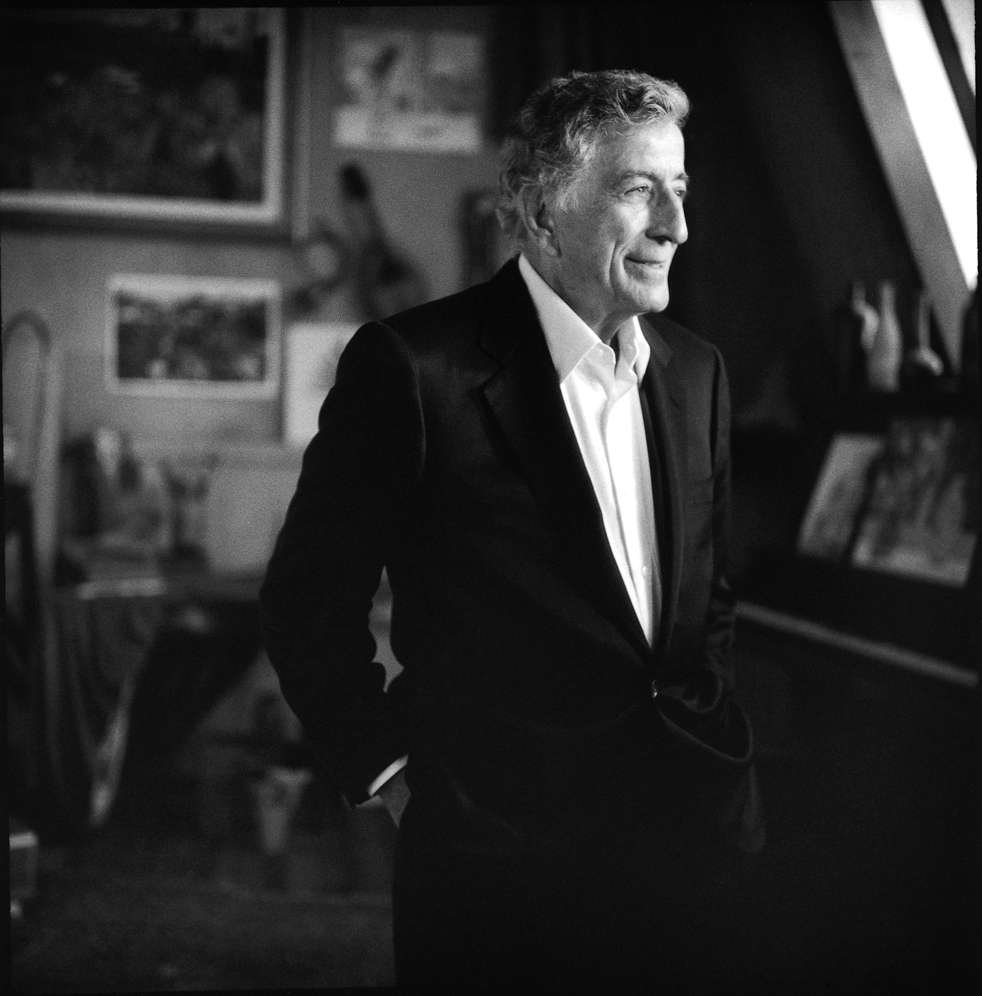 A National Treasure
Through his dedication to excellence, Bennett has become the keeper of the flame, illuminating the virtues represented by the Great American Songbook. He has performed for eleven U.S. Presidents and is a World War II veteran who participated in a concentration camp's liberation. In addition, he has marched with Dr. Martin Luther King in Selma to support civil rights. Throughout his Life, Bennett has been an unwavering pacifist and humanitarian, supporting many causes whose goals benefit millions. His love for his country has earned him the distinction of a national treasure, and the United Nations has named him a "Citizen of the World" as one of their foremost ambassadors.
Tony Bennett Radio City Hall, New York August 5, 2021, Final Performance
Ladies and gentlemen, I present the Timeless Tony Bennett one last time.
Tony Bennett has achieved the great American dream and endures so others can reach theirs. When I think of him, I hear his signature song, "I left My Heart In San Francisco," and know that I too can reach my dreams because Bennett's golden sun will shine for me.
Work Cited
Tony Bennett | The Official Site
Tony Bennett – Biography – IMDb
Tony Bennett Biography, Songs, & Albums | AllMusic
Tony Bennett (@itstonybennett) • Instagram photos and videos
Cheek to Cheek (album) – Wikipedia
Love Is Here to Stay (album) – Wikipedia
Love for Sale (Tony Bennett and Lady Gaga album) – Wikipedia
One Last Time: An Evening with Tony Bennett and Lady Gaga (Official Site) Watch on CBS
The Timeless Existence of Tony Bennett – Living on Music
Tony Bennett earns Guinness record with Gaga album 'Love for Sale' (usatoday.com)
Video
YouTube Guinness World Record
Tony Bennett – On the Importance of Family (excerpt from The Zen of Bennett) – YouTube
Tony Bennett "I Left My Heart In San Francisco & I Wanna Be Around" on The Ed Sullivan Show – YouTube
Tony Bennett – Steppin' Out with My Baby (Official Video) – YouTube
Tony Bennett – They Can't Take That Away from Me (Live on MTV Unplugged) – YouTube
In The Studio with Tony Bennett & Amy Winehouse (from Duets II: The Great Performances) – YouTube
YouTube Ninety in New York
Tony Bennett, Lady Gaga – Love for Sale (Album Trailer) – YouTube
Tony Bennett – I Left My Heart In San Francisco (One Last Time: Live At Radio City Music Hall 2021) – YouTube